This post contains affiliate links; see my privacy policy for details.
This is my annual sustainable gift guide, now in its second iteration for 2022. Take it with a grain of salt, because in all my years of blogging, 2021 was the first year I wrote a gift guide. That's for two reasons: First, I hate giving people things they don't want or need, or low-quality stuff that will end up in the back of a closet or the bottom of a donation bin.
And second, I hate the over-consumption-promoting media frenzy of everyone telling us what to buy, the obligation to give gifts, and the ensuing waste of money and resources.
I also hate boring, un-researched listicles – that's why this list is CURATED. All of these gift ideas are products I've personally used, from small companies where sustainability is part of the business model. Anything I haven't used is noted, and I've chosen it based on lots of research and the company's sustainability practices.
Now you know where I stand. If you identify with any of those points, this sustainable gift list might be for you. (And sorry for all the hate – I know it's probably not in keeping with the spirit of many holidays.)
(Originally published Nov. 15, 2021, I've given this sustainable gift guide a full update as of November 2022, with new products, discounts, and company updates.)
The way I see it, if you're going to buy gifts, you might as well put your gift budget to use supporting small, sustainable companies that are using business to change the world.
And after reviewing lots of sustainable products over the years, I've compiled what I consider the most wrapping-paper-worthy ones (or furoshiki-worthy ones), into this list of sustainable gift ideas for your inspiration.
So when you can't find what you're looking for from local businesses, these are the next best thing. Most of the small businesses on this list have meaningful sustainability certifications, and ship in minimal, plastic-free packaging.
To minimize shipments, several of these gift ideas are available from EarthHero, which is one of the most sustainable online retailers.
EarthHero has the trifecta of certifications that I always look for when researching more sustainable brands. (They're Certified B Corp, a member of 1% For The Planet, and offset all of their carbon emissions – what's often called being "carbon-neutral.")
And they ship with plastic-free packaging (recycled paper padding, paper tape, and no slick marketing inserts).
You can always use my discount code ( TILTEDMAP10 ) for 10% off any EarthHero order.
Practical, Sustainable Travel Gifts
These are a few gift ideas that an eco-focused traveler would appreciate, but that anyone could get use out of, whether at home or on the road.
1. A Self-Cleaning, Sanitizing Water Bottle
When I first heard about LARQ bottles, I thought they sounded bougie and unnecessary and a little ridiculous. But now I've been using mine for more than a year and loving it.
This is the perfect gift for anyone who buys bottled water because "tap water isn't clean."
LARQ bottles have a UV-C light in the cap that automatically kills viruses and bacteria in your water, which also improves the taste of some tap water. (And keeps the inside of the bottle from getting stinky.)
(But where it will help with the taste is hard to predict. In my experience, it made a surprisingly big difference in the taste in Northern Italy and in rural Greece. In Boston, not so much. Not sure what that means it killed in my European water, but I guess I'm happy it did.)
LARQ bottles are also high quality and beautiful (stainless-steel coated with a stone-like finish in lots of pretty colors). They're very well-insulated, so they don't sweat in your bag and keep drinks cold all day. (There's also an uninsulated version, for something more lightweight.)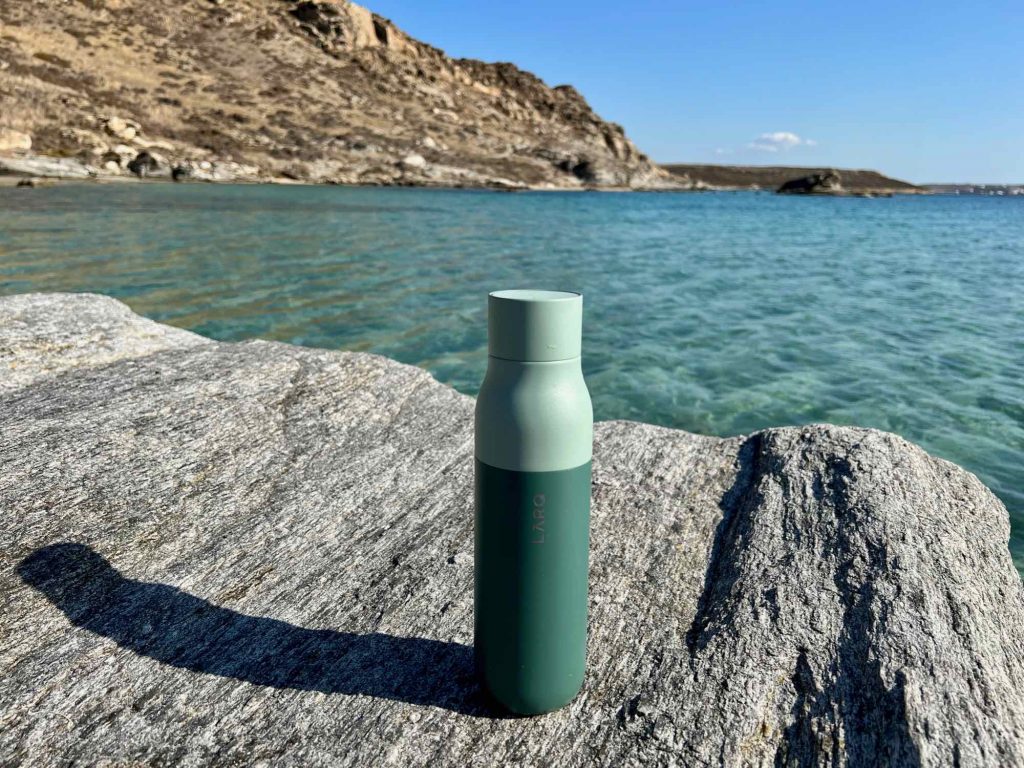 So while they're not cheap, they could be a useful gift for germophobes (which is now everyone, right?), travelers, people who appreciate sleek, high-tech gadgets, or anyone who never wants to smell another stinky water bottle (or wash the inside of one).
7. Fun Yoga Wear (made of recycled plastic bottles)
Wolven makes men's and women's yoga, athletic and swim swear in lots of bright, bold patterns (far beyond basic black leggings).
All synthetic fabrics (meaning almost all athletic wear) are essentially plastic. But Wolven uses fabric made from recycled bottles.
They're also third-party certified carbon-neutral and a member of 1% For The Planet, among other certifications.
I don't own any Wolven products yet (I have enough work-out wear). But I've tried on their leggings in a store, and the fabric felt hefty and high-quality.
Sustainable Foodie Gifts
8. An Organic, Biodynamic Wine Club
In October this year, I visited a few of the most sustainable wineries in Napa Valley (article coming soon!), and Tres Sabores was my favorite – for the wines themselves, the experience of the place, and their ecological practices.
(Fun Fact: That picture above, where I'm wearing #4 and #5 from this list, was taken at Tres Sabores.)
It's a woman-owned vineyard and winery, and one of the smallest in Napa Valley. It also uses the most impressive range of sustainable farming practices, including being organic, biodynamic, and using carbon farming practices that reduce the climate footprint of their fantastic wines.
We liked it so much we signed up for a year of their Wine Club membership. We also ordered some wines to be shipped home from other sustainable wineries we'd visited – and Tres Sabores is the only one that's sent their shipments in entirely plastic-free padding and packaging.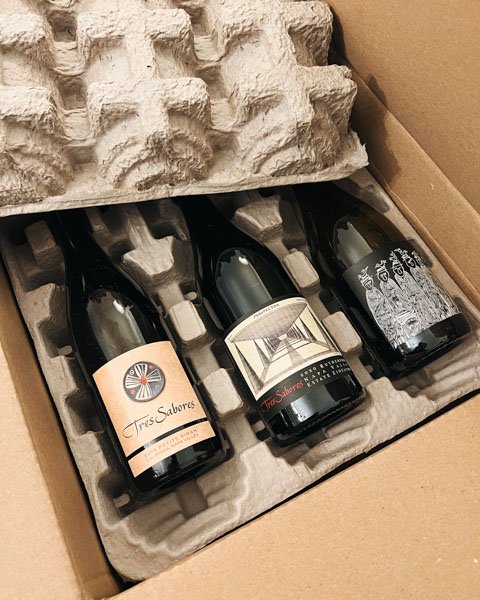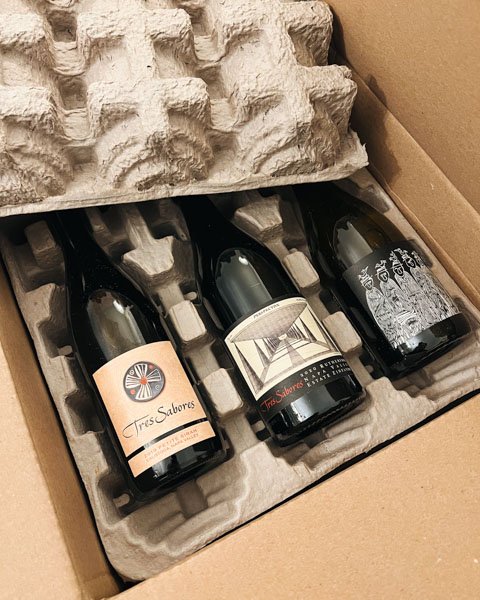 9. Local Food & Dining Experiences
Comfort food and drinks are gifts that are unlikely to go to waste, and they're often easy gifts to source locally. (Think: jam from the farmer's market, a bottle of something from a local distillery, a bag of locally-roasted coffee, truffles from a chocolate shop, or a gift certificate to a local restaurant.)
I also love homemade food gifts (which reminds me that I need to publish my limoncello recipe)! In the meantime, you could give the gift of cooking someone a fantastic dish of pasta, or mixing them an Italian cocktail.
10. Organic Hot Chocolate & Plastic-Free Tea
EarthHero also carries a few good craft foodie gifts:
Sustainable Beauty & Skincare Gifts
11. An Intro to Truly Refillable Skincare
Activist Skincare has become one of my favorite sustainable brands and a staple of my low-waste toiletry routine. I really just can't say enough good things about this small, California-based company.
Their formulas are effective and well-rounded, but what's really special is that all of their products come in glass packaging that's designed to be REFILLED! (And their lightweight refill packets have 99% less carbon emissions than recycled glass packaging.)
You can can test the entire line with a two-week trial kit, which makes a great sustainable gift idea.
The kit, which is also refillable for travel, is an affordable way to find what works without committing to full-size products. (Especially when you want to give a thoughtful gift, but don't know what skin type, sensitivities, or skin concerns your giftee has.)
And it comes in some of the most efficient, minimal, plastic-free packaging I've ever seen. (Activist refills are also available at a few local shops.)
You can save 50% on the Activist Skincare trial kit with the code TILTEDMAP50 .
[Related: Check out my full review of Activist Skincare, and my full plastic-free travel toiletry routine.]
This is one of my favorite sustainable gift ideas. Leaf Shave Co. makes luxurious-feeling personal care tools that will last years. (Mine already have.)
And there's something for everyone: The original Leaf razor is for shaving large areas, like legs. For faces, the Twig is the way to go. And for anyone interested in plastic-free dermaplaning, Leaf now makes the only one on the market. (If you're wondering what dermaplaning even is, I answered that question in my review.)
The original Leaf, which I used and also reviewed, has a pivoting-head (just like a disposable cartridge razor), but you use it with steel safety razor blades. (Which are 100% plastic-free, and 100% recyclable.) It's perfect for anyone who likes the sustainable idea of a safety razor, but is scared of the sharp fixed blade – as they should be!
Save 10% on any Leaf Shave products with the code KETTI10 .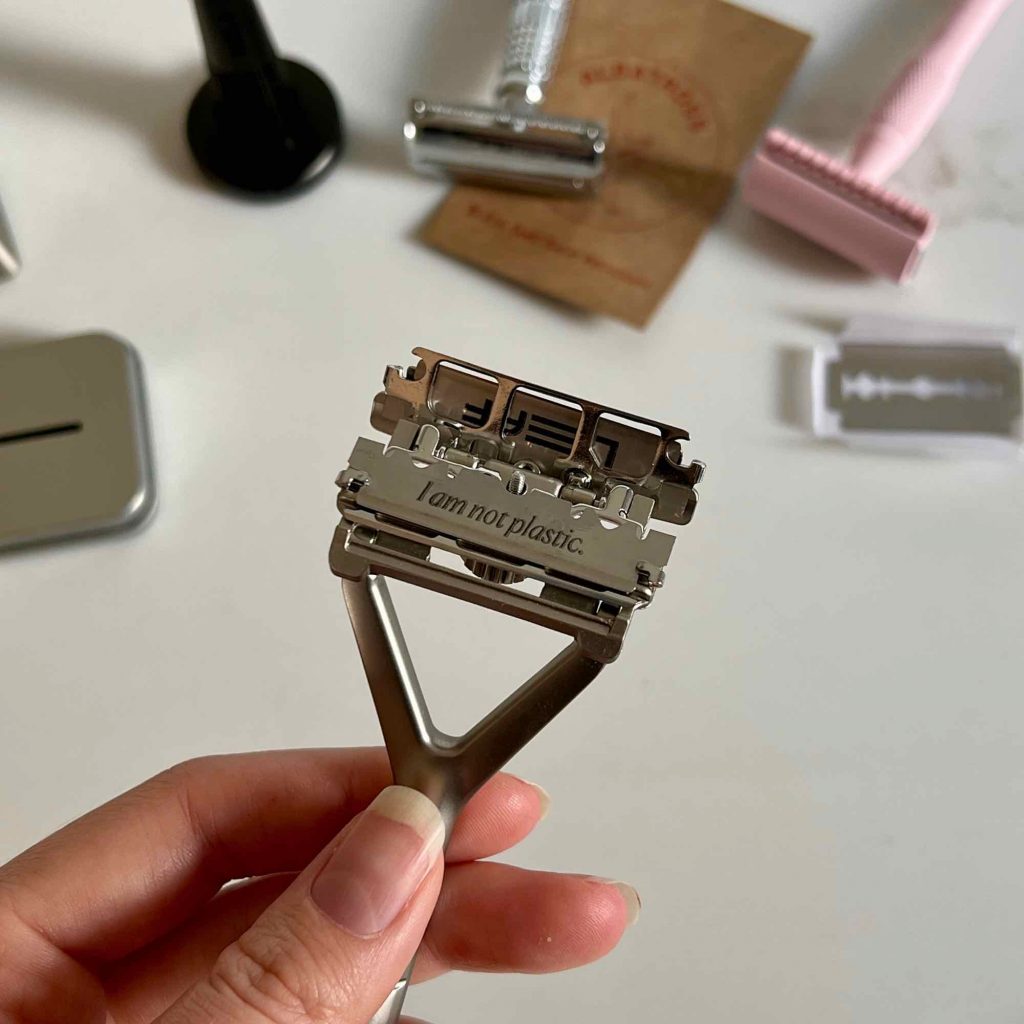 [Related: Check out my Leaf Razor review and Leaf dermaplaner review for details.]
There's something people say in Italy when they give a small gift that I just love: "é un solo un pensiero." It's just a thought.
I love that. Not every gift has to be flashy and expensive, and this is a great example.
Everyone uses lip balm, so this is an affordable gift that sneakily introduces someone to the world of plastic-free toiletries. (A world I know really, really well.)
I've tried at least five different brands of lip balm in cardboard tubes, and these are my favorites. (I've been using mine for more than a year, and it's nowhere near finished.)
They're like a vegan, plastic-free heir to the Lip Smackers I used to love getting in my stockings as a kid. (A great sustainable gift for tweens or adults.)
I have the Orange Tangerine flavor, which is more grown-up than it sounds. The scent isn't 100% fruity, because the formula contains a little rosemary extract. They also come in the prettiest cardboard packaging, which makes them my favorites for gifting, as well.
These are available from EarthHero. (Remember, use the code TILTEDMAP10 for 10% off anytime.)
14. Indulgent (but low-waste) Face Masks
If you want to give a pampering skincare gift that's also travel-friendly and plastic-free, powdered face masks are a great option. (You just mix them with a little water to activate.)
Here are three great options I've tried, all from very small, vegan beauty skincare companies:
My favorite is the cleanser and face mask from Dew Mighty. (Use less product, with more water, and it's a cleanser. Or use more powder, to make a thicker paste, and leave it on longer – a treatment mask.) It's one of my favorite zero-waste cleansers. And the best part? The metal tube is refillable, and refills come in easily recyclable cardboard.
Save 10% on any of Dew Mighty's starter kits (for the cleanser, serum, or both) with the code TILTEDMAP.
Another stocking-stuffer sized option: These super low-waste sample sizes of green and pink clay masks from Bell Mountain Naturals are great if you're not sure what someone wants. (I got about 2 ½ uses out of each packet.)
These are available from EarthHero, where you can save 10% with the code TILTEDMAP10.
15. Plastic-free Shampoo & Conditioner (for people who hate shampoo bars)
I have two options here: First are the bars, because I'll probably never stop talking about The Earthling Co.
They check all the sustainability boxes, and I've tried almost all of their products and haven't found any I didn't like – from dish soap to face wash. (But their shampoo and conditioner bars are in a class of their own, after testing lots of other brands.)
Honestly, these bars are an easy win, and I haven't found anyone who wants their plastic shampoo bottles back after trying them.
Second though, for people who really want something else, are the excellent concentrated, waterless shampoo and conditioner from Everist.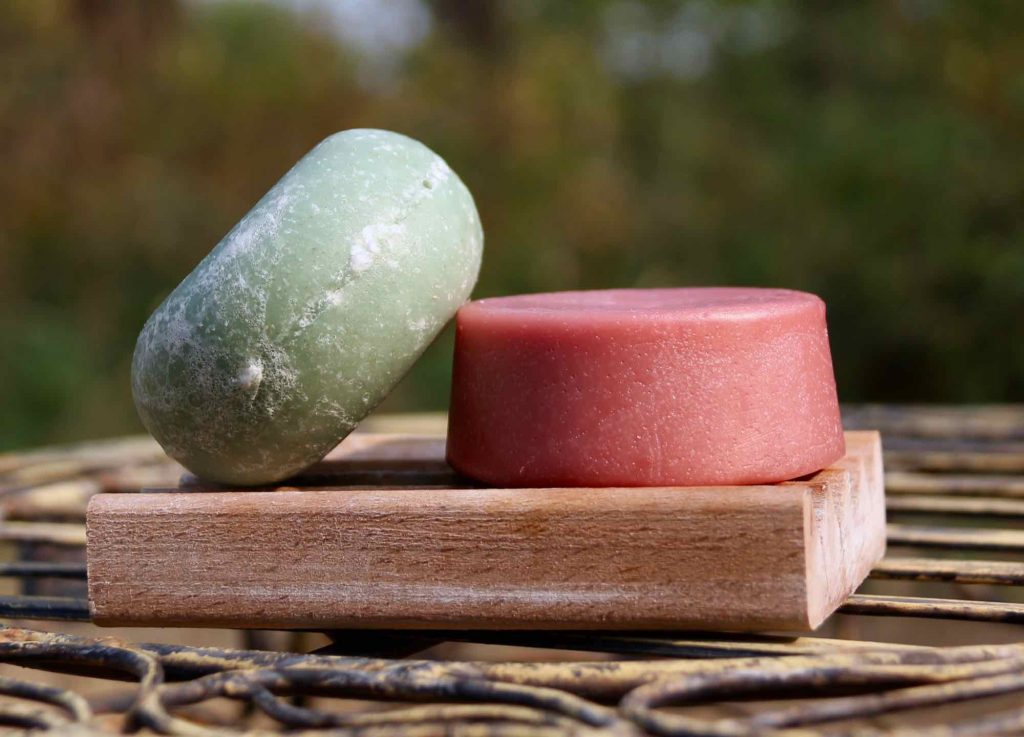 Both lather beautifully, and leave your hair looking shiny.
Earthling Co. bars come in lots of scents, as well as unscented. (My favorites are the Citrus Sun and Vanilla Coconut. And right now, they have limited-edition winter scents – Woodland Berry and Vanilla Chai.)
For now, all Everist products are scented – a light, delicious citrus scent.
These links automatically save you 15% on anything from The Earthling Co.! (No discount code required. 15% off will show up in your cart.) For Everist, you can save 10% with the discount code TILTEDMAP10 .
[Related: For details, check out my full reviews of Earthling Co. shampoo bars, and of Everist's concentrated formulas. Another great option is Viori shampoo bars, which I've reviewed here.]
Sustainable Gifts for the Home (& Pets)
16. Soft, Organic, Top-Quality Bedding
Avocado Mattress makes sustainable, vegan latex mattresses and super soft organic sheets – the kind of gift that will be used for years if not decades.
I've looked for companies that match Avocado's impressive sustainability certifications and haven't found any that measure up. They're a B Corp, carbon negative, a member of 1% For The Planet, and GOTS certified for organic cotton, linen, and hemp.
We've had the 600-thread-count version of their organic cotton sheets for about a year now, and they're fantastic. They continue to get softer with use. (We noticed some pilling after a few months, but it's gone away with additional washes, which, as I learned from Unbound Merino, is a normal process for natural fibers.)
17. Household Goods Made of Recycled Chopsticks
One of the main roadblocks to better recycling is that recycled materials often don't always have a high market value. So the more stuff we can make with recycled materials, the higher that value will be, and the greater the motivation to collect and recycle materials – all sorts of materials.
The Canadian company Chop Value recycles bamboo chop sticks to make all sorts of home good, like these unique, decorative shelves.
I haven't tried these, but I think the concept of recycling single-use chopsticks into something useful is unique and ingenious.
They're available from EarthHero, where you can save 10% with the code TILTEDMAP10.
This is a shocking stat: If dogs and cats in the US had their own separate country, that country would be the 5th biggest meat consumer in the world.
So that's what makes Virginia-based Chippin unique. Their food and treats are made using 80% fewer resources (including land, water and carbon emissions) than normal dog food. Plus, the company is plastic-neutral and has carbon-neutral shipping through offsets.
The protein comes from crickets, spirulina and silver carp (an invasive species in North America, which they source from a fishery in Kentucky. And as the Washington Post explained, dogs don't actually need to eat chicken and beef.)
I don't have a dog to test Chippin on, but I think they're a great gift idea for a dog-owner with an interest in sustainability.
You can try Chippin with 30% off your first order with the discount code MAP30 .
Impact-Focused Marketplaces for More Sustainable Gift Ideas
19. Books – that aren't from Amazon!
Bookshop is my favorite Amazon alternative for new books. They're unique because they share a portion of sales with local independent, bookstores, and are also a certified B Corp.
You can search their selection here:
For new and used books, Better World Books is my top choice.
In addition to reselling books, they donate them, recycle what can't be used, and raise funds for libraries and literacy programs.
Better World Books has warehouses in the US and UK, and free shipping everywhere. (And, like Bookshop, they're also a certified B Corp.)
[Related: You can also shop my favorite food books and travel books on the Tilted Map Bookshop Storefront! I reviewed most of those in my post about traveling vicariously through nonfiction.]
20. Sustainable gift shopping options, for when you just want to browse.
These are two different marketplaces, that both have very high standards, and two very different vibes: Uncommon Goods and Novica.
Uncommon Goods leans a little more toward hip and upscale. (Think: Creative cocktail glasses. Gorgeous (not cheap) modern jewelry.) They're also a certified B Corp.
Novica feels much more artsy-craftsy, with items (many Fair Trade certified) made by artisans in developing countries. (You can even shop by region of origin.) They have a massive selection, and are partners with National Geographic and Intrepid Travel (one of my favorite sustainable travel companies).
I hope these sustainable gift ideas give you some inspiration, if you need it! Happy holidays and happy new year, everyone! 🙂
Save this gift guide for later on Pinterest!
This page includes some affiliate links. These recommendations for carefully chosen companies and products let me earn a commission if you decide to buy anything through them – at no additional cost to you! For more info, please see my Privacy Policy. Thank you for your support!