This post contains affiliate links; see my privacy policy for details.
In all my years of blogging, I've never written a gift guide for two reasons: First, because I'm not much of a gifter.
And second, because I kind of hate the over-consumption-promoting media frenzy of everyone telling us what to buy for the holidays. And the obligation to BUY THINGS, even when we have no idea what to give. (So we waste money wrapping up cheap, low-quality, wasteful crap that will probably live in someone's garage until it makes it to a landfill.)
Well, that may not be the best intro for a gift guide, but here we are. If you can identify with either of those, this sustainable gift list is for you.
I also hate boring, un-researched listicles, so this is not one of those. (Sorry for all the hate. I know it's probably not in keeping with the spirit of pretty much any holiday.)
That's why this list is CURATED. Everything here I've either personally used, or it's a brand that's particularly impressed me with its sustainability accomplishments.
The way I see it, if you're going to shop for gifts, you might as well put your gift budget to use supporting small, sustainable companies that are using business to change the world. (I actually don't believe that's too grand.)
Since I've been reviewing lots of sustainable products this year, a lot of just that kind of company has come across my desk. So I've compiled what I consider the most wrapping-paper-worthy ones (or furoshiki-worthy ones), into this list of sustainable gift ideas for your inspiration and entertainment.
If you can't support local businesses, these are the next best thing:
Most of the small businesses on this list have sustainability certifications, and ship in minimal, plastic-free packaging.
To minimize shipments, many of these gifts are available from EarthHero, which is one of the most sustainable online retailers. They have the trifecta of certifications that make an easy filter for sustainable brands:
They're carbon-neutral,
they're a member of 1% For The Planet,
and they're a Certified B Corp.
And they ship with plastic-free packaging (recycled paper padding, paper tape, and no slick marketing inserts).
They're doing everything right.
You can always use my discount code ( TILTEDMAP10 ) for 10% off any EarthHero order.
1. A Self-Cleaning, Virus-Killing Water Bottle
When I first heard about LARQ bottles, I thought they sounded bougie and unnecessary and a little ridiculous. Then I tried one and realized it's actually much cooler than I expected.
It's also the perfect gift for anyone who buys bottled water because "tap water isn't clean."
LARQ bottles have a UV-C light in the cap that automatically kills viruses and bacteria in your water, which also improves the taste of some tap water. (And keeps the inside of the bottle from getting stinky.)
LARQ bottles are also high quality and beautiful (stainless-steel coated with a stone-like finish in lots of pretty colors). They're very well-insulated, so they don't sweat in your bag and keep drinks cold all day. (There's also an uninsulated version, for something more lightweight.)
So while they're not cheap, they could be a useful gift for germophobes (which is now everyone, right?), travelers, people who appreciate sleek, high-tech gadgets, or anyone who never wants to smell another stinky water bottle (or wash the inside of one).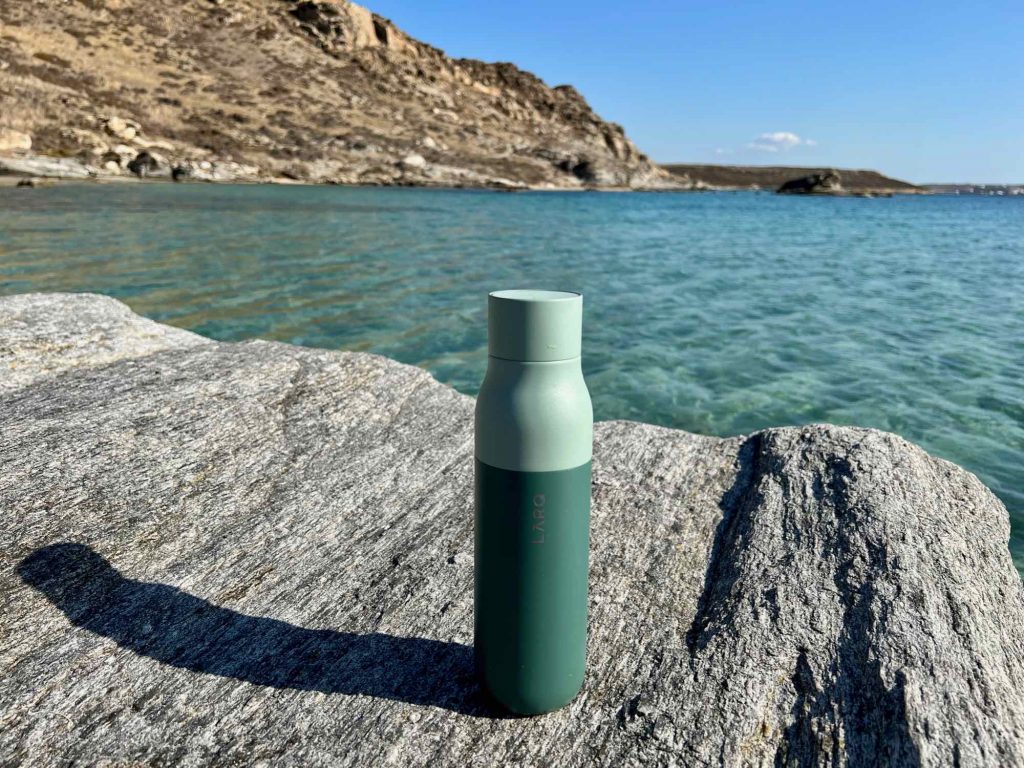 2. Beautiful Cashmere Sweaters (Made of Recycled Fibers!)
A good cashmere sweater just feels like the ultimate Christmas gift.
Everlane has become my go-to for high quality, beautiful clothes that will last – and that I can still afford. Because in addition to their great sustainability credentials, they're actually reasonably priced. Trust me, this is not a common combination.
This year, they have two women's styles made with 100% recycled cashmere: An oversized, cozy turtleneck, and a slightly cropped, waffle-knit sweater with pockets.
No recycled cashmere on the men's side, unfortunately. But they do make sneakers with recycled leather (in men's sizes, too), and lots of recycled outerwear for men and women.
And Everlane's Alpaca collection is a slightly more affordable option. (And alpacas are gentler on the land than other herd animals, like sheep. They cause less erosion and soil degradation.) I have the Oversized Alpaca Crew and love it. It's very soft and extremely warm (warmer than it seems like it should be for how light-weight it is).
Everlane's Black Friday Fund: Starting Wednesday, Nov. 24, Everlane will donate $15 for every order to the Rodale Institute, which helps US farmers transition their land to regenerative organic farming.
Also not to miss – Everlane's men's and women's jeans are in the $70-range, which is a steal for great denim, not to mention for great organic, sustainable denim! (They're the only denim brand I've bought in several years.)
2 1/2. More Sustainable & Organic Clothing Brands:
3. A Sustainable (Truly Refillable!) Skin Care Intro
Activist Skincare has become one of my favorite sustainable brands from all my research and testing. They've become a staple of my low-waste toiletry routine.
Their formulas are effective and well-rounded, but what's really special is that all of their products come in glass packaging that's designed to be REFILLED! That's really so unique for top-quality skincare, and it's something I've been trying to find for a long time.
Their lightweight refill packets have 99% less carbon emissions than recycled glass packaging. (Refills are also available at a few local shops.)
You can can try the entire line with a (refillable) two-week trial kit, which I think is a great sustainable gift idea.
It's an affordable way to find what works without committing to full-size products. (Especially when you want to give a thoughtful gift, but don't know what skin type, sensitivities or skin concerns a person has.)
And it comes in some of the most efficient, minimal, plastic-free packaging I've ever seen. (With beautiful leafy green paper and hand-written notes from the company's founder! That's for all orders – not just for bloggers. I checked.)
After my trial, I loved the Sea to Skin Cleanser, and Calming Force and Active Hydration serums – but don't take my word for it.
I'm normally happy when companies donate 1% of sales to environmental causes, but Activist donates 5% of sales to environmental non-profits. (You can choose which ones you want your purchase to support, if you want to.)
I really just can't say enough good things about this small, California-based company.
You can save 50% on the Activist Skincare trial kit with the code TILTEDMAP50 .
4. A Plastic-free Razor (That's Actually Enjoyable to Use)
This is one of my favorite gift ideas on this list. For a luxurious-feeling personal care gift that should last years, the original Leaf razor is a unisex winner.
The Leaf has a pivoting-head (just like a disposable cartridge razor), but you use it with steel safety razor blades. (Which are 100% plastic-free, and 100% recyclable.)
It's perfect for anyone who likes the sustainable idea of a safety razor, but is a scared of the sharp fixed blade – as they should be! (In my experience, the Leaf is infinitely easier to use than traditional safety razors, which took as much skin off my legs as hair. Leaf didn't hurt me at all, and really easy to use.)
It's also totally gender-neutral (as all razors should be) and comes in lots of beautiful colors.
Check out my review for details. You can order directly from Leaf Shave.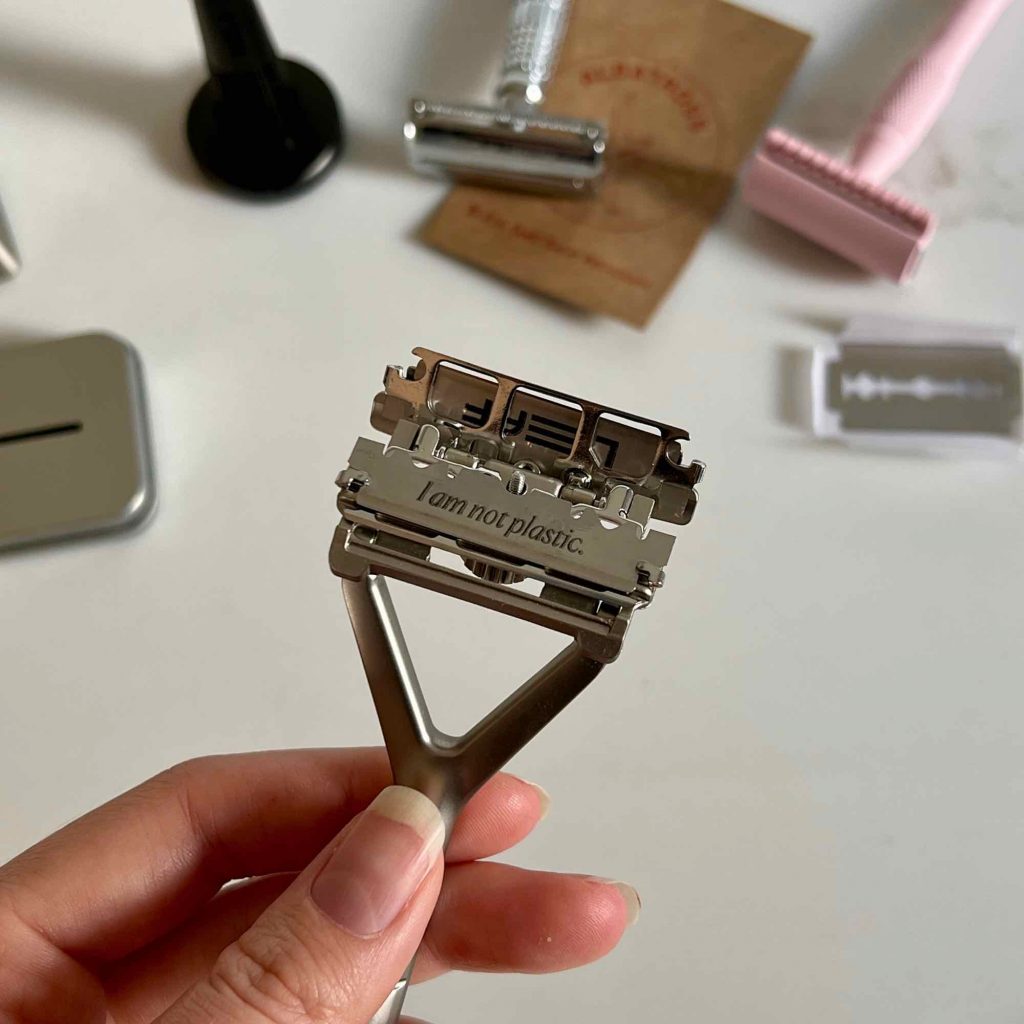 5. Natural Lip Balm (Without the Plastic Tube)
This one's a gimmie. Everyone uses lip balm, and it's a perfect stocking stuffer. These are a low-budget and low-commitment gift to sneakily introduce someone to the world of plastic-free toiletries. (A world I know really, really well.)
I've tried at least five different brands of lip balm in cardboard tubes, and these from Meow Meow Tweet are some of my favorites. They also come in the prettiest cardboard packaging, which makes them my favorites for gifting.
They're like a vegan, plastic-free heir to the Lip Smackers I used to love getting in my stockings as a kid. (AKA a good sustainable gift for tweens.)
But unlike Lip Smackers, these are any-age-appropriate. The Orange Tangerine, for example, is more grown-up than it sounds. The scent isn't 100% fruity, because the formula contains a little rosemary extract.
Meow Meow Tweet is available from EarthHero. (Remember, 20% off everything until December 1st. Then TILTEDMAP10 for 10% off anytime.)
7. Backpacks (Made from Plastic Bottles & Other Backpacks)
Day Owl is a small backpack company out of Pittsburg that's very progressive on circularity, and is a certified B Corp.
Their bags are made of recycled plastic bottles, which they hire people in developing countries to collect. (So it's plastic that would otherwise end up in the environment, and they're creating jobs that are very much needed.)
They're also becoming a truly circular company by taking back beat-up backpacks from any brand, with a free return shipping label that's included in every order. They recycle your old bags into new ones, or clean, repair and resell them as second-hand bags.
I don't have a Day Owl backpack yet, but I think they've got a great concept and are doing a lot of things right!
8. Phone Cases (Made from Plants!)
Disclaimer: No matter how sustainable the brand is, this is only a sustainable gift if it's for someone who doesn't already have one. Because replacing a plastic item that already exists with a new, non-plastic item is still just creating more waste.
That being said, Pela cases comes in lots of fun designs and are made of a bio-plastic (flax seed instead of petroleum) that makes them compostable. And they have a lovely, soft texture, but are very durable.
And if you do just want to upgrade a current case, you can use the envelope your Pela case arrives in to send any case back to them. (If it's one of their plant-based phone cases, they'll compost it. If it's another brand, they'll recycle it.)
My husband has been using the clear Pela case since the end of 2020, and here's how it looks in November 2021: One year in and still looking pretty new! (But I'm partial to my new purple one below.)
They fit perfectly, never slip off, the buttons are easy to push, and the texture offers good grip without feeling too sticky.
Pela also makes smart watch bands, iPad cases, and Airpod cases from the same plant-based material, and lots of styles of sunglasses. (But I haven't tried those yet.)
And Pela has my trifecta of sustainability check marks, too. (B Corp, carbon-neutral, and 1% For The Planet.)
You can order Pela from EarthHero to save 20%. Or (for more selection) order directly from Pela.
9. Low-Commitment (& Low-Waste) Face Masks
There's something people say in Italy when they give a small gift that I just love: "é un solo un pensiero." It's just a thought.
Let's normalize the idea of giving gifts that are small. Not everything has to be flashy, expensive and – in the case of beauty products bought for other people – likely to be used once and forever sit in a medicine cabinet. (Except for Number 3, since it's designed to help you find the right products.)
So keep the "thought that counts" part, but get rid of the wasted packaging and abandoned product with trial sizes – that still feel special and aren't overpackaged.
Two great options I've tried lately:
These super low-waste sample sizes of green and pink clay masks from Austin-based Bell Mountain Naturals are a great starting point. I've used and liked both, and they're a perfect stocking stuffer.
The next step is this set of four face mask minis from Earth Harbor. (Two powders, one peel, and one scrub/mask combo. I haven't finished mine, but I'd say each is enough for at least 6-8 uses.)
The first masks (in paper packets) are available from EarthHero, as are some Earth Harbor products, but not the mask set. (Confused yet?)
10. Shampoo & Conditioner Bars (For People Who Hate Shampoo & Conditioner Bars)
I probably won't stop talking about The Earthling Co anytime soon. This small Nevada company is totally plastic-free, carbon-neutral, and a member of 1% For The Planet.
I've tried almost all of their products and haven't found any I didn't like, from dish soap to face wash. But their shampoo and conditioner bars are in a class of their own. (And I've tested lots of other brands of both.)
These lather beautifully, and make your hair look shiny and great, which is why they've won over more of my real-life friends than any of the other brands I've forced people to try.
Honestly, these bars are just a very easy win, and I haven't found anyone who wants their plastic shampoo bottles back after trying them.
Earthling Co. bars come in lots of scents, included unscented. (My favorites are the Citrus Sun and Vanilla Coconut.) And right now, they have limited-edition winter scents – Apple Berry and Lush Pine.
These links automatically save you 15% on anything from The Earthling Co.! (No discount code required. 15% off will show up in your cart.)
11. Hot Chocolate & Plastic-Free Tea
Comfort food and drinks are gifts that are unlikely to go to waste, and they're often easy gifts to source locally. (Think: jam from the farmer's market, a bottle of something from a local distillery, a bag of locally-roasted coffee, truffles from a chocolate shop, or even a gift certificate to a local restaurant.)
Otherwise, EarthHero carries a few craft foodie gifts:
(I also love homemade food gifts, which reminds me that I need to publish my limoncello recipe soon! In the meantime, you could give the gift of cooking someone one of my pasta recipes? Or mixing them an Italian cocktail?)
12. Climate-Friendly Food for Your Best (Dog) Friend
This is a shocking stat: If dogs and cats in the US had their own separate country, that country would be the 5th biggest meat consumer in the world.
So that's what makes Virginia-based Chippin unique. They make dog food and treats with protein from crickets, spirulina and silver carp (an invasive species in North America, which they source from a fishery in Kentucky) instead of beef and chicken.
Their food and treats are made using 80% fewer resources (including land, water and carbon emissions) than normal dog food. Plus, the company is plastic-neutral and has carbon-neutral shipping through offsets.
I'm not saying our dogs should go pescatarian for their own sake, but really, what is the point of wasting all those carbon emissions to make kibble that dogs probably can't tell apart from meatless kibble?
(As the Washington post explained, dogs don't actually need to eat meat. And people are increasingly spoiling their pets with fancy food made of "human-grade" meat, not just organs and other "byproduct" that humans turn up their noses at in the US.)
I don't have a dog to test Chippin on, but I think they've got a wonderful concept! (And a nice gift idea for a dog-owner with an interest in sustainability.)
You can try Chippin with 30% off your first order with the discount code MAP30 .
13. Portable Solar Panel
This is a big one! My husband and I have a 100-watt solar panel that charges a battery from Jackery. We use it when we're bopping about the country in our van, and it's a perfect set-up.
Our battery has two USB ports for charging phones and small devices, and one AC outlet (a normal wall plug), which means we can recharge our computers. (This is actually a big deal when you live in a car for more than a day! They make smaller, less expensive batteries, but they don't have that AC outlet.)
But you could use the panel and battery with or without the van!
People use these solar panels as emergency back-ups in case of power outages, or on camping trips. But you could use it at home, too.
(For serious emergency use, they have really big batteries that can even power major appliances – like refrigerators. When I was a kid in rural Montana, we had a diesel generator as a backup, so it's really cool to me that now you can use a battery pack charged with solar power for the same thing.)
You could even use the solar panel without the battery, and charge your devices directly from the sun, by plugging them straight into one of the USB ports on the back of the panel. (But since the output is only 5 volts, it wouldn't be useful for much else.)
14. Household Goods (Made of Recycled Chopsticks)
One of the main roadblocks to better recycling is that recycled materials often don't always have a high market value.
So the more stuff is made with recycled material, the higher that value, and the greater the motivation to collect and recycle materials – all sorts of materials.
The Canadian company Chop Value recycles bamboo chop sticks to make all sorts of home goods – pretty cutting boards, kids'/drinking games (it's recycled bamboo Jenga, they just can't call it that), and unique decorative shelves.
I haven't tried these, but I think the concept of recycling single-use chopsticks into something useful is unique and ingenious. They're available from EarthHero.
14 1/2: More Sustainable Home-wares Brands
Avocado Mattress – for sustainable, vegan latex mattresses and super soft organic sheets, I've looked for companies that match Avocado's impressive sustainability certifications and haven't found any that measure up. (They're a B Corp, carbon negative, a member of 1% For The Planet, and GOTS certified for organic cotton, among other certs.)
15. Books! (That aren't from Amazon)
Bookshop is my favorite Amazon alternative for new books. They're unique because they share a portion of sales with local independent, bookstores.
You can search their selection here:
Or shop my favorite food books and travel books on my Bookshop storefront.­ (I reviewed most of those books in another post.)
For new and used books, Better World Books is like a better version of Amazon.
In addition to reselling books, they donate them, recycle what can't be used, and raise funds for libraries and literacy programs.
Better World Books has warehouses in the US and UK, and free shipping everywhere.
Both Better World and Bookshop are both certified B Corps.
16. Two Sustainable Gift Marketplaces
Finally, two great gift shopping options, with two very different vibes, for when you just want to browse: Uncommon Goods and Novica.
Uncommon Goods leans a little more toward hip and upscale. (Think: Creative cocktail glasses. Gorgeous (not cheap) modern jewelry.) They're also a certified B Corp.
Novica feels much more artsy-craftsy, with items (many Fair Trade certified) made by artisans in developing countries. (You can even shop by region of origin.) They have a massive selection, and are partners with National Geographic and Intrepid Travel (one of my favorite sustainable travel companies).
I hope these ideas give you some gift inspiration, if you need it! Happy holidays and happy new year, everyone! 🙂
This page includes some affiliate links. These recommendations for carefully chosen companies and products let me earn a commission if you decide to buy anything through them – at no additional cost to you! For more info, please see my Privacy Policy. Thank you for your support!