This post contains affiliate links; see my privacy policy for details.
This is Part 2 of my series on joining Tourism Declares A Climate Emergency. This is the one where I calculate and share my carbon footprint from the flights I took in 2022. (Here's Part 1. In Part 3, I dive into the details on several travel carbon calculators, and why I chose the one I did for this project.)
I have a confession to make: I've been putting off writing this post all year.
As you may remember, back in the fall of 2021, Tilted Map joined a travel-focused climate action group called Tourism Declares A Climate Emergency.
Quick refresher: Tourism Declares is a group of travel businesses that have committed to measuring and – this part's important – figuring out how to reduce their carbon emissions. (They're mostly much larger businesses than mine, with teams or, I would assume, at least one specialist, dedicated to climate and sustainability. The tour operators Intrepid Travel and G Adventures are two of the most famous members, for example.)
The Part 1 article that I wrote at the time laid out the next steps that my declaration required, starting with calculating my carbon footprint from travel.
Since then, throughout 2022, I've been busy researching things ­– like the emissions footprint of the travel industry (about 8% of global annual carbon emissions), and of air travel (about 3% of global climate impact).
I also read up on the future of sustainable aviation fuel, and the validity of buying carbon offsets to compensate for flight emissions (here's my take on that). I've listened to webinars, and pestered climate experts for one-on-one calls to answer my questions.
And I've traveled. A lot. But you've had radio silence from me on the actual next steps for my declaration. So now it's time to face the music.
It's time to take the scary step of calculating the carbon emissions from all my flights, instead of continuing to study how best to do so.
In theory, I should have gone back to 2019 (the last "normal" travel year) as a base year for my carbon footprint, but that felt about as relevant as going back to the 19th century. At this point, I'm back to traveling, and I have the rest of my year planned out, with my remaining flights already booked. So I decided to calculate my carbon footprint for 2022 as if all of it had already happened.
I also decided to only include flights in this calculation – not housing, food, trains, or other sources of carbon emissions.
This was mostly a practical decision, since the process for calculating emissions from flights is much easier than calculating emissions from everything else (thanks to the many simple travel carbon calculators that exist now).
But it was also a choice that several of the climate experts I talked with recommended. That's because flights are the lion's share of most travelers' carbon emissions – between 50% and 80%.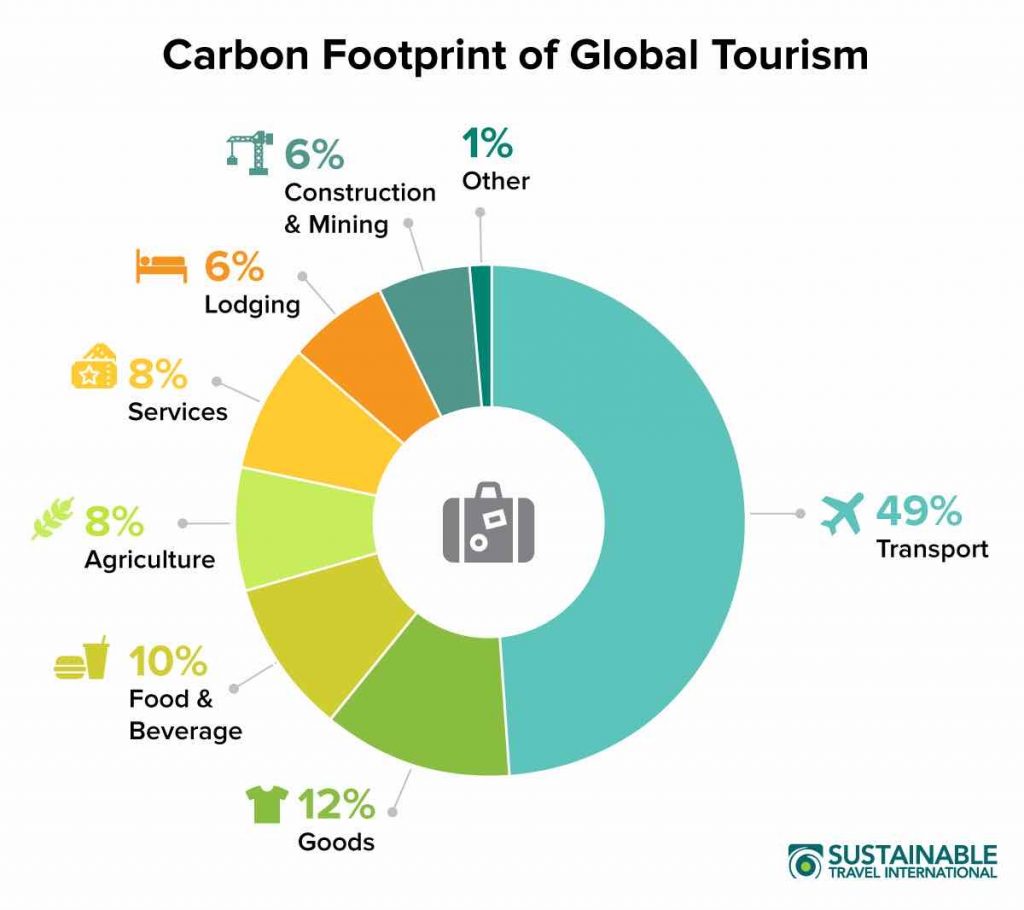 Flights are almost always the most carbon-intensive kind of transportation, and everything about travel that's not flying – like eating food and living in climate-controlled building – I would be doing at home anyway.
(That's not to say our carbon footprints from life at home aren't significant or important. They are. But we can assume they'll be similar whether we're traveling or not, while flights are the biggest factor making travel more carbon-intense than the rest of life.)
And I took a lot of flights this year.
All told, counting business and personal travel (it's a blurry line for me sometimes), I've taken 30 flights this year, passing through 23 separate airports. (Not 30 trips, but 30 individual flights.)
One of those airports, for the record, I'm filing under Not My Fault. I booked a direct flight from Boston to San Francisco, but at the last minute, Delta switched me to a route with a layover in Detroit.
A direct flight from Boston to San Francisco does exist, but the airlines had other plans for me. (We went for kayaking, visiting Napa Valley organic wineries, and a trip up the coast to Vancouver).
Counting that, only three of the airports I passed through were for useless layovers. The rest were starting points, destinations, or layovers that I stretched out into mini "stopover" trips to visit a city for 1 to 3 days. And I flew direct whenever it was an option (even when it cost more).
I also avoided four flights by taking trains. (Only counting routes where people often would actually fly, like Boston to NYC, and Prague to Paris. Not counting very short routes, like the town of Rimini, Italy, to Milan, for example.)
The Boston – NYC train, for example, emitted half the carbon of flying the same route. (34 kg of CO2 emissions vs. 72 kg. For the electric trains in Europe – vs. the diesel ones in the US – the difference was even bigger. To find this, I used TravelAndClimate.org.)
[Related: For more on why that calculator is best for trains and other kinds of travel, see my next post in this series, comparing travel carbon calculators.]
Okay, yes, I'm stalling with these anecdotes.
Without further ado, my carbon footprint from all those flights I've taken (and am still scheduled to take) in 2022 is… 16,015 kg of CO2 (or 35,307 pounds).
That's 16 metric tonnes of carbon dioxide emissions.
Here's the spreadsheet I made to tally up the data:
I blurred out the dates, because I guess I still need some privacy..? (Click to enlarge & zoom if you want to dig in. The most interesting part is down in the right bottom right.)
That is… a staggeringly large carbon footprint. It's just over 10 times the "climate compatible annual emissions budget for one person."
(That's how much we should each emit in order to limit global warming to "just" 1.5 degrees Celsius, which is the goal of the Paris Agreement.)
It also happens, ironically, to be about equal to the average annual carbon footprint of an individual in the US – which is already 5 times the annual average carbon footprint of a person in Mexico. (The annual carbon emissions per person in the US are 3 times higher than in France, Italy, Spain, or the UK. They're double that of China, and 10 to 30 times an individual's emissions in Ethiopia, depending on whom you ask.)
And I reached it just counting my flights. Here are two interesting visualizations of the average carbon footprint per person, by country:
Yes, it's true that I'm a professional travel writer, so my flight emissions should be more than most people's.
And I travel to find ways for others to travel more sustainably, so theoretically I'm helping readers have a lower and more beneficial impact with their travel.
I have no idea how my carbon footprint might compare to that of other travel bloggers; I haven't seen any other bloggers or travel writers share this calculation.
(If you know of other travel bloggers who've shared any part of their carbon footprints, please send me the links! Update: There's at least one good one in the comments now, from my friends at Honey Trek.)
And considering that I eat mostly plants and very little meat, that I rarely travel by car, and that I live in a very small apartment and have chosen an electricity provider that uses 100% renewable energy, it's safe to say that my flights probably are the vast majority of my entire carbon footprint.
But just looking at that number makes it impossible to avoid the elephant in the room: Travel has a huge impact on climate change, and if you care about seeing the world, you probably hate the idea of leaving it worse off by having seen it.
Why am I sharing this embarrassing fact?
Well, firstly and least importantly, because I got excited one day last year and I said I would.
Secondly, because, while calculating and reducing the carbon emissions of a travel blog is an entirely overwhelming and embarrassing thing to make a public commitment to, it's pretty logistically similar to calculating and the reducing the carbon emissions of your own travel, as a regular person. So I'm hoping it'll be helpful.
But most importantly, because the first step in reducing your carbon footprint is to figure out how big it is and where your emissions are coming from.
As I said in my first post on this topic, what gets measured gets managed. (I didn't make it up; the management expert Peter Drucker did.)
And I learned a lot more from actually measuring my flight emissions than from just thinking about them and researching.
One big lesson from this is just how much of a difference the airline you fly on can make.
It's often a 30% savings in CO2 emissions between the least and the most efficient airline. Sometimes it's a lot more. A 63% reduction was the highest I saw in my own calculation – the difference between flying direct from Boston to Kansas City on United (the worst for this route) versus Southwest Airlines.
I'd seen this information before, from booking flights on Kayak. (Which displays emissions data from Atmosfair – the same data I used – if you ask it to.) But it really hit home when calculating the footprint for all of my flights at once.
This is a really easy way to reduce your emissions, without having to look at the actual aircraft you're booking a ticket on, and sometimes it even makes more of a difference than choosing a direct flight over one with a layover. (That part really surprised me, but it very much depends on the route and the aircraft, so you have to check.)
And I did fly on the lowest emission airlines for all but 7 of my 30 flights this year. But still, I could have saved 2,561 kg of CO2 emissions if I'd always chosen the most efficient option. That would give me a 16% reduction in my overall carbon footprint from flights this year.
(Kayak isn't the only flight search aggregator that offers emissions data for flights. Momondo, which is owned by the same company as Kayak, as well as Skyscanner and Google Flights all do something similar. Kayak is just the one I use most.)
How to Calculate Carbon Emissions from Flights
Wondering how I came up with that big scary number above? The short answer: I used the travel carbon calculator from Atmosfair.
The what from whom and why?
There are lots of free travel carbon calculators out there on the internet.
They all use slightly different methodologies, but all carbon calculators basically do the same thing: Take statistics that are well known to science – such as how much CO2 is emitted by a certain type airplane for every mile it flies, or a certain train for every mile it chugs ­– and make them accessible and useful to travelers through an interface.
You put in where you flew, and the calculator does the work for you.
I used Atmosfair's flight carbon calculator, because it's regarded as among the best. (It's also a rather aggressive one, based on its methodology for calculating emissions. Other calculators would make my footprint appear smaller, but for now, the difference isn't really worth worrying about.)
[Related: In the next article in this series, I compare several carbon calculators for travel, and what they're each good for. Read that one, and you may understand it so well you'll wish you'd never asked.]
But today, I don't want to get bogged down in the details of calculations and methodologies. Instead, I just want to let this sink in a bit.
Because I write a lot about how sustainable travel is not a contradiction in terms. But frankly, seeing those numbers glowing at me from my computer screen makes that almost feel impossible.
Of course, there's more to sustainability than the environment. (It's a social topic, too, about equity and fairness.)
And there's more to the environment than climate change but, as I've written about before (#14 here), whether something is good or bad for climate change is a good proxy for many other kinds of environmental benefits or harms. (Like habitat preservation and biodiversity.)
Better travel — travel that's less damaging, and more inclusive, with its social and economic benefits shared among more people, and profits directed to better causes — is of course doable. Easily so, in fact, compared with any kind of "carbon neutral" travel.
But I have to face the fact that I'm not quite in the 1% of greenhouse gas emitters, but I'm pretty close. (At least in terms of individuals.)
And as someone who believes in both science and personal responsibility – meaning that no, we cannot just hope technology will save us — how can I possibly go on like this? What can I do to reduce my carbon emissions from travel, besides just staying on the ground? Anything?
I'm going to break that down more in the next posts in this series, so stay tuned. (In the meantime, you can catch up by reading Part 1, or my Lazy Guide to More Sustainable Travel, for some non-overwhelming tips.)
Any thoughts on the topic, or questions about calculating your emissions from flights? Leave a comment below, and I'll be happy to chat about it. This is a conversation we all need to be having.
---