"Tilted Map" means a different way of looking at something familiar.
I chose the name because I believe in a different way of looking at sustainable travel: We can make any kind of travel more sustainable. It doesn't have to be boring, or expensive, or involve a kayak or a hut in the rainforest.
It's not about being perfect; it's about doing better.
And while I write about doing better with sustainability, I don't believe in preaching perfection to people. A few examples:
While most of the Italian recipes I share are meatless (and damn tasty), I'm not vegan.
And when I cross the ocean, I don't do it in a sailboat.
I believe in trying to do the best we can, while still living our lives and getting out and seeing this beautiful world.
And yes, I use the term "zero-waste" for my reviews of products that are produced responsibly, with less impact and less packaging. But please know that I don't mean "zero" literally. We don't have to aim for zero, which is impossible. But we can do better.
I'm passionate about supporting the businesses – usually small businesses that real people pour their lives into – that make that possible.
So this blog is about both travel and sustainability. Wanting to see the world and caring about keeping it in good shape? I think those are pretty compatible interests.
As it turns out, I'm not alone. A lot of you, my readers, have written to say that you found me via one topic and then stuck around for the other. Thank you for that!
What Sustainable Travel Means (on this blog, at least)
To me, "sustainable travel" isn't the same as "eco-travel." Meaning it doesn't only apply to nature tourism and the outdoors. There are more sustainable ways to do every type of travel.
A lot of dollars flow through the travel industry. One of my biggest goals is to help readers spend their travel budgets with companies that operate ethically, and do their best to protect the environment. (Because in every industry – airlines, hotels, cruise ships and beyond – not all companies are the same.)
My Story & Why I Started Tilted Map
Hi, I'm Ketti Wilhelm, and I've always loved to do two things: write and travel. So when I finished my Bachelor's Degree in Journalism, I moved to China, started writing for travel magazines, and started my first, very personal, blog.
When I finished the program, the only job I wanted was to combine the two – travel and sustainability. That's how Tilted Map began.
More About Me
So, far I've lived abroad for five years of my life – but I grew up in the mountains of Northwest Montana, right on the border of Glacier National Park. I've always been a nature lover, and that's part of why I've been writing about sustainability and the environment ever since I started blogging.
I left Montana after college, with a job teaching English to 300 university students in China, a side-hustle as a freelance magazine writer… and just one word of Mandarin.
(If you want some short, fun reading, my old posts about China are some of my favorites.)
And while living in China, I met the man who would become my husband. He's from Italy, and when we were both ready to leave China, we spent six months backpacking around New Zealand and Southeast Asia to get to know each other.
(Trust me: After living in a minivan for two months with someone, you know whether the relationship can work or not.)
So we moved to Italy together!
I studied full-time for months and learned Italian, we got married in Milan, and I went to graduate school for Sustainable Business & Energy at Bocconi University.
I fell in love with a lot of aspects of Italian culture – and I love to write about cultural differences between the US and Italy, which, of course, includes a lot about food culture.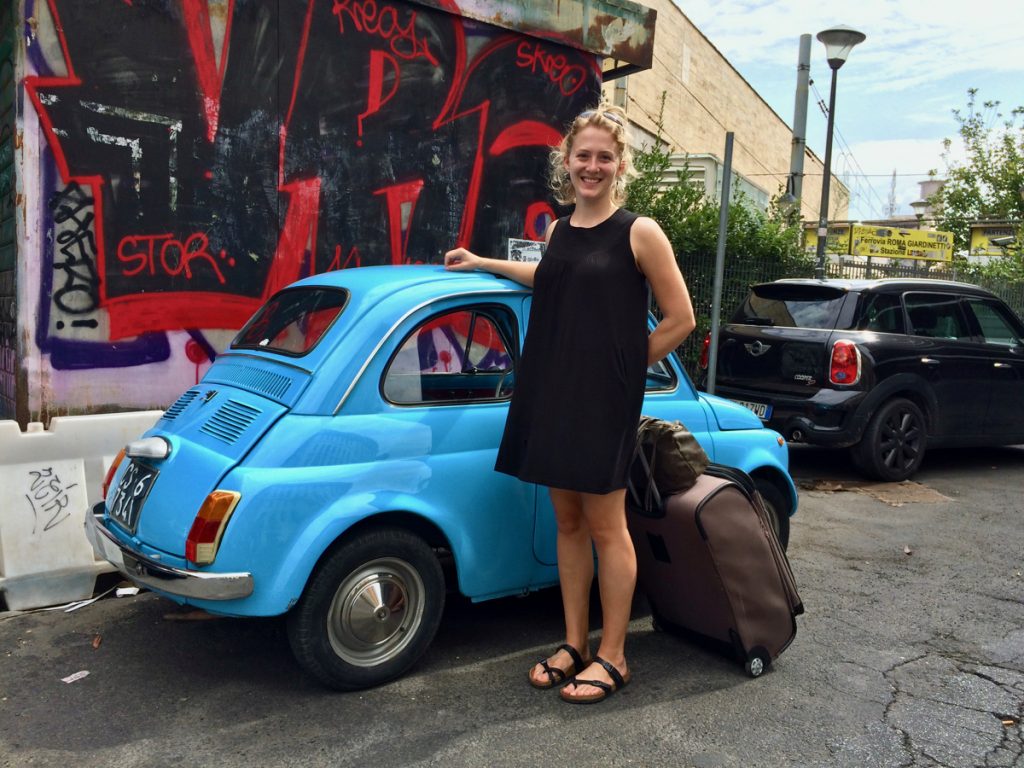 I've also briefly held a desk job in France (during which I time I wrote only one post about France, and it's about the toilet paper). I spent a semester studying in Spain, and some summers guiding students around Nicaragua and the Caribbean. And had healthy stints as a nomad with a backpack in between.
(My tips for how to move abroad are all in this post.)
And since I've found ways to travel to more than 40 countries since college, you'll also find all kinds of stories here about exploring the world! Tales of adventure and of culture shock, joy, frustration, love and, hopefully, inspiration. (Even for when you can't travel.)
Questions? Ideas?
Whether it's a brand to test, a book to read, or a destination that's doing something uniquely sustainable. I might not have the answer, but I spend a lot of time testing products, calling experts, and tracking down answers for this blog, so I love to hear what's on readers' minds.
Wondering what to read next?
These are some of my most loved posts in every category: