This post contains affiliate links; see my privacy policy for details.
Note for the month of August – this month, you can use my Viori discount code, TILTEDMAP, for 25% off your order! (It applies to all one-time and subscription orders. *Does not apply to bundles.*)
I've tested and reviewed a lot of shampoo and conditioner bars (dozens!), and I have to say, Viori is among the best. And I'm talking about the whole package – the ingredients, the plastic-free packaging, and the company's dedication to supporting a rural indigenous tribe in Southern China.
What else makes Viori unique? Their rice water shampoo formulas, for starters (an ingredient used for centuries to encourage hair growth and shine). Their outstandingly pretty, plastic-free packaging (great for gift-giving!). Plus, the fact they're surprisingly affordable (especially if you follow my advice below).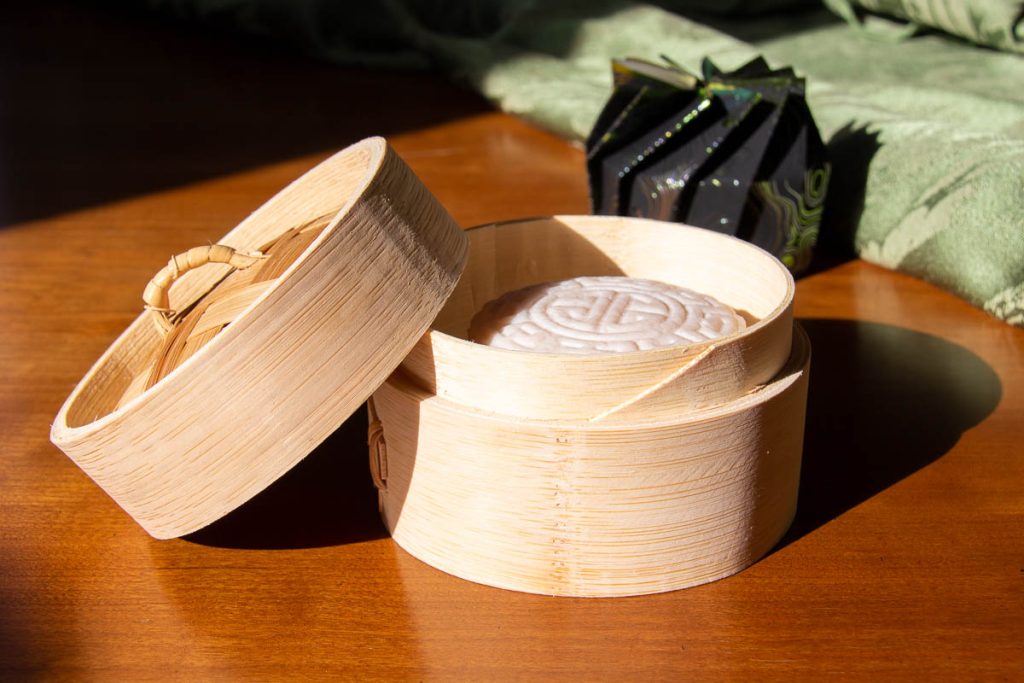 ---
Viori Review – Quick Highlights
No time? Here's a quick summary:
For volume, shine, and how (impressively) long the bars last, I give Viori shampoo and conditioner bars three thumbs up! The scents also last on my hair longer than any other bars. Their Citrus Yao bar (my favorite, after a month of testing) lets me sneak in an extra day between shampoos.
And after using all of their rice shampoo and conditioner bar formulas, I realized (and a Viori founder confirmed) there's not a lot of difference between them. It's mostly just a matter of scent – but the scent does have some effect on how the bars leave your hair.
[Details below on the Viori formulas.]
And while, at $18 each, Viori shampoo bars seem a bit expensive, I found several ways to trim that price down. When you stack any of those hacks with my extra Viori discount code, the price goes down to about $11 or $12 per bar. That's actually less expensive than any other salon-quality shampoo bars I've found.
If you want to try Viori bars, you can use the code TILTEDMAP for 10% off any order!
Remember, this discount code is worth 25% off most orders for the month of August!
(Note: The Viori website says you can't use extra discount codes with bulk orders – but you can use this one for 10% off, even on bundles!)
Those are the highlights! Read on for my detailed review of Viori's rice shampoo and conditioner bars, and the company behind them.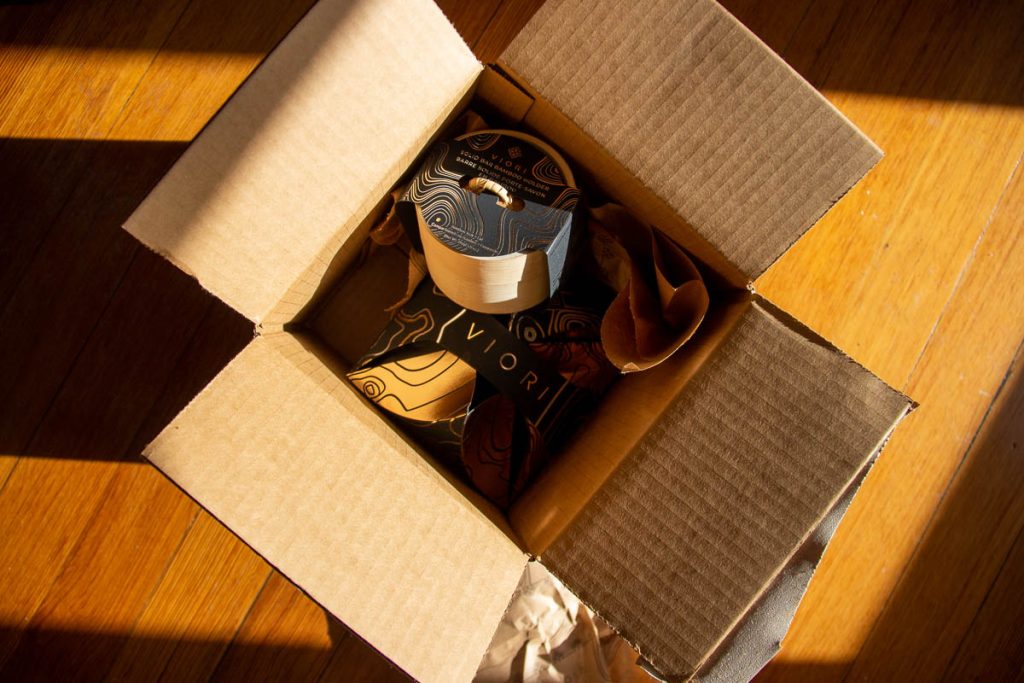 ---
How is Viori different from other shampoo bars?
Viori stands out for three things that I haven't seen from other companies.
1. Sustainable & Pretty Packaging
Plastic-free packaging is one of the minimum requirements for me to review any product – but not all shampoo bars are plastic-free.
Viori definitely checks this box. They ship in cardboard boxes with recycled paper padding. Even the stickers on the bottom on those elegant, twisty shampoo bar boxes are made with natural adhesive and are totally plastic-free.
But they're the only shampoo brand I've found that has made plastic-free still impressively nice to look at.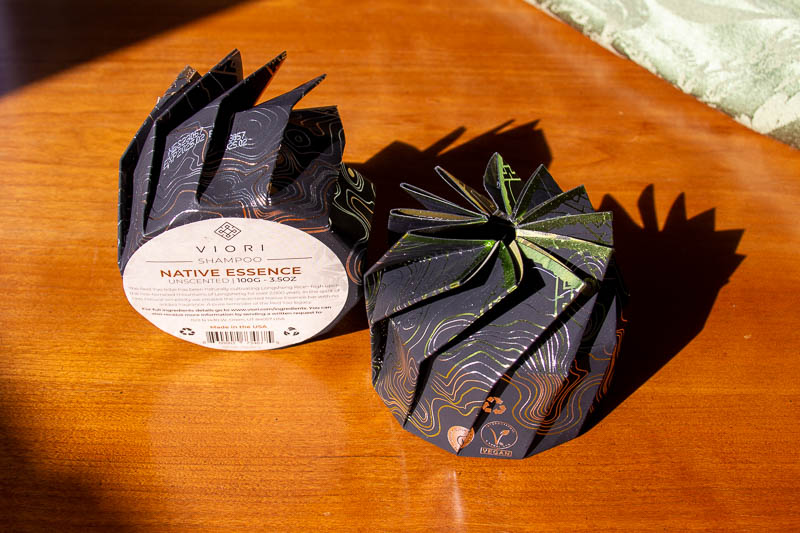 2. Scents That Last on Your Hair
Every other shampoo bar I've ever tested has left hardly any scent on my hair after it dries, regardless of how profume-y it seems in the shower.
Viori is quite different in that. I can still smell their scents on my hair even two days after shampooing. And because scent is something I've missed since switching from bottled shampoo to plastic-free bars, this is a pretty cool find!
So it's pretty lucky that they smell great, too. Viori scents have a high-quality complexity that makes me appreciate their lasting power. This is how I would describe the scents:
Hidden Waterfall: Sort of a classic musk scent with a sweet, vanilla-y twist. (For all hair types.)
Citrus Yao: A bright, fruity citrus scent that's my personal favorite. (Best for normal to oily hair.)
Terrace Garden: A fresh but intense floral scent. More jasmine than rose, I think. (Best for normal to dry hair, just like their unscented bars.)
If you like to mix things up, they also release limited edition scents about three times a year. (Recent ones have included Lavender, Heirloom Tea, and Teak shampoo and conditioner bars.)
3. Viori's Mission & Ingredients
There's quite a unique story behind how this small company came about.
Two of Viori's future founders were traveling in China a decade ago, and they spent some time with an indigenous group called the Red Yao, high in the mountains of Southern China. The tribe has been growing Longsheng rice there for centuries. Along with being part of the people's diet and livelihood, they use this unique kind of rice for their hair care, too.
And of course, the travelers noticed what the Red Yao are famous for: Women with shiny, beautiful hair reaching all the way down to their ankles and rarely going gray. (Apparently, they're known across China as "the long hair village," and recognized in the Guinness Book of World Records.)
When the pair left the village, they kept in touch with several people (they both speak Mandarin). Later, the locals reached out to ask them advice on selling their rice abroad. That's how Viori started.
The small company pays the tribe double their normal price for the rice, which they use to make their shampoo and conditioner bars in-house, in Orem, Utah, while re-investing some of the profits with the tribe for education and other projects.
[For more about Viori's work with the Red Yao people, scroll down to the bottom of this article.]
What is Rice Shampoo?
Long hair has a lot of traditional, cultural significance to the Red Yao people, and there's increasing scientific evidence for how rice water helps them keep their hair so long and strong.
Our hair is porous, and can absorb whatever we put on it. Rice water, the ingredient used in the Red Yao women's beauty routines and in Viori's rice shampoo bars, contains antioxidants, vitamins, minerals and amino acids. These compounds help improve hair's strength and elasticity, preventing breakage. They also balance the pH of your scalp and soothe the skin, preventing dandruff.
You'll find link to several scientific studies about this here.
How long does a Viori shampoo bar last?
Before I tried them, I kept reading that Viori shampoo bars last a really long time, so of course, I wanted to put the claims to the test. Other Viori reviews have claimed have claimed several months. Viori gives a range of 30 to 60 washes per bar.
Since I didn't want to wait that long to write this review, I decided to do my own little scientific experiment with a scale and a calculator. I weighed my bars before using them, and again after three weeks, to calculate how long an entire Viori shampoo bar would last.
The first bar I started testing was the Citrus scent. Straight out the package, it was 90 grams (3.17 ounces). Then my husband and I used just that one bar, each washing our hair every other day. After three weeks, I let the bar dry and weighed it again – it was down to 62 grams.
So after roughly 21 uses, the bar had lost almost one-third of its weight. That means we should get at least 65 shampoos out of one Viori shampoo bar.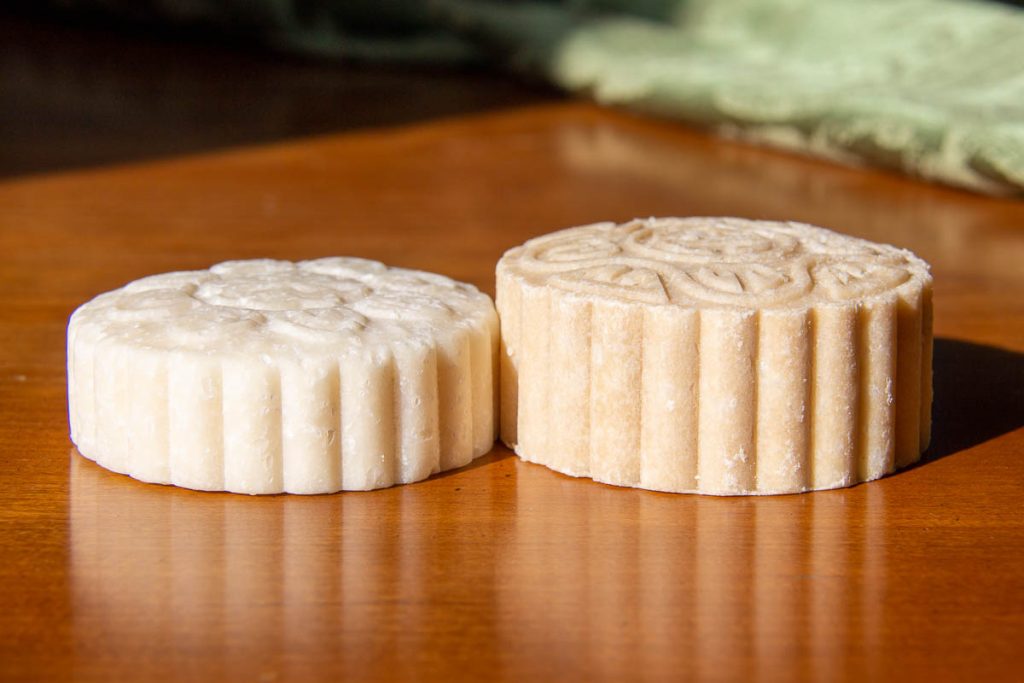 That means Viori's estimate that their bars last 30 to 60 washes more than checks out! In fact, it's pretty conservative. Considering how long they last, Viori might even be the best value shampoo bars I've found.
---
Read This Before You Browse the Viori Website
So far, so good. I like everything about this company, but a couple of things make Viori's website frankly a bit confusing. I spent some time clicking around, and asked the founders questions directly, to get it all straight and save you the effort.
Scents vs Formulas: What I learned after trying them all
First, you can choose from Viori's four scents. (One of the four, called Native Essence, is unscented.) But each scent is also labeled as a different formula, for different hair types.
But they're not mix-and-match. You can have citrus scent (for normal to oily hair), or floral scent (for normal to dry hair), but you can't have floral-scented shampoo bars for oily hair. Now you know.
That being said, I tried them all, and the difference in how my hair looked was pretty minimal. They all lather very well, making a rich, thick foam after just a few strokes running the bar over my hair. They all rinse easily, and don't leave any residue – just shiny, clean hair.
For my wavy hair, I think the floral-scented Terrace Garden bars do the best job of playing up my wave/curl. But the fruity Citrus Yao was my favorite scent, and it seems to keep my hair from looking greasy for a day longer than the others.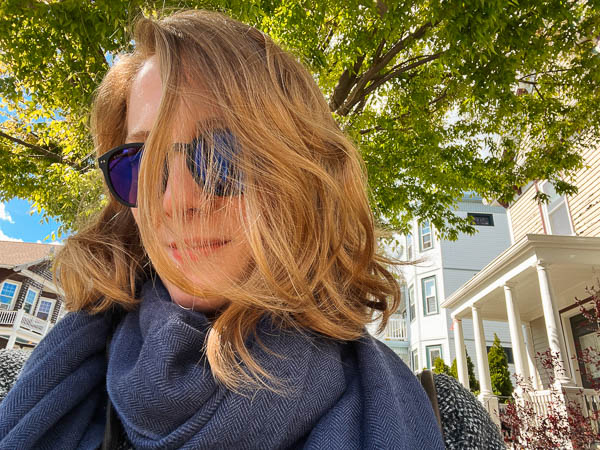 And I first heard about Viori from a friend who has very curly hair, and she swears by the unscented bar, which, as I learned below, is most similar to Terrace Garden.
So I asked Lynsie, one of the founders, about the different formulas. She said the only difference in the Viori shampoo formulas is the scent – but it actually makes more a difference that you might expect, due to the amount of citric acid in each natural scent.
I thought that was really interesting! And cool that they were open to explaining what's behind their products. Here's the rest of what Lynsie said:
"Our Citrus Yao scent is best for oily scalp/hair types due to the naturally higher level of citric acid in the scent. The Hidden Waterfall scent is great for a normal hair type which means not too oily not too dry. It's usually someone washing their hair every 3 days. Terrace Garden is great for a dry scalp/hair type. And Native Essence is unscented, which is great for dry scalp/dry hair or anyone with sensitivity to fragrances."
The reviews from customers on Viori's site seem to show that people with different hair textures and types seem to like each formula.
Where to Start:
Viori has a shampoo bar quiz to direct you to the bars that should work best for you. I took the quiz, after using all three formulas for days or weeks each, and it recommended the Citrus Yao bars – which were already my favorite! So maybe there's something to the quiz. (Or just go with the scent that sounds best to you.)
(Actually, when you take the quiz, the results show all of their products, but the one that shows up first is the recommended one.)
Rice Conditioner Bars
Each Viori shampoo formula has a matching rice water conditioner bar, too. They go on really smoothly (which I definitely can't say about all conditioner bars) and leave my hair feeling soft and well-conditioned.
When I first rub the bars on my wet hair, it feels like not much product is transferring, but then it seems to "activate" when I run my hands through my hair and feels quite similar to liquid conditioner.
I also like that the shampoo and conditioner bars are much easier to tell apart than many other brands'. Viori's shampoo bars are round, with an intricate design stamped on top, while the conditioner bars are square, sliced-off chunks (like the kind of bar soap you'd buy at a farmer's market). No risk for mix-ups in the shower.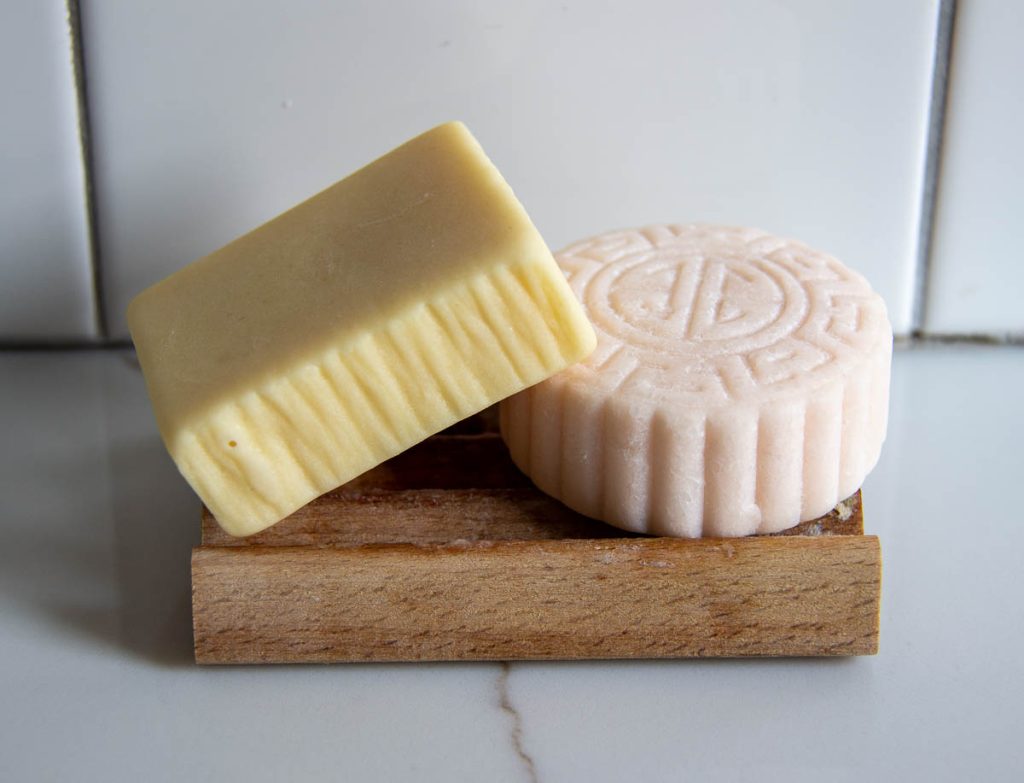 ---
Viori Prices & How to Save
Next, Viori's pricing is also complex – but I figured out how to work it to your advantage. The prices aren't shown on the main shopping page. (You have to click each item to see how much it costs, which is a bit bizarre.)
The sticker price is $18 each for Viori's rice shampoo bars. Same for the conditioner bars. That's higher than any of the other shampoo bars I've tested, but there's almost no reason you have to pay it.
To save you time, I did a bunch of clicking for you – and realized there are lots of ways to save money on Viori products:
Sets: Even just buying a shampoo and conditioner set cuts the price down to $13.50 each bar. (A 25% discount – more than other brands.)
Subscription pricing: If you only want shampoo or conditioner bars, Viori's subscription price gets you the same 25% savings: $13.50 each bar. (It's also a much better subscription discount than other shampoo bar brands I've compared.)

You can choose how often you want the orders delivered. (From every month to every 6 months, with the same promo price.) And you can stack that on top of my discount code, TILTEDMAP, for another 10% off.

Product bundles: Like the shampoo and conditioner set, but with lots of combinations, these are good options for breaking up into affordable gifts. (A few examples below.)
Bulk orders: Don't like subscriptions? Viori has even higher discounts for bulk orders. You'll save 28% to 30% by ordering 4 or 6 bars.

Again, stack that with the code TILTEDMAP for another 10% off and these are now the lowest priced bars I've reviewed.
Viori Sets & Bundles (& Gift Ideas)
Finally, my last gripe about the confusing website: Every packaged set of Viori products is named in a way that gives little indication as to what's in it.
For example: "The Experience Bundle" has one of each of their shampoo and conditioner formulas (8 bars) for $94. So if you try everything, each bar costs $11.75 instead of $18. (That's 35% off.) It would make a lot of sense to buy this and break up the bundle into four separate gifts.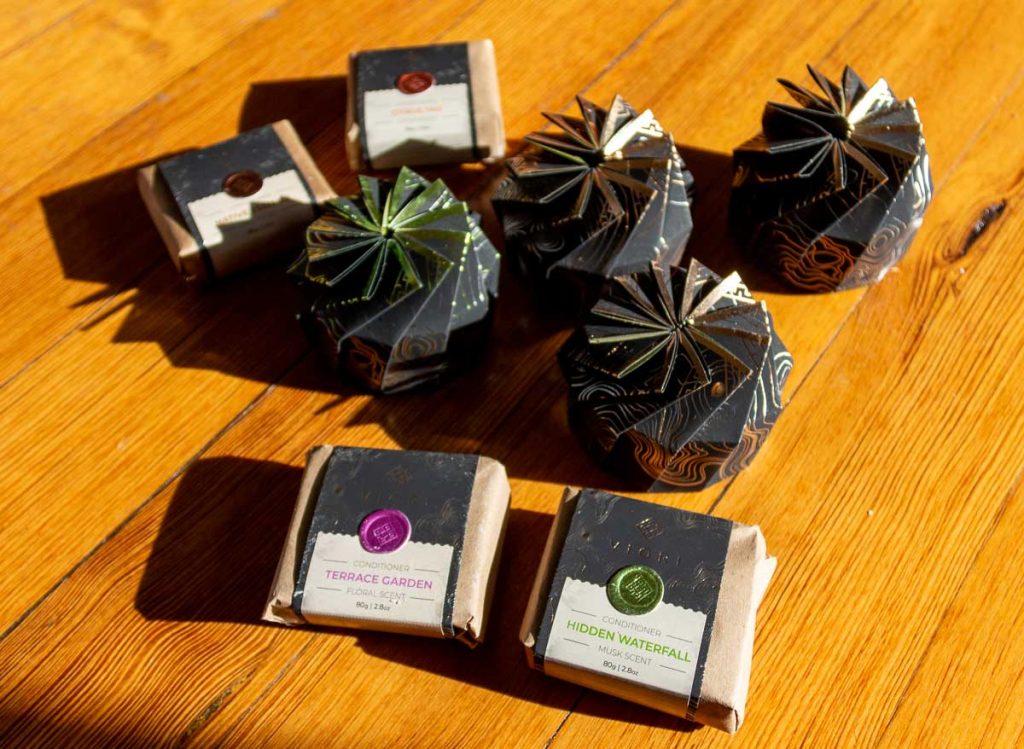 Meanwhile, "The Tradition Bundle" also has all 8 bars, plus one of their bamboo bar holders. (A very fancy, elegantly plastic-free alternative to a soap dish, which only costs an extra $2 in this set, instead of the normal $12. Gifts for three people, plus a set for yourself with the bar holder?)
For one single, bigger gift, the Ritual Bundle has a shampoo and conditioner set, plus a bamboo bar holder, a bamboo comb, and dry shampoo to use between washes.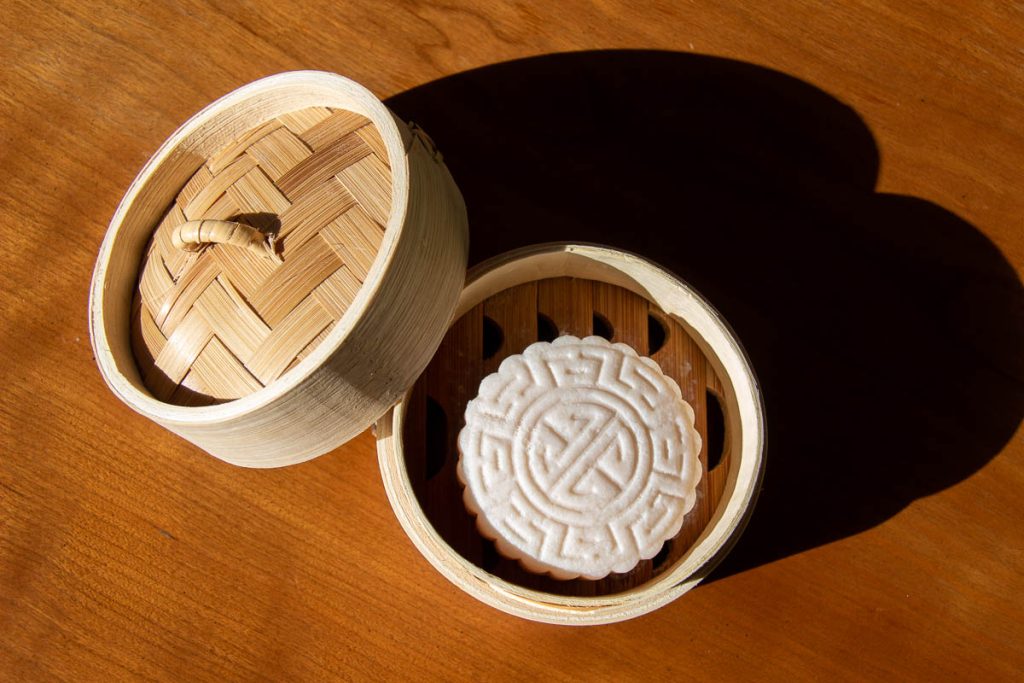 At first, I thought the bar holder seemed a little silly – with its design based on the steamer baskets used in Chinese cooking. But it actually looks good and drains water really nicely. I admire the creativity!
[Related: Check out my sustainable gift guide for more unique gift ideas from ethical, eco-friendly companies.]
Cons & Things to Consider:
The biggest negative review I can give of Viori is about their website. It's just really confusing to sort through, but hopefully I straightened all of that out for you above.
If you have roommates:
One potential "con" I can think of is that Viori's standard (non-special-edition) bars are all the same color – a natural beige. So if you have multiple people in your household using different Viori bars, or want to use different formulas on different days, it'll take some organization to keep them straight.
Other than that, I've been really happy with all of their products and don't have anything else to complain about. If you're shopping for a new shampoo bar option, or trying one for the first time, Viori is definitely one I'd recommend.
---
How does Viori support the Red Yao tribe?
The way Viori collaborates with its main supplier is really unique, so I wanted to take some space to talk about it.
Lynsie, one of Viori's founders, told me about some of the roadblocks to getting started:
The village is extremely remote (about 3 hours from the nearest metropolitan area) and quite literally at the top of a mountain. Getting proper shipping trucks and transportation was, and still is, an issue.
Chinese government regulations on exporting rice are very strict. The lengthy, expensive processes can be very limiting when trying to grow and expand a rice business.
Because of these two things, the younger generation is starting to leave and seek work in other cities, which puts the tribe's economy and legacy at risk.
Those are the kinds of logistics issues that an international team with business expertise was able to help with. And the strategy they came up with is far from business-as-usual:
First, Viori buys Longsheng rice from the tribe at a 2x markup compared with the normal price they're able to get for it.
The Red Yao people are not subsistence farmers so, contrary to what you'll read in some reviews, Viori isn't taking food out of their mouths by buying their rice.
The tribe has been in the rice industry for hundreds of years, and have many thousands of acres of rice terraces. They have several distributors in China, which they worked with before Viori was founded in 2019, and continue to work with now.
Secondly, Viori reinvests 5% of their profits back into the tribe.
The tribe decides how to invest it, and the Viori team in China is there to support with logistics. Lynsie told me a bit more about this process:
"We have a team on the ground in China that meets almost weekly with the tribe. In these meetings, it is the tribe that has the ultimate decision on what they want to use the money for and how it's used. Our team helps assist in the process to make it happen.
For example, they are very passionate about embroidery, and it's a very unique embroidery process, so they have requested that part of the funds support getting them new supplies so they can make more ornaments. Other projects include buying new farming equipment, getting farming certifications, restoring a tea factory, and helping the primary school get better educational resources."
It's a great example of how access to global markets can actually benefit rural communities, and allow them to thrive instead of slowly being suffocated by economic pressures. But it requires companies thinking outside the box and actually caring.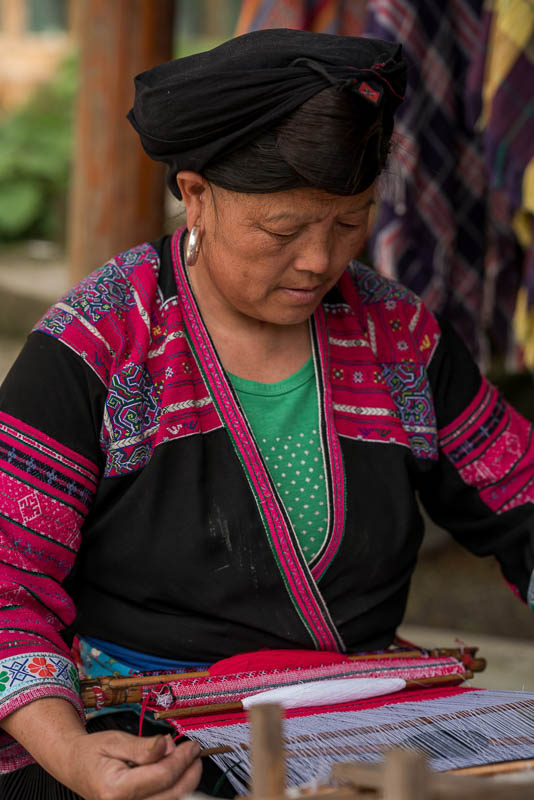 Yet another controversy: Is Viori's relationship with the Red Yao a problem?
Alas, it seems sometimes people just want to assume there are problems where there aren't any. I've read some blog posts accusing Viori of everything from insensitivity, to cultural appropriation, to downright exploitation for their relationship with the Red Yao tribe.
Their social responsibility page has quite thoughtful answers to a lot of these questions. But as usual, I wanted to dig a bit deeper, so I asked for more details.
(And I do know what questions to ask, after studying both International Development and Journalism as an undergraduate, and Sustainable Business and Corporate Social Responsibility in graduate school.)
So with that background, I'm very skeptical of development programs, voluntourism, and many charities. Frankly, there's a lot of "white saviorism" going on out there.
What I mean by that is Western companies, churches or tourists showing up in a community and "helping" by trying to push their ideas on people who would rather be left alone. (Even if being left alone means living in relative poverty and with structural disadvantages – both due to being minorities that the dominant culture mistreats and marginalizes. After all, how would you react if someone showed up from the other side of the world, inspected your neighborhood and said "we know what your problem is and here's how to fix it"? You'd probably prefer to be left alone.)
What I'm trying to say is that red flags are usually obvious to me when these development or economic assistance projects are not done well – and I don't see any with Viori.
I haven't been there on the ground yet, but from everything I've read and asked, it looks like they're doing everything right to ensure the relationship is respectful, mutually beneficial, and environmentally sustainable.
The Viori leaderships has personal and long-term relationships with the tribe members. They work together closely, asking what kind of support they would like, instead of pushing Western solutions. They visit regularly. (If you go to this page and scroll down to the section titled "Local Updates," you can read blog posts about each visit and what's going on with the tribe.)
They're even considering organizing trips for tourists to visit the tribe. So who knows­ – maybe someday I'll be able to report on all this for you, straight from China! (That would be pretty cool, considering that I also lived in China at the same time as the two Viori founders whose time with the Red Yao inspired the creation of the company.)
Viori is also in the process of becoming a certified B Corp. That's a serious accomplishment that requires companies to consider the environmental and social impact of their business, just like the financial side. It's a certification I respect and always look for from the brands I write about.
Remember, if you want to try Viori, my discount code – TILTEDMAP – will save you 10% on your order. (And while the Viori website says you can't use extra discount codes with bulk packages, this one will in fact work with any order. If you have any issues, just let me know!)
Make that 25% off most orders for the month of August!
---
Before you go:
If you're curious to compare Viori with the other shampoo bars I've reviewed, check out these posts: Earthling Co. shampoo bars vs. HiBAR, and several other plastic-free shampoo bars compared in this review.
Want to go further in getting the plastic out of your toiletry routine? Start with my reviews of the best plastic-free razors, or how to spot genuinely sustainable (not greenwashing) skincare products.
Check out my entire strategy on how to pack light – shampoo bars are just one small part of it!
Or if you want to read more about China, I have a whole archive of stories from my time living there.
I hope you found this Viori shampoo review helpful! What do you think – are you interested in trying these bars? If you have any questions, leave them below in the comments and I'll get back to you!
---
This page includes some affiliate links. These recommendations for carefully chosen companies and products let me earn a commission if you decide to buy anything through them – at no additional cost to you! For more info, please see my Privacy Policy. Thank you for your support!