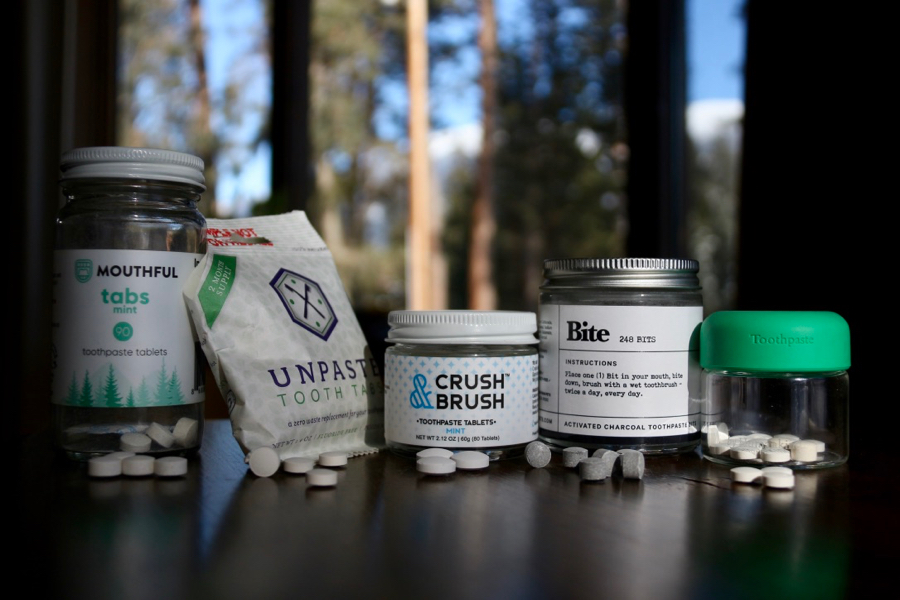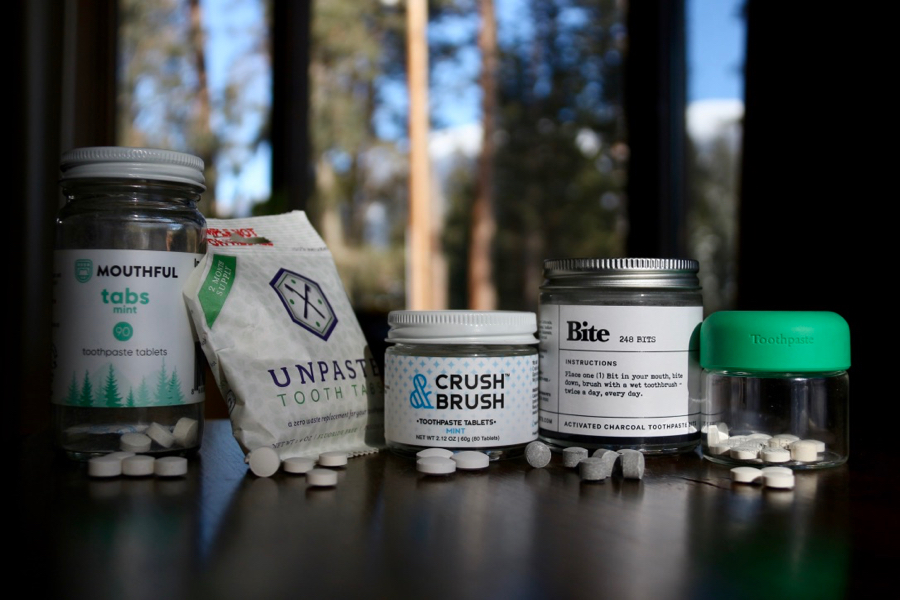 These detailed reviews cover the best plastic-free toothpaste brands: Bite Toothpaste Bits, UnPaste (AKA DentTabs), by Humankind, Lush Toothpaste Tabs (much controversy there), and Georganics. Plus a few lesser-known alternatives: Crush & Brush (from Nelson Naturals), Ben & Anna, Noice, and Ojook.
This post contains affiliate links; see my privacy policy for details.
As you may know, toothpaste tablets are a fairly new, very travel-friendly and eco-friendly alternative to non-recyclable tubes of toothpaste. And I've already mentioned my favorite brand of plastic-free toothpaste tablets (spoiler: it's still Bite) in my master list of sustainable travel toiletries.
But I liked the concept so much that I got a little obsessed: I kept finding more brands with good sustainability credentials, and before I knew it, I was trying every option I could get my hands on, looking for the very best plastic-free toothpaste in any form.
(Plus a few brands of refillable floss and mouthwash tablets, which are also in this review.)
UPDATE: This review was originally published Feb. 12, 2021 with six brands of plastic-free toothpaste. In September, 2022, I republished it to include new products, updated prices, and three additional brands.
Why didn't I just stop with one? Two reasons:
When I recommend something, I want to know there isn't a better version out there.
And they were all so different! The taste, texture, foaminess, and ingredients all vary so much between toothpaste tablet brands, you could easily hate one and love the next. That's why I reviewed these in detail, so you can choose what works for you. (Without having to test as many as I did.)
These are REAL reviews – not just a list of toothpaste brands.
Before writing this, I used each brand of toothpaste tablets, pastes, and gels for weeks. Often months. I also conscripted friends, family, and unsuspecting houseguests to try them and compare notes.
It got a little out of control.
Unless otherwise noted, every brand reviewed is vegan, cruelty-free (not tested on animals), and comes in completely plastic-free packaging and shipping materials.
Know what you're looking for? Click below to jump to the reviews:
Want to shop by active ingredients? At the end of this post, you'll find my list of the most important ingredients in toothpaste tablets and other plastic-free toothpastes, along with what they do and which brands use them.
(Related: Check out my very first gift guide, with my favorite, most gift-worthy ideas from small, sustainable companies!)
What are toothpaste tablets?
If you haven't already heard of them, toothpaste tablets are a solid toothpaste that you chew up and brush your teeth with. They're very eco-friendly (when done right) and very travel-friendly.
Like any dehydrated product, toothpaste tablets have all the active ingredients and none of the water or fillers. You just chew up a tablet to make it start foaming, and brush with a wet toothbrush.
As I discovered by actually using all the brands in this review, different formulas create different levels of foaminess, making them more or less similar to regular toothpaste.
Note: I've heard them called "toothpaste pills" before, but they're not pills! Just like normal toothpaste, you don't swallow these tablets.
Bite Toothpaste Bits are probably the most famous toothpaste tablets, but they're by no means the only brand available, nor the first company to come up with the idea.
Why not just use normal toothpaste?
Toothpaste tubes are usually not recyclable, and after so much innovation from these small companies, they're not even necessary anymore. That's the main reason to switch to toothpaste tablets.
Plus, conventional toothpaste often contains ingredients that might not actually be good for us, such as sodium lauryl sulfate, a known skin-irritant. (Which may be why I've noticed less sensitivity since switching to toothpaste tablets – more about that below.)
And toothpaste is another product that's heavier and more polluting to ship because it comes with water included (just like shampoo and cleaning products, both of which I've also reviewed replacements for).
There's an easy fix for all of these: Take out the liquid, bake the important parts down into a concentrated tablet, and you greatly reduce the carbon emissions and pollution from shipping them. (These waterless laundry detergent strips are another of my favorite examples, and they also happen to be great for travel.) Packaged in glass bottles with compostable paper refills, there's no tube to throw away. Remove the toxic ingredients. These brands have (mostly) done all of that.
---
Highlights: For both toothpaste and mouthwash, I think Bite is the easiest to love. Fluoride and fluoride-free options (with nHap). With or without charcoal. 19¢ per tablet, or 13¢ each when you subscribe. Plus use the discount code TILTEDMAP10 to save another 10%.
The LA-based start-up Bite is definitely the most famous brand of toothpaste tablets (they were even on Shark Tank). And after a lot of testing, I think they're the best plastic-free toothpaste on the market.
If you compare Bite's ingredients with other toothpaste tablet brands (as I did, below), they're the only ones that really check all the boxes.
And while a lot of zero-waste companies feel a little bit hippie-ish, Bite has a decidedly more modern vibe. (Case in point: They're the first and only company to make plastic-free teeth whitener, too.)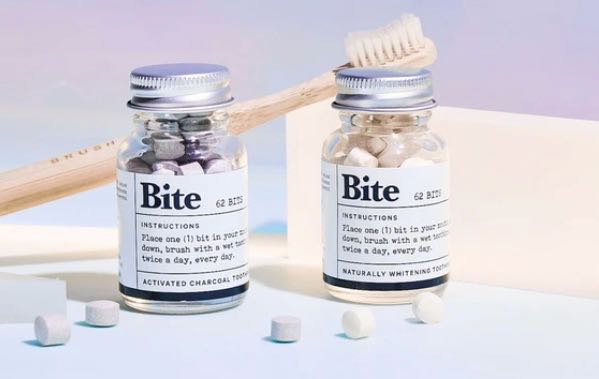 They were the first toothpaste tablets I tried, and they've remained my favorite, because unlike some other brands in this review, there's just nothing weird about the flavor or texture of Bite tablets, which makes it a really easy transition from normal toothpaste.
Bite Ingredients & Toothpaste Flavors
(I'm going to start with the taste/flavor part, and get to the ingredients after.)
The first thing I'm happy to note is that baking soda is pretty far down on Bite's ingredient list, and I can definitely tell – I can't taste it at all.
(There is nothing I love more than a good taste-test, so my husband and I did several double-blind tests. We always almost guessed wrong at which one we were using.) This is not the case with all brands, so Bite tablets make a good intro for charcoal toothpaste skeptics.
(Charcoal is a natural and gentle whitening ingredient. More about the most common toothpaste tablet ingredients below.)
It's also not the case for Bite's toothpaste tablets with fluoride, which are very different. More about those below.
Fun flavors:
In addition to the three mint options, Bite also makes a berry flavor, theoretically for kids. I haven't tried it, but their seasonal "Champagne" option, which was available during the 2020 holidays, seemed more up my alley. It was fruity and delicious.
There was also a seasonal Coco-Mango flavor at one point. (Summer 2021, if I remember correctly… I feel like I'm reflecting on wine vintages, but my point is that Bite keeps it fun and fresh with the flavor options.)
nHap – Bite's Dentist-Approved Magic Ingredient
Plus, Bite has unique ingredients that my dentist approved of – nHap, erythritol, and xylitol.
I brought my jar of Bite to my dentist, who read through the ingredients and said, "This stuff is cool!"
She said all the ingredients in Bite were great for your teeth.
Apparently nHap, which Bite calls an alternative to fluoride, was invented by NASA and is used more commonly in Japan. It controls bacteria, strengthens enamel and prevents sensitivity (as I can attest). Bite Toothpaste Bits also contain xylitol and erythritol, which prevent tooth decay and fight bacteria.
Q: Do toothpaste tablets work for sensitive teeth?
My teeth are so sensitive that I've had multiple surgeries to move my gums around and cover the painful areas. I would no sooner bite into an ice cream cone than a chunk of last week's road kill. So I was reluctant to try anything other than my go-to Sensodyne – the only toothpaste that didn't leave me in pain after a few uses.
That's why Bite was the first toothpaste tablet brand I tested – because it contains nHap, an ingredient that's supposed to be helpful for sensitivity. And it's worked for me! After using Bite for months, the pain has not come back (as it always did with any other kind of toothpaste that's not formulated for sensitive teeth).
2022 UPDATE: I'm up to about 2 years of mostly using Bite's nHap tablets now, and I'm happy to report that my sensitivity has improved dramatically.
But the surprising thing is, even when I was bouncing between all the different toothpaste tablets brands in this review for months, my sensitivity was less severe than ever. I'm not sure what the reason was, although when I mentioned this to my contacts at several of the brands in this review, they weren't surprised. They said that the sweeteners and sodium lauryl sulfate in normal toothpastes can certainly make sensitivity worse.
Don't Rush The Chewing
The one thing my dentist cautioned me about for using Bite toothpaste was to be sure to chew the tablets thoroughly, because chunks of tablet could be irritating to my baby-soft gums. (But she definitely approved of the ingredients in these formulas.)
If that's a concern for you, I've found that by Humankind tablets and Bite's tablets with fluoride break down most easily and into the smoothest paste.
This has been a long time coming! In the summer of 2022, Bite finally released a new version of their toothpaste tablets containing fluoride. (I just think it's unfortunate that the fluoride formula doesn't also contain nHap.)
But I've been using the new fluoride bits for a few weeks, and they're surprisingly different from the original Bite toothpaste formula (the fluoride-free tablets).
That's not a bad thing, though. The new fluoride tablets are really easy to chew up – they hardly require any chewing at all and just seem to sort of disintegrate after a chomp or two, without any chunks.
This was never an issue for me with the original Bite Bits. (As I described above, I used them for more than a year, and my sensitivity has improved greatly.) But if you're annoyed by the extra chewing, the fluoride Bite tablets won't give you any hassle.
I also like the flavor of the new fluoride formula. It's what I would call a slightly softer mint flavor than the original Bite formula – a little bit less intense, and quite pleasant.
Only a couple of these brands make mouthwash tablets in addition to toothpaste tablets, but Bite makes a really unique one: It's the only mouthwash tablet you don't have to dissolve in a glass of water first. You just pop it in your mouth and chew up, then take a small sip of water and swish.
I was really surprised by how well this worked! The tablets dissolve really easily, and taste fresh and bright and minty. (It's a much more intense flavor than Bite's toothpaste tablets.) And they contain most of the same ingredients as Bite's toothpaste (the ingredients my dentist was so happy about, including nHap and xylitol).
Q: What if your Bite mouthwash tablets look "moldy"?
I opened my mouthwash tin a couple of days after arriving in Hawaii and noticed the tablets had all become fuzzy.
I was worried it was some kind of mold, but they smelled just fine. So I emailed Bite.
Here's what they replied: "That's our natural menthol recrystallizing outside the Bits. It's not harmful or dangerous. If you gently shake the jar, it will break up and disperse around the Bits again. Your Bits are still safe to use! We think this happens when the bits have been exposed to a bit of moisture."
Bite's floss is simple, unflavored, and refillable, which I love. (Bite floss refills come in compostable paper packets, just like their subscription toothpaste refills.)
It's also vegan (it doesn't contain silk or beeswax), which is great.
But it's just not my favorite to use. That's because the Bite floss doesn't feel very waxed, even though it is (with plant-based candelilla wax). But it still feels kind of thick and rough to me, which it makes it hard to move between my teeth.
(Although my dentist did say that's the whole point of floss. If it moves too easily, it doesn't grip onto as many little particles to clear them away. It probably depends on how much space you have between your teeth whether Bite floss would feel right or not. Apparently I have a lot, and that's why I prefer by Humankind floss. More on that below.)
Where to buy Bite:
As of only recently (2022), Bite products are now available in a few stores. (Mostly Credo Clean Beauty stores, and a few others in Los Angeles.)
Currently, Bite only ships to the US, although they say they're planning to add international shipping soon.
You can use the discount code tiltedmap10 to save 10% on any order from Bite. (If it gives you an error message when you type the code in, you just have to add your email address and it should work!)
Subscribing also saves you another 33% on most products, and it's easy to change or cancel the subscription, if needed. (I change mine often, depending on how many other brands of toothpaste I have on hand for testing. Sometimes the subscription part of their website is funky, so I just email Bite, by replying to the subscription reminder email, and they're always very fast and take care of it for me.)
Note: Most discount codes also work as affiliate trackers, meaning they allow me to earn a commission at no extra cost to you. This is never related to how I review a product. (For example, I earn higher commissions on some of the brands that I don't recommend as strongly, and no commission at all on others.) If you find my reviews helpful and use my links and discount codes, I do appreciate it! Read more in my Privacy Policy.
---
New York-based by Humankind, is one of the overall best brands I've found for plastic-free and sustainable personal care products.
As you can see from all the reviews I write, this is an industry I follow rather obsessively, and I think by Humankind is a way ahead of the curve at designing durable, refillable packaging that looks great. So far, I haven't found other brands that come close. (Others make one or two items I love, but no one else has such a wide variety of innovative designs.)
Their products are functional, elegant, and don't feel like a compromise. (The opposite of the old-school sustainable options – either hippie-ish brands or DIY, neither of which I have much interest in.)
I use their deodorant, hand sanitizer with plastic-free refills, and floss every day.
(Related: Activist Skincare does something similar to by Humankind with gorgeous refillable packaging, which is very unique in the skincare industry! You can read my full review of Activist's refillable skincare line here.)
These are my favorite toothpaste tablets with fluoride. They don't foam very much, and they have a fairly strong baking soda taste behind the natural mint flavor, but I still enjoy them.
UPDATE: In addition to mint, by Humankind now makes cinnamon flavored toothpaste tablets, too. (Probably a good match for their subtley-flavored cardamom floss, which I love.)
Although I actually didn't notice the baking soda flavor, but when a family member who I roped into this review job pointed it out, it was clear. Other than that, these tablets feel really smooth and kind of melt in your mouth as you chew them.
(If you're worried about sensitivity and chunks of tablet rubbing on your gums, these dissolve more easily than the others. Very similar to Bite's fluoride toothpaste tablets, but by Humankind's tablets have a bit more of a baking soda flavor.)
by Humankind Toothpaste Packaging
The refillable packaging for these tablets is the best I've seen – exactly what I've come to expect from by Humankind. It's a small glass jar with a silicone lid that slides on. Very elegant.
While I love their containers, I love even more that by Humankind gives you the option not to buy them.
Their reusable containers are free if you subscribe, but their website makes it easy to refuse any containers you don't want, or to just try a one-month supply of the tablets (which always come in paper packaging).
This option may seem like a small thing, but it's actually really uncommon – and powerful for reducing consumption: Think of all the stuff that's in your house just because it came with the thing you wanted. It's probably a long list, right?
Giving the option to say No is complicated and costly for companies. So most don't, because they prefer to charge for more stuff, whether you want it or not. But this is the direction we need to be moving in, and by Humankind is doing it really well.
Travel note: If you're wondering how strong these containers are, I've traveled with by Humankind's glass toothpaste container and had no problems. It seems very sturdy. But if you're backpacking and planning for your stuff to definitely get squished, then Bite's trial size jar (which contains 62 tablets) jar is probably the most solid option. (Or your own repurposed container.)
by Humankind Floss Review
by Humankind's floss contains silk, so it's not vegan, but it works better and feels smoother than the vegan options I've tried, including Bite's. It also tastes better.
They make fun flavors using essential oils. I like the cardamom, which tastes exactly like cardamom – not like an artificial flavor. It doesn't leave any lingering taste in my mouth after flossing, but it tastes great while using it.
How does plastic-free floss compare to the normal kind?
The first time I used this natural floss, it broke between my teeth. (Same with Bite floss.) Of course, it makes sense that biodegradable floss won't be as strong as the indestructible, petroleum-based nylon kind. (Of course, that's the problem with normal floss – it never breaks down.)
But after a couple of days, I got used to the by Humankind floss and haven't had any more problems with it shredding or breaking. Just keep it moving and don't use the same spot on the floss for every tooth. It's easy to get used to, and it's the most "normal" feeling zero-waste floss I've tried.
Just like the container for their toothpaste tablets, the silicone and glass refillable floss container is a beautiful design.
Tip: You could also use by Humankind's floss in a leftover container from normal floss. I tested this; as long as it's not a really tiny case, it should work, and it would be a good way to try the product before taking home the container and feeling committed. (But note that this wouldn't work with any other zero-waste brand, as the others I've seen all use a different, vertical-shaped design, like Bite's floss, above.)
by Humankind Mouthwash Review
I like the simplicity of Bite's mouthwash – no water glass required.
But if you prefer to dissolve a mouthwash tablet in water first, instead of chewing it up, or are looking for something very gentle with zero stinging, then by Humankind is a good choice. Their mouthwash container is travel-friendly – it stores the tablets in the lid and has a built-in glass to dissolve them in.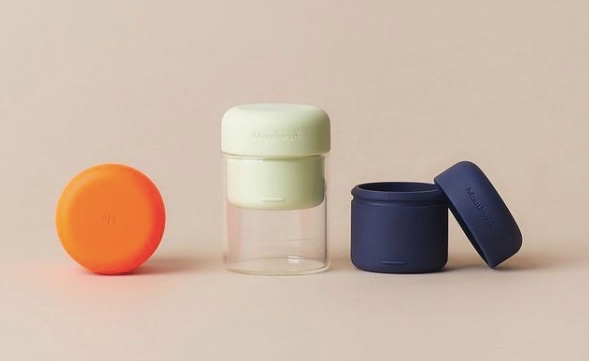 As with their floss, by Humankind's mouthwash also comes in lots of unusual flavors – lemon-mint, peppermint, ginger and cinnamon.
I tried the peppermint – basic, I know, but good. The flavor is much lighter than Bite's mouthwash. It feels delicate and freshens your breath, but it doesn't have nHap or xylitol (those dentist-approved, good-for-your-teeth ingredients in the Bite mouthwash formula).
Where to order by Humankind:
by Humankind is only available through their website, which is great because it offers plastic-free, carbon-neutral, free shipping on every order, and discounts on flexible subscriptions.
If you want to try their entire refillable oral care line – mouthwash, toothpaste tablets and floss – you can save some money with their Dental Routine Set. (Or add their deodorant with this set.)
The tablets are also available in their plastic-free weekend travel kits, which are a good, low-commitment way to sample a few of their other products.
Related: I've also reviewed by Humankind shampoo and conditioner bars in this blog post.
---
Q: What do toothpaste tablets feel like to use?
This is a good time to mention that different brands of toothpaste tablets feel very different to use – the textures vary wildly. That's why I'm trying to be as detailed as possible with the descriptions, but if you don't like the first one you try, it's worth trying another brand:
Some break apart and foam really easily, fizzing up like Pop Rocks (Crush & Brush).
Some are a little more subtle in taste and texture (Bite).
One brand was so unpleasant to use that if I had tried it first, I probably would never have tried another (Mouthful, now discontinued).
But now that I've found the ones I like (Crush & Brush and Bite Toothpaste Bits) I actually far prefer tablets to toothpaste in a tube, because of the texture and taste.
The flavor is much less overpowering than regular toothpaste – one thing that's true of almost all the brands I've tried, is that the flavor of toothpaste tablets doesn't ruin the first sip of coffee. When I go back to toothpaste in tube, I find the taste cloyingly minty and artificial.
---
Unpaste Tooth Tabs Review (AKA DentTabs)
Highlights: With or without fluoride. No charcoal. Similar to by Humankind, but slightly chalkier texture. Very affordable, at 10¢ each or 9¢ if you subscribe. Price Drop: I've found an even better price on Unpaste, from Earth Hero, where the tablets are 7¢ each, or 6¢ if you subscribe. That's the best price of any brand I've found.
As a good German company, Unpaste is no-frills: They make fluoride and fluoride-free versions of their mint-flavored toothpaste tablets, and every order comes in compostable paper packaging. That's all.
Their ingredients list is identical to by Humankind's.
The only apparent difference is that Unpaste's fluoride tablets contain more fluoride than by Humankind's. But there must be different proportions of other ingredients, too, because they feel much more powdery as you chew them (which is why I prefer by Humankind… even though the difference is slight).
Unpaste tablets also dissolve into a more liquid-y consistency than by Humankind, and compared with Bite or Crush & Brush, they foam very little.
So these aren't my favorite, but they certainly aren't bad, and they get the job done on a budget. They're also a good backup that's widely available, and they're the most affordable option. (Except buying a year's supply of Georganics. Unpaste is affordable with less commitment.)
Where to buy Unpaste:
Unpaste doesn't sell directly to consumers. But you can order them from Earth Hero, which is one of my favorite sustainable retailers. (They have excellent eco-credentials including being carbon-neutral, a B-Corp, and a member of 1% For The Planet.)
Save 10% on any order from Earth Hero with the code TILTEDMAP10 .
In the US, Unpaste is also available in these zero-waste stores. In Europe, the same exact tablets are sold under the brand DentTabs.
---
Georganics Toothpaste Reviews (& more)
Highlights: No fluoride; with or without charcoal. Strong baking soda flavor in these toothpaste tablets (and many other plastic-free dental care products available from the brand). 11¢ cents each tablet, or as little as 4¢ in bulk.
The UK brand Georganics makes quite a range of sustainable toothpastes and dental care products. And I wanted to love them, because they're a company that's really dedicated to zero-waste, and is a certified B Corp… But unfortunately, most of their products are just not my favorites.
I'll start with their toothpaste tablets (and then get to the products I liked better).
Georganics toothpaste tablets can be the least expensive on this list – if you order a year's supply. And they come in unique flavors – spearmint, orange, eucalyptus, English peppermint and tea tree (which sounds intimidating).
Sodium bicarbonate is the first ingredient in these tablets (the only formula I've found where it's #1). Before I even tried them, this made me nervous that they might be strongly baking soda flavored. And in fact, I wasn't wrong. They're the saltiest tasting tablets I've tried. So much so that they're one of the few that I just can't really get used to. (Despite using them for a couple weeks!)
Georganics toothpaste tablets contain Kaolin clay, which gave my teeth a super squeaky-clean feeling. (Similar to Mouthful, which has been discontinued. Mouthful's tablets were tough as rocks to chew and hard to fully rinse away.)
But Georganics did a much better job with this ingredient: My favorite thing about Georganics tablets is that they dissolve really easily – easier than many of the others.
Georganics also makes a tooth(paste) powder (1950s-era old-school, according to my mom). I'm intrigued – since I find it fascinating how so many products were so much more sustainable just a generation ago – but I haven't had a chance to try it yet.
Here's more about the products I have tried:
Along with their gum, Georganics' activated charcoal mineral toothpaste in a jar is one of my favorites of the Georganics line.
The consistency is very different from Nelson Naturals' mineral paste in a jar, despite the ingredients being very similar: It doesn't foam at all. The texture is oddly smooth when your tongue first touches it, and it definitely takes more getting used to than others brands or types (especially Bite's toothpaste tablets). But you can get used to it. And I think it leaves my teeth feeling smoother and cleaner than many other brands.
Along with Bite and by Humankind, Georganics also makes their own mouthwash tablets. I tried the English Peppermint flavor and found it very salty tasting. The taste was tolerable, and left my breath really fresh, but wasn't my favorite.
(I'll stick with Bite's mouthwash tablets, both because their formula contains xylitol, and because I like the convenience of crushing the tablet in my mouth, instead of needing a glass to dissolve it in.)
If you feel like getting experimental, this is one to try!
It says to swish it for 5 to 20 minutes, which I can confirm feels just as strange as it sounds. It's an actual mouth workout. And a little goes a long way – you just use 1-2 teaspoons at a time.
This plastic-free, liquid mouthwash (in an aluminum bottle) does feel refreshing, but it's far from "normal" feeling.
Georganics is the only brand I've found that makes a zero-waste chewing gum. It's made with xylitol and comes in a glass jar, but you can order refills in a paperboard packet. (Just select 180 pieces instead of 30 pieces from the dropdown menu.)
The minty flavor is nice and strong, and the gum doesn't turn into a piece of rubber in your mouth after 20 minutes – it actually stays nice and soft.
The best way to order Georganics:
Most of the links above go to Earth Hero, which I think is one of the most sustainable online retailers in the US. They have great sustainability certifications, and cary a huge selection of sustainable products and brands.
Plus, you can save 10% on anything from Earth Hero (not just Georganics!) with the code TILTEDMAP10 .
If you want to commit, Georganics is the only brand that offers a one-year-supply refill size, which is a great option – having more delivered, less frequently saves on shipping emissions and packaging. Bulk is better!
In Europe or the UK, it makes more sense to order directly from the Georganics website. (You could do the same from the US, but you'll pay a lot for shipping.)
---
Noice Toothpaste Review
Highlights: Organic, natural toothpaste gel with a reusable pump! No fluoride or nHap, but it's charcoal and mineral-rich. Wild, herby flavor. £9 (about US$10) for a 1.5 oz bottle (45 mL). Or £6 each when you subscribe (about US$7).
Noice is a UK-based zero-waste and natural toothpaste brand that uses certified organic ingredients. (That's quite hard to find!)
Their system is really unique, at least for toothpaste: The toothpaste gel comes in glass bottles (easily recyclable) with a plastic pump that you reuse! If you sign up for a subscription, your first order comes with three bottles and just one pump.
(Other zero-waste brands do something similar. For example, my favorite hand sanitizer and facial sunscreen also let you keep their pumps and reorder bottles without them. This is so logical it's frustrating how rare it is – but I'm starting to see it more often!)
Licorice extract, which prevents cavities, is one of the top ingredients in Noice's zero-waste toothpaste gel, along with whitening bamboo charcoal and other botanical ingredients.
That all means Noice has an herbaceous, distinctly black licorice taste that I think might mean you'll either love it or hate it at first. (The flavor actually reminds me pleasantly of Italian amari, or herbal liqueurs.)
I was shocked by the flavor the first time I tried Noice – but surprised by how quickly it grew on me.
And even my very picky husband agreed. At first, I felt like I was torturing him by asking him to test it more than once – he was not a fan of the amari flavor (despite being from Italy 😂). But after a week, he said he actually didn't mind it anymore.
And I really enjoy it. The taste isn't too strong, and it's strangely addictive. Noice is also one of the least salty tasting of all the alternative toothpastes I've tried, which I really appreciate.
Where to buy Noice:
Noice currently ships to the UK, France, Canada and the US. (With free shipping in the UK.) It's also available in a few stores around the world.
You can also order Noice on Amazon, although I do try to avoid Amazon when there's an alternative available. (They also cost a bit more from Amazon, because you can't sign up for the subscription, or order a single bottle. It's $26.50 for three bottles on Amazon.)
---
Highlights: A party in your mouth! The biggest tablets and the foamiest, fizziest option I've tried. No fluoride. With or without charcoal. 19¢ per tablet. Use the code TILTEDMAP10 to save 10%!
Crush & Brush is made by Nelson Naturals in Nelson, British Colombia, and they're the OG of zero-waste toothpaste: They've been making paste in glass jars since 2012, and they added tablets in 2019.
Overall, their formula is the most similar to Bite's. The tablets come in Mint and Mint Charcoal and, like Bite, they contain the bacteria killing ingredient xylitol, which my dentist says is great for your teeth.
I tried both flavors and WOW, these are the most intense, flavorful, fizzy, foamy toothpaste tablets I've tried.
They're really unique – no other brand feels similar. I actually prefer the Mint Charcoal because it's less strong tasting than the Mint. (Unlike Bite Toothpaste Bits, where the two are indistinguishable.)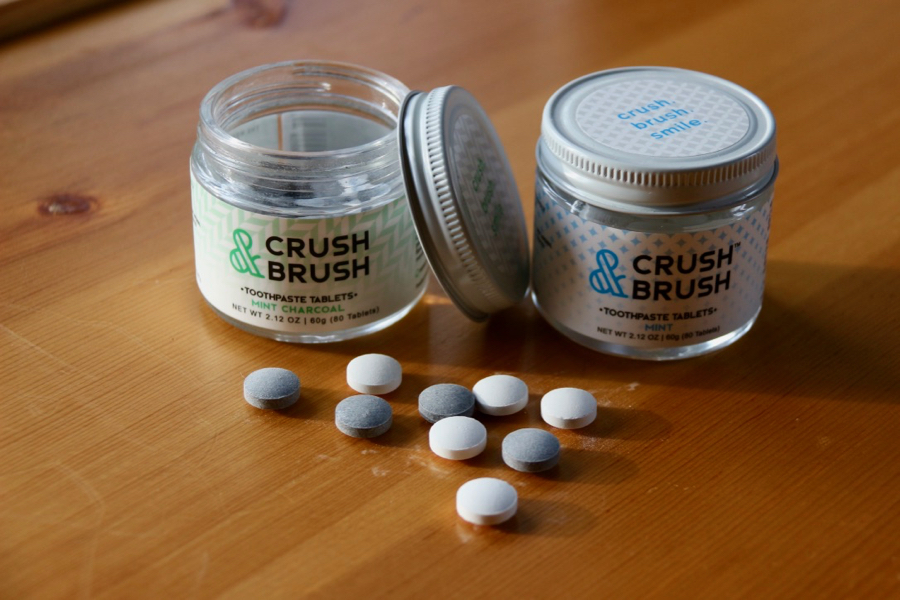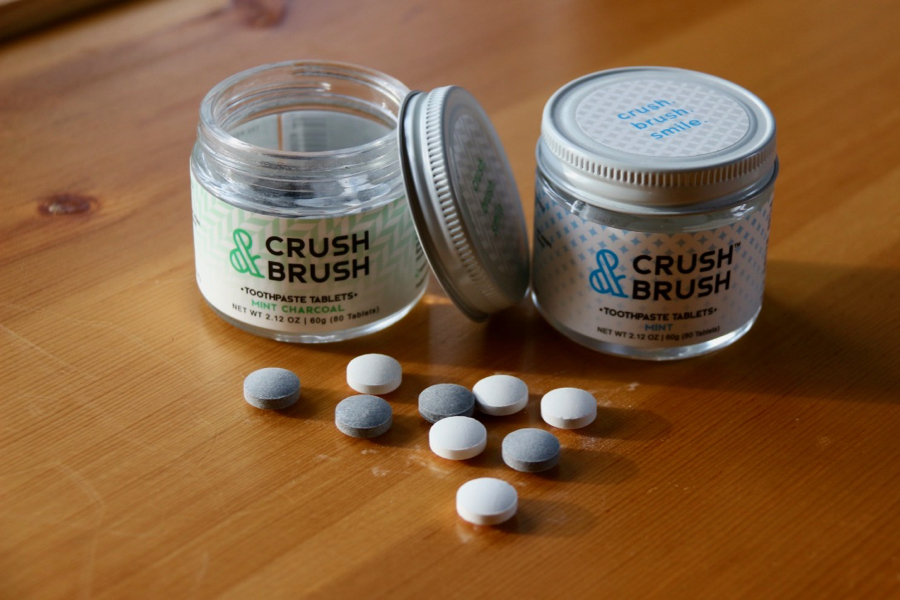 I like Crush & Brush a lot, but compared with Bite, they're a little more extreme feeling, and might be harder to get used to.
It's also worth noting that Crush & Brush tablets are twice the size of any other brand, and they produce lots of foam. So in that sense, the effect is more similar to normal toothpaste. (I've read in reviews that some people use two tablets at a time with other brands. I don't find this necessary, but if you find yourself doubling-up with other toothpaste tablets, Crush & Brush would be a perfect solution.)
The second ingredient in Crush & Brush is baking soda (sodium bicarbonate), which is also the case with by Humankind and Unpaste (reviewed above), but the baking soda flavor is far less noticeable in the Crush & Brush formula (same with Bite).
While currently each order of Crush & Brush comes in a glass jar, Nelson Naturals asked me to share with you that they're planning to launch compostable, paper refill packaging for Crush & Brush soon! (Planned for autumn 2021.)
UPDATE: As of September, 2022, this hasn't happened yet.
Nelson Naturals' Toothpaste in a jar:
The company also sent me a sample of their original toothpaste in Citrus Spice, one of many creative flavors it comes in, and it's surprisingly delicious and leaves my teeth feeling very clean. The only thing I don't like is that the flavor fades away and by the time I've finished brushing it tastes pretty sea-salty. But if you love salty flavors, I suspect you'd love their paste.
Where to order Crush & Brush:
You can order Crush & Brush toothpaste tablets, toothpaste in a jar, and other brands of hand-made personal care items directly from Nelson Naturals. Their tablets are also available in bulk at these zero-waste stores in the US and (mostly) in Canada.
One of my favorite things about Nelson Naturals is that they give a unique option to order "imperfect" products (with cosmetic defects, such as scratched packaging) at a 50% discount – saving you money and diverting usable products from the landfill!
Use the discount code tiltedmap10 to save 10% on any order from Nelson Naturals!
---
Highlights: Basic, inoffensive toothpaste tables from a German brand. With or without fluoride. No charcoal. 10¢ (USD) per tablet.
Similar to Georganics and Nelson Naturals, Ben & Anna makes toothpaste tablets, toothpaste in a jar, and a few other dental products, like toothpaste powder. (Plus plastic-free deodorant and skincare, too.)
I've only tested their toothpaste tablets, and I would describe them as inoffensive. They're very delicate, both in terms of flavor and consistency, and very quick and easy to chew up without any hard bits remaining. They sort of melt as soon as you start chewing. They also don't have any strong flavor, and definitely no baking soda taste.
I also love their packaging because it's simple. Just like Unpaste, each order just comes in a paper packet (with a zipper) that's certified compostable.
Overall, these are a great, simple (crowd-pleasing, by my experience) option, especially if you live in the UK or Europe and are looking for an alternative to Georganics.
Where to Buy Ben & Anna Toothpaste:
While the real Ben and Anna are based in Germany, the company delivers only in the UK. Their products are also available from a few zero-waste retailers in Europe.
I haven't been able to find them from any US retailers yet. (I tried them for a few days while visiting family in Italy.)
---
Ojook Toothpaste Review
Highlights: A non-tablet, natural toothpaste with nHap that's still mostly plastic-free. No fluoride or charcoal. Wild flavor. Pretty pricey, at $18 for a 3 oz. tube (85 grams).
If you want to get in on Bite's secret ingredient (nHap) but really hate the tablet idea, then Ojook is a good option to try. It's another small, woman-owned business that's based in NYC, and they're the only brand I've found that makes a mostly plastic-free toothpaste with nHap.
Ojook's toothpaste is flavored with natural peppermint, salt and pine. It's as if a normal, minty toothpaste flavor decided to go gourmet. My husband loves it. I find the salt and pine a little too intense, but oddly enjoyable.
This toothpaste also contains bamboo salt, an ancient Korean ingredient that's a natural antibacterial, and contains minerals that are good for your teeth.
One disappointing point on the sustainability side: Ojook does not give the option to order their toothpaste without the aluminum "key," which would let you keep your first one and just reuse it. (Like what Noice does with their toothpaste gel pumps, above.)
Yes, the Ojook packaging is recyclable (except for the plastic cap), but reusable is so much more eco-friendly.
Ojook Floss Review
Ojook also makes the only floss I like just as well as by Humankind's floss (reviewed above). It's the same salty-piney flavor combo, but comes off as far less intense than in the toothpaste.
Ojook's floss feels also a little grippier than by Humankind's – but overall, very similar. (They both contain silk, so are not vegan.)
But this plastic-free floss doesn't feel rough, the way Bite's floss did, and it doesn't shred or get stuck in your teeth at all. And the texture makes it feels like it might clean them a little better.
This brand is also a slightly better deal than by Humankind. Ojook floss is 30 meters / 32 yards in length. It costs $14 with the pretty (but delicate) glass jar, which has a little metal piece to cut the floss, just like a plastic floss container. Then refills are $10 without the jar, or $9 for refills if you subscribe.
(To compare: by Humankind's floss refills are 30 yards for $12, or 10% off if you subscribe. Their container is sold separately for $3. With Ojook you pay a little less and get a little more.)
But if you're planning to use one for travel or for worried about the container braking for another reason, by Humankind's glass container is thicker, and it feels sturdier overall with its silicone cover on most of the case.
Ojook products are also available in a few retail stores.
---
Mouthful Toothpaste Tablets (Discontinued)
I've removed this review of Mouthful brand toothpaste tablets because, as far as I can tell, the formerly Texas-based brand no longer exists.
They weren't a brand I was recommending anyway, both because I really disliked the consistency (hard as rocks), and because the Mouthful tablets arrived wrapped in plastic bubble wrap! (While every other brand I tried came in entirely plastic-free packaging.)
A clear difference: Bite Toothpaste Tablets (and everyone other brand I tried) arrived in recyclable paper and cardboard. Mouthful arrived wrapped in plastic. (And has apparently been discontinued.)
---
"Hey, Why Didn't You Review…?"
I left a few famous toothpaste tablet brands out of this review – for a few good reasons:
… Lush's "Toothy Tabs"?
Because they're packaged in plastic. Come on, Lush, YOU COULD DO BETTER.
A well-known UK brand whose stores have been a mall destination for decades, Lush is famous for plastic-free, packaging-free, sustainable beauty products – but only some of their products are any of those. Every time I'm comparison-shopping sustainable products and I look at what Lush has to offer, I'm disappointed.
(I also left them out of my shampoo bar review because their bars contain sodium lauryl sulfate, an ingredient often considered a skin irritant. I'm leaving them out of this review because every order of their toothpaste tablets come in a plastic bottle.)
If tiny, self-funded start-ups like Bite can figure out how to ship refills in compostable paper packets, then a big, established company that benefits from its reputation for sustainability should be able to do it, too. (Fun fact: As of fall of 2022, Bite has only 9 employees.)
What can I say, I'm demanding – but that's how things change!
Highlights: Fluoride-free. With or without charcoal. Intense, strong flavors and massive foaminess. 12¢ per tablet. Deal Breaker: Plastic packaging and still no refill option.
Okay, okay, so I went to a conference where I had a hotel roommate who had a bottle of Lush Toothy Tabs. So for the sake of science, we traded – a few of my Bite toothpaste tablets for a few of her Lush tablets.
She had Lush's fluoride-free, updated formula (as of May, 2022) in the flavor called "Dirty," which was the most strongly flavored of any toothpaste I've tested. (A bold combo of neroli, lavender, and spearmint. I did not like it.)
And they were by far the foamiest of any of the toothpaste tablets I've tried. They might foam up even more than normal toothpaste in a tube, which is sort of shocking for how different it makes Lush from every other toothpaste tablet brand I've tried.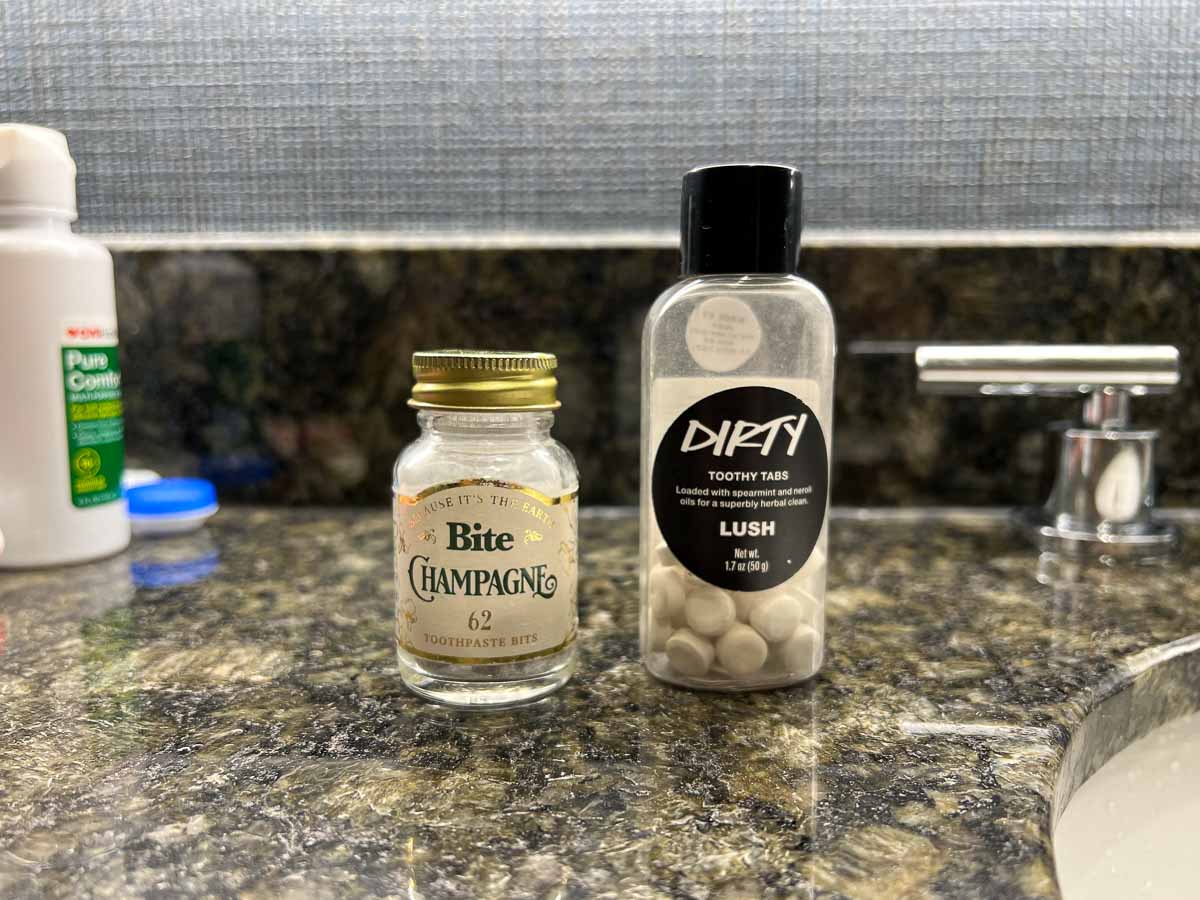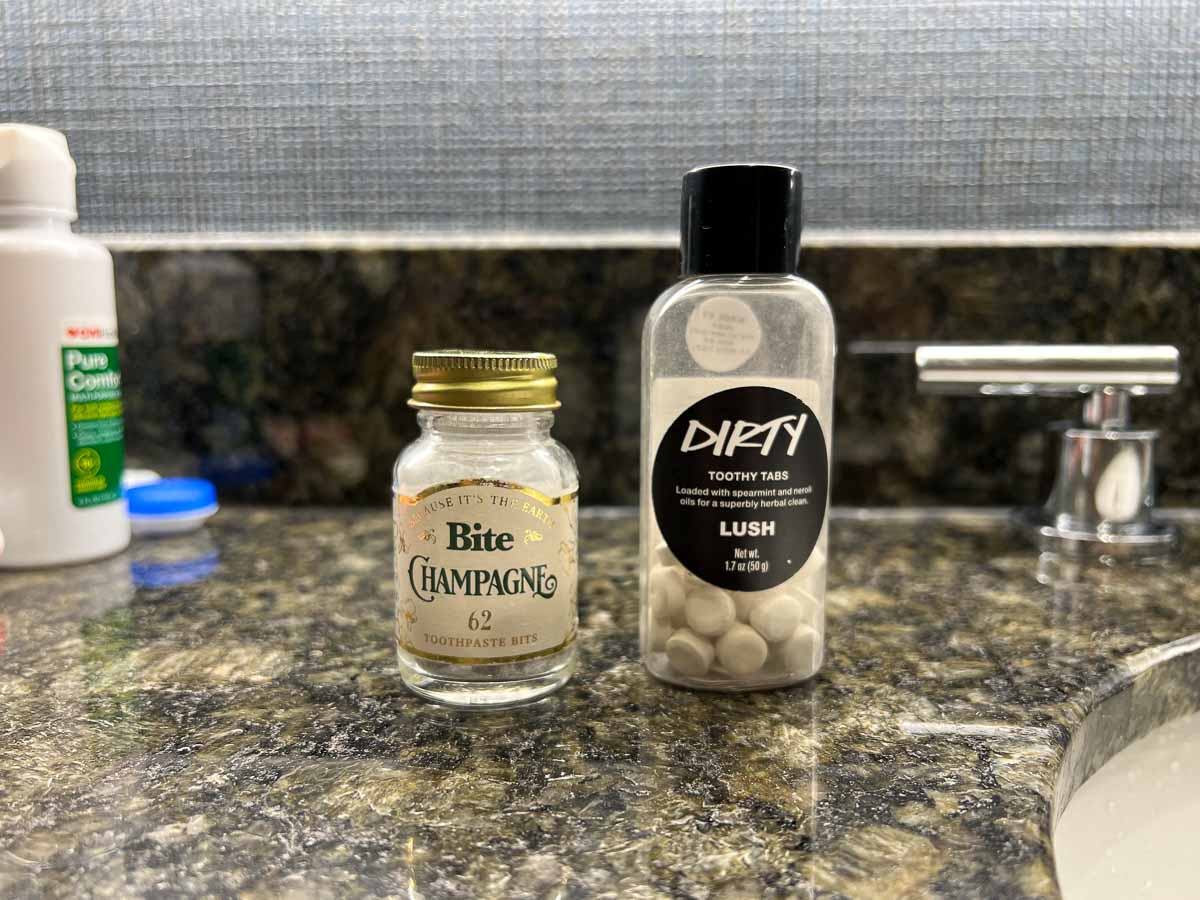 And the Lush tablets left a sort of bitter-sour taste in the back of my throat. But my roommate said she didn't have this issue, so who knows, maybe it's just me. Maybe you'd like them.
Or maybe the bitter-sour notes were the flavor of completely unnecessary plastic packaging, from a brand that's constantly lauded by bloggers (not this one) as a sustainability superstar. Yes, it's recycled plastic, but that's clearly inferior to no plastic at all, and Lush doesn't offer a plastic-free toothpaste tablet refill option.
What is Lush's excuse, given that I've just reviewed a dozen other brands that have managed to find more eco-friendly ways to package an alternative form of toothpaste?
After all, getting rid of the plastic is almost the entire point of toothpaste tablets. So I'm endlessly confused by Lush opting to leave out the most eco-friendly part of the whole concept, and endlessly annoyed by all the credit they get as a supposedly sustainable brand.
UPDATE to the Update: Guess what? As of September 2022, Lush has redesigned their toothpaste tablet packaging! Instead of a plastic bottle, the Lush tabs now come in… a plastic pot. Still no option for refills in paper packets, so stick with Bite, Unpaste, by Humankind, Georganics or any of the others who've figured it out.
…Why didn't you review "Hello" Toothpaste Tablets?
Similar to Lush, Hello doesn't currently have refillable packaging. They don't send their subscription orders in paper packaging (the gold standard for sustainability for subscription products) and they're not available in package-free bulk stores. Their tablets come in aluminum cans ­– better than Lush's plastic packaging, but not the best.
I emailed them about this, and they said they're working on a less overpackaged refill option for their tablets, but it's not happening yet. But also, toothpaste tablets are just one small part of New Jersey-based Hello's business – they mostly sell normal toothpaste and deodorant in normal plastic tubes.
If you do want to try Hello, their products are available from Grove Collaborative, a Certified B Corp and solid sustainable retailer. But considering the options, I'd rather support a fully plastic-free company. Since there are so many to choose from that are making great products, compromising on packaging is not required.
---
Toothpaste Tablet Ingredients: The Main Differences
After comparing ingredients lists, these are the major differences between different toothpaste tablet brands:
Fluoride – out of concern for sodium fluoride being a neurotoxin, many tablet brands (or "natural" toothpaste brands in general) don't use it. But according to my dentist and the studies I've read, this is a potential issue with fluoride in drinking water, not in toothpaste. You would have to eat an obscene amount of toothpaste or tablets for fluoride to cause a health problem. Whether or not tablets contain fluoride doesn't affect the consistency or feel of the product.
Activated charcoal ­– a whitening ingredient that usually doesn't change the taste or texture.
Baking soda (sodium bicarbonate) – the second ingredient in many formulas, it's sometimes really noticeable in toothpaste tablets and not a very enjoyable flavor. It's there to balance the pH.

See each review for details about which tablets have more or less baking soda flavor.

Clay – makes a huge difference in the texture: The clay formulas are harder to chew, but leave your mouth feeling extra clean.

Georganics makes the only plastic-free toothpaste tablets with clay that I've found.

nHap – controls bacteria, strengthens enamel and prevents sensitivity.
Xylitol – kills bacteria in your mouth and adds a sweet taste (but it's not a sugar, so it doesn't cause tooth decay. Rather, it helps prevent cavities. Highly dentist-approved.) NOTE: While it's good for our teeth, xylitol is lethally toxic to dogs, so keep these toothpaste tablets (and any chewing gum) away from your pets.
---
Bottom Line:
After using toothpaste tablets for months, switching among brands, and thinking about what I liked and didn't like every time I brushed my teeth, I've come to a conclusion: You could probably get used to any of them.
Even my Type-A brain can accept that there really is not a wrong answer here.
The biggest hurdle is just to accept that they're going to be different from normal toothpaste. But different is good! We need different.
A Final Thought ~ Why Sustainable Brands Matter
I know these small, individual changes can feel meaningless in an out-of-control world. The usual response to this is but every little bit counts! That's absolutely true, but I don't think it captures the big picture, either.
I think the biggest impact of buying sustainable products is the message it sends to companies and governments: We care.
The better sustainable products sell, the more people in power realize there is an appetite for change – and that makes change happen much more quickly at every level, including government regulation and within big companies.
When I was doing my Master's in Sustainable Business (which you can read about here), I heard from executives all the time who said they all know consumer demand for sustainability is surging.
And now, I talk with executives for this blog and I hear the same thing: Companies see the change that's happening, and are totally afraid of being perceived as out-of-touch.
Which means the power of "voting with our wallets" is stronger than you might think.
Remember, if you order from Bite Toothpaste Bits, from Earth Hero (which carries Georganics and Unpaste, along with many other non-toothpaste brands), or from Nelson Naturals (maker of Crush & Brush), you can use the discount code TILTEDMAP10 for 10% off any order!
---
Looking for more? Check out my other sustainable product reviews:
---
This page includes some affiliate links. These recommendations for carefully chosen companies and products let me earn a commission if you decide to buy anything through them – at no additional cost to you! For more info, please see my Privacy Policy. Thank you for your support!