In the months leading up to Plastic Free July, I've been excitedly testing all kinds of plastic-free and eco-friendly products. This post is all about shampoo bars, and one refillable deodorant stick! (Next step: plastic-free laundry and cleaning.)
I was looking for natural products, with no plastic packaging and no questionable ingredients that may be damaging to hair or irritating to skin. And the shampoo bars had to actually make my hair look and feel good. No compromise.
Sustainable toiletries have come a long way from the patchouli-scented hippie soaps that were around a few years ago – so No Compromise is actually possible now. Some of my favorite products that I tested for these articles (and I have personally used and tested every product in this review) are really innovative and modern: A refillable deodorant tube (no more throwing away the plastic container!) and a reusable replacement for cotton swabs, which I'll review separately soon.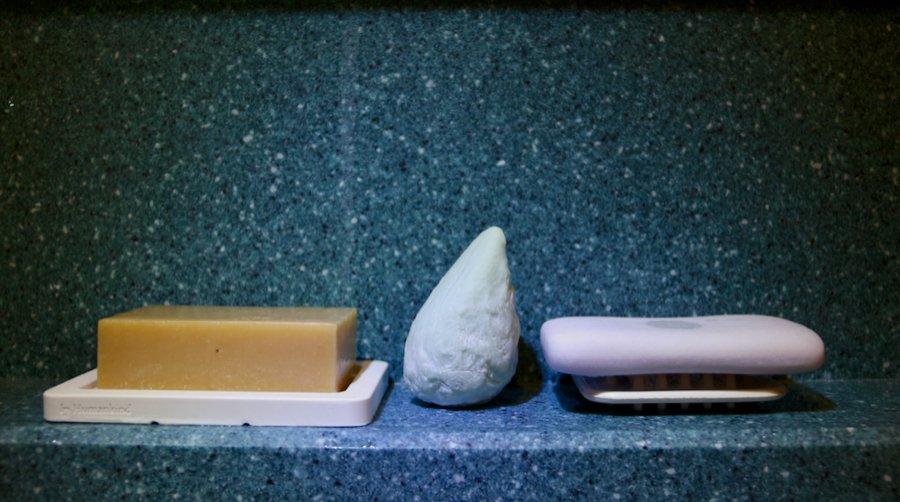 I tested four top brands of plastic-free shampoo bars:
None of these companies use animal testing, most of their products are vegan, and all ship in minimal, plastic-free packaging.
Also, none of these shampoo bars contain sodium lauryl sulfate (SLS), which is well known to cause skin irritation (although scientists don't think it causes cancer or anything like that). SLS is a detergent ingredient that creates lather, and it's in everything from shampoo and face wash to toothpaste and dish soap. That's why I didn't test the popular brand Lush for this post – their shampoo bars do contain SLS. (And they're about twice the price per ounce compared to the bars in this article.)
An Alternative Brand
The brands I tested are all US-based, and only one (HiBAR) ships abroad. If you live outside the US, Ethique is a New Zealand-based brand of vegan, plastic-free and carbon-neutral shampoo bars and other beauty products that meet the criteria I mentioned above. They ship widely and are also available on Amazon.
This New York company is 100% carbon-neutral, and they make the usuals for sustainable beauty – shampoo, conditioner, and body wash all in bar form.
But they also make a few totally unique products in refillable packaging – like mouth wash in tablet form, which dissolves in a glass of water and comes in interesting flavors like ginger and cinnamon. It makes sense for travel because, if you use mouthwash, it's one less liquid to carry. And at home, it means one less big plastic bottle to buy and throw away regularly.
But the one product I was most excited to try was their refillable deodorant, which I also reviewed below.
by Humankind Shampoo Bar Review:
This would probably be the best option if you're looking for a volumizing shampoo bar for thinner hair. It leaves my long, thick hair feeling heavy, feeling extra thick, and not as smooth as the other bars I tried. So I farmed out some testing to my mom for a different perspective: It made her short, fine hair shiny, lifted and not flat.
What we both liked about this bar is that it lathers more easily than others I've tried. It doesn't produce a rich foam, but it's very easy to work with and takes no time at all to feel like you've got enough product from the bar to wash your hair. (Even for my mid-back length hair.)
The texture and scent were both what I'd expect from a more old fashioned shampoo bar. (Dare I say first generation? You know, the homemade, hippie beauty products. So if that's what you're looking for, look no further.)
The scent is strong and lasting – at least the Lemongrass that I tried. It's got that hippie-organic smell of the original natural beauty products. Don't get me wrong, it's a pleasant smell, but it's not what I would call a modern scent.
It also leaves my hair with that squeaky clean feeling, which makes it hard to run my fingers through when rinsing (which the other bars didn't). But that's not a deal-breaker, and if you use conditioner it probably wouldn't be a problem. (And by Humankind makes a conditioner bar, which I liked much more than their shampoo, and more than other conditioner bars I've tried.)
Plus, it's the least expensive bar on this list, and every order gets free, carbon-neutral shipping.
byHumankind Refillable Deodorant Review:
Here's how it works: Your first order includes a refillable plastic deodorant tube. In every refill order, the product is in a cardboard container that you slip into the plastic carrier. It's brilliant!
(All of their reusable containers are free, so if you want a second one you can include it in your second order, or easily opt-out.)
It's not quite "invisible" deodorant, as it does leave a little bit of white residue on my skin, but it's quite minimal and doesn't seem to transfer to clothing. (And I'm just excited to have one less plastic product to constantly throw away!)
The scents are a little strong – at least the Lavender Citrus, which I ordered. But it's fresh and natural and herby smelling. I like it, but I'm going to try the Coconut scent for my next refill. And they do have an unscented deodorant option, also.
Beyond that, just keep in mind that this is not an anti-perspirant (meaning it doesn't contain aluminum, which according to lots of studies likely isn't good for you anyway). So you'll still sweat naturally, but this will keep you from stinking naturally. They explain what to expect when switching to natural deodorant on their FAQ page, under "Product Info."
Price:
The shampoo bars are $15 for 4 oz. (113 grams), which is $3.75 an ounce. But if you subscribe, they send you two bars at a time (which means less shipping waste) and everything is 15% off. (Which makes the shampoo $3.15 per ounce – the best deal on this list.)
Shipping:
Free shipping on all orders! (Right now they only ship to the US, although they do say they plan to change that soon. I'll update this when it happens.)
Scents:
There's an unscented option for all by Humankind products.
They even make hand sanitizer with a reusable pump that comes in grapefruit, eucalyptus or unscented! It's in aluminum bottles, which are much easier to recycle than plastic. Like all their other products, if you already have the pump from a previous order, you just check the box for "no pump," or better yet, order their larger refill bottles.
Sustainability:
Everything is vegan and cruelty free. They do use palm oil, but it's Fair Trade certified and RSPO certified. Plus, the entire company is carbon neutral, from office space to shipping! They accomplish that by buying carbon offsets that support reforestation projects in Brazil and New Jersey. There's more info on how it works, plus ingredient lists for all their products, on their FAQ page.
Shop by Humankind:
You can order by Humankind directly from their website; by Humankind is not on Amazon.
HiBAR
This Minnesota-based company only does shampoo and conditioner bars – nothing else – but they do them well. They're the only brand I tried that has options for different hair types: normal, moisturizing and volumizing.
HiBAR "Maintain" Shampoo Bar Review:
Their basic bar (called "Maintain") was the first product I tried for this review, and I liked it much more than all the other shampoo bars I've tried in the past! It lathers easily, my hair feels clean, and it smells great.
Specifically, when I first took the bar out of the cardboard packaging, it smelled exactly like key lime pie. Which was fun, although I didn't necessarily want my hair to smell like pie. But when it dries, it leaves almost no scent on my hair, and after a few days the super strong scent faded from the bar itself. Now I can only smell it when lathering up, and I still love the fresh, tropical pie scent.
Plus, this shampoo bar is lasting a long time. After two months, it's nowhere near finished (and my husband is using it, too). And it holds its form well, without disintegrating while sitting in the shower. (Just like with any shampoo bar, make sure you store it in a place where it can drain in your shower, otherwise any bar will turn to mush.)
At the end of the day, I'd buy HiBAR again. (Although I didn't buy this one. They were kind enough to send me a free bar to test for this article – thanks HiBAR! That's Minnesota for ya.)
Price:
Although it seems like the cheapest option here, HiBAR is actually the most expensive per ounce of the shampoo bars I tested – but the difference is tiny, especially considering how long it's lasting. These relatively small bars go a long way.
When you order directly through HiBAR, the shampoo bars are $14 for 3.2 oz (91 grams), which is $4.38 per ounce. The conditioner bars are the same price, just slightly smaller. (Or Earth Hero has a slightly better price, even before taking 10% off with the code tiltedmap10.)
Shipping:
Free shipping on orders over $20 in the US. Subscribing for automatic delivery gets you just a slight discount (5% off) but you still pay $3 for US shipping if you just order one bar at a time. (If you subscribe for both shampoo and conditioner, shipping is free.)
They do ship outside the US! But of course, it isn't cheap. I put in my old address in Italy and the website calculated $13 for shipping. Even random addresses in Canada were about the same.
Scents:
Right now, HiBAR offers no unscented options.
Sustainability:
Made in Minnesota, USA. No animal testing, and the Moisturize and Volumize HiBARs are vegan, but the Maintain bar that I tried has a "trace amount of honey."
Shop HiBAR:
Order directly through the HiBAR website, or from HiBAR's Amazon storefront, where the products will still be shipped directly from HiBAR. This matters, because it means it'll still be plastic-free packaging. Avoid random resellers on Amazon, as the packaging will likely be plastic!
Or, better yet, order HiBAR from Earth Hero, and use the discount code tiltedmap10 for 10% your order!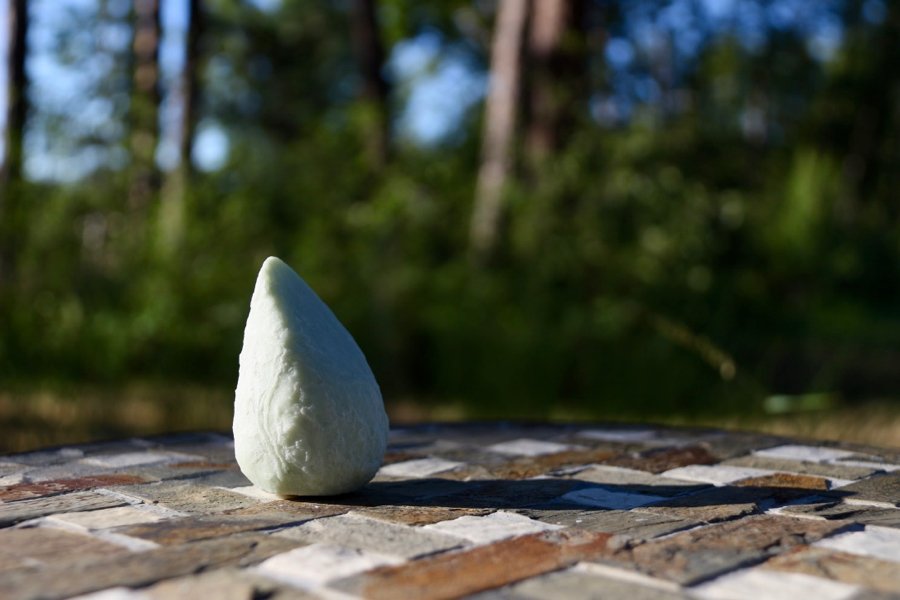 100 Senses (The Ultimate Body Bar)
This LA-based company has a pretty different aesthetic than the others on this list: Less about being eco-friendly and plastic-free, and more about a bougie, indulge-your-senses-in-a-marble-bathtub-overlooking-a-pine-forest kind of vibe. A little too fluffy for my taste.
Their body wash + shampoo combo bar comes in minimal, plastic-free packaging, but all their other products are in plastic packaging.
Still, I decided to try to the bar anyway, because it had overwhelmingly good reviews, and because, originally, my whole idea was to test and review all the eco-friendly beauty products that advertised to me on Instagram. And this was certainly one of them.
Ultimate Body Bar Review:
I must admit, I actually really like this one. It lathers intensely – definitely the foamiest, most luxurious feeling bar I've tried. And I think it leaves my hair shinier and smoother than any other bar, without even using conditioner.
I tried the Wild Lavender scent, which I love. It's subtle and fresh and modern – not sweet at all. My husband likes it, too, and all of their scents are supposed to be gender-neutral.
It doesn't seem like it'll last as long as the HiBAR, but that could be because I'm using it for everything – hair, body, shaving my legs, even washing my face.
I'm normally very particular about what I use on my face (it's taken me years to figure out products that work to keep me from breaking out). But some of those glowing reviews I read said people were using the Ultimate Body Bar as a face wash, so decided to give it a shot. Of course, what works on sensitive skin will be different for everyone, but it's been working great for me!
Overall, I'm impressed with this multi-purpose "ultimate" bar. I'm going to keep ordering it at the very least to use for travel – since I can replace multiple liquid products with one bar. It's also great for when you're in a hurry – one product for your entire shower.
Price & Shipping:
At $26 per bar, this one has sticker shock to go along with its boogie marketing vibe. But by weight, it's actually less expensive than some of the other shampoo bars. (The bar is 6.5 oz, or 184 grams, so it's $4 per ounce plus shipping.)
If you subscribe, you get 10% off and free shipping. That brings it down to $3.60 per ounce. (You can set the delivery frequency anywhere from every month to every six months, and can change it anytime. It's one of the more flexible subscription services I've seen.)
Otherwise, without subscribing, there's free shipping on $50 orders. (They only ship to the US.)
Or, this link gives you $15 off a $50 one-time order (you can't use it on a subscription order).
It's not an affiliate link, so I don't make any money from it, but it's a "refer a friend" deal. (Which means if enough people order through that link, I eventually get a free bar! It doesn't pay the rent, but hey, I've gotta wash my hair, too.)
Scents:
100 Senses does make an unscented bar, and three scent options: Wild Lavender, Green Tea and Citrus Neroli.
Sustainability:
Everything from 100 Senses is made in California. The scents are plant-based, and their bars are plastic-free, vegan and "100% cruelty free." So they don't use any animal-derived ingredients or animal testing (and they contribute to animal welfare causes).
Shop 100 Senses:
These bars are not on Amazon. Order directly through the 100 Senses website here (link gets you $15 off a $50 order).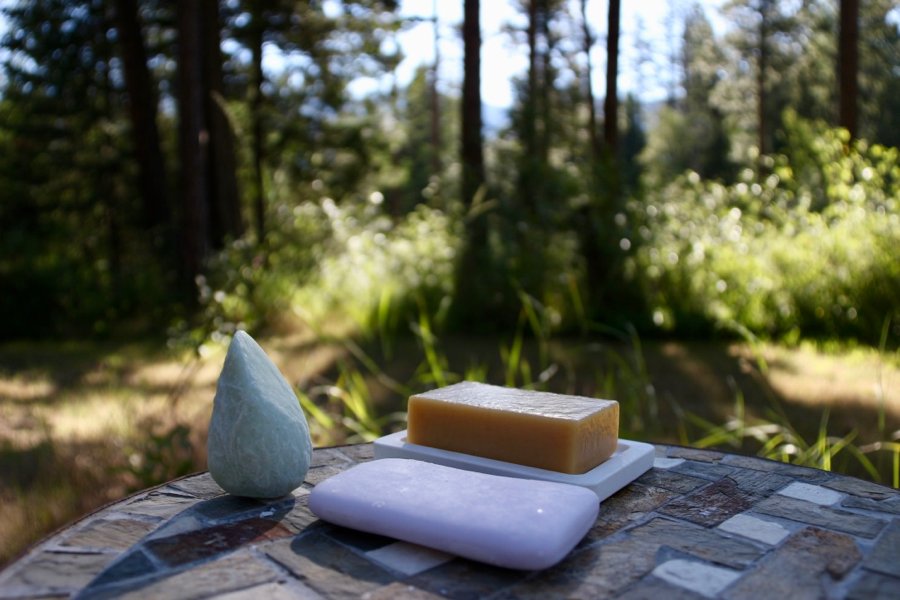 Habitat Botanicals is another good company with legit sustainability credentials. It was founded by two Canadian women who specifically wanted to make plastic-free, cruelty-free toiletries (and they still make all their products by hand).
And Habitat recently became a part of Pela (of Pela Case compostable phone cases and Pela Vision compostable sunglasses) which is great because Pela is a certified B-Corp, the company is climate neutral, and a member of 1% For The Planet. (Which are three great certifications – I love to support companies that put in the effort to live up to those high standards.)
Habitat Botanicals Shampoo & Conditioner Bars Review
However… even though I love Habitat's sustainability credentials, I wasn't a big fan of their shampoo or conditioner.
Habitat's shampoo bar did leave my hair shiny and soft, but it produced more of a slime than a real lather. And it turned almost mushy in my shower and started to break apart after using it for only a couple weeks. (Even though I stored it in the same conditions as the other bars – on a well drained soap dish.)
Their conditioner bar had the opposite problem – it stayed hard as a rock no matter how long I tried to make it lather (both rubbing it between my hands, and directly into my hair). It hardly gave off anything conditioning and felt like it didn't transfer any product to my hair.
Other Products from Habitat Botanicals
I do really like their plastic-free lip balm, which is packaged in cardboard. And I'm curious about their deodorant, but I'm so happy with my refillable one from byHumankind that I'm just going to stick with that.
Price & Shipping
The shampoo and conditioner bars are normally $14 each (for 2.2-ounce bars), but subscribing gets you 20% off.
Sustainability
One unique thing about these bars is that Habitat says they're biodegradable and compostable, and therefore safe to use in river and lakes – which could make this a good shampoo option for camping.
Also, all Habitat Botanicals products are plastic-free, zero-waste and vegan, and the company is cruelty-free.
Shop Habitat Botanicals
Shop directly through the Habitat Botanicals site, or on Amazon.
FYI – from Amazon, it'll probably arrive packaged in plastic. You can tell by looking under the "buy now" button: It says "sold by Pela," but "ships from Amazon."
(Unlike HiBAR, who does its own fulfillment for Amazon orders, so they still ship plastic-free if you order through Amazon.)
Shampoo Bar Price Comparison Chart:
*All three companies let you delay or cancel any individual subscription order; these are just the baseline options they give.

Did I leave anything out? Anything else you'd like to know about any of these products or about plastic-free shopping? Leave it in the comments!
Looking for more about sustainability? Check out all my favorite less-waste toiletries, this ridiculously detailed review of plastic-free laundry & cleaning products, and my review of LastObject.
Or there's this post about everything I learned from a master's in sustainability and energy. And stay tuned, there's more to come!
---
This page includes some affiliate links. These recommendations for carefully chosen companies and products let me earn a commission if you decide to buy anything through them – at no additional cost to you! For more info, please see my Privacy Policy. Thank you for your support!