In this review, I'm sharing my experience with the entire Activist Skincare line, including a comparison of all seven refillable(!) products, and a few of the best alternatives I've found while building my zero-waste skincare routine.
This post contains affiliate links; see my privacy policy for details.
After a lot of research and comparison shopping, I think Activist Skincare is easily one of the most sustainable and most ethical skincare brands on the market right now.
Considering their very unique refillable packaging, carbon-neutral shipping, environmental philanthropy, small-batch manufacturing in the US, and certified-organic ingredients, I haven't found many that compete. (Yes, they're also vegan and cruelty-free.)
(Related: Read my full list of the best sustainable toiletries I've tried in every category.)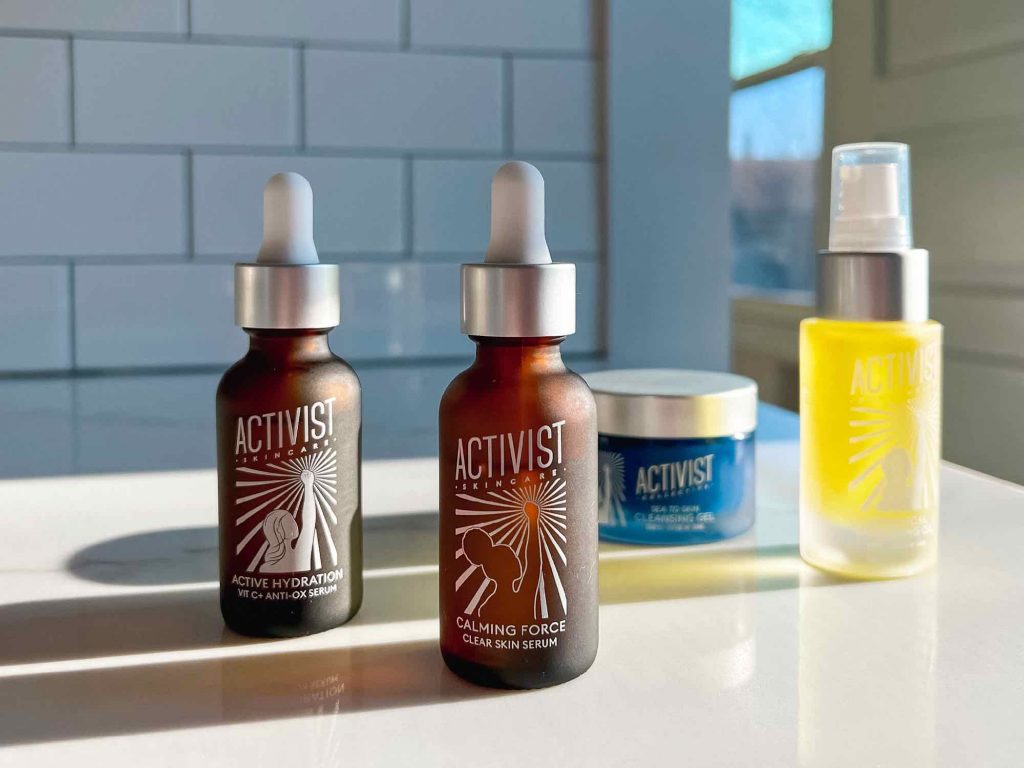 But this is more than just a review of Activist Skincare. There are 3 parts to this article:
1 – I want to share what I've learned about what makes a real sustainable skincare brand – so that you know what to look for when you're shopping, and you can recognize the difference between skincare greenwashing and genuine sustainability.
2 – Then, I'll also compare Activist Skincare with The Ordinary – a controversial company that's been called "the world's most popular skincare brand." (And I'll explain why I think The Ordinary gets a lot more sustainability cred than it deserves.)
So if you like The Ordinary, but you're interested in supporting a small business with infinitely better sustainability credentials, Activist is an excellent alternative to The Ordinary.
3 – If you couldn't care less about The Ordinary, or about recognizing good zero-waste skincare brands, click here to hop down to my detailed reviews of each Activist Skincare product.
You can save 50% on Activist Skincare's two-week trial kit with the code TILTEDMAP50 – so you can test their entire refillable skincare routine.
(Related: An interactive map of sustainable small businesses across the country – and you can add to it!)
---
Building a Zero-Waste Skincare Routine (A Tale of 2 Brands)
I came across Activist Skincare and The Ordinary at different points in my frustrating journey toward creating a zero-waste skincare routine. Obviously, I wanted results that could compete with the best skincare brands – not just make me feel better about my carbon footprint and plastic use.
The Ordinary
The Ordinary was the first brand I found. I was looking for affordable, sustainable skincare, and The Ordinary was about as close as I could get. It was essentially my gateway into skincare – as it is for so many people, since it's so dirt cheap and is such a cult favorite.
But The Ordinary's main sustainability credentials are its primarily plastic-free packaging, and an in-store recycling option for any packaging that can't be recycled curb-side, like dropper lids. And the more I looked into that drop-off recycling option through TerraCycle, the less satisfied I became. (It's a band-aid on an inherently wasteful system.)
So although The Ordinary doesn't offer refills, and there's not much else that qualifies them as a sustainable skincare brand, it still felt like a step up from the drugstore brands I'd used for years that made plastic packaging feel inevitable and unavoidable.
That's what makes Activist Skincare so unique. Their glass packaging is designed to be refilled and reused – a system that they say reduces carbon emissions by 99%. Refills come in lightweight plastic packets that contain less plastic than a normal lid or dropper on a glass jar or bottle.
That means refills that come in plastic still use less plastic than single-use glass packaging, and they require a fraction of the energy to ship.
And Activist has lots of other really meaningful sustainability features, too. Sure, their products are all vegan and cruelty-free – but that's fairly easy to find in the modern skincare market. They also ship carbon-neutral, with recycled packaging materials and without any plastic.
What's more impressive is that they give 5% of revenue to environmental organizations. I haven't found any other skincare or beauty brand that comes close to that. (If you want, you can even choose which organization you'd like your 5% to support.)
In my sustainable product reviews, I always highlight when companies are members of 1% For The Planet, which is already a good sustainability indicator to look for. Five percent puts Activist in a category of its own.
(The Earthling Co. is one of my favorite 1% For The Planet brands. Here's my review of their shampoo bars.)
---
What Makes a Sustainable Skincare Brand?
Ideally, everything Activist Skincare does is what you want in a sustainable skincare brand. But I haven't found any other brands that check all these boxes:
Refillable packaging
Carbon-neutral shipping
Plastic-free shipping
Recycled & recyclable packaging
No extra labels or marketing materials
Vegan, cruelty-free & no animal testing
Mostly organic ingredients, sourced locally and from small farms
5% of revenue supports environmental activism (1% is also great!)
Predictably, a lot of skincare brands market themselves as sustainable, but very few do much to truly be sustainable. From following the sustainable toiletries industry pretty closely, I've noticed this is especially true when it comes to packaging.
Skincare Packaging Problem #1: Plastic
One perfect example: Affordable brands like Kinship and Cocokind are often cited as sustainable skincare.
The way I see it, sure, they're fairly sustainable and ethical brands from an ingredients perspective. They're cruelty-free, mostly vegan, and feature some organic ingredients – but again, those are not hard to find.
But to call them sustainable skincare brands, you have to completely ignore their packaging, because they both use plastic packaging with no refills available.
Yes, some of it is post-consumer recycled plastic. But it's still made from petroleum, and is still likely to become litter and/or end up in a waterway. So we could do better.
(Kinship uses ocean-bound plastic, which is great. But it's still solid plastic that's only designed to be used as long as your tube of moisturizer lasts. Cocokind uses some bioplastics and recycled plastics, along with virgin plastics and glass.)
Skincare Packaging Problem #2: Glass
As I mentioned above, with its mostly glass packaging, The Ordinary was the first skincare brand I tried that was anything near zero-waste. And glass packaging is a pretty common choice for sustainable skincare brands (generally brands that are a bit higher priced).
Herbivore Botanicals and Youth To The People are good examples that check more of the sustainable-ingredient boxes, and use glass packaging. (And they're both 100% vegan, like Activist.)
But glass is far from perfect as a sustainable packaging – unless it's designed with refills in mind.
Glass is infinitely recyclable, which plastic definitely is not. And glass isn't made of fossil fuels, like plastic is, but it takes a lot of heat to make glass (2700°F, to be precise), and that heat usually comes from burning fossil fuels. And since it's so much heavier than plastic, shipping glass creates more carbon emissions.
So when it comes to sustainable packaging, refills always win – but they're still very rare in the skincare industry.
(Youth To The People sells "refills" of one product – a cleanser that I quite like. But the refill is just another glass bottle that's twice the standard size, and doesn't have a pump. It saves some plastic and glass, but not as much as Activist's refills.)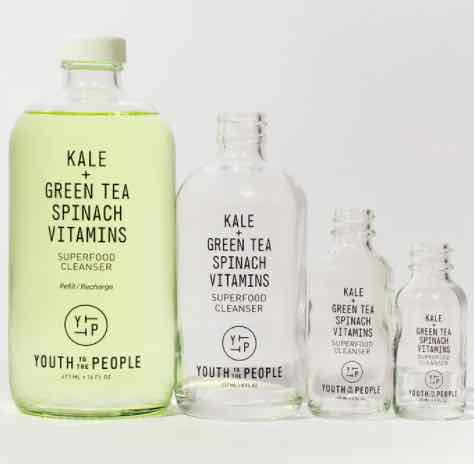 Otherwise, there isn't an easy answer to the sustainable packaging question. It depends what you're measuring (carbon emissions from shipping, or plastic pollution and its effects on wildlife, and leeching of toxins into waterways?). And it depends on lots of other factors, like how far the product has to travel to get to you, whether you have local access to recycling, and more.
(Related: For more on the "it depends" answer, check out the section about electric vehicles in my post about what I learned in grad school. It's totally frustrating to not have a clear answer, but I'm afraid that's the way it is.)
Where to Order Sustainable Skincare Brands:
Activist Skincare is available directly through their website, and in some zero-waste shops that offer refills.
You can also order some Activist products from a few sustainable online retailers, but you won't be able to take advantage of the discount code for the trail kit (TILTEDMAP50). My favorite option is Earth Hero (because they're a certified B-Corp, carbon-neutral, a member of 1% For The Planet, and ship plastic-free).
You can find a lot of the brands I just mentioned in Sephora's Clean + Planet Positive section.
And The Detox Market as well as Credo Clean Beauty are two of the top stores in North America dedicated to sustainable brands – but their products aren't necessarily plastic-free or refillable. (Credo has several brick-and-mortar stores in major cities in the US. The Detox Market has a few in the US and Canada, and a separate Canadian website.)
What Else to Look for in Sustainable Skincare Packaging (Subtle Differences)
Activist already won the packaging competition vs. The Ordinary, and every other skincare brand I'm aware of, with their refillable products.
But forget the refills for a minute. At first glance, the two brands have nearly identical little 1-ounce glass bottles, with droppers made of plastic and rubber.
Activist still has the most eco-friendly packaging for two reasons:
They don't use any additional outer packaging, like cardboard boxes for each bottle, which The Ordinary uses. Those boxes are just a waste, especially since these brands ship with additional padding in the box. (Activist uses recycled paper.)
Activist prints information directly on the bottles, so there are no paper labels (or plastic labels, which The Ordinary uses). You often have to remove these labels for recycling. (This depends on the recycling facility. But regardless, it's just yet another layer of packaging that's unnecessary and, in the end, wasteful.)
Those may sound like small details, but they make a big difference when you consider that they're small details multiplied by thousands of orders.
(Bonus: Activist's refills ship without additional padding, packaging peanuts, boxes etc. They just come in 100% recycled-content paper envelopes.)
---
Activist Skincare vs The Ordinary (The Ethos Beyond the Products)
I want to mention a few other points about the actual companies, because Activist Skincare is really different from The Ordinary in major ways, beyond their packaging.
In short, if The Ordinary is a buffet, with a head-spinning number of choices for every active ingredient and every skin type, then Activist Skincare is a chef-curated tasting menu. You pay more, and you don't have as much choice, but you don't miss it either – because someone who knows more than you has selected all the right ingredients.
Let me explain what I mean by that.
Activist Skincare is an independent, small company founded and run by a woman named Allison Callaway. It's based in California, where the formulas are made by hand in small batches.
Allison told me she designs her formulas to be like "well-rounded meals" for your skin. Meaning they're more one-and-done than mix-and-match.
The Ordinary is owned by DECIEM, which is partly owned by Estée Lauder, and is very mix and match. Most products contain high concentrations of just one or two active ingredients. (And those concentrations are sometimes higher than what's been scientifically tested, increasing the risk for sensitivity.)
While that means The Ordinary is highly customizable, it's definitely not easy to customize. They're all about scientific, no-fluff descriptions of their formulas. Which is nice, but sometimes I feel like I'm missing a few chemistry classes to follow along with their product descriptions, and to remember which products definitely shouldn't be combined.
Finally, if you know The Ordinary, you know they're famous, at least among skin care junkies on Reddit and YouTube, for giving customers a lot of options. At present, they offer something like 10 different formulations of just Vitamin C (an antioxidant proven to be effective in for increasing skin's brightness and collagen).
It's overwhelming; you have to study.
Activist Skincare, meanwhile, has one serum with Vitamin C (more about the formula in my review below). And it contains lots of other compatible actives, so you don't have to worry about tediously building your skincare routine one ingredient at a time.
---
Must-Have Skincare Ingredients
Before I go into my individual reviews of all of the Activist products (below), I want to give you some context about what I was looking for in a skincare routine before trying Activist.
First and foremost, niacinamide was the ingredient that started my adult "skincare journey," and The Ordinary was the brand that introduced me to it.
After experimenting with so many products for so many years (including those prescribed by a dermatologist), The Ordinary's super-affordable Niacinamide 10% + Zinc 1% serum was the first thing that actually stopped my persistent adult acne. (Not severe, but moderate and continuous throughout my 20s.)
After that, I experimented with lots of other serums from The Ordinary, and settled into a routine involving a rotation of almost a dozen different serums, creams and treatments for a host of active ingredients.
(This is a common path. If you poke around on Reddit or other skincare forums, you'll see lots of people ordering dozens of products from The Ordinary – aided by the fact that they're so affordable that you actually can try them all – and trying to "build up their skin's tolerance" to stronger active ingredients. This is not very healthy for your skin.)
Those active ingredients I was using included:
Resource: Those links for the active ingredients go to the "ingredient dictionary" from the skincare brand Paula's Choice. It's an excellent resource that gives every ingredient a simple rating from Best to Worst. Plus there's information on whether the ingredient's efficacy has been scientifically tested, and links to studies. And Paula's Choice is a respectable skincare brand that I used to use and recommend, before finding plastic-free alternatives.
So that gives you an idea of where I was in my quest for sustainable, affordable skincare when I decided to see what else was out there. It wasn't easy to keep track of all those little bottles, but I was perfectly satisfied with my skin – for maybe the first time ever.
The only thing that could have made me budge from my routine with The Ordinary was something just as good but more sustainable, with refillable packaging.
Enter, Activist Skincare.
---
Activist Skincare Products (Reviews & Comparisons)
Activist makes a very narrow range of products – currently three refillable cleansing oils, one toner, two serums, and one moisturizing face oil.
You can try all of them in their two-week trial kit, which comes with reusable mini versions that you can refill as travel-sized toiletries.
(And you can save 50% on the Activist Skincare trial kit with the discount code TILTEDMAP50 .)
That's how I tried the entire line, before ordering full-sized versions of just the products that work best for my combination skin.
All three of Activist's zero-waste face wash options are oil-based cleansers. (Even though only one is actually called a cleansing oil.) As with all oil cleansers, you massage them into your skin without water until it's time to rinse.
(Oil cleansing is often part of a double-cleanse method, which just means washing first with an oil cleanser, then rinsing and washing with a non-oil-based cleanser. Activist doesn't say you need to do this, but I like to sometimes for a deep clean. I usually use my go-to face-wash bar from Earth Harbor for the second cleanse.)
Related: If oil cleansers aren't for you, check out my review of several other excellent plastic-free face wash options!
The Sea to Skin Cleansing Gel is probably Activist's most famous product. It's their catch-all cleanser for combination skin, but also not at all drying, and safe for acne-prone skin. (As I can attest after a couple of months of use.)
But the reason it's famous is probably its glamorous, beautiful blue color and irresistible scent that I can't quite figure out how to describe. It's not floral, or fruity, or anything I can put my finger on; it just smells bright and fresh and clean.
I find Sea to Skin really calming and moisturizing – it leaves my face feeling clean but definitely not tight at all – and has no problem dissolving makeup. (Although since it's so thick, I wouldn't use it for removing heavy eye makeup.)
It does take a bit of effort to rinse off, which at first I thought meant it wasn't getting my skin very clean, or was leaving a film of product on it. But after using it once a day for a month, I didn't have any problems or breakouts.
I wasn't expecting to like Botanical Cleansing Oil. Although it is the cleanser specifically for acne, I was skeptical – I mean, washing your face with pure oil when you're already prone to break outs?
But after testing my way through the trial kit, my hardest decision was Sea to Skin Cleanser versus Botanical Cleansing Oil. It was love at first try, versus a surprisingly charming alternative. (And I ended up ordering the full-size of both.)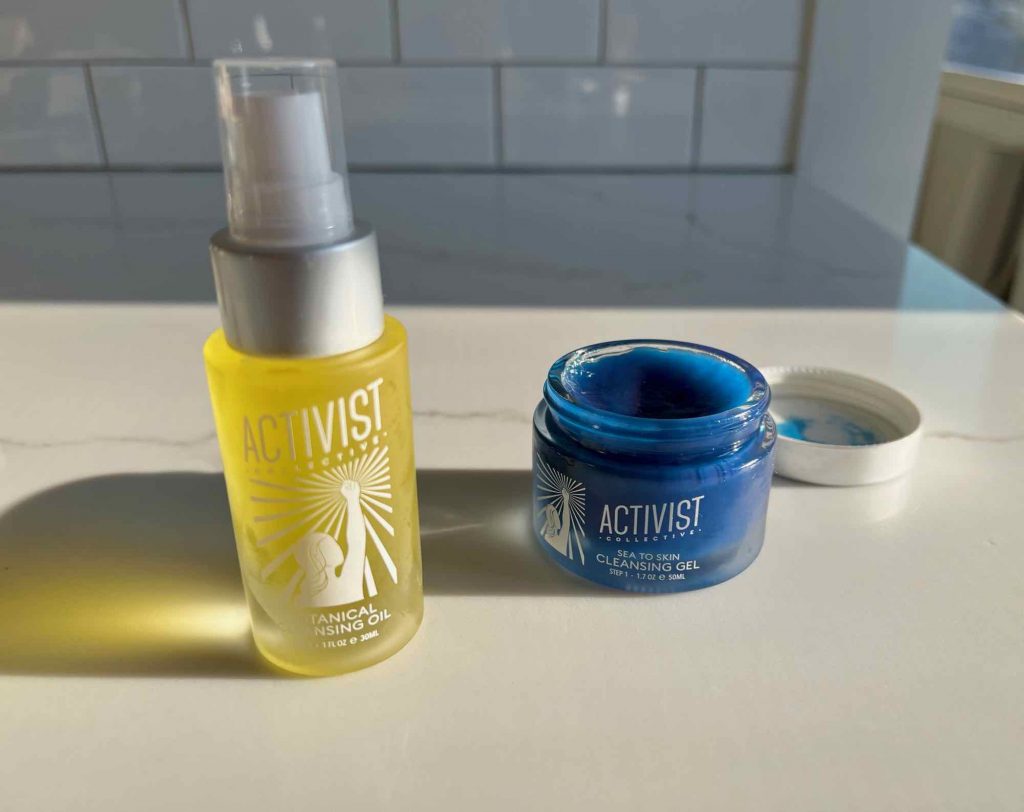 Turns out, my mistrust was based on old misinformation. After using both cleansers for several weeks each, neither one provoked any unusual break-outs for me, and they both improved my skin's softness.
(For a fair test, I didn't overlap these. I used one Activist cleanser at a time for several weeks straight, either AM or PM, and my go-to face wash bar for the other time. More on that in this full review.)
My favorite thing about the Botanical Cleansing Oil is that it rinses off more easily than the other two oil cleansers. I also like that it's in a refillable bottle with a pump, instead of a jar that you stick your finger in, like the other two.
(Although, through all this skincare testing, I've been reminded that you should wash your HANDS before you start washing your face. So theoretically, you're not sticking dirty fingers into jars anyway.)
It definitely does have a botanical, floral smell, which at first I found a little strong, but it grew on me more than I expected. (It's a very natural-smelling floral – scented with geranium, grapefruit and lavender essential oils. It's not overpowering or artificial.)
Activist's Deep Moisture Cleansing Balm is most similar to the Sea to Skin cleanser in terms of consistency – they're very thick and both come in refillable jars (not pump bottles).
But with shea butter and other heavy moisturizing ingredients, the balm is meant for either mature skin, or very dry and/or sensitive skin.
(It's definitely not for acne-prone skin, which is why I gave the Cleansing Balm sample from my trial kit to my mom, who's in her 70s and has always had dry skin. She liked it, once she got used to the concept of starting out with no water.)
Deep Moisture is the only Activist cleanser that doesn't contain essential oils, which can be irritating. (That's why Activist only uses them in their cleansers, which are only in contact with your skin for a minute, but not in any other products.)
Activist Skincare Toner Review
Activist's Healing Water Toner is a hydrating toner made with many of the same moisturizing, calming ingredients that are in both the Calming Force and Active Hydration serums, below.
(Including brightening licorice root extract, calming panthenol (vitamin B5) and MSM, moisturizing hyaluronic acid and glycerin, along with botanical ingredients.)
Healing Water is also a less expensive way to get those soothing ingredients, and an excellent candidate for stocking up with the larger refill size. (Which is $64 for 4 oz. That's half the price per ounce of the normal $32 for the 1-ounce, refillable glass bottle.)
The toner absorbs very quickly, and makes my skin feel smooth – a similar effect to the serums. And it's designed so you can also spray it on during the day for a refresher, without washing your face.
It has a cucumber scent, kind of reminiscent of old-school toners and skin treatments, except that this one actually smells like real cucumber, not like artificial cucumber flavor.
I thought it felt nice and soothing, but honestly, I just tend to avoid toners because I don't want to add yet another step to my skincare routine. Maybe I just didn't give it enough time to impress me because, judging by the nearly 100% five-star review score, people seem to love it as much as the serums below.
Review of Activist Skincare Serums
This is where the real magic happens.
Both Activist serums are unscented, and feel very thin and light in texture. (Not oily or greasy at all.) At first, this consistency made it hard to tell how much I was putting on, as they absorb quite quickly.
I counted drops, and applied about 10 the first times I used them, which seemed like a lot. Since I've started being more careful, I've realized I only needed 5 or 6 drops for my entire face and neck. At that rate, they'll last a long time.
For a multi-functional, zero-waste acne treatment serum, I haven't found anything that works as well as Activist's "Calming Force Clear Skin Serum."
This is the serum with niacinamide – my miracle acne ingredient, as I mentioned above. It also contains several other active ingredients that reduce inflammation and fight acne. (Including zinc, vitamin B5, salicylic acid, plus hyaluronic acid, and licorice root extract for brightening and evening skin tone, and MSM.)
If you compare all of that to the list of ingredients (above) I was getting from a medicine cabinet full of products from The Ordinary, you'll see I've now covered almost all of them with just one serum.
I noticed right away that my skin had a nice "glow" after using this once or twice, and it felt particularly smooth.
Calming Force is 5% niacinamide, and .75% salicylic acid, which seemed like low concentrations. So I emailed Activist's founder, Allison, to ask her about this. Here's what she said:
"Calming Force is meant to be used daily on the entire face to prevent and calm skin issues. At first glance, 5% niacinamide seems like it's not a good value compared to other brands, but there's no reason to use a higher dose than has been shown to be clinically effective. That just increases the chances your skin will be overstimulated and have a bad reaction. In fact, niacinamide is effective for certain skin concerns at lower doses, such as 2%, but some studies show increased benefit to the skin at 5%.
And while the maximum non-prescription dose for salicylic acid is higher than what I'm using, a lower concentration like 0.75% still has anti-inflammatory, decongesting (pore-unclogging) benefits with less chance of sensitivity."
After just finishing the sample bottle, I was pretty sure Calming Force was a keeper. And after using it for more than two months, I'm more than convinced. And my skin doesn't seem to miss the extra niacinamide in my old routine.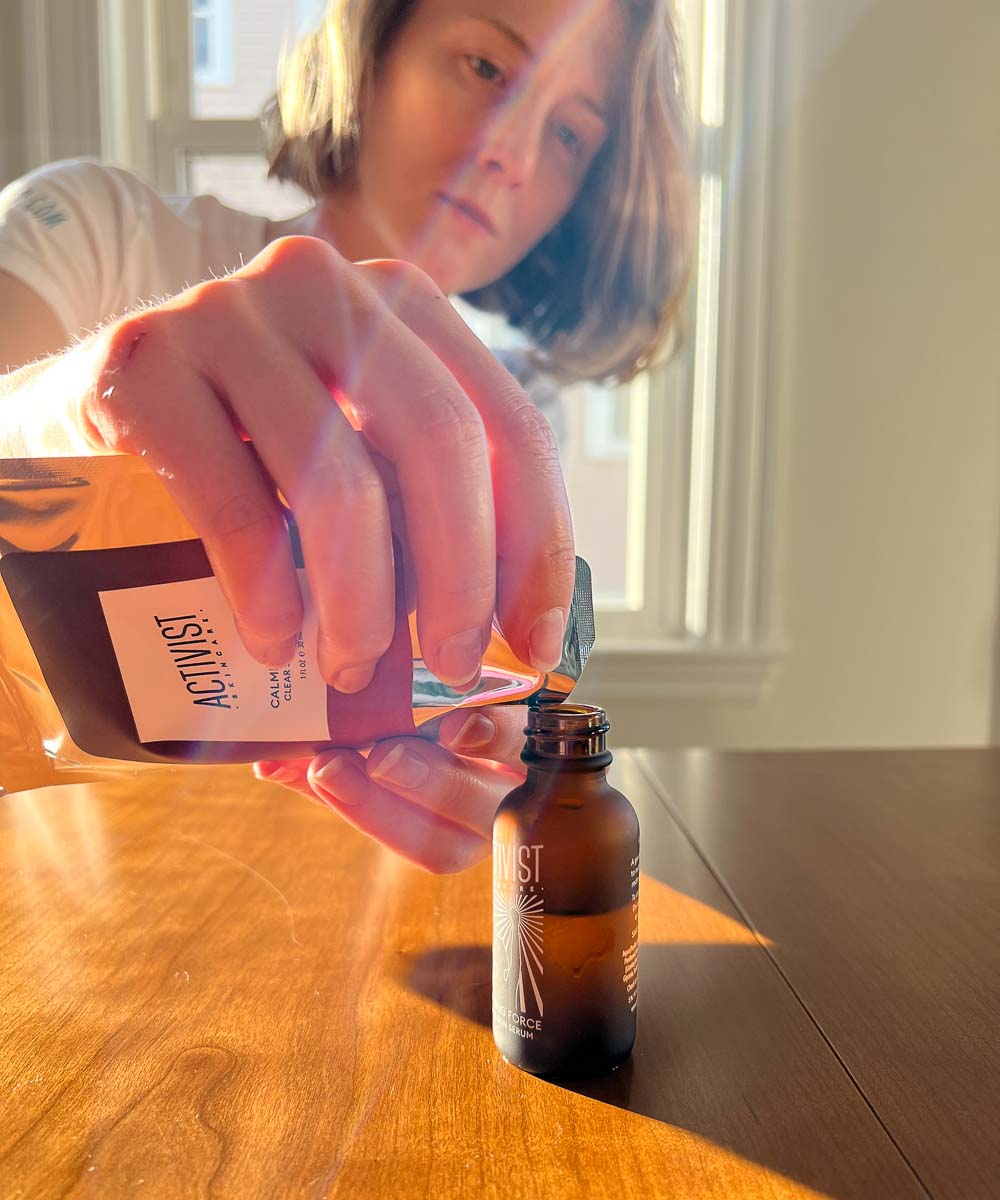 The "Active Hydration Vitamin C & Antioxidant Serum" serum took care of the rest of the skincare ingredients on my to-go list. It contains a high concentration of skin-brightening, collagen-supporting vitamin C (it's the second ingredient in the formula), along with hyaluronic acid, amino acids, and vitamin B5, all of which contribute to long-term skin health.
I use this serum in the morning, because vitamin C helps protect skin from the sun. (But it definitely doesn't take the place of sunscreen. Activist doesn't make their own right now, but they do sell a plastic-free, tinted, mineral sunscreen cream from Avasol.)
For the first few weeks that I used it, the Active Hydration serum left my skin feeling smooth, hydrated, and just looking good.
Vitamin C and Acne
Buuuuuut… after around a month using Active Hydration, I started to notice that something was making me break out. I couldn't quite put my finger on it, but after a couple more weeks of steady break-outs, I remembered that a Vitamin C serum from The Ordinary that I used a year before had given me the same reaction. (To be clear, since they make so many, it was this Ordinary Vitamin C serum, with 12% ascorbyl glucoside.)
I started doing some research, and did find one beauty editor who wrote about Vitamin C causing her acne. But from everything I've read, my acneic reaction to Vitamin C seems quite uncommon.
Vitamin C in high concentrations could cause acne (anything over 10%, from what I've read). And the type of Vitamin C or the solution that it's in could also be the cause. (Active Hydration uses sodium ascorbyl phosphate. So it's a different type from what I'd tried from The Ordinary, but both gave my skin trouble.)
Finding a zero-waste face moisturizer has been the hardest part of creating my plastic-free skincare routine. I didn't hold a lot of hope for Precious Oils, since I've usually found facial oils to be too heavy for my skin. In the end, my opinion of this one is kind of mixed.
If you love facial oils, or want a zero-waste moisturizer that will tame dry, winter skin, or replace a heavy night cream, Precious Oils is definitely worth a try. But for me personally, it's heavier than I really need for every day.
It's very thick, which made me sort of panic when I first used it. But I find that it does in fact absorb into my skin – it just takes a few minutes. And it's free of essential oils (which can cause irritation and acne), and feels very soothing. On a really dry, winter day, Precious Oils feels like it does the job of protecting my skin.
Other Zero-waste Moisturizer Options
For a lighter moisturizer, I'm sticking with Mermaid Milk Moisturizer from Earth Harbor. The formula has natural antioxidants from matcha and spirulina. While they don't offer refills yet, Earth Harbor tells me they're working to roll them out this year.
UPDATE (August 2022):
You can now order larger sizes of some Earth Harbor products, and all products are now available without plastic pumps or lids. (So you can keep your pump and transfer it to a new bottle, instead of throwing it away – just like with my refillable hand sanitizer. The Earth Harbor pumps fit both the large and small bottle sizes.)
Unfortunately, they're still using glass bottles for their refills, so it's not as ideal as what Activist Skincare and Dew Mighty use, but it's definitely a step in the right direction!
UPDATE (July 2022):
The solid Vitamin C serum that I mentioned above has also been working quite well as a moisturizer! I've been quite impressed with it so far. (We'll see how it does on winter skin, but so far it's the only serum I've found that lets me skip a moisturizer.)
(More about the company, Dew Mighty, in my review of zero-waste face washes.)
Skincare Affordability & Waste
After all this testing and reviewing and analyzing, I've come to think that "mix-and-match" and "customizable" are just subtle nudges toward overconsumption. (When the real to key to zero-waste is simplicity.)
The Ordinary is known for being an affordable skincare brand. (Most of their products are priced between $10 and $30.) But if you want a "complete meal for your skin," like what you get with Activist's serums, you have to use a lot more products to accomplish that. Which makes the individual prices much less impressive.
And using so many products also means throwing away a lot more of those non-refillable bottles and plastic droppers.
The price range for Activist Skincare products is around $18 to $64, but each formula covers a lot more ground. (And their refills cost less. You can even go straight to the refills and put them in your own bottles, if you prefer, and never pay for a new bottle from Activist.)
Bottomline: Start with the Greenest Foundation
While the Activist Skincare formulas don't cover every single skincare ingredient or every product you may want to use, they clover a lot, and they do it with very little waste.
Since Activist is on a very short list of the most all-around sustainable skincare brands I've found, it's the perfect start to a zero-waste routine. (So far, Dew Mighty is the only other brand that compares.)
If you try either brand and find something missing, you can always add products from other brands later. But why not start with the lowest-waste option and go from there?
Remember, if you want to try the whole Activist Skincare line-up, you can save 50% on the trial/travel kit with the discount code TILTEDMAP50 .
Questions? Leave them in the comments below! I'm happy to share more details. 🙂
---
This page includes some affiliate links. These recommendations for carefully chosen companies and products let me earn a commission if you decide to buy anything through them – at no additional cost to you! For more info, please see my Privacy Policy. Thank you for your support!