This post contains affiliate links; see my privacy policy for details.
Hello there, fellow blogger! I started blogging in 2014, when I was still primarily a freelance magazine writer living in China. But it wasn't until 2019, after a few other jobs and a master's degree in sustainability, that I decided to go all-in, and began making this blog my full-time business. I've learned a lot along the way through trial, error, and lots of research!
Below are the website tools and blogging resources that I actually use today on Tilted Map, and the most helpful courses I've taken about blogging, writing, social media and SEO. (As well some I've learned to avoid.)
Looking for a different resource page?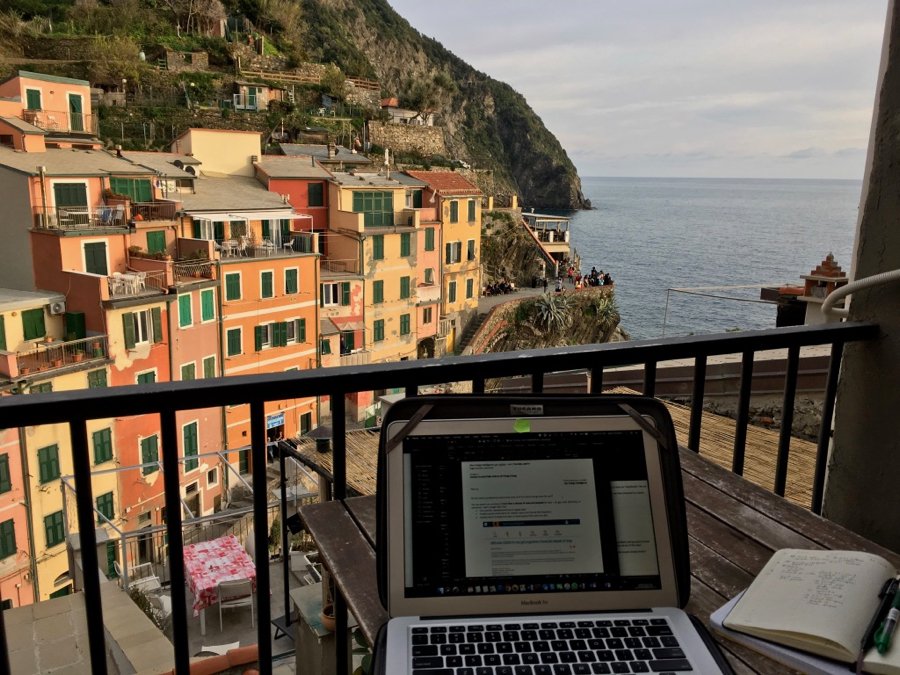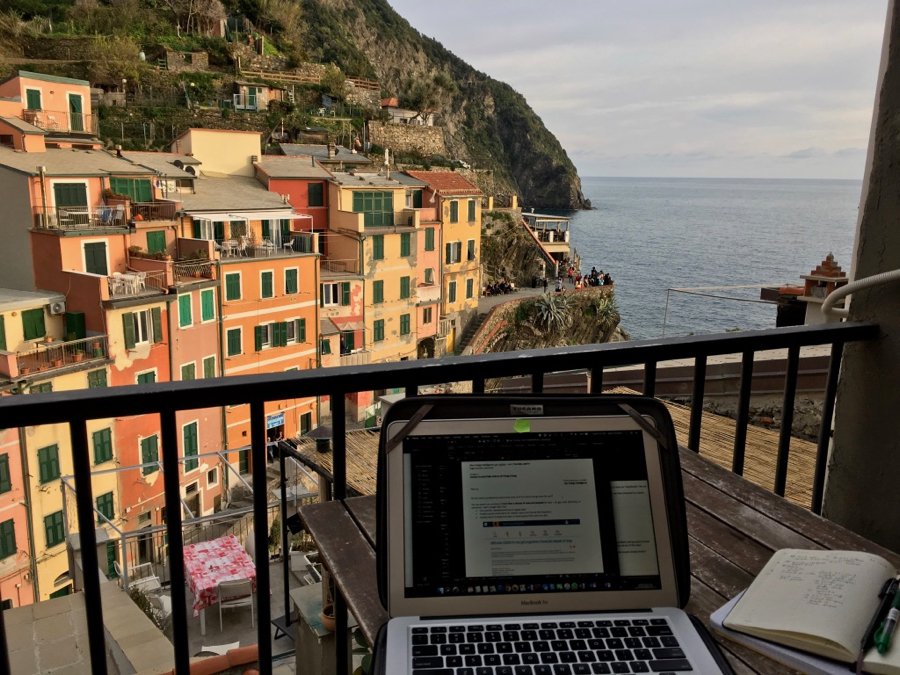 The Best Website Hosting: SiteGround
I've been using SiteGround hosting for several years, and I wouldn't use anything else. I was on DreamHost before, but it had a lot of down-time and not very helpful customer service. So I did a lot of research and decided on SiteGround, which has 100% solved both of those problems!
You can certainly find cheaper hosting, but honestly, this is something worth doing right. Cheap hosting can cause website crashes, lost content, slow loading times (which are terrible for SEO), and other hassles that you'll have to fix with a patchwork of plugins down the road.
Also, Siteground's customer service chat feature – with real tech people – makes life easier when something inevitably goes wrong, or whenever I have a question. I have used this more times than I can count, and I swear it's made me trust Siteground with my business.
Again, you can always find a free theme, but if you're planning to a build your blog into a business, you'll want a premium theme that's flexible, has great support, and will give you room to grow.
Tilted Map is built on the Splendor Theme (on the older Genesis Framework) from Restored 316 (a small company founded and run by a single mom).
I've been using it for several years and love it. It's a beautiful layout, but best of all, the service from Restored 316 truly makes the price of their themes a total steal. I have emailed them dozens of times with questions and customization requests, and they always get back to me within a day(!) with a friendly greeting and a custom solution. That level of service is literally worth thousands of dollars, and believe me, you will not find it from most theme providers.
The Genesis Framework has been the industry standard for years. It's well-built, fast, SEO-friendly, and of course, really good looking so readers don't abandon your site! (You can think of Genesis like the basic apartment that your website lives in, while a "child theme," like Splendor is all of the furniture and decorations inside.)
But now Restored 316 is building themes on the Kadence Framework, which is what I would use if I were to switch themes now. From everything I've read, it seems to be just the next step forward from Genesis – even faster and more flexible. I don't see a ton of theme builders using it yet, so it's great to see how Restored 316 isn't sleeping on new improvements.
(Here's more about switching from Genesis to Kadence.)
Blogging Courses That Are Worth the Investment
I've taken tons of blogging courses on topics from social media, to the back-end setup for WordPress, to SEO strategy. These are the ones I recommend:
Best Place to Start for Beginners:
To get started with SEO, the first thing I'd recommend is signing up for a month of Internet Marketing Gold (details on it below) and taking Kyle Roof's Beginning SEO course. He's a great teacher and a true expert. (Neither of which are guaranteed when you're just sifting through YouTube videos.)
For beginners starting specifically a travel blog, Super Star Blogging by Nomadic Matt is a good overview of everything all in one place. (From choosing a blog name, to setting up your website, to social media, guest posting, working with companies, and more.) If you're overwhelmed, this is much better than getting lost on Youtube looking for answers!
If you're considering a travel blog or any other type of website (whether it's about crocheting, or mountain biking, or financial planning), or if you're not necessarily interested in being the face of your website, then The Authority Site System is definitely the place to start. It's made by AuthorityHacker – a team of some of the industry's top experts on how to create and grow profitable websites, starting from zero. I've taken several courses from them, including that one that walks you through improving your core web vitals, and I continue to learn from them. You can get an idea of their teaching style from this useful free webinar.
Probably the Best SEO Courses:
Internet Marketing Gold is a monthly course subscription that calls itself "Netflix for SEOs." It includes dozens of courses (on topics ranging from blackhat TikTok strategies, to SEO for real estate agents, to how to sell your website). I subscribed for 5 months and took lots of courses, but you could subscribe for just a month and get a ton of value out of a few courses. First and foremost, I highly recommend any of the courses by Kyle Roof, but especially his On Page Optimization SEO course. While Stupid Simple SEO (below) is about finding keywords you can rank for, On Page SEO is more about finding strategies to rank for the keywords (and topics) that you actually want to write about.
Stupid Simple SEO is a more advanced course that teaches an SEO strategy, not just quick tricks. The focus of the course is how to find low-competition keywords that you can rank for, based on your site's authority. (So it's fairly high-level. You're not learning what a keyword is in this course. Before taking this one, it's useful to know the basics of SEO, so that you can understand what to take away from the course. For that, I would definitely suggest Internet Marketing Gold, above.) I do apply many elements of the strategy I learned from Stupid Simple SEO, but I don't follow the method exactly.
Travel Writing Courses:
There are countless online courses for SEO and social media, but very few about the most important part of blogging: The actual writing. That's why I'm currently working through How to Become a Successful Travel Writer. The course was created by Nomadic Matt, but it's taught by the writer and editor David Farley. (Who also teaches writing at NYU and Columbia.) Even though I have a degree in Journalism and have been writing online and for magazines for years, I'm still learning a lot from it!
Social Media Courses
If you're feeling overwhelmed by Instagram, as I was, Christina McEvoy's course Insta Success can give you a great foundation. What I loved about the course is that's it's not just about Instagram. She doesn't just focus on how to go viral, but more on use the platform to benefit your business goals, even without a huge audience. That means everything from creating high-quality content (photography, engaging captions, what to do with hashtags, etc.), to creating your media kit and negotiating deals with brands. (And she's certainly teaching from experience: She used brand deals from her Instagram to fund traveling the world for years with her husband and two sons.)
Only the Best WordPress Plugins
I do a lot of research before choosing WordPress plugins – especially the not-free ones below. I also pay for other plugins, but these are the few that I absolutely recommend and love.
The All-In-One Affiliate Marketing Plugin – Lasso
Ever wonder how I made these cool boxed displays (like this one!) for products I write about? It's Lasso.
I've tried other affiliate link management tools (Pretty Links and Thirsty Affiliates) and Lasso is far more valuable. When brands I work with suddenly switch affiliate platforms (the most frustrating thing ever, and it happens all the time), I just have to update the link in one place, and Lasso fixes it everywhere on my site. It's worth hours of work every time this happens.
And they have literally the best customer service I've ever found. They've tweaked 1,000,001 things on my displays, and they do it quickly and with a great attitude.
Check Out Lasso
I get this question a lot! The answer is the WordPress plugin Interactive Geo Maps Pro.
Interactive Geo Maps Pro
This is the plugin I use for my destinations map. I chose it over other popular maps plugins for WordPress because it has a lot of features that others don't – even in their premium versions – such as overlaying maps. (That's how I added the US states to my destination map of the world.)
You can change all the colors, add map points, travel lines, and other design features. And the tech support from the founder, Carlos, is fantastic. (He emails back quickly with answers to any questions.)
I have the lifetime license, which is a good deal if you'll be blogging for the long-run. And you can use the discount code TILTEDMAP to save 10%!
Plugin Prices (10% OFF)
My Destinations Map
Graphic Design Tools + My Professional, Human Designer
I'm really happy that Canva exists because it's much simpler (and cheaper) than Photoshop or other software. I mostly use it to make my Pinterest images and simple graphics like this one for my Instagram.
The paid version of Canva ("Pro") gets you advanced features and quality stock images. Sometimes I sign up for a month of free version when I have a lot of design work to do, and then downgrade back to the free version. (They make it really easy to do, and send you several warning emails before charging for a new month.)

For when you're tired of Canva and looking for a real graphic designer, I highly recommend Hollis Callas. She created my Tilted Map logo – and if that's not enough, she's done work for Samsung, Walt Disney, Metallica (yes, the band Metallica), and lots of other big names. You can check out her beautiful patten designs on her Instagram.
---
This page includes some affiliate links. These recommendations for carefully chosen companies and products let me earn a commission if you decide to buy anything through them – at no additional cost to you! For more info, please see my Privacy Policy. Thank you for your support!