Looking for a product I recommended in a blog post or mentioned in a conversation once? You'll probably find it here – and if you don't, let me know!
These are my favorite travel resources, plastic-free products, and sustainable & ethical online shops that I've recommended on the blog – all here in one place. I'll try to keep this page updated, including links to my full reviews and any discount codes (in the gray boxes!), as I find new products I love and write about them.
By the way: Using the affiliate links on this page helps me earn commissions to run this site. For more about how this all works, just scroll down to the bottom of this page.
Travel Booking Resources
ItaliaRail is the simplest way to book train tickets in Italy (if you don't speak Italian).
For other options and everything you didn't know you wanted to know about riding Italian trains, check out my guide!
Starting a Booking.com search here takes you to the same site you normally book on (with the same prices – I've tested it), but helps support my website by giving me a (small) piece of Booking's commission. Thank you!
Sustainable Products
I've been reviewing a lot of sustainable products in detail: You can read more about shampoo bars here and cleaning products here. Below are my favorites from both posts:
Plastic-Free Cleaning Products
Cleancult is my all-around favorite sustainable cleaning brand. I use their all-purpose cleaner, dish soap, wool dryer balls, and super lathery bar soap.
Get 20% off any order with this link! (If it doesn't apply automatically, use the discount code TILTEDMAP20.)
TruEarth laundry strips are the easiest plastic-free/ zero-waste swap I've found. You get a whole plastic jug's worth of laundry detergent in an envelope. The strips WORK, and they ship all over the world for FREE.
Dropps is another good option with lots of choices for natural detergent, fabric softener and dish washing pods in multiple scents, all in plastic-free packaging.
You can use this link and the code DROPPS15 for 15% off your order. (Plus, they give a steep 30% discount for subscription orders, which you can change or cancel even after one shipment.)
I also use a couple of products from Blueland: Their dishwashing products, and their glass cleaning spray, which is a dehydrated tablet refill system that's totally plastic-free and pretty brilliant for sustainability. (Just buy the refills and skip the "Forever Bottles," for reasons I explain in my full post about these products.)
Plastic-Free Personal Care Brands
See this post for details about shampoo bars and several byHumankind products, and this post for reviews of ALL of LastObject's reusable products (and how to avoid getting duped by fake zero-waste brands).
100 Senses makes my all-around favorite, completely plastic-free shampoo & body wash bar. (Which they call "The Ultimate Body Bar.")
I also tested and love HiBAR for shampoo and conditioner bars, which are made in Minnesota! (On Amazon here, or their own website here. Shipping is 100% plastic-free either way.)
Thinx are normal-feeling underwear that absorb your menstrual flow – without leaking, smelling, or feeling like a pad. It sounds weird, but I swear it works better than I ever expected. Easy, wash & wear with no more plastic and cotton to throw away.
And byHumankind is my favorite toiletries brand for everything else plastic-free and refillable – floss, deodorant, mouth wash, hand sanitizer that doesn't dry out your skin, and more.
LastObject designs brilliantly simple, reusable replacements for throw-away items. I use their easy-to-clean replacements for Q-Tips, cotton balls, and Kleenex packs – all of which I reviewed in detail in this post.
Use this link and the code TILTEDMAP10 for 10% off your LastObject order!
Better Online Book Shopping
Look, I'm not perfect – I shop on Amazon sometimes, too, and I include Amazon affiliate links on this website because I know sometimes people are just going to go there anyway. But whenever possible, I also link a small-business alternative to Amazon – and this is one of my favorites!
Bookshop is a certified B-Corp and at least 10% of every purchase goes into a pot, which is divided equally among indie book stores that are members.
It's the best of both worlds: You get the convenience of ordering books online, while still helping to support local, independent book stores.
You can search for books above (only on desktop), or check out the Tilted Map storefront on Bookshop, which has all of the food and travel books I've mentioned on the blog together in one place.
For When You Need to Buy a Gift
In the interest of consuming and accumulating less stuff, I've mostly stopped gifting anything that's not edible (which, from me, usually means homemade limoncello). But when I occasionally feel the need to give something, Novica is a great source for artisan-made, Fair Trade items. (They have everything: Handmade cloth face masks, jewelry, scarves, art, seasonal decorations, natural beauty products… You know, good gift-y stuff.)
VPNs & Tech for Travel
Usually you don't actually need a VPN to get online securely when you travel – or any other time (as I learned when I interviewed a cyber security expert for the linked post). Using a password manager is much more important – it makes your passwords unique and uncrackable (and you don't have to remember them).
LastPass is the password manager I've relied on for several years. (I have the Family membership because it lets my husband and I share selected passwords and secure notes.)
If you do need a VPN, I recommend TunnelBear (the free version is the only VPN I use, and only occasionally). It's secure, EASY to use, and reasonably priced. (But if you need a VPN for China, definitely read my full post first.)
If you want to keep things simple and use the same company for everything, TunnelBear makes a password manager called RememBear. I haven't used it, but it's well rated and I think highly of the company.
Blogging & Website Help
I've been using SiteGround for several years, and I wouldn't use anything else. I was on DreamHost before, but it had a lot of down-time and not very helpful customer service. So I did a lot of research and decided on SiteGround, which has 100% solved both of those problems!
You can find cheaper hosting, but honestly, this is something worth paying to get right. Cheap hosting can cause crashes, lost content, and other other issues (like slow loading times) that you'll have to fix with a patchwork of plugins down the road. Also, their customer service chat (with real tech people) makes life easier when things go wrong with my site (inevitably), or when I just have a question about something.
Blogging Courses
I've taken several blogging courses on topics from social media to SEO. Here are two that I recommend:
For beginners starting a blog or website, Super Star Blogging by Nomadic Matt is a good overview of everything all in one place. (From choosing a blog name, to setting up your website, to social media, guest posting, working with companies, and more.) If you're overwhelmed, this is much simpler than getting lost on Youtube looking for answers!
Stupid Simple SEO is a more advanced course that teaches you an SEO strategy, not just quick tricks (which only get you so far). I used to pay for the premium Yoast plugin, but this course made me realize that was totally unnecessary and there are more useful ways to spend my my SEO time (and money).
Graphic Design
I'm really happy that Canva exists because it's much simpler (and cheaper) than Adobe Photoshop or other software. The paid version gets you advanced features and good stock images, but I just use the free version (mostly to make my Pinterest images, like the one below!).

For when you're tired of Canva and looking for a real graphic designer, I highly recommend Hollis Callas. She created my Tilted Map logo – and if that's not enough, she's done work for Samsung and Metallica (yes, the Metallica). You can check out her beautiful patten designs on her Instagram.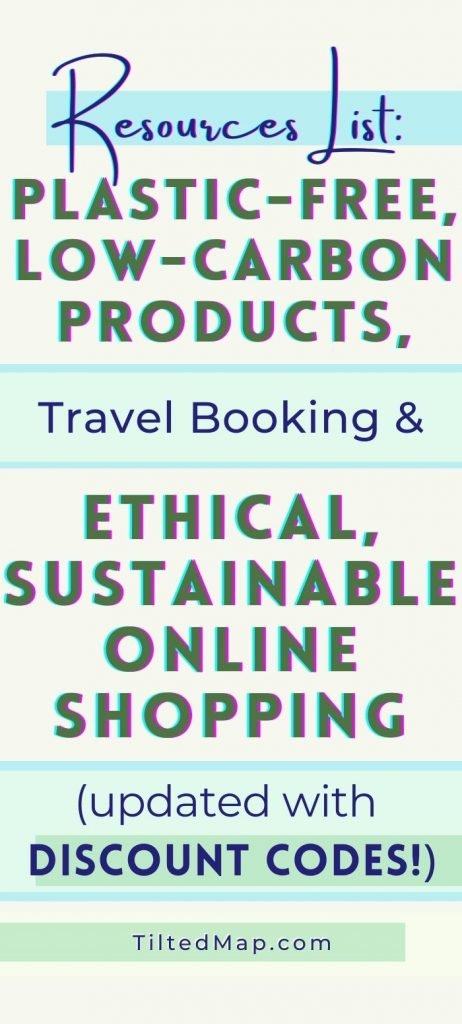 ---
More about the Affiliate Links on this page:
Some of the links on this page (but not all of them) are "affiliate links," which means if you make a purchase after clicking them, I'll earn a commission on the sale. This is at no extra cost to you, of course, and some of my links even get you a discount.
Others are "referral links." These are like affiliate links, except that instead of earning a commission, I earn some kind of credit with the company (which I use to buy more of their product). So I wouldn't be using these if I didn't use and love these products!
And some of these links don't get me anything at all, but I love them anyway so I want you to know about them.
I've chatted with so many friends (of all ages) who have no idea these links exist – which is reasonable if you don't work in blogging or online marketing. But they're ubiquitous all over the internet. They're a huge part of what keeps most blogs and websites funded (including major, famous ones like Wirecutter, which is owned by the New York Times). So affiliate links are a perfectly legitimate part of online business and media, I just think everyone should know about them, just to be aware. Plus, any website that doesn't announce their affiliate links is not only in violation of lots of laws, but is probably trying to scam you.
If you have any questions about affiliates or how any of this works, feel free to reach out! I'm happy to discuss. (Or read through my Privacy Policy… but that will be less fun.)
-Ketti