I've written a lot of big, long, detailed product reviews, so consider this page the TL;DR. Here, you'll find my top recommendations (+ discount codes) all in one place! I try to keep this list up-to-date as I find great new products and companies worth sharing.
In addition to creating great products, many of these companies are B-Corps, third-party certified as carbon-neutral, or have other strong sustainability credentials.
Discount Codes:
Note: Most of these are also affiliate links – meaning if you make an order, you save money & I earn money. If you're planning to order from these brands, clicking through my links first does a lot to support my work on this site – thank you!
Details about most of those brands, my favorite products from each, and links to any reviews I've written are below:
---
Sustainable Travel Booking Resources
Intrepid runs all sorts of small-group tours with local guides from Italy to Iran to Antarctica. But this is what makes them unique: They're a B-Corp, they've been carbon-neutral since 2010, and they just became the first tour company to have science-based climate targets!
Trains are the greenest way to get around Italy, and ItaliaRail is the simplest way to book train tickets in Italy (if you don't speak Italian).
For more options and everything you want to know about riding Italian trains, check out my guide!
---
Sustainable Products
I've reviewed lots of sustainable products in detail, and collected my tried-and-true favorites from all the posts below:
Plastic-Free Cleaning Products
For details, check out my full review of plastic-free laundry and cleaning products. These are my favorites:
Cleancult is my all-around favorite sustainable cleaning brand. I use their all-purpose cleaner, dish soap, wool dryer balls, and super lathery bar soap.
Get 20% off any order with the discount code TILTEDMAP20)
TruEarth laundry strips are the easiest plastic-free swap I've found. You get a whole jug's worth of laundry detergent in an envelope. They WORK, they're great for travel, and they ship anywhere for free.
Save 10% at TruEarth with the code TEmap10 . You can also order in bulk, split them with a friend and save almost 30%.
---
Better Online Shopping Options:
Earth Hero (For Lots of Sustainable Brands)
There are lots of online marketplaces for eco-friendly products, but I think Earth Hero has the best sustainability credentials: They're carbon-neutral, a B-Corp and a member of 1% For The Planet. (Excellent certifications that I always look for in sustainable companies.)
For any kind of sustainable products – toiletries, yoga pants, tech, you name it – this Colorado-based start-up is my favorite place to shop.
Save 10% on any Earth Hero order with the discount code TILTEDMAP10 !
Bookshop (Ethical Online Book Shopping)
I shop on Amazon sometimes, too, and I include Amazon affiliate links on this website because I know sometimes people are just going to go there anyway. But whenever possible, I also link to a small-business alternative to Amazon – and this is one of my favorites!
Bookshop is a certified B-Corp and at least 10% of every purchase goes into a pot, which is divided equally among indie book stores that are members.
It's the best of both worlds: You get the convenience of ordering books online, while still helping to support local, independent book stores.
You can search for books above, or check out the Tilted Map storefront on Bookshop, which has all of the food and travel books I've mentioned on the blog together in one place.
Novica (Fair Trade Gifts)
In the interest of consuming and accumulating less stuff, I've mostly stopped gifting anything that's not edible (which, from me, usually means homemade limoncello). But when I occasionally feel the need to give something, Novica is a great source for artisan-made, Fair Trade items. (They have everything: Handmade cloth face masks, jewelry, scarves, art, seasonal decorations, natural beauty products… You know, good gift-y stuff.)
---
Pela (Compostable Phone Cases & Glasses)
Pela Case makes compostable phone cases – they'll break down into nothing but dirt within a year – and Pela Vision makes sunglasses that do the same! (They have a quick explanation of the difference between "compostable" and "biodegradable.")
Pela is another B-Corp (like Bookshop, Earth Hero and Intrepid Travel, above), plus they're certified by Climate Neutral, and they're a member of 1% For The Planet – all of which are meaningful badges that I always look for!
---
VPNs & Tech for Travel
Usually you don't actually need a VPN to get online securely when you travel – or any other time (as I learned when I interviewed a cyber security expert for the linked post). Using a password manager is much more important – it makes your passwords unique and uncrackable (and you don't have to remember them).
LastPass is the password manager I've relied on for several years. (I have the Family membership because it lets my husband and I share selected passwords and secure notes.)
If you do need a VPN, I recommend TunnelBear (the free version is the only VPN I use, and only occasionally). It's secure, EASY to use, and reasonably priced. (But if you need a VPN for China, definitely read my full post first.)
If you want to keep things simple and use the same company for everything, TunnelBear makes a password manager called RememBear. I haven't used it, but it's well rated and I think highly of the company.
---
Blogging & Website Help
I've been using SiteGround hosting for several years, and I wouldn't use anything else. I was on DreamHost before, but it had a lot of down-time and not very helpful customer service. So I did a lot of research and decided on SiteGround, which has 100% solved both of those problems!
You can find cheaper hosting, but honestly, this is something worth doing right. Cheap hosting can cause crashes, lost content, slow loading times, and other hassles that you'll have to fix with a patchwork of plugins down the road. Also, Siteground's customer service chat feature – with real tech people – makes life easier when things inevitably go wrong, or whenever I have a question.
Blogging Courses
I've taken tons of blogging courses on topics from social media to SEO. Here are three that I recommend:
For beginners starting a blog or website, Super Star Blogging by Nomadic Matt is a good overview of everything all in one place. (From choosing a blog name, to setting up your website, to social media, guest posting, working with companies, and more.) If you're overwhelmed, this is much simpler than getting lost on Youtube looking for answers!
Stupid Simple SEO is a more advanced course that teaches you an SEO strategy, not just quick tricks (which only get you so far). I used to pay for the premium Yoast plugin, but this course made me realize that was totally unnecessary and there are more useful ways to spend my my SEO time (and money).
There are countless online courses for SEO and social media, but very few about the most important part of blogging: The actual writing. That's why I'm currently working through How to Become a Successful Travel Writer, which is created by Nomadic Matt, but taught by the writer and editor David Farley. (Who also teaches writing at NYU and Columbia.) Even though I have a degree in Journalism and have been writing online and for magazines for many years, I'm still learning a lot from it!
Graphic Design
I'm really happy that Canva exists because it's much simpler (and cheaper) than Photoshop or other software. The paid version gets you advanced features and quality stock images, but I just use the free version (mostly to make my Pinterest images, like the one below!).

For when you're tired of Canva and looking for a real graphic designer, I highly recommend Hollis Callas. She created my Tilted Map logo – and if that's not enough, she's done work for Samsung and Metallica (yes, the Metallica). You can check out her beautiful patten designs on her Instagram.
---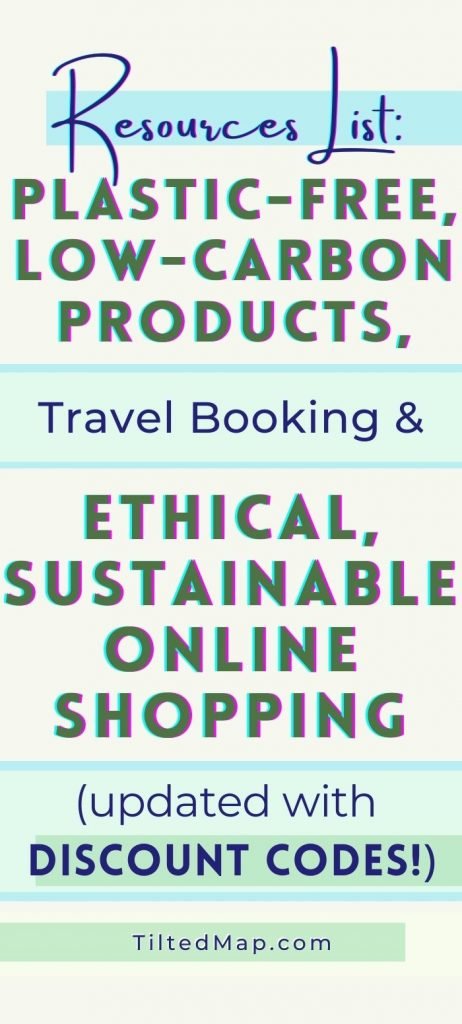 ---
More about the Affiliate Links on this page:
Some of the links on this page (but not all of them) are "affiliate links," which means if you make a purchase after clicking them, I'll earn a commission on the sale. This is at no extra cost to you, of course, and some of my links even get you a discount.
Others are "referral links." These are like affiliate links, except that instead of earning a commission, I earn some kind of credit with the company (which I use to buy more of their product). So I wouldn't be using these if I didn't use and love these products!
And some of these links don't get me anything at all, but I love them anyway so I want you to know about them.
I've chatted with so many friends (of all ages) who have no idea these links exist – which is reasonable if you don't work in blogging or online marketing. But they're ubiquitous all over the internet. They're a huge part of what keeps most blogs and websites funded (including major, famous ones like Wirecutter, which is owned by the New York Times). So affiliate links are a perfectly legitimate part of online business and media, I just think everyone should know about them, just to be aware. Plus, any website that doesn't announce their affiliate links is not only in violation of lots of laws, but is probably trying to scam you.
If you have any questions about affiliates or how any of this works, feel free to reach out! I'm happy to discuss. (Or read through my Privacy Policy… but that will be less fun.)
-Ketti