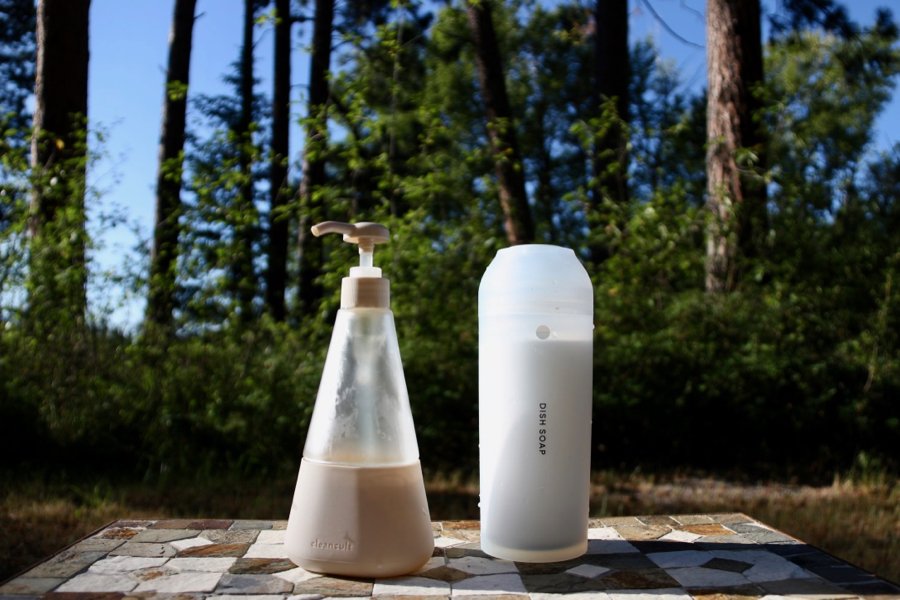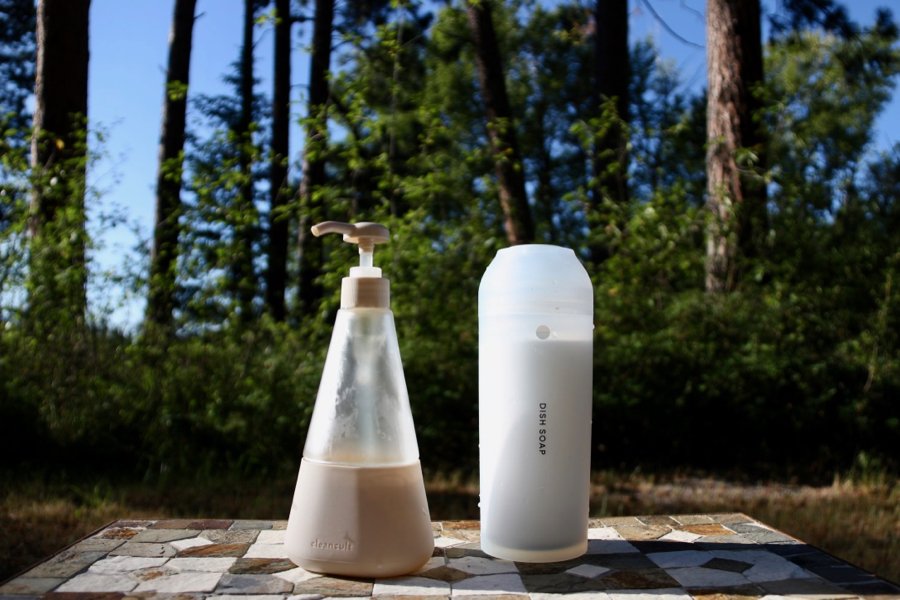 (Originally published in July 2020, I've fully updated this review of sustainable cleaning products with product changes, and new discount codes!)
This post contains affiliate links; see my privacy policy for details.
After lots of testing, this review covers my favorite sustainable and plastic-free laundry and cleaning products that WORK (and the ones that don't). The brands The Earthling Co., Cleancult, Dropps, Blueland, TruEarth, and Guppy Friend are all compared in detail!
I didn't write this because I think sustainable cleaning products are particularly fun or fascinating, I wrote it because they're an easy change. Plastic pollution can feel impossible to solve, but cleaning products are a pretty painless place to start.
And changing simple consumption habits can make a big difference.
So I decided to turn my research and testing skills to "zero-waste," plastic-free, cleaning and laundry products.
Frankly, it takes time and effort to figure out how not to be part of the plastic problem. (Which is closely linked to climate change and other environmental problems.)
And I am part of those problems.
Despite having a master's degree in sustainability, I was still using old-fashioned, plastic-packaged laundry detergent, dish soap, and cleaning products until I started researching this series of plastic-free product reviews.
Why? Because there was always something more fun to do. Until 2020.
But during these months at home, through lots of research and testing, I've found that lots of new "zero-waste" cleaning brands have made the change to more sustainable, lower-waste cleaning and laundry products easy.
The only complicated thing is avoiding the greenwashers and deciding which to switch to – and that's what this review is for! To give you a little help taking some small, easy steps in the right direction.
Never again do we need to buy plastic spray bottles, detergents and hand soaps thinking, "… at least I can try to recycle these." (Because most plastic doesn't actually get recycled, anyway.)
---
Jump to the full reviews here:
Dropps review – low-waste liquid laundry pods and unique, natural fabric softeners pods.
TruEarth review – one of the easiest zero-waste swaps I've found!

UPDATE (October, 2022): As you'll see discussed in the comments below, Earth Breeze is a newer brand that makes similar plastic-free laundry sheets to TruEarth's – but Earth Breeze costs less and has a few more points for charitable giving and sustainability. I'll test them soon and report back!

GuppyFriend review – laundry bags for filtering micro-plastics, how to make your clothes last longer, and what's next!
Cleancult vs Blueland review – detailed comparison of these two well-known brands, and a couple of problems I've had.
Comparison chart for laundry and dishwasher tablets. (Prices, shipping, scents and subscription info, all together in one chart.)
Or Skim the Highlights:
If you don't want to read everything in this review, here are the "best of" highlights. (These are the products I'll keep ordering:)
Best for Low-waste Laundry:
TruEarth laundry detergent strips are my favorite for their simplicity. They're the lightest weight (using less fuel to ship, and making them great for travel). And they're the only company I've tested that ships abroad for free!

Use the discount code TEMap10 for 10% off any order from TruEarth!
For low-waste fabric softener and more detergent options (ie: for athletic wear, or "oxi boosters" for heavy-duty cleaning), go with Dropps. They make the only natural fabric softener pods I've found (and I really like).
If you use a dryer, "dryer balls" make clothes dry faster (saving energy) and reduce the need for fabric softener (saving plastic and money). Win-win! I ordered them from Cleancult, which still has the best price I've found, but Blueland is a much more sustainable brand.
Best for Eco-friendly Dish Washing
For dishwasher pods, I couldn't tell any difference in the results from Cleancult vs. Blueland vs. Dropps. I'll keep ordering from Dropps because, after reducing the price of their pods, they're now the least expensive brand I've tested. (At 28¢ each, even when you order the smallest quantity; they cost even less when you stock up and order more in bulk.) And they're the only brand that offers both scented and unscented pods. [Dish soap details here.]
Cleancult and Blueland both make refillable dish soaps, but The Earthling Co.'s dish soap is the only one that's truly plastic-free – and works wonderfully.
Best for Plastic-free Hand Soap:
The greenest and simplest option is Cleancult's bar soap – which feels moisturizing and honestly lathers better than any bar soap I've ever used. It's a cheap, easy, zero-waste swap!
For liquid soap, both Cleancult and Blueland make natural, eco-friendly hand wash in bottles designed to be refilled indefinitely. Cleancult's original is a gel (and they now also make a foaming option, which I haven't tried yet). Blueland's is a foaming soap that I think is the most eco-friendly option – because the refills are just lightweight tablets. They're both effective and I'd recommend either. [Hand soap details here.]
Best for Low-waste Cleaning Sprays:
I like Cleancult's non-toxic, refillable, all-purpose cleaning spray – but I don't love the TetraPak packing for refills. Blueland makes one too, which I liked until the bottle snapped in half – as long as you BYOB (bring your own bottle) then Blueland's tablets are the most eco-friendly options. (Although Cleancult's formula smells more natural, and the bottle is definitely more sturdy and attractive, IMO.)

UPDATE: Cleancult reformulated their cleaning spray to make it less streaky, added new scent options, and reduced the price of refills. (I really like the original Orange Zest scent. The only place I've noticed streaks from either the original or new formulas has been on a glass stove top.)
Blueland makes the only plastic-free window and glass cleaner I've found. It works just as well as Windex, but without the plastic! (Other brands make dehydrated refill tablets, but they're often packaged in plastic envelopes; Blueland's refills come in compostable paper.) [See my review below for details.]
---
Detailed Reviews:
These brands all have pros and cons for sustainability, and I explain them all in the reviews below – but they're all much greener than the "traditional" products they're replacing. They're non-toxic, not tested on animals, and plastic-free.
Here's more on what I liked and didn't like about each product:
---
Dropps Review – Laundry & Dishwasher Tabs
Pennsylvania-based Dropps makes makes a really wide range of laundry and dish washer pods that help reduce plastic waste. (All of their packaging is cardboard that's compostable and easily recyclable.)
Dropps products include: fabric softeners (very unique) and fabric refresher sprays, natural "Oxi-booster" pods for super dirty clothes, a special detergent for active wear, small pods for small loads, and sensitive skin detergent formulas (with or without scent).
Their dish washer tabs work just as well as the others I've tested (which is also just as well as any non-eco-friendly, grocery store brand).
Their first Dropps laundry pods I tested were the most basic "Stain & Odor" laundry pods in the Clean & Crisp scent. The pods cleaned perfectly well, and I thought Dropps left clothes slightly more scented than other brands.
Laundry Tip:
Even if you normally use another laundry pod or strip, Dropps are great to keep on hand (instead of a plastic jug of liquid detergent) for when you need a spot treatment: Just cut open a pod and squeeze the liquid on the stain.
My sister-in-law helped me compare one of Dropps' newest formulas, the Active Wash pods, to their original Stain & Odor pods. (She's also the chemical engineer who helped me understand PVA, below.)
Since she's very allergic to perfume, one of things she was looking for was the best detergent formula for removing scents from clothing.
She found that the Stain & Odor pods really did work best at removing perfume smells from hand-me-down clothes, while the Active Wash pods did far better at removing strong car smells (think break fluid stains after working on an engine).
Both Dropps formulas did better than TruEarth (reviewed below) at removing perfume smells.
If you're not allergic to perfume and care much about the formulas, choose by scent, since the two Dropps formulas come in different selections of scents.
Dropps Price Comparison & Shipping:
First, shipping is always free and carbon neutral with Dropps.
With 25% off on any subscription order, Dropps can be the least expensive detergent on this list – expecially if you stock up.
For the basic Stain and Odor pods, for example, prices vary from 27¢ to 40¢ per pod, depending on how many you buy.
(They offer three different quantities – 64, 128, or 192 Dropps at a time. You can have subscriptions delivered anywhere from monthly to every 6 months. And you can pause or cancel a subscription at any time without penalty, even after just one delivery.)
If you buy the smallest quantity as a one-time purchase, they're 40 cents each. (This is all more clear if you look at my price chart below!)
If you're a new customer, you can save 25% on Dropps with the code TILTED25. Fore return customers, TILTED15 will save 15% off any order. (That includes subscription orders – which are already discounted – and repeat orders!)
Dropps Scents:
There are fragrance-free options for every Dropps product, and the laundry pods have several scent choices. I've tried a lot of them and find them all to be pretty subtle.
Even though Dropps leaves more scent on clothes than TruEarth and other laundry products in this review, it's still very light compared with traditional liquid detergents.
Dropps often makes seasonal holiday scents, and limited edition scents, like this "ocean" scent to promote the company's partnership with the conservation organization Oceana.
Dropps Sustainability:
Despite all the PVA-related confusion below, Dropps does a lot of sustainability things right. Their shipping is carbon-neutral, they use minimal, cardboard packaging (no plastic bags or boxes), and their detergents are mostly plant-based.
Possible Microplastics?
When you Google "plastic-free laundry detergent," Dropps are right at the top. But as I realized after ordering, there's some controversy about their plastic-free status.
The catch is that they use PVA (polyvinyl alcohol, also called PVOH), which is a petroleum-based film that the Dropps, like most brands, pods are covered in. (Cleancult also uses PVA in their dishwasher tabs, and it's an ingredient in TruEarth laundry strips.)
But doesn't that just dissolve?
Yes. Maybe? I'm not sure, so ended up doing a lot more research on this.
There are many different types of PVA that dissolve in different ways and are used in tons of products (including food, cosmetics, fishing nets… the list goes on). The PVA film that dishwasher or laundry tablets are wrapped in should disintegrate, but only when there are certain microbes around (which are added by city water treatment plants. I couldn't find any information on whether PVA biodegrades in rural homes that use septic tanks, where no special microbes are added.)
There's also debate about how much of it actually breaks down in water treatment plants. That's why Blueland's new laundry pods are "naked" tablets with no PVA covering. They say more than half of PVA never dissolves and is a common water and soil pollutant.
Basically, Cleancult and Dropps say the PVA they use dissolves well; Blueland says it's possible that most PVA doesn't actually dissolve the way we want it to, so it's better to avoid it.
So it's possible that some PVA from Dropps and Cleancult pods get washed into rivers and lakes. Or it's possible that PVA is totally safe. Honestly, there just wasn't a lot of conclusive research out there about this, which is frustrating.
Note: I've asked all of these companies for more info about PVA. If any of them send me something useful, I'll update this here.
Update: More on the Science of PVA:
Someone did send me something useful. I emailed some questions about this to Dr. Karen Iveson, Dropps' VP of R&D. She cleared up two things:
No, PVA does not dissolve into petroleum or microplastics.
On the topic of septic tanks and microbes, she added this: "There is a significant body of scientific research dating back 50 years that describe a large variety of microbial species that break down the monomer molecules. Water treatment facilities and septic tanks are all rich in bacteria that break down organic materials very effectively."
So it's probably safe for the environment, even if you have a septic tank.
Then I called my sister-in-law to chat about this, because Friday night in a pandemic, and because she's a chemical engineer.
She confused me with a lot of chemistry talk and emailed me diagrams of molecules, and the conclusion I was able to pull out of it all was this:
True, PVA does not break down into microplastics (good!).
But it does break down into something (ugh). And whatever that something is, we can't know what effect it's going to have out in the environment.
But of course, we can't know what effect almost anything will have out in the environment, and we still have to do laundry. At this point, my head was sort of spinning, and I was remembering why I don't love chemistry.
The one thing we do know is that even if PVA isn't perfect, it's better than buying laundry detergent in plastic bottles. If you're still reading this far, I know – that's a completely unsatisfying answer. But when even a chemical engineer says, "I don't have any reason to think it's a problem, but I don't have any proof that it's not a problem," well, that's when I know that we probably have bigger fish to fry.
My conclusion: There's a good chance Dropps (and all the other brands that use PVA) are perfectly safe for the environment, so I have no problem with them. If you want to be 100% cautious on the issue and avoid PVA, stick with Blueland for laundry and dishes. (But I'm going with TruEarth for laundry detergent, because I think overall they're a more sustainable choice because of how concentrated, and thus lightweight to ship, the strips are.)
Shop Dropps:
You can order directly through their website and use the code TILTED15 for 15% off, or TILTED25 for 25% off if it's your first Dropps order. (Even on subscription orders, which are already discounted.)
Dropps are also available on Amazon.
---
TruEarth Laundry Strips Review
This Canadian company makes plastic-free laundry detergent strips that are one of my favorite discoveries of this whole project, and probably the easiest of all zero-waste swaps.
(And I'm not the only one who thinks so – TruEarth was just listed as the second fastest growing start-up in Canada.)
TruEarth also sells wool dryer balls, washable "cotton" pads made from bamboo, and a few other reusable household things, but the laundry strips are their flagship product.
How laundry strips work:
I really nerded out about these little paper-like strips of detergent, about the size of a name tag, because they're a brilliant and super-efficient idea. You just toss one strip in the bottom of your washing machine (or stuff it in the detergent tray of a front-loading machine) and start your load as usual.
And my clothes came out perfectly clean, so I'm converted. TruEarth has a lot of sustainability advantages, but the biggest laundry-related advantage is that it's easy to use exactly how much you need. You can tear a strip in half if you need more or less, whereas the solid laundry tablets and liquid pods are all-or-nothing.
UPDATE: In November, TruEarth announced new, concentrated, "Platinum" strips for extra dirty clothes (they say they're good for sweaty work-out wear). I've always just added an extra half-strip for those loads, but these could be worth a try.
Sustainability:
This is some of the most minimal packaging I've ever seen – instead of buying bottles of laundry detergent, or even plastic tubs or plastic bags of detergent tablets, these arrive at your door in a cardboard envelope no bigger than a thick letter (with enough detergent for 32 loads of laundry). It just has a shipping label on the outside.
Plus, there are no parabens, phosphates, dyes, bleach, or a whole list of other ingredients. They're vegan, not tested on animals, plastic-free and very, very light weight to ship. (They say 94% lighter than an equivalent amount of liquid detergent.)
Like a lot of brands of eco-friendly laundry and dishwasher pods, TruEarth strips do contain PVA, which is controversial. But after a lot of research (described above), I'm not convinced it's such a problem.
Price:
The standard is $19.95 for 32 strips (62 cents per strip), which sounds like a lot. However, the subscription makes a lot of sense – it brings the price down to $12.95 (40 cents per strip with a subscription).
(You can order a pack with as few as 8 or as many as 384 strips. And strangely, ordering 384 at a time only brings the price down to 39 cents each.)
TruEarth Shipping, Subscriptions & (Surprisingly Bad) Website:
The website makes it seem like you might only get free shipping on subscription orders, but I called TruEarth to confirm: It's free shipping on any order, to anywhere.
(They sent me a list of 29 countries where they already have shipped, and 83 where they can ship. So, almost everywhere.)
In fact, that's maybe the only thing I really dislike about TruEarth – their terrible, spammy-feeling website that tries to up-sell you multiple times as you go through the check-out process. WHY?!?! Don't get me wrong, I've ordered from TruEarth multiple times – they are a legit company – and I do love and recommend their products. I just can't wait for them bring their website UX into the 21st century.
You can sign up for TruEarth deliveries every one, two, three or six months, or once a year for a 35% discount, and you can cancel or delay shipments whenever you want. (For some reason, the six-month option doesn't show up in the normal check-out, but you can access it here, on TruEarth's FAQ page.)
Scents:
TruEarth laundry strips come in fragrance free or Fresh Linen scent (or "Baby," which is also fragrance free).
Shop TruEarth:
Order directly through their website here. (Just ignore the up-sells and terrible design.)
Use the discount code TEMap10 for 10% off any order from TruEarth!
TruEarth products are also available in some eco-friendly or zero-waste stores.
---
GuppyFriend Review – Laundry Bags that Filter Micro-Plastics
Speaking of plastic going down the drain, GuppyFriend bags are designed to stop micro-plastics that break off of our clothes from ending up down the drain and in oceans. (Here's the company's website, and here's a sustainable retailer where you can shop for them and save 10% with the code TILTEDMAP10.)
UPDATE (July 2021): I'm currently testing another microplastics solution – the Cora Ball (pictured below, which you can order from Dropps). It's simpler than the Guppy Friend bag, because you just throw it in the wash, without having to fit all your synthetics in one bag. Studies have already shown it to be effective – but not as effective as installing a lint filter on your washing machine. (But much easier.) I'll update this when I have some results to add!
I already use normal laundry bags for almost everything I wash – anything even remotely delicate goes in a bag, and the bag goes into the washing machine to keep clothes from getting jostled too much and stretching out. This keeps clothes in better shape for longer, which means I buy less. The bags are also great for travel, for keeping dirty clothes separate in my suitcase. (These are what I use, which I ordered from Amazon.)
But the GuppyFriend is different. It's not made of loose mesh like the other bags I use, but a tightly woven nylon that feels almost like it wouldn't let water through, but it does. It's designed to filter micro-plastics, which break off of any synthetic material in the washing machine. After all, that's what most synthetic fabrics are – they're petroleum based, ie. plastic.
It also prevents those synthetic fibers from breaking in the first place – it was tested by Patagonia and others, and the tests showed 86% less breakage. (There's more info about this and lots of other details on how it works in their FAQ.)
This is exactly why I've always used laundry bags, and now someone has proven that I'm not making it up! My every-day bags also keep clothes from falling apart, but the GuppyFriend certainly does a better job.
Price & Shipping:
Profits from the GuppyFriend go to a German non-profit called STOP! Micro Waste. So it's a great cause but… The bags are $40 each, plus $5 for shipping to the US, and $10 to Canada if you order directly from the company. Shipping is free in Europe.
So, considering that the Guppy Friend bag has similar dimensions to my regular laundry bags (it's 20 inches by 30 inches, or 51 by 76 cm), and I use at least 3 or 4 bags in every load, that means I'll need to spend… About $150 on these bags?
I do believe in investing my money on quality and sustainability. But… really? I feel like this prices a lot of people out.
You can also order Guppy Friend from Earth Hero, one of my favorite online retailers with top sustainability credentials, and save 10% with the discount code TILTEDMAP10.
Note: GuppyFriend emailed me that the cost of the material "increases exponentially" with increasing density of the fibers – that super smooth material I mentioned. Which makes sense. That explains why these bags are both so much pricier and so much better at filtering broken fibers than normal bags. If it's in your budget, I do think they're a good eco-friendly investment. Otherwise, at least pick up some normal laundry bags to keep your clothes in better shape longer, and try to avoid buying new synthetic materials.
Final Thoughts on Microplastics & Clothing:
For now, I'm strategically washing only a few synthetic items per load in my one GuppyFriend bag. But long-term, I think the best solution is limiting the synthetic items in wardrobe and not buy any new ones.
That's what I've been working on for a couple of years – but finding affordable athletic gear and non-wrinkly, travel-friendly clothing made with 100% natural fibers is a challenge.
UPDATE: I've definitely found one good brand that fits that description! I wrote an entire of review of Unbound Merino after wearing four pieces of their clothing (and very little else) for three weeks on the road. Their merino wool clothing don't have any microplastics to shed in the wash, and they stay remarkably un-stinky and wrinkle-free.
You can also use the code TILTEDMAP to save 10% on your first order from Unbound Merino.
And I've also found a couple of recycled athletic wear brands that have great sustainability credentials, and I'm planning to try them soon! Girlfriend Collective makes basics in a huge range of sizes, and are not only recycled but recyclable. And Wolven Threads is a very small company that specializes in lots of fun, unique patterns and cuts.
These aren't natural fibers, but athletic wear that's not made of virgin plastic is definitely a step up in the right direction! Boody Eco Wear is another brand of athletic wear that makes sustainable fabrics from bamboo.
If you know of others, please let me know and I'll include them in a future comparison post!
---
Cleancult vs Blueland: Plastic-Free Cleaning Products
To be honest, I wish I could tell you that Cleancult is just better than Blueland in every way because they have an affiliate program, which means I can make a commission on Cleancult orders. (While Blueland does not, so I don't make any money if you order from them.)
But it's a little more complicated than that, and both brands make certain products I prefer.
Blueland's refills are less expensive, although they don't seem like they'll last as long. But their dissolvable tablet system really seems like the best and most innovative solution for sustainability – it means much less shipping weight for the refills. So even if you go through the product faster, it matters less when the footprint is so minimal.
But Cleancult's bottles are definitely sturdier (and more attractive, I think) and their products are thicker and foamier.
How does Blueland work?
You buy one reusable acrylic (plastic) bottle for each type of cleaning product, and (in theory) you never throw it away. Then you order refill tablets from Blueland. When you run out, just refill the bottle with warm water and throw in a new tablet.
I was about to publish this post with this paragraph:
I haven't personally had any problems, but some reviews mention the Blueland bottles breaking. Problems are probably few and far between, but the whole point is to avoid cheap things that break and have to be replaced.
But then ­– literally the day I was going to publish this – my husband picked up one of the spray bottles, and it cracked apart, exactly as I'd seen in another review. I guess problems being "few and far between" was wishful thinking.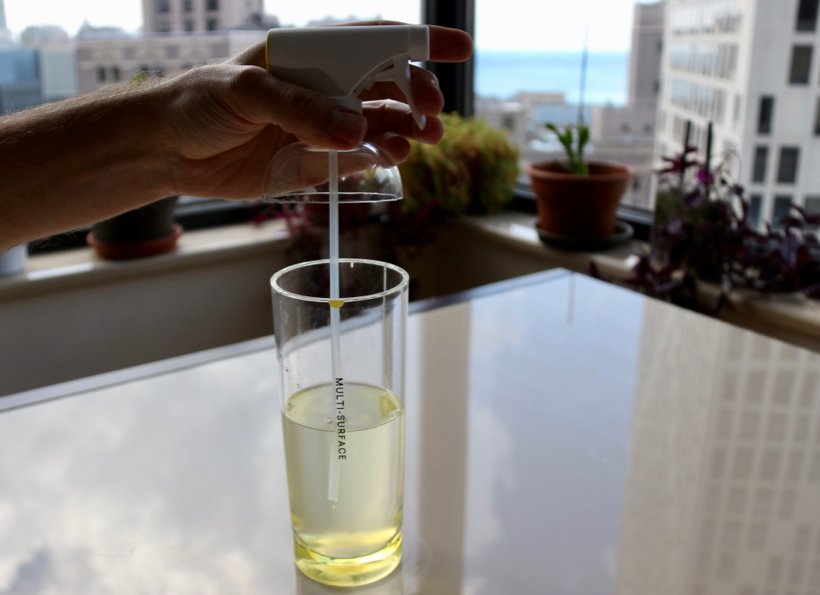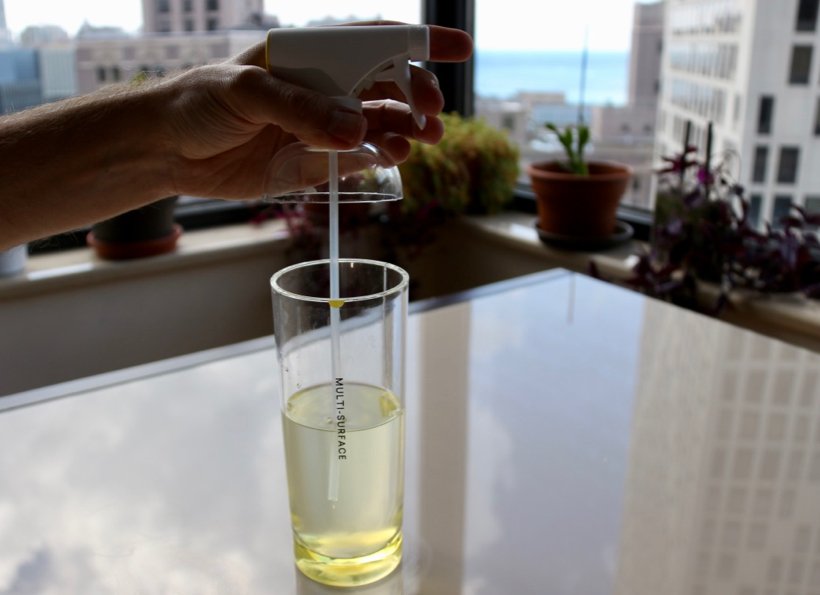 I'm so disappointed, because I was excited about the really low-impact refill system. I'm looking forward to Blueland changing the bottle design, because there's just no way that this happened to two bloggers and not to anyone else. (Another disappointment: They haven't responded to multiple emails I've sent about the bottle issue.)
Despite the problems, I'm still excited about their tablet concept, and I'm still a fan of Blueland's hand soap.
When I first tried the brand this spring, they offered just four products: hand wash, glass cleaner, multi-surface cleaner, and bathroom cleaner – so I ordered them all. They've since added dishwashing products (which I've tried, and I do like – especially since they don't involve their breakable bottles) and laundry tablets.
Refill Tip:
Or you could just order just either company's refills and use your own bottles, although you never know until you try whether the pumps will work well with a product that has a different viscosity. This is definitely what I recommend for Blueland's window cleaner. (The cleaner works well and the packaging is compostable paper. Just skip the fragile bottle.)
How does Cleancult work?
You buy one heavy-duty, frosted glass and silicone bottle for each type of cleaning product, and you never throw it away (so far so good on these). Then Cleancult ships you premixed, liquid refills in cardboard milk cartons, on your own schedule.
UPDATE: Cleancult just doubled the size of their refills from 16 oz. to 32 oz. (and only increased the price from $7 to $10). So it's a much better deal, and you get more product for the packaging. But they also made the refills resealable – as you can see in the image below.
While I'd prefer no plastic at all, the Cleancult screw tops are made of plant-based bioplastic. And if your local recycling program doesn't accept cartons (as most don't) all Cleancult packaging is recyclable through a mail-in program.
2021 UPDATE: I wrote much more about a similar mail-in recycling program in a separate post.
Go with the one you think you'll actually keep using, long-term, whether that's for the price tag, or because you like the looks of one bottle more than the other.
At the end of the day, either system is far better than buying normal brands that are packaged in disposable plastic. (Even the natural, supposedly eco-friendly brands in grocery stores are full of plastic packaging – that's why I gave up my old fave, Mrs. Meyers.)
And either brand saves you money in the long-run.
As I mentioned above, I'm sticking with Cleancult for cleaning spray and bar soap (and anything I need to buy a new bottle for) and Blueland for glass and mirror cleaner refill tablets.
Both companies have made a lot of changes in 2020. In my opinion, Cleancult products have mostly gotten better, while Blueland's have gotten worse.
And for me, personally, either is better than dealing with DIY recipes. I'm trying to make my life simpler with these zero-waste changes, not do science experiments in my kitchen with orange peels and baking soda and vinegar. But that's just me.
---
Cleancult vs Blueland: Prices & Shipping
Blueland costs less overall. If you buy just one kind of cleaner, the initial bottle and one tablet cost $12, and every refill tablet is $2 or less, depending on how many you buy at a time. (Either way, it's cheaper than buying normal Clorox and Windex at the store.)
But Blueland only ships to the US. They offer free shipping on orders over $35.
Cleancult refills are about $7 each.
UPDATE: Cleancult recently (October 2020) doubled the size of all their refills – making them a much better deal, and meaning you get more product for the amount of packaging! They used to be 16 oz for $7; now they're 32 oz for $10.
Cleancult ships to the US and most US territories. (Puerto Rico, Guam, the US Virgin Islands, and Saipan.) Their shipping is carbon neutral, and it's free on your first order. (And on subsequent orders over $70.)
See my chart below below for all of the laundry and dishwasher tablet prices.
Scents:
Most Cleancult products are scented with essential oils, which makes them fresh and natural smelling. (Their liquid laundry soap comes in a fragrance-free option. Everything else is scented.)
Blueland's scents are less strong, but I find them a more artificial smelling. Their glass cleaner, dish soap, and dishwasher tabs are unscented; everything else has fragrance. The Blueland hand soap is the only product (from either company) that has multiple scent choices, including seasonal options.

UPDATE: With Cleancult's October, 2020 updates, almost everything now comes in lots of scents.
How to Order Cleancult and Blueland:
Blueland is not on Amazon; you can order Blueland directly through their website.
Cleancult is available on Amazon – but it costs less when you order directly through the Cleancult website.
Sustainability Comparison: Cleancult vs Blueland
Like most comparisons in sustainability, which company is better depends on what you're measuring:
Animals:
Both brands are cruelty-free (Leaping Bunny certified). Blueland is vegan, while Cleancult doesn't specify.
Climate:
Cleancult has carbon-neutral shipping (via offsets through their partnership with CarbonFund).
At this time, Blueland doesn't participate in any kind of carbon offset program – but their light-weight products mean fewer emissions from shipping to begin with.
Packaging & Refills:
They both ship in plastic-free, recyclable paper and cardboard packaging.
Cleancult ships liquid refills (AKA, they ship water, instead of concentrated tablets like Blueland. It does seem like a waste to ship all that extra water weight.) And the Cleancult refills come in milk cartons, which contain a bit of plastic and aren't recyclable everywhere – but they do offer a free, mail-in recycling program for all of their packaging.
(I wish Cleancult's products were dehydrated with next-to-zero packaging like Blueland, but most Cleancult products work better than the Blueland tablets I've tried.)
Cleancult's dishwasher tabs are wrapped in PVA (which I've learned a lot about writing this article). Blueland's tabs have no PVA.
Blueland's refill tablets come in tiny paper wrappers that are both compostable and recyclable (but they're #7 for recycling, which is definitely not recyclable everywhere). If they do end up in a landfill? Blueland's packaging is just a lot less.
Longevity:
Cleancult's bottles are definitely more sturdy than Blueland's, although they are heavier (they're made of frosted glass, instead of plastic).
Bottom line:
With either brand, you remove a repetitive source of plastic waste from your life – one you probably won't miss.
Here are some details on the individual Cleancult and Blueland products I've tried:
---
Hand Soap Review: Cleancult vs Blueland
Cleancult's hand soap is a liquid-gel, and it lathers more richly than Blueland's, which is a dehydrated tablet system, and comes out as a foam. However, after trying everything from both brands, Blueland's hand soap is one of their products I recommend without reservation.
For Blueland it takes 2 to 4 pumps of soap to get a good lather (two is enough for me, four for my husband, who apparently has big, dirty hands). That seems like a lot, but it's not such a big deal when each 9 oz Blueland refill costs $2 or less, and you're not throwing away the bottle.
I prefer the Blueland foam, the pretty glass bottle, and the fact that their refills are only light-weight dehydrated tablets, so I'll keep ordering that.
While Cleancult's dispenser is also nice looking, it drips constantly, just like their dish soap dispenser.
Oldie But Goodie: Still, the closest you'll get to "zero" waste is an old-fashioned bar of soap (as long it's not in plastic packaging). Cleancult's bar soap comes in lots of scents, doesn't feel drying on my skin, and honestly lathers better than any bar soap I've ever used.
Hand Soap Scents:
Blueland hand soap also comes in many scents – including fragrance-free, which, as of 2023, Cleancult still doesn't offer. They also roll out unique seasonal scents regularly.
Cleancult hand soap comes in three scent choices.
UPDATE: Cleancult also doubled the size of their refills – which means at least you get more for each non-recyclable TetraPak refill. As of 2023, refills cost $14 for 32 oz. (When they initially make this change, I believe in 2022, refills were $10 for 32 oz, instead of $7 for 16 oz. – so the prices are going back up.)
---
Dishwasher Tabs: Cleancult vs Blueland vs Dropps
Cleancult, Blueland and Dropps all make their own plastic-free dishwasher tablets.
Honestly, this is going to be a short review because I tried them all, and all three options worked perfectly well. I've gone through entire orders of each, inspecting my dishes and looking for some significant difference, and I literally can't tell any difference in the results between the three brands.
Blueland's tabs are fragrance-free. Cleancult's have a lemongrass scent. Dropps offers both scented and unscented options.
My advice? Keep things simple and go with whichever brand you're planning to order multiple products from. Personally, I'm sticking with Dropps for dishwasher tablets, because I also order their fabric softener, and because they cost less than Cleancult.
Use the discount code TILTED15 for 15% off any Dropps order (and subscribe to save another 25%), or use TILTED25 for 25% off if you're a first-time customer!
---
Dish Soap Review: Cleancult vs Blueland vs The Earthling Co.
For washing dishes by hand, I've tested three plastic-free options:
Note: Don't expect any of them to suds quite like normal dish soap – because they don't use SLS (sodium lauryl sulfate), a skin irritant that's in tons of products because it helps with foaming but not with actual cleaning. (There's more about SLS at the beginning of my article about shampoo bars, too.)
The Earthling Co. Solid Dish Soap Review
The newest dish soap option I've tried is the solid detergent and plastic-free dish brush from The Earthling Co. On the low-waste scale, this system is pretty much unbeatable.
First, the dish soap comes in an aluminum tin that's without a doubt the least packaging of the three options, the easiest to recycle, AND the easiest to re-use for something totally different.
(It's just a plain, simple aluminum tin that would actually be useful for storing small items. Plus aluminum is one of the best materials to recycle – recycling it saves 95% of the energy required to produce new aluminum. And anything made of a single material is always more recyclable, because it's just easier for recycling facilities to deal with.)
You could also order Earthling's dish soap without any packaging and put it in your own bowl or tray.
The head on Earthling's dish brush is easily replaceable, so you never have to throw away the handle. Plus there's no plastic involved – the brush is all natural wood and plant-based fibers. (But if you already have a plastic brush that works, or a stash of sponges, that's fine! Just order the solid soap.)
Both the replacement brush heads and soap refills come with NO PACKAGING at all.
How do they actually perform?
I put away my Blueland and Cleancult dish soaps and have been just using The Earthling Co. for a few weeks. The soap works perfectly well. It cleans well, rinses off easily, and has a pleasant, very light lemongrass scent.
(Normally I'm not a big fan of lemongrass scents because they're usually very strong. This one really isn't and almost smells like something else I can't quite put my finger on. But it's organic lemongrass, lime and orange essential oils that give it its scent.)
You can save 15% on any order from The Earthling Co. by clicking through any link on my blog – no code required; the discount will apply automatically at checkout. (They also happen to make my favorite shampoo & conditioner bars, which I reviewed separately.)
Cleancult Dish Soap Review:
Cleancult reformulated their dish soap in October 2020 to be sudsier, and a tad thinner, to prevent it from clumping up in the spout and dripping. Which it did do a little bit (although not enough to be a problem). The original was so thick that it was hard to use a small enough amount for small jobs.
I tried the new formula, although I don't notice that it suds more. To me, it's about the same, not substantially better or worse.
More interestingly, they also added three new scents AND doubled the size of the refills. (Making them cost much less: They're now $10 for 32 oz.)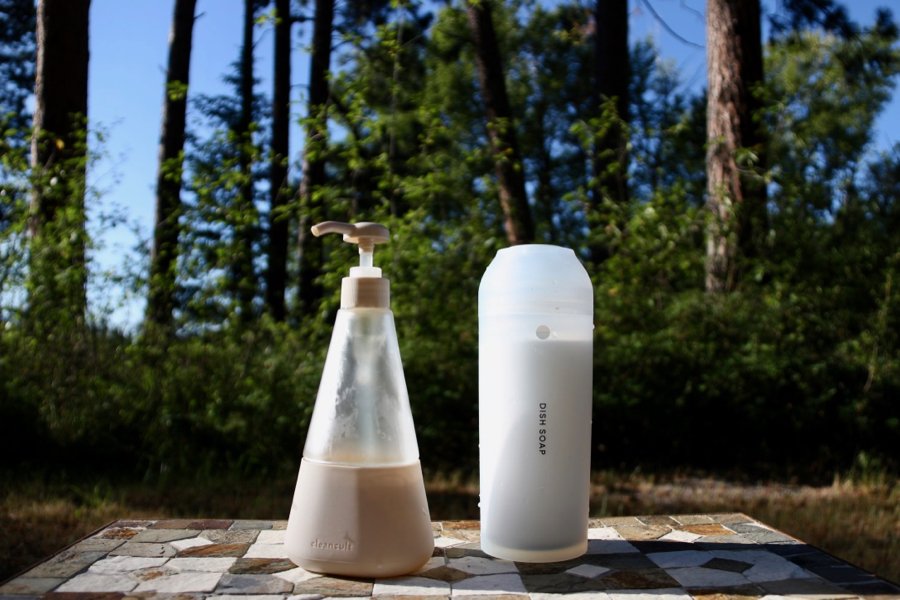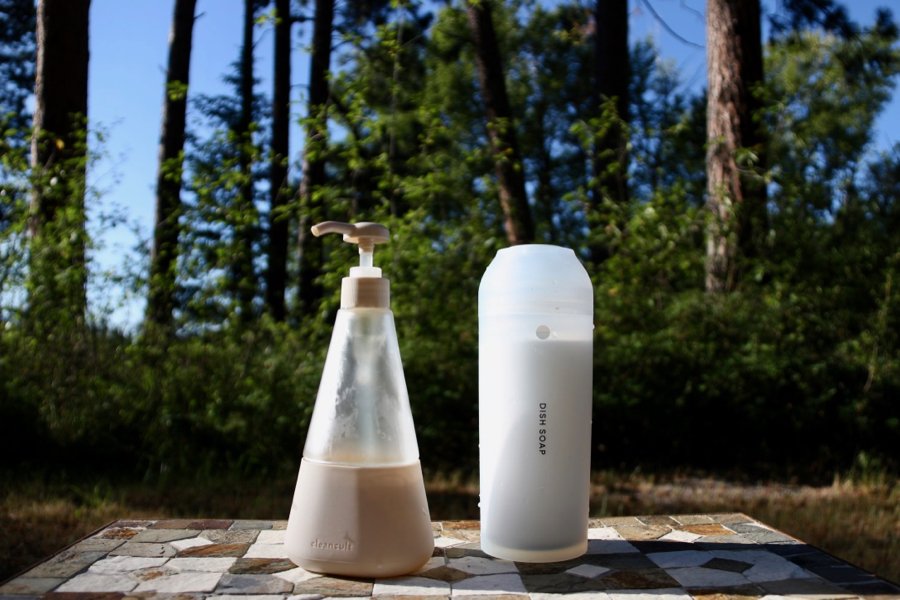 Blueland Dish Soap Review
I really liked Blueland's dish soap, when I first ordered it in the of summer 2020. It checked all the boxes: Cleaned well, nice and scrubby, refills in paper packaging.
But by the fall, they'd changed the formula to a much finer powder, which floated into the air when I poured it out (even if I poured very slowly and carefully) and made me cough! And I mean more than one little cough, but a whole coughing fit every time I use it. (And I don't have asthma or any kind of lung sensitivities.)
2021 UPDATE:
Luckily, this problem has been resolved – but I'm still not sure if Blueland's dish soap is as good as it used to be. In spring of 2021, I emailed them about the issue and they replaced my order with a new new formula. It didn't make me cough as much, but was still a little irritating.
Packaging Differences:
Blueland wins this one for their dish soap container, which is made of silicone and seems indestructible (unlike their cheap acrylic bottles). Or you could just put the dish powder in an old spice shaker bottle.
The Cleancult bottle is nice looking, solid, and now comes in lots of colors – but it constantly drips.
But overall, The Earthling Co.'s dish washing system is without a doubt the most low-waste option in the long-run.
---
Cleaning Sprays: Cleancult vs Blueland Review
Blueland's all-purpose and bathroom cleaners both work well for basic, maintenance cleaning, but I don't think either are great for heavily filthy stuff. More importantly, as I mentioned above, one of my Blueland bottled broke after very little use, which means I won't recommend these until they change the design (which I really hope they do).
I prefer the Cleancult option for this one. Their all-purpose cleaner seems to be a more heavy-duty cleaning spray. It works great and leaves a natural smell I actually want in my kitchen.
UPDATE: I only wish I'd waited to order it NOW, because they just released new scents and larger refills that cost less and give you more product for the amount of packaging. It's a new formula that's designed to be less streaky, too. (The only place I had noticed streaks before was on a glass stove top – definitely not a deal breaker, as it was comparable to any other cleaner – so I'll be interested to see if the new formula improves that.)
Only Blueland makes a refillable window cleaner. It works really well, doesn't leave streaks, and the refills are way cheaper than buying bottles of Windex! They're the only company I've found that makes refill tablets in compostable, paper packaging – not a plastic envelope.
I'll keep ordering the refills, but since one of my Blueland bottles broke, I recommend just using them in a bottle you have at home. (Just make sure you use the right amount of water for the tablet.)
---
Laundry: Cleancult vs Blueland vs Dropps vs TruEarth
For plastic-free laundry detergent, I've tried four brands that all worked well:
They all worked just as well as normal liquid detergent.
So I would keep using TruEarth and just keep some Dropps on hand for stains (I cut open the pods and use the liquid to pre-treat). But since I also like Dropps' fabric softener, I'll keep ordering both from Dropps, in the interest of shipping fewer packages.
Dryer Balls & Fabric Softeners (Sans Plastic)
If you use a dryer, "dryer balls" do two things: Make clothes dry faster (saving energy) and replace fabric softener (saving plastic and money).
Cleancult has the best price for wool dryer balls. (They're $10 for 3 from Cleancult, $18 for 3 from Blueland, $22 for 4 at TruEarth, or $25 for 3 at Dropps.)
But because I only rarely use a dryer (both to save energy, and to keep my clothes in better shape for longer), I also use Dropps' fabric softener pods. They're the only fabric softener I've found that doesn't come in plastic packaging, and they work really well and smell great (although they don't leave a very strong scent on clothes).
[For detergent, my TruEarth review and Dropps review are both below.]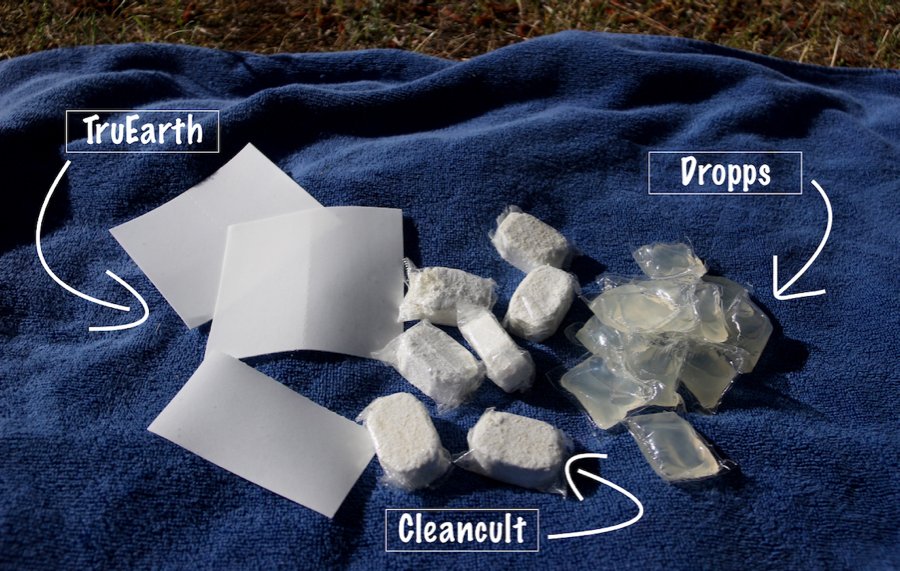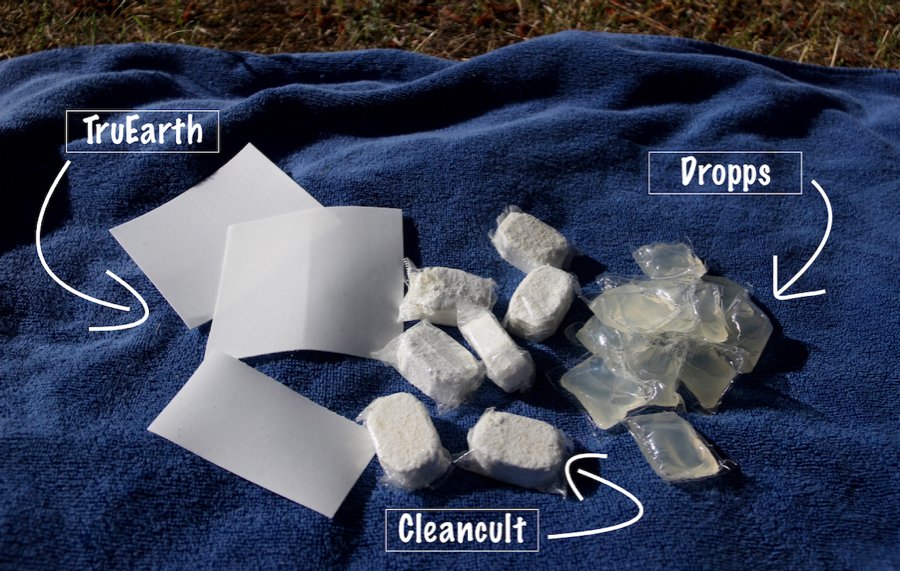 Blueland makes fragrance-free laundry tablets, and they're the only ones that don't use PVA (a slightly controversial ingredient, which I explain below).
UPDATE: Cleancult has stopped making their laundry tablets and replaced them with a liquid detergent, which comes in lots of scents (including fragrance-free). I'm going to try it, and update this review here (although I still think TruEarth strips are the most eco-friendly option).
---
Laundry & Dish Tabs Comparison Chart:
TruEarth*
Cleancult*
Blueland
Dropps*
Price
$20 for 32 strips
$15 for 32 tabs
$14 for 40 tabs
$26 for 64 laundry pods (less)
Price each
62¢
47¢
35¢
37¢ to 40¢
Subscription price each
40¢
47¢
24¢ to 32¢**
27¢ to 30¢
Discount Code
TEmap10
TILTEDMAP20
N/A
TILTED15
or
TILTED25
Subscription frequency
Every 1, 2, 3 or 6 months
Every 1, 2, 3, 4, 5 or 6 months
Every 1, 2, 3 or 4 months
Every 1, 2, 3, 4, 5 or 6 months
Shipping
Always free
& ships everywhere!
Free with 3 items (ships to US & territories)
Free over $35 (ships to US only)
Always free (ships to US only)
Scents
Many
Lemongrass (dishwasher tabs only)
Both fragrance free
Many
Back up to my
Review
TruEarth Review
Cleancult Review
Blueland Review
Dropps Review
* Dropps and Cleancult both use PVA wrappers for their pods, and it's an ingredient in TruEarth strips.
** Blueland refills are cheaper if you order more at a time (that's why I list a price range). And these prices include 10% off on all Blueland subscription orders.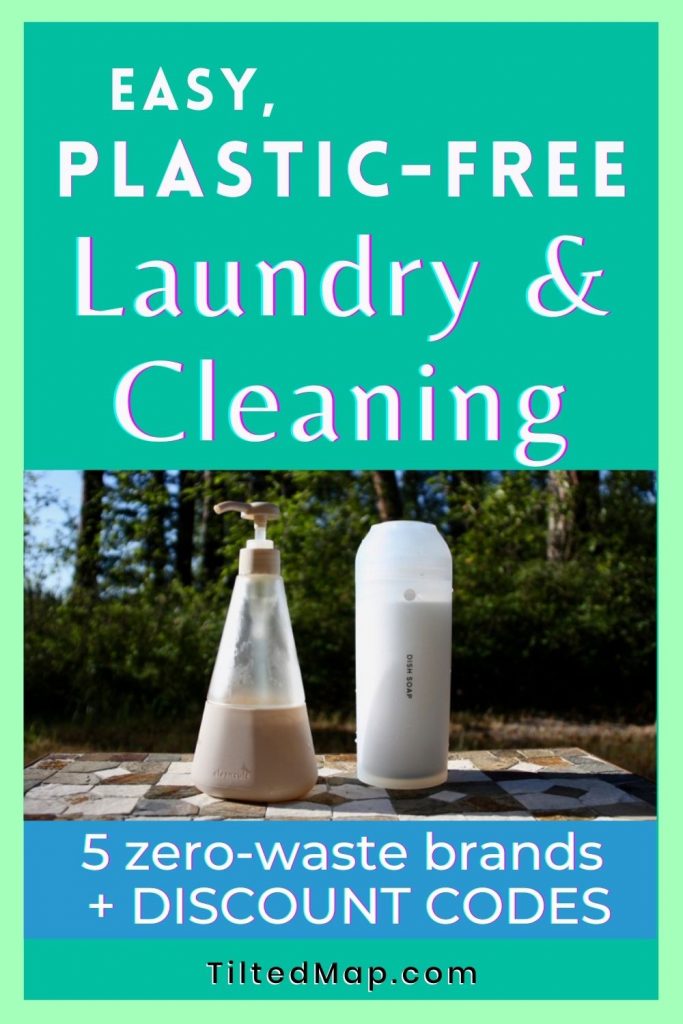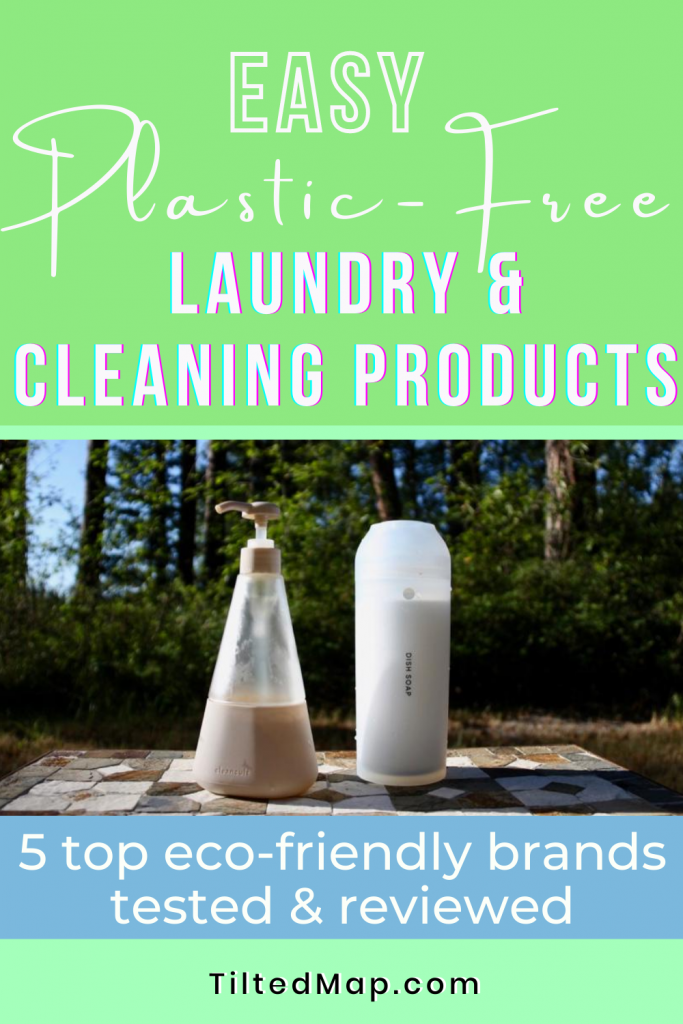 Pin this article for later!
---
This page includes some affiliate links. These recommendations for carefully chosen companies and products let me earn a commission if you decide to buy anything through them – at no additional cost to you! For more info, please see my Privacy Policy. Thank you for your support!