This is my detailed review of Unbound Merino's new line of women's merino wool basics (plus one of their men's merino t-shirts!), and whether they stand up to their claims of being the perfect travel clothes. (AKA: Looking and smelling good for weeks without washing.)
This post contains affiliate links; see my privacy policy for details.
If you're planning to buy half a dozen t-shirts or wool sweaters this season, I'm pretty sure the founders of Unbound Merino would expect you to take your business elsewhere. But if you're interested in just buying one high-quality merino t-shirt or sweater in the next several years, you're probably the customer they're looking for.
Of course, that's just my opinion. But I met the brand's co-founder, Dima, at a travel conference this spring, and after a few conversations, I think his disdain for excessive consumerism might just be the most sustainable thing about Unbound Merino.
Forgoing anything remotely flashy, Dima was dressed from head to toe in the brand's best-selling color: Black. Specifically, he was wearing a neat, cozy looking merino wool hoodie, and their new men's merino travel pants.
That outfit, as it turned out, is about a quarter of his entire wardrobe.
He told me his company's goal is to encourage people to buy higher quality pieces of clothing and fewer of them. I asked if that meant they had fewer seasons than most clothing brands, and he one-upped me. "We're season-less."
If you see something you like from Unbound Merino, you can use the discount code TILTEDMAP for 10% off your order. (They make clothing in small lots that usually sell out within a few months, so they don't really do additional sales.)
Context: Style without the push of Fashion
Traditional fashion companies have two annual seasons – spring/summer and fall/winter, so they market new designs twice a year. But now, many brands have four seasons. And fast-fashion companies come out with new designs every week. Yep, that's 52 new seasons a year, to encourage us to drop by their stores continuously, buying as many cheap clothes as possible.
Unbound Merino does pretty much the opposite of that. They're a very small, independent clothing company, founded and led by three friends in Toronto, Canada.
Don't get me wrong – yes, they're a clothing company that exists to sell things. But their ethos is based on discouraging overconsumption.
And when you look at their clothes, it's obvious that's not just marketing fluff. They update their designs when something needs to be fixed – not based on a fashion calendar.
I asked Dima about this later by email. Here's what he said:
"The way we think about design is how our clothing solves problems in our customers lives, or what purpose the clothing would serve when traveling. We are seasonless, but we still think about releases in terms of practicality – warmer layers in colder months, etc."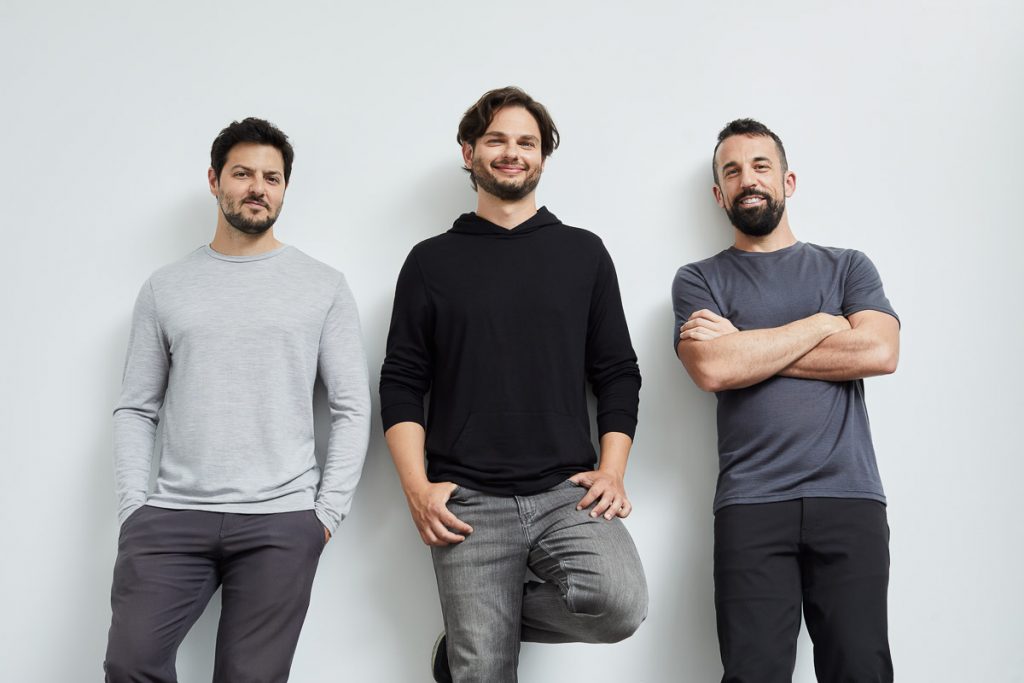 Unbound Merino is the first clothing brand I've reviewed on this blog. Here's why:
Instead of focusing on sustainable clothing brands, I've always chosen to stick with products we use up and repurchase every couple of months – like shampoo (and shampoo bars), refillable skincare, and toothpaste.
[Related: Find all of my reviews of those and other sustainable essentials here.]
And I'm extremely picky with those products. But for clothing – something we certainly don't need to buy more of every few months – I feel like my standards have to be even higher.
That's because I don't want to encourage buying extra stuff for no reason. Why? Because the fashion industry – especially fast fashion and excessive consumption of clothing – is a major contributor to climate change and other environmental problems.
Fashion causes more annual carbon emissions than all international flights and maritime shipping combined, according to Princeton University.
So moderation is key. We have to start buying less new stuff, including new clothing. Still, I'm not a saint who gets all her clothes second hand.
Yes, I went through a pandemic-induced Marie Kondo phase. I've moved to new cities five times in the past five years, so I do try to keep my possessions limited. And I've embraced the idea of quality over quantity, and become very picky about my clothing purchases.
But I still own far more shoes and clothing than anyone at Unbound Merino, would likely consider "minimal." And that's okay. It's a process.
Less but Better
Since I still want to enjoy fashion, my compromise with the environment is seeking out good quality, long-lasting pieces from sustainable and socially responsible companies.
These are steps in the right direction:
Buy fewer items.
Shop second-hand before shopping new.
Focus on finding items you will truly enjoy, and be excited to wear (which makes #4 easier).
Repeat outfits more. Wear items for more days without a wash.
Take good care of your clothes, so that they will look good for longer.
Avoid buying synthetic materials, which cause microplastic pollution (and stink after minimal use), and go for natural fibers instead. (This also makes #4 easier.)
Buy new items from sustainable and ethical clothing brands.
There's a world of difference between the good brands and the bad ones out there. That's why Unbound Merino caught my eye at that travel industry conference, with their stylish, practical merino wool basics.
And what is a merino clothing brand doing at a travel conference?
Well, Dima said they consider themselves a travel company at heart, because they want to encourage people to travel more minimally, pack less, wash less often – and then take those eco-friendly ideas back home with them.
And they really mean wash a lot less often. A blog post on their site describes one of the founders wearing the same merino t-shirt for 46 days.
What I Packed for a 3-week Trip
So, when Unbound Merino launched a women's line in June, I thought I'd check the hype by travel-testing four staples from the women's collection: The Merino Travel Dress, the women's V-Neck T-Shirt, the Merino Muscle Tank, and the Merino Leggings.
I packed those four items – and little else – on a couple of trips. The first was a week in Miami in August, and the second was three weeks traveling up the West Coast of the US and Canada.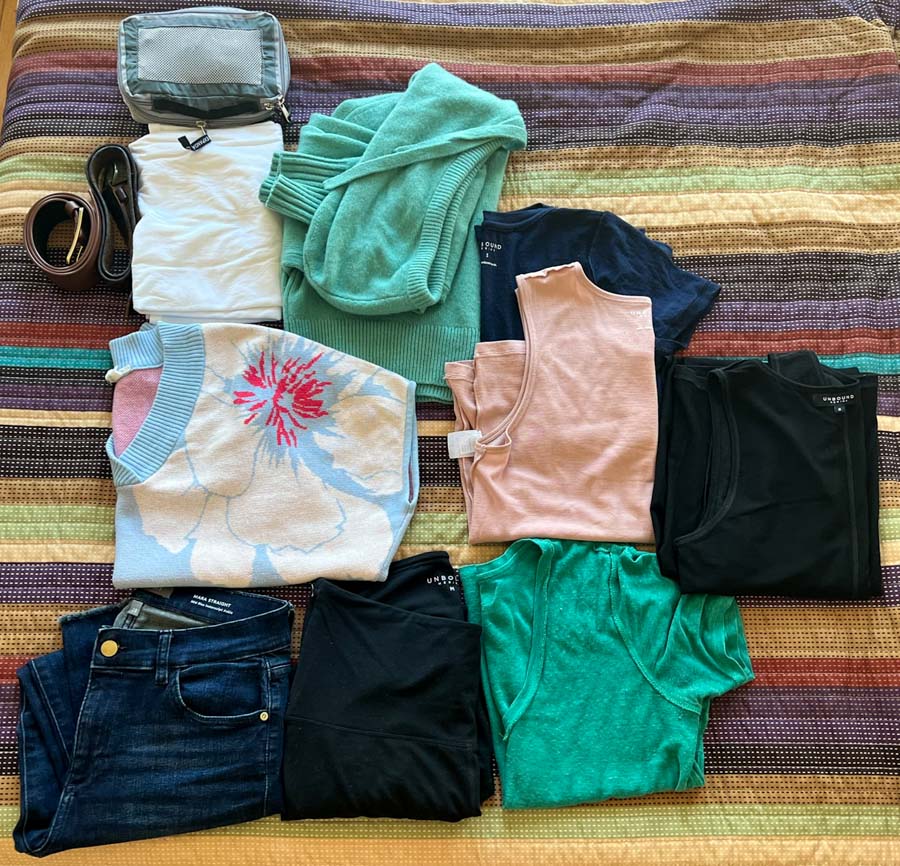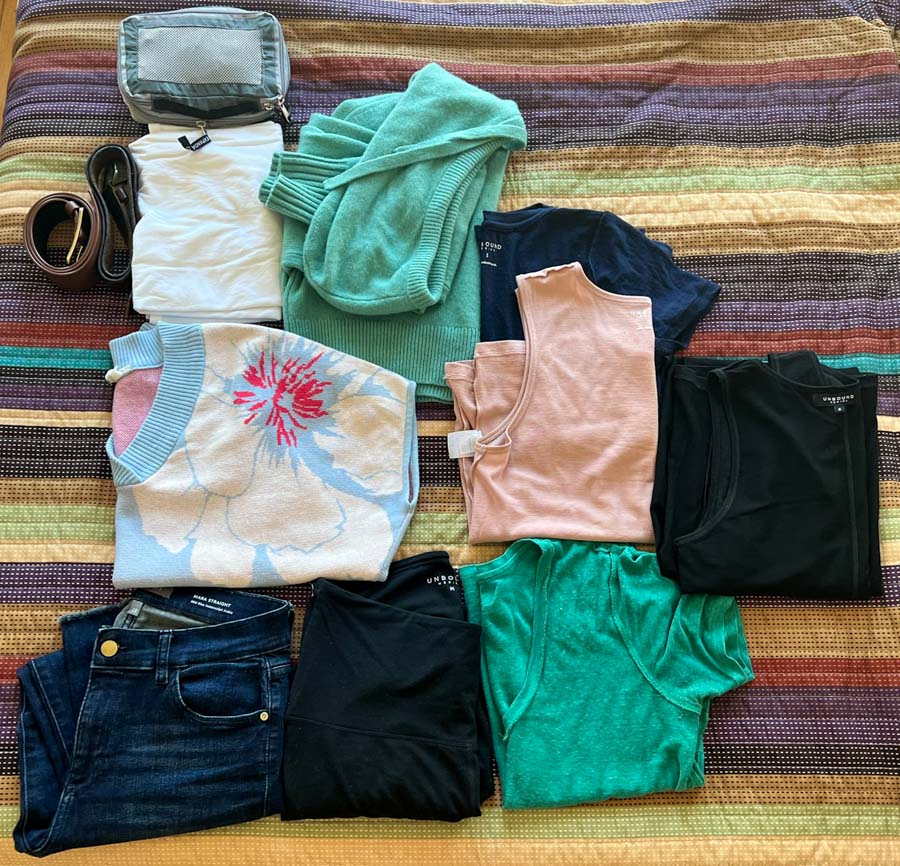 My wardrobe for three weeks on the West Coast in October: Black merino wool leggings, 1 pair of DL1961 jeans, black merino travel dress, green linen t-shirt, navy blue merino t-shirt, pink merino tank top, white sleep shirt, green hoodie made of recycled cashmere (from Everlane), organic cotton short-sleeved sweater (from the Spanish sustainable clothing brand SKFK), 10 pairs of underwear (in the packing cube), 2 belts.
Not pictured: Formal dress for a wedding, 3 pairs of shoes (black ankle boots, running shoes, and recycled, leopard-print sneakers), 3 pairs of socks, lightweight down jacket.
(I also ordered a men's merino t-shirt for my husband. If he can wear a t-shirt for weeks without it stinking, it would be quite the accomplishment. More on that below.)
These are my notes on how my merino travel clothes performed during those 4 weeks on the road, plus several months of wearing them at home.
---
Unbound Merino Women's Clothing Reviews
While most merino clothing brands, like Icebreaker and Smartwool, are designed as outdoor wear (and heavy on logos), Unbound Merino goes for a more elegant look. (Without any logos at all, except stamped inside the collars.)
That definitely makes their pieces more multipurpose and, I think, better for travel and everyday life. Although I have worn Unbound Merino clothes hiking, and they transition without a problem as far as performance and comfort, I don't want to travel looking like I'm dressed for a hike.
The merino wool travel dress was my favorite item from Unbound right out of the box. (And it's been sold out for months, so I guess I'm not the only one who likes it! Unbound told me they're planning to have the travel dress back in stock by May or June of 2023. The style will be the same as last year, as described below.)
It's the only dress Unbound Merino makes so far, and it's a simple, straight, loosely hanging, mid-length dress with a slit on the left side. (The slit comes to about mid-thigh, which is not as high as I thought it looked from the photos on the website. The dress is 44 inches long (112 cm) in all sizes, and the slit comes up 12 inches (30.5 cm) from the bottom hem.)
It's very easy to wear and looks great with a belt at the waist.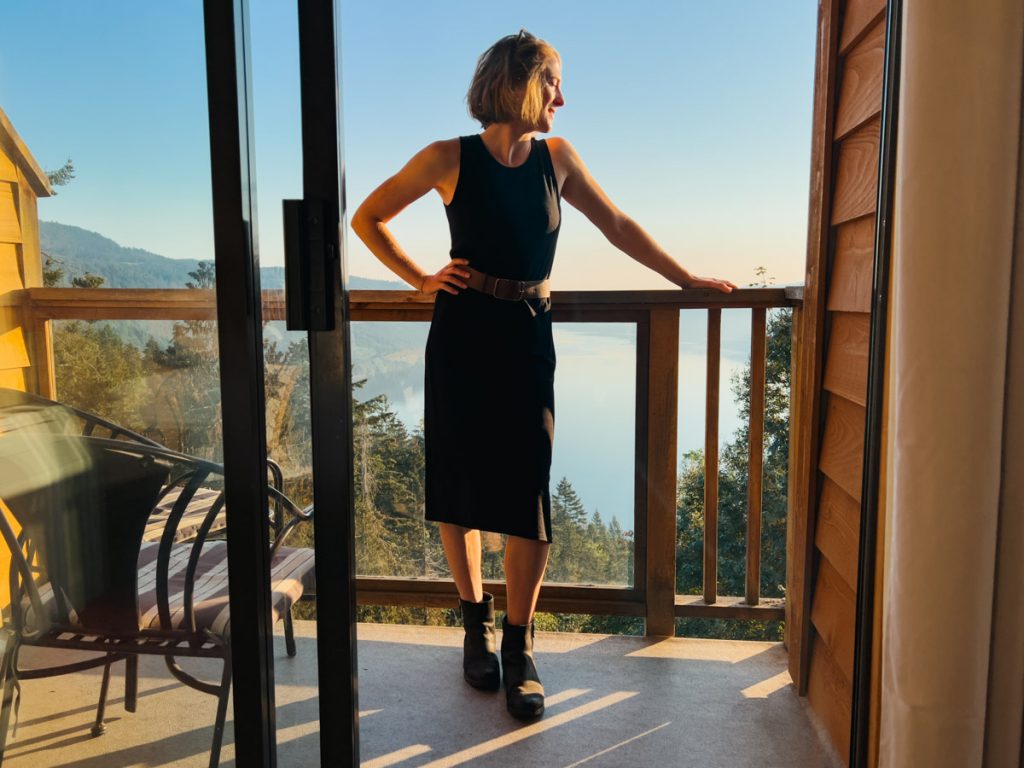 This dress isn't all wool – it's 84% merino, 12% nylon and 4% spandex, which gives it a little stretch and, in my experience, keeps it looking fresh even after traveling in it for 5 days straight – from travel days, to walks around Seattle and Vancouver, to dinners out at upscale restaurants.
Downside: I wish it had pockets. Other than that, I haven't found much to complain about.
It's super packable, doesn't show wrinkles, and didn't have any lingering smell even after many uses without washing it. (The five days in a row was part of that, but at that point, I'd already had it in my suitcase for two weeks, and had worn it a couple of times. It still looked perfectly good without a wash.)
Travel Styling Ideas for the Merino Dress
For the way I travel – packing as light as I can, but still wanting to look stylish – this is a really versatile cut for a travel dress.
Add a belt at the waist to dress it up. (It would also work well with a low-slung hip belt.) Add a sweatshirt to dress it down during the day. For cool evenings, I used a waist belt and cropped sweater (my recycled cashmere hoodie that I bought from Everlane last year).
The length makes it work with ankle boots or taller boots, as well as sandals or flats. You can throw leggings on under it, and it's just very soft and comfortable.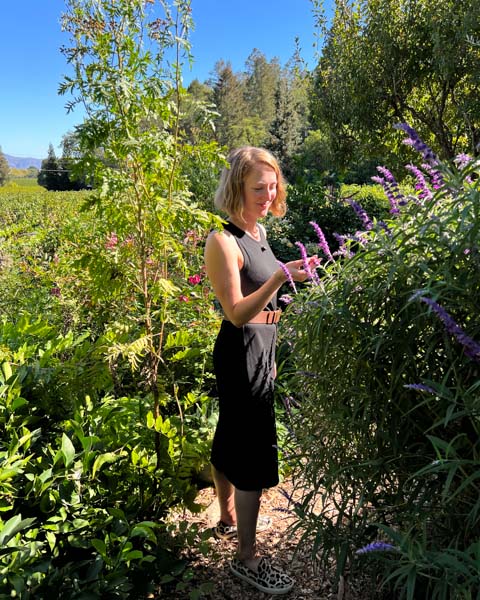 I ordered Unbound Merino's v-neck t-shirt in navy blue in a size small and found the fit just right. The cut widens out a bit at the hips, so I'd call it a pretty traditional fit. It's not straight or boxy, but not super slim. (If you're looking for a cut that's looser all over, check out the new Boxy Pocket T.)
It's a pretty basic t-shirt, but it's a good quality basic. The merino fabric is extremely soft, and it really does stay smelling fresh a lot longer than any other t-shirt I've worn.
UPDATE – Spring 2023:
The womens' v-neck and crew neck t-shirts, as well as the long sleeve merino tops, are now back in stock with updated fabric and fits. The new fabric is slightly heavier than last year, at 190 GSM. It's still 100% merino wool. (The same as the men's t-shirt fabric.) They've also added a new boxy-cut womens' t-shirt, which I'm excited to try.
I'll be trying the updated versions soon, and I'll add details here when I do!
I did notice one small snag in the fabric pretty soon after I started wearing it. (This was in the original, lighter material from 2022.) I'm not sure where it came from, and I always wash my clothes in laundry bags for protection, so I doubt it was a laundry issue.
(More about how to wash merino wool below.)
But after several months, the snag hasn't grown into a hole or anything bigger, and I haven't found any other snags on any of our other pieces. The t-shirt has also so far resisted pilling really well (as has the men's t-shirt).
How to Keep Your Merino Smelling Fresh
Of course, to get these smell-test results from your merino clothing (from any brand), you have to follow a couple of basic rules. Be sure to hang them neatly on a hanger or over a chair at night. This way your clothes air out, and stay smelling fresh for much longer. (Avoid hooks, as the material is so soft a hook could easily leave a mark, if not the beginning of a hole.)
I do a couple of basic things to pack all of my clothes neatly, so they'll stay as close as possible to wrinkle-free: You can roll each individual piece of clothing, but I prefer using packing cubes to keep things organized and neatly folded (even when I have to dig around in my bag. They really do work wonders. And I go carry-on only even when I'm traveling for several weeks, so I've really put them to the test!)
In addition to the Unbound Active line, this t-shirt is the main addition to the Unbound Merino women's line for 2023. Like their other merino t-shirts, this one is 100% merino wool – except for the bright white color. (Which 56% merino, and 44% polyester.)
I asked Unbound why their white t-shirts are a merino blend fabric, and they explained that's it's very difficult to get merino wool to that crisp, white-cotton-t-shirt kind of white, because that requires harsh chemical bleaching. (And if you bleached merino wool, it would strip the fabric of its natural performance.)
They said the polyester in their blend also adds additional strength and quick-drying capabilities to the fabric, which is a nice bonus.
The boxy t also has a cute chest pocket, which means it looks identical to my favorite plain white travel t-shirt from Everlane. (In organic cotton.)
Unbound says the new blend fabric still has the same odor-free properties, which was one of my favorite things about their original merino t-shirts – especially for travel. (And that's the only downfall to my cotton favorite – I don't get many wears out of it, so I can't pack as light.) So I'm looking forward to putting the new white fabric to the test, and of course, I'll update this review here when I have.
At first I was concerned that the fabric of the merino muscle tank developed a bit of pilling very quickly – after just the first wash. But strangely, now that I've been using it for about four months, it seems to have improved.
UPDATE – Spring 2023:
After months out of stock, the womens' merino muscle tanks have been freshly restocked in new colors as of mid-March, 2023.
Just like the t-shirts, they made some small improvements from last year. The fabric is slightly heavier than before (at 175 GSM instead of 150), but still lighter than the t-shirt fabric, and still 100% merino wool.
I'll be trying the updated version soon, and I'll add details here when I do!
They've also added a new Active Merino Tank Top. It's still 100% merino, but even lighter fabric at 165 GSM. (There's a men's version, also.)
The fabric for the Active Merino collection is quite unique – it has a "cooling performance finish," which they say makes it cool to the touch (and ultimately helps to cool you down during workouts). 
The finish also means you can tumble dry the Active Merino items, which is a big change. (Normally the dryer a huge no-no for merino wool, as I explained below along with a couple of other notes about how to wash merino.)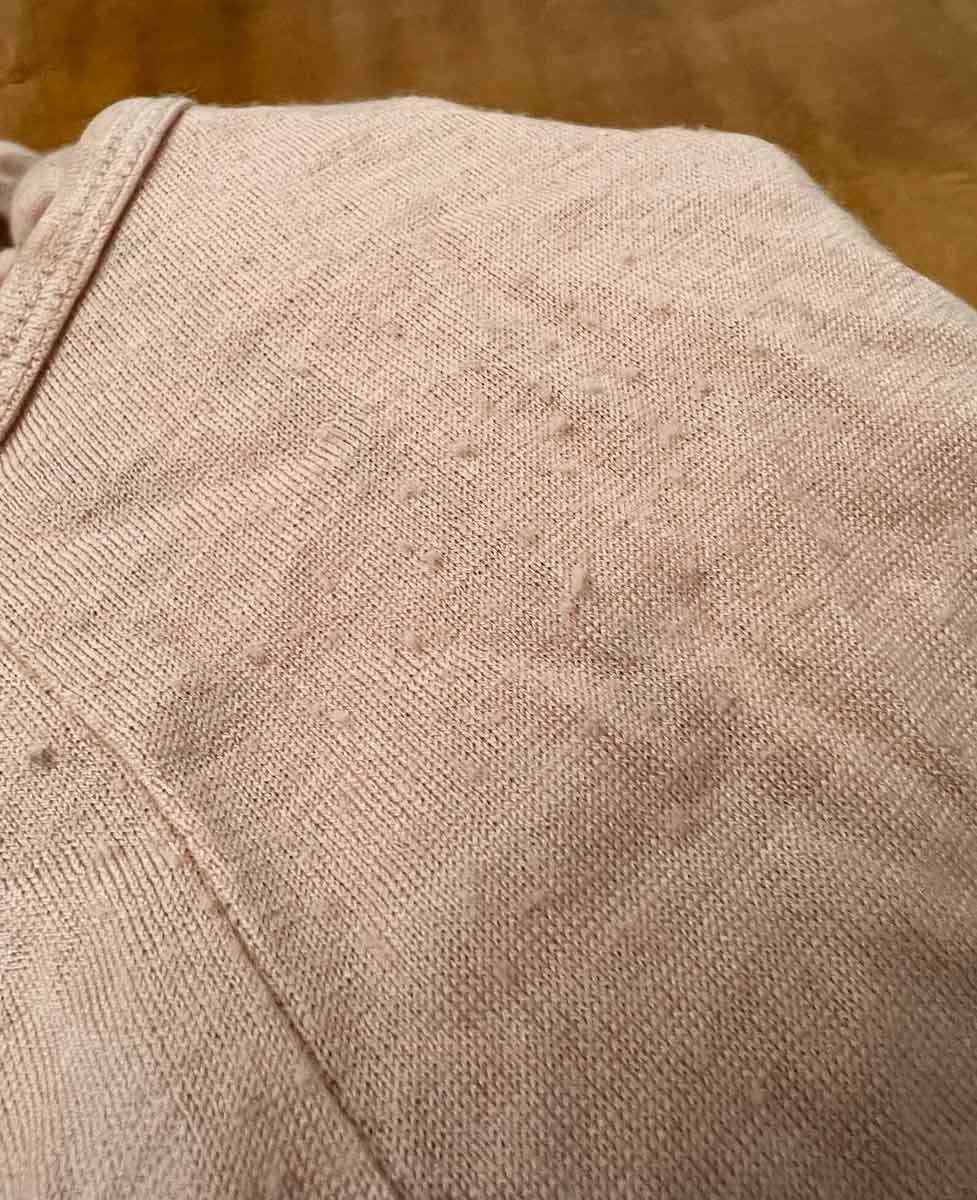 And I haven't detected any pilling on my t-shirt or my husband's – and they are slightly heavier fabrics from the original women's muscle tank. (The men's t-shirts are ultra-fine 17.5 micron, 190GSM, 100% merino wool. The updated women's t-shirts for 2023 are the same. They explain what that means at the end of of this article.)
I asked Unbound Merino about the pilling. Here's what they said:
"Pilling is a natural process that's somewhat inherent in Merino wool fabric due to the fact that it's a staple fibre. Generally, if pilling occurs, it's because the shorter fibres are working their way to the surface of the fabric. Sometimes washing Merino with a coarser fabric like denim/jeans can help to remove some of those shorter fibres, so maybe that was the case with your tank."
As I described below, I'm very careful with how I wash merino clothing, but I guess it was still enough to buff off some of the roughness.
And while I was testing to see if any extra pilling would appear on the tank top, I wore this baby every single day for so long I lost track of how many days it had been. But we're talking at least three or four weeks – in July and August, in Boston humidity, in an apartment with no air-conditioning.
Now it's nearly November, and I've been wearing it under my sweaters almost daily – I think I've washed it twice since the summer. (I'm literally wearing the tank as I type this.)
Amazingly, it's always started to look in need of a wash (a little tired and maybe dirty) before it started smelling at all. I'm really quite impressed.
(Again, following the tips above and letting things air out at night makes this possible.)
Sizes and Colors:
I ordered the merino tank top in a medium, and debated exchanging it for a small. It was a little on the loose side in the body, but surprisingly, it still fit well at the shoulder and arm holes without any gaping. I think that's a feature of Unbound's style, with shapes that are designed to err on the side of loose and comfortable, as opposed to form-fitting.
(Details about Unbound Merino's sizing are below.)
I ended up keeping the size medium and it works perfectly well. It keeps its shape, without stretching out between washes, so I'm happy with it.
I also noticed from the "desert rose" tank top color that Unbound Merino's lighter colors are a bit see-through. (And the rose color is very close to my exact skin tone. So I debated exchanging it for something darker, but the nude look actually really grew on me. I love it tucked into bright, patterned pants.)
UPDATE – Spring 2023:
The new muscle tank colors this year are much darker, so I don't think there'll be any risk of them being see-through.
The merino tank top also makes a great base layer under other clothes, although if I were using it only for that purpose, I would have sized-down.
As I mentioned above, Unbound Merino has launched a new Active Merino line (both men's and women's) for 2023. I'm going to try a few items soon, and I'll update this here when I do!
These high-waisted, merino wool leggings with a hidden pocket are my other favorite item from Unbound that's been sold-out for months.
They're made of 96% merino wool and 4% spandex, and definitely have a different feel from your average synthetic leggings. First, the material is extremely soft and flexible. To me, that makes them more comfortable than most leggings.
But if you're looking for that compressive, "holds you in" feeling, these are definitely not that. They don't have that holds-you-in, stomach-flattening effect that lots of legging designers go for. (Although the top of the waist does have a double layer of fabric.)
UPDATE – Spring 2023:
Like several other products above, Unbound Merino made significant updates to their leggings for 2023. The fabric is now 68% merino wool, 22% nylon, and 10% spandex.
I'll be trying the updated version soon, and I'll add details here when I do!
The wear test
Surprisingly, even though the material is very soft, these yoga pants hold their shape for a very long time – I'd estimate at least a dozen wears, and that's after a lot of testing:
First, I wore them 4 days in a row, including through a few yoga classes, and didn't notice any sagging. (Even more impressively, there was hardly any smell even at the crotch.)
The next phase was the travel test. I had my husband on Saggy Butt Monitoring duty, and it was only after three weeks wearing them for travel, hikes, and kayaking (totally about 12 wears), that he finally said they were starting to look a little droopy.
After wearing my leggings kayaking in San Francisco, there were obvious white marks all over them from the splashes of salt water. So I just rinsed out the legs in the sink without any soap. That took care of the salt water marks, and they were dry in the morning, but the waistband would have taken a bit longer to dry.
Being made of a natural fiber also makes these leggings much more breathable than normal synthetic ones. (The fact that I've been able to wear them to multiple yoga classes and that many days in a row without them starting to stink is pretty good evidence of what a difference that makes.)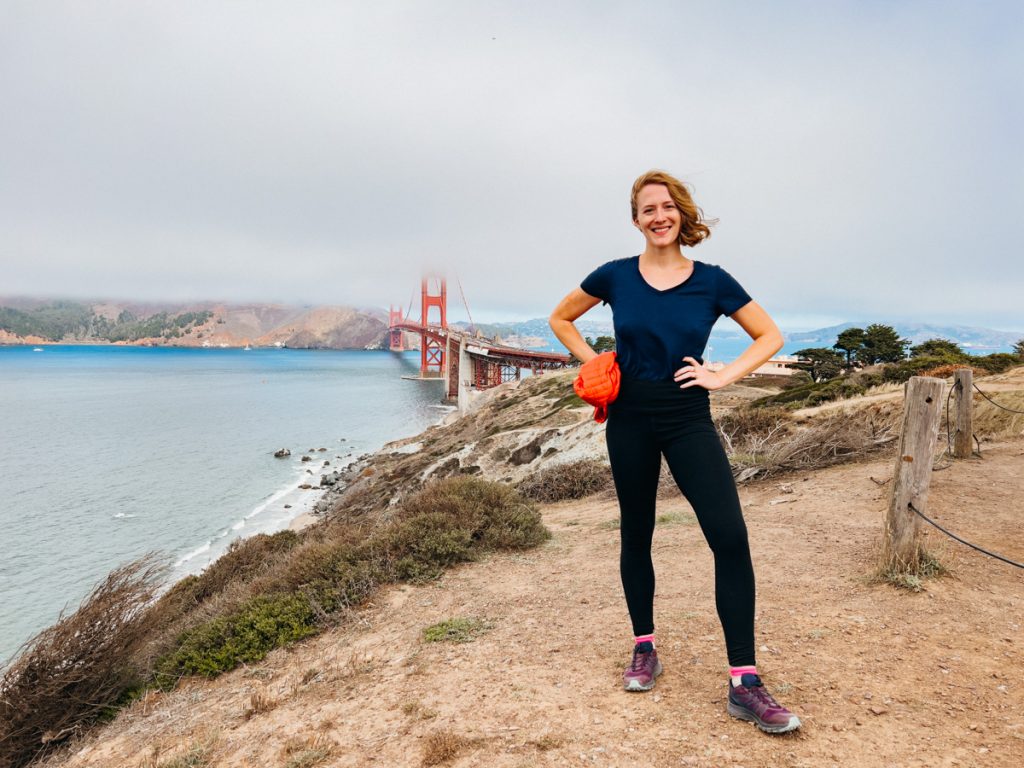 The fit
Just like most of their products, the sizing for Unbound Merino's leggings is pretty standard, but they fit slightly looser than most leggings or yoga pants I've worn.
The length is generous. (All sizes have a 30-inch inseam.) I have long legs, and sometimes have trouble finding pants or yoga pants that are long enough, but these actually leave a little bit of extra material to bunch around my ankles.
And the rise is very high. I would say they feel even higher than most high rise leggings. (This measurement isn't shown on the Unbound Merino website, so I measured them. The rise is 12 inches (31 cm) in the front, and 13.5 inches (34 cm) in the back.)
Normally I am not a fan of such high-rise leggings, because I find them constrictive. But again, the fact that these merino leggings are very soft and non-compressive makes the high-rise perfectly comfortable for me. I almost forget I'm wearing them. (The only place where I feel anything that reminds me I'm wearing pants is the very top of the waistband, where there's a thin elastic band. The quality of construction is very clear and the elastic is sewn in neatly.)
The secret pocket
These merino leggings have one more interesting feature: A hidden pocket in the waistband, with a very well-hidden zipper.
It's a generous size pocket, too. (The zipper opening is 4 inches (10 cm), but inside, the pocket widens out to about 5.5 inches (14 cm), and it's 7 inches long (17 cm). It fits my iPhone 13 Pro in its sturdy case, which is not a small phone.)
So I could use the pocket for my phone when going for a run or something like that, but it's a little awkward for other uses given that the pocket is positioned at the back of the right hip. So it wouldn't be comfortable to sit down with anything as large or bulky as a phone or keys in the pocket.
But if you're using these leggings as travel pants, the pocket would be perfect for stashing some cash or a credit card.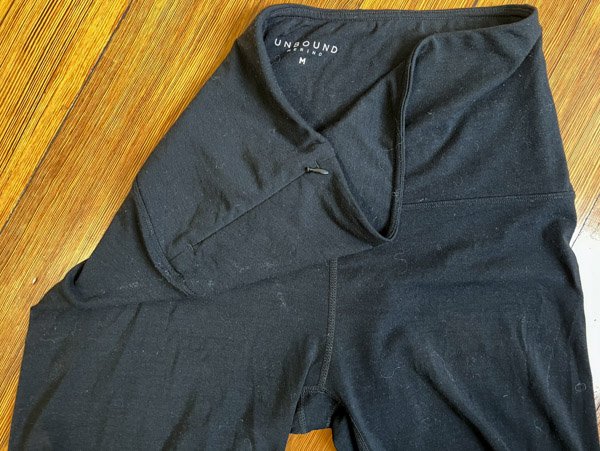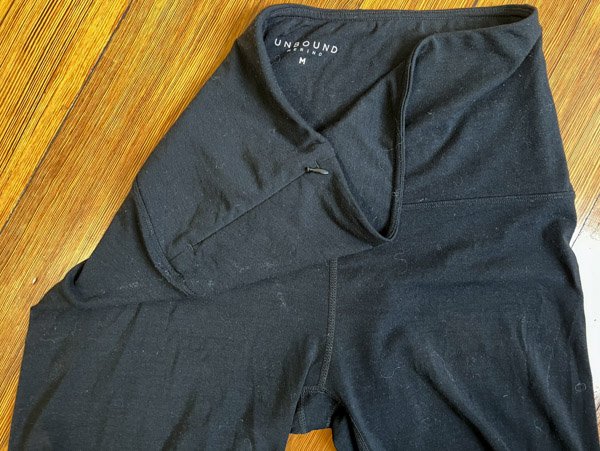 ---
Unbound Merino Sizing
I found the sizing to be pretty true-to-size, compared with other brands, or maybe just slightly oversized.
Unbound Merino recommends sizing down if you're between sizes, and I'd definitely agree with that. Same goes if you want your clothes tight-fitting – you'll probably want to go down a size or even two.
The cuts are very forgiving, and the fabric has a good amount of stretch. I also found that, while some merino wool clothing sort of softens up and gets looser between washes, the Unbound Merino pieces keep their shape quite well.
They also provide the actual dimensions of the garments, which I found very accurate and helpful for ordering the right size. (Just click "sizing guide" on any Unbound Merino product page.)
I measured similar items in my closet that I like the fit of, and compared the measurements with Unbound's dimensions. (I wish more brands would offer this information, so we could all avoid ordering and sending back the wrong sizes – such an unnecessary waste.)
I ended up ordering everything in the sizes I would normally choose (smalls and mediums), and was happy with the fits, but I think I could have easily sized down for most items and still been just fine. Even for the merino dress, which I ordered in a small, I could probably get away with an extra small without it being too tight.
(For reference, I have wider shoulders and pretty slim hips. And I generally like my clothes slim fitting, but not super tight.)
Men's Sizing
From what I can tell, Unbound Merino's men's sizing also seems to run true-to-size. (My husband has only tested the men's v-neck t-shirt so far, and the size medium fits as expected.)
And just like on the women's side, the fact that Unbound shares the exact garment dimensions makes it easy to measure and order the right size the first time.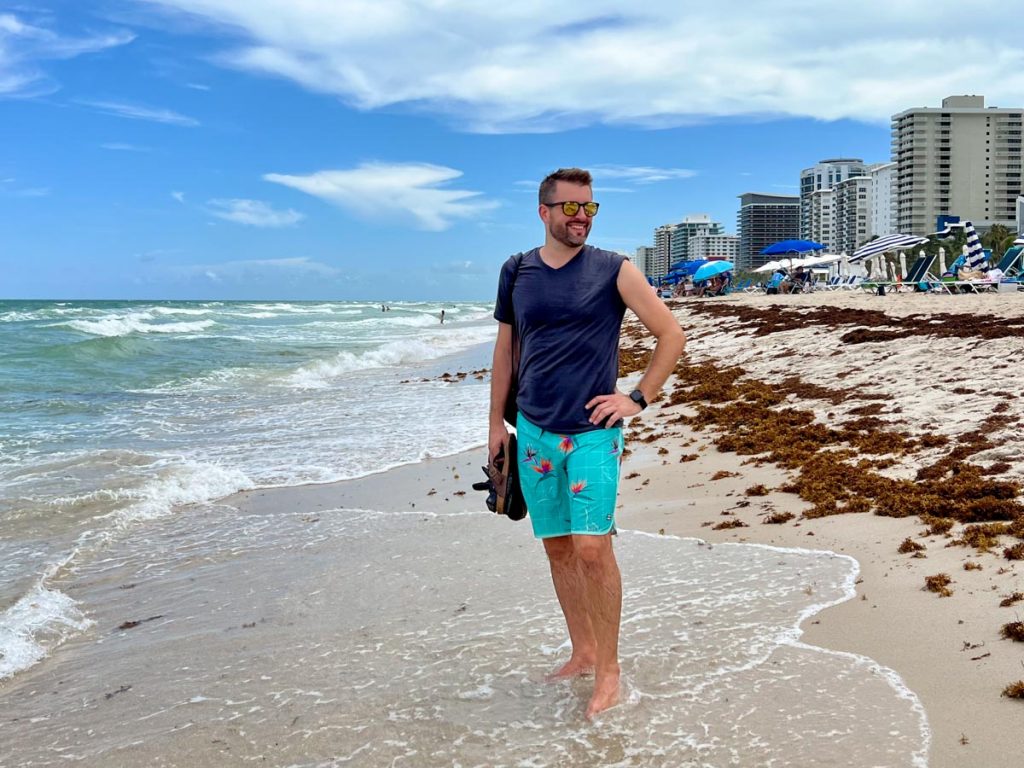 ---
Is wool sustainable?
Whether you consider wool a sustainable material at all might depend on whether you consider any animal products sustainable. But I think it's a lot more complex than that. As with most things, there are many shades of gray when it comes to sustainable and ethical practices in wool production – and there's more to sustainable fashion than just the fabrics.
For starters, all of the factories producing Unbound Merino clothing are certified by WRAP (Worldwide Responsible Accredited Production). That certification isn't perfect, but it's a start. What's probably more meaningful is that I asked Unbound Merino about this, and they told me they personally visit their factories as often as twice a year (at pre-pandemic, they said).
And Unbound Merino sources all of its wool from independent farms in Australia that don't practice mulesing, and are RWS-certified (Responsible Wool Standard). The RWS certification also isn't perfect, but at least it means that mulesing isn't happening.
And if you don't know what mulesing is, you're not alone. (I didn't either.)
Mulesing is basically cutting a bunch of skin off the backsides of sheep, theoretically to prevent health issues. But evidence shows mulesing isn't even effective at that, as it leaves the poor animals with bloody, open wounds that can become infected. It's quite barbaric, it's obviously painful for the animals, and it's the kind of thing that makes me understand why so many people look for vegan clothing.
This is part of the reason that Unbound Merino isn't cheap, and it's a great example of why cheap isn't always good. Practices like mulesing are part of the race to the bottom – when unscrupulous companies just aim to produce as much as possible for the cheapest price, while squeezing everyone involved. (The planet, employees, and in this case, animals.)
That's all a good start, but sustainable clothing is also about materials, quality and quantity.
Perhaps the biggest factor in making clothing sustainable is how long you wear your items – and how few you buy. And everything about Unbound Merino is aimed at making a few pieces last a long time.
Synthetic vs. Natural Fibers
The other point that makes any kind of merino clothing inherently sustainable is simply the fact that it's a natural fiber.
Synthetic fabrics – polyester, nylon, etc. – are a major cause of marine microplastic pollution. Washing synthetic fabrics (especially in hot water) causes them to gradually break down and shed microfibers.
Merino wool, linen, and cotton also lose fibers in the wash, but they aren't plastic fibers – which is what synthetic fabrics are made of. (Polyester, and most other synthetics, are forms of plastic.) That's one of the reasons I'm trying to only buy new clothing made of natural fibers. (They also feel better on my skin and, as I've been saying throughout this review, smell better for longer.)
---
How to wash merino clothing (so it doesn't shrink)
Be warned – like all wool fabrics, including merino and cashmere, Unbound Merino clothing can definitely shrink in hot water or in the dryer.
Wash in cold or cool, and dry naturally (no dryer at all!) and you should be able to keep your merino in shape and unshrunk.
And just like with any clothing, washing Unbound Merino items as little as possible, will keep them in good shape – and save water and energy.
I also wash most of my clothes in these laundry bags, which keep items from getting pulled around and stretched out in the washing machine. They're great for keeping dirty clothes separate for travel, too, but…
Laundry Bags, Microfibers & Microplastics
…But unfortunately, those laundry bags are a synthetic material, which, again, means they'll lose microfibers in the wash. That's another reason to always wash with cool or cold water, as it minimizes the breakdown of fabrics, and the subsequent water pollution.
And that's why I no longer buy new clothing made of synthetic fibers.
As for the synthetics I already own, I try to wash everything in this microplastic-filtering laundry bag.
(More about that in this section of my sustainable laundry review.)
I also found these zippered, organic cotton laundry bags, but they're quite expensive. (Other washing bags I've found that are made of natural fibers usually have a drawstring closure, which is a pain to get open after washing.)
If you feel like you've read this before, that's because those are the same laundry tips I always give for washing any clothing more sustainably. Not only do they save energy, but they keep any clothing in better shape for longer, allowing us to buy less. (Which is the biggest sustainability tip of all, and the thing that first drew me to the brand.)
(See more laundry tips from Unbound Merino here, along with some history on where merino wool actually comes from.)
---
Bottom Line
So far, after wearing our items from Unbound Merino for four months, they definitely live up to their first promise – that their clothes won't stink after multiple wears, so you won't need to wash them often.
I did find that our merino t-shirts (and my dress and leggings) stayed fresher for several days longer than other materials. But I couldn't quite imagine going as many weeks as Unbound Merino claims without a wash.
For their second promise – that if you treat their clothes well, they won't fall apart, so you won't need to replace them often – I need at least another year to really be sure. (And you can expect an update here later.) But so far, I haven't seen any red flags, and the quality of the materials and the sewing is obvious.
After all my travel testing so far, I think Unbound Merino is a solid choice for travel clothing for their versatility, wrinkle-resistance, and classic style. Are these factors you can only find from one brand? Of course not. You might be able to find them in your own closet, first.
But if you need new clothes, and want to transition to more natural fibers and higher-quality in your wardrobe, I think Unbound Merino is a great starting place. They've helped re-inspire me to pack lighter, and buy less in general. If they do the same for you, they'd be worth a try.
Remember, you can use the discount code TILTEDMAP for 10% off your first order from Unbound Merino!
---
This page includes some affiliate links. These recommendations for carefully chosen companies and products let me earn a commission if you decide to buy anything through them – at no additional cost to you! For more info, please see my Privacy Policy. Thank you for your support!