This post contains affiliate links; see my privacy policy for details.
After living in New England for two years as a full-time travel writer, I think I've found my favorite roadtrip in the area: A weekend getaway in the Adirondacks – specifically in the stunning High Peaks region. And if I'd realized what a special area this 6-million-acre park is, I can think of a lot of road trips I would have traded for this one.
And while the mountains of upstate New York aren't exactly a destination that's famous for public transit, there are ways to minimize driving for a weekend visit to the Adirondacks – both in getting there, and getting around once you're here. (Be sure to check out my itinerary for 3 days in the Adirondacks, below, for a schedule that will keep you from spending all day in the car.)
But whether you want to get around the Adirondacks on a bike or go full road-trip, don't expect the driving here to just be a commute!
Soon after we crossed the bridge over Lake Champlain, separating Vermont and New York, we were immersed in a dense, green forest that seemed to go on forever. And I realized that Adirondack Park might just have some of the most beautiful roadside views East of the Mississippi.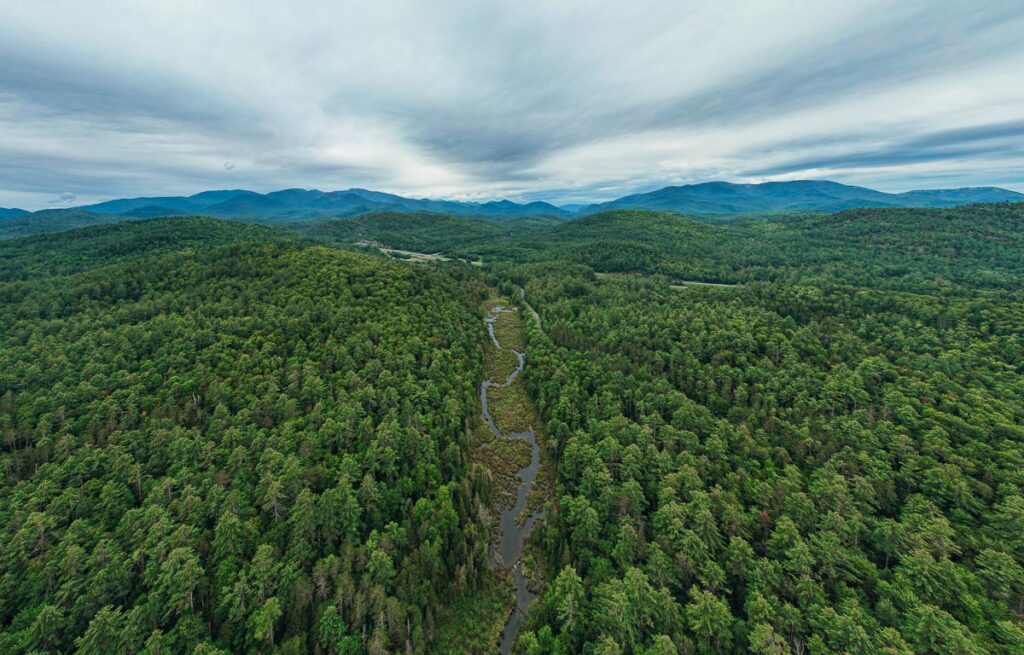 Along with gorgeous mountain views and hikes for any difficulty level, the Adirondacks have truly excellent museums, exceptional local breweries (and I'm quite picky on that point), and a couple of the best farm-to-table restaurants I've tried… anywhere.
Note: Speaking of museums, I owe a thank you to The Wild Center for sponsoring my first visit to the area. (As always, my opinions and recommendations on places to go – and to avoid – are my own.)
I don't accept many sponsored trips for this blog, since I'm very selective about working with sustainability-focused organizations. The Wild Center is the best possible example of that and is definitely worth a stop on your road-trip itinerary.
They have an inspiring – not depressing – new exhibit on climate solutions being implemented locally, and lots of accessible, creative experiences that can help kids and adults connect with nature in ways that feel fun, not forced. (From canoe trips to virtual reality games, there's something for everyone.)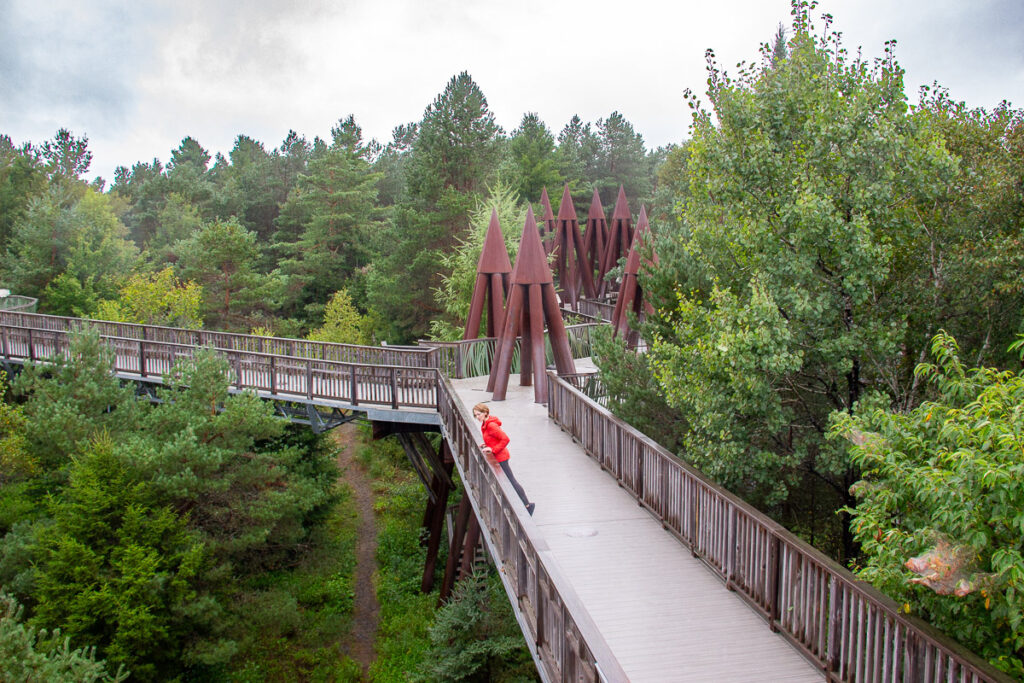 More on all of that below. First, let's start with an introduction to the region, my favorite places from this trip, and the daily itinerary that I'd recommend to a friend for an Adirondack weekend getaway.
---
Introduction to the Adirondacks – What is this place?
As a sustainable travel destination, this part of upstate New York has a lot to offer. I learned the basic history of "the great conservation experiment," as the Adirondacks are known, from our canoe guide at The Wild Center, Nicole.
The reason for the "great" part is pretty straightforward: The entire Adirondack region is a state park covering 6 million acres – that's one fifth of New York State. For my fellow Westerners, that's almost three times the size of Yellowstone National Park. It's massive!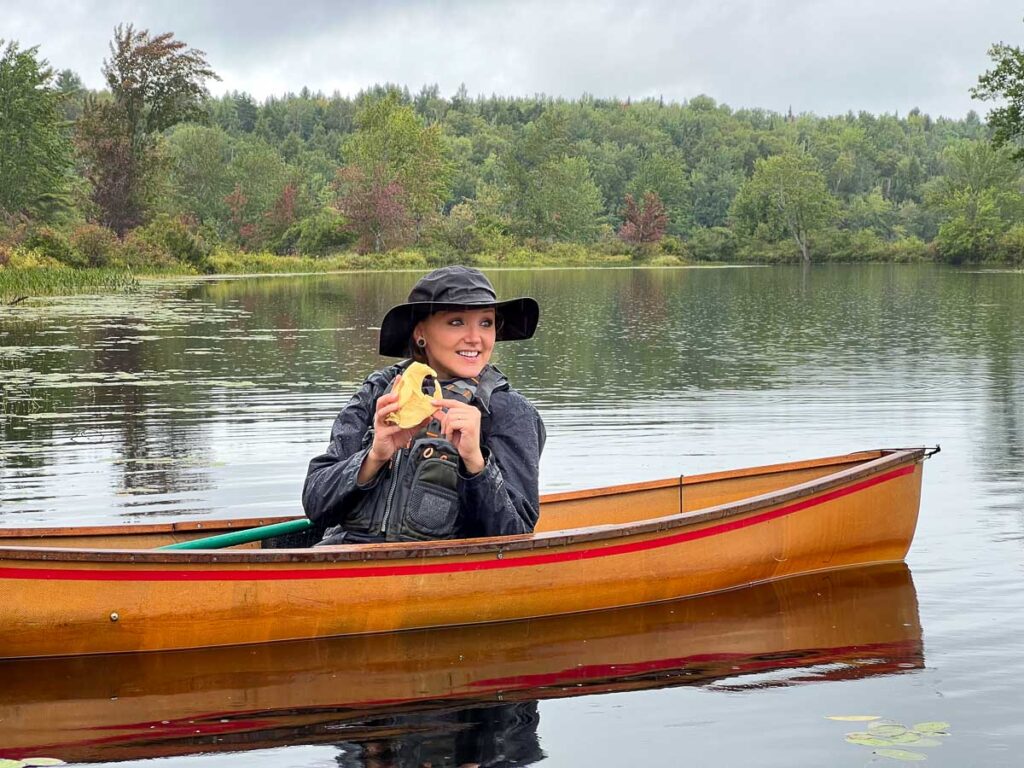 The "experiment" refers to several unique factors: Adirondack Park is made up of both private and public lands. The park has no gates and no entrance fee. And there are 132,000 people living inside it year-around. (And they didn't have to be grandfathered in – you can move to the Adirondacks and live in the park if you want to.)
The mix of public and private land means the park encompasses all the major towns in the area, including Lake Placid, of Olympic fame. So whether you're eating in a local restaurant or paddling around one of the thousands of lakes and ponds, you're on protected land.
Adirondack Park was created in 1892, and the phrase "Forever Wild" is more than a bumper sticker here. It's part of the New York constitution that prevents cutting timber or selling or leasing state land within the park.
That all makes it an international model for creating new conservation areas that don't displace local people. Stephanie Ratcliffe, the executive director of The Wild Center, told me that researchers and politicians come from around the world to learn how the park is run.
As for the vibe, the friendly, easy-going attitude and general mountain-town feel – this area reminded me of the West more than any other place I've found on the East Coast. (I'm a transplant, originally from Montana.) That includes the surprising lack of cell phone service in most areas outside the towns.
Adirondack Travel: The Basics
There are four main towns in the northern "High Peaks" area of the Adirondacks: Keene, Lake Placid, Saranac Lake, and Tupper Lake. (The famous Adirondack town of Lake George is also in the park, but it's about 80 miles south. Keep that in mind if you're attempting this as a train trip, as I'll explain below.)
It's 10 to 20 (beautiful) miles between each town in the High Peaks – so be sure to read my Adirondack weekend getaway itinerary, below, for advice on how to minimize driving.
Where to stay – overview of the High Peaks towns:
Keene, New York
Keene is the first High Peaks town you'll encounter if you're driving to the Adirondacks from New England, or if you took the train up from New York City and drove the rest of the way. We just passed through a couple of times, but it felt very quiet, laid-back, and a bit removed from the tourist scene – although it does have some lovely looking B&Bs.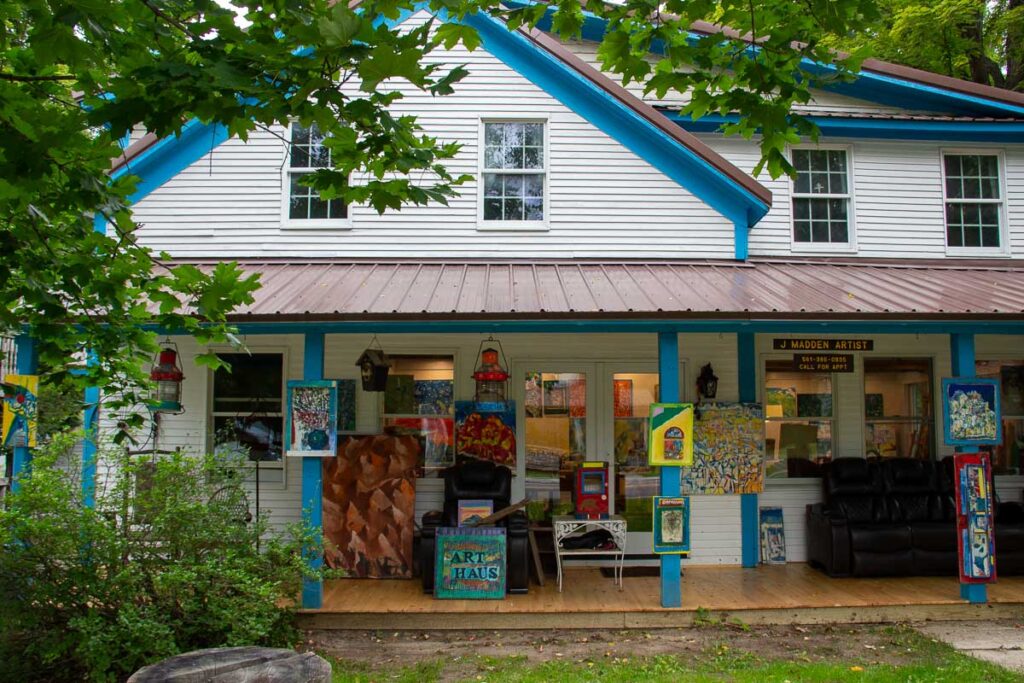 Keene also has a farmers' market that I'd definitely recommend for picking up local souvenirs! (More on that in the itinerary below.)
Lake Placid
Lake Placid is the most famous town in the Adirondacks, after hosting the Winter Olympics twice (in 1932 and 1980). And I have to say, it feels a bit less local than the other towns. The main street is dominated by real estate offices, knickknack shops, and mostly uninspiring restaurants. (But there's also a real independent movie theater which, along with the museums below, would be a good candidate for a rainy-day activity in the Adirondacks.)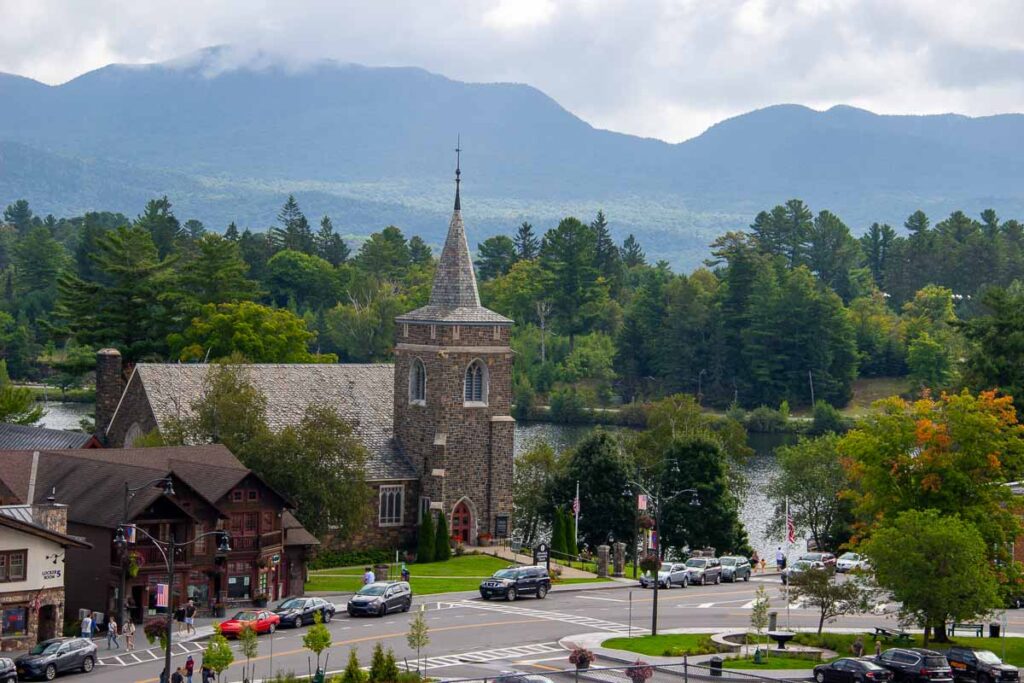 Fun fact: the town of Lake Placid isn't actually on Lake Placid. It's on Mirror Lake. The actual lake of Lake Placid is just a couple miles North… You never have to go far to bump into another lake around here.
Saranac Lake
Saranac Lake, just a few miles west of Lake Placid, is the most central, and feels a lot quieter, less dependent on tourism, and just a bit quirkier than Lake Placid. For all of those reasons, it's probably where I'll book my hotel next time.
Tupper Lake
Tupper Lake, the furthest town to the west, is the most working-class of the main High Peaks towns. But with The Wild Center, Woodshed on Park (one of the best restaurants in the Adirondacks, I would bet) and a few other gems, it's thoroughly worth the extra miles.
Getting to the Adirondacks – with or without a car:
As I mentioned, this isn't the easiest place to do a car-free weekend getaway. (Driving to the Adirondacks is pretty straightforward, of course. But if you'd rather not drive, you'll want to read the advice below. As with any attempt to use public transportation in the US, it's not as easy as it sounds.)
It is possible to minimize driving by getting to the Adirondacks by train and renting a car once you get here… Or at least, once you get close.
Trains to the Adirondacks
Amtrack's Adirondack Line connects Montréal and New York City, with stops in Albany and 15 other towns in between.
[Related: If you're aiming to go car-free and be able to move easily, check out my advice for how to pack light, and my review of my favorite travel backpack.]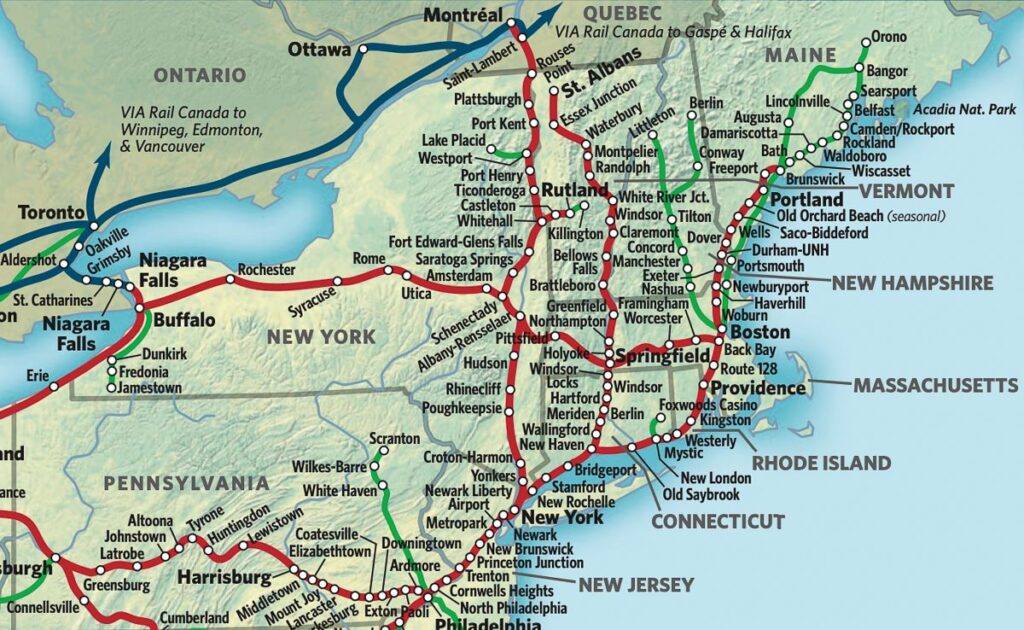 The closest Amtrak station to the Adirondacks is in Westport, New York, a small town on the shore of Lake Champlain. (Not to be confused with Westport, Connecticut.) But that's NOT where you want to go if you're planning to rent a car, because there are no rental car agencies in Westport.
Alternative: You could try a service like Turo, a car-sharing marketplace that lets you rent private vehicles directly from their owners. At the time of writing this, none were offered in the Westport, NY, area – but that could change!
In fact, unbelievably, there are no car rentals for four consecutive towns on the Adirondack Line. (Is this a business I should start?? After all, people in New York City want to escape to the mountains and they tend to not own cars.)
So if you want to get to the Adirondacks mostly by train, the closest towns with both an Amtrak station and a car rental business are Plattsburgh, NY (the best option if you're coming from Canada) and Fort Edward, NY.
The train ride from New York City to Fort Edward is about 4 hours. (It's almost exactly the same driving – with no traffic. So if you're debating renting a car in NYC, I'd definitely recommend taking Amtrak to get out of the city.)
The Fort Edward-Glens Falls metro area has both an Enterprise and a Hertz location. (You'll need a quick Lyft or Uber ride to get there from the Amtrak station. And make sure to check that your train will arrive during business hours for the car rental office.)
From there, you'll drive about 20 miles to Lake George, the town and lake on the southern edge of the Adirondacks, or about 100 miles to Lake Placid.
Bike Option: If you're feeling like an adventure and can bring a bike with you on the train, you could take Amtrak all the way to Westport, NY, bike 20 miles to Keene, NY, and stay in a bed and breakfast there.
[Related: And if you're into bike adventures, check out the e-bike tour I did in rural Italy – I'll be hosting it with a small group in 2024! Biking around the Adirondacks could be your warm up.]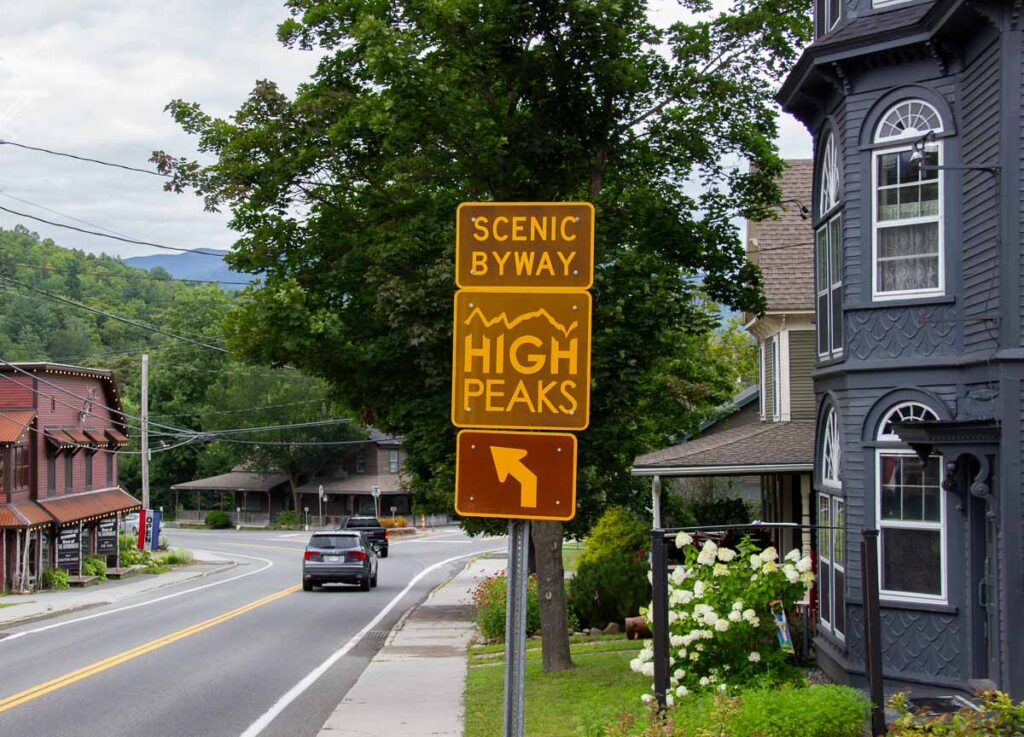 Busses in the Adirondacks
If you don't want to take the train part way and then rent a car, you can get to the Adirondacks by bus, too. (Especially if you're prepared by bike around or take Lyfts or Ubers once you're there.)
There are numerous bus options, including from Glens Falls, NY, to Lake Placid. You can also travel back and forth between Lake Placid and Saranac Lake by bus, but I haven't been able to find any bus routes that connect Tupper Lake.
Bus Booking Tip: Normally, I use Omio to search for every transit option for a certain route available. For Europe and North America, it shows train, bus, flight, and ferry options in a single search. But I've found it doesn't find the Adirondack bus routes. Here, I've found the best results with BusTickets.com and MegaBus.com.
Airports in the Adirondacks
Yes, there is also the very small Adirondack Regional Airport (SLK) in Saranac Lake. (The "airports" in Lake Placid and Tupper Lake don't serve commercial airlines.)
But of course, unless you're coming from far away, the carbon footprint of flying to the Adirondacks from, say New York City or Boston, just doesn't make sense.
Sustainable Travel Tip: You can use this carbon calculator to compare the carbon footprint of flying, driving, or taking a train or bus between almost any two points in the world. See my full guide for a comparison of other travel carbon calculators for different situations. (Such as for comparing the emissions of different airlines.)
When to go:
Fall in the Adirondacks is famously beautiful, although between skiing, hiking, and summers by a lake, this is really an all-season destination.
The region is known in New England as "first to fall," because you'll usually start seeing the leaves change by mid-September. (When we went in the last week of August, we could already spot a few pops of red in the forests.)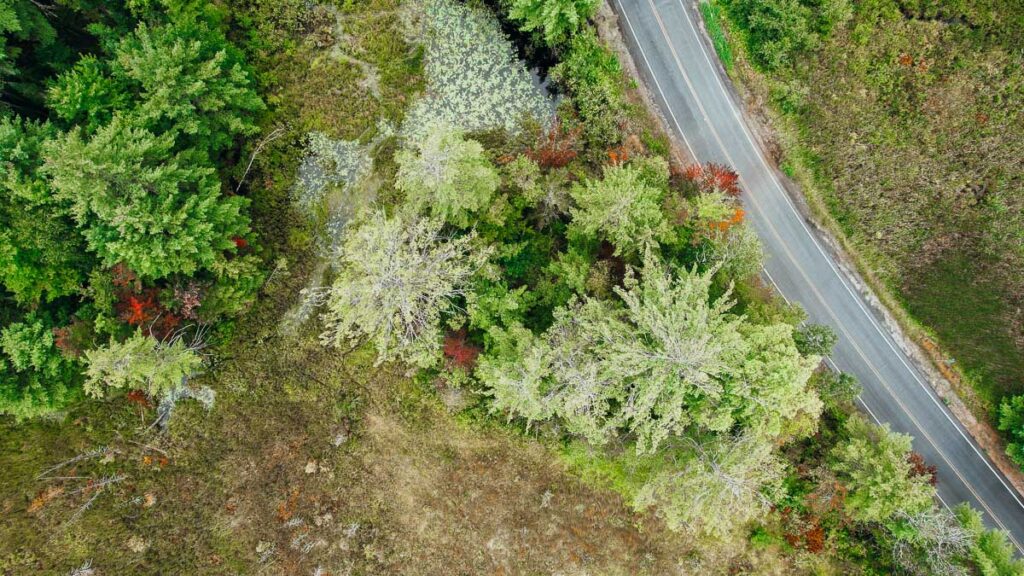 ---
Where to Sleep: Sustainable Hotels in the Adirondacks
We stayed at the Golden Arrow Lakeside Resort, a family-run, waterfront property right in downtown Lake Placid.
In short, it was gorgeous. We had a room facing the lake, and while the room itself was really nice (newly remodeled, large shower with multiple rainfall showerheads, local decorations) the view from the balcony is what really made it a special place to stay.
In terms of sustainability, they seem to be one of the best hotels in the Adirondacks. The Golden Arrow has 4 EV chargers, collects recyclables in the rooms, and has made a host of energy saving efforts. (Including the most underrated sustainability factor of a hotel – when we opened the door to our room, the air conditioning wasn't turned down to freezing.)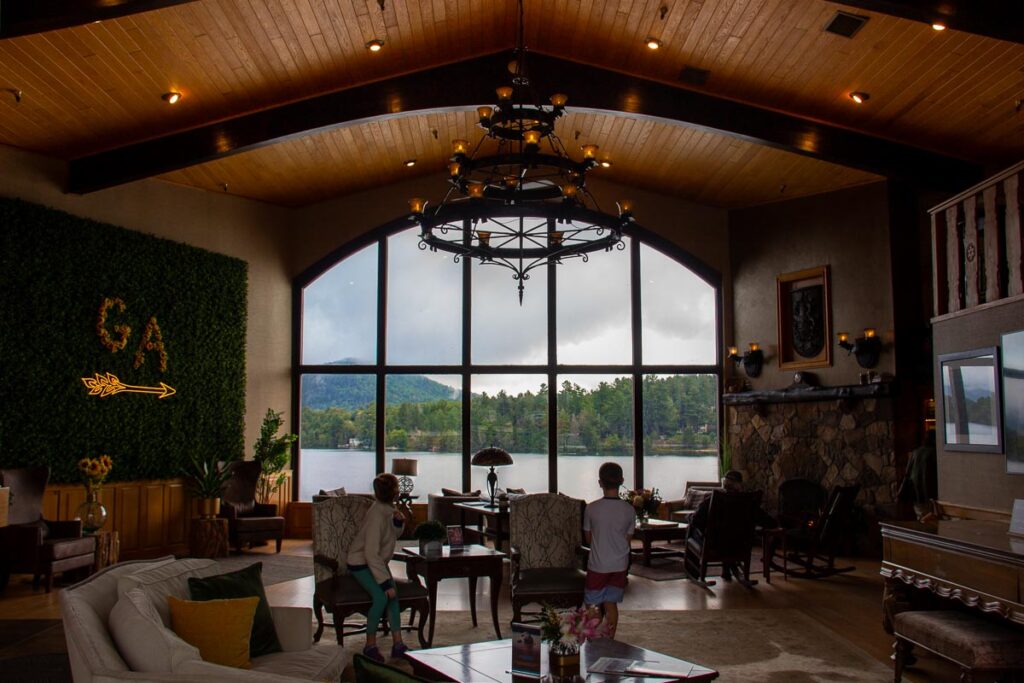 The property also has a green roof (a rooftop garden, which acts as a natural insulator, reducing the energy use of the building, and filtering storm water to keep pollutants out of the lake, which is just below).
You can see the green roof from the deck of their Generations Restaurant. (But I have to say, my biggest complaint about this hotel was the restaurant. We went there for breakfast one day and it was disappointing. I also wish they offered loaner bikes, like many of the other sustainable hotels I looked into, below.)
And their unique white sand beach is made of crushed limestone, which helps counteract the effects of acid rain.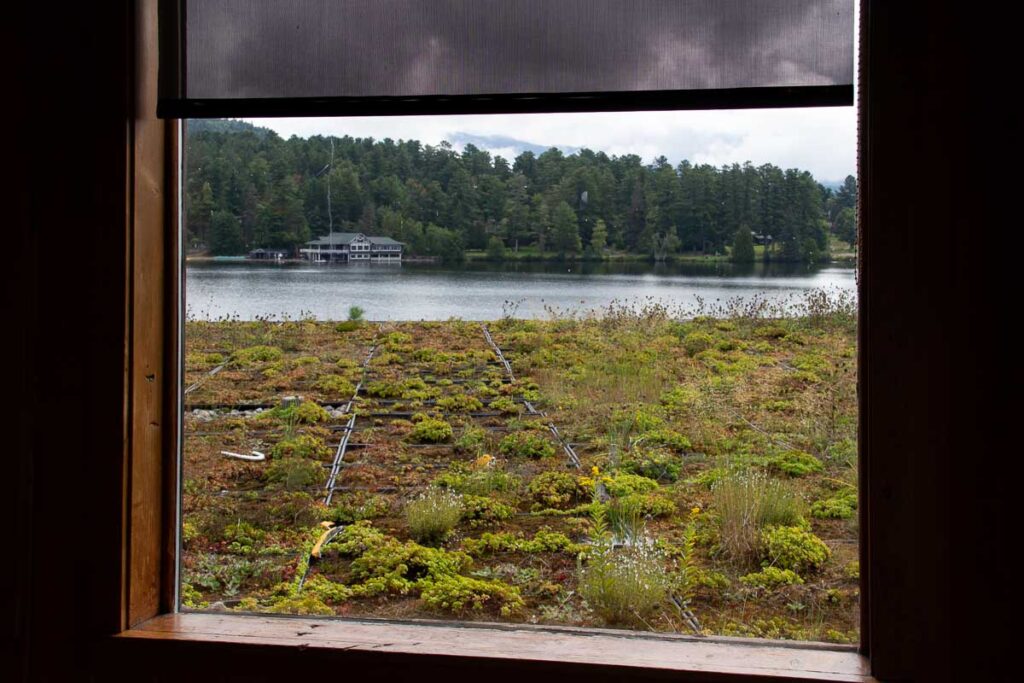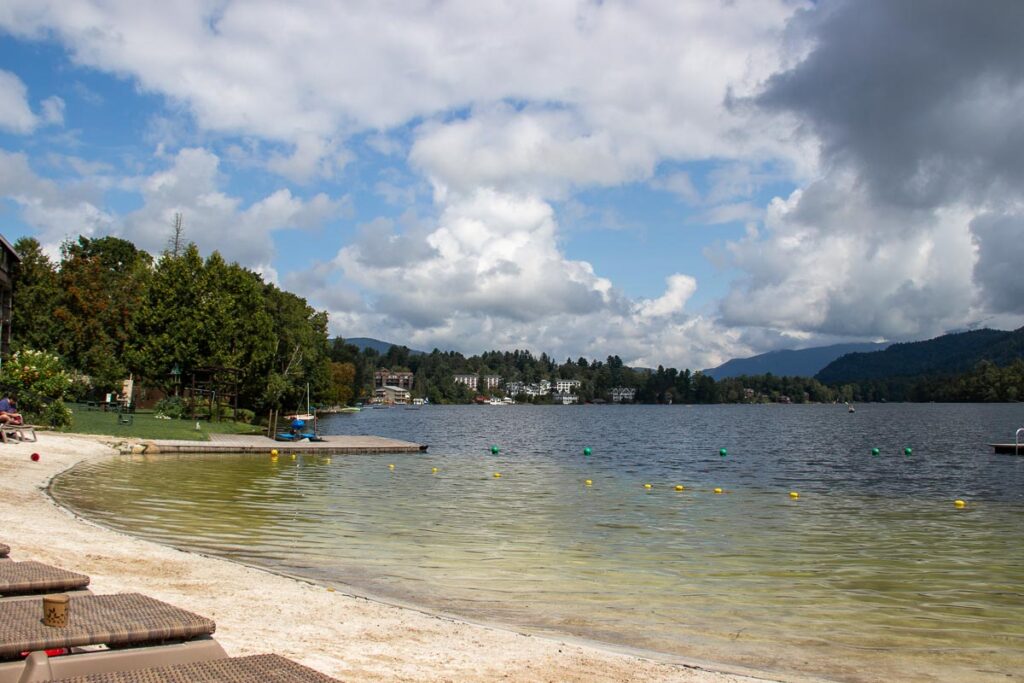 More Local, Sustainable Hotels:
Eastwind Hotel Lake Placid – sustainable boutique hotel just out of the bustle of Lake Placid
As a slightly more affordable alternative to the Golden Arrow, the Eastwind looks like a gorgeous option. It's part of a very small chain (just three boutique hotels in New York state).
The Eastwind is still in downtown Lake Placid, but a little further from the busy main tourist street. It offers a brand-new pool (opened summer 2023), a sauna, fire pits (both private and community ones), free bikes, a bar, and private access to the Chubb River for some space to wander.
And from what I read on its Booking.com "Travel Sustainable Level 2" rating info, the hotel seems to be avoiding any single-use plastics.
This is one of the first hotels on my "next time" list.
While it's part of a chain (the Trademark Collection, by Wyndham) and I usually avoid those in favor of keeping my money local, this lodge is the only LEED-certified hotel in the Adirondacks. It's doing so many things right that I'd be inclined to give it a chance. It's earned Booking.com's highest sustainability rating (Level 3+). They say it's even "a completely Styrofoam- and plastic-free environment," which I would love to see. That's incredibly hard to find in a hotel.
The property looks beautiful, and is right on the shore of Lake Flower.
It doesn't look too impressive from the road, but this local hotel was entirely renovated in summer of 2023. They have a pool and lots of outdoor games and amenities (a swing set, basketball court, gazebo, plus a grill you can use to make dinner on).
If you want to minimize your driving, they also offer free bikes for guests to borrow, and the Inn is walking distance to The Wild Center (less than a mile) and just down the street from one of the best restaurants in the Adirondacks. (IMO – details on that below.)
If you're driving electric, they have two EV charging stations, and several other sustainability initiatives, including collecting rain water for gardening, and recycling half-used soaps.
(I'm not sure whether they have refillable toiletries or not. But whenever a hotel offers those, I just put them in the corner and use my own plastic-free travel toiletries.)
Related: If you want to do your own research, check out my guide to finding more sustainable hotels!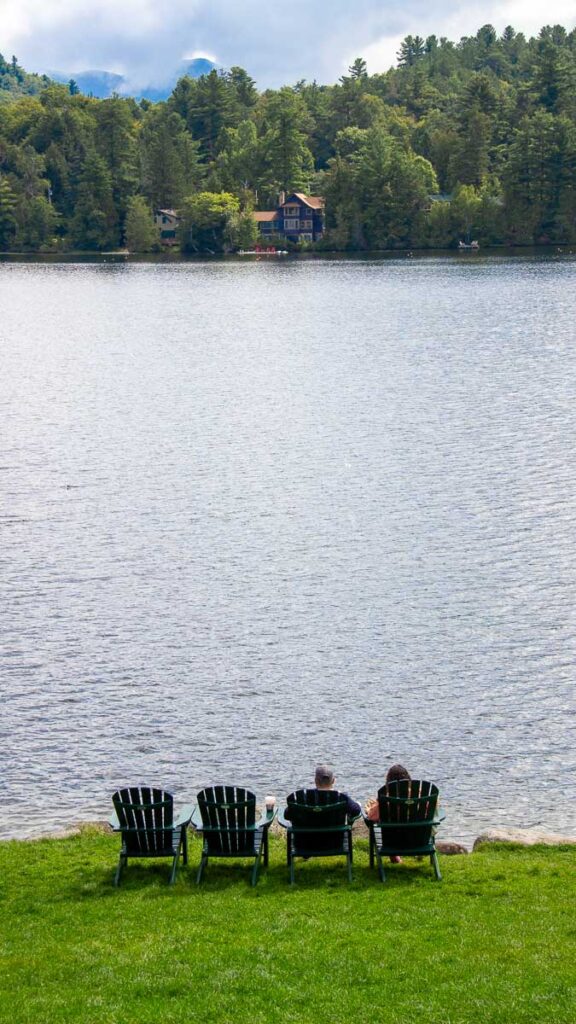 Classic Adirondack chairs & the last blooms of summer (don't miss the butterfly!).
---
Museums in the Adirondacks
The High Peaks area has several historic sites and museums that are worth a stop – and not only when you're wondering what to do on a rainy day in the Adirondacks.
The Wild Center – worth a stop?
Well, in a word, yes! Honestly, I was expecting a small, cute, hometown museum. But The Wild Center felt more like Jurassic Park – at the beginning of the movie. It's a mix of high-tech and totally down-to-earth, with very interactive ways to connect with nature, spread over 115 acres.
If you're spending a weekend in the Adirondacks, this non-profit science museum and nature center is definitely worth a stop. It makes an ideal introduction to the area's ecology, wildlife, indigenous groups – and the climate solutions local people are implementing right now around the region.
You'll come away inspired. (I definitely did.)
They also have unique outdoor and indoor activities. One I'd highly recommend is taking the canoe trip on the oxbow of the Raquette River – with a fantastic guide. (You don't always get good interpretation on tours, but it's clear here that the guides are all experts subjects and very well trained. It definitely makes the canoe trip worth the extra price.)
Inside, they have virtual reality games that let you fly like a bird. There are short documentaries and films to watch. And live rescue animals coming out to say hello in the museum. (We met Reggie the Peregrine Falcone, much closer than most zoos would allow.)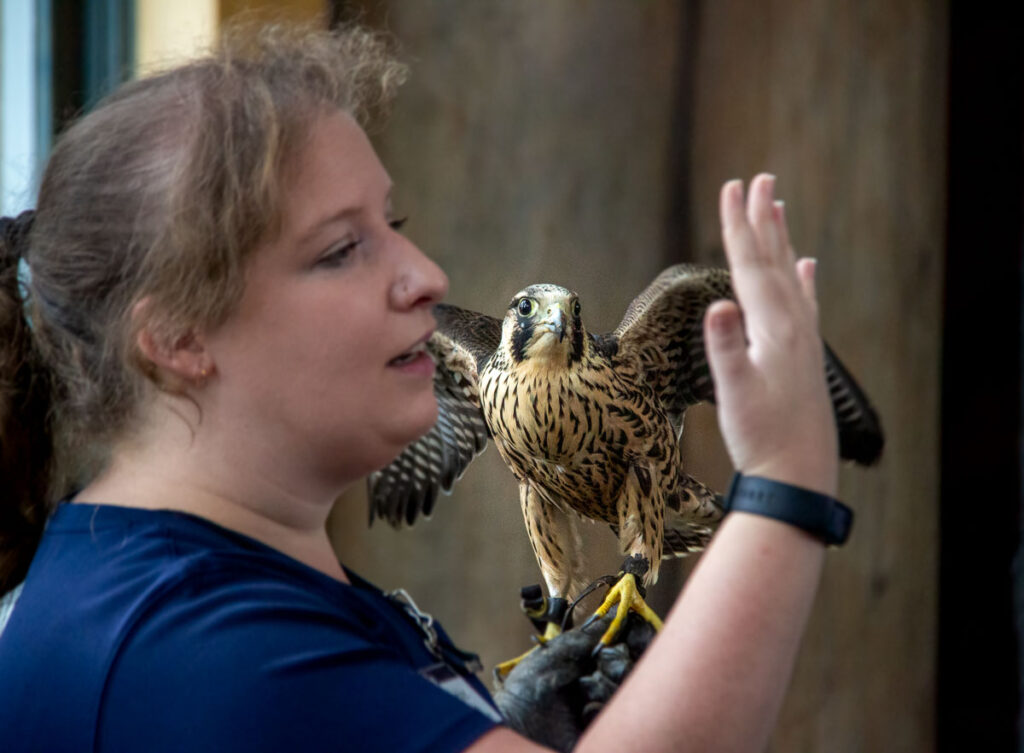 If you're just looking for something unique to do on a rainy day in the Adirondacks, The Wild Center should be at the top of your list.
But it's worth a spot on your weekend itinerary even on a sunny day! After all, you don't have to be inside – the views from the outdoor Wild Walk are outstanding. (And it's full of signs explaining the local ecology and history, if you feel like reading.)
Plus, there's the indescribable experience of a calm walk through the Forest Music exhibit, and an outdoor "stickwork" sculpture by the famous artist Patrick Dougherty.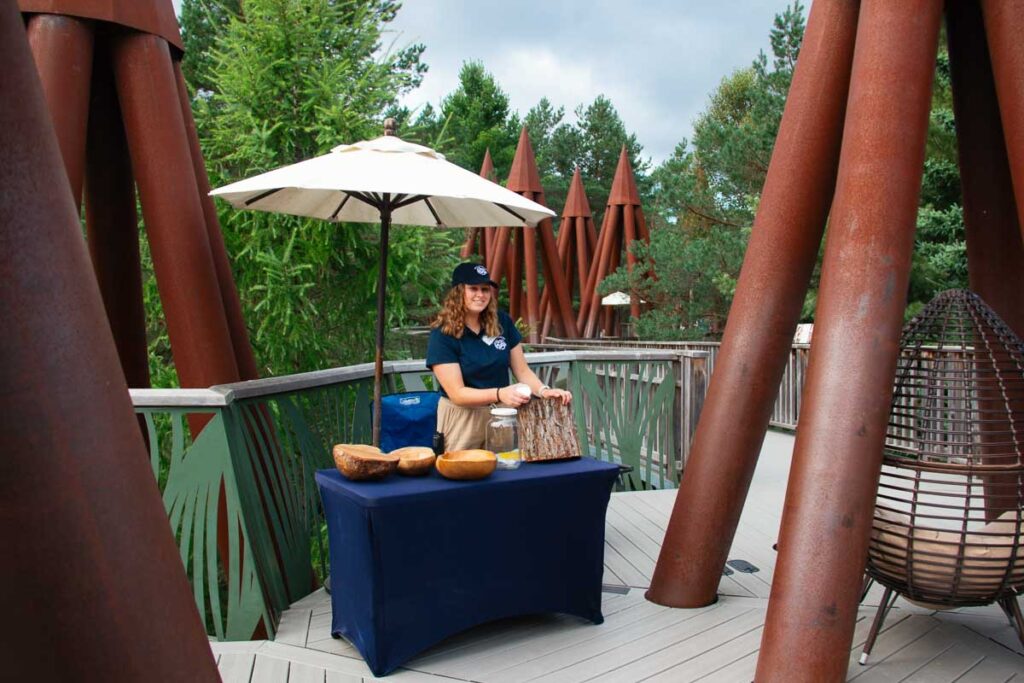 "What's the one thing you want more people to know about The Wild Center?"
That's what I asked Stephanie, The Wild Center's longtime executive director, when I thought she'd shown me just about everything there was to see at The Wild Center.
But we took a turn down a path and she took me to The Pines, an outdoor play area designed to get kids interacting with nature and creating.
"This was the cheapest exhibit we've ever done, and people just love it," Stephanie said. "I see little kids start crying when their parents make them leave."
As I looked around at the kids thoroughly enthralled in the activities – building stick forts and fairy houses, rolling balls through the dirt – I could see what she meant.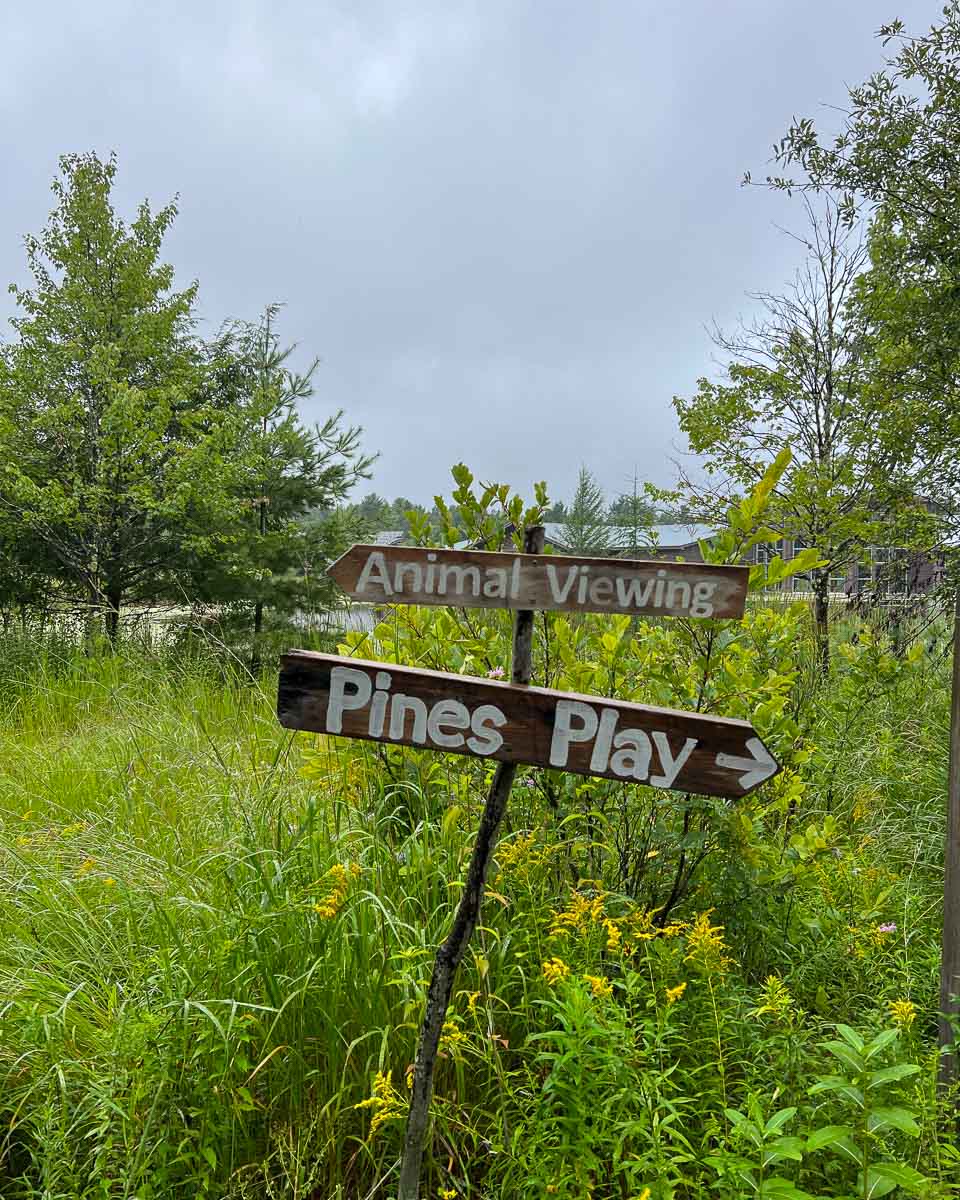 And there's a point to it that goes beyond just keeping the kids entertained.
"What is it that young people need to create that environmental mindset? Lots of research says it's just time outdoors. A couple hours a day, so they'll have their own relationship with nature. Yes, we have The Wild Center, and that's great. But also, just go outside and play with sticks."

Stephanie, Executive director of the wild center
And that's what I loved most about this place. Yes, it's a museum, with lots of really thoughtfully designed, high-tech, modern exhibits to get people thinking about nature and sustainability. But there are lots of entry points. You don't have to enjoy reading signs in a museum to enjoy The Wild Center, and to learn something from it, too.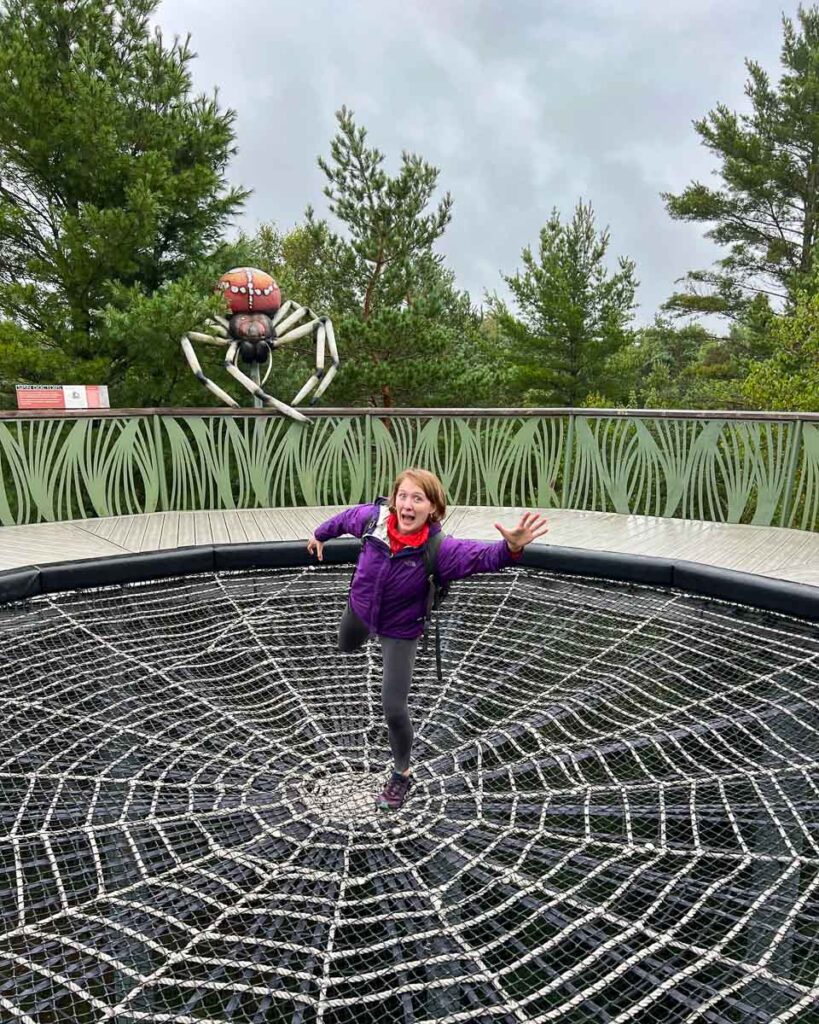 The two kinds of spider webs you can see from the Wild Walk. (All of the credit for that photo of me goes to Stephanie Ratcliffe, the Wild Center's director!)
Okay, but if you do enjoy reading signs in a museum as much I do, the innovative Climate Solutions exhibit might be your favorite room. (But it's not just signs – it's interactive and kid-friendly, too. And really impressively well done.)
It's become the centerpiece of The Wild Center museum, and it's probably the only exhibit I've seen on climate change that left me feeling hopeful, capable and positive, not overwhelmed with doom. I found it really phenomenally well-done.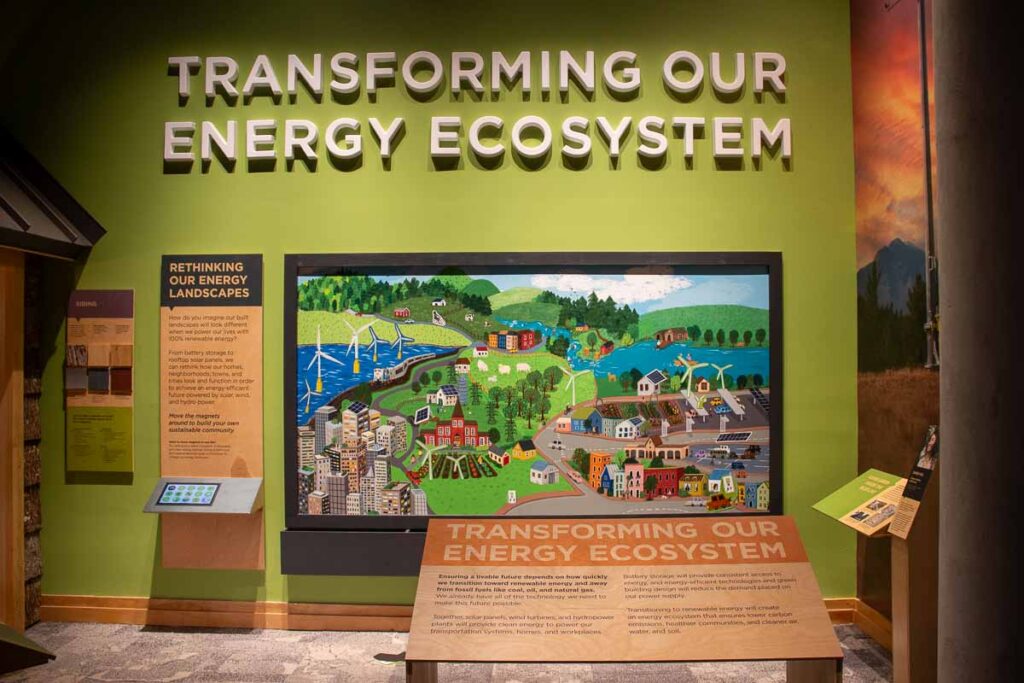 Part of that inspiration comes from the fact that they're not just offering one solution.
There are displays about food (like the local farmers who practice sustainable animal agriculture), energy, indigenous techniques (like seed saving), transportation, media, and lots of inclusivity and ideas that are often ignored when talking about climate – like BIPOC residents getting into nature and owning farm land, and the composting business started by local youth
Extra Credit: The Climate Solutions exhibit was inspired in part by the ideas in Drawdown, a book you can pick up in The Wild Center's gift shop. (Or you can order it here, from one of my recommendation lists on an online shop that supports local bookstores.)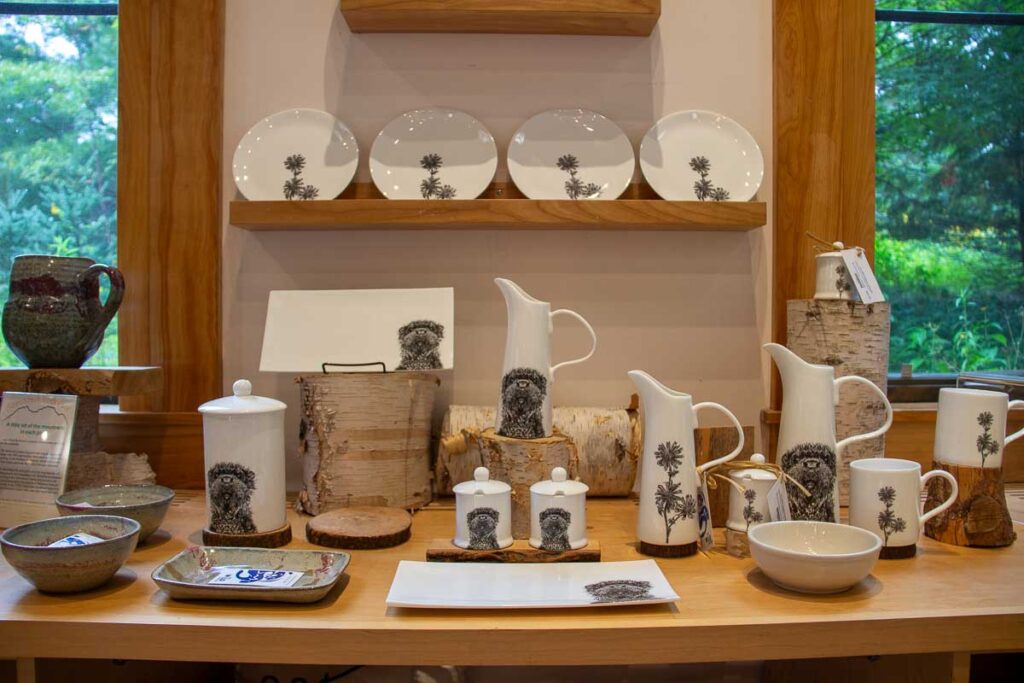 Many of those solutions stories focus on local people in the Adirondacks, which makes it feel so close to home, and truly possible to replicate.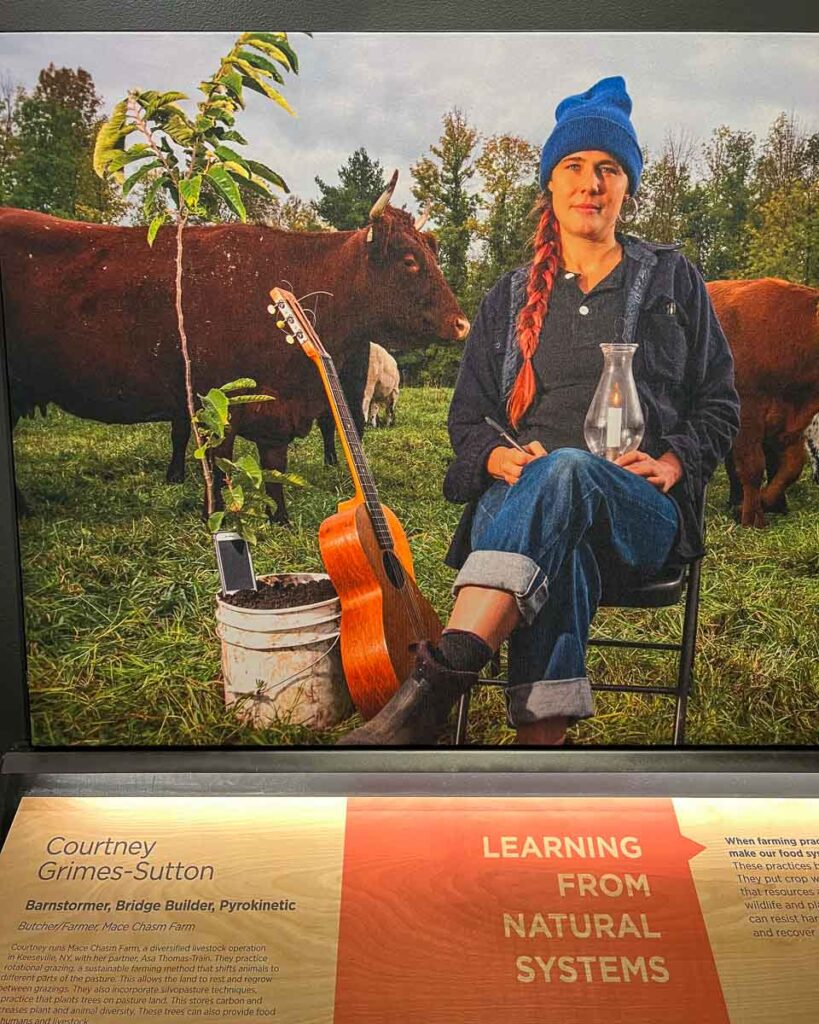 Courtney Grimes-Sutton's sustainable and ethical animal agriculture at Mace Chasm Farms – one of many stories on inspiring climate solutions.
Youth Climate Program
Just a side note here to say that The Wild Center also hosts an internationally recognized Youth Climate Program. It includes a ton of outstanding events and resources, including a local Adirondack Youth Climate Summit. (The next one is coming up on November 8th & 9th, 2023, and it's not too late to register!)
And since 2009, they've helped support the creation of 165 other summits in 25 states and 8 countries. You can see the map of all them here, and The Wild Center's resources for replicating youth climate programs here.
---
Six Nations Iroquois Cultural Center
While she was showing me around The Wild Center, Stephanie strongly encouraged us to make time for a side trip up north, to see this much smaller museum. And I'm so glad she did.
The Six Nations Iroquois Cultural Center is run by Dave Fadden, a local artist who The Wild Center commissioned to bring one of their exhibits into a less white-washed version of the 21st century.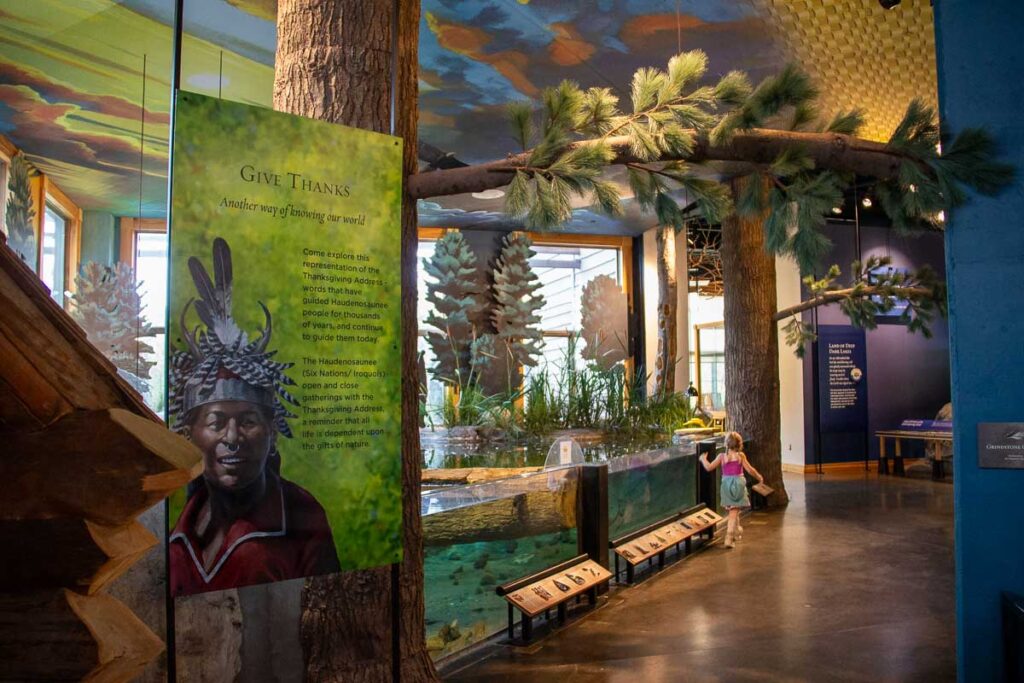 (His art is also on display and for sale in the back of the museum his grandparents started. You can see one of my favorite canvases in my Instagram post about it, here.)
It's a superb place to spend the afternoon browsing the massive collection of Native cultural artifacts, and art, which are densely packed in the tiny museum.
There's also a lot to learn about the contributions of local native leaders to the US constitution.
But Dave hopes it won't be tiny for long. He's working with local organizations to raise funds to build a new, modern museum. The update will still preserve the original building inside, and be entirely off the grid (energy independent) because, Dave said, "that's very reflective of our philosophy toward the earth."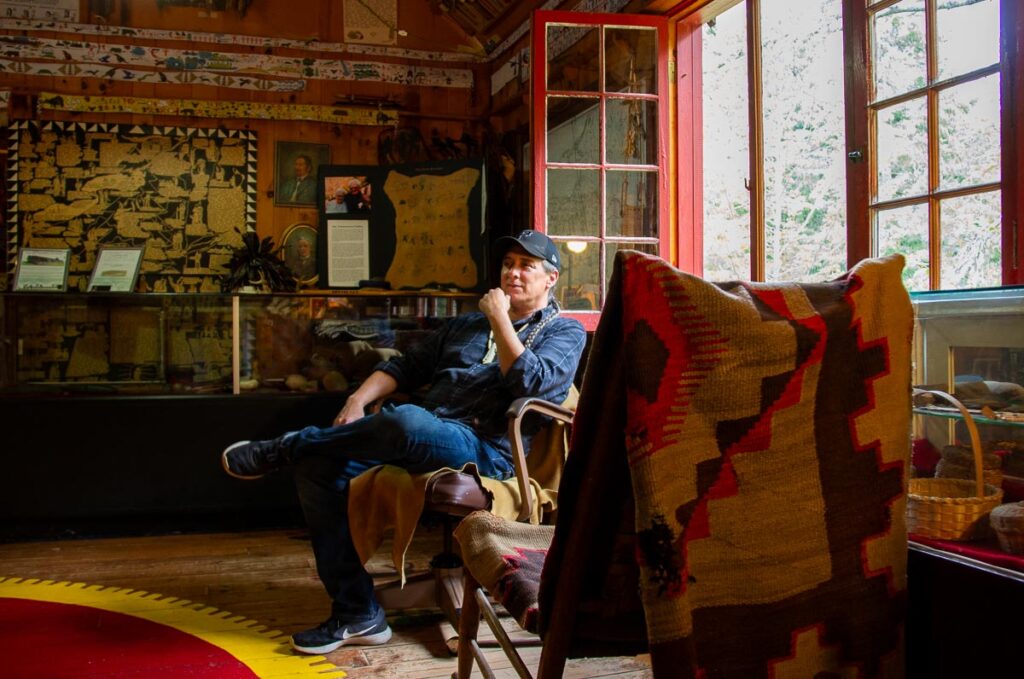 Lake Placid Olympic Museum
To see a totally different part of Adirondack history, the Lake Placid Olympic Museum houses North America's second largest collection of artifacts from the Winter Games. It's right in downtown Lake Placid, and would be another easy activity for a rainy day.
---
Best Restaurants in the Adirondacks
This isn't exactly a region I associated with experimental fine dining, but I have to tell you that I ate two of the best restaurant meals I've had in a long time on this trip.
There are also some other good restaurants I tried that are more casual on this list. Plus a few more recommendations I picked up from locals are in the weekend itinerary section, below.
Farm to Table Restaurants
The Woodshed on Park – small plates & fantastic cocktails in Tupper Lake
This was our first dinner on this trip, and let me tell you, it set the bar high. Woodshed on Park was just opened in May 2023. It's slightly experimental, and an absolutely outstanding restaurant that you should have on your list!
They serve creative small plates, as well as a short menu of larger dishes, all made with local ingredients in creative ways. The cocktails are also outstanding, and the ambiance is sort of a dark, quiet, underground vibe that feels warm and cozy. You can be as casual as you want (the locals definitely are) but it also feels like an exquisite place for a special meal.
The chef, Evan, is a local who built his career in New York City. When he moved home, he took over the restaurant where he used to wash dishes when he was 16, and made it into something totally fresh and new for the Tupper Lake restaurant scene. His wife, Siobahn, is the restaurant manager (after doing the same job at Michelin star restaurants in NYC) so it's definitely a family affair.
One thing to note: If you don't eat meat, there weren't a lot of options on the menu when we visited.
10/10 for the food and ambiance.
The Fiddlehead Bistro – international cuisine & local ingredients in Saranac Lake
I won't try to pick a favorite between Woodshed on Park and The Fiddlehead Bistro. They're both easily among my favorite restaurants in the country.
The Fiddlehead has been in Saranac Lake for half a dozen years, and it feels like an institution. They do farm-to-table dinners fantastically well, with a menu that changes constantly and is satisfactorily short. (Never trust a long menu.) Out of about six main courses on offer, there's always at least one vegan and one vegetarian dish. (And in that respect, it does win out over Woodshed on Park, which had just a couple of meatless small plates at the time we went.)
We ordered the mussels from Maine as an appetizer. I had the locally foraged mushrooms with fresh pasta (the greatest fall meal, if you ask me). Emanuele had pork vindaloo from a local farm. All of them were fantastic and worth going back for.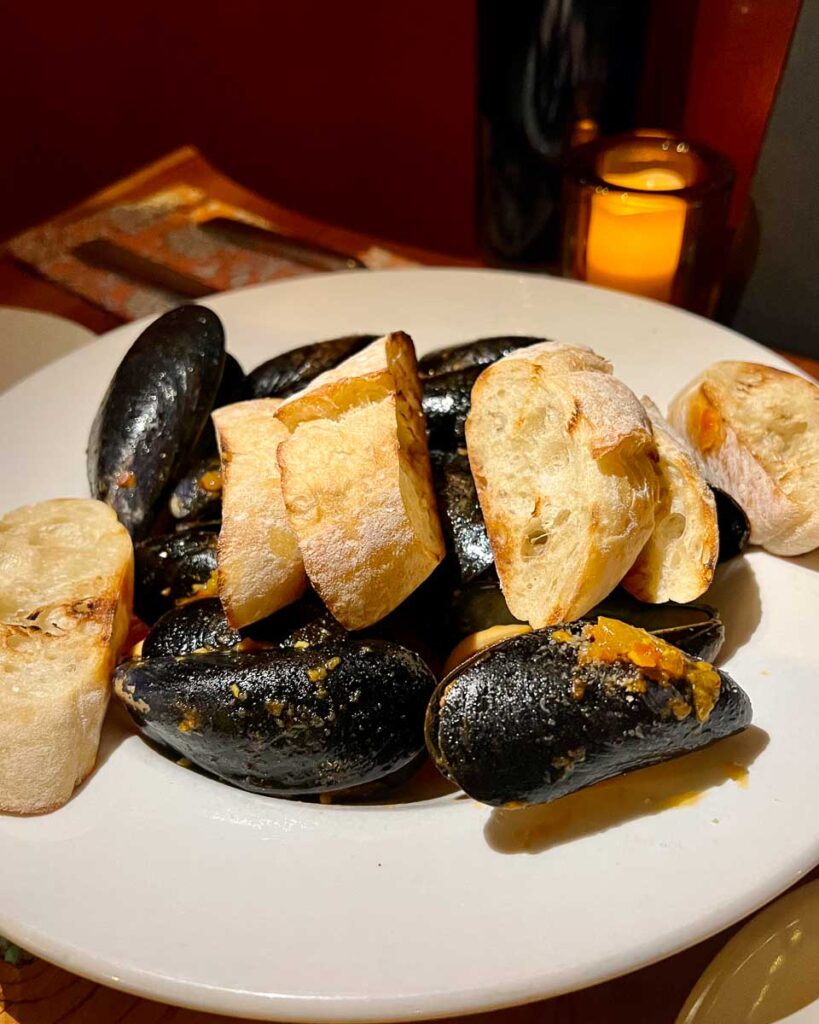 Dinner at the Fiddlehead Bistro – another outstanding restaurant in the Adirondacks that made it worth the trip!
I normally avoid restaurants that call themselves "bar and grill" (I've rarely found remarkable or creative food in them). But this one, inside the Hotel Saranac (a Hilton Curio hotel with a high sustainability rating), comes highly recommended. The chef focuses on local ingredients and the menu does look more interesting than an average bar & grill.
I'll be sure to give it a try next time, and I'll update this when I do.
Quick Breakfast & Lunch Spots with local foods
The Donut Shoppe – cash only & worth it in Tupper Lake
I will confidently call these the best donuts in New York. Yes, I know that's a bold claim, but I stand by it.
Along with craft beer and Italian food, donuts are one of the foods I'm the strictest critic of. (I'm a former donut shop barista, and let's just say I know what I'm looking for, and I hardly ever find it. Most donuts are terrible these days.)
But this place. This place would be worth a stop, even if it were just for the intensely memorable small-town kitsch of a donut shop inside a laundromat (The Washboard) on the main drag. I mean, where do you find something like that in 2023?
The donuts are not the kind designed for Instagram (absurdly oversized, with photogenic, brightly colored toppings). They're small, hand-made, and topped in front of you when you order.
(I just can't quite recommend the coffee. It's old-school diner coffee, or what Italians call "that dirty water you drink in America.")
Origin Coffee Co. – The best coffee in Lake Placid & Saranac Lake
Considering what a foodie destination the Adirondacks turned out to be, I was surprised to find very few top-notch coffee shops. One that was outstanding was Origin Coffee Co., a local "chain" (of two shops) that's excellent for a light breakfast.
They also had reusable "for here" cups – I just had to request them when ordering. (This is surprisingly hard to find, and I always ask, even if I brought my own cup. It's the "making ripples" part of my lazy guide to sustainable travel.)
Along with the obvious sustainability factor, real cups are also a sign of a serious coffee shop – they know that disposable cups change the flavor of good coffee.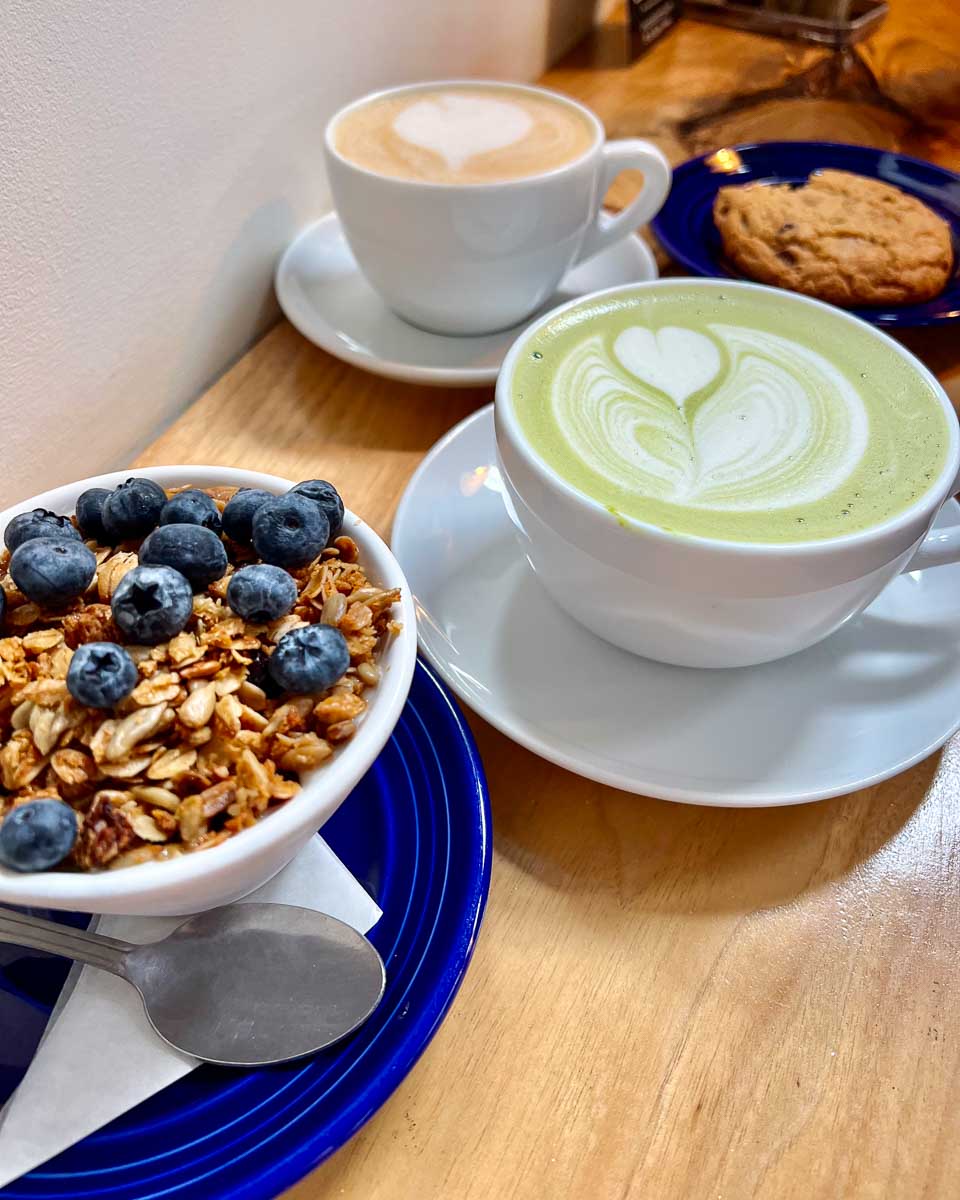 Riverside Cafe at Nori's Village Market – breakfast & lunch in Saranac Lake
It's a bit grandiose to call this either "farm to table" or a café, but Nori's is a top place to pick up lunch to take along on the trail. It's an organic grocery store with a sizable section of freshly prepared foods – sandwiches, salads, hot soups, smoothies and espresso. The grocery store also has bulk items, so you can bring your own containers.
Dishes include lots of vegan and vegetarian options, as well as meat. I just wished they offered more plastic-free packaging options in the prepared section, or an option to have prepared items put straight in your own containers by the kitchen staff. (I asked, they said no.)
The ADK Food Hub – local groceries & Sunday brunch in Tupper Lake
The food hub is a local grocery store and growing community resource that aims to improve access to healthy, local foods for everyone from restaurants to low-income residents. And it's another great spot to pick up a sack lunch for a day of exploring the Adirondacks.
They also offer a Farm House Breakfast on Sundays. (Unfortunately, we thought it was every day and tried to go on a Saturday, so we didn't get a chance to try it. But stopping by gave me a chance for a vibe check: If you're a fan of fancy, boozey brunches, I get the feeling this won't be that. It feels very local, rustic, and not too polished.)
Local Breweries in the Adirondacks
Hex & Hop – brewery / meadery & the spot with most local vibe in Bloomingdale, NY (near Saranac Lake)
This small, intimate brewery made me want to never leave the Adirondacks. The night we were there, a local "cosmic country" band was playing (The Midnight Stargazers – check 'em out) and the vibe was that of a community gathering place where everybody likes each other.
About five minutes after we walked in the door, the lead singer of the band asked if there were "any out of towners in the house tonight?" It was clearly directed at us, but in the most welcoming way possible. We raised our hands and introduced ourselves, and people raised their glasses to us. (Even though we said we were from the big city of Boston! I feel like we would have made even more friends with the longer truth – Montana and Italy.)
The entire brewery is powered by renewable energy from Northern Power & Light, a locally-owned hydropower producer. After chatting with the bartender about it, I started noticing their sticker on the doors of a few other local businesses in the Adirondacks.
Oh, and the beer is fantastic. We brought home eight cans, plus a quart of their local honey. They also serve food, but it's pretty limited. (Think: hot dogs and pretzels.)
This brewery has a full restaurant, and it's definitely more interesting than your average brew pub food. There were a surprising number of vegan and vegetarian options, too – including vegan poutine!
They source many ingredients locally, and I have to say it was better than I expected. Still not knock-your-socks off amazing, like the farm to table restaurants I mentioned above, but very good. (And I'm just very picky.)
The vibe was also much more casual and fun – after all it's a brewery with good food, not a fancy restaurant.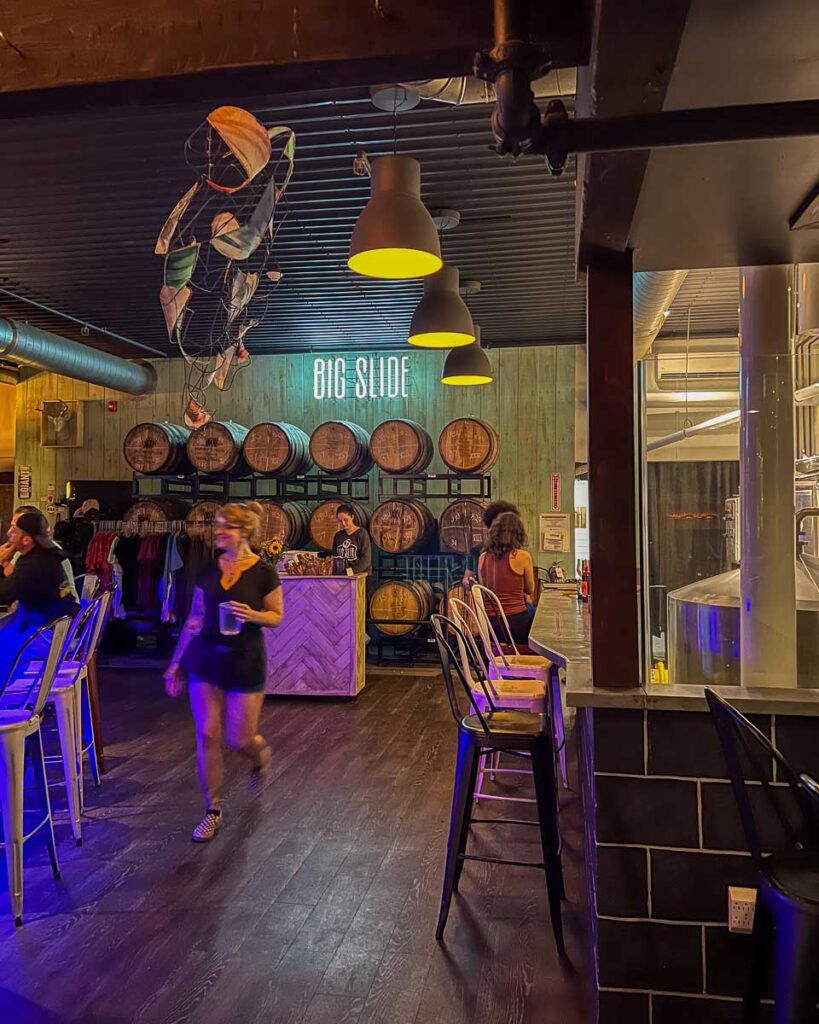 A cozy bar space & wall art honoring the farm-to-table suppliers at Big Slide Brewery.
Raquette River Brewing – lots of space & food trucks in Tupper Lake
This would have taken the award for best local vibe if we hadn't seen Hex & Hop. Raquette River Brewing is another top pick for local beers, with a long tap list (they had 16 beers when we visited). Plus, several food trucks parked outside could make it a full dinner destination.
While Hex & Hop was small and intimate, Raquette River was huge and bustling with families and the after-work crowd. It was a fun, casual vibe – the kind of place where where the beer is fantastic and no one cares what you're wearing.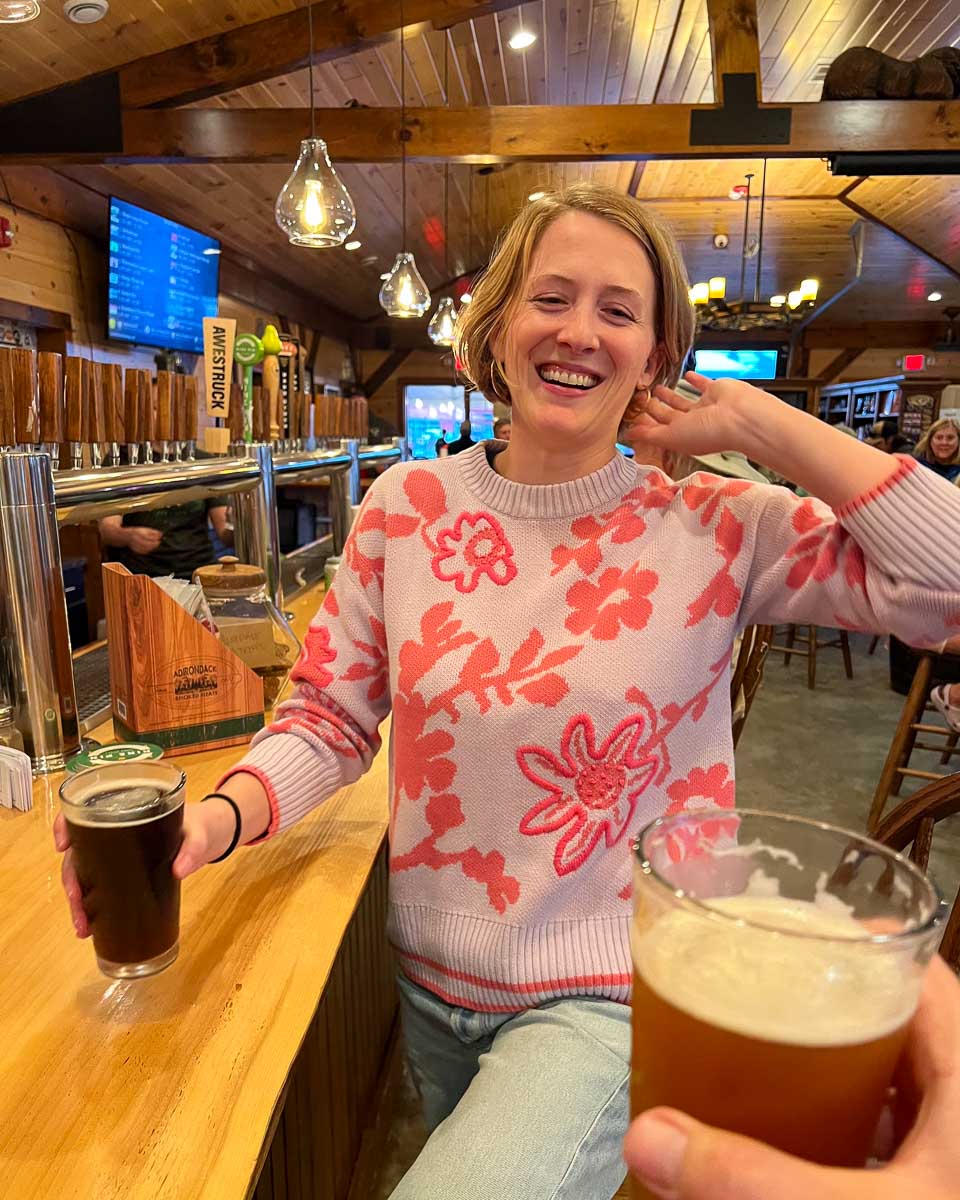 ---
Mountain Views & More
Just about everyone I met told me that some of the best views in the Adirondacks are to be seen from the top of Whiteface Mountain, which is the only of the High Peaks that can be driven up. (You can hike it, too!)
Some locals in a brewery also told me that, to avoid the crowds, you really need to start driving up the mountain by 8:30 am, because by 10 it's often grid-locked (at least in the busier summer season).
Easy hikes in the Adirondacks
Having grown up in the Rocky Mountains, near Glacier National Park, I always thought of hiking as an all-day, summit-or-bust kind of activity. But the Adirondacks give an unbeatable range of options, including lots of easy and moderate hikes.
We were there for a pretty rainy weekend in late August, so we didn't get too much trail time in. One area we did check out was Heaven Hill Trails, near Lake Placid. It's a multi-use, dog-friendly trail system for hiking, biking or walking.
There are multiple loops that are each less than two miles, with wide trails and beautiful views. We spent a morning biking there, until we got thoroughly rained out.
Tip: For hiking in any new destination, I like to use the All Trails app. It shows reviews and difficulty rating for hikes around the world, as well as directions to the trail heads (which can be tough to find in areas without good cell service – and the Adirondacks definitely fit that category). The paid version of the app also shows a 3D map of trails, so you can visualize how aggressive the elevation change is.
---
3 Days in the Adirondacks: A Long Weekend Getaway Itinerary
You can easily play with the order of the three full days in this Adirondack itinerary. I've just laid out the best restaurants and activities I recommend in a way that lets you avoid extra driving. (This also make the itinerary as bike-friendly as possible, if that's in the cards for your trip!)
Details on all of these stops are above – this is just the itinerary notes!
I also highly recommend checking the weather and mixing up your schedule based on that! There are both indoor and activities for all days, in all of the towns mentioned.
And the final day works best if you're heading home toward NYC, Boston, or elsewhere in New England. (Of course, you can flip the order around if you're visiting from Rochester, or another destination to the West.)
Here's the map again, and below are my recommendations for the best itinerary to connect the points.
Day 1: Around Lake Placid
Note: All of the ideas for this Lake Placid itinerary are a bikeable distance from town, and most of the hotels I've recommended above offer bikes for guests to use. (But be sure to double check availability when you book.) The hiking area – Heaven Hill – is the furthest, and it's only 4 miles from the Golden Arrow or other downtown Lake Placid hotels, if that's where you're staying.
Start with a light breakfast at Origin Coffee Co.
If the weather's looking clear, get an early start to drive up Whiteface Mountain for a view of the whole area (details above). Or you can hike it! I'll be back to do one or the other, but we got rained out this trip.
If it's not such a clear day, start with a short hike or bike ride nearby at Heaven Hill Trails. (The trails are all loops under a couple of miles, dog friendly, and fairly easy.)
More Indoor Options
If you're a history buff, check out the John Brown Farm State Historic Site, home of the famous abolitionist. (Admission is free.)
Alternatively, you could visit the Olympic Ski Jumping Complex. A gondola and glass-walled elevator take you to the top of the jump for the view. They also have a zipline, and if you're there at the right time, you can even watch the athletes practice.
Or just take in some Olympic history at the Lake Placid Olympic Museum.
Logistics: Museum admission costs $15 for adults (less for teens and kids under 6 are free). It's open all year, every day except Thanksgiving and Christmas.
For lunch, go to Big Slide Brewery & Public House. (It's on the same side of town as all of the activities above, except Whiteface Mountain.)
Fill your afternoon with whatever you didn't have time for in the morning, or go explore Mirror Lake. There's also a street full of shops to peruse in downtown Lake Placid. (I saw a mix of very fancy and very kitschy there. But for local artisan souvenir shopping, I'd recommend both the gift shop at The Wild Center, and the Keene farmer's market, described in the Day 4 Itinerary, below.)
And if you're staying at the Golden Arrow Resort, you can spend the afternoon taking advantage of your private beach and lake toys!
For dinner, a short walk through downtown Lake Placid will have you at The Interlaken Inn & Restaurant (which was recommended by several locals and is on my list of Adirondack restaurants to try next time).
Or, if you're staying at The Eastwind, you're right across the street from Lisa G's, another local restaurant that comes highly recommended. (For something much more casual.)
Day 2: Around Tupper Lake
This is just too easy: Start your day with my favorite donuts at The Donut Shoppe in downtown Tupper Lake. Then head for The Wild Center. (It's only 2 miles if you want to walk or bike, and it would be easy to avoid highways.)
If you want to do The Wild Center's canoe trip on the Raquette River oxbow – which I highly recommend if you're visiting in the summer! – make sure to book it in advance. It leaves right after lunch time, and it's an ideal way to break up a museum day. (Although The Wild Center already has lots of innovative ways to do that, with the Wild Walk, and tons of ways for kids or adults to enjoy nature.)
If you're at all interested in nature or sustainability (and since you're reading Tilted Map, I think that's a given) it would be easy to spend an entire day at the Wild Center. (We spent a day and a half, and I still could have spent more.)
Logistics: Admission to The Wild Center is $23 for adults, $13 for youth, and free for kids under 4. They're open Fridays through Sundays in the low-season, and most of the week during the summer.
Some of the activities to check out at The Wild Center:
They show several short documentaries in their theater that I didn't even have time for.
Wild Walk – an elevated platform through the forest that's so much fun to explore.
There are chances to see rare animals up close throughout the day. (Like Reggie, who we met, above.)
Forest Music – a very unique experience that's not to be missed – and a chance for some calm and quiet.
The Pines ­– the playground that all kids should have, where nature and simplicity take center stage.
Hopscotch – a stickwork sculpture that's gorgeous to look at, and a fun place for kids to play.
Birdly – a virtual reality game that's not included in the entrance ticket (it's $6 each ride) and would be superb for kids and teens (and adults).
For lunch, there's a cafeteria on site. We ate there and it was a decent fast lunch. The short menu included a couple of vegetarian options.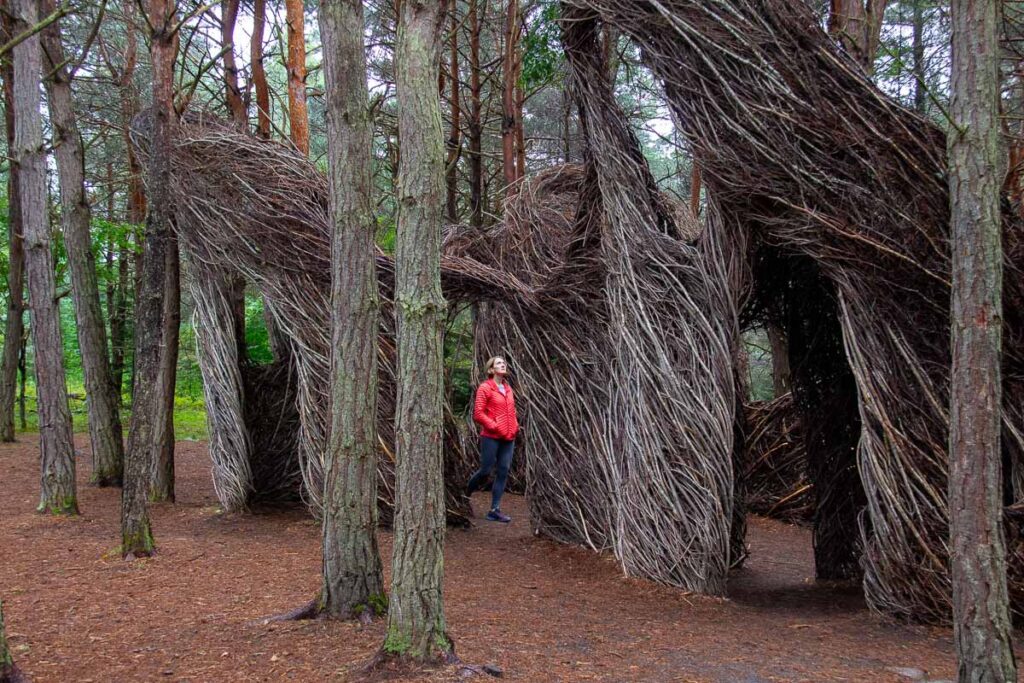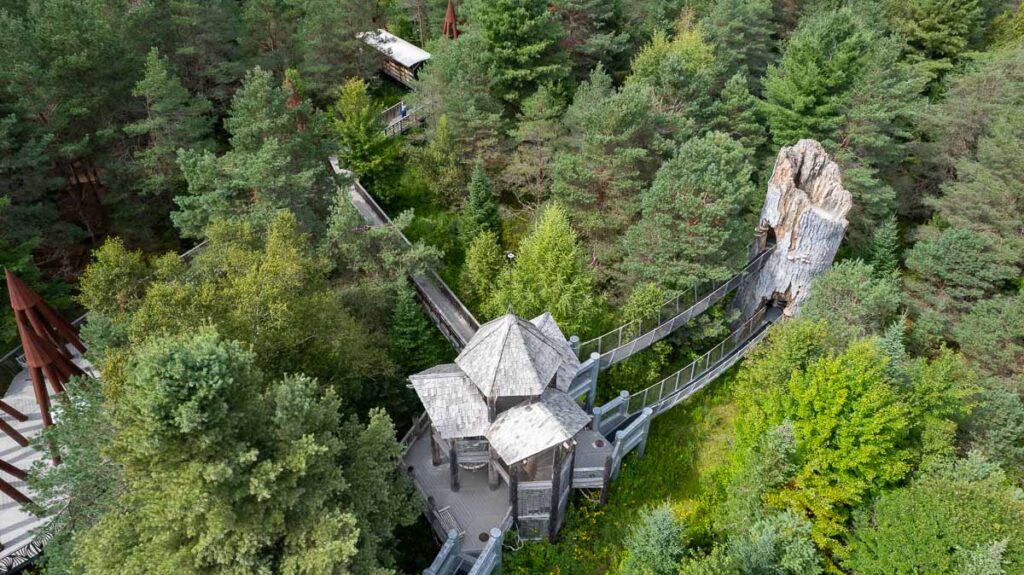 Whenever you're feeling done for the day, I'd recommend a pre-dinner drink at Raquette River Brewing. (It's four miles from The Wild Center, or a 25-minute bike ride. But if you're staying at Shaheen's Adirondack Inn, you could drop off your bikes and take the car, too.)
And if you want a casual dinner, the food trucks outside the brewery are temping – but I can't recommend passing on an opportunity to eat at one of the best restaurants in the Adirondacks. That would be Tupper Lake's own Woodshed on Park. (And if you're looking for a phenomenal cocktail, this is place to have it.)
Day 3: Around Saranac Lake
You could start with breakfast in Saranac Lake at the other Origin Coffee Co. (it's a chain of two coffeeshops). Or for something different, I heard lots of good things about Jamdots Baking Co. (They also do lunch, so keep that in mind for later.)
Check the weather, then decide if you'll spend either the morning or afternoon hiking, biking, or canoeing in the area. (If you need to pack a sack lunch, there's Jamdots or Nori's Village Market nearby.)
After lunch, head for the Six Nations Iroquois Cultural Center in Onchiota, about 15 miles north of Saranac Lake.
Logistics: Admission is only $5, and the museum is open seasonally – mostly in July and August, with some open days in June and into the fall. Be sure to check before you go!
This would also be a totally bikeable day drip from Saranac Lake!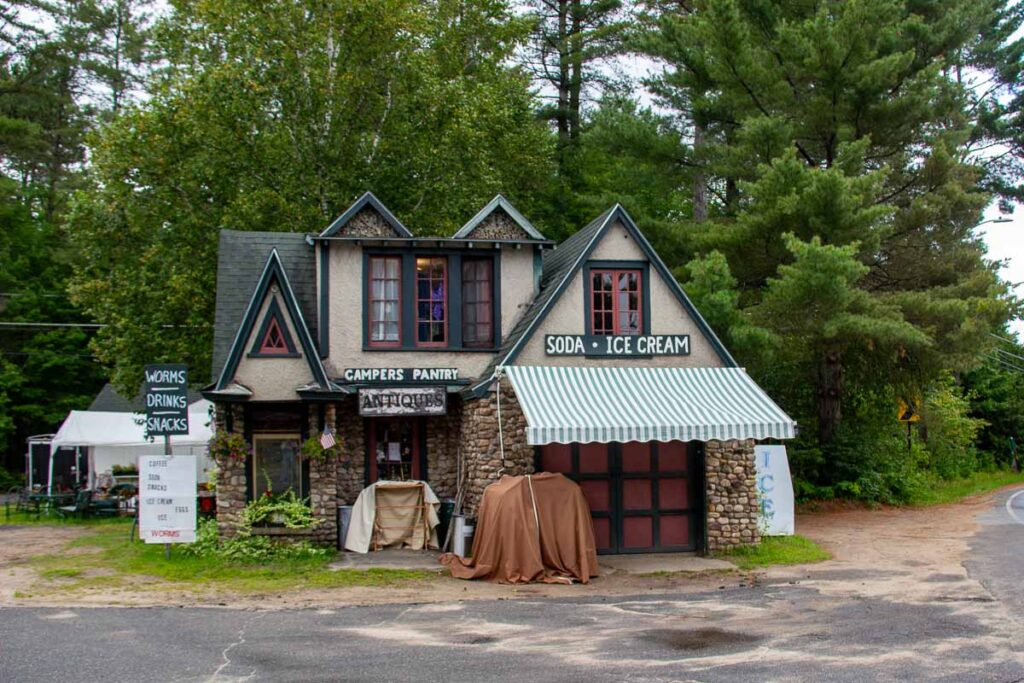 And after the museum, nothing makes a good bike ride even better like a stop at a fantastic local brewery. Hex & Hop (my favorite brewery in the area, remember) is perfectly situated half-way between the Cultural Center and Saranac Lake (aka dinner).
And, oh yes, dinner. The clear choice tonight in Saranac Lake is the The Fiddlehead Bistro. And if you're staying at the Saranac Waterfront Lodge, you're just a nice 20-minute walk from bed.
Day 4: Home from the Adirondacks through Keene, NY (or continuing your trip…)
If you're hitting the road to head home through Vermont, or south toward the New York City area, you'll be driving through Keene, New York. (Not to be confused with Keene, New Hampshire, of Jumanji ~ fame. Any other 90s kids out there?)
And there are some good stops to be had in Keene! If you're there on a summer Sunday, the Keene Valley Farmers' Market is a wonderful place to not only stock up on organic groceries for the week, but maybe take home a souvenir, too. It's a huge market, with lots of artisans selling jewelry, hand-made kitchen tools, hand-woven wool accessories and more.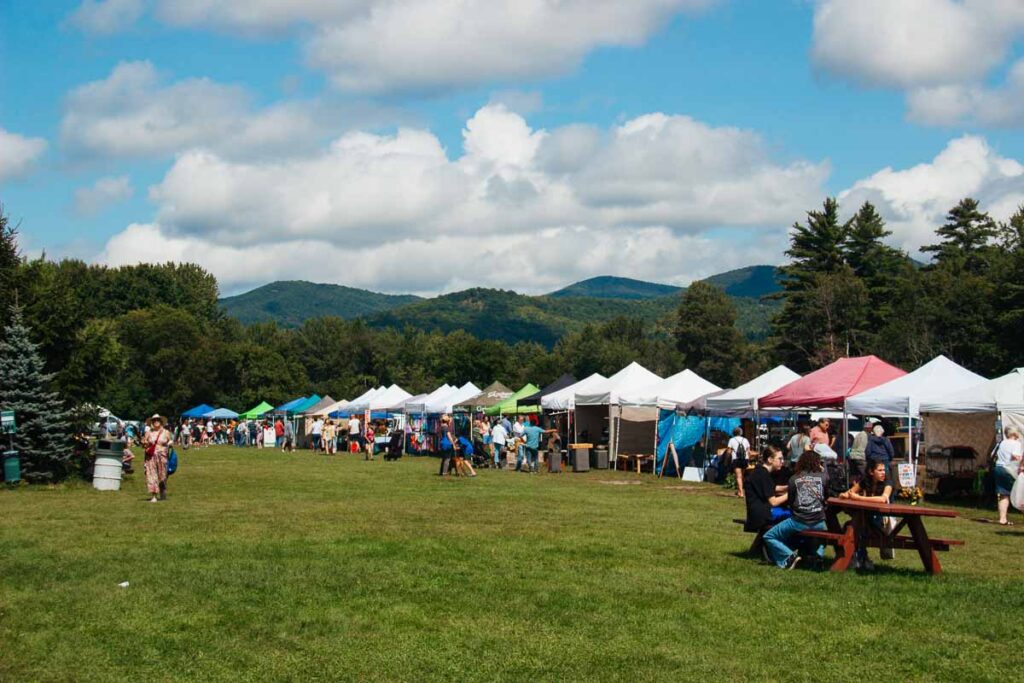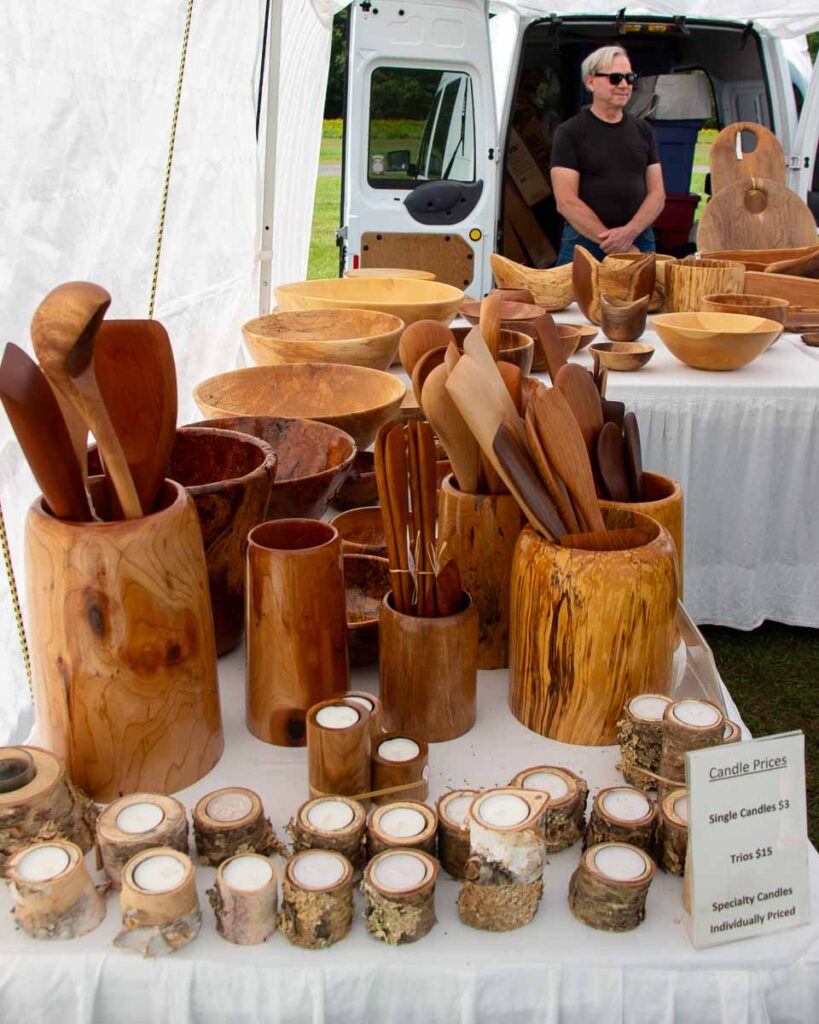 And one of the stands at the farmers' market was a name I recognized – Mace Chasm Farm, the sustainable farm that I'd read about on the wall at The Wild Center. I got talking to Asa, the co-owner of Mace Chasm Farm, and he told me they're running a small farm stay on their property, near the shore of Lake Champlain. (That was all it took to get me thinking about my next trip!)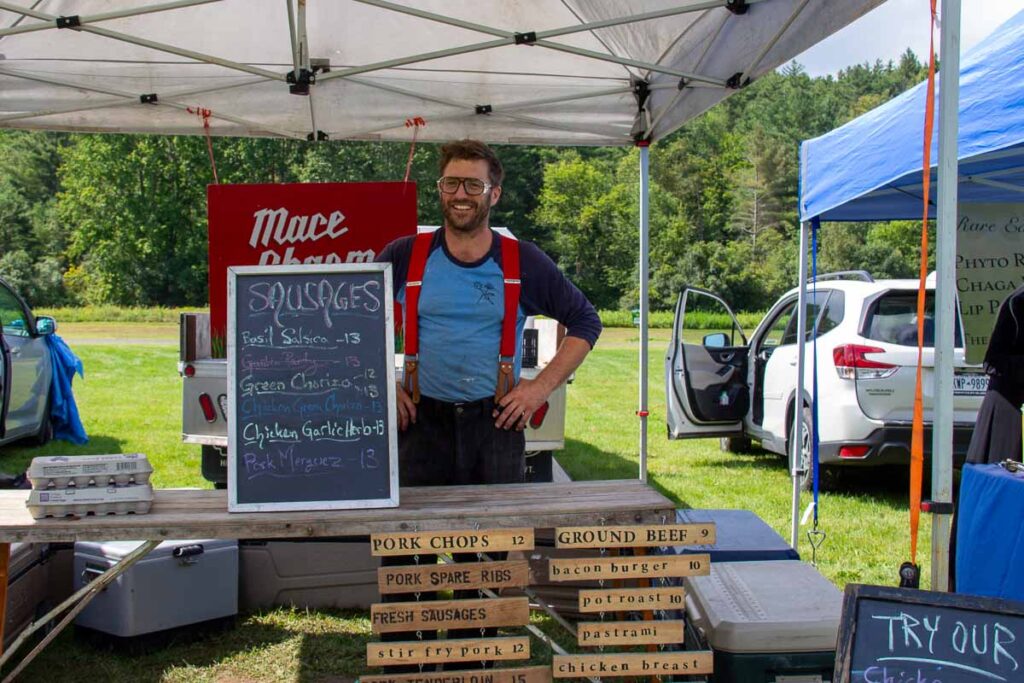 At the end of this gorgeous weekend getaway in the Adirondacks, it felt so fitting to come full circle.
We started at The Wild Center, and we left town buying our groceries for the week from some of the locals who inspired it to exist. It made me realize not only how integrated into the community The Wild Center is, but how it's really a reflection of the culture of environmental awareness and love of nature that already runs so deep in the Adirondacks.
I'm already planning my visit!
I hope you found this weekend itinerary useful! If you have any questions about visiting the Adirondacks, getting there without a car, or the many sustainable travel options in the area, leave them below in the comments. I'm happy to help however I can.
---