These are the best hotel booking platforms where you can find ethical, eco-friendly, sustainable hotels (and other accommodations, including hostels and homestays).
This post contains affiliate links; see my privacy policy for details.
I founded Tilted Map (this blog!) on the idea that we can make any kind of travel more sustainable. It doesn't have to involve an eco-lodge in the rainforest. And this guide to finding sustainable hotels is a cornerstone of that philosophy.
Whether you're on a business trip, backpacking on a budget, or planning a family reunion, the innovative websites on this list can help you find better, more sustainable places to stay – from hostels, homestays and vacation rentals, to hotels, resorts and villas.
The truth is, it's not easy to find sustainable accommodations. If anyone tells you otherwise, they're oversimplifying.
All of the search platforms on this list use different criteria, and rank hotels based on different factors. A certain hotel may be labeled as sustainable on one site and not on another. And it really is hard to know what you're actually getting. But the point is, they're all a step in the right direction, and I've broken down the differences in this guide.
You've definitely heard of some of these before – hello, Booking.com – but further down the list are some options that are a little further off the radar. Famous or not, each one has something unique to offer in helping you book more sustainable stays for any kind of trip.
What to look for in sustainable hotels?
Before worrying about sustainability certifications, the first piece of advice I give is to avoid chain hotels whenever possible. Look for locally-owned hotels, instead.
(Local ownership means, at the very least, more money stays in the community your visiting, and management likely has some interest in preserving the local environment.)
But of course, finding local hotels is easier said than done if you're on a business trip in a big city in the US, for example. So these websites help you find hotels that are at least doing some things better than the rest when it comes to sustainability.
I've personally used most of these platforms in my own travels, so I know the pros and cons of each. Below, I'll walk you through what they're each best for, and how to use them on your next trip.
---
Booking.com + "Travel Sustainable" Filter
It may be basic, but it works: Booking.com has a new sustainable travel filter that is one of the easiest ways to find sustainable hotels.
They first introduced the filter in late 2021, and have since added three distinct levels, plus recognition for hotels that have third-party sustainability certifications. (But currently, as of March, 2023, those levels aren't available for most regions.)
If you're like me, Booking.com is your go-to for hotel search anyway, so now all you have to do is check the box for "Travel Sustainable properties."
Even without applying the filter, you'll see the Travel Sustainable notation on the main results page of Booking.com. This is what it looks like:

And when you click on a hotel or other property, you'll see it noted at the top of the listing:
While this sustainability filter isn't as exclusive as some of the other options on this list, it lets you sort through the myriad results on Booking.com to find hotels that are at least doing better than the rest.
Many of the results are big hotel chains – but not all of them!
I found one of my new favorite sustainable hotels through this filter. (The SLEEP'N Atocha in Madrid, which is Spain's first Certified B Corp hotel. It's a beautiful boutique hotel that's also carbon-neutral, and in a perfect location in central Madrid. Highly recommended!)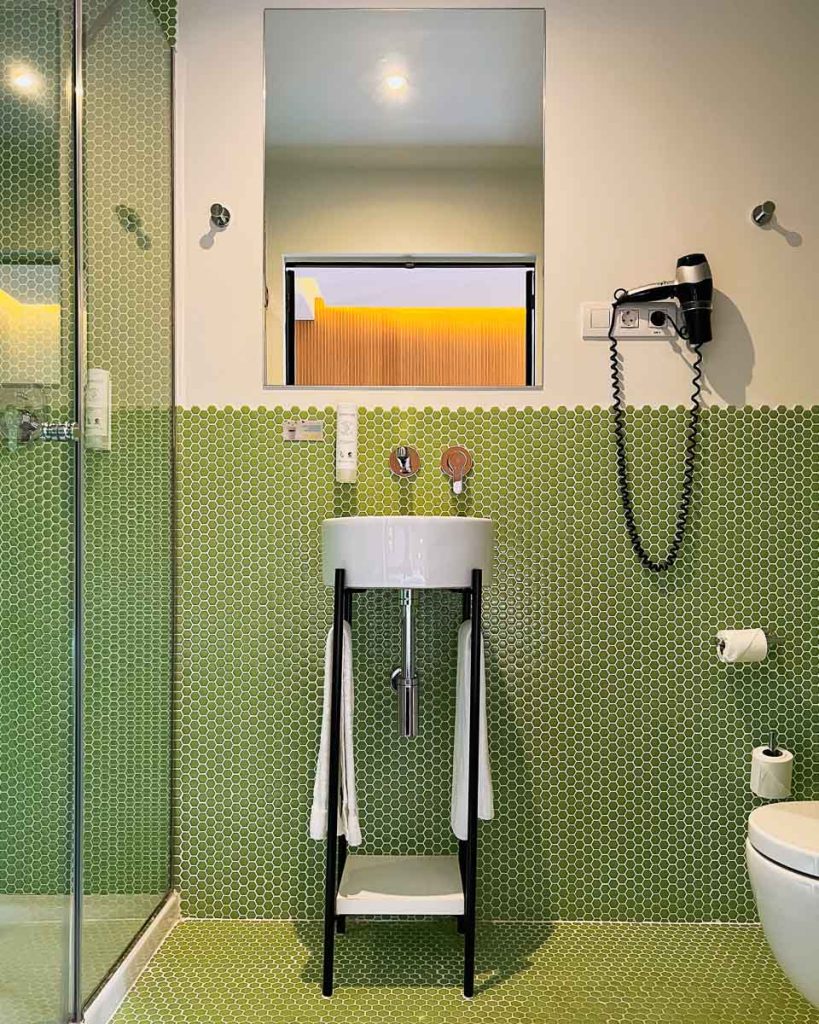 A few shots from when I stayed at Spain's first Certified B Corp hotel! (Which I found through Booking.com's sustainable hotels filter.)
How do hotels get on Booking's "Travel Sustainable" list?
Whenever I stay at a one of Booking's smaller Travel Sustainable properties, I ask the hotel owners about it. Here's what I've learned about how it works:
Booking.com contacts properties and asks them about a laundry list of different sustainability factors, then the properties send in photos and documentation to prove what they're doing to reduce their environmental impact.
These sustainability improvements can include a lot of different actions. For example:
avoiding single-use plastics (refillable shampoos instead of plastic minis, for example),
reducing food waste (by asking guests to request what they want for breakfast instead of putting out a buffet for example),
using renewable energy to power the property,
offering charging stations for electric vehicles,
offering local artists a place to display their work, and hiring local guides for tours,
and lots more!
So the filter doesn't mean the same thing for all properties, but it means they're at least doing something that's ahead of the curve.
Here's how to see a specific hotel's sustainability actions:
On each accommodation listing, beneath the "Availability" section (the list of room types you can book), is a section called Travel Sustainable Property. Click "Read More" and you'll see a list of sustainability certifications and accomplishments for that hotel.
Related: For more on how to travel more sustainably, check out my Lazy Guide to More Sustainable Travel.
---
Agoda + Sustainable Hotels Filter (for Asia only)
I have mixed feelings about Agoda. Frankly, the internet is full of terrible stories about their customer service when something goes wrong with a booking. And I find their website very annoying – lots of distractions, ads, and spammy flags pressuring you to book. (Almost every listing has a bright red notice saying "MEGA SALE," "ONLY 1 LEFT," or "78% OFF TODAY." Blarg.)
However, they do now have a "Travel Sustainable Property" filter, and for years they've been the best search platform for hotels in Asia.
I used Agoda a lot when I lived in China and was traveling around Asia, because it often finds more results there than other hotel booking websites.
The phrasing for their sustainable hotels filter is exactly the same as on Booking.com because the two companies have the same corporate owner. (It even uses the same icon and gives the same sustainability information about each hotel as Booking. That's one good note.)
So, while I wouldn't recommend it normally, if you're looking for sustainable hotels in Asia and don't find enough on Booking or the other options below, Agoda is worth a shot.
---
Oliver's Travels + Sustainable Villa Collection Filter
Oliver's Travels is a London-based accommodation booking platform that specializes in villas in Europe – and they have a strong set of sustainability practices and filters.
Not all of the villas on Oliver's Travels are sustainability-focused, but they have a "Sustainable Villas Collection" that currently includes 198 eco-friendly vacation rental villas, mostly in Western Europe. (The furthest East are in Greece, Crete and Turkey.)
To narrow down your search even more, Oliver's Travels has really useful, specific filters. (For example, there isn't just one "pool" filter. You can choose indoor pool, saltwater pool, heated pool, and more.) Just click Advanced Search > More Filters. (My favorite combination: Sustainable Travel Collection + Wow Factor + Great Deal. There are some real gems in there.)
I asked them about their sustainability project and this is what they told me, via email:
With the help of a sustainability expert, we are currently auditing our entire portfolio – right from air conditioning and electricity usage to waste management systems and recycling rates. We are also analysing the size of the property, its most popular season and the national energy suppliers' fuel mix.

Oliver's Travels
They plan to use the analysis to move toward offering more lower-emission properties, and become part of the Science Based Targets initiative.
Furthermore, they're working with Tree-Nation to offset 110% of carbon emissions from all bookings. As I've already written about, carbon offsets aren't always the best option (emissions reductions are much more important), so I wouldn't be impressed if that were the end of the conversation.
But all in all, this is a lot more than I hear from most platforms when I reach out with sustainability questions. So I'm excited to see what Oliver's Travels does next to be more sustainable, because they seem to be on the right path!
[Related: Plum Guide (another very selective vacation rental platform featured in my Airbnb Alternatives post) also has a list of eco-friendly accommodations – but it's not public. So I worked with them to get access and created a document with all of their sustainable rentals! The list is available for free to Tilted Map subscribers – just subscribe to my email list, and I'll instantly send you a link to it.]
---
Kind Traveler – Hotels that support local charities
Kind Traveler is focused on sustainable boutique hotels. It's a woman-owned, California start-up that makes donations to local charities every time you book those sustainable hotels. And in exchange, you can get special discounts and perks at those hotels.
However… I've certainly found examples where the boutique hotels on Kind Traveler cost less on Booking.com. (Although it's hard to compare the Kind Traveler perks – you never know what the hotel gives to everyone, and what's a true benefit of using their platform.)
In that case, you could definitely make a case for just donating to charity on your own – but of course, the idea behind Kind Traveler is that most people don't.
Kind Traveler just makes it automatic so the donations actually happen. And they have good taste in curating sustainable boutique hotels.
The site has a wide range of prices but still, if you're on a budget, this isn't the first stop I'd recommend.
The hotels listed on Kind Traveler already have sustainability initiatives and connections with local charities they work with, but you if you want, you can choose which organization your donation goes to.
Right now, Kind Traveler has a pretty small selection of properties. They started out mostly in the US (with a strong focus on sustainable hotels in California), as well as Mexico, Central America and the Caribbean, the Maldives, and Switzerland. And so far in 2023, they've expanded to a few destinations around Asia, Southern Africa, and the Middle East.
The founder, Jessica Blotter, says the offering will keep growing.
The Carneros Resort & Spa in Napa Valley – a classic Kind Traveler destination. It's also one of the few Kind Traveler properties I've stayed in, and really was a fantastic hotel. (And I definitely had a media discount for this one.)
Booking.com vs. Kind Traveler:
Here's a price comparison, using The Carneros Resort & Spa as an example. As far as I can tell, the price on Kind Traveler simply lumps your required $10 donation into "Taxes & Resort Fees."
(The same room on the same night costs $10 less on Booking.com. As for the perks you can supposedly get – late check-out, welcome drinks, room upgrades, etc. – it's tough to verify what is actually from booking with Kind Traveler, and what you would have gotten anyway.)
You can also increase your donation on Kind Traveler with the arrows. (And not all hotels on Kind Traveler are this upscale.) So is it an earth-shattering way to make hotels more sustainable, or get secret travel perks? No, not really. But that's not really its goal, either. The point is to get travelers to donate to local charities.
And if nothing else, Kind Traveler is an easy, effective way to make sure you remember to donate to local charities in your travels.
Until I can prove otherwise, I would just say you have to love it or leave for what it is.
Side Note: Interestingly enough, Carneros isn't yet listed as a Travel Sustainable property on Booking.com. That just shows that none of these filters are perfect; they're just tools for us to evaluate. (I stayed there because it was recommended by local contact who works in sustainability in Napa's wine industry. She said it was one of the most ecologically run properties in the area.)
---
Launched in April 2020, Copenhagen-based EcoHotels.com is a quickly growing network of hotels that all have sustainability certifications accredited by the GSTC (Global Sustainable Tourism Council).
They have a wider range of of properties than other eco-friendly accommodation platforms (in terms of both geography and price).
They're also a small business themselves. And compared with other hotel booking sites, EcoHotels.com takes a lower commission, meaning their prices can be lower for travelers, and more revenue stays with the local hotels.
Most of the hotels listed so far are chain brands – especially in the US, where chain hotels are much harder to avoid, in general. But in Europe you'll find a lot more small, independent hotels on EcoHotels.com.
And they plant a tree for each booking – which I wouldn't normally be very impressed with, but I mean the EcoHotels.com team physically plants each tree locally. (As I wrote in my article about carbon offsets, that means there's accountability, and you know it's really happening.)
---
FairBnB – AirBnb with Local Equity
Mostly available in Europe, FairBnB is a vacation rental co-op that gives half of its booking fees to social and ecological projects in the host destination. (When you make your booking, you can decide which project you'd like to support.)
They also create ground rules with each local community, which can include limiting rentals to one per owner (to avoid contributing to housing shortages, which rental platforms like Airbnb are infamous for).
Related: Check out my post about the best alternatives to AirBnb. (Community-based, budget travel or luxury travel, there are some great options for everyone there, along with tips on how to find sustainable accommodations on all of them.)
---
Book "experiences" and stays at a curated list of about 50 upscale resorts around the world. The Regenerative Travel team hand-selects these independent hotels for their dedication to the highest standards of environmental and social impact. The properties are continually re-evaluated for improvement.
Many of these are "destination properties," and often substantial pieces of protected land. That means once you arrive, you don't really need to leave, because there are abundant activities on-site.
(But the properties are far from your average all-inclusive resort. They're community-minded, with local sourcing, and regenerative environmental practices that make them places I'd be proud to spend a vacation.)
And that in itself is a great way to make your trip more sustainable – limiting the transportation you'll take and staying in one place longer! Giving locals an economic incentive to keep lands protected is also a huge benefit to this system.
---
Okay, Book Different isn't necessarily bad, it's just not all that different.
Just because a hotel is listed on Book Different, does not necessarily mean it has any sustainability credentials. That's why it's not my favorite option.
Here's how it works: Just as Tilted Map is a Booking.com affiliate, so is Book Different. That means that when I put a link to a hotel on Booking.com and you, dear reader, reserve any hotel room through that link, I earn a commission. (Booking pays me part of their commission. The total hotel bill you pay does not go up, and the amount the hotel pays to Booking.com doesn't change.) That's exactly how Book Different works, as well.
Any hotel that's on Booking.com is also on Book Different – they just add a layer of sustainability information, by indicating which hotels have received various certifications. (Including many GSTC-recognized certifications, and some smaller local ones that aren't accredited.)
Is this a bad thing? No, I just think it's vastly oversold as a "sustainable hotel booking" option. And that may be why this platform seems to be on a hiatus, especially now that Booking.com is providing essentially the same sustainability info in its searches.
---
I hope you find these websites useful while searching for more sustainable hotels! If you have questions – or other sites to suggest – just leave them in the comments below! 🙂
This page includes some affiliate links. These recommendations for carefully chosen companies and products let me earn a commission if you decide to buy anything through them – at no additional cost to you! For more info, please see my Privacy Policy. Thank you for your support!