This post contains affiliate links; see my privacy policy for details.
This is a curated list of what I think are the most interesting alternatives to AirBnb and CouchSurfing. These vacation rental booking platforms all offer something special. A few examples:
Premium vacation rentals (Plum Guide and Oliver's Travels), AirBnb amenities + hotel convenience (Sonder), travel communities (HerHouse and Wanderful and MisterB&B), a way to rent someone's RV (RV Share), sleep under the stars (HipCamp), or an affordable place to stay in a local's home (Homestay). Read on for even more!
Traveling with Airbnb used to mean something pretty different from what it's come to mean today. When it was founded in 2008, AirBnb was about staying in local people's homes, helping them make a little extra cash, and having some level of cultural exchange at the same time. It was pretty close to what Couchsurfing was, but it wasn't free.
Flash forward to 2022, and AirBnb is just another platform for renting vacation homes. And the only difference between staying in an AirBnb and staying in a hotel is that you'll have a kitchen instead of continental breakfast downstairs, and there won't be a front desk on-site.
So in researching these Airbnb alternatives, I wanted to include some options that bring back that original meaning of Airbnb – which was an edgy alternative to traditional hotels.
That's why I've split this list into three categories of travel booking platforms:
The ones for booking traditional vacation rental homes,
for booking literal homestays where you spend time with your host, to bring back that old-school, almost-Couchsurfing AirBnb vibe, and
the more alternative AirBnb alternatives for booking outdoor travel experiences – like treehouses, campsites on farms, or renting people's unused RVs.
After AirBnb surged in popularity, new competitors launched around the world. Many of those have since been bought up and consolidated by Expedia, TripAdvisor and other big travel brands.
(If you want to hear the story of AirBnb, this episode of one of my favorite podcasts tells the whole thing.)
But some travel platforms have stayed independent, and distinguished themselves by offering something unique, and that's how I chose most of the AirBnb alternatives for this post.
A few are basic, but most of these are the vacation rental sites that are doing something a little different – whether that's a high level of curation, sustainability initiatives, or a focus on building a travel community or on helping travelers get outdoors.
---
Airbnb Alternatives for Vacation Rentals
1. Plum Guide: High-End, Curated Airbnb Alternative
Plum Guide calls itself "the Michelin Guide for holiday homes." They accept only about 3% of homes that apply to be on the platform, so exclusive and high-end are the name of the game. (And they have "Home Critics" who actually visit each property in person before it can be approved.)
They definitely don't lean toward cheap vacation rentals, but some are surprisingly affordable, and they're all uniquely beautiful. A few examples:
And I really like that when Plum Guide gives you a price, the rate includes everything. There's no additional cleaning fee, service fee, or taxes like with AirBnb (and pretty much every other platform).
Despite the selectivity, Plum Guide has a lot of properties to choose from, with vacation rental homes in Europe and the UK, the Middle East, the US, Mexico and the Caribbean. Just like with AirBnb, it depends on the property whether your point of contact with be a local owner, or a management company.
It's good to note that most properties have a minimum stay of anywhere from 3 nights to a week – but these are definitely places you'll want to stay for more than just one night, anyway.
[Related: See my post about eco-friendly villas around Europe that are surprisingly affordable!]
---
2. Oliver's Travels: Villa-sized Vacation Rentals + an Eco-friendly Filter
Similar to Plum Guide in terms of their strict quality requirements, Oliver's Travels specializes in villas in Europe – or what I would call family-reunion-sized vacation rentals. (They also have properties in South Africa, Southeast Asia, Florida, Mexico, and the Caribbean.)
This vacation rental platform also has some of the best sustainability initiatives I've seen in the travel industry.
They offer an extensive selection of sustainable villas. And they just launched a new Slow Travel Package, which includes help planning more sustainable transportation to the villas, and local event tickets, like cooking classes and festivals.
They're also working to become the first villa-specific travel company in the world with net-zero carbon emissions, and are a member of Tourism Declares A Climate Emergency (as is Tilted Map!).
(Related: For more on what makes Oliver's Travels a sustainable option, stay tuned for an article about how to find more eco-friendly hotels and accommodations – coming soon!)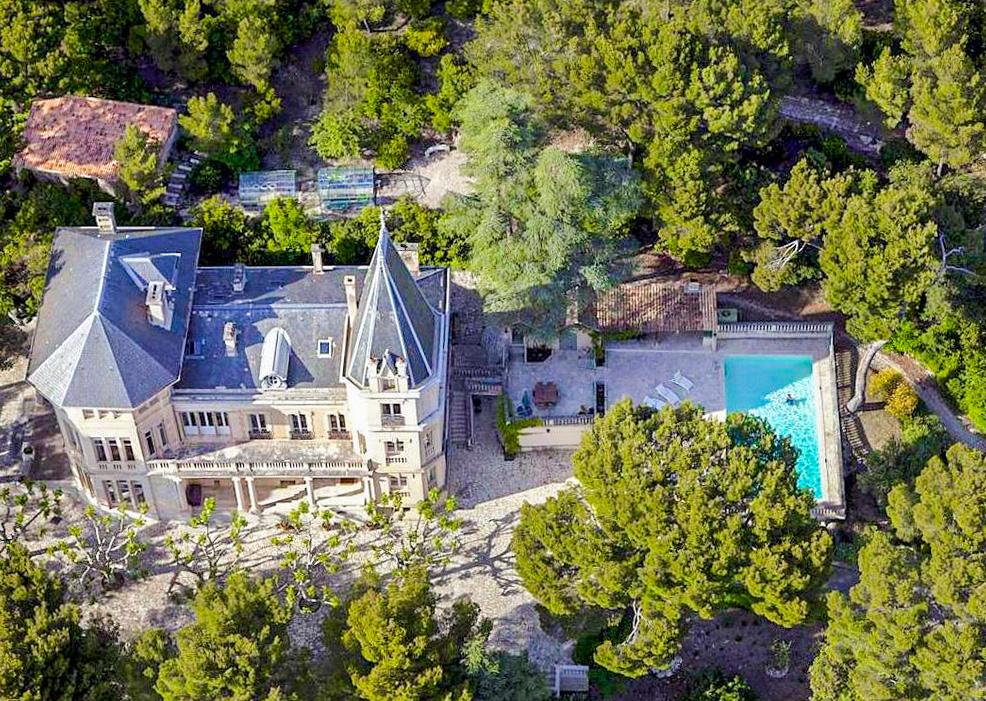 ---
3. VacayMyWay: Vacation rentals (especially for family beach trips)
VacayMyWay is heavy on the vacation side of rental homes, with a lot of family-friendly features and destinations.
Most of their properties are in the US – with a focus on vacation rental homes near beaches in Texas and Florida, for example. They also have a few international rentals in vacation destinations like Costa Rica and the Dominican Republic.
One of the reasons I think VacayMyWay is family-friendly is that they let you filter for lots of specific amenities – from sustainability basics like EV charging and recycling (duh), to a piano, a TV with streaming services, to fine China, a high chair, a gated property, or laundry detergent.
(For that last one, I always take my own plastic-free detergent strips when I'm staying in a vacation rental. They're super packable, and using them means I don't encourage anyone else, AKA the rental host, to buy plastic jugs.)
And I really like that every property lists very clearly what will be in the home, but also what won't be in the home. (Things like drinking glasses or a mop, for example, so you know what you'll need to bring and can plan ahead.)
However, while they call their rentals "fee free," VacayMyWay's nightly rates don't include cleaning fees or taxes. (Plum Guide is the only platform I've found that really simplifies this and incorporates all the fees into one price.)
Still, VacayMyWay does often have better rates than AirBnb and other competitors.
---
4. Sonder: Stylish, nomad-friendly furnished apartments
Sonder is literally a mash-up of a hotel chain with AirBnb. (They call it, "hotel amenities without hotel formality.")
They're a single company that manages vacation rental properties around the world. So unlike Airbnb, you can expect the same service and modern-hip design aesthetic at every Sonder location.
(For now, they're pretty small, with just a few properties available, mostly in major cities in the US, and a few international hubs – like Paris, London, Rome, and Mexico City.)
You could also think of Sonder like the Booking.com of short-term apartment rentals. You click on an apartment building and then choose a one- or two-bedroom, for example.
Another difference between Sonder and AirBnb is that Sonder prides itself on offering fast Wi-Fi, professional cleaning, and contactless check-in at all properties. (Which you may or may not find with AirBnb's or Plum Guide properties, but you often don't know until you check in.)
Because of those features, Sonder makes sense for digital nomads, business travelers, and others seeking high-end furnished apartments to rent for a few weeks to a few months.
(And if you become a member, they offer significant discounts for weeks or monthly stays.)
---
5. VRBO: The "Basic" AirBnb Competitor
VRBO isn't so much an alternative to AirBnb as AirBnb is an alternative to VRBO. Vacation Rentals By Owner has been around since 1995.
Despite being the oldest player on the market (as far as I can tell), VRBO is gaining popularity now, after Expedia bought it, rolled it up with other vacation rental brands like HomeAway and VacationsRentals, and consolidated them all under the VRBO name. (Meaning they have a pretty huge inventory to choose from.)
VRBO isn't upscale like Plum Guide, or techy like Sonder. Of all these competitors, VRBO is probably the most similar to AirBnb.
One major difference between AirBnb and VRBO (if you're looking for a cheap place to stay) is that VRBO doesn't offer the "shared room" or "private room" options that AirBnb does. All VRBOs are entire homes or apartments for rent, not shared spaces.
Otherwise, the features of VRBO are pretty much identical to AirBnb – except for one thing that I really like, below:
Tip for Finding Affordable Rentals:
VRBO lets you filter for properties with weekly, monthly, or "new listing" discounts.
I've found some of my favorite affordable-yet-awesome AirBnbs by digging for properties that cost less than they should because they were new to the platform. So I love that VRBO provides filters to make it easy to search for exactly those deals!
---
6. Booking.com: Lots of AirBnb-style Properties + an Eco-friendly Filter
Finally, Booking.com might not be what you normally think of for vacation home rentals, but a lot of AirBnb listings are cross-listed on Booking.com. They even have a specific search page just for vacation apartments.
So if you prefer the layout or search features of Booking.com (as I do), you can use it to find apartments, too, and skip AirBnb. After you make a basic search from the Booking.com homepage, just look through the filters on the left hand side, and check the box "Apartments" or "Entire Homes & Apartments."
Booking.com also has a new sustainable travel filter that I really appreciate. It's just like the apartment filter – all you have to do is check the box for "Travel Sustainable properties."
(Coming Soon: Stay tuned for another post with more info on Booking.com's sustainability feature, what it means, how to use it, and more ways to find sustainable hotels!)
---
7. MisterB&B: Gay-Friendly Travel & Vacation Rentals
MisterB&B's slogan is "experience a more welcoming world." They aim to improve the travel experience for LGBTQ+ travelers, by removing what I imagine is a constant stress of wondering whether you'll be treated badly by an Airbnb host just for showing up as who you are.
And I think the platform is a real leader in demonstrating ethics in the travel industry. They do lots of outreach work to fight discrimination, and have helped find free accommodations for LGBTQ refugees, including people fleeing from the invasion of Ukraine.
The booking platform offers everything from Airbnb-style vacation rentals (from private rooms, to apartments, to villas), to queer-friendly hotels and resorts. (Including some clothing-optional ones.)
It's now the largest LGBTQ travel community in the world, with 1 million listings in 200 countries.
They also have a gay travel and social networking app called Weere, to help travelers connect to local LGBTQ communities, whether traveling or at home.
---
Homestay-style Airbnb & Couchsurfing Alternatives
From a sustainability and ethics perspective, the whole reason people advocate avoiding AirBnb is to get back the way AirBnb used to run: When AirBnb hosts were just people renting out spare rooms in their own homes, not companies buying up investment properties and driving up the price of rent in gentrifying neighborhoods that appeal to tourists. (This has been extremely well documented for at least a decade in cities from Barcelona to New Orleans and beyond. That Barcelona link is an excellent long-read from the New Yorker.)
To that end, luckily, there are now several platforms that make great Airbnb alternatives, many with an ethical perspective, where people really do just rent out extra space in their homes. These all feel a lot closer to Couchsurfing than to a modern AirBnb experience.
(I've used Couchsurfing all around the world, and written advice for how to do it safely. And that same advice definitely applied here for any of these platforms.)
---
8. Homestay.com: Affordable, no fuss local homestays
One cheap alternative to Airbnb that I've used as a traveler in Spain is Homestay.com.
With Homestay, you'll likely end up living with a local and it can be a good cultural exchange. Since you pay for each Homestay.com booking (but not for a membership), it's somewhere between Couchsurfing and a shared-space option on AirBnb.
Most of the listings are nothing fancy, but they're genuinely budget-friendly, which AirBnb definitely isn't anymore. (I mean, where else can you find a private room in NYC for less than $50 a night?)
One thing to be aware of: Homestay bookings are usually paid in cash, directly to the host when you arrive. The website is fairly easy to use, with a search map and price filters, just like on AirBnb.
To see if there are Homestay hosts where you're traveling, you can search below:
---
9. FairBnb: The AirBnb alternative with a social mission
The FairBnb platform is all about sharing the benefits of tourism among local communities. It does this by donating half of travelers' booking fees to local community groups or charities in the destination.
So far, FairBnb is only available in Europe, with the strongest presence in Italy, Spain and Belgium.
But I love their model and hope to see it grow! If you're interested, you can help bring FairBnb to your region. Or, if you live in an area that already has FairBnb, you can sign up as a host on a platform that provides an ethical and sustainable alternative to AirBnb.
---
10. HerHouse: Homestays for women (with women hosts)
HerHouse is a new, award-winning app and travel platform that lets women set up free homestays with other women around the world.
And as a new bonus, HerHouse membership also includes unlimited housesitting and house-swapping options. (For a few more housesitting options, check out my Guide To Moving Abroad.)
The website just launched in late 2021, and so far, HerHouse already has members and hosts in 40 countries around the world.
And HerHouse does something really unique: They host two monthly video chats (which are totally optional, of course) that give you have the chance to ask the founder questions, and also virtually meet and get to know other members and potential hosts (or just new travel buddies).
For peace of mind, HerHouse members are encouraged to get a free background-check, and you can easily see whether a member has completed her background check yet. (They're free because HerHouse foots the bill for them.)
How much do homestays cost?
HerHouse membership isn't free but each homestay is free. I love that – it feels like the part that I used to love about Couchsurfing is preserved, because you know everyone is participating to make real connections and be active in the community, not just make a profit.
It's also free to set up a profile, and free to host. You'll just need to buy a HerHouse membership when you want to start requesting homestays.
Exclusive
HerHouse Membership Note:
HerHouse normally opens for new members only every few months, but as an ambassador, I can get you in any time through the special link below, and save you 10% on your membership with the code TILTEDMAP10 !
Discount:: Save 10% on your membership with the code TILTEDMAP10 !
Become a Member & Save 10%
HerHouse membership rates (UPDATE):
HerHouse reduced their membership rates significantly in March, 2023. If you only plan to host, membership is free. If you want to host and also travel, it's $97 yearly. For traveling only, the price is now $145 a year – minus 10% with the code TILTEDMAP10. (Way down from $57 per month, or $229 per year.)
They also have a new 30-day refund policy, in case you reach out to hosts and don't have any luck.
---
11. Wanderful: Homestays & an inclusive travel network
You could say Wanderful is similar to HerHouse – a membership-based platform with a focus on uniting female travelers – but with a lot more going on. (The potential for homestays is sort of a side benefit to Wanderful membership.)
Unlike the other Couchsurfing alternatives here, hosting and staying with locals isn't the entire focus of Wanderful. It's just one aspect of an inclusive, friendly network for female travelers to socialize and support each other online and offline.
Online, the activities include a premium social network for travelers, and lots of great webinars about travel-related topics, with a strong focus on ethics and inclusiveness. (The topics range from how plan trips to specific destinations, to how to support Ukraine as a traveler.)
Offline, things get even more interesting.
Wanderful just launched an annual outdoor travel festival, Wanderfest, which is in downtown New Orleans each spring. It's part social event, part music festival, part casual conference with inspirational speakers, tours and events around New Orleans. (You don't have to be a Wanderful member to attend, but members get free tickets to Wanderfest.)
And Wanderful membership gets you access to a "Global Hosting Network," so you can find people who want to host you in their homes around the world, or you offer to host travelers in yours. Members use it to find locals to just meet up with on their travels, too.
(They also have a professional "Creator" network for bloggers and content creators, which I'm a member of. Just scroll down on their homepage for info about the Creator program. And you can try either membership for free for 14 days.)
With all this going on, Wanderful is a good option if you want more than just a way to find homestays while traveling. But if homestays are your main goal, I'd say a more specific platform like HerHouse would be a better bet.
How Much Does Wanderful Membership Cost?
Membership rates for Wanderful are $29 per month, or $299 per year (a $49 savings) for the Traveler Membership.
For the Creator Membership, it's $44 per month, or $449 annually, which saves you $79.
You can save 30% on any Wanderful membership with the code TILTEDMAP.
---
AirBnb Alternatives for Outdoors & On the Road
12. HipCamp: Like AirBnb, but Outside
HipCamp brings the sharing economy (AirBnb, Lyft, etc.) to the outdoors, with the mission of helping more people experience nature.
It's a search platform for any kind of outdoor space where you can sleep. That includes everything from public lands and campgrounds, to yurts in the woods, to farmers who invite you to set up a tent between their fields.
Find a tent, a treehouse, or a glamping rental anywhere in the US, Canada, the UK, Australia, or France.
---
13. RV Share: The AirBnb for RVs
How many people do you know who own an RV and only use it one or two weeks a year? Well, for the rest of those weeks, they could be renting it out on RV Share. (I'm guilty of this.)
Renting out an unused RV makes even more sense than renting extra space in homes on AirBnb or Homestay. (When RVs are unused, they're really unused, and sharing them doesn't require sharing your actual living space with anyone.)
And if you're looking for a road trip vehicle, renting directly from an owner is a more sustainable option.
Why? Because big rental companies have their own fleets, which increases demand for new RVs to be built. Instead, RV Share makes use of road trip vehicles are just sitting unused. There's more about how it works here.
You can filter for the type or size of RV that you're comfortable driving, or even have one delivered to your campsite and just use it for glamping. So you can skip sleeping in a tent, and skip driving a monster down the road. Win-win if you're looking for a way to just dip your toes into the #vanlife you've seen so much of on Instagram. (Guilty, and guiltier.)
RV Share also offers one-way RV rentals – which you could even use to turn a move to a new city into a fun road trip!
(Last year, my husband and I moved from Montana to Boston in our little 1996 Chevy van. We slowed down and did the trip in about three weeks, and it was a really fun way to turn a boring cross-country drive into an adventure.)
Insurance is included in every RV Share rental. (Liability, comprehensive and collision.) And they provide 24/7 RV roadside assistance for renters.
---
I hope you found these alternatives to AirBnb useful!
As you can tell, I always try to include lots of research and enough of my own experience to make lists like this actually help. Of course, if you still have questions, leave them in the comments below and I'll help if I can!
For more, check out my Travel Booking Resource Page, with all of my favorite companies for booking flights, ferries, hotels, tours and trips, and travel insurance.
---
This page includes some affiliate links. These recommendations for carefully chosen companies and products let me earn a commission if you decide to buy anything through them – at no additional cost to you! For more info, please see my Privacy Policy. Thank you for your support!