This post contains affiliate links; see my privacy policy for details.
As I'm writing this article, I'm wondering if it's almost too good to be true. These luxurious European vacation rentals are stunning, sustainable and – if you get a few friends together – bizarrely affordable. I'm talking less than $100 per person per night for a beautiful villa in Europe with a private pool.
When I started researching my guide to the best Airbnb alternatives, one of the most interesting options I found was Plum Guide. I know the word "curated" gets thrown around a lot, but it's genuinely a fair description for the vacation rentals and villas on Plum Guide.
As anyone who's ever had a bad AirBnb experience knows, just about anyone can become an AirBnb host just by creating an account. Plum Guide, on the other hand, sends "home critics" to inspect every property that applies to be on the platform. Only about 3% of applicants get in.
That means you'll find unique, well-appointed rental properties with solid customer service and local contacts who are more like concierges.
One thing that's missing from Plum Guide, though, is that they don't currently have a filter to let you find their more sustainable properties.
So I asked them for a list of all of their vacation homes that have some kind of eco-friendly features – renewable energy, salvaged building materials, rainwater recycling, etc. They kindly obliged, and I started combing through the list and taking notes.
Most of the properties were on the pricey side.
But I realized some of their luxurious European villas actually became quite affordable rentals if you filled up all the bedrooms.
These villas would make ideal destinations for a special-occasion group trip – maybe a relaxing family reunion or a memorable get-away with friends. I've also added some logistical notes and trip planning ideas to each. (I just couldn't help myself!)
(For the exclusive, full list of all of Plum Guide's eco-friendly rental properties, sign up for my email list below and I'll send you a link (instantly) to view or download it.)
---
Bring 10 friends to this villa in Tuscany and you've got a relaxing vacation pretty much guaranteed. (It has 5 bedrooms and 6 bathrooms, with room for 11 people.)
There's a kitchen garden (an orto, in Italian) that you're invited to raid for fresh veggies. And the surrounding lavender farm produces natural aromatherapy oils. Breakfast is even included.
The local owner, Annalisa, manages the property directly (not through a rental management company). She can set up excursions, book taxis and restaurants, and even hire a babysitter or a private chef for you.
And, as promised, this villa has a private pool in the backyard, plus a ping-pong table, hammocks, multiple covered patios, and lounge chairs for soaking up the Tuscan sun with a view of the hills.
Good to know: This villa has an amazingly flexible cancellation policy – you can get a full refund up to 5 days before your reservation starts.
In case your relaxation needs to be mandated, there are local quiet hours during the Italian version of Spain's afternoon siesta (pisolino, in Italian) and after 10:30 PM. (That's how you know you're in a real, local farming community, not an anything-goes tourist neighborhood.)
Besides the farm, this villa made Plum Guide's sustainable properties list because it's powered by renewable energy.
Villa Logistics & Trip Planning for Tuscany:
This villa is a ten-minute drive from the Tuscan village of Marsiliana d'Albegna, which is just a few minutes from the Mediterranean coast, between Rome and Florence. Marsiliana has restaurants, enotecas (wine bars), a grocery store and a castle to explore.
The closest major airport is Rome's Fiumicino Airport, which is an hour and a half away by car – about 140 km/ 87 miles. Florence is two hours away, about 200 km/ 124 miles. So this would be an easy way to add a few days of relaxation onto an intense sight-seeing trip to either city, or between the two.
You can even rent an electric vehicle to take advantage of the EV charging station at the property.
Tip for Renting Electric Vehicles: Did you know you can search exclusively for EV rentals on Kayak? Just make a search with your destination and dates, then on the left-hand side of the results page, click "Car Options," then "More Filters," and select "Electric" under "Eco-friendly Options." Then click "View Deal" to make sure the rental company confirms the price and your EV choice.
Or, if you don't want to rent a car, you could take a regional train from Rome, and after a bit less than 2 hours, you'll get off the train in the coastal town of Albinia, then take either a bus or taxi 15 minutes into the Tuscan hills to reach Marsiliana and the villa.
The nearest bus stop is a 2 minute walk from the villa. Of course, this being rural Italy, don't count on the busses passing very often. But if all you want to do is get to your relaxing destination for a few days without having to rent cars for your group, it would definitely be doable with public transit.
(Follow-up: Okay, out of curiosity, I looked up the bus schedule for this trip. You'll find it here. It's all in Italian, but you'd need to take either bus 11P or 41P, which give you about 6 busses in a day, with the last one going up the hill from Albinia to Marsiliana around 5pm.)
(Related: If you're going the train+bus route, see my guide to Italian train travel!)
---
This Sicilian villa is sandwiched between the Mediterranean Sea and a national park dedicated to the Etna volcano. (Five minutes to the park, 20 minutes to the sea. The villa has 5 bedrooms, 6 bathrooms, and sleeps 11.)
You could go hiking up a volcano in the morning, stop for lunch and a nap at the villa, then head down to the beach in the afternoon. I mean, I'm practically booking this place myself just thinking about it.
And the villa doesn't just have a saltwater pool, but an entire spa complete with jacuzzi, sauna, and hammam. (What's that you ask? It's a like a sauna, but with Mediterranean origins instead of Scandinavian, and made of stone instead of wood. I had to look it up, too.)
The home is a former farmhouse that the owners renovated, using eco-friendly materials, into a 5-bedroom, 6-bathroom luxury villa to rent.
Why I love it: I think this villa is one of the best options if you're traveling with a group that has mixed ages and/or interests. Some people can stay home and relax at the pool or in the sauna, while others can spend their days adventuring up a volcano or enjoying the beach.
The host/concierge can also arrange a private chef and even a babysitter, and if you have a rental car, there are local restaurants just a few minutes away.
Villa Logistics & Trip Planning for Sicily:
This villa is located in thetown of Sarro, about a 40-minute drive from the city of Catania, where you'll find the nearest airport.
Tip for Finding Direct Flights: I use Kayak's "Explore" feature to see which direct flights are available from a certain airport. Then, when I find a route that fits my travel plans, I reverse the search to fly to that airport.
This villa's host offers an airport pick-up service for an additional charge. Or, from Catania, you could either rent a car and drive to the villa, or get there with a short train and taxi combo.
The nearest train station is in the town of Guardia-Mangano. (The name you'll see when you're figuring out your train tickets is Guardia-Mangano-S. Venerina. It's a 25-minute train ride from Catania.) From there it'll be 10 minutes by taxi up the hill to your private villa.
Or you could skip the taxi and get there with a one-hour bike ride, if you're planning an adventurous trip. (There are plenty of local options for bicycle rentals, but my research hasn't turned up any public transit options up to Sarro.)
When it's time to leave, you could take the 30-minute ferry ride from Messina to Reggio Calabria, in southern Calabria. Messina is just an hour's drive from the villa.
Personally, this is how I would set up the trip:
I would fly into Catania, make my way to the villa, and then take the ferry from Messina to get back to mainland Italy. (Because at this time, it doesn't look like there's a direct ferry route from Reggio Calabria to Messina – only the opposite direction.)
Catania and Messina are just 100 km apart (60 miles), with the villa, and the famous Sicilian cliffside town of Taormina, in the middle. So it would be a great section of coastline to explore, plus the rugged volcanic terrain.
Then, I'd add on a trip through Calabria after Sicily!
(Related: If you're planning ferry travel in the Mediterranean, be sure to check out my ferry guide. It's focused on Greece, but most of the same advice applies to Italy and elsewhere.)
And once you're here, Sicily is just such a gem to explore!
In about an hour, you can drive from your villa to the towns of Syracuse, Noto, and Avola, which I mention only because they were some of my personal favorite towns to explore when I lived in Milan and took a couple of short trips to Sicily. (If you go to Avola, be sure to stop at the family-run sandwich shop that's on my list of my favorite restaurants in Italy.)
---
Take your group to Mallorca with this knock-out modern and elegant villa. It's five bedrooms and four baths surrounded by orchards and palm trees.
Beaches are a seven-minute drive away, and there's a saltwater pool in the backyard, off one of the multiple patios.
And at more than 4,000+ square feet (400 square meters) it's also much larger than the Italian villas above. (Side note: It's really handy – especially for group travel – that Plum Guide shows the square footage for every property very clearly, right at the top of every listing.)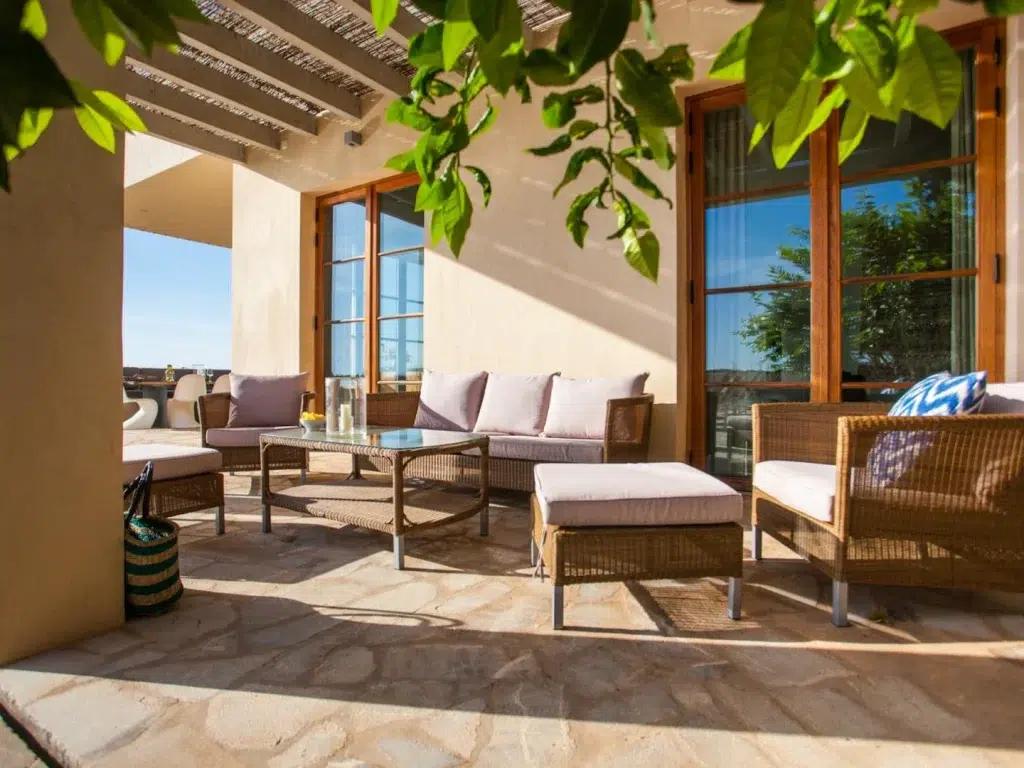 Villa Logistics & Trip Planning for Mallorca:
This is one villa that seems to require a rental car. (It's written in the "Home Truths" section of the rental listing.)
The villa is at the rugged, southern tip of the island of Mallorca, near several small towns. The closest is Ses Salinas, and the closest on the coast is Colònia de Sant Jordi. Both have grocery stores and restaurants, but I get the idea that the area is ripe for exploration, and getting to the various beaches nearby requires some wheels.
The island is quite small (just 80 square miles, or 200 square km). But the villa is about a 45-minute drive from the main city of Palma de Mallorca, where you'll find the island's only airport, and the closest ferry port.
(However, if you're arriving from or heading off to the even smaller and generally quieter island of Menorca, you'll take the ferry from Alcúdia.)
Traveling to Mallorca from mainland Spain (or vice versa) via ferry is a good way to avoid a flight, but it's not a quick trip. (About 5 hours from Mallorca to Barcelona, or almost 6 hours to Valencia.) But still, to slow down and reduce the carbon footprint of your trip, it's worth considering the taking ferry at least one way.
(Related: If you're taking any ferries in Europe, be sure to check out my guide to ferry travel. I focused on Greece in the article, but most of the advice applies everywhere.)
---
Okay, this home on southwest England's Devonshire coast is a little different. It's not quite a villa (more of a townhome). It doesn't have a pool. And it technically doesn't even count as being in Europe anymore.
BUT it still deserves a mention. I think it looks like a perfect spot for a vacation in nature for two families with kids, because two of the four bedrooms have single beds (or twin size beds, as they're called in the US).
There are extensive walking trails right out the door – the South West Coast Path is just a two-minute walk away. (That's the UK's longest walking trail – covering 630 miles of coastline.)
Instead of a pool, the home has a rooftop terrace. It's 150 yards from the Challaborough Bay, and is surrounded by the South Devon Area of Outstanding Natural Beauty. (And AONB is a type of conservation distinction used for unique and significant landscapes in the UK.)
Home Logistics & Trip Planning for Devon:
While it's not too close, this spot could be a great seaside escape from London. (It's about 4 ½ hours from central London to the town of Challaborough whether you drive or take the train.)
And you could do a car-free vacation here. With the South West Coast Path so close by, there's plenty to explore on foot. (And the nearest bus stop is a four-minute walk away.)
From London, it would be a 3-hour train ride from Paddington Station to Plymouth, then a 1-hour bus ride, or 40-minute taxi from there to the home. (Be sure to book those train tickets at least a month in advance. I checked, and for this route, it can make a difference of more than £100, or $120.)
Or, it would be about three days' walk from Plymouth to Challaborough along the South West Coast Path. (According to the 52-day itinerary for the entire route.) That's what I would love to do!
Since the home is somewhere around the middle of the trail, it would make a great stop for a few days' rest whether you're doing a few days or a few weeks of walking.
---
Not Enough Villas to Choose From?
Now, I know 3 ½ eco-friendly villas is not a whole lot of selection for the entire European continent. But I would encourage you to consider that that might be okay.
Can we agree that we have to make too many insignificant choices in our lives, anyway? Science calls it "decision fatigue," and I'd say it certainly extends to travel. Constantly having to make decisions, with an excess of options, can cause stress and anxiety. So we need good filters. (I know I do.)
So my advice (whether for picking a villa to rent, or for lots of other travel decisions) is to use sustainability as one of those filters for your travel choices.
(And since we're talking about luxury villas for rent on one of the most selective vacation rental sites, this doesn't mean giving up quality in exchange for sustainability and easier decisions.)
That's just an idea. Maybe let it settle into how you think about low-effort ways to make more sustainable travel choices. But if it doesn't work to apply the concept now, that's okay.
For more selection, here are all of Plum Guide's special-occasion-worthy villas for rent in Europe. (I'm counting anything with 4 bedrooms or more in that category.)
Remember, for the full list of all of Plum Guide's eco-friendly rental properties, sign up for my email list. I'll send you a link (instantly) to download it as a PDF. (This list isn't available on PlumGuide.com, but I thought it would be useful so I worked with them to create it for Tilted Map readers!)
---
Want Travel Planning Help?
See my Travel Booking Resources for all the companies I personally use when I travel. Here are a couple of highlights:
Insure My Trip: The first stop I recommend for travel insurance (and I recently had an experience in France that taught me my lesson about not buying it). They're the largest broker in the US, with lots of plans you can compare side-by-side. One thing that makes them unique is that you can go basic with just a "travel medical" plan, or filter for plans that include "Cancel For Any Reason" coverage. (And it does mean any reason. You're covered if you get covid, or if you change your mind for any reason, like your pet gets sick.) And they're a great option for travelers over 70, who some companies won't insure. Travel Insurance Master is another good alternative.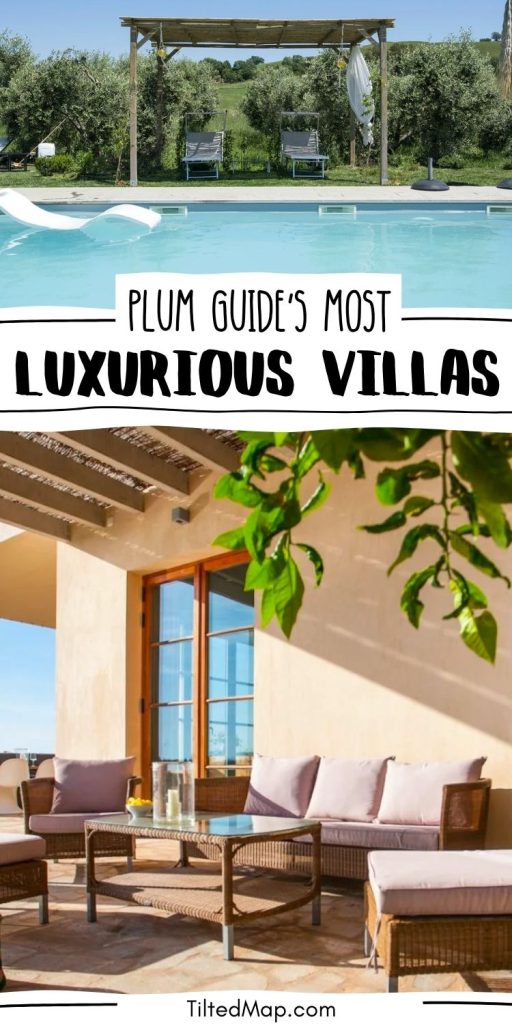 Questions about these villas, European travel, or something else? Get in touch in the comments below and I'll do my best to help!
---
This page includes some affiliate links. These recommendations for carefully chosen companies and products let me earn a commission if you decide to buy anything through them – at no additional cost to you! For more info, please see my Privacy Policy. Thank you for your support!