This guide is all about how to navigate Italy by train. After living in Italy for three years, I've answered every FAQ I could think of about Italian train travel, and explained the different options for buying train tickets: TrenItalia, ItaliaRail, Italo, and (my preference) Omio.
This post contains affiliate links; see my privacy policy for details.
Now that I'm back in the land of highways and huge distances (the US), I really miss the convenience of traveling by train in Italy. Most of the country is connected by affordable, accessible, sustainable transportation – from Milan to Rome to Naples, and almost every small town in between!
No, the system isn't perfect. I definitely complained about the delays and occasional train cancellations when I lived in Milan – but the truth is, those are all fairly rare. As a tourist, you can easily travel Italy without a car (and without flying, except occasionally), and the more time I spend outside of Europe, the more I appreciate it!
The Basics: TrenItalia vs. Italo vs. ItaliaRail
Why they had to make all these names sound the same, I do not know. But here are the main options for buying train tickets in Italy:
Train companies in Italy (Only two!)
Only two companies actually operate passenger trains in Italy: TrenItalia and Italo. Be careful, because they are not just different ways to buy a ticket – they will put you on two totally different trains. ItaliaRail, on the other hand, is just a ticket reseller for TrenItalia trains (but not for Italo).
Meanwhile, to compare fares between Italo and TrenItalia in one place, I use Omio. It's handy because Omio shows all different types of transportation options – ferries, busses, trains, flights, private cars, and airport transfers. (And of course, you can filter for just trains.)
Pros and Cons of using Omio to Book Train Tickets:
Omio has a booking fee that varies by the purchase price of your tickets – usually between €2 and €10. And Omio offers nearly the same prices as booking tickets directly through TrenItalia or Italo.
I say "nearly" because of two things: First, Omio rounds prices up a few cents. Almost every fare I've ever seen from both Italo and TrenItalia has been €X and 90 cents. So Omio rounds a train ticket priced at €49.90 to €50, for example.
I'm fine with that for the various conveniences it offers.
The other way Omio can sometimes cost a few euros more than booking Italian train tickets directly is that sometimes they don't have the cheapest "fare options" available.
I'm fine with that, too, because Italy's cheapest train tickets can't be refunded or even changed under any circumstances. And I usually don't want to be totally locked-in like that. (More on the train "classes" vs "fares" below.)
Yes, ItaliaRail and Omio are made for tourists, but there are some benefits to the services.
In short, they both have much easier websites to use, customer service in English, and no issues with accepting non-Italian credit cards to book train tickets online. (This is a very frequent issue when booking directly with TrenItalia, in my experience.)
(More about these differences and the benefits of using Omio below.)
The sixth option: Yes, you could wait to buy your train tickets at the station in Italy.
But buying train tickets ahead of time will save you money and time, and will help you avoid the possibility of waiting around in case tickets are sold out (which definitely happens). And having your tickets already saved on your phone just simplifies the train station experience.
Now, more about the differences between TrenItalia and Italo:
What about the EURail Pass?
The EURail Pass is another option for train tickets in Italy and around Europe, and it can be a money-saver in some specific situations. (One surprising example is if you're planning to travel between Italy and Greece by ferry.)
But honestly, it's usually not worth the effort and commitment. You have to take a certain number of trains within a certain of days, and often the savings vs buying individual tickets is minimal.
[Related: for more details and more options, check out my post comparing Omio vs. Trainline vs. Rail Europe.]
An Alternative Kind of Italy Trip:
Side note: If you're looking for a unique way to see a very off-the-beaten-path part of Italy, I'll be hosting a small group of Tilted Map readers on an e-bike tour in Italy's Marche region in 2024!
Okay, back to the trains…
---
What is TrenItalia?
TrenItalia is Italy's original, state-owned, national train service. Anywhere you can go on a train in Italy, which includes most of the country, you can go on TrenItalia. (They certainly cover more terrain than Italo.)
There are many different types of TrenItalia trains, described below, with slower and far uglier trains covering smaller towns.
TrenItalia Tip:
The TrenItalia website only recognizes city names in Italian, even if you set the site's language to English. So it won't work if you type Florence instead of Firenze, Rome instead of Roma, Naples instead of Napoli etc.
This is one reason Omio and ItaliaRail are easier for travelers. They recognize both languages.
Types of TrenItalia Trains
The main difference between the train types is between "Le Freccie" ("lay FRECH-chay," the Arrows) and everything else.
FrecciaRossa and Similar – TrenItalia's Fast Trains
The fastest trains in Italy are called Freccia Rossa (red arrow), traveling at a maximum speed of 300 km/hour (186 mph).
After that are Freccia Argento (up to 250 km/hour, or 155 mph) and Freccia Bianca. (The silver and white arrows.) The Freccia Bianca are slower than Freccia Argento, and don't use Italy's high-speed rail lines, but TrenItalia doesn't say exactly how fast they go.
FrecciaRossa train route map
Map of TrenItalia's fastest FrecciaRossa train routes, which can take you around much of Italy and even up to Paris!
Regional and Slow Trains in Italy
Still, all of Le Freccie feel like modern trains inside, while the next ones on this list will give you more of a "vintage" Italian travel experience. They still have bathrooms on board, but don't expect a bistro car, WiFi, or any other fancy service. Some aren't even air-conditioned.
After the Freccie come Italy's InterCity and finally Regional trains. Usually the Regionali are the slowest ones, but they're the only option for many small towns. A Regionale Veloce (fast regional train) will make fewer stops than a normal Regionale. Otherwise, sometimes the regionals are labeled Diretto or Espresso, but in my experience that doesn't necessarily mean they'll be either direct or express. TreNord is the name of the regional trains in Lombardia, the region that Milan is in.
Tip for Choosing a Train:
There are more details about the differences between the trains here, but your options will depend on where you're going. Try to get a Freccia Rossa if you can, but you won't have much choice if you're going to a small town or remote destination. Just make sure you don't accidentally book something like a Regional train from Milan to Rome. (You'll end up spending 8 or 9 hours on multiple uncomfortable trains instead of 3 or 4 hours on one comfortable one.)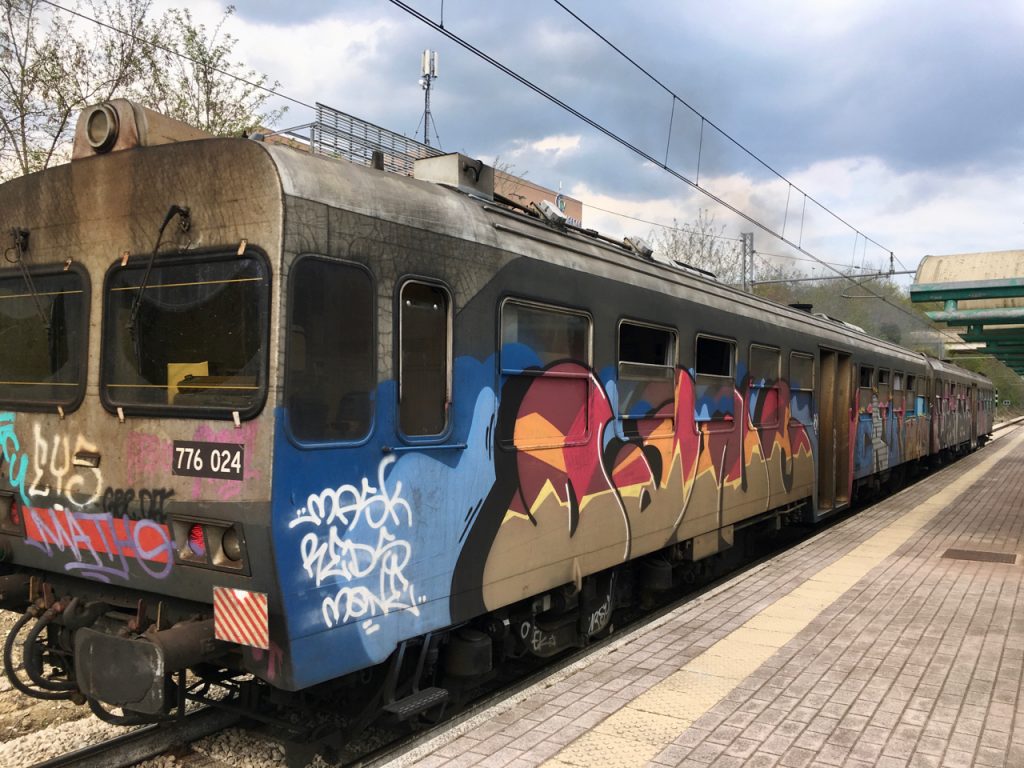 Ticket Classes on TrenItalia (Types of Seating)
Premium class on TrenItalia's fast trains doesn't get you much more than Standard (mostly just a free espresso or glass of prosecco and a snack). But Business Class is significantly nicer with big comfy seats and lots of room to spread out (and you still get the prosecco).
Both Standard and Business often have an Area Silenzio (Silent Area) option. Great for sleeping, but don't even think about taking a phone call or whispering to a neighbor in these.
For even more quiet and privacy, there's the FrecciaRossa Business Salottino ("small living room"). Like the name says, it'a s private compartment with four seats facing each other.
After that, there's the fanciest "Executive" class option, but really I can't see the point of going above Business.
Only the Freccia Rossa trains have all of these categories. The slower trains offer just two types of seats: Normal "2nd Class" or "1st Class." I've never bothered with 1st and don't see the point of it, especially since you're usually not on these trains for very long. Plus, after walking through 1st Class on regional trains, it seems nearly identical to 2nd Class.
---
What is Italo?
Italo, or Italotreno, is the first private passenger train service in Europe, and is owned by an American conglomerate. (So… not exactly a local business.) Italo trains are very comparably to TrenItalia's FrecciaRossa trains.
That's because, unlike TrenItalia, Italo only runs fast trains. But they mostly just connect Italy's biggest cities – Milan, Torino, Venezia, Firenze, Bologna, Roma and Napoli. There are no slower, "regional" Italo trains.
(Italo also serves a few smaller towns in Northeastern Italy: Verona, Brescia, Reggio Emilia, Salerno, Padua, Ferrara, Rovigo, Bolzano, Desenzano, Rovereto, Trento, Vicenza, Peschiera del Garda, Bergamo, Conegliano, Pordenone, Treviso, Udine.)
If you're going to any smaller destination outside Italy's Northeast, Italo is not an option. (They also have some bus routes in the South, but there's really no reason to take the bus when you could take a far more comfortable train!)
Train Travel Tip:
Don't mix and match! Just like with airlines, if part of your trip is with Italo and part is with TrenItalia, you'll have problems if a late train makes you miss your connecting train with the other company. So if you're starting or ending anywhere but a major city, I don't recommend booking any part of your trip on Italo.
Ticket Classes on Italo (Types of Seating)
The basic Smart seats on Italo are pretty cramped. That's why I usually avoid Italo unless I'm taking a very short trip, or willing to pay for an upgrade to Prima, which has wider seats, and includes a free snack and drink during the trip.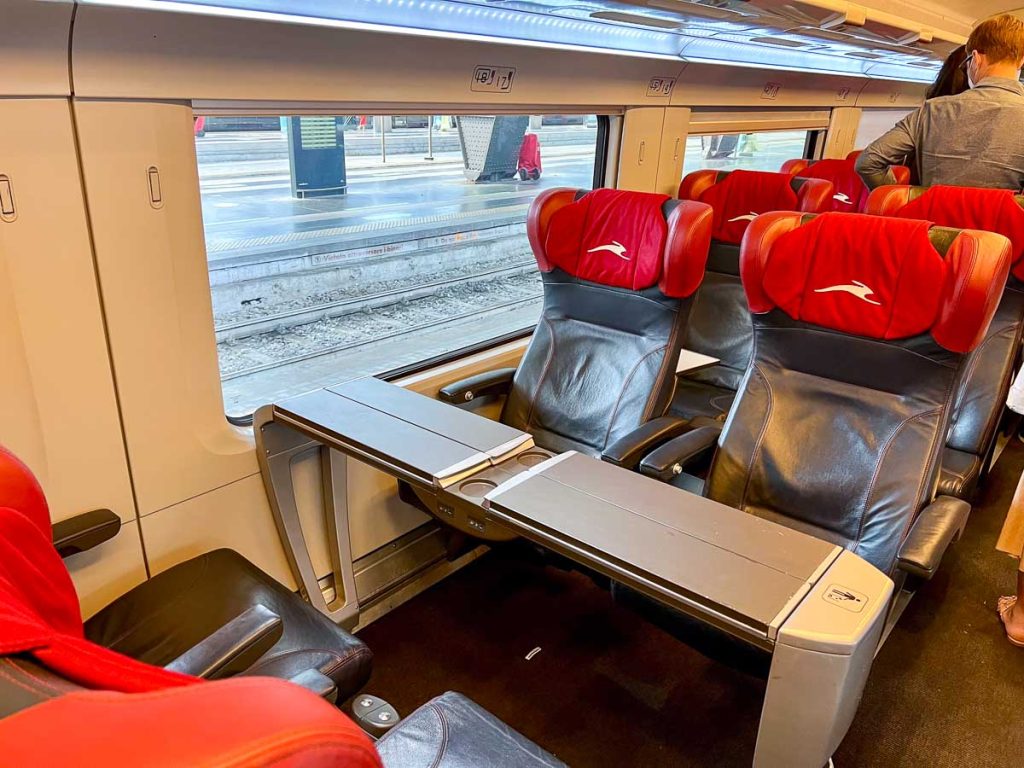 (2023 Update: Italo also used to have a "Comfort" class, which had the same seats but no snacks, but they've recently removed that option.)
Then there's Italo's Club Executive, and Salotto ("living room") which I've never sprung for. Both give you 9-inch TVs at your seat – but wouldn't you rather daydream and gaze out the window at the passing Italian countryside?
These premium classes also give you free access to the Italo Club Lounges, at the train stations that have them.
---
Which is Better – TrenItalia or Italo?
A question Italians have been debating for years: Italo vs FrecciaRossa. (Because remember – Italo only does fast trains, so when we compare Italo vs TrenItalia, it's really only fair to compare Italo vs TrenItalia's fastest options, Le Freccie Rosse.)
There isn't a huge difference in the overall travel experience between Italo and TrenItalia.
They travel on the same tracks, and the speed is the same. (Both Italo and FrecciaRossa trains have a max speed of 300 km/hour, or 186 mph.) And the likelihood of delay is about the same. (FrecciaRossa and Italo are both much more dependably on time than any of Italy's regional trains.)
Although, after personally traveling on both trains dozens of times, I do think TrenItalia's cheapest seats ("Standard") are a bit more spacious and comfortable than Italo's "Smart" cabin class.
That's why I usually upgrade Comfort or Prima seats if I'm going to travel on an Italo treno, whereas I'm more willing to take a Standard seat on a FrecciaRossa train.
Which is Cheaper – Italo vs FrecciaRossa?
Italo sometimes does cost less than TrenItalia, but not always. If you're traveling between major cities and looking for the cheapest possible route (especially for a short trip), it's worth it to check Italo.
Again, that's why I like to use Omio to compare routes – it lets you check FrecciaRossa vs. Italo train fares on a single website.
You never know which will have the best deal for a certain day, time, or route. It also pays to be flexible about your travel time as prices can vary a lot throughout the day.
You can also check Italo's homepage for "promo codes," which sometimes offer holiday travel discounts.
"Fare Options" vs "Class Options" on Italo and TrenItalia
Here's what I meant by my last point on the pros and cons of booking with Omio: Both Italo and TrenItalia offer different "class options" and "fare options." The Class options – explained above for TrenItalia and for Italo – refer to how nice of a seat you'll have.
The "fare options" only refer to how much it'll cost to cancel your train tickets, or change the date.
On Italo, the fare options (from most flexible to cheapest) are "Flex," "Economy," "Low-cost," and the new, ridiculously named, impossible to change "eXtra MAGIC."
On TrenItalia, the fare options (from most flexible to cheapest) are "Base," "Economy," and "Super Economy."
Sometimes you won't be able to buy Italo's "eXtra MAGIC" or TrenItalia's "super economy" tickets from Omio. (But sometimes you can – you'll just have to check. Just click on any train in the search results in Omio to see and change the ticket's fare and seat class options.)
(TrenItalia also has "Senior" and "FrecciaYoung" ticket rates, but those aren't available to non-Italians. Since I've had some questions about this, I've added details on the Senior rate below.)
Can you book TrenItalia's "Senior rate" as a tourist?
The senior rate can save travelers 20 to 50% on one-way tickets with TrenItalia – but don't get too excited about it if you're only visiting Italy. I'm afraid it's only available to CartaFreccia holders.
That's TrenItalia's discount and loyalty program. You have to have an Italian "fiscal code" to join. (That's sort of like a social security number in Italy.)
So while technically you could join the program without being a current resident of Italy, you'll need to have been one at one time to have a fiscal code. (Frankly, I have a CartaFreccia membership because I actually was a resident of Italy for three years, and it was still a massive amount of hassle and took months to get.)
Still want to try? When I last checked (June 2023), I found an application available for non-residents to apply for the CartaFreccia loyalty program here. (Look at the last item in the menu – the one that's partially in English. I couldn't find any information about the program on the English version of the TrenItalia website.) You have to fill out a form and email it in, and they say you'll hear a response within 45 days. I wouldn't hold my breath – but do let me know in the comments if you try it!
Italo does not offer a senior discount.
---
ItaliaRail Review
ItaliaRail only sells TrenItalia tickets (not Italo), but they will put you on the same train you'd be on if you bought your tickets directly from TrenItalia.
(This is a major benefit to Omio versus ItaliaRail. You still get the better service, and an English language website that works without translation issues, but you can compare all Italian train options with Omio.)
You can also use ItaliaRail or Omio to buy international tickets from Italy to other countries. And Omio actually works for all over Europe and North America, as well as for bus tickets, flights, airport transfers and more. It's a one-stop shop.
While anything being aimed at tourists usually makes me run the other direction, there are actually some benefits to these services.
The main benefit is that if you're traveling and don't speak Italian, buying from a ticket reseller is just simpler:
When booking on either TrenItalia or Italo, you're presented with a matrix of different "classes" (which are not well explained on their websites) and multiple price categories for each class (many of which you won't qualify for, such as special discounts for seniors, youth, big groups or loyalty card holders).
ItaliaRail only shows you the lowest available price for each class (and it tells you which price category it's in, and what that category means for making changes or cancelling your ticket). Plus it has descriptions with photos of what you get in each class.
ItaliaRail Tip:
Don't ignore the fancier class options! In this example, Business actually costs less than Premium on ItaliaRail. (And as I said above, Premium doesn't get you so much, but Business is quite nice.)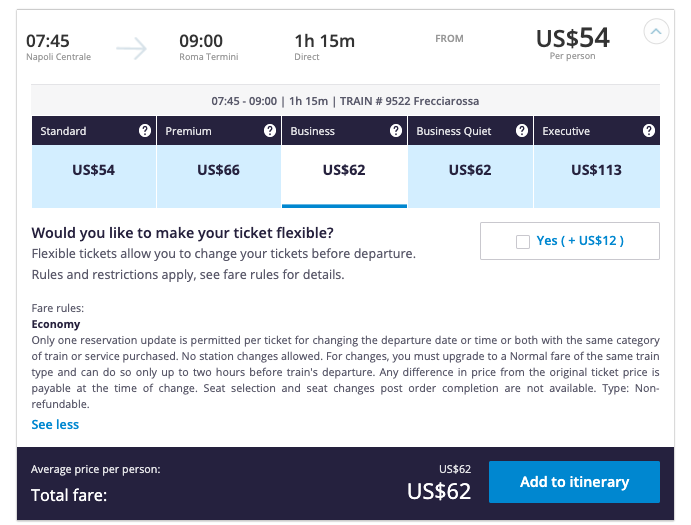 Pros & Cons of ItaliaRail (vs. Omio)
These are the features of ItaliaRail and Omio, with pros and cons and whether they're actually worth anything:
Customer service: It's entirely in English. So if you don't want to deal with normal Italian customer service (AKA: impatient employees who speak very bad English) in case your train is significantly delayed, or if you want to change your reservation, then the couple dollars you pay as a booking fee for Omio or ItaliaRail will be worth your money. (Trust me. I've interacted with a lot of Italian train station workers. The customer is never right, and patience is in short supply even when you speak Italian or are Italian. This is guaranteed to be simpler.)
Free Upgrades (kind of): Certain departures on ItaliaRail have a little flag saying "free upgrade!" to Premium or Business Class. The same discount and upgrade are almost always available from Omio or TrenItalia – but they're not as easy to find. (TrenItalia and Omio both just list the lowest price available for each departure, without flagging whether that price includes a seat upgrade. So you think you're comparing apples to apples, but you're not. You have to click on each train to see what kind of seat is quoted as the main price, which can get tedious when there are departures every few minutes.)

Prices in US dollars, Euros, or other currencies. ItaliaRail lets you see train ticket prices in USD, Euro, British pounds, and Canadian or Australian dollars. Omio shows those currencies and many more. But if you book directly with Italo or TrenItalia, you'll only prices in Euros.
ItaliaRail Tip:
You have to change the currency from the homepage before selecting any tickets to buy, because changing the currency will clear your cart. (It's in the upper right hand corner on the ItaliaRail website. The default is USD for ItaliaRail, but remember to change it to Euro if you're doing comparison shopping with the other sites!)
Lounge at Roma Termini station (not included). For me, the lounge is not one of the more useful benefits of ItaliaRail because it's only available if you either buy a lounge day pass ($20 for up to 2 adults and 2 kids) or buy an "ItaliaPass."
What is ItaliaPass and is it worth it?
The ItaliaPass is a tourist discount card for flights, hotels, car rentals, restaurants, and attractions. It costs $49 for ItaliaRail customers or $99 for anyone else. (But I suspect anyone can get the $49 price.) I've never used one, so I can't say much more, but there's more info here about ItaliaPass and the lounge. (I tend to avoid these discount cards, because it's hard to get the value out of them without rushing around trying to fit in as many sites as possible.)
But I have been to the ItaliaRail lounge at Roma Termini. It was perfectly nice with free drinks and snacks, fluent English speakers to answer any questions, and better Wi-Fi than in the rest of the station (the biggest benefit to the lounge, in my eyes).
Be warned though – the ItaliaRail lounge is almost a kilometer (half a mile!) away from the main station area! So it's not useful if you show up at the front of the station and only have a few minutes before your train. If you do plan to use the lounge, you can enter the station at Via Giolitti 60 (give a taxi driver that address) and you'll be right next to it.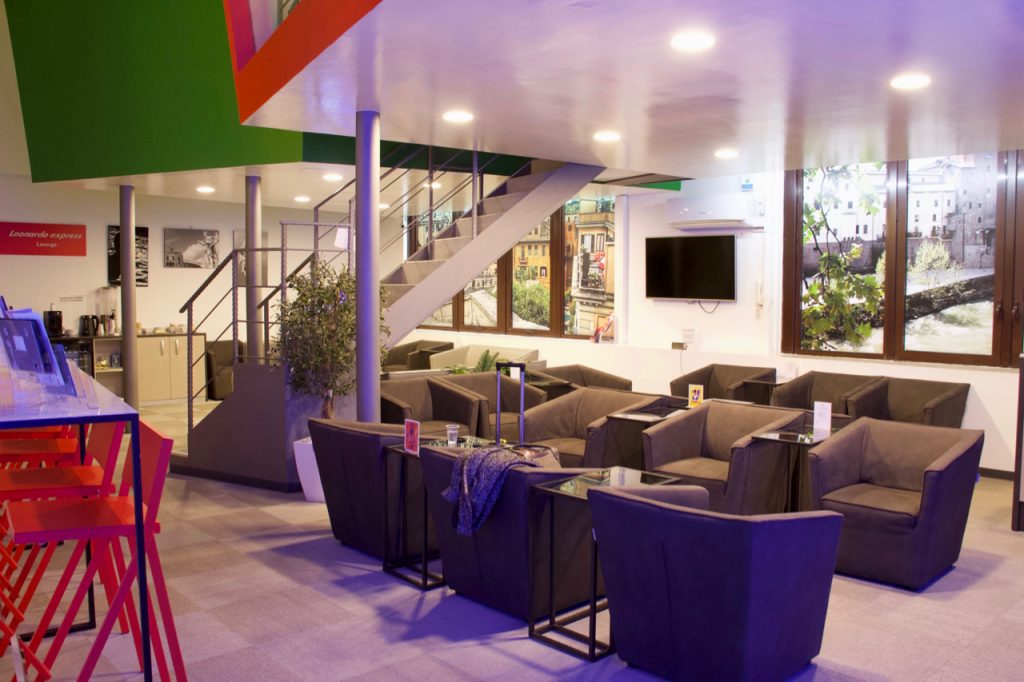 ItaliaRail benefits for group travel. You can get discounts via this page on group bookings for 10 or more people when you let an ItaliaRail employee organize your tickets for you. If you want to do it all yourself, just using the ItaliaRail website, you can buy tickets for up to 20 people at a time, versus only 7 on TrenItalia. (On Italo you can book for 29 people at a time, but with limited destinations, of course.)
What You Pay for The Convenience:
I've done a lot of comparison shopping, and found that occasionally ItaliaRail is slightly cheaper than TrenItalia, but honestly, it usually costs the same or just slightly more.
And you do have to pay a €3.50 booking fee with ItaliaRail, so if you can plan ahead it's best to book all your tickets at once. (It's €3.50 per order, no matter how many passengers and how many different routes you book at once.)
That's similar to Omio's booking fee, which varies by the order amount. Omio also rounds ticket prices up 10 cents. (From the standard €X and 90 cents.)
Other than that fee, after using both ItaliaRail and Omio several times myself, I haven't found any real "cons." (And I've used all of these sites many times.)
---
Good To Know: Italian Train Lingo & Tips
The platform (binario) where you'll find your train often won't show up on the board in the station until the last minute. (Maybe 30 minutes before departure, or maybe 5 minutes before. Don't panic, just pay attention and be ready to move when it does appear.)
So of course, the platform isn't listed on your ticket, but your train car number (carozza) and seat (posto) are for the fast trains. Slower trains usually don't have assigned seating, it will just say your ticket class (classe): 1 or 2.
There's no security line to go through, so there's no reason to get to the station much more than 30 minutes early.
You're in Italy, so destination names will be in Italian on the boards and on the train. (Firenze not Florence, Venezia not Venice, etc.)
You'll have to show your paper or digital ticket (biglietto) to the ticket inspector at some point during the trip, so don't bury it in your bag.
And if you want to learn a bit more Italian before your trip – which I definitely recommend! – you can use this link for a 7-day free trial of Pimsleur Italian!
Pimsleur is a language learning program and app that teaches by repetition. (So instead of trying to spell and write, you'll learn to listen and speak – the skills you'll actually use.) I've used it for multiple languages, and it's the best way to get started, short of just moving to a foreign country!
Train Hopping & Avoiding Fines
I can tell you from experience: Don't get on a train without a ticket! That may seem obvious, but in smaller stations – like in Cinque Terre, as I learned – there are no barriers before the platform, so you actually can get on without a ticket, or without validating your ticket – which counts as the same thing.
Make sure you "validate" your ticket!
At those small stations where you can walk straight onto the platform without showing anyone your ticket, you'll have to validate that ticket on the platform BEFORE you get on the train.
That's how my Cinque Terre fiasco happened. I was with family, and in the confusion of making sure to get all of our bodies and suitcases on the train, I totally forgot to stamp our tickets in the machine on the platform. And I had to talk our way down from a €150 fine to a €50 fine. (And I am 100% sure that my excuse would not have worked in English.)
You might get away with this sometimes, but the ticket inspectors often do come around to check, especially in such touristic areas, and they are not very forgiving.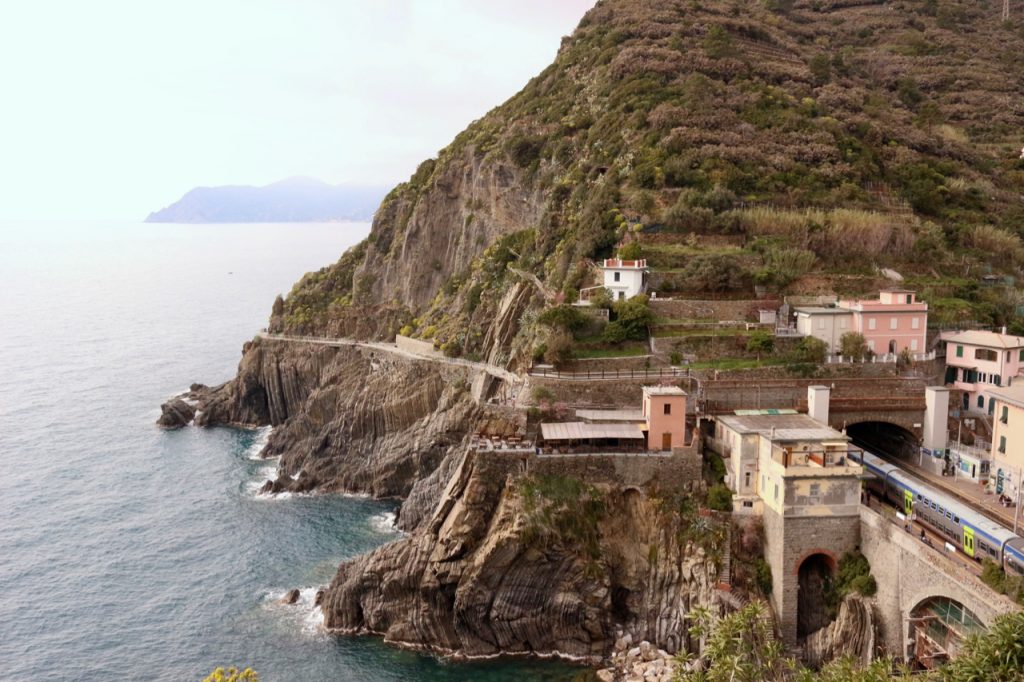 Budget Tip: Don't Book Last Minute!
Usually the earlier you book a train in Italy, the lower the price. Especially if you're traveling between major cities, do not wait until the day before you want to travel to book your tickets.
Again, I've made this mistake. I've seen ticket prices double between two days before departure and one day before. (For example, for a Friday train home to Milan from Rome, tickets were 45 euro on Wednesday, but I waited and they jumped to 90 euro on Thursday. Painful.)
Waiting will also give you less selection on popular routes. You might end up having to change trains instead of getting a direct route, take a slower train instead of the fastest Freccia Rossa ones, or have only one or two departure times to choose from instead of a dozen.
Train Delays, Fees, Cancellations & Refunds
These are nitty-gritty details. Feel free to skip over this section and come back if you need it!
Train Delays & (Possible) Refunds
Both Italo and TrenItalia are pretty well run, although there can be delays. Not all the time, but don't be surprised when they happen.
Delays over 30 minutes for a TrenItalia fast train (Freccia Rossa, Argento or Bianca) theoretically entitle you to a partial refund in the form of a credit… but so far I've always given up dealing with customer service before getting any of my money back. There's more info about how to try here.
On Italo, the delay has to be 60 minutes to get anything back – and at that point, it should be a full refund. (More info about that here.)
Changing or Cancelling TrenItalia (or ItaliaRail) Tickets:
You cannot cancel Super Economy or Economy tickets, but you can change the date or time for an Economy ticket. Base price tickets can be changed (or refunded for 80% of what you paid) any time until one hour after the train leaves the station.
But I personally never buy Base price tickets. Base price for Standard seating is often more expensive than an Economy or Super Economy train ticket in Premium or Business class. So what's the point?
If you're not sure about your date or time, it's probably better to just wait to book until you can make a decision than to plan on dealing with the hassle of changing a ticket. (Although this may be a situation where ItaliaRail's customer service would be useful, and certainly better than dealing with TrenItalia's notoriously bad customer service. No matter where you buy your ticket, remember that if it's called "Super Economy," you cannot change it.)
All of these rules apply whether you bought your tickets through TrenItalia or ItaliaRail.
Changing or Cancelling Italo Train Tickets:
Italo is more strict. "Flex" tickets can be changed without fees or mostly refunded. "Economy" tickets can be changed or refunded for a fee. "Low Cost" tickets can be changed for an even bigger fee, but cannot be refunded.
Bottomline:
If you're booking your tickets on the assumption that you might have to change them, the easiest option is to book with ItaliaRail and make sure you get an Economy or Base fare (not Super Economy).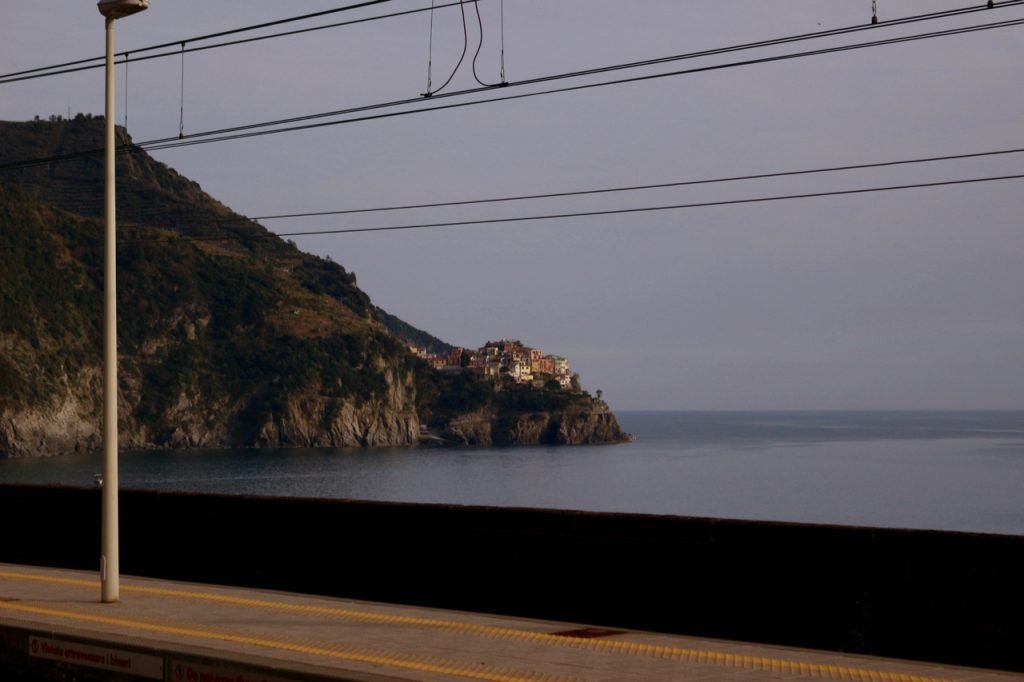 Personally, Here's What I Do
Here's how I book trains in Italy: I generally prefer TrenItalia to Italo, so I check Italo only if I'm looking to (potentially) save money on a short trip. I usually start with Omio to get a quick overview of what routes are available, and whether there's a big difference (in either price or schedules) between TrenItalia and Italo.
Then, I'll either book directly on TrenItalia, or on Omio, depending on how much of a rush I'm in.
Both are often slightly cheaper than ItaliaRail, especially when factoring in the booking fees. (And the fact that I'm usually just buying one ticket at a time, not spreading that fee over several tickets for an entire vacation. I also get loyalty points on TrenItalia, which you have to have a local Italian ID to get.)
And I speak Italian, so I'm not too worried about customer service issues.
But if I were a traveler looking for the simplest, most stress-free option, I would skip the comparison shopping and just use Omio.
At the end of the day, trains in Italy are fast, affordable and far more eco-friendly than driving or flying.
According to the stats printed on the back of Italian train tickets, taking the train in Italy emits about 75% less CO2 than the same trip in an airplane, and about 65% less than driving, on average.
[Related: I use the carbon calculator from Travel And Climate to compare emissions for different modes of transport for specific trips. Of all the travel carbon calculators I've reviewed, it's the easiest and best for this purpose. And finding more efficient transport is always a better option than just offsetting your emissions after the fact.]
Plus, I wouldn't want to deal with renting a car and driving in Italy unless absolutely necessary. Or unless a leisurely road trip through the countryside were the whole point. But if you're just getting from one city or town to the next, trains are definitely the easiest, cheapest, and most comfortable option. (For an idea of what driving – and back-seat driving – are like in Italy, read #8 in this post.)
Remember, whichever option you choose for train tickets, it isn't likely to make or break your trip. It's much more important – and fun! – to plan where you're going to eat. 
---
More Resources for Your Trip:
For everything in one place, bookmark my go-to travel booking resources list! It has the vetted companies that I use all the time for flights, ferries, insurance, hotels.
Going to Greece, too? Check out my guide to Greek ferries!
• Book your hotel in Italy
If you found this post helpful and want to say thank you (❤️), start your hotel searches through the affiliate links below to help support Tilted Map so I can keep writing more useful guides! (I'll earn a commission from Booking, with no extra cost to you, or to the hotel where you stay.)
Booking.com is where I start all my hotel research. Booking has the most properties, and usually the best prices. And now they have a filter to search for more sustainable properties.
• Get the right travel insurance:
I've skipped getting travel insurance for years, but after a recent incident with a bread truck in France, I might be finally learning my lesson!
Insure My Trip is my first recommendation for short-term travel insurance. (For long-term travel, I'd start with SafetyWing.)
Insure My Trip is the largest travel insurance broker in the US, so they have a large variety of plans you can compare side-by-side, and are known for having the best customer service.
You can go basic with just a "travel medical" plan, or filter for plans that include "Cancel For Any Reason" coverage. (And it does mean any reason. You're covered if you get covid, or if the covid rates increase where you're planning to travel, or if you change your mind for any reason, like your pet gets sick.)
DETAILS: For more travel insurance options and what I like about each one, check out my Travel Booking Resources list!
If you've read this far, you probably know everything you need to about taking trains in Italy now – but if you have any questions, leave them in the comments below!
---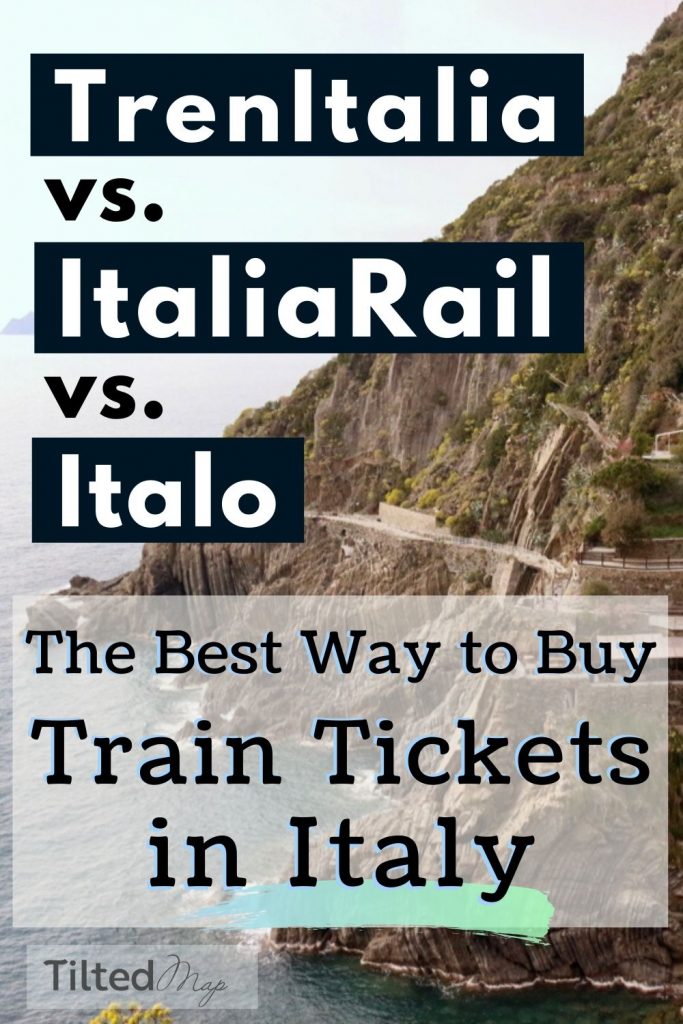 ---
This page includes some affiliate links. These recommendations for carefully chosen companies and products let me earn a commission if you decide to buy anything through them – at no additional cost to you! For more info, please see my Privacy Policy. Thank you for your support!