This post contains affiliate links; see my privacy policy for details.
After a two-week trip to Paros and Naxos, I was amazed by how hard I fell for Greece's Cycladic islands.
Food is usually the first consideration in my travel plans, and the cuisine in the Cyclades does not disappoint! (The restaurants on Paros particularly impressed me.)
But you'll also find striking scenery – from the arid hills of Paros, to the lush mountains of Naxos. And centuries to even millennia of history in various states of preservation. Add in the blustery Mediterranean, with sunshine that warms the soul well into autumn, and it all makes for a beyond-charming destination.
Still, none of those attractions is the reason I chose to spend 10 days on Paros (far longer than you really need to see the island), and only 3 days on neighboring (and much larger) Naxos.
I lingered on Paros because of their leadership in the region as an up-and-coming sustainable travel destination. That's thanks to the local environmental group that's working to transform Paros into the Mediterranean's first island with no single-use plastics!
It's an impressive project in many ways, and I was so happy to get to pull back the curtain and see it behind the scenes. So if you're interested in sustainable travel, whether in Greece or anywhere, definitely check out that post!
But it's not just the sustainability factor that makes Paros a great island to visit.
Granted, Paros has certainly become more touristy in the last few years. The manager of one of the island's most sustainable (and certainly swankiest) five-star hotels even told me:
"People have discovered Paros. It has the vibe of Mykonos, if I may say, but it's less pretentious and more laid-back."
But Paros is still a bit under the radar – especially when you compare it with Greece's mega-destinations like Santorini and Mykonos. And visiting in the shoulder season (I went in October) gives you enough space to feel like almost the only tourist on the island.
Read on for my full travel guide to Paros, including how to travel more sustainably, the differences between the villages on the island, and the best hotels and my favorite restaurants. (Including many participating in the plan to become plastic-free.) There's also my packing list of sustainable products for Paros much more!
---
When to Visit Paros
Anytime from June through September is when you'll find the highest hotel prices in Greece, but some hotels raise them even more for July and August – the peak of high-season travel on Paros.
(Those are the busiest travel months for most European destinations, as many countries have inflexible blocks of vacation dates for workers in July and August.)
Hotels usually offer lower rates in April/May and late September to mid-October. Then many restaurants and hotels on Paros close for the season in mid- to late-October.
That's exactly when I visited, and I could definitely feel the season slowing down.
The Aegean Sea in autumn can be a bit melancholy on the blustery, gray days, but still feels joyful and bright on the blue-sky days. So if your main goal in the Greek islands is to get your fill of beach time, fall probably won't do it for you.
At the end of October, a lot of things were closed for weather. One example: I tried to walk the little plank out to the ruins of a Venetian castle in Naousa (which was built in the 1200's, when Paros and the surrounding islands were part of the empire of Venice). But I picked the wrong day and waves were too strong to get there safely.
That being said, the off-season is my favorite time to travel almost anywhere – so Paros in October was heaven for me!
You'll find ferries at least half-empty. Everything costs less. You can easily get a table at the best restaurants. You don't wait in line for anything and, best of all, people actually have time for you.
To me, that feels much better than being part of a throng of tourists that locals don't appreciate, and I'd happily give up a few degrees of warmth for the privilege. If you're nodding your head to that right now, then I definitely recommend late-October in the Greek islands! (Just remember a light jacket.)
---
Where to Stay on Paros
Interestingly, the towns I chose for us to stay in on Paros aren't the ones I would choose now that I've been there.
Paros has three main coastal villages – Naousa in the north, Parikia in the west, and Aliki in the south. In the interior mountains, the main town is Lefkes.
Naousa
Naousa is the most chic and touristy of the four villages on Paros. Its downtown is adjacent to a port area for sailboats (not for ferries) and filled with nice restaurants and bars. (Many of which feel very much just for tourists.)
As you walk further from the Naousa port, heading East into town, there are more local-feeling neighborhoods that are lovely to wander around in. But if you follow the coast even further East, you'll find endless rows of condos in a neighborhood that's exclusively for tourists.
Aliki
Aliki is just the opposite of Naousa – both geographically and in terms of its vibe. At the southern end of Paros, the town of Aliki is nothing special – but in a way, that's what's special about it.
Aliki is a family town more than a tourist town. It doesn't have as many of the narrow, winding alleys and white-washed staircases of Lefkes, Naousa and Parikia. But from my 2nd-floor room at the Aliki Panorama, I could look across the alley and see a local family eating dinner in their kitchen, with the front door open and a couple of curious cats peering in.
So if you're looking for the road less traveled, Aliki is the place to stay on Paros – especially once the weather cools down. Since it's a beach destination, Aliki feels very sleepy when the hot weather passes.
Parikia
Parikia is the one coastal town on Paros that I didn't actually stay overnight in on this trip, but it turned out to be my favorite village!
The village of Parikia is where the ferries arrive on Paros – and that's why I avoided it, as ferry towns can often be a bit trashy and touristy. But to me, Parikia felt more down-to-earth than Naousa, and more interesting than Aliki.
It has a hilly historic center that I just loved wandering around in, with beautiful old churches and a small archeological museum (which is the what the whole town feels like, so even if you skip the visit, you won't be starved for history or architecture in Parikia).
Lefkes
Finally, Lefkes is a lovely little town in the northern mountains of Paros' interior, where every direction seemed to offer a dramatic view, either down the valley to the Mediterranean, or across the rooftops to the hills behind.
On the day we visited, the town was basically empty (I think we saw about a dozen other people in a couple hours of wandering around). That emptiness made Lefkes feel like walking into a Greek island postcard, whitewashed with blue and turquoise accents.
We didn't stay here overnight, but when I go back to Paros, I'll make a point of adding a night or two either in Lefkes, or somewhere else more remote in the mountains. It's just such a different, more calm vibe than in the island's coastal towns, that it's worth a visit to see a different perspective of life on the island.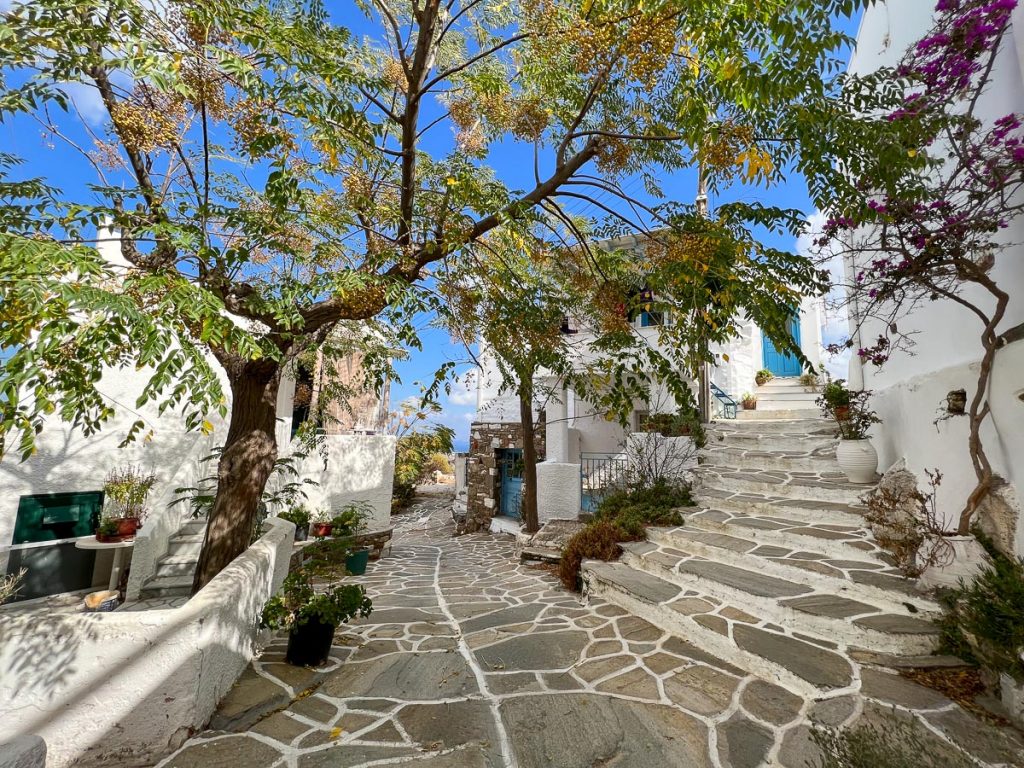 ---
We stayed in four different hotels on Paros, and simplified the choice by choosing Clean Blue Paros members for three of them. (That's the local group that's working to reduce single-use plastics on Paros, as I wrote all about.)
As you can see on the map below, hotels and restaurants that are members are scattered all over the island:
Here are my mini-reviews of each of the hotels where we stayed:
The Aliki Panorama was our first hotel on Paros, and I have mixed feelings about it. We spent three nights here – long enough to chat with the owners, a Dutch couple who told me they've lived in Greece for 30 years. They took over and renovated the hotel in 2019.
They did a lovely job, aesthetically. The hotel still has a faded sort of charm – definitely not chic or upscale – but it's bright and clean, with that classic Cycladic white-washed look. It also has an outdoor courtyard with lots of communal seating, hammocks, and a bar (open only during the high season). I can see the bar being a fun place to mix and mingle, as the hotel clearly attracts a laid-back sort of crowd.
But three nights was also long enough to realize that the mattresses were not very comfortable (I suspect they weren't part of the renovation). The rooms are small and basic, and the bathrooms miniscule, but most of the upstairs balconies have a lovely view of the sea, hills and sunsets.
I chose a "double room with balcony and sea view," which was €55 a night (about $63 USD) in the very-low season. That's a pretty good price, but definitely not unbeatable on Paros in October. If you're traveling on a strict budget, lots of hotels are available in the €30 to €40 range at that time of the year.
The rooms at the Aliki Panorama all have refillable glass carafes in their mini-fridges, and a filtered water refill station in the hallway. (Even though the tap water is potable on Paros.) But in the bathroom, I still discovered those irritating individual plastic bottles of cheap shampoo.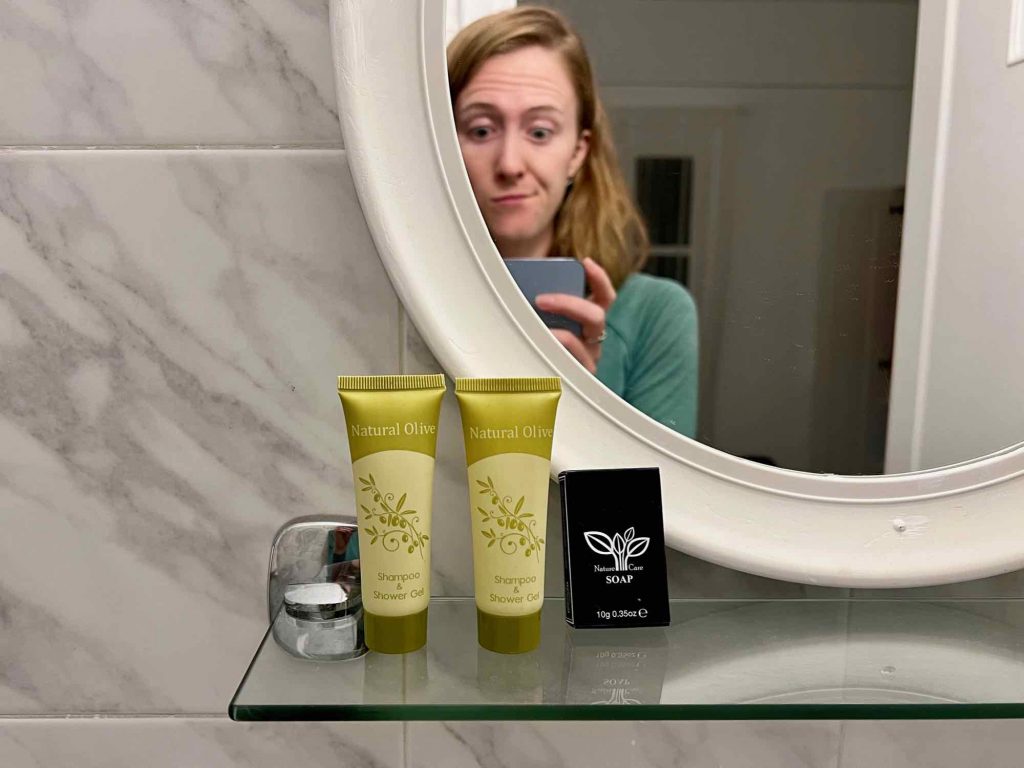 That's because, for now, there are only four plastic items that Clean Blue Paros member businesses have to agree not to use. (Plastic straws, shopping bags, coffee cups and water bottles, but not plastic hotel toiletries – at least not yet. But I'm expecting more improvements from the program.)
The Adonis Hotel felt more modern, elegant, and better planned for tourists than the other hotels we stayed in. And that's also a fair description of Naousa, the town that the Adonis is in. I also appreciated the big, comfy bed, modern interior design, and large bathroom and shower.
Our room also had a spacious balcony overlooking Piperi beach, which was perfect for bringing our breakfasts up from the lobby.
It's a short walk from the Adonis across the beach to the center of Naousa, which makes it very convenient for dinner there without taking a car. Otherwise, the area right around the hotel is a very quiet neighborhood without much going on.
Just like at the Aliki Panorama, I was disappointed to see plastic shampoo bottles at the Adonis. But, as I said in my other article, that's part of a long process of change that the folks at Clean Blue Paros are working on. It's just not an overnight fix.
The Sunset Suites are a lovely, cozy spot run by a friendly, local Greek woman named Eleni. They feel more like an AirBnb or condo than a hotel. (I think it would be a great place for a longer stay, and/or for traveling with kids.)
(Related: Check out my favorite alternatives to AirBnb. Sustainable, community-based, cheap or luxury, I've found great options for everyone here!)
And the suites all have front porches looking over a shared lawn with space to run around, and even lines for hanging laundry to dry. Inside our suite, the small kitchen had two electric burners, a double sink, mini-fridge, counter space for prep work, and even pots, pans and utensils.
And the interiors are gorgeous and have a real sense of place, with built-in cabinets made of dark wood and large stones, and those very Greek, very solid white-washed walls. (Which I think would keep the place nice and cool in the summer without having to use too much air-conditioning.)
The Pounda Sunset Suites weren't a member of Clean Blue Paros when I stayed there. But since I never stop talking to people about sustainability when I travel, I chatted with Eleni about the program – since she was already avoiding lots of plastic. Who knows, maybe she will have joined by the time you get there.
Pounda is more of an area of the coast than a real town, but it has a couple of restaurants, and is convenient for taking the ferry to Antiparos.
For a luxurious hotel in Pounda, there's the SeeSoo Resort, which is a Clean Blue Paros member and right across the street from the Sunset Suites, on the beachfront.
(The SeeSoo was out of my budget on this trip, but it's a leader in sustainability on the island, according to my contacts there from Clean Blue Paros.)
If you're looking for something that feels remote (even though it's just a ten-minute drive from Naousa), or for more of a traditional eco-travel experience, then the Okreblue is a lovely option. It's surrounded by a protected area called Filizi (part of the huge European network of conservation areas called Natura 2000).
And at € 105 per night in the off-season, including one yoga class and two delicious, home-made vegetarian meals per day, it's not a bad deal, either! (That was the single occupancy price, as I stayed here after Emanuele left Greece.)
But you definitely need to know what you're signing up for here.
This is the kind of place that makes you worry that there might be no Wi-Fi (there is) and no hot water (they have that, too). While the hot water took a good five minutes to arrive, the Wi-Fi was decent, and the friendly employees didn't make me feel like a bad yogi for asking for the password.
Still, Okreblue is about something very different from luxury travel – I'd call it a detoxifying experience in a rustic setting.
The paint around the bathroom mirror in my "standard" room was left very deliberately chipped, and the walls and high ceilings were stark white without any decoration. (The motif is the same in the "Superior" rooms; they're just larger.)
My room didn't even have a window. So I left the shutter on the glass front door open, which I thought would make me feel like I was in a fishbowl, since anyone walking down the path outside could see into my room.
Instead, I fell asleep listening to the waves crash on the beach (50 yards or so from my door), and the wind blowing through the trees. There was a bit of moonlight coming in, and no other light sources to distract from its beauty. It felt like a lovely escape, not at all like a fishbowl.
Tip: If you're not solo-traveling, and looking for a soothing place to spend a few days, I'd definitely recommend the Tramountana apartment at the Okreblue, which I got to take a look at. It's on the second (top) floor, and has more stylish decorations, a huge terrace, and a beautiful, 180-degree sea view.
If you're looking for a beautiful, luxury hotel on Paros, there's Parilio, A Member of Design Hotels. It's another Clean Blue Paros member that's a leader in sustainability on the island.
Like SeeSoo (which I mentioned above), Parilio was out of my price range. But I still met with the hotel's manager while I was there to learn about Parilio's plans to lessen their environmental impact. (Those plans include recycling gray water, switching the hotel fleet to electric vehicles, installing filtered water dispensers, and composting kitchen scraps from the hotel restaurant.)
And I snapped the photos below:
Other Sustainable Hotel Options on Paros:
Currently, there are two hotels on Paros available through EcoHotels.com – but be sure to check back for more, because this platform is adding more hotels regularly! Both hotels are near Parikia (my favorite town on the island): The affordable but stylish Paros Bay, and the five-star Minois Sugarcube Suites.
Plus, I think EcoHotels.com is one of the best sustainable hotel booking platforms for several reasons:
EcoHotels.com also has a wider selection (in terms of both price and geography) than other sustainability-focused platforms, and takes a lower commission. (Meaning it's not just pricey, luxury hotels.)
All the hotels listed have sustainability certifications accredited by the GSTC (the Global Sustainable Tourism Council).
Plus, the employees plant a tree for each booking!
[Related: My guide to the best websites for finding sustainable hotels anywhere you travel.]
---
Best Paros Restaurants
From international-style cafes, to upscale dining, to local tavernas (the often family-run restaurants serving greasy but delicious Greek classics), I was thoroughly impressed with the restaurants on Paros!
(I only had a few meals on neighboring Naxos, but I didn't like the food I had there as much. Maybe that's just my luck, but the Paros restaurant scene left me wholly satisfied.)
Just like with my Paros hotel choices, I tried to support as many Clean Blue Paros member businesses as I could while eating my way around the island. That didn't feel like a limitation at all – more like a helpful way to filter through the hundreds of choices on the island.
(All of these restaurants are Clean Blue Paros members, except the last one.)
(Parikia. Mediterranean-Greek. Romantic and upscale.)
This place has amazing food and feels like something special. The Greek chef does a mix of Mediterranean cuisines, and everything we ate was fresh, light and flavorful.
Levantis is run by an artist from Milwaukee who told me she'd lived on Paros for 24 years. (The island seems to have attracted quite a few expats, from all around the world, who showed up for a vacation and ended up staying decades.)
You can definitely feel an artist's touch in Levantis' design and food. Most of the seating is in an outdoor courtyard covered in grape vines that let in some moonlight, and there are just a few of her striking paintings on the walls. Even the bathrooms felt special, with rich blues and greens on the walls, and antique glass mirrors.
The portions aren't overwhelmingly large, but the ingredients are clearly high quality, and just a little different from most of the restaurants on the Paros.
I had the vegetarian cous-cous with roasted vegetables, and some intensely green sauce made of extra virgin olive oil, garlic and spices. It all just tasted like what real food should be. For dessert, the chocolate soufflé was everything I'd ever want a chocolate cake to be: Melty, gooey, doughy, warm and so dark.
(Parikia. Laid-back and wonderful dinners and sunset views. Vegetarian and meat-eater friendly.)
Mira might be my favorite restaurant on Paros. We ate there twice and everything was fresh, flavorful, and really well-presented, too. It's also one the few restaurants that would be exceptional whether you're looking for vegetarian or vegan appetizers to share, or a full-on carnivore meal like a lamb shank.
While Levantis felt chic, arty and romantic, Mira felt cozy, comfortable and familial. (And Mira is, in fact, a family-owned restaurant. Dad showed us to our table, one daughter was serving, and mom kept watch over everything.) But it still felt elegant, too, with a simple balance of classic Greek blue and white décor, with little touches of warm yellow.
(Parikia. Good taverna, but not my favorite.)
Right next-door to Mira Restaurant is Taverna Mouragio, which I also ended up eating at twice. (First for a dinner with Emanuele, then to meet up with a group of Greeks who were planning to go to Mira, but found it closed.)
Both times, the food was good, but just not as impressive as Mira's. Everything seemed just a little less special.
For next time, I'd try Taverna Alexandros – a similar style restaurant that's just a little further down the block, and that's also a Clean Blue Paros member.
(Parikia. Cocktails and sunset views.)
I only stopped by Nemobar for a cocktail once, but it was spectacular. Run by Andy, another expat who's been in Greece for decades, Nemo was the very first business to join Clean Blue Paros, and is a leader in sustainability on the island.
The ambiance is cozy and unique, with hanging plants everywhere that give the inside a jungle-vibe. And the cocktails were superb. For something unique and Greek, I recommend the Spritz with Otto's Athenian Vermouth!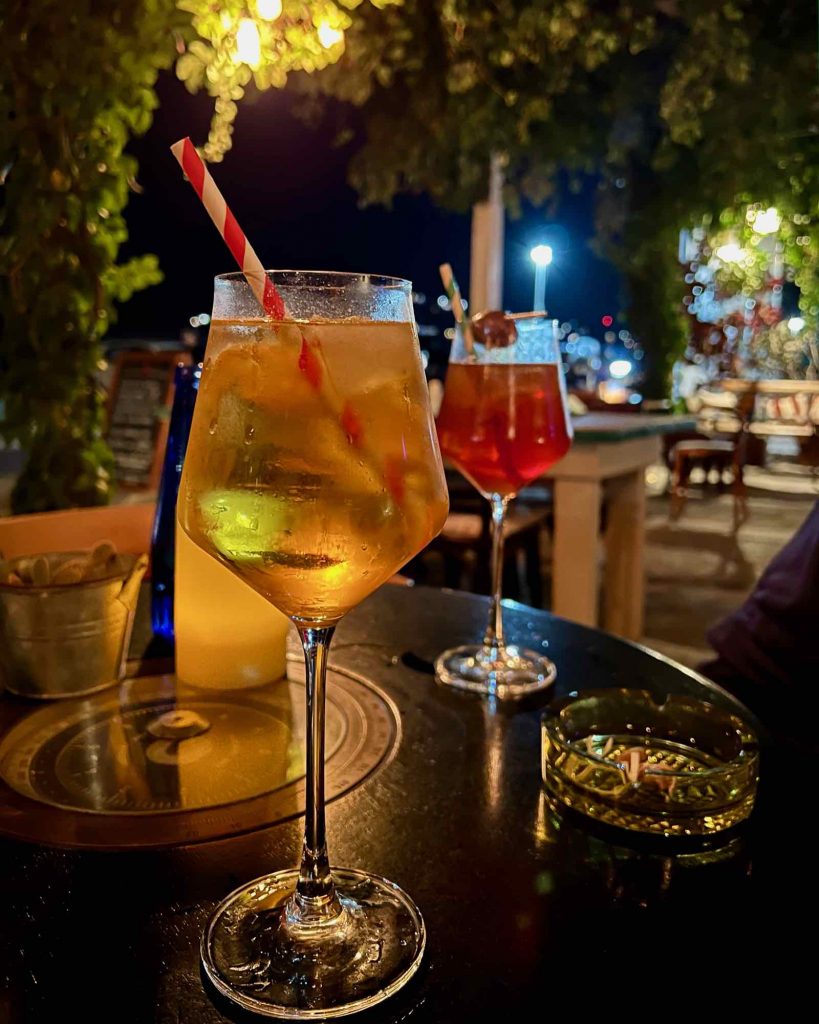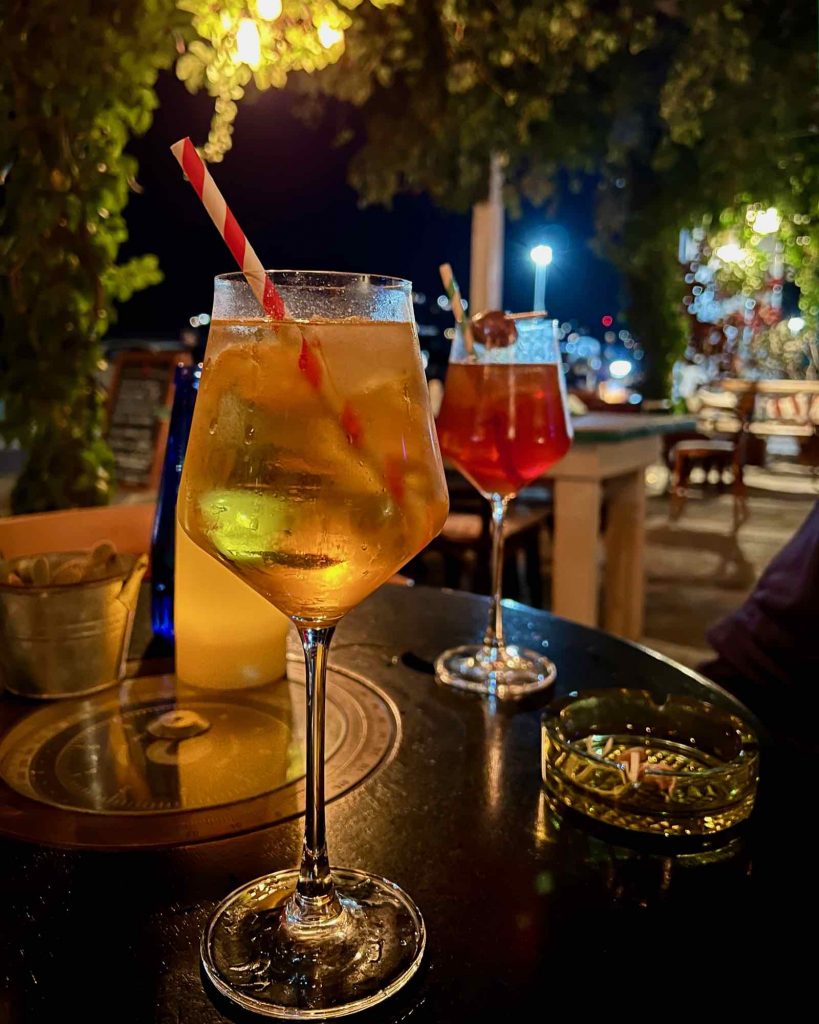 (Aliki. Coffee and cocktails of the highest quality! Off the beaten path location.)
From the name, it sounds like a clothing shop, and from the street, it looks like a supply store of some sort (maybe cleaning products?). But this little hole-in-the-wall made the best espresso I've had in Europe.
I know, that probably sounds absurd, considering that Europe includes Italy, the motherland of espresso. But this is just a different style, with more of a "third-wave" coffeeshop vibe. If you love espresso with light roast that lets out those floral flavors, you'll love Ramantanis Bros.
(99% of the espresso you'll find in Italy is a very dark roast or, as you go further south, what I'd call a burnt roast, which means the flavor is pretty one-dimensional. I'm not saying that's a bad thing, but that's the prevalent style almost everywhere in Europe, including in Greece.
Traditional Greek coffee, meanwhile, still has the grounds in the bottom of the cup, and is typically served with sugar but no milk or cream. It's some of the darkest and strongest coffee I've had anywhere. But this isn't what you'll normally get if you just order a coffee in Greece. You have to ask for it – and I always think any traditional foods or drinks are worth trying!)
They also make cocktails, which I'm sure must be amazing! It's out of the way, but if you're staying in Aliki, I would definitely go here for an evening drink. Just don't expect too much ambiance from the neighborhood, as the place is sandwiched between a dentist's office and gas station.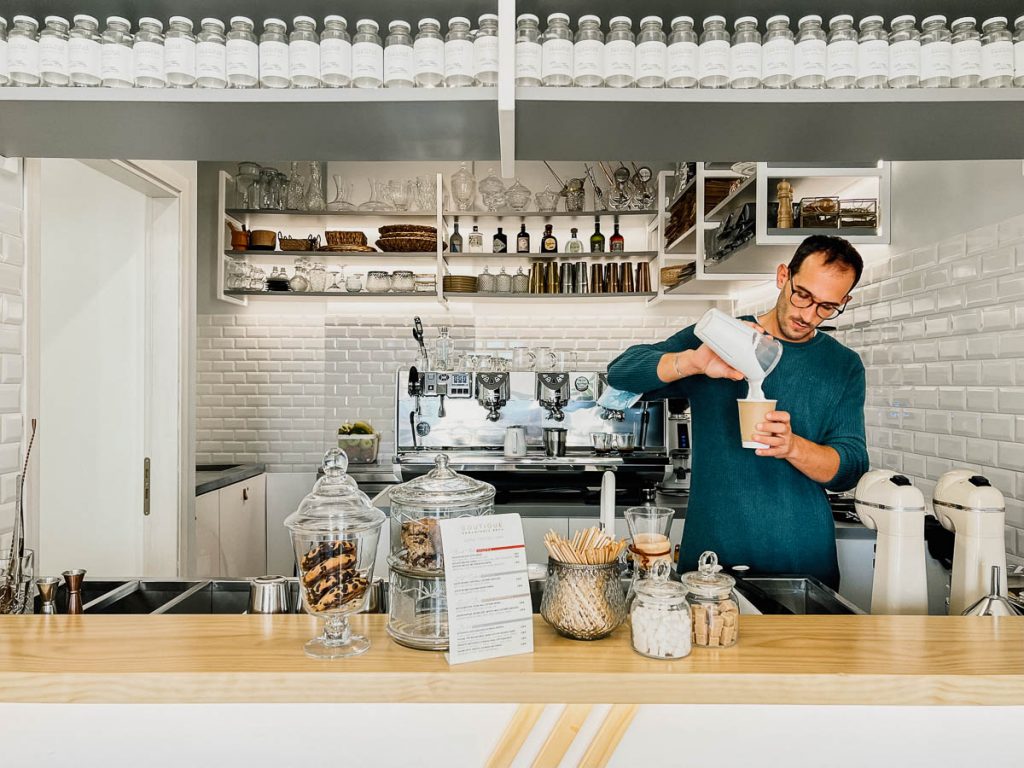 (Naousa. International menu. Light, surprisingly good food. Wi-Fi.)
When you're looking for a breakfast, brunch or lunch that feels Greek, but lighter than the traditional fried-by-a-grandmother taverna fare, Karino is a great option in the Naousa port area.
Karino has a very international feel. (Think: Breakfast served all day. Vegetarian eggs Benedict on the menu, along with smoothies and pancakes. Wi-Fi and lots of customers working on their laptops.)
That kind of vibe always makes me skeptical in a touristic area, but Café Karino actually had really good food, too.

I ordered the "Paros-style" eggs (with a tomato-based sauce, and fresh cheese and basil). It came with a really good slice of the traditional, hearty whole-wheat bread. Emanuele had Greek salad, and it was one of the best ones we tried on Paros.
Not to be confused with Café Karino, just a couple doors down. Kiranos also has Wi-Fi, and the same modern, beach-club-meets-coffee-shop vibe as Karino, but the food we had for lunch here was all just okay.
(Lefkes. Traditional (greasy but delicious) Greek taverna cuisine. Affordable. Great view.)
Lunch at Flora Taverna, in the little town of Lefkes, was one of my favorite meals on Paros. We wanted something light, and the server suggested Mezze for Two.
Mezze are basically appetizers – a wide selection of small dishes, usually served several at a time, and usually meant to be shared. Similar terms are used all over the Eastern Mediterranean and Western Asia.
The plate of food that arrived somehow didn't feel too heavy, despite being almost 100% fried foods. It was all vegetarian (but mezze are not necessarily vegetarian), all very clearly homemade, and all just divine. Stuffed peppers. Spanakopita. Rice. Eggplant. Olives. Things I couldn't identify, but thoroughly enjoyed. We could barely finish it, and my mouth is watering just remembering it now.
When we left after our leisurely lunch, the woman who had served us came running down the street to give us two pomegranates. The moment gave me those old-fashioned travel feels that I hadn't had in a long time, where it seems like you're connecting to people despite a language barrier and mostly communicating by gestures and smiles. (Instead of feeling like a tourist who's just in the way. Again, low-season travel has my heart.)
Flora Taverna is probably the most traditional taverna-style restaurant we tried, and it's one of the few that was not a Clean Blue Paros member.
Another that seemed similarly traditional, and is a Clean Blue Paros member is To Spitiko. I didn't have a chance to get there, but it's on my To-Eat list for next time in Greece.
---
Getting There – Flights & Ferries in Greece
Flights to Paros arrive from only two cities: Athens, and the Northern Greek mainland city of Thessaloniki. (The 40-minute flights from Athens to Paros are available year-around, while Paros is currently connected with Thessaloniki only in the summer months.)
Ferries to Paros (the greener option)
Luckily, Paros and the surrounding Greek islands are well-served by frequent ferries, which are also much more efficient than flying short distances.
I flew to Paros, and left on the ferry. But if I'd realized how easy, cheap, and fairly fast the ferries were, I would have taken the direct ferry from Athens to Paros, too. (The ferry makes a few stops, but it's direct in the sense that you don't have to change boats.)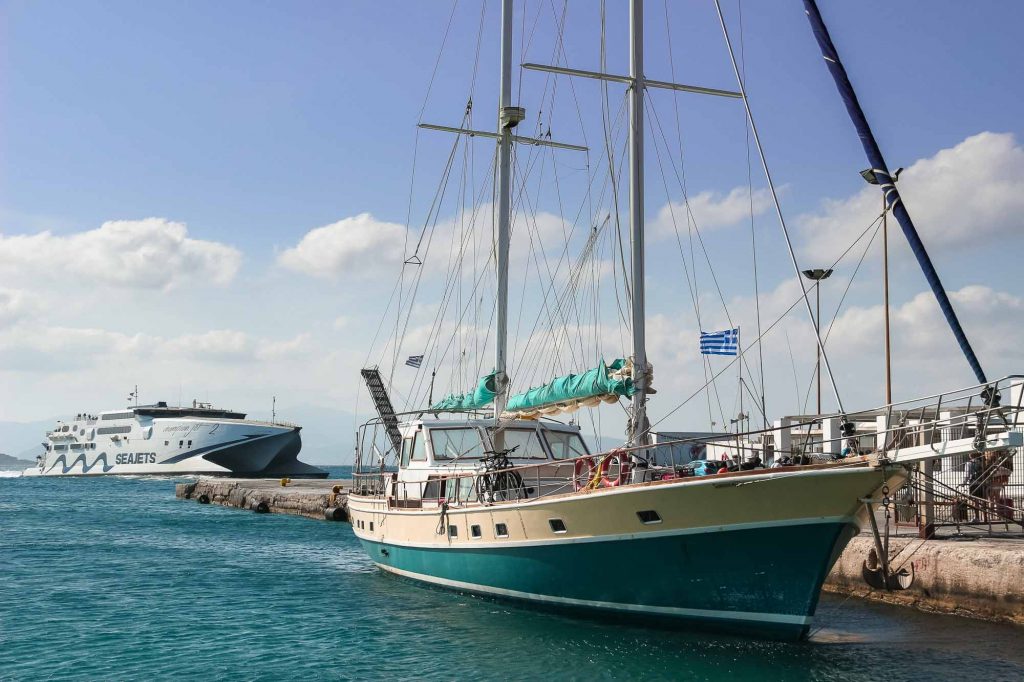 It's about a 4-hour ferry trip between Athens and Paros.
When you consider the extra time you'd spend going through airport security and then waiting around at your gate, the ferry takes about as long as flying, but with far less climate impact.
I bought my tickets through FerryHopper, which I like for several reasons:
First, you can compare tickets from multiple ferry companies in one place.
FerryHopper doesn't add any fees or surcharges to the ticket prices.
You don't have to print out or pick up paper tickets for most ferries in Greece. Instead, you can board with the tickets on your phone or tablet, either using their app or by downloading them from your confirmation email.
Finally, FerryHopper's app is really useful! (See the screenshot below. You can scroll to the bottom of their homepage to download it.) While you're traveling, the app shows your ferry's location in real time, plus whether it's on schedule or running late, and other information that isn't available elsewhere. I loved being able to see on the app which port we were pulling into and how far we were from other islands. (The ferry companies themselves don't offer any of this. They don't have their own apps yet, and there's no airplane-style live map on the ferries.)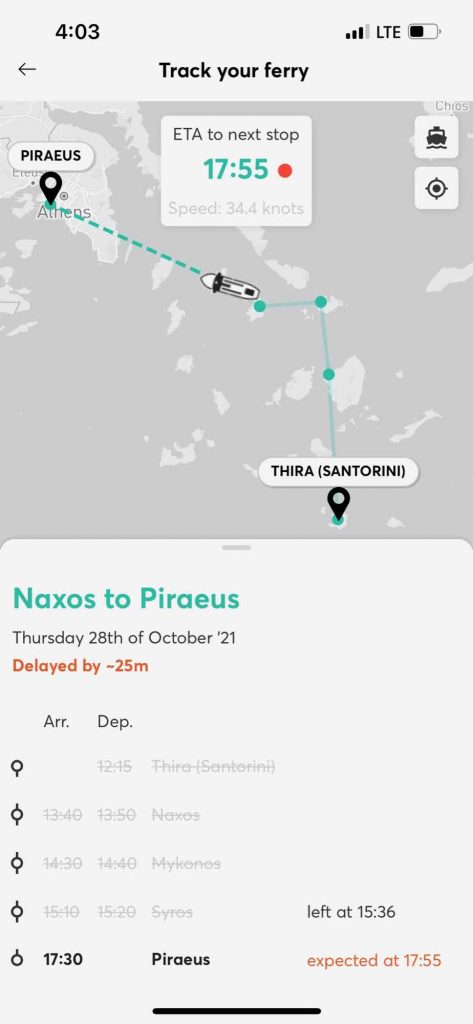 ---
Getting Around the Island
Everyone I talked with before this trip recommended renting a car on Paros – and after spending ten days on the island, that's definitely what I recommend, too.
(Or, if you mostly just want to laze on the beach somewhere without dealing with a rental car, but you'd still like to see the main sites on Paros, you could book a half-day private island tour.)
Paros Rental Car Options
I went with a local rental car agency called Chaniotis Paros Rentals and had no problems. An employee met us at the airport with a sign with my name on it, and took us straight to our car in the parking lot.
(And then we gave him a ride into town, which was cute, and gave me a chance to attempt to grill him for local advice. It didn't work terribly well with the language barrier. You just don't get that kind of human interaction with the big companies.)
I compared with the big chain rental companies, plus other local rental options, and Chaniotis had the best prices. Otherwise, you could rent a car from Enterprise or one of the other international brands that have locations at the Paros airport, and near the ferry port in Parikia.
Public Transport on Paros
I'd hoped to be able to give up the rental car for a few days at the end of my trip and just get around with the local bus – until I learned that in the off-season it's mostly used as a school bus for kids, with a schedule to match.
In the summer, it would be more practical to skip the rental car on Paros, but not so much in October. (Unless you're staying in a resort and not planning to explore around the island very much.)
You can check the Paros bus schedule here.
---
Can you drink the tap water in Paros?
Yes! The tap water on Paros is entirely potable and safe to drink without any additional filtering or sanitizing.
This wasn't the case until a few years ago, and it still isn't the case on many other islands in Greece. But the local government has put in a lot of work to modernize the island's infrastructure, and Paros' tap water is now tested regularly by third-party labs, and is much cleaner than the European Union even requires.
But that doesn't mean the taste is perfect. So Clean Blue Paros has helped revamp the island's seven water stations that sell filtered, UV-sanitized tap water for a fraction of the cost of bottled water.
Or you can pack your own bottle to do the sanitizing or filtering for you.
I brought along both options – a filtering bottle from Grayl, and a UV sanitizing bottle from LARQ – because I wanted to test them with Paros' tap water. They both improved the taste.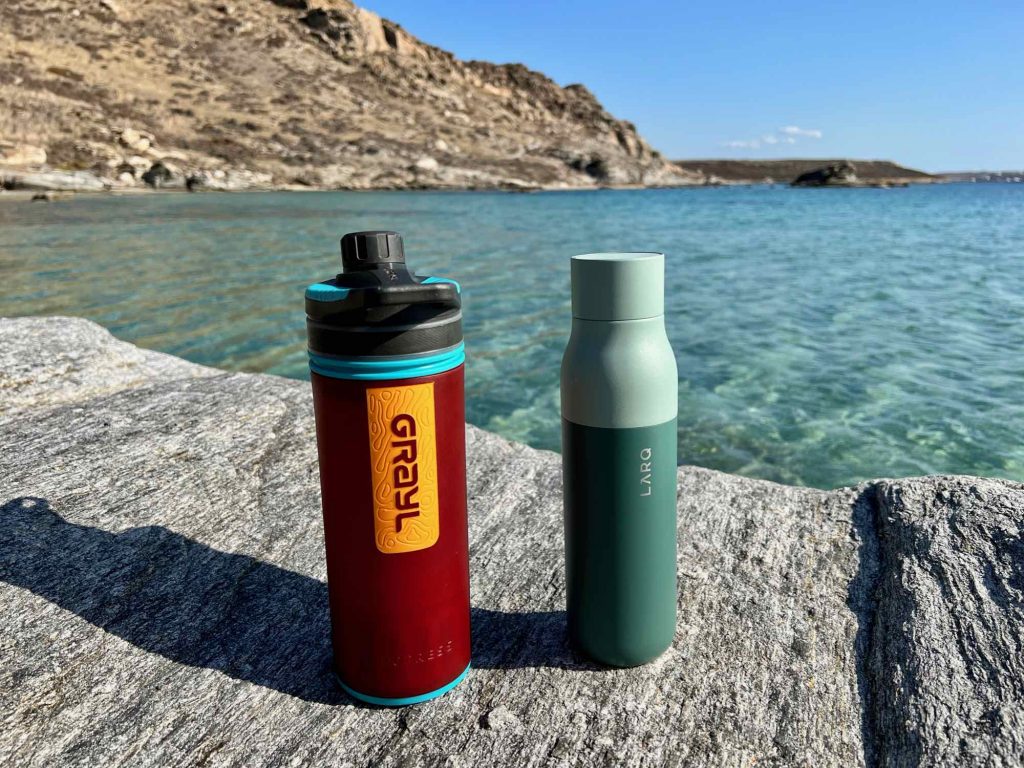 ---
Packing List for a Trip to Paros
First on the list: Definitely pack a refillable water bottle for Paros! (Either the filtering or UV sanitizing bottles I mentioned above are great, or just any old bottle you already have.)
Either way, you'll be able to get it filled more easily on Paros than on some other Greek islands. The people running bars, hotels and restaurants are more used to the request, thanks to all the work Clean Blue Paros has done to spread awareness and help businesses use fewer disposable plastics.
And to support all that work that locals are doing, Paros is the perfect place to start trimming other single-use plastics from your routine, if you haven't already.
These are a few of my favorite eco-friendly, travel-friendly products:
Solid toiletries are ideal for travel, since they replace liquids with plastic-free alternatives that never spill, leak or get taken away by airport security. Try them for a trip, and you might just keep using them at home!
Other travel-friendly toiletry swaps:
If you're planning to hit the trails through the mountains of Paros, I'd also recommend sturdy hiking sandals, like my go-to Chacos, or lightweight hiking shoes. (The terrain isn't very severe, so I doubt you'd need full-on hiking boots.)
If you need a new swimsuit, Wolven makes gorgeous designs from fabrics made out of recycled fabrics. Since I was on Paros in October, it wasn't really beach weather anymore – I needed a light jacket for the windy afternoons more than a swimsuit.
---
Where to Go From Paros?
Antiparos Day-trip
Antiparos is the obvious day-trip option from Paros because it's just so close. (I wouldn't say Antiparos needs to be an overnight in your itinerary, unless you're traveling really slowly, or just want somewhere to relax and unplug.)
The tiny island is known for attracting rich and famous visitors, and when you drive (or bike) around, you'll notice a lot of well-gated, luxurious looking vacation homes. But in October, the Antiparos felt rustic and perfectly abandoned.
There's also a cave to visit on Antiparos (it closed in mid-October, so we missed it). And you can hire a boat to take you to the even-tinier, uninhabited island of Despotiko, which has an important archaeological site.
You can take a ferry from the main port of Parikia, but it's much more direct to catch the ferry from Pounda. (Which makes it a 5-minute trip, instead of 30 minutes from Parikia.) From Pounda, you don't need to buy tickets in advance; just buy them on the boat. The fare is about 1 euro per person and 5 euro to bring your rental car.
If you leave from Pounda and want to make it a full day on Antiparos, it's a good idea to get a hotel in Pounda to stay close to the port.
(We spent a night in the Pounda Sunset Suites, which, as I described above, was a lovely little family-owned set of hotel-condos just up the road from the quiet port. Or, for an upgrade, there's the luxurious beachfront SeeSoo Resort, a Clean Blue Paros member hotel right across the street.)
Another pretty appealing option is a catamaran trip from Paros to visit Antiparos and other nearby islands. (You can check availability below.)
Paros to Naxos
Antiparos is a great day-trip from Paros, but Naxos really deserves more time. It's only a 45-minute ferry ride from Paros, but it feels like a totally different world.
Naxos is much larger than Paros, and has an almost jungle-like climate that's the opposite of Paros' dry mountains. It's also famous for its long beaches, and Greek and Venetian architectural ruins, which are scattered all over the island.
The port town of Naxos (which, confusingly, can also be called Naxos, or Naxos Town, or Naxos Chora) was what I was expecting from the port town of Parikia on Paros: Most of the town feels a little dirty, busy and not particularly enticing. (That's what I expect from most port towns.)
The old historic quarter of Naxos Town was an exception. It has lots of hills, narrow alleys where people put entertaining decorations on their tiny front porches, and a historic castle to wander around in.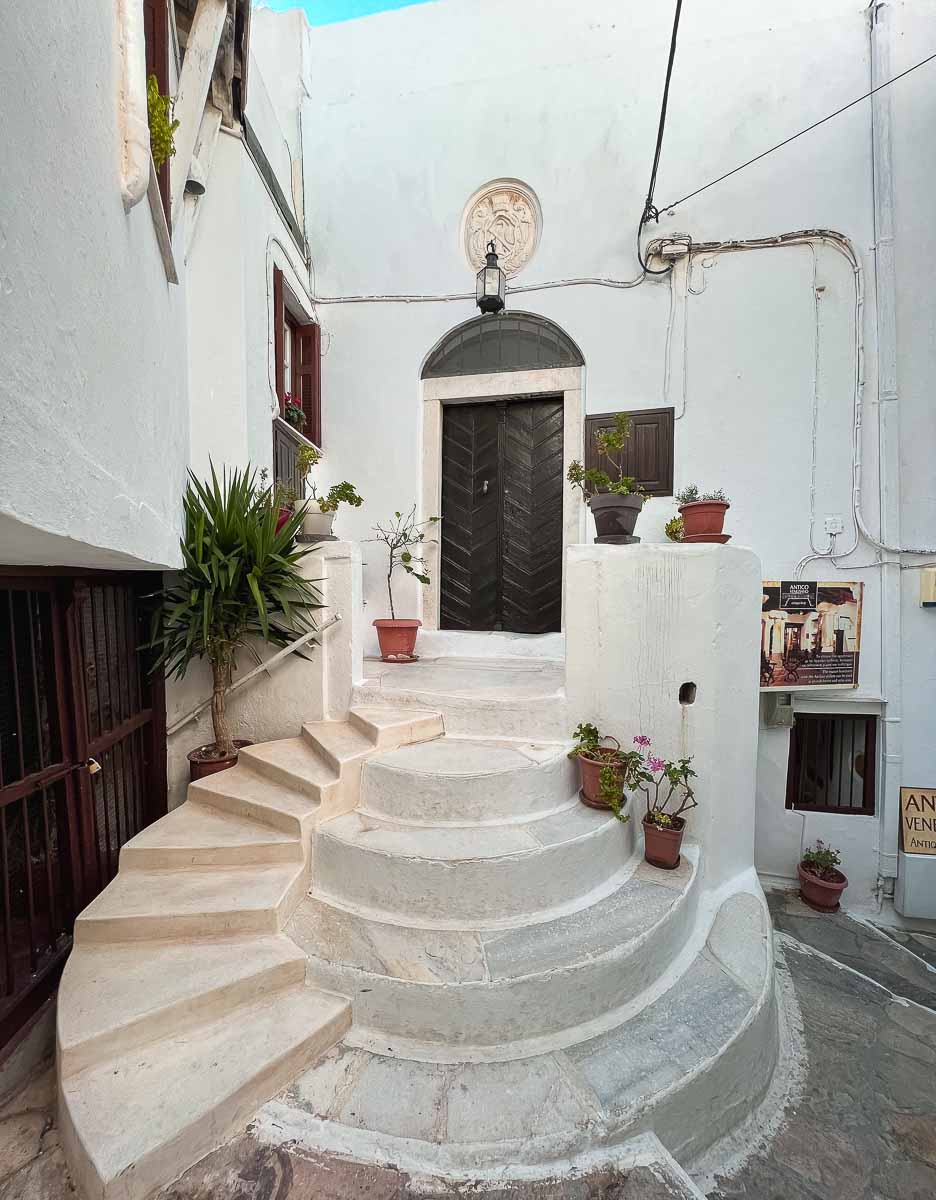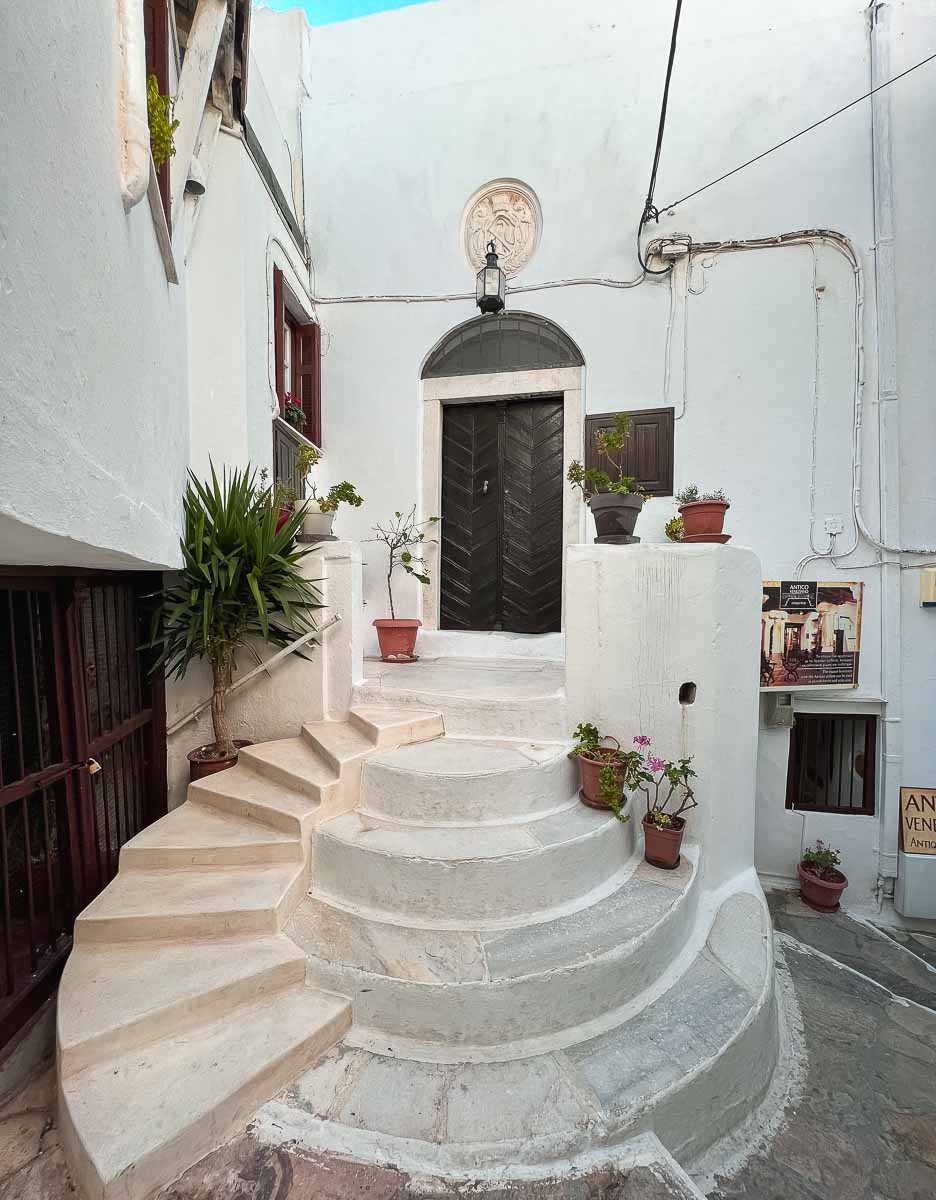 But the real point of visiting Naxos is to get out and see the rest of the island, and you'll definitely need a rental car for that. I spent three hours exploring just one little town in the center of the island, and I could have easily spent longer.
Here's a video, so you can follow along on my (slightly absurd) adventure there:
Naxos Hotel & Rental Car Recommendations
I rented my car on Naxos from a local company called Moustaki Rental, because the owner of the small hotel where I stayed set it up for me. (Both companies are owned by local couples, and I had great experiences with both.)
Then the owner of the rental company delivered the car to a parking lot nearby the hotel to make it easier to leave the city. (So I wouldn't have to navigate too many of the incredibly, narrow, confusing streets of Naxos Town.)
Plus, the "Moschato" room at Ampelos Suites was one of my favorite hotels rooms I've ever stayed in.
Note: There are two locations – Ampelos Suites, and Ampelos Residence. I booked the Residence, and requested a room with a view. The next day, one of the owners called me to say she thought I'd prefer the Suites (she was right; the view was spectacular), and offered to pick me up from the port when my ferry arrived (for free).
Five-star service all around!
Naxos Restaurants
None of the restaurants I tried on Naxos really impressed me. But there are two on my list to try when I get back: A couple of locals recommended To Elliniko, which had just closed for the season at the end of October. And Meze Meze, right on the main street by the waterfront, was recommended, but I just didn't have a chance to get there. (It shows up on Google Maps as "Meze 2.")
---
I always appreciate being able to speak just a few words of the local language before showing up in a country, or even recognizing a few words that people are saying. There's a lot of satisfaction in both!
One program I've used that does a decent job with both speaking and listening is Pimsleur. They offer a free one-week trial, and if you stick to it, even that can be enough to learn some basic phrases and pick up a little of what people are saying when you arrive in Greece.
The program has you listen to conversations in the language you're learning, then breaks them down, word by word, giving you a chance to repeat them. There are flashcards to see the vocabulary written out, too, but I think the focus on listening and repeating makes it more useful than many other apps and programs that basically just make you try to memorize written vocab.
Give it a shot for the free week and see what you think! After all, there's nothing to lose.
If you still have questions about visiting Paros, feel free to ask in the comments! And check out my article about why Paros' plastic-free initiative is such an important step for sustainable travel.
---
This page includes some affiliate links. These recommendations for carefully chosen companies and products let me earn a commission if you decide to buy anything through them – at no additional cost to you! For more info, please see my Privacy Policy. Thank you for your support!