…And why does Europe shut down for a month in August?
Two years ago, I wrote a post called August in Milan about the Italian holiday period of Ferragosto, and how the city heats up and empties out. I spent much of that August sitting on the stone floor of my un-airconditioned apartment (the only way to even try to keep cool besides taking a cold shower) and listening to the quieter-than-usual traffic pass by under my window. At the time, I was half complaining about it, but now ­– as a freshly repatriated expat in hard-working Chicago – I remember it fondly.
Ferragosto is August 15th every year, and it's a national holiday in Italy and Switzerland. In modern Italy, it's the centerpiece of much more than one day off – anything from a couple of weeks to a month.
Originally, its roots are in ancient Rome as a celebration of the end of the summer agricultural season. I'm not an anthropologist or anything, but it seems significant that even ancient Italians started celebrating before the harvest, while Germans didn't start the fun until after, with Octoberfest.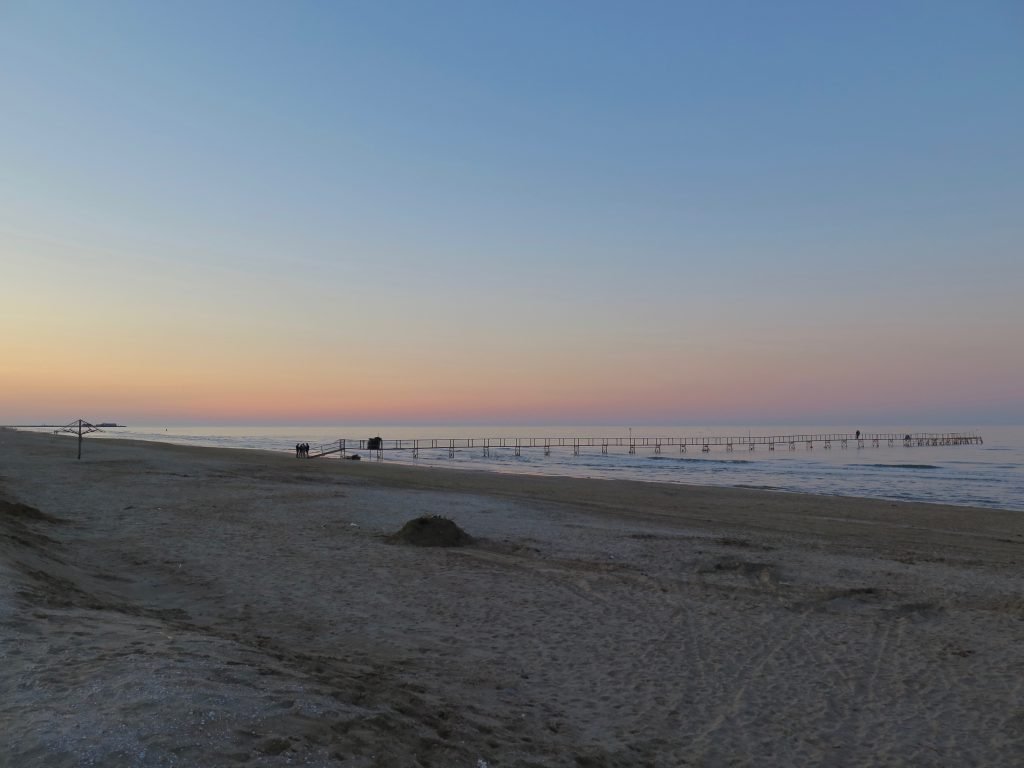 Back in the present day, the only thing most people hear when I talk about Ferragosto is an entire month off.
An entire month of my friends in Europe torturing me with vacation photos from Sicily and video calls from the beach in Tuscany, while we work away in our new American life.
When we lived in Italy, we used to resent the rigid dominance of tradition and the calendar there. Now, I keep hearing complaints from friends back in Italy (Italians and non-Italians alike) that they "have to take a vacation right now."
It's true: If you work in France or Italy (as Lele and I did until this summer) you essentially must take some of your paid vacation days in August. While France doesn't call its celebration Ferragosto, they follow a similar holiday schedule and almost everyone is on vacation for part or all of August.
Every company in Italy except the large multinationals shuts down for at least two weeks, so employees don't have any choice but to take vacation.
That's paid vacation, of course. Of which most jobs in Italy offer five weeks per year. In France it's usually seven weeks' paid vacation.
Throughout the past year, I listened to my boss in France gripe about how the (luxurious) French holiday schedule makes it so hard to get work done (even though he is French). Then I sent him an email during the first week of August and got an auto response saying he would be out of the office until August 26.
And for the past two weeks, I've been entertained by listening to my Italian husband try to explain to his American industrial clients that their orders won't be shipped until September because Europe is closed for business right now.
This can also be frustrating if you work in Italy or France because:
1.) Hey, maybe you would like to take your vacation in October. Or February. And
2.) Everyone takes vacation in August, so it's the most expensive time of the year to travel to, from, or around Italy.
But honestly, my frustration about Ferragosto is mostly from my stubborn, independent American side.
My overworked, under-vacationed American side now sees that the tradition of Ferragosto ­– while definitely limiting to my freedom of choice – does have the positive effect of making people actually go on vacation. It's a stress relief valve built into the culture. I've been reminded lately that this doesn't really exist in the workaholic US culture, where people even accumulate unused vacation days.
Ferragosto may not give Italians much individual choice, but it does provide the communal privilege of a healthy escape from work. If everyone has to go on vacation in August, at least everyone goes – crowds or no crowds.
So do yourself a favor and take a break already.
---
Traveling to Italy? Some advice:
1. Travel like a local:
In my experience, trains are almost always the best way to get around Italy. This is especially true during busy travel periods for locals, such as Ferragosto and April 25th (Liberation Day, celebrating the end of WW2 in Italy). You don't want to be on a highway during these times, because you will run a huge risk of getting stuck in traffic, at a standstill, for hours. It's happened to me, and I wished I'd taken the train.
Unlike in the US, trains in Italy go to every city and nearly every tiny town, and offer many options for daily departures.
You can book Italian train tickets through ItaliaRail. Check out my in-depth guide to train travel in Italy – it has all the details on the different kinds of trains, how to buy tickets, and tips to avoid getting a fine or missing your train (from hard-earned experience!).
2. More posts for planning a trip in Italy:
To show up prepared, and not feeling like a clueless tourist, check out my post about How to Eat in Italy! It guides you through the "food day" – from avoiding overpaying for coffee, to the difference between all the courses on the menu, to when to tip.
Here are my favorite restaurants all over Italy.
This is the story of the country's first Starbucks and the coffee culture and history related to it.
Enjoy!
---
This page includes some affiliate links. These recommendations for carefully chosen companies and products let me earn a commission if you decide to buy anything through them – at no additional cost to you! For more info, please see my Privacy Policy. Thank you for your support!