It's almost Labor Day weekend, which in the US culturally marks the end of summer. But my mind is still on August 15, known as Ferragosto, which marks the middle of the Italian summer vacation season – not the end.
Yet it was right around Ferragosto that Chicagoans started reminding me to enjoy the very end of summer. At first, I didn't get it.
Then I started to notice a little chill in the air – strange for the middle of August, I thought. The temperature still hits 80 degrees most days (27 C) and most people still walk down the street in shorts and sun dresses… but there's this little wind starting to whip around that can give me goose bumps even when I'm lounging in the sunshine.
If this is August, what is October going to feel like? This week I'm in typically hot, sweaty Atlanta, Georgia, but I'm still almost worried I'll come back to snow in the Windy City.
We just moved to Chicago in late May and I've already gotten the idea that life here revolves around the weather and the fear of weather. Maybe I'm exaggerating, but people talk about it all the time. (And I wonder if that's part of what keeps the cost of living so much lower here than in other huge cities in the US.)
When we arrived here, it was frigid. I stood in line for the bus at the airport with my hood tugged around my face, feeling like I'd traveled back in time to January. We spent those first weeks apartment hunting in the freezing spring rain and wondering where in our 10 suitcases we had packed our warm clothes. Yet nearly everyone we met told us (forebodingly) At least you picked the right time to move to Chicago!
Three months ago, summer in Chicago hadn't even started and now it's already fading.
I think living here will be a good reminder to live in the moment, because everything is temporary. (Both the good weather and, hopefully, the bad. But also the jobs we work and the countries we call home.)
The brevity of summer here may be part of what's making me reflect on this crazy-busy past year. Not that busy is a bad thing for me. I get bored when I stick with the same routine for long, which is probably why I've lived in four different countries in the past five years.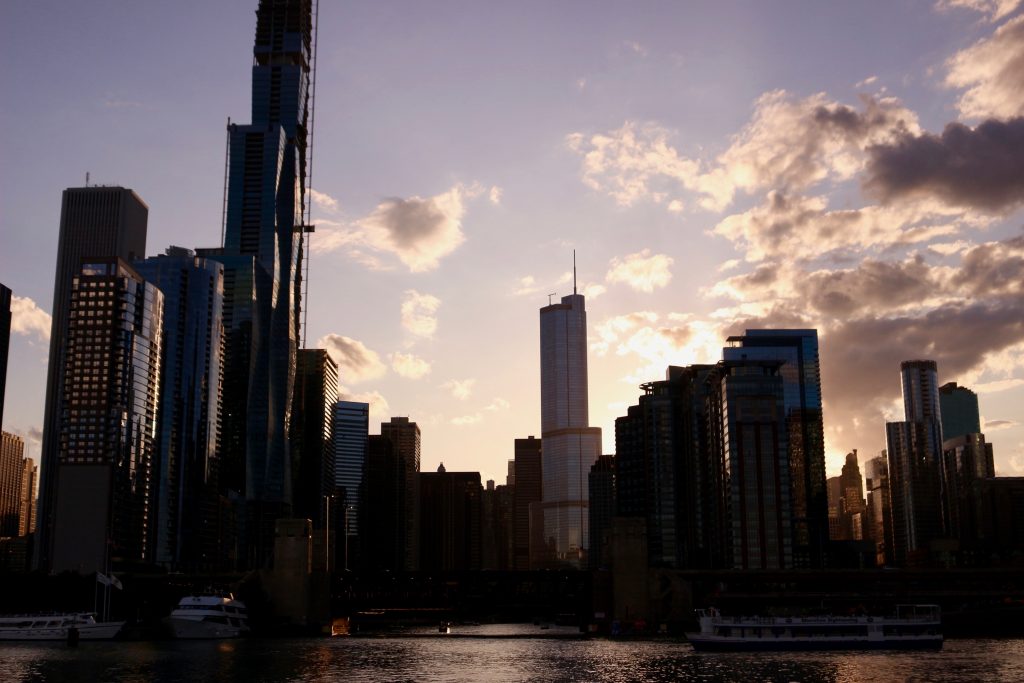 Most bloggers do a yearly recap at the actual end of the calendar year, but for me the end of summer always feels like a more significant transition.
Maybe it's because the change from sweaty summer to crisp autumn feels so much more obvious than the other seasonal changes (unless you live in place without seasons – sorry LA friends). Or because my birthday is in July, or because I've been conditioned by all those years of back-to-school.
Whatever the reason, this feels like the end of a year has been particularly full of change, even for me, and the beginning of a new phase.
So here's a recap of the winding path that got me here, and never gave me a chance to get bored:
Last July:
I can hardly believe it, but a year ago I was just taking final exams for grad school in Milan. For a while there, I was back to being a student, although it already feels like ages ago as I very quickly fell back out of the habits of studying and spending an hour on the bus every morning to get to class.
July & August:
Our trip around the US and up through Iceland, where we did capoeira with a group of Icelandic, Chinese and Italian capoeiristas. (Technically our honeymoon!)
September:
We came home to Italy and I started my visa application to work in France. (You might think – like I did and my French employers did – that being married to an Italian citizen lets you legally work in Europe, but it turns out that's not necessarily true.)
I did the paperwork, and took two trips to the French embassy in Rome in the course of one week. Then I scoured the French Craigslist to find an apartment to sublet, moved across the Alps, and started my first full-time office job that I've had since… ever.
All winter:
Back and forth between Milan and Grenoble, France, what felt like a hundred times. (It was probably more like a dozen… Still a lot of train rides through tunnels under the Alps.)
December:
Lele accepted a job in the USA!
In Chicago. A city where I had previously spent six hours (he'd spent zero) and which had not been part of our Honeymoon USA tour just a few months before. Go figure.
Also, my first Christmas in Italy!
February:
Lele was between jobs and thus free to travel, so I used my generous French vacation allowance and we took off to Thailand, to sip coconuts and get massages on the beach. It was worth it.
But seeing the beaches and jungles overflowing with plastic reminded me that sustainable tourism may be closer to what I want to work on than my French office job would ever be.
Even though I'd traveled in Southeast Asia quite a bit before this trip, and had just finished a masters in sustainability where I learned a lot about the global plastic system, I was still shocked. And my heavy-traveling lifestyle makes me even more interested in finding ways to make these systems better.
Spring:
We sold most of our belongings in Milan, gave up the sunny little apartment that had been our home base for three years, and got ready to fly across the Atlantic heavily laden with Italian and French jams, cheeses, and alcohols (plus an excess of other, less important stuff like our clothing).
May:
I proposed that it might "make sense" to spend the month of June homeless, instead of rushing to find an apartment that was available on short notice.
June:
Was this a good idea though? We were homeless. Our suitcases lived in a storage unit that we occasionally visited to exchange our dirty clothes for whatever we were able to dig out first. We lived in Airbnbs, hostels and hotels in Chicago, Michigan, Indiana, Houston (Lele), and Boston (me).
July:
We moved into a new apartment! We now live about 30 floors above the ground. For the first couple of weeks when I woke up to the view of sky and skyscrapers, I had the distinct sensation of dangling from the side of a cliff in a rock climber's tent half way up a mountain.
(I've never actually done this (yet!). But luckily I know someone who has.)
And summer is beautiful and fun here in Chicago! Even if I'm not clinging to a cliff. We dive into Lake Michigan from a path between the water and the skyscrapers, and take sweaty bike rides exploring this sprawling city.
August:
Apparently summer is over.
I've lived in three countries in the past year, which has been exhausting and overwhelming, but also a refreshing restart. This is the first time in five years that I'm living in the US, and the reverse culture shock is real. But it's also fascinating to get to better understand the culture I grew up in and the ones I've gotten used to in the past years. It's all given me a lot of inspiration and writing material, and I'm looking forward to many more adventures to come.
---