Back in May, I told a cab driver in Milan, where I had been living for three years, I was moving to the US. He said, "oh really? You mean New York?"
This is pretty common. People all over the world tell me they've experienced the US – usually New York City, Miami, and/or San Francisco. Maybe Las Vegas. While these cities are icons of architecture, tech and trend setting, I would argue they're not representative of what this country actually is for the vast majority of people who live here. (Just like how seeing the center of Rome as a tourist doesn't tell you what it's like to live in Italy.)
If you're visiting the US and want to get a feel for the culture, a bit of history, the layout of the cities, the personality and the endless contradictions, Indianapolis is a great place to start.
In fact, I'm going to make a case for why Indianapolis is The Most American City in the USA, and maybe even the best place to get to know this country.
Indianapolis is one of the first US cities I've written about, now that I'm back in my home country, and exploring a region that I've never been to before. I get to feel like a tourist myself, and I'm having some realizations about what makes a typical American city.
Traveling in "The Real America"
The city nicknamed "Indy" gives a good overview of all that is America today: It feels ambitious and aspirational – two very American qualities. The politics are purple. It has a cleaned-up version of rural, redneck culture. It's surrounded by farmland, but clearly has some issues with homelessness and urban sprawl. There's Civil War history here. Hip, educated young people working in trendy restaurants. Crime (but not too much). Too many cars (but friendly drivers and mild traffic). Diversity (but mostly white people, and no immunity to racism). And lots of people who give a friendly hello to strangers passing on the sidewalk.
Let me set the scene for you: Indianapolis is the biggest city in the state of Indiana, and the capital. It's surrounded by farm fields in a region that calls itself "America's heartland." Some people on the coasts call it "fly-over" country (meaning they fly from the East Coast to the West Coast and have no idea what's in between).
Over a couple of road trips to Indianapolis this fall, I've found it to be much more interesting than the stereotypes about Midwestern boringness would have you believe.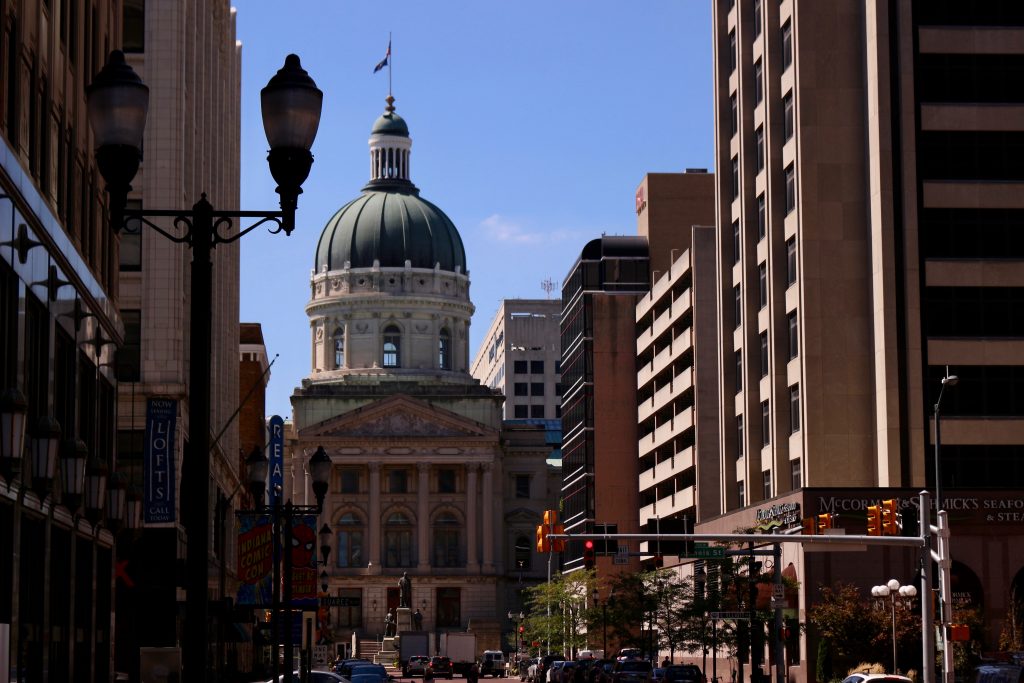 It's not as glitzy as New York, or as dramatic as the Rocky Mountains I grew up surrounded by, or as trend-setting as California. But it has a bit of everything. More importantly from a travel perspective, it's a pretty good representation of how most people actually live in United States.
Indy is Just So… Normal
Downtown is beautiful – with some nice architecture and a couple of skyscrapers – but not overwhelmingly beautiful. There are monuments to Union leaders from the Civil War and some impressive architecture – although nothing most people would recognize as from Indy. (Everyone knows the Golden Gate bridge and the Empire State building and can tell you which city they're in, but Indianapolis has escaped this kind of fame.) Just 200 years ago, the city center was all log buildings.
A quiet river flows by near downtown. It's kind of pretty, but not too pretty. A bridge over it slightly reminds me of the bridges in Florence, Italy, but without any of the surrounding architecture or anything else.
To me, the most remarkable thing about the canal area in downtown is how much it doesn't remind me of Venice. Venice is dark with narrow, winding alleyways, no trees, no way to tell where you are, and a persistent impression that the whole beautiful mess could just collapse into itself without a moment's notice. Meanwhile, the canals in Indianapolis are wide, neat and new, with right angles and pristine bricks, and lined with trees and nice apartments. Like the rest of what I've seen of Indy, the area is just reasonable and sort of average in a way that I see as overwhelmingly American.
For the location, I would expect the housing to be overpriced amenity condos, but I looked them up and they seem more like underpriced amenity condos. (You can get a one-bedroom for $1175 a month, which – coming from someone who lives and rents in Chicago – sounds criminally cheap for downtown housing with parking and a gym.)
What Does "the Most American City" Even Mean?
When I say "American," I'm talking about the dominant culture of the US, even though America is not just one country. It's two continents comprising South, Central and North America.
(And for the record, Mexico and the seven countries of Central America are part of North America. I've argued with many a European about this. When Italians and French people ask me where I'm from, I always say "the United States." Invariably there's a pause, then they ask "You mean you're American?" "Yes," I say, "but really America is not just one country, so it's more correct to say I'm from the United…" Then they interrupt me to start talking about something else. So I've sort of stopped trying to be perfect about this.)
With that in mind, Indianapolis is famous for some of the most typically "American" things: The Indianapolis 500, the writer Kurt Vonnegut (one of my longtime favorites), Mike Pence (less so), Wonder Bread… the list goes on.
Let's talk about some of those:
Driving Fast (The Indianapolis 500)
Raise your hand if the only reason you've ever heard of Indianapolis is the Indianapolis 500? Yeah, me too, until last month. So I did not have high expectations for this city.
The Indy 500 is a very famous, very long race. Drawing on all of my car racing expertise, I would describe it as a little less redneck than NASCAR, but still quite Americana-kitschy, far too long, and I cannot imagine how boring. (Did I mention it's 500 miles, AKA 805 kilometers?)
Alas, this race is a beacon of US culture. Yet I think the most American thing about it is that it shares a lot with other cultures, and most people probably have no idea. It competes for prestige with the Monaco Grand Prix, and you can't get much further from the corn fields of Indiana than that. But instead of celebrating with a bottle of Champagne, the winner douses himself with a bottle of milk. And you can't get much further from France and Monaco than that.
Book ahead: Ticket for the Indianapolis Motor Speedway Museum are included at a discount along with lots of other major attractions in the Indy Attraction Pass.
Imported Names
The European racing connection is kind of cute and unexpected, and much less obvious than the connection you see by looking at a map.
Like so many cities in the Midwest and beyond, Indy is surrounded by towns named after the countries that people immigrated from.
Just a few: Trafalgar, Edinburg, Milan (and also Old Milan!), New Lisbon, Carthage, Sparta, Versailles, Napoleon, Crete…. But don't go thinking Indiana was only invaded by Europeans. There are also towns called Alexandria, Palestine, (and New Palestine), Manilla, Moscow, Vera Cruz, Monrovia (also the capital of Liberia)… you get the idea.
I love seeing the history of a place and its people spelled out across its map like this, and it's something I notice all over the United States.
Farms, Food & Weirdly American Water
The city is also surrounded by corn and soybean fields. (Literally half of the land area of the entire state is dedicated to those two crops).
Indiana is home to some of the really simple culinary traditions that the American Midwest is known for. A sign in the State Capital building announces that "sugar-cream" is Indiana's state pie. Usually pies are filled with fresh fruit, but not this one. We could just call it diabetes pie.
It's also given us some uniquely American processed foods: Van Camp's canned Pork and Beans (which fed soldiers during the Civil War) and Wonder Bread (the famous plain white sliced bread that can be crushed into a ball so it easily it makes you wonder what is actually in it).
After three years in Italy, I had sort of forgotten that great food is not necessarily a feature of every country, or every small town in the world. (Not that people in Italy wanted to let me forget it. Ask an Italian, and there is nothing decent to eat anywhere else.)
So admittedly, upon moving back to the US I've rediscovered that in lot of towns, especially in the Midwest, it's not easy to eat light, fresh, healthy meals – or anything besides a lot of meat.
But luckily this city, and much of the country, has moved beyond Wonder Bread, and Indy has a lot of good options. (You can see my list at the end of the article.)
Several restaurants perfectly represent the hipster food scene that looks pretty much identical from Brooklyn, New York, to Portland, Oregon. The vibe: Women in mom jeans. Men with twirly mustaches. Tattooed arms as a job requirement for servers. Silverware in vintage coffee cans with labels in Spanish. Menus pulling inspiration from everywhere at once. But all over Indianapolis, I found real, reasonably priced, high quality, fresh, flavorful, and creative food.
Indianapolis' tap water tastes sort of sweet, softened and terrible – yet every restaurant where I ate serves it. This is a very American, unpretentious approach to food. The thinking is this: "It's what we have, and it works. As long as it's not doing any actual harm, it doesn't have to be perfect. So don't complain."
Complaining about food is rude in America. Especially in rural America. This is always hard to me to explain in France and Italy, where food traditions are as strong as religious ones and food rivalries are as vicious as sports rivalries.
Neon Religion
Speaking of religion, another uniquely American thing Indy is surrounded by is evangelism. Every city in the world has Jehovah's witnesses offering peace on street corners, and Indy is no exception. But the city is also apparently surrounded by some of the most evangelical country I've ever seen, with billboards saying "HELL IS REAL" and advertising an 800-number you can call to "find truth."
It's fair to say the Midwest has the very American paradox of freedom of religion, but no freedom from proselytizing. Don't get me wrong, Italian culture is heavily religious, too. But they're just less shouty about it.
Multi-Colored Politics
Politics in the state of Indiana are a lot more purple than you might assume.
For my non-US readers who maybe haven't studied maps of US election results, red stands for Republican and blue for Democratic. Unlike in the rest of the world, where red is the color of the communist party, and blue is for conservatives. (What else would you expect? Just like inches, feet, miles, pounds, and degrees Fahrenheit – this, too, we do in our own way.)
Purple is how people describe places where the two mix.
Overall, Indiana is definitely red. The current governor is a Republican, and the one before him was Mike Pence.
But like a lot of places in the US, there's more subtlety to the politics than you often hear about. Indiana's electoral votes went to Obama in 2008, but just barely (and not in 2012). Then in 2016, Trump won the state. Indianapolis has a Democratic mayor, even though in 1970 they incorporated a bunch of farm land surrounding the city into the city. This means rural conservatives are governed by the city, and can vote for the city's mayor even though they don't live in the city.
In short, if things seem straightforward in US politics, they're generally not, and Indianapolis is no exception.
Crime, Gentrification & Change
The city has some sketchy areas, my Lyft driver told me, but reassured me that "oh no, it's nothing like Chicago!" Although Wikipedia disagrees, at least in per-capita terms: Apparently Chicago is slightly more murder-y than Indianapolis, but less rape-y, theft-y and assault-y. Several people told me that in Indy, crime is more isolated to a few bad streets than entire neighborhoods.
Downtown tech companies, like the highly visible Salesforce, provide jobs but unlike Seattle and the SF Bay area, the city doesn't feel overtaken by tech money.
North of downtown, you find some 1950s-looking, movie-perfect neighborhoods, where the houses have wide front porches and flags flying.
A few blocks away the vibe is more 'working class, but not for long.' Painted on the wall of a distillery in one of these clearly gentrifying neighborhoods are the words "(local) whiskey made me do it." It's an area with small but nice older homes that look like they could use some work, but also look accessibly priced and are centrally located. Like houses people can actually afford to live in even if they don't work at Sales Force. Across the street is a new, gigantic, ultra-modern home on the market for $650,000.
Good or bad, this gentrification is definitely another sign of ambition and change.
Want some low-key help exploring Indianapolis?
You could try a virtual tour and scavenger hunt, using your smart phone as a guide.
Sustainability… Or at least progress
Indy seems to have some good intentions for sustainability, but hasn't quite made it yet. I found lots of local stores and a nice little fair trade gift shop downtown, but the outskirts are dominated by the same chain stores that make it seem like every city in this country is exactly alike.
From what I've heard by asking random locals about public transit, Indy is right there with the majority of US cities: Pretty bad, unless you have a car and don't have to care. (And even Chicago and New York, the cities with the most efficient transportation overall, burn three times as much power for transport as most European cities.) But Indy is trying to improve, including a new system of all-electric bus lines that will be the first of their kind in the entire country.
Still, almost all of the state's electricity is from coal.
And the thing that drives me crazy the most? Ridiculously excessive air conditioning – even in stores and restaurants that advertise other sustainability changes they've made, like only providing straws upon request. The straws are a good step that shows some awareness, but why is the temperature set to 68 degrees (20C)?
A View from the Outside
This is probably a good time for the second caveat about this article: I'm not an expert on Indianapolis, or Indiana, or the Midwest. I'm not from here, and I only barely live here.
This is an outside perspective on a place. Everything I've written is based on me traveling the way I do anywhere in the world: wandering around for a few days, noticing things, making connections, then going home to read up on whether or not I was imaging those connections. (And I only write about the ones I didn't make up.)
But often an outside perspective is pretty sharp – when it's open-minded and fact-checked and not just based on a tourist attraction or two. Outsiders can fail to see the subtleties in a place; insiders can be blinded to the truth by familiarity. The two views of a place will always be different, but different opinions seem to be something that people can put up with in polite Indianapolis.
I never would have guessed this before visiting a couple of times, but Indy seems to have everything in one small, manageable city.
Overall the place just screams (or maybe, in a more Midwestern way, points out politely)… "We're nice." We have jobs and good, local food. We want to improve, but we're not ambitious in a glittery way. We're normal. With a little bit of all that is good, bad, and typical in the US.
---
Indianapolis Restaurants & Inspiration
If you want to read more about Indy, written by locals, I've found good writing on Nuvo, especially short cultural and opinion pieces. It's a former alt-weekly newspaper that's now all online.
My Fav Indie Restaurants in Indy:
Garden Table: fresh, reasonable prices, delicious
Patachou: local, fresh and high quality with a progressive bent (only the first photo is at Patachou. The others are actually near Bluebeard.)
Cake Bake: extravagant slices of amazing cake served in a fairytale shop (and the source of that perfect pumpkin pie pictured above)
Bluebeard: creative, upscale dinner splurge
Provider: fancy coffee done right
Shapiro's Delicatessen: classic, large portioned deli
Milktooth: hyper-hip lunch spot, with good, unexpected food to make up for its predictable hipster-ness
---