If you want a more sustainable shower routine, but aren't on board with shampoo and conditioner bars, I've tested another plastic-free option for you: Concentrated, waterless shampoo and bath products in aluminum tubes from Everist. They're definitely a travel-friendly option, but read on for the rest of the details.
This post contains affiliate links; see my privacy policy for details.
I've been a longtime devotee of shampoo and conditioner bars – both for their plastic-free status and travel-friendly packability. (Well, to be clear, I'm not a fan of all shampoo bars, but one brand that won me over after a lot of testing.)
But I know that not everyone is into the bar concept. (Bars can soften in the heat if you leave them in hot car during summer travels. And you have to dry them and wrap them in washcloths to pack – at least that's how I pack them. Not deal-breakers for me, but I do get the interest in something different.)
So try as I might to convert you all into shampoo bar lovers (and I have converted many), I was happy to try an alternative. That's what makes concentrated shampoo and conditioner interesting – it's a smart compromise that still reduces waste compared with normal, watered-down shampoo in plastic bottles.
Everist is a small Canadian company making vegan, plant-based, waterless shampoo, conditioner and body wash concentrates in easily recyclable aluminum packaging. They're based in Toronto, and make all of their products locally. (They're also featured on my map of sustainable small businesses!)
Everist also offered a discount code to share with you, so you can use the code TILTEDMAP10 for 10% off any order. (Even if it's not your first order – so be sure to bookmark this for later!)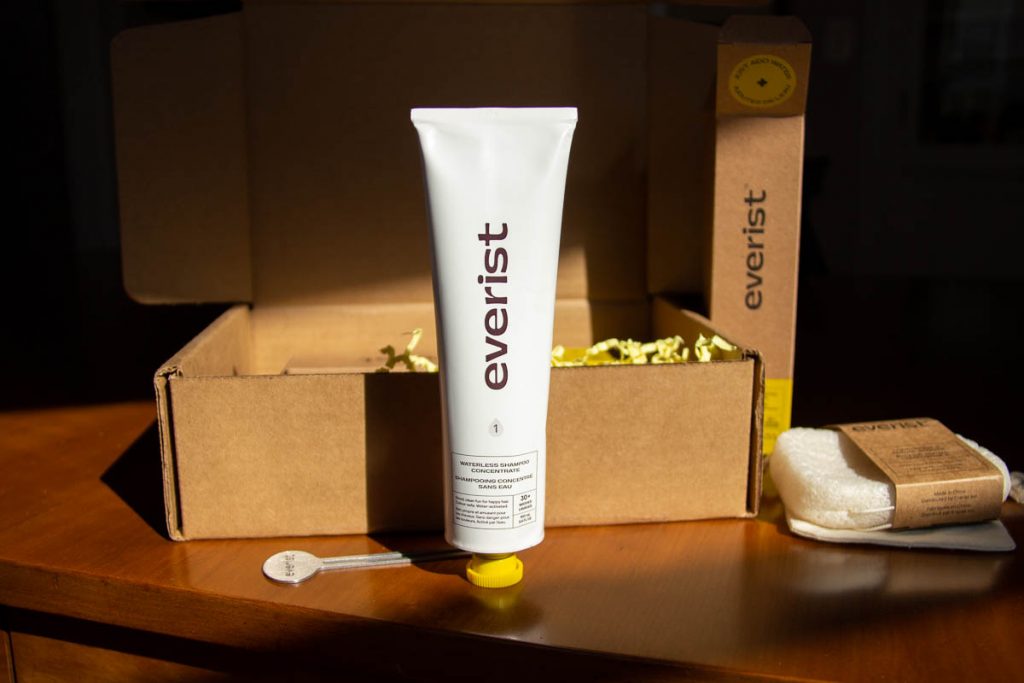 ---
What's the point of Concentrated Shampoo?
The first thing to note is that waterless shampoo is different from dry shampoo. Dry shampoos are powders or sprays that you can apply to dry hair, no shower needed, for maintenance between washes. (I like this kind, without aerosols or wasteful packaging.)
Waterless shampoo and conditioner are products you use in the shower, but that have no water in their formulas. (Compared with normal shampoos, which are up to 80% water.)
Both dry and waterless formulas are one of the easiest ways to make everyday products less wasteful: Stop shipping water across continents, and just add it from the tap instead.
But those small, concentrated tubes of shampoo make people understandably skeptical about how long the formulas will last. (At $24 per 3.4-ounce tube, they're not something you'd want to go through too quickly. But the size does make them a good option for carry-on travel.)
So to answer this question, I launched a highly scientific inquiry, involving a sticky note on my refrigerator: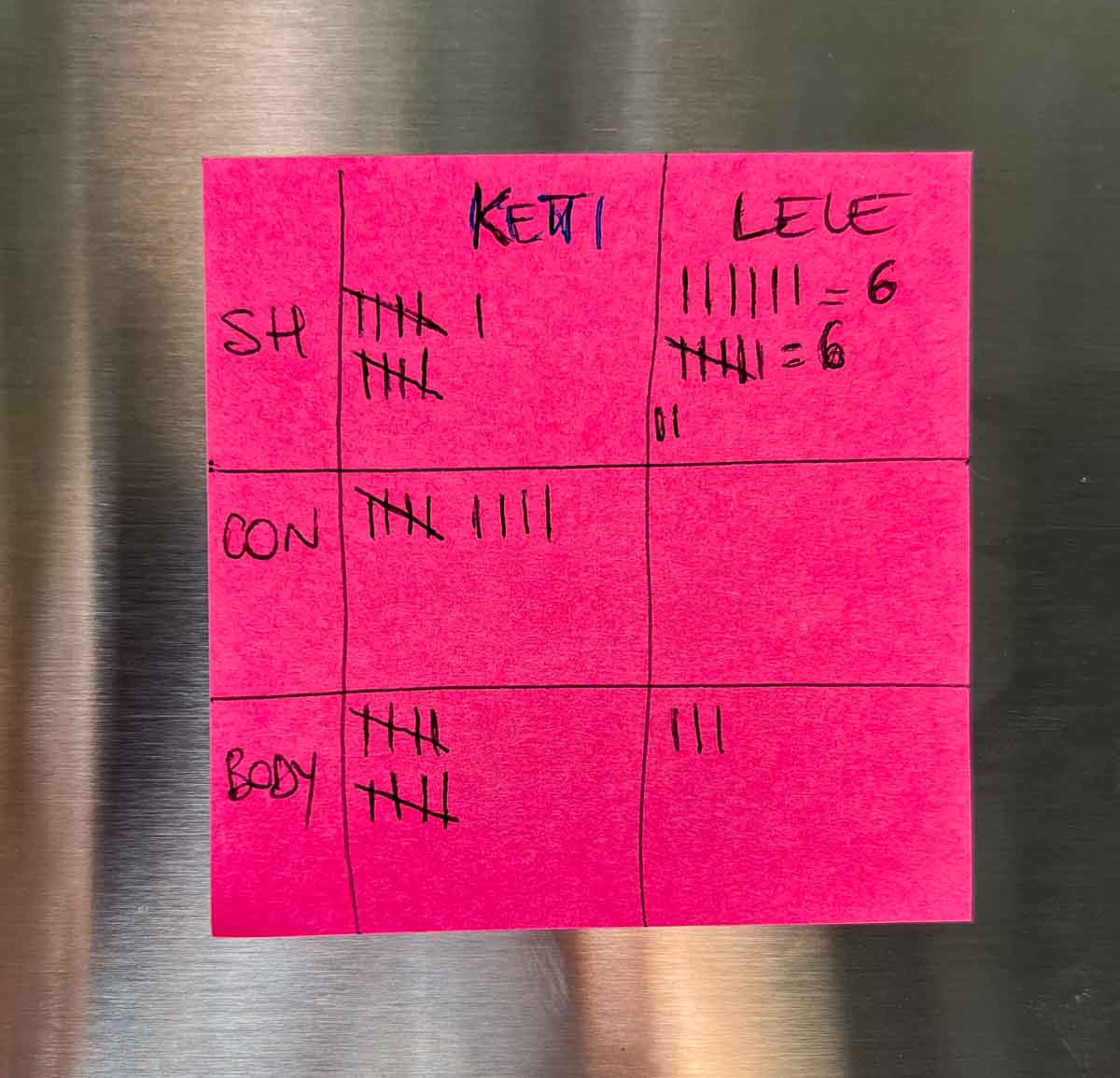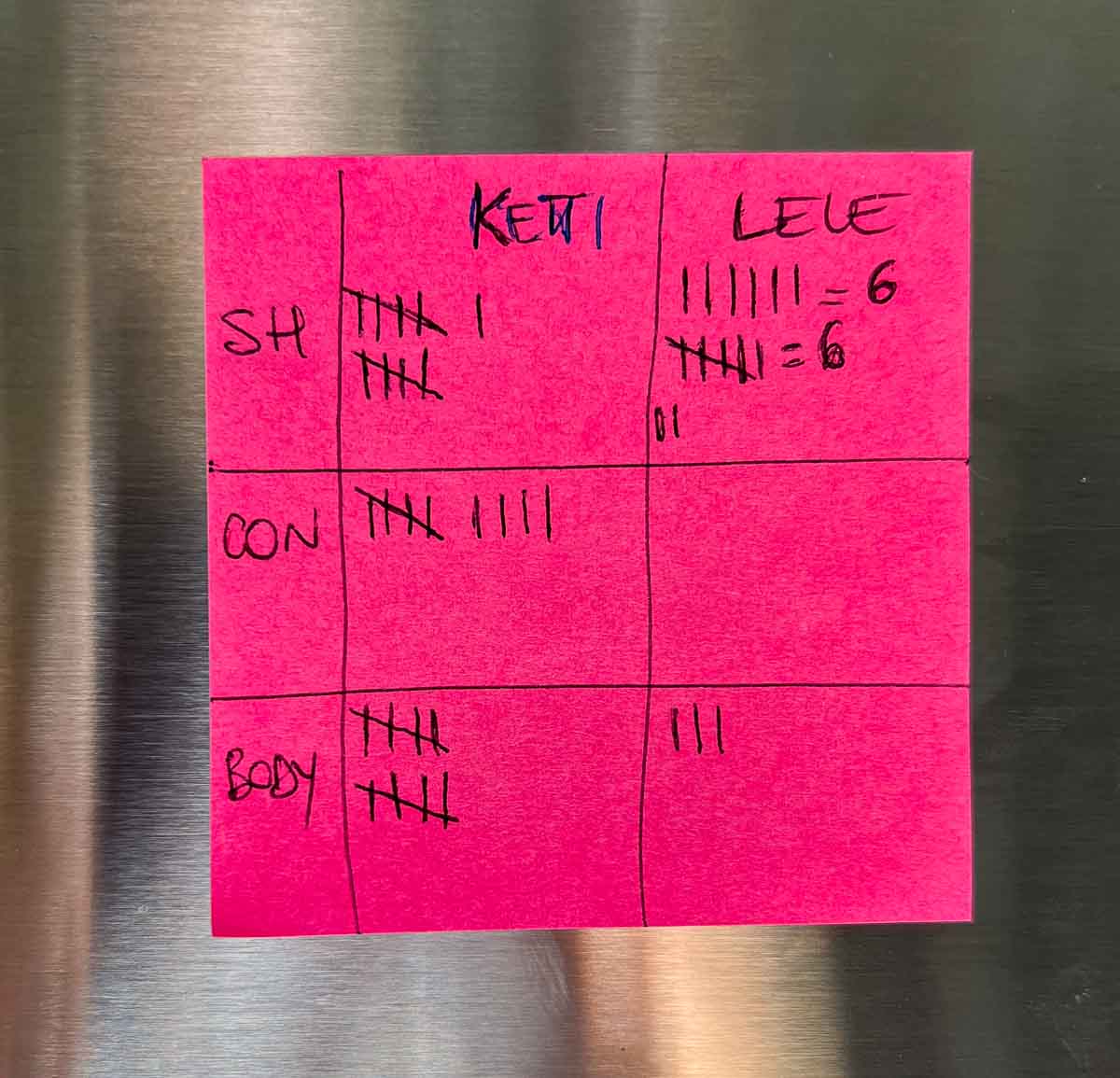 Since my husband and I both use the Everist shampoo and body wash, we kept track of every use separately. (I'm the only one using the concentrated conditioner. Since he has very short hair, and I have thick, shoulder-length hair.)
This is what we had left after using the Everist shampoo 25 times, the concentrated conditioner 9 times, and the body wash 13 times: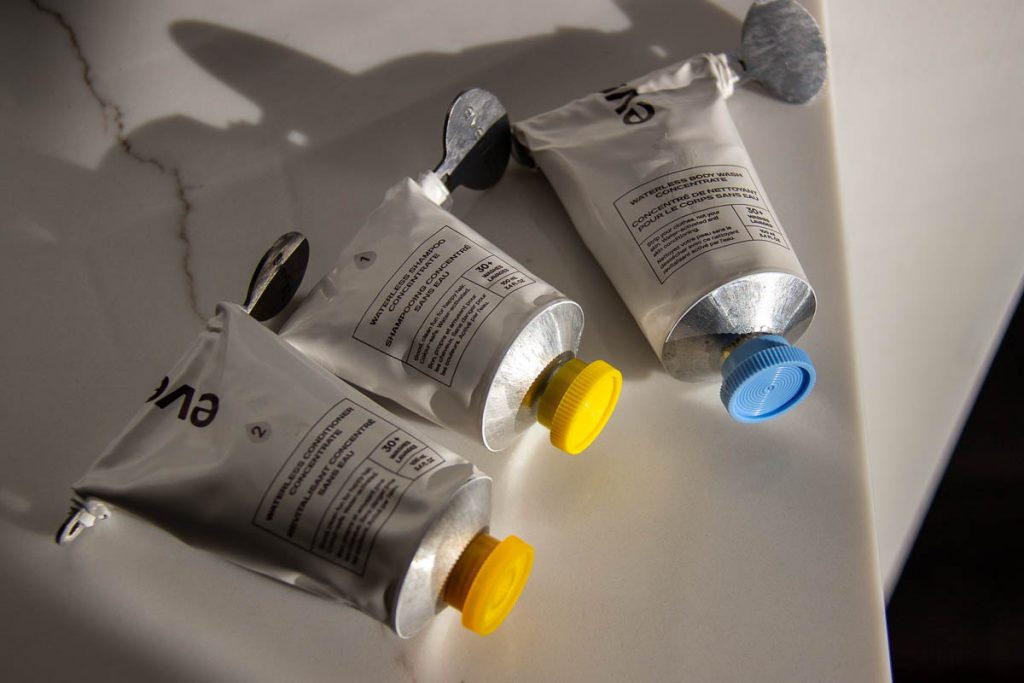 I'm now using these concentrates for a three-week trip (after all, they do make a lot of sense for travel), and I'll update this with the final use-count when I finish them.
(When we left for a trip, I snapped the photos of the tubes and our sticky-note shampoo-tracking system, and moved the count to my phone.)
But so far I'd say 30 uses per tube, as Everist claims, isn't far off – and it might even be a low estimate.
---
Everist Review
In short, after a month of using Everist shampoo, conditioner, and body wash, I quite like the products themselves. The concentrated shampoo makes my hair just a little bit shinier and bouncier than my go-to shampoo bars. And I love the sustainability of the packaging – an aluminum tube will always be a better choice than a plastic bottle.
But, as usual, I have a lot of thoughts about the details, so that's what the rest of this Everist review is for.
First of all, while I quickly loved the sustainability of the packaging, I didn't love using the packaging. At least not at first.
When Everist says these are concentrated formulas, they do mean concentrated. They're dense. Actually dense enough that it takes some work to squeeze the products out the tubes. (The shampoo and body wash are okay; the concentrated conditioner is particularly difficult to squeeze.)
I got used to this pretty quickly, but it was surprisingly noticeable at first.
But what complicates the matter is that the aluminum tubes have no grip. And it's kind of a pain to unscrew the small caps with wet hands.
Is it the end of the world? No. These are definitely "cons" that don't ruin the experience for me, especially considering how much I like the results and lack of waste from these concentrated products. (But if you have any kind of dexterity issues, definitely stick to shampoo and conditioner bars.)
For each individual product, read on for details.
Everist Scents
This is my favorite part. The scent of all of the Everist products is kind of a citrusy, slightly minty, slightly herby scent that I really enjoy.
It's refreshing and clean, but not that citrus-bomb kind of refreshing scent that really hits you over the head with a bag of oranges. Much more balanced and, I would say, grown-up. It's kind of addictive.
I asked Everist and they said they do have plans to create fragrance-free formulas, so I'll let you know here when that happens.
So, I said "shiny and bouncy." This is what my hair looks likes after using Everist shampoo and conditioner: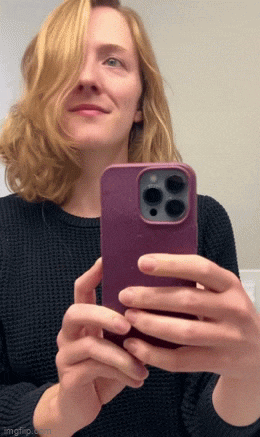 One of those tally marks for the shampoo count was when a friend visited us from France. She only washes her hair once a week, and she replaced her normal shampoo bar with Everist shampoo. And she said that after a couple of days, her hair already felt greasy again, whereas normally it lasts closer to the whole week.
I think that makes a lot of sense, because Everist definitely feels like a more moisturizing shampoo formula, rather a deep-cleansing one.
(There's a useful description of what each of their ingredients does, and where it comes from, on this page.)
The Everist conditioner is probably the most different feeling from "normal" products in terms of texture. Rubbing it between my hands feels like rubbing a lump of buttercream frosting between my hands. (Yes, everything is food to me.)
What I mean is that it's thick. And it doesn't lather up at all. (Which makes sense – conditioner is supposed to be a moisturizer, not a foamy cleanser.)
And when I rub this conditioner into my hair, it doesn't really mix with the water; it feels more like its own separate balm on top of the water. (It's hard to explain, you might just have to experience it.)
So with Everist's concentrated shampoo, you want your hair as wet as possible when you apply the product. But with the conditioner, it's actually better to squeeze the extra water out of your hair before applying, like you would with a normal conditioner.
But despite all the weirdness, it does work. My hair definitely looks and feels smooth, shiny and conditioned afterwards.
While it's not as well known, the Everist body wash is actually one of my favorite products from the Everist lineup. It's just so creamy and rich feeling. Just like their shampoo and conditioner formulas, I'd say it's more of a moisturizing product that a really deep cleanser, but it's great as an everyday body wash.
And using it with Everist's natural "Konjac" sponge is a perfect combination for very gentle exfoliation and moisturization in one step.
(Konjac is a biodegradable – and home compostable – material made from the root of the Konjac vegetable. It was originally made as a sponge for babies, so don't be deceived by the fact that it's rock-hard before you add water.)
I also used the body wash as a shaving cream (to shave my legs) a couple of times. It works just as well as any body wash, but it doesn't have that really thick protective feeling that I get from my regular shaving cream bar.
But if you're taking the Everist body wash along as part of your plastic-free travel toiletry kit and trying to pack light, it definitely does the job.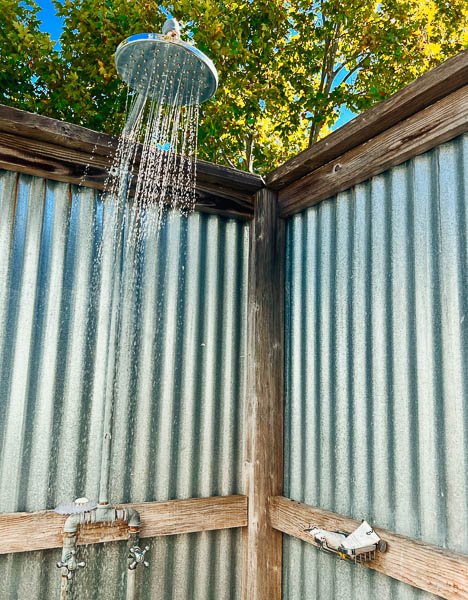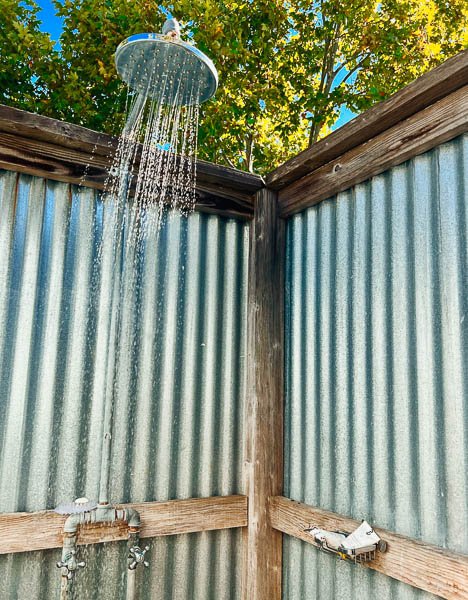 ---
Minimal, Eco-Friendly Packaging
When we think about how sustainable a product's packaging is, it's not just about the aluminum tube, plastic bottle, or cardboard box, but the shipping materials, too. And Everist does almost everything right in that sense.
Their outer packaging is carboard (recycled and very easy to recycle), and it's sealed with paper tape (not plastic). Inside the box, the padding is also all recycled paper.
Of course, the Everist concentrates come in recyclable aluminum tubes. (But you do need to unwind them, cut them open, and rinse out any remaining product before recycling.)
And the tubes arrive in cardstock cartons. While I would prefer they skipped the cartons, at least they're made of recycled paper, and can be either recycled or composted.
Beyond that, there are no marketing inserts in the box! I love this, because those extra pieces of paper that many companies send with orders drive me mad. They're essentially junk mail included with your order, and Everist doesn't take the bait.
Finally, the metal "keys" used to squeeze every last drop of product out of the tubes are recyclable metal.
And at least Everist has a plan for the one piece of plastic they do use.
Your order comes with a hemp bag for collecting the caps, which you can then send back to Everist once you've collected enough to make it worth the shipping. (Like most pieces of plastic smaller than a yogurt cup, the caps can't be recycled curbside, because they're so small they will get stuck in the machinery and cause problems.)
Although the hemp bag is, frankly, entirely unnecessary. You don't send them back in the bag, so I'd rather they skipped this little extra item and just let us use an old jar for collection.
I'm also not exactly sure how many caps it takes for the environmental benefit for recycling to outweigh the emissions of shipping, but Everist asks that you save up 10 caps before sending them in.
They're a new company, so they're still in the collecting phase, but eventually Everist plans to melt down the caps and use them to make hair accessories.
(You can also send back the metal keys with your caps if you don't have a local recycling option available for metal.)
---
Again, Everist is doing a lot right in terms of sustainability. The fact that they're a very small company whose products are designed specifically to reduce plastic packaging and shipping weights is a great start in itself.
They also have a mostly local supply chain and manufacturing. (All products are made and shipped from Everist's HQ in Toronto, Canada.)
Plus, Everist is a member of 1% For The Planet, which means they donate 1% of their total sales (not just profits) to environmental organizations.
(Side note: Tilted Map, this one-person website, will also be a 1% For The Planet member by the end of 2022!)
And Everist is also third-party certified carbon neutral. While a carbon neutrality certification isn't perfect, it is a good start.
What is a "carbon-neutral" company?
When companies say they're carbon-neutral, they generally rely heavily on offsets – or essentially making donations to projects that reduce the amount of CO2 in the atmosphere, by planting trees, or protecting existing forests, for example. But the best solution is to reduce the actual amount of CO2 the company is emitting, not just offset it.
Still, being carbon-neutral means, first, the company is making an effort and thinking about their climate impact and, second, that they've actually measured their emissions, which is the first step to reducing them.
---
Areas for Improvement
So my main complaint about the Everist products is actually not about the products themselves, but about the convenience of the packaging. (And normally I'm the first to rail against "convenience" taking precedence over sustainability, so I see the irony here.)
But there are a couple of pretty simple improvements I'd like to see Everist make.
First, Everist currently doesn't give the option to re-order their concentrates without the aluminum key that you use to squeeze out the product. There's just no reason that needs to be replaced with every new tube.
So I asked Everist about this, and they said they are working on an option to order without the metal keys. (I'll add any updates here as soon as I have them.)
While this will, of course, complicate their logistics to get orders out the door, there are tons of companies that already do something similar.
A few examples:
by Humankind makes hand sanitizer in aluminum bottles that you can order without the plastic pumps, or order jumbo refill sizes. (They're also on the list of my favorite very small, eco-friendly companies, along with Everist.)
Noice makes herbal toothpaste in glass bottles that you can reorder without pumps.
And Earth Harbor just started offering similar pump-free and larger-sized refill options for their natural and organic skincare.
So I'm certainly not asking for something impossible.
Second, the tubes are very difficult to tell apart. The only difference between the shampoo and conditioner is the very slightly different yellow color of the caps. Otherwise you have to read the (very small) writing on the labels to see which is which. (Everist's body wash, thankfully, has a blue cap.)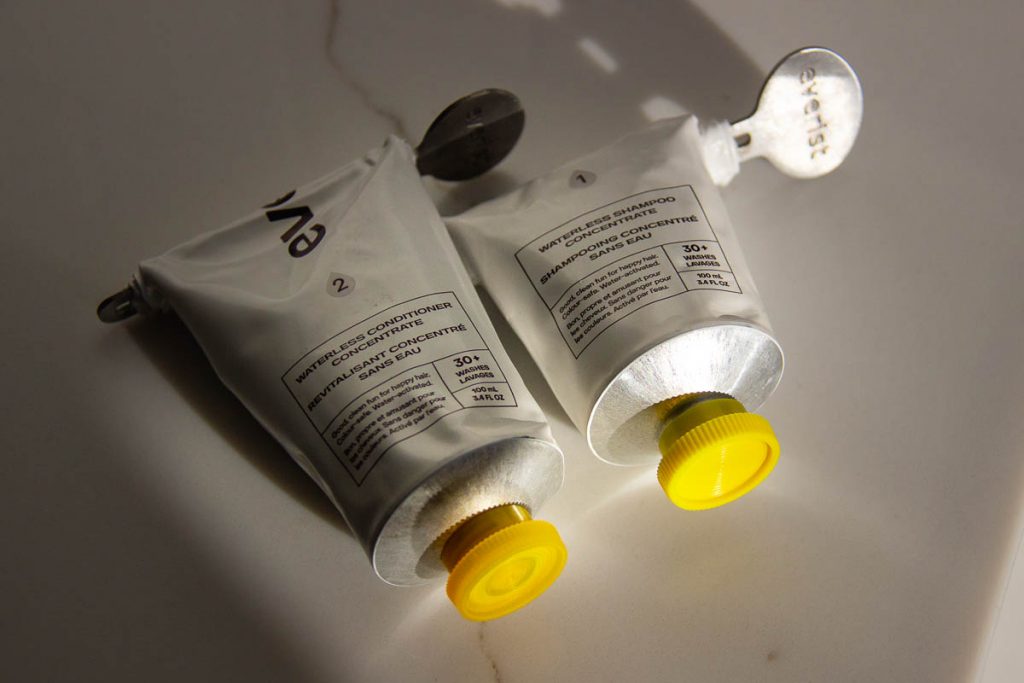 I don't see why they don't make the aluminum tubes different colors to just simplify life.
---
Final Thoughts on Everist
That all being said, I really am happy with the results from Everist's waterless, concentrated toiletries. I'm also impressed by how long the products last, and I think they're a fantastic travel-friendly option – especially for if or when you don't want to deal with shampoo and conditioner bars.
So I'm willing to put up with the mild inconveniences of the tricky squeeze-tube packaging and keep using these products as a sort of special occasion treat. (When I'm in a hurry, I'll stick with my shampoo and conditioner bars.)
Remember, if you want to try any Everist products, you can use the discount code TILTEDMAP10 for 10% off your order. (It works for existing customers, too, so you can make a note of it for future purchases, as well!)
---
I hope you found this Everist brand review helpful! Here are a few more you might enjoy:
Questions about Everist or other eco-friendly products? Thoughts after trying them? Suggestions for another review? Leave them in the comments below!
---
This page includes some affiliate links. These recommendations for carefully chosen companies and products let me earn a commission if you decide to buy anything through them – at no additional cost to you! For more info, please see my Privacy Policy. Thank you for your support!