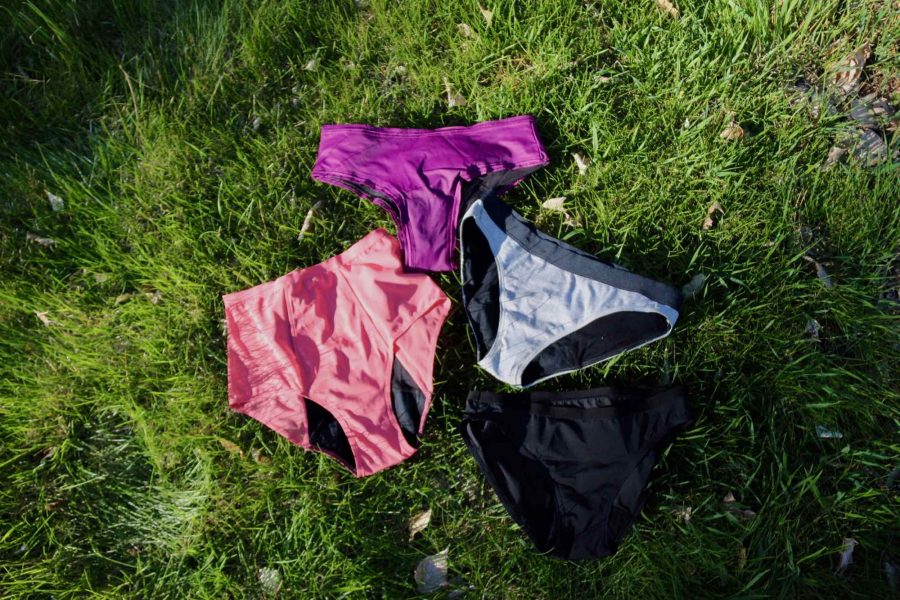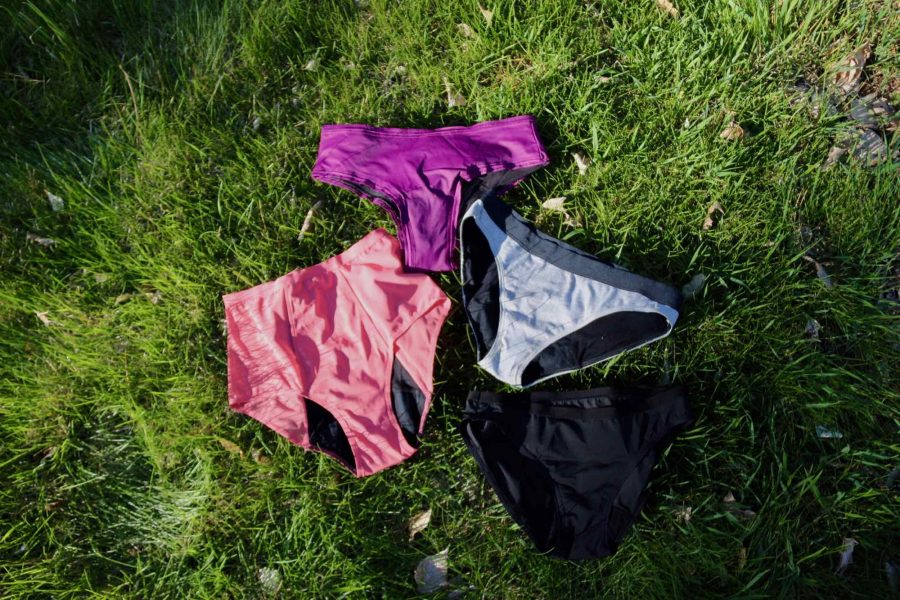 This is a detailed review of several kinds of period underwear. The most famous brand is Thinx, but I'm also comparing several Thinx alternatives (with better sustainability credentials), including Wuka, Saalt, Knix, ModiBodi, and other top brands.
This post contains affiliate links; see my privacy policy for details.
If you've seen the product reviews I've been writing, you know I've been gradually ridding my routine of disposable products for a while now. For more sustainable period care, I'd replaced disposable tampons with a reusable menstrual cup years ago.
But I was still entirely skeptical that menstrual underwear would be anything but gross.
(And honestly, when I finally gave them a try, back in 2020, a big reason was that I was starting to feel hypocritical still buying disposable pantyliners.)
So I order three pairs of Thinx (the most famous among many brands of period underwear), and that's truly the best I'd hoped for: That they would at least replace pantyliners.
Well, they did that – and much more – almost flawlessly.
What are period underwear?
Thinx (and the many Thinx alternatives) are designed to absorb your menstrual flow, then be washed clean and reworn. (Saving money and eliminating lots of wasteful single-use items.)
And no, you don't have to wash them by hand. Just cold water in washing machine and no dryer! (See below for more on how to wash Thinx.)
So period underwear are like pads or pantyliners, minus everything that's awful about pads and pantyliners.
For me, they're infinitely more comfortable. They don't leak, feel damp, or smell nearly as much pantyliners, they don't feel anything like a pad.
In fact, period underwear feel exactly like normal underwear, and look nearly identical. (You have to know what you're looking for to tell the difference.)
I know, it sounds weird and dubious, but after using them for two years, I'm truly a convert. But after using just one brand (Thinx) for two years, I've realized there are some Thinx alternatives making period underwear even better.
Wasn't there some controversy about Thinx?
Thinx has been the center of controversy around their former CEO, who was accused of everything from sexual harassment to just being extremely difficult to work with.
That came to a head in 2017. Thinx now has different leadership and from what I've read, those issues have been resolved.
That's water under the bridge, so I'm happy to ignore it, but there were other things that bothered me when I was a Thinx ambassador.
First, there have been reports of Thinx period underwear testing positive for toxic compounds.
And Thinx uses entirely plastic packaging, both for their mailers and inner packaging for each pair of underwear.
Thinx's outer mailers say "made from recycled materials. Recycle me again!" and their individual product bags say they're biodegradable. But that's all kind of misleading. Plastic films, like the Thinx outer mailers, are almost never recyclable curbside. And the "biodegradable" bags won't biodegrade without oxygen in a landfill (where they'll probably end up).
Finally, instead of using recycled materials (which sustainable competitors, like Saalt, do), Thinx's synthetic fabrics are made of virgin plastic. (And the only Thinx style made with organic cotton was recently discontinued.)
So I think it's worthwhile to take a look at some of the Thinx competitors below, and that's just what I've been doing to update this review.
Best Thinx Alternatives
Luckily, there are lots of other brands like Thinx that make similar products and, as I've been discovering, sometimes make them even better.
Knix is the best-known Thinx alternative, at least among US brands. Their menstrual underwear are pretty comparable (I've used both brands). The main difference between Knix and Thinx is that Knix also makes lots of other clothing, bras and regular, non-absorbent underwear. (Including lots of fun patterns and designs.)
ModiBodi is Australian company that's similar to Knix – they make bras, regular underwear, and period underwear. Plus, uniquely, ModiBodi offers men's styles for bladder incontinence.
From an ethics and sustainability perspective, the most tempting Thinx alternatives are those that are certified B Corps, or have other great sustainability credentials: Saalt, Aisle, and Wuka.
Saalt is a B-Corp based in Idaho that puts 2% of its revenue toward ending period poverty. And they've so far become my favorite alternative to Thinx. Their products are just so clearly high-quality and well designed. In addition to underwear designed in Paris, Saalt also makes menstrual cups and discs. They use entirely plastic-free packaging, and are certified plastic-negative through rePurpose Global.
Aisle, the other B-Corp in the game, is a Canadian brand that was formerly called "Lunapads," and was actually the first company to make period underwear. Aisle is unique for their simpler, and less traditionally feminine styles.
---
Thinx Style Comparisons & Alternatives
I've tried most styles of Thinx, some of which I bought on my own before becoming a Thinx ambassador (and then leaving the program), and some of which Thinx gifted to me. So to help you figure out which ones are right for you, in the review below, you'll find my detailed comparisons of every style I've tried, and the best Thinx alternatives for each.
After the reviews, I've also answered lots of questions (and put to rest some urban legends). So jump down to my FAQ for info on how to wash Thinx, how long to wear them, tips on how to travel with them, plus details on discounts, shipping, refunds and more.
Thinx Modal Cotton Bikini Review
The Thinx Organic Cotton Bikini was my favorite for many reasons – it was comfortable, simple, and made of a very soft, breathable organic fabric.
But in August of 2021, Thinx discontinued the organic cotton bikini and cotton brief, and replaced them with a new cotton-modal line. Modal is still a natural fiber, and I find it more breathable than the synthetic fabrics used in all the other Thinx styles. But I'm disappointed that there's no longer anything organic in Thinx's line-up.
The new Cotton Modal Bikini has a slightly higher rise and a bit more pizzazz than the discontinued Organic Cotton Bikini.
But I think that extra pizzazz comes at the cost of a bit of comfort. The double-layer look makes them feel a bit bulky. (They're not actually two layers, just two different colors sewn together at a seam. But to me it just feels like an extra seem where I would prefer more simplicity and less bulk.)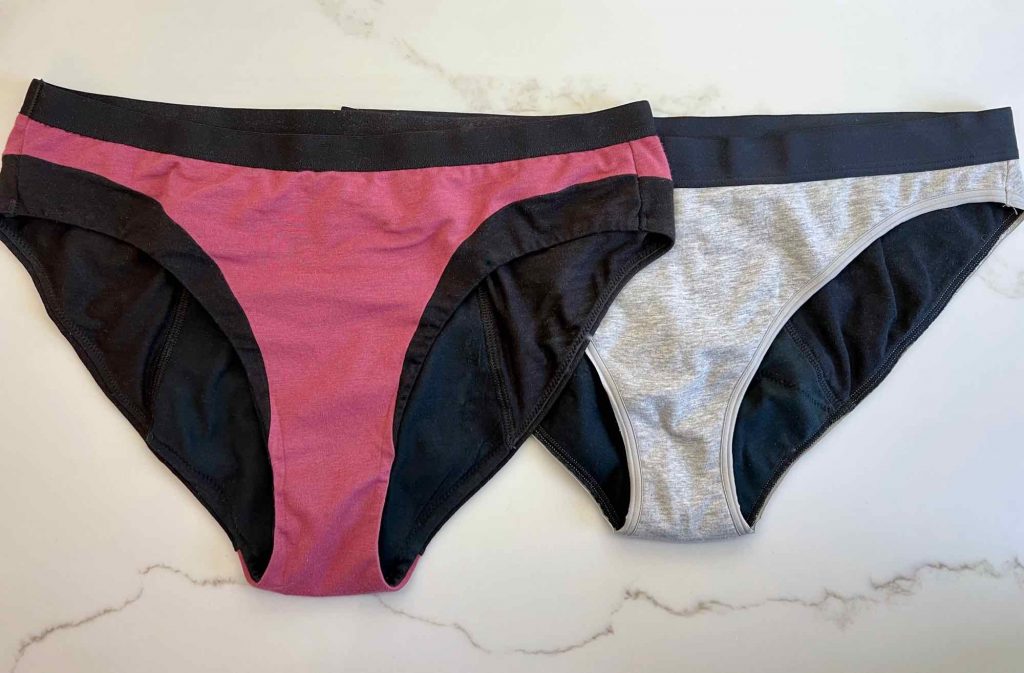 I suspect they got rid of the Organic Cotton Thinx because the style was so similar to the new Thinx For All line, which retails for half the price of normal Thinx styles, and is available at Target.
(Although unfortunately, Thinx For All aren't organic, either.)
I'll be trying the Thinx For All soon, and I'll add a review here when I do.
Alternative to Thinx Modal Cotton: Saalt Comfort
Saalt's new comfort modal line is everything I was hoping that Thinx's modal would be. It's some of the softest fabric I've ever found from any brand of underwear. The natural material is made from sustainable beech wood.
The Leakproof Comfort Bikini is my favorite. It's a regular absorbency option, and does every bit as well as Thinx. They also make high-absorbency brief and boy short styles, and a light-absorbency thong.
UPDATE: For the launch of Saalt's new modal line (April 19 – April 25th), they'll give away one pair of period underwear to someone in need for every pair sold.
Thinx Air Review
The Thinx Air Bikini is one of my favorite styles (predictably!) because they're ideal for travel. The Airs are fast-drying, so you can rinse them out at night, hang them up, and usually have them dry enough to put back in your bag in the morning.
(Even at home, it's good to rinse out the gusset of you period underwear in cold water after wearing them, and let them air-dry before putting them in a lingerie bag to eventually wash.)
The Airs are also great pantyliner-replacements, since they only come in light absorbency, and feel indistinguishable from "normal" underwear.
The fabric is has tiny perforations in it, so more comfortable than a true "mesh."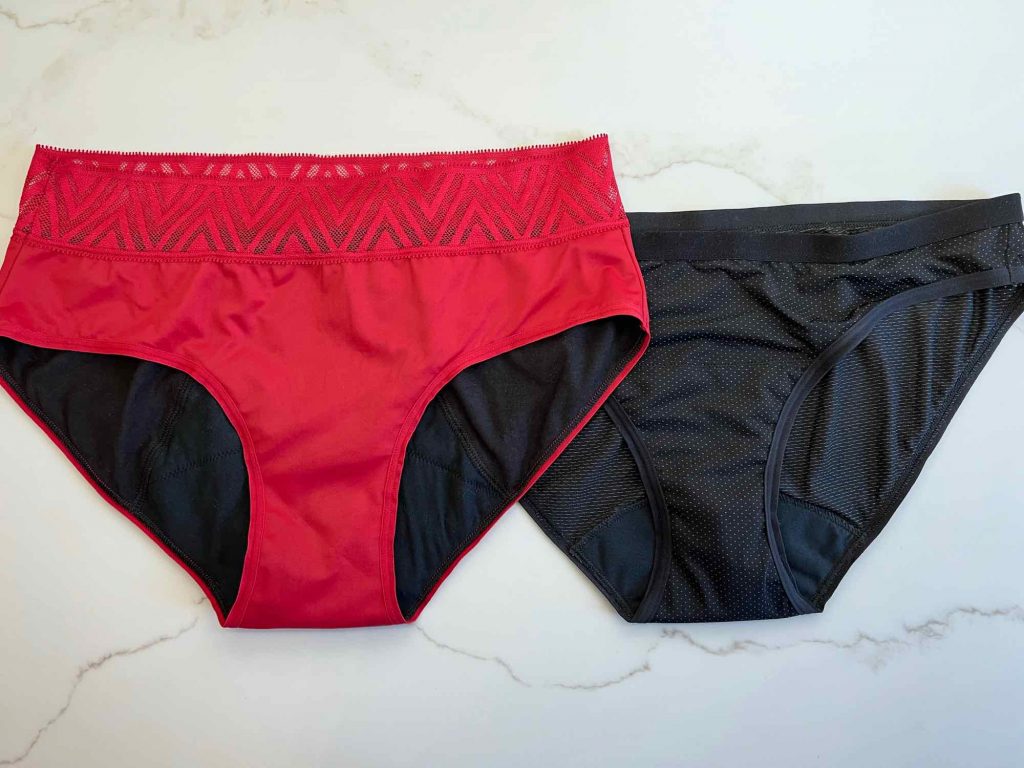 Alternatives to Thinx Air:
These comfortable, beautiful lacy underwear are my favorite style of any I've tried, from any brand. The Lace Hipster is a light-absorbency style, so its use is limited, but they're just so cute that I want to wear them even when I'm nowhere near my period.
The rise is just slightly higher than most bikinis. And while Saalt's website says that the lace is soft, I was skeptical. But it's true – this lace is amazingly soft and comfortable.
One thing to keep in mind with Saalt's Lace Hipster style is that the black absorbent liner is visible through the outer fabric of the lighter colors. I would go for the darker colors anyway because, let's be honest, you'll probably have some leakage around the bikini line sometimes.
(I've been wearing period underwear for years and it's just a fact this just will happen with all brands if you accidentally over-wear them. But it usually isn't a big deal, as the material is still absorptive, so the blood doesn't really go anywhere. It's definitely helpful to rinse your underwear in cool water when you take them off before dropping them in the laundry bin. This prevents stains along the bikini line.)
And personally, that's why I also recommend sticking with dark colors.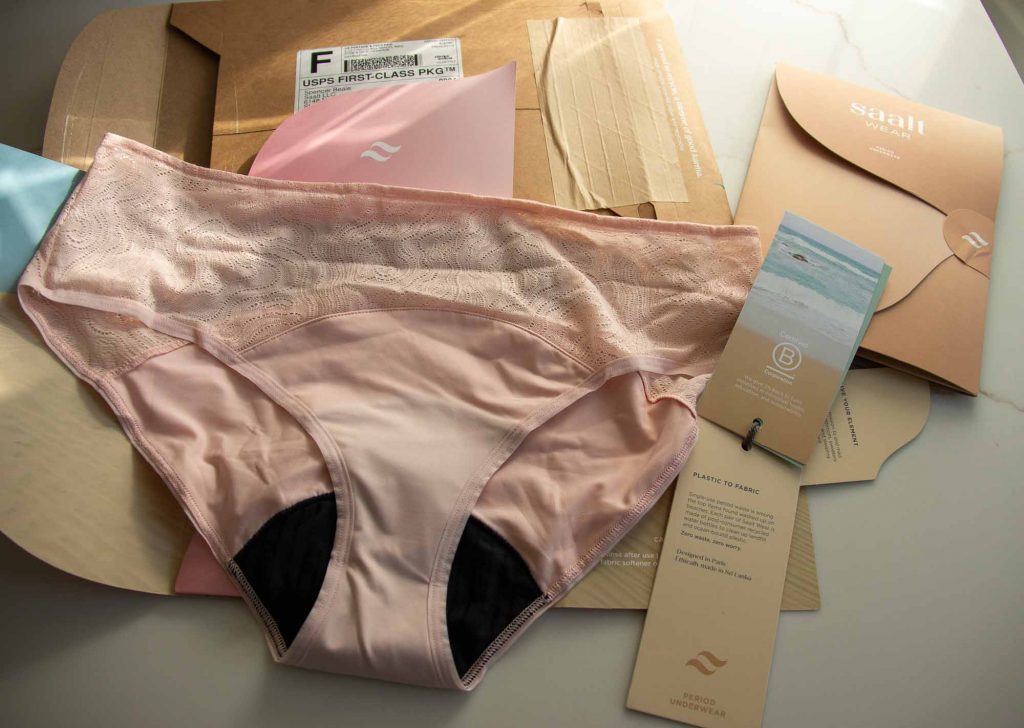 Thinx Hiphugger Review
One of Thinx's original styles, the Hiphugger, is an attractive, full-coverage pair of period underwear.
The lace trim at the top is soft and comfortable, and I think the material is softer and more breathable than some of Thinx's other synthetic fabrics.
The Hiphugger cut is actually almost identical to the (discontinued) Organic Cotton Bikini, it just has that lace trim added on top of the waistline. (The rise is very similar to the Thinx Cotton Modal bikini, above.)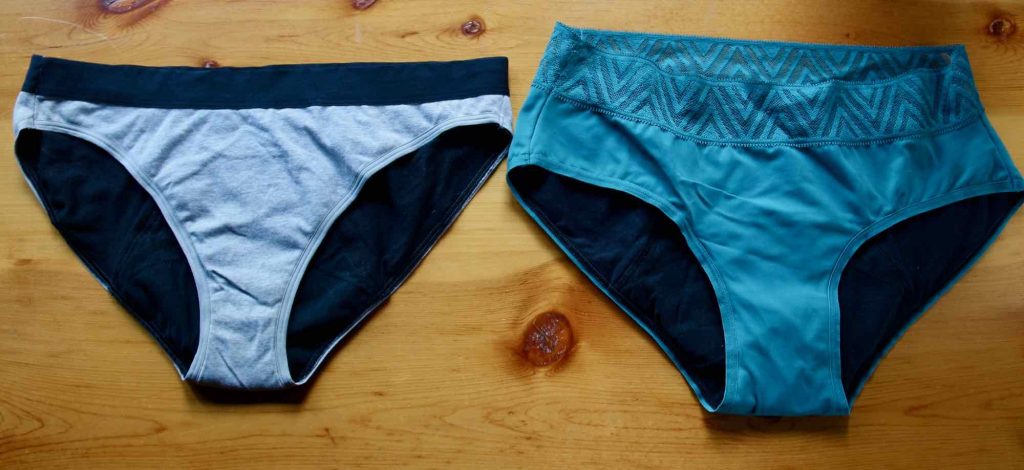 Thinx Cheeky Review
The Cheeky style is more comfortable and less wedgie-inducing than I expected them to be, but still not all that comfortable. As a "cheeky" style, the back and front are almost exactly the same width, as you see in the photo. (Hence the wedgies. Personally, not a great vibe for my period.)
But like Thinx's Air styles, and Saalt's Lace Hipsters (my favorites), the Cheeky is great for replacing pantyliners: They're not the most absorptive style, but they look just like normal underwear.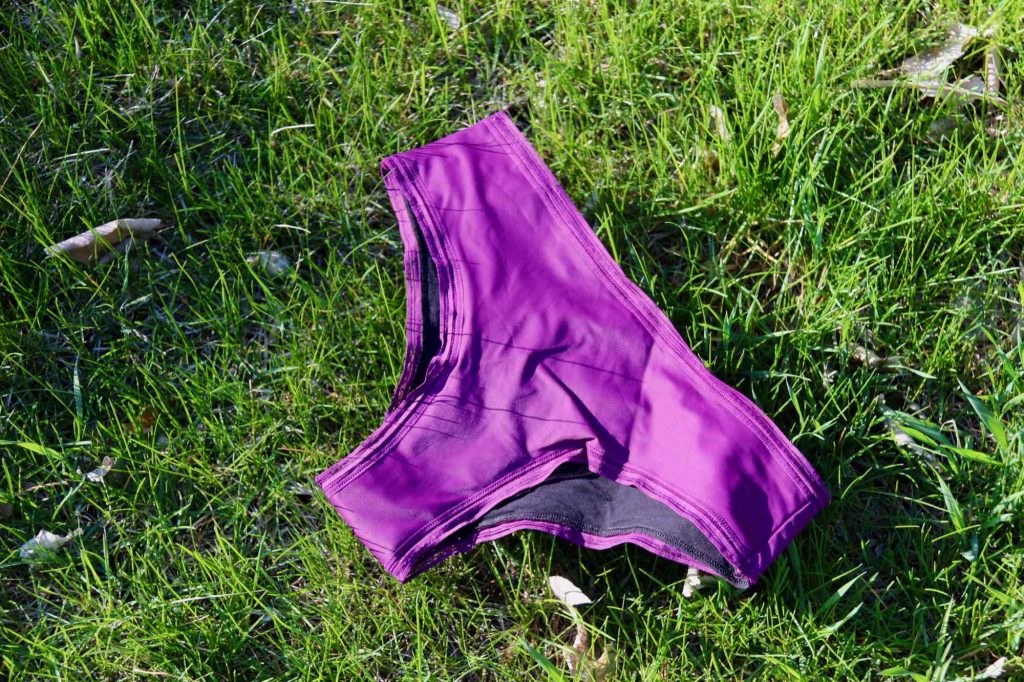 Thinx Sport Review
I wanted to love the Thinx Sport style – they have an athletic-feeling little notch at the top of the leg. (I swear the cut emphasizes my leg muscles.) The fabric is very slick and smooth, and feels high-quality, but I find it be less breathable than the other fabrics.
But the fit just didn't work for me. Even though I have pretty muscular glutes, this style flares out too much on the cheeks, making it fit too loosely on the backside. (Even though that size fits just fine everywhere else.) I can't be sure, but it might be a great fit for anyone with more curves.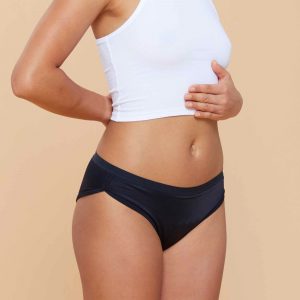 High-Waist Thinx Review
A lot of people have told me they love these, but in my completely subjective option, they're great for Instagram, and not so great for anything else.
To me, the waist band feels tight, especially when I have cramps and don't want anything squeezing me. Maybe that means the High-Waist style runs a little small, but all the other Thinx I've tried seem true-to-size.
The styling is dramatic, but I found the mesh fabric of the side panels got itchy after a couple hours, (it's a very different mesh from the Thinx Air, as you can see below).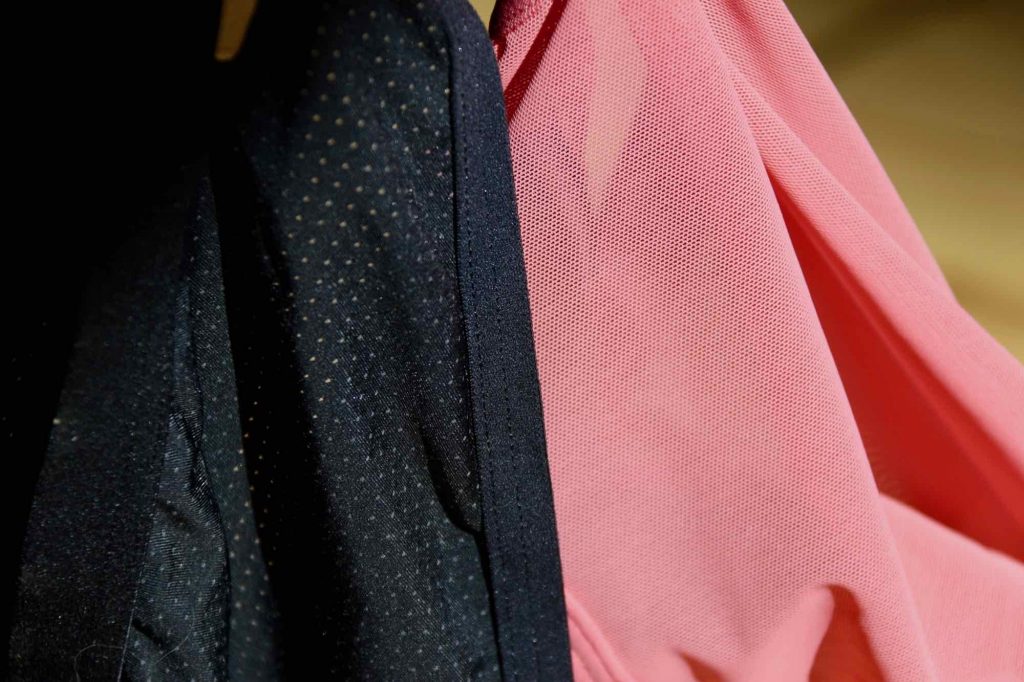 High-Waist Alternatives to Thinx
I've found several other period underwear brands that I think must make most comfortable styles than the Thinx "hi-waist." I haven't tried these exact styles (just because I prefer a lower rise), but here's my research: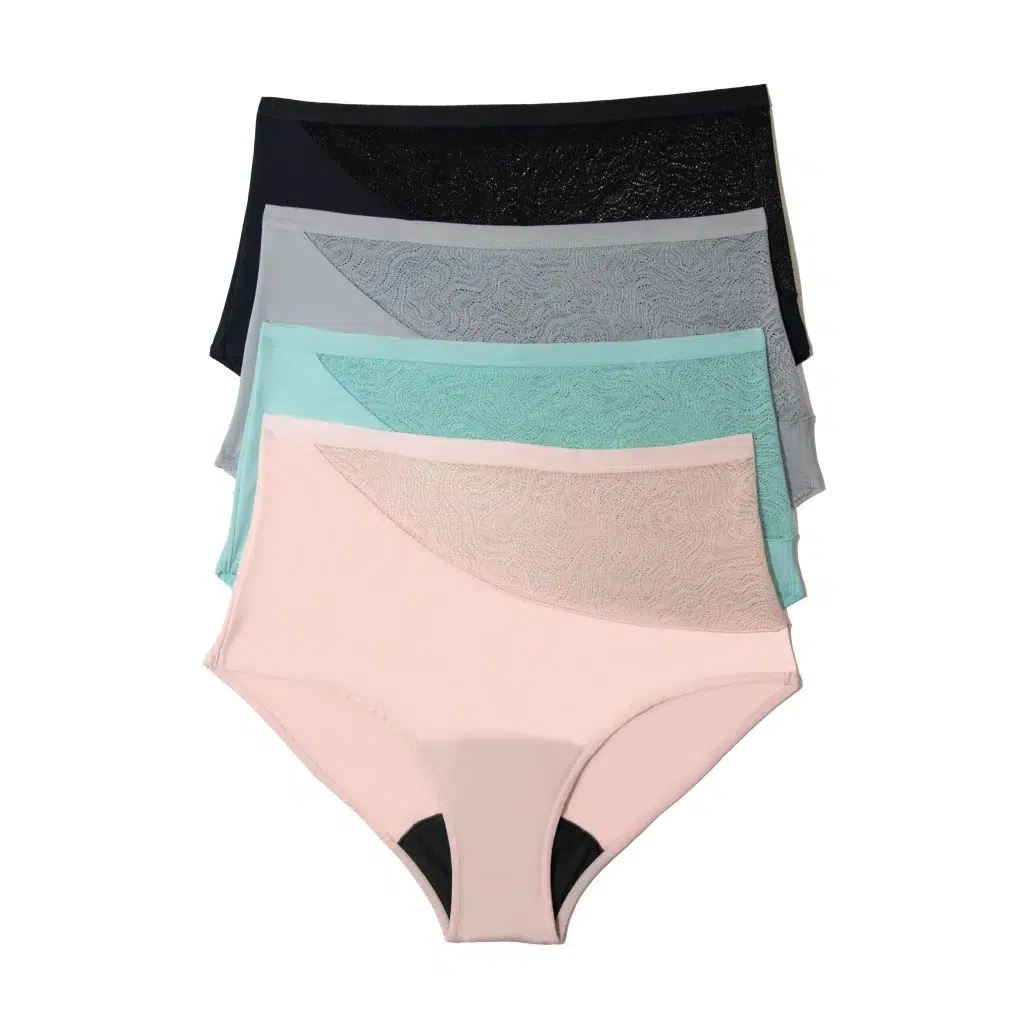 Thinx French Cut Review
I preferred the French Cut to the Thinx "Hi-waist" style because I find the fabric more comfortable (without those itchy side panels).
But still, the particularly high-cut leg opening on the French Cut translates to "wedgie" for me, and the fabric has a rather thick, synthetic feeling.
Here's how the two compare:
Thinx Leggings Review
Thinx has an apparel line, which includes a leotard, athletic shorts, bike shorts, sleep shorts and yoga pants. They sent me a pair of the yoga pants to try, and honestly my take-away from this style is just kind of… mmh.
First, the whole idea is that you bleed straight into them, meaning Thinx expects you to wear their leggings without underwear.
But you can see a bit of VPL from the underwear part of the legging, which kind of defeats the purpose of going commando.
If you do wear Thinx Leggings with separate underwear, here's what you'll see. (The first line I point to is the the Thinx Air Bikini I'm wearing underneath, the second line is the built-in underwear of the legging.)
As leggings go, these are… fine. The material is nice and heavy, definitely not see-through. But compared with every other pair of yoga pants I own, the Thinx Leggings fit quite snugly in thighs, and a little loose at the ankles.
The absorptive liner isn't like the "underwear" in some athletic shorts (just sort of flapping in the breeze). It's actually sewn into the outer layer of fabric, so they look like normal leggings from the inside. But at the crotch, there's a fairly obvious separate layer of fabric visible from the outside.
In case that's not very clear, here's another GIF to help visualize:
Bottom line: I'd just recommend sticking with regular period underwear and separate leggings.
(Especially since you can get great leggings made of 100% recycled fabric! Two recommendations: Girlfriend Collective does recycled basics in a wide range of sizes, while Wolven makes tons of fun prints.)
---
Period Underwear FAQ:
Here are some answers to questions I've heard a lot from both readers and friends. (If you have more questions, feel free to reach out. I'm happy to share my experience.)
Are they really "leak proof underwear?"
No! To be clear, you definitely can leak through Thinx, or any similar brand of period underwear. Don't get me wrong, they're a wonderful invention, but they're still beholden to the laws of physics, so there is a limit to how much they absorb.
(And I find it a little misleading that most brands use some version of that term, "leak proof underwear.")
This is also the problem I have with most menstrual underwear brand reviews.
Most reviewers either love or hate these products: They say menstrual underwear are a terrible fraud, after wearing them once and having a leak.
Or reviewers say "leak proof underwear" are guaranteed to solve all of your period problems, with zero waste, forever.
Obviously, it's not that simple. That's why I want to share this next advice:
Tips for Getting Started with Period Underwear
Since they'd exceeded my expectations, I slowly started using my period panties for more days of my period – carefully experimenting and checking for leaks.
This is a very important step! Don't just jump into using Saalt, or any other brand, to replace a tampon on a heavy flow day! Take your time testing out how period underwear will work for you. Be slow, be cautious, be skeptical.
Like most sustainable products I've reviewed, period underwear are just very different from the conventional, disposable products we're used to, and they can't be used in exactly the same way.
That's why I recommend slowly experimenting with them to figure out which days of your period they'll work for. Maybe it'll be all of them, or maybe they'll just be for lighter days, or as a reusable replacement for pantyliners.
For me, they've practically been a panacea. I only use my menstrual cup occasionally now (and I think period underwear are much easier to adjust to than menstrual cups).
Bottom line: I recommend Saalt, my new favorite brand of period underwear, to everyone, because they'll definitely be good for something. Whether that's replacing pantyliners, or replacing your whole period cabinet, is up to you.
They're practically guaranteed to let you eliminate some amount of single-use items from your routine, and that's a wonderful thing. (And if you have a heavy flow, or are definitely worried about leaks, start with the higher absorbency styles.)
How long do period underwear last?
According to Thinx, their underwear are expected to last 40 washes, which they say is about 2 years – but I see no reason why they shouldn't last longer.
I've been using my oldest Thinx pairs for about 18 months, and I see only minimal signs of wear.
I wear one or two pairs each day of my period, and wash them all together at the end. So each pair only gets washed about once a month. At that rate, Thinx 40-washes estimate would give them a lifespan of 3 years and 4 months.
You certainly could put some of these styles in with your regular underwear rotation, too. (Saalt's Light Absorbency styles are a great candidate for everyday wear.) My favorite styles feel indistinguishable from normal underwear, so they would make a great replacement for daily panty liners.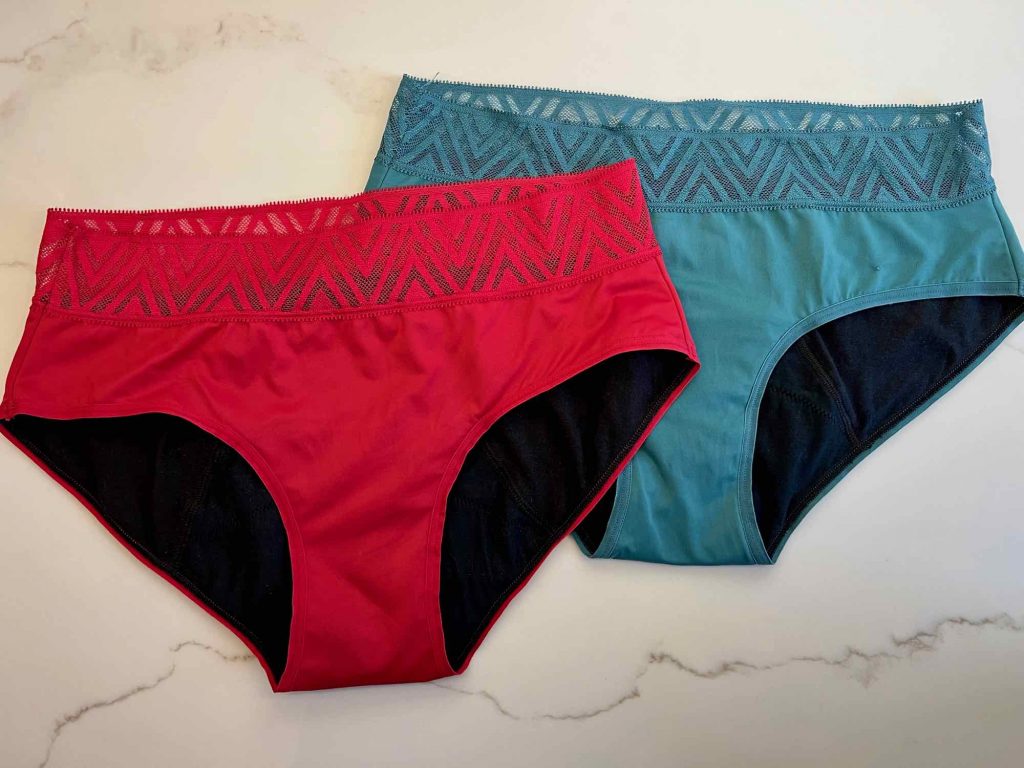 Bottom line, though: How long your Knix, Thinx, Saalt, or others will last depends on how you wash them.
How to Wash Thinx (& Brands Like Thinx)
These 'guidelines' will keep menstrual underwear (and anything else you wash – especially delicates!) in better shape for longer. You'll get more for your money, and save energy doing laundry.
(The instructions for washing Thinx and all alternative brands are pretty much the same.)
Don't use fabric softener or bleach. I wash my Thinx with athletic wear, or anything else that shouldn't have fabric softener. (For when I do use fabric softener, Dropps makes my favorite low-waste, eco-friendly option with cardboard packaging that's compostable or easily recyclable.)

And for a zero-waste detergent, I use TruEarth strips for everything, including my period underwear. (More about both in this review.)
Wash in cold water. Heat breaks down elastic more quickly; cold water keeps clothes in better shape longer. (And it's a great energy saver!)
Use the delicate cycle. It's less likely to stretch out the fabric.
Wash in laundry bags, AKA lingerie bags. This is another way to keep things more protected, and less likely to be stretched or pulled in the washing machine.

I use these bags for anything even remotely delicate.
Line dry your period underwear; don't put them in the dryer. Just like hot water, hot air damages elastic and makes everything fall apart more quickly.
Thinx also says not to iron their underwear, but there was already zero chance of that happening in my world!
How long can you wear one pair of Thinx?
Thinx says you shouldn't wear a pair for more than 12 hours. But again, it will just take some experimentation to figure out what works for you – it may be more than that on some days and less on others.
Personally, this is what I do: If I'm out and about on a heavy flow day, I use a menstrual cup and Thinx as a backup. If I'm at home, I just use Thinx and change them half way through the day, or whenever they start to feel damp or start smelling.
What are the international shipping options?
Of course, shipping small orders from across an ocean isn't the most efficient option. So here are the local brands for wherever you're based, and the options for others:
Saalt is based in Idaho, USA, and from there, ships all around the world. (With a few exceptions which, oddly, currently include Canada.) Shipping is free for US orders. They're also available in some local stores.
ModiBodi is based in Australia, but ships US orders from the US, and other order from warehouses around the world.
Knix is based in Toronto, Canada, and ships globally from their warehouse there. They offer free shipping on US orders over $75.
Period Aisle is based in Canada and ships globally. Orders over $75 to the US and Canada ship free. Their other shipping rates are here.
Thinx is based in New York City, and ships abroad. However, I've heard from friends in Europe that delivery can take a few weeks, especially in pandemic times. (In the US, in my experience they've always arrived in just a couple of days.)
Wuka is based in England and ships just about everywhere. (With free shipping to the UK only.)
When does Thinx have sales?
Thinx usually runs two big sales a year, with 20 to 30% off everything. In my experience, there's usually one at the end of December, and another a some point during the summer.
Thinx Refunds vs. Other Brands:
When I tried to return some Thinx styles that weren't comfortable, I was surprised to realize Thinx doesn't want you to actually return anything. They offer free refunds for 60 days from purchase, and you can choose either a full refund or replacement.
This used to be unique in the industry, but it's really not anymore. The only unique thing now is that Thinx don't clearly tell you this is their policy on their website, almost like they want to keep it a secret.
All the Thinx alternatives in this review have similarly flexible refund options:
Saalt's "Period Bliss" guarantee allows full refunds for 60 days from ordering on period underwear, and for one whole year on their menstrual cups and disks.
Aisle lets you try on, wash and re-use one item in your order for 60 days and still get your money back if you're not happy.
ModiBodi allows returns within 60 days for a shipping fee of $9.50.
Wuka offers no-questions-asked refunds for 40 days from delivery on one item.
Knix lets you return just about anything for a refund within 30 days of delivery, even if you've washed it.
---
Advice for Traveling with Thinx
Let's just be realistic: Something you wash and reuse is never going to be as convenient as something you use and throw away, especially while traveling.
But it's totally possible to travel with Thinx, and I do it all the time.
When I'm traveling, I rinse my Thinx out in the sink at night (trying to only rinse the crotch, to reduce drying time), let them dry as much as possible overnight, and store them all in a laundry bag that I can throw directly in the wash whenever I get to a machine.
Of course it takes a little more planning than disposables, but I'm okay with getting used to that kind of change in order to stop trashing the planet.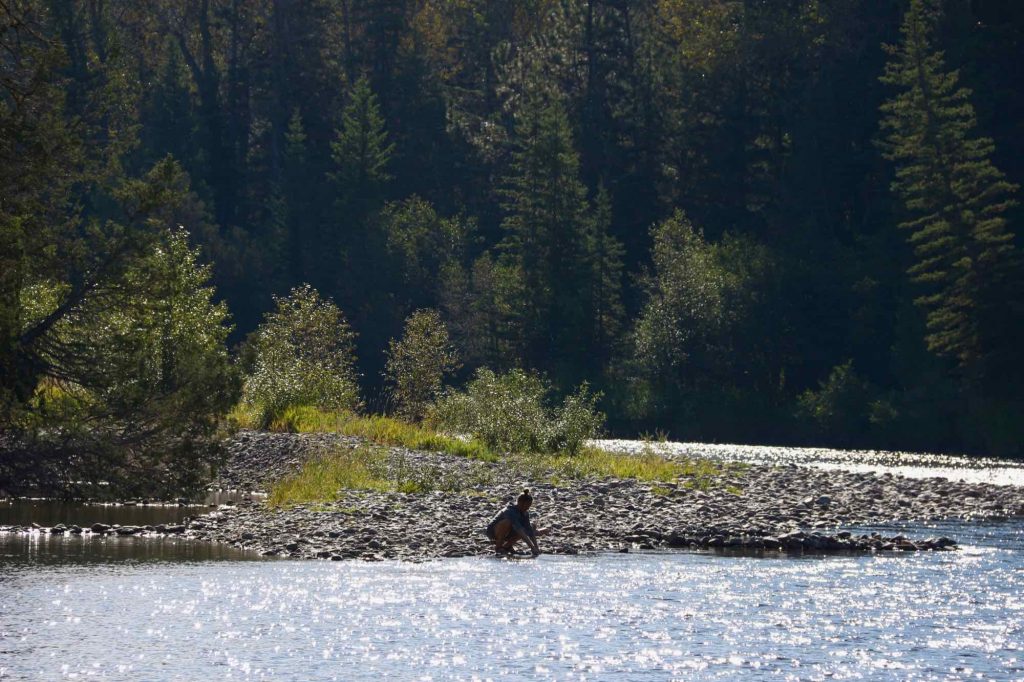 As usual, I've tried to make this review as complete as possible – but if you have questions about anything, leave them in the comments below and I'll answer as best I can!
---
This page includes some affiliate links. These recommendations for carefully chosen companies and products let me earn a commission if you decide to buy anything through them – at no additional cost to you! For more info, please see my Privacy Policy. Thank you for your support!
---