This post is sponsored by UnCruise – a sustainable travel company that I'm proud to travel and work with! For more, check out my review of my 2023 UnCruise trip in Baja California.
My first and, so far, my only visit to Alaska was a long, winding road trip just a few months before travel went on hiatus.
My husband and I flew into Anchorage, and piled into my uncle's big white truck, and the three of us started our leisurely drive south around the Kenai Peninsula, then north through the Chugach Mountains, and into the wide-open tundra that flows into the Yukon Territory.
We camped most of the way, except when it was too cold or too rainy.
We then crossed the Canadian border, and drove south through the Yukon into the temperate rainforests of Southeast Alaska, and eventually boarded a ferry that wound through clouds and thickly-forested islands to the capital city of Juneau.
When we were planning our Alaska trip, we discussed pushing it back a year instead of working around all of our schedules. After all, we said, Alaska isn't going anywhere.
Alaska's still there alright, but the trip we did (with a 400-mile detour through Canada's Yukon Territory – the only way to connect the "mainland" of Alaska with its gorgeous Southeast, and its state capital) has been impossible since March 21, 2020. That's when the US-Canada border closed to non-essential travel, and it hasn't yet reopened to US citizens on leisure trips.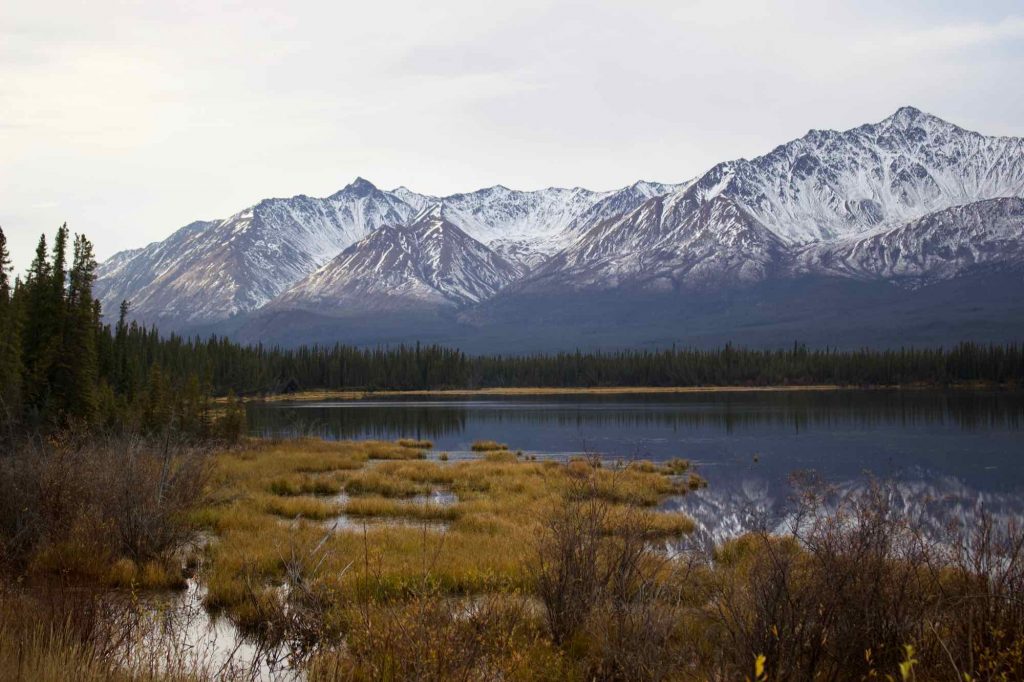 Luckily there are other ways to explore Alaska, including UnCruise, which is one option that's been on my mind since I got back from that trip. (But more about that later.)
One of the most memorable experiences from my Alaskan road-trip (as is the case for most trips, in my experience) was an evening when things weren't going according to plan.
It was the end of a long day. We had driven three hours out of the Yukon in the morning, hiked up a small mountain in drizzling rain, walked around the small town of Skagway in pouring rain, then boarded a ferry to arrive in Juneau after dark. (Juneau is connected to the rest of the state by air and by sea, but not by any roads, making ferry travel the only option to or from the capital.)
After seven hours on the boat, we got back in our truck and drove off the ferry into the dark and still rainy evening.
The trouble only started around 10 pm, when we checked into our first Airbnb of the trip, ready for the luxury of not sleeping on the ground.
Before long, I was texting our host, "Sorry to bother you but…"
The fridge was full of open food containers. (Weird, but not terrible.) There were security cameras in the living room. (We stood on the couch and pointed them toward the ceiling.) The couch was covered in dog hair (which I was willing to overlook so we could just go to bed).
But then Emanuele turned down the sheets and reported there were hairs in one of the beds, also.
I was so tired, I was even willing to overlook dirty sheets.
But no, Emanuele said, not dog hairs. Pubic hairs. Why did I have to know that?
As it turned out, the owner of our Airbnb had mixed up the dates, and was still living in the apartment when we were supposed to be renting it. Instead of fessing up and cancelling the reservation when he realized what he'd done – allegedly earlier that same day – he decided to do a (very) quick clean and hide in the basement.
(Related: Here are my favorite AirBnb alternatives. Eco-friendly, luxe, staying with locals, in treehouse, or in an unused RV – just no pubic hairs.)
When I questioned him after we started finding red flags, he gave us clean sheets, refunded most of our money, and apologized profusely. We checked-out two days early the next morning.
For Pre-Pandemic Ketti, stray hairs in a bed and an Airbnb host cowering quietly in a basement were just another funny travel story to tell over beers.
I've slept in more cheap hostels, and you-really-call-this-clean? vacation rentals than I can count. In my experience, it's usually better to just not care for a night.
(Plus, I always figured a little germ-exposure would strengthen my immune system. I lived by the 5-Second Rule far beyond whatever the acceptable age limit should be. I brushed my teeth with dubious tap water in Central America to slowly build my immunity to whatever was living in it. I did not own hand sanitizer. Gross? Maybe. But I'll happily go back to wondering about pubic hairs instead of stressing about viruses any day.)
But now? Now it's hard to even wrap my head around how much has changed in terms of what's possible in travel, what we can depend on, and what I'm personally willing to put up with in the name of a good adventure.
It used to be enough of a marvel that modern travel allowed us to text the owners of our Airbnbs when we had problems in the middle of the night. But after the germ-phobic trauma of the past year, the idea of sleeping in a stranger's house and potentially not finding it perfectly clean is – for the first time for me ­– a deal-breaker.
For now, COVID has changed the way I want to travel.
While I miss being a grungy backpacker, hitting the road with no reservations and no hand sanitizer, I've lost some of my tolerance for the unpredictability of it.
But I've decided to be okay with that.
I plan to get back to that kind of independent travel eventually, but for right now, I'm being very selective about how I dip my toes back into travel. Just getting back out there with a minimum of stress is all I want.
That's part of the reason why, if I were to go back to Alaska right now, I'd go with a company like UnCruise that takes both COVID and sustainability seriously.
Whenever I explain UnCruise to people as a "cruise company" they're usually surprised that I, the obvious environmentalist, am so excited about them. But with less than 100 people on each of their ships (counting passengers and crew), and environmental practices that are pretty much the opposite of what the cruise industry is notorious for, it makes sense to call them something else: They're a small-boat adventure travel company, and they're the kind of company I wish the entire cruise industry was made of.
I haven't traveled with UnCruise yet, but it's not for lack of trying. (It's because COVID caused my April 2020 trip with them to be cancelled.)
UPDATE: I visited the Sea of Cortez with UnCruise in 2023 and it was even better than I'd hoped. You can read all about the adventure in my UnCruise Baja California review, here.
In the past two years, including planning that trip, I've had conversations with half a dozen UnCruise employees – including their CEO and many others involved in their numerous sustainability initiatives. (There'll be another post about those coming soon.)
Based on all of that, UnCruise is on a short list of travel companies that have really impressed me with their commitment to doing right by travelers, employees, local communities, and the environment.
Adapting to COVID – what UnCruise has changed
UnCruise announced they'll start sailing in Alaska on May 7 this year – earlier than planned, but with lots of changes and precautions:
All of UnCruise's sailings in 2021 will require all passengers and crew to be fully vaccinated, take a COVID test before embarkation, and wear masks onboard.
UPDATE: UnCruise has lifted all of these requirements for passengers as of April, 2023. See this page to check for the latest updates before you book a trip.
Socializing and meeting new people are what I've missed most this past year. So the opportunity to actually meet people while traveling – knowing we're all plague-free and can actually relax – would definitely feel like a luxury right now.
It's also clear that being part of the local community matters to UnCruise. They're a small company with offices in Seattle and Juneau, where their CEO lives. (He's even giving a historical tour of the town at the beginning of every trip this summer.)
UnCruise trips always have lots of options for getting active outdoors with shore excursions in remote areas (again, this is really not a typical "cruise" company). But they told me that this year they'll focus even more on getting outdoors – rain or shine – and forego activities that involve interacting with people who aren't on the trip. (In Alaska, those activities normally include on-board rangers in Glacier Bay National Park, culture walks with Tlingit tribal leaders, and on-board presentations and history from Tlingit members.)
Despite cutting down on interaction with locals, the trips still support Southeast Alaska's economy – which the cruise industry is normally a big part of, but so far this year, the big ships are still banned in Alaska.
From an environmental perspective, I can't help but be happy about that, and from a traveler's perspective, it makes it an even better time to go to Alaska – less crowds! But I know the shutdown is painful for local businesses.
UnCruise helps with that in two ways: They keep their supply chain short, serving as much local food, wine, beer and liquor as possible, including Alaskan brands.
And since travelers start and end most trips with a night or two in Juneau, hotels and restaurants will also get some business.
Speaking of which:
Random tips for an afternoon in downtown Juneau:
Resolute Boutique is a gem, curated by a local woman who seeks out sustainable brands – from gorgeous Alaska-made jewelry, to eco-friendly denim brands, and more.
Excellent cocktails at Amalga Distillery.
Pel'meni serves two things: Vegetarian Russian dumplings, and meat-filled Russian dumplings. (Pel'meni means "dumpling" in Russian, so you wouldn't expect much else!) It's kind of a hole-in-the-wall, grungy, dive-y place, which I love. Just hoping they ditch the Styrofoam take-out containers soon.
For me, one of the many realizations of the past year has been that I don't regret any of the money I've spent on travel.
(Or the time I've taken away from work to make it happen. Or the sacrifice of a so-called "traditional career path" for the random jobs and opportunities that have let me see so much of the world, but that's another story!)
As we're heading into the second summer travel season of the COVID era, and vaccines are rolling out in the US, travel is starting to look more possible – at least on paper. But if you've drilled down into actually planning an independent trip this year, as I have, you know the reality is really different.
(In the past few months, I've shared what it was like traveling in Hawaii during this pandemic, and the endless, stressful planning that went into making that trip happen.)
Yes, some countries are starting to open up to vaccinated US tourists (or at least talking about it), but that doesn't mean it's going to be easy to travel abroad this summer: The quarantine and testing rules are different for each country (sometimes for each flight); the US State Department still has Level 4 travel advisories ("do not travel") for 115 countries, including all of Europe and the UK; and, more importantly, vaccination levels in most of the world are nowhere near what they are in the US right now.
I'm writing this in the beginning of May, and most European countries are about 7% to 10% vaccinated; in the US, most states are somewhere around 25% to 35%. You can keep track of updated numbers for US states here, and for European countries here. (The Republic of Tilted Map is happy to report we're 100% vaccinated!)
Now I'm piecing together the paperwork for a month in Europe (mostly to visit my husband's family in Italy and the Czech Republic. For me, for the reasons above, it's still a bit early for a plain leisure trip to Europe).
To put it mildly, the complexity of finding accurate travel information is so far from the simplicity of pre-virus travel it makes my head spin. (And after immigrating to China, to Italy, and to France, wading through international red-tape is kind of a sport for me.)
But if you just don't feel like dealing with it all right now, 2021 is definitely a good year to keep your adventures domestic. I definitely get wanting to stay an independent traveler forever, but I also think having a trustworthy company take care of the details is an investment that makes sense – right now more than ever.
And for that, I think UnCruise is one of the best options, both because of their dedication to conservation-minded and nature-focused travel, and the fact that they'll take care of the stressful planning and uncertainty for you.
FYI: UnCruise is also waiving the "single supplement" fee for solo travelers this year and – for any last-minute planners – offering up to $600 off on May and June departures, including a free hotel night in Juneau on some trips. For more on their 2021 trips to Alaska, Hawaii and other destinations, see their Destinations page.
I'm proud to say UnCruise sponsored this post (although they didn't have any input on what I wrote). I'm very selective about the companies I work with, and UnCruise is one that I believe in.