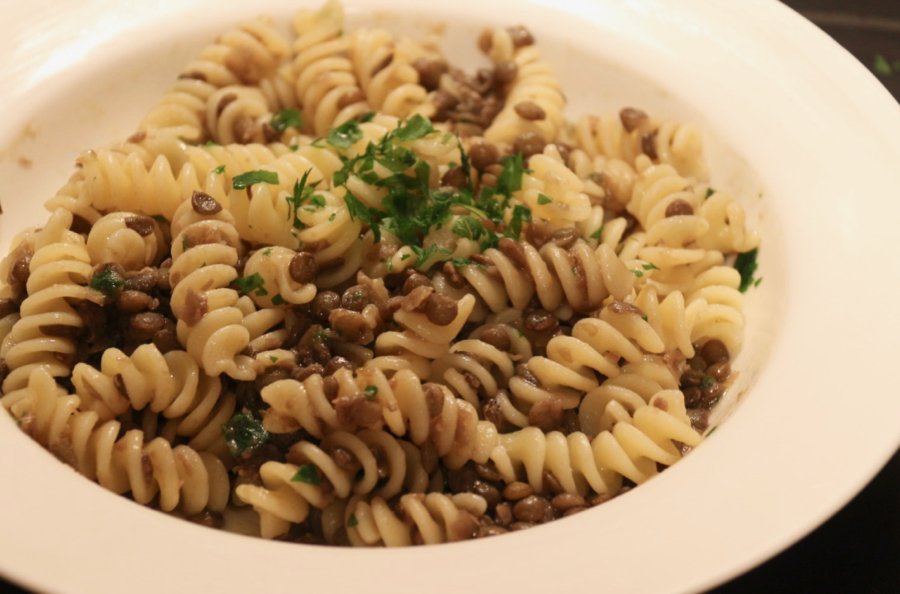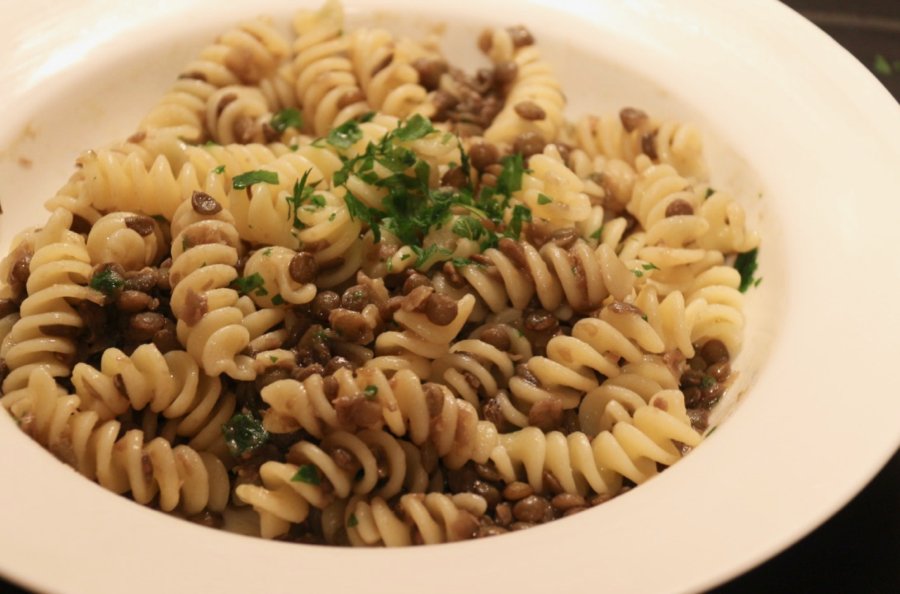 Pasta with Lentils – one of my favorite Italian recipes! We learned it from a friend's mom in Italy and now make it all the time. It's ridiculously easy and can be vegan if you want it to be.
---
Although I don't normally publish recipes on this blog, I have been sending a few around to friends lately. And this one for Pasta with Lentils is the first on the list, because it so easy and such a people pleaser. Plus it's vegan (if you want it to be).
The Story Behind the Recipe
This recipe is from a family friend in Milan named Rita, who learned it from her Pugliese mother. (Puglia is the heel of Italy. It's usually written "Apulia" in English, probably so that Anglophones don't have to pronounce the Italian "gl.") She made it when she invited us over for dinner one day, and we asked for the recipe – which she gave us in paragraph form, with no measurements. It's been a stand-by favorite ever since.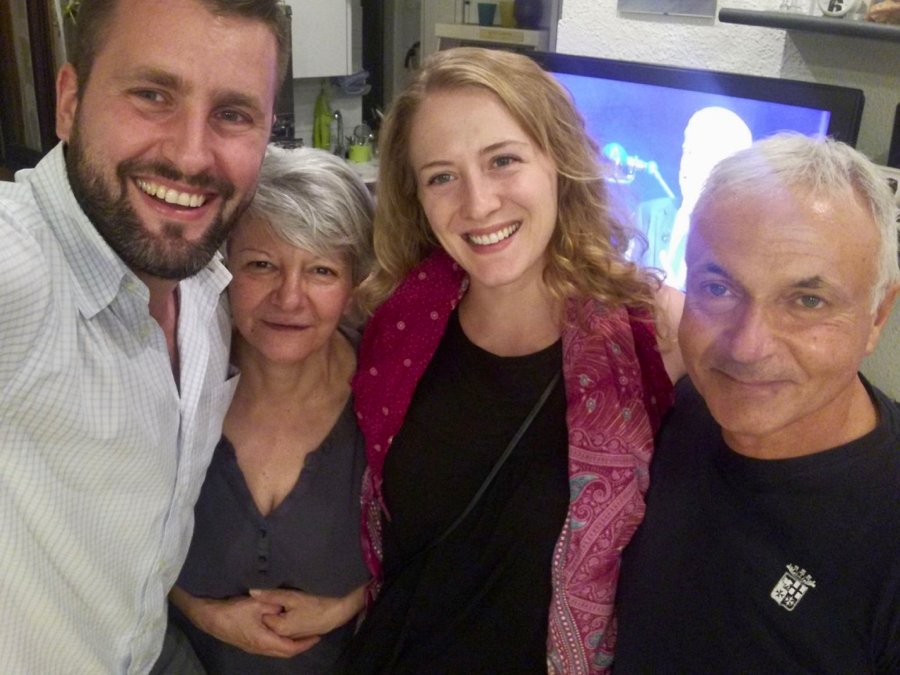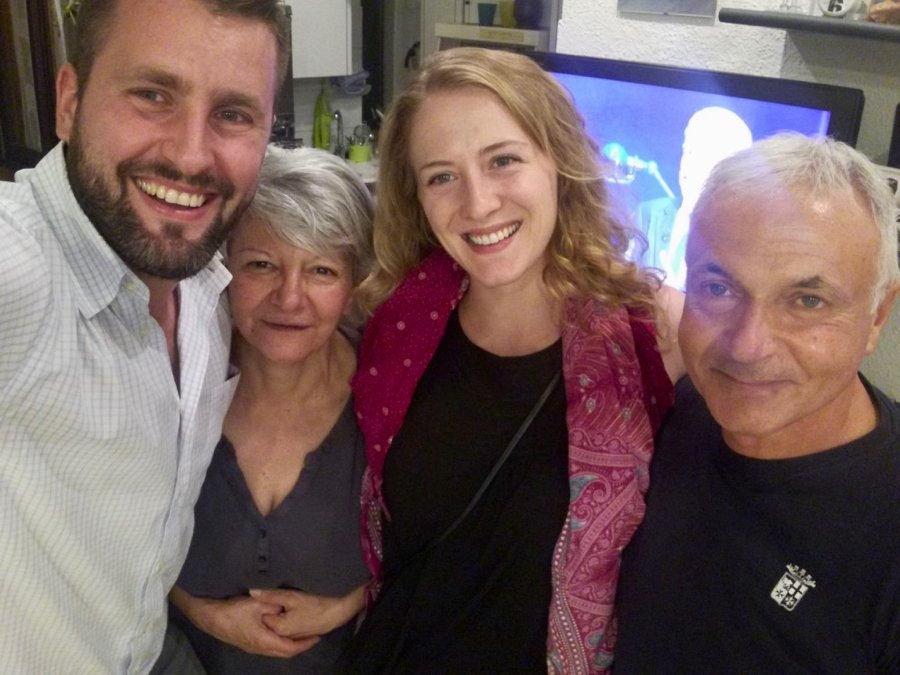 This recipe is such a great representation of all the things I love about Italian cuisine – simple, unfussy, cheap, easy-to-make and vegetarian.
Don't get me wrong, I love a good prosciutto now and then, but Italian food isn't as heavy on meat as a lot of Italian-American recipes would lead you to believe.
In another post, I talked about what's so healthy about the way people eat in Italy. (And it was probably my most popular post of all time.) Rita's Pasta with Lentils hits a lot of the points from that post.
First, it's so easy that you don't need much time or motivation to make it – so it can save you from ordering take-out or eating something highly processed from the freezer. (Italians eat very few processed foods.)
Plus, the original recipe is vegan – although I like to add cheese. But still, it has no meat – meaning lighter in calories, lighter on the environment, and I just feel lighter after eating it. Although I love that it's not trying to be vegan or vegetarian – there's no "meat substitute" here, just a traditional, naturally plant-based meal.
It's also versatile, as it's just as good served cold in the summer, or leftover for lunch, as it is hot and fresh.
Italian Food and Change
And like all cuisine, this is in evolution. I kind of hate the term fusion, because all food is a mix of ideas from different people and places, it's just a matter of how quickly it's changing. For example, Rita told me the only thing she changed was adding a "dusting" of chopped fresh parsley to her mom's original recipe.
But I asked her about putting cheese on top (as we like to do) and she said, "No. No… Proprio no." Just no.
If you ask an American home cook about tweaking their recipe, you're likely to hear, "oh, well, you could try it…" Not so in Italy. The evolution is happening, but I love how Italian food traditions are so intact because people take food so seriously there. There's no anything goes attitude like there is in the New World, where almost everything comes from such a mix of cultures.
Pasta Shapes
Rita uses whole wheat ditali, which are traditional for this dish. It's a pasta shape that's similar to rigatoni, but shorter: Little tubes, cut short.
But of course, you can use any short pasta, especially something with grooves or tubes to hold onto the lentils, like ziti, fusilli, or pipe (one of many types of little elbow-shaped pasta, like macaroni, which was originally maccheroni. Why we changed the spelling I do not know).
For everything else, we measured things for the first time recently (after making this dozens of times) to have an official, written recipe to share.
Recipe: Pasta with Lentils
(for 4 people, or fewer with great leftovers)
Ingredients:
100 grams dried green or brown lentils, rinsed (or 3.5 ounces, or ½ cup, or less if you want it less lentil-y)
1 clove of garlic (whole, not chopped)
200 grams short pasta (or 7 ounces, or 2 ½ cups)
Salt for the pasta water (about ¼ cup!)
Water… lots for the pasta water, less for the lentil water
Extra virgin olive oil
Black pepper
Fresh parsley
Recipe Instructions:
Rinse the lentils in a colander under running water and put them with the clove of garlic to simmer in water (maybe a cup) until they're soft and the right texture to eat (maybe 10 or 15 minutes, but try them as you go, and stir them so they don't get stuck down).

You might have to add more water, but you want the water to cook off by the time the lentils are done.

In the meantime, cook some short pasta in lots of really, really salty water.

A note about the water: It should be a lot. As in, not just enough to cover the pasta, but enough to give it room to really dance. Get it nearly boiling, then add the salt – I'm talking a handful. The reason to get it boiling before adding the salt is that otherwise the salt can damage the bottom of your pot, or so I've been told. Then get it fully boiling again BEFORE you put the pasta in.

When it's all done, drain the pasta and toss it together with the lentils, a grind of black pepper and a splash of good extra virgin olive oil. Top it with chopped up fresh parsley, if you have it.
That's it! This is where Rita's Pasta & Lentils recipe ends, and so far it's vegan.
But… We like to add cheese. Fresh grated parmesan is great (fresh meaning not the kind in a can, if possible). Or my personal favorite is ricotta salata – a very hard, "salted" ricotta cheese that you can grate on top of anything. It's one of the ingredients that we fill our suitcases with and bring back from Italy. (Most of the others are booze.)
I've only seen ricotta salata once in a grocery store in Chicago (and never in Montana), but they definitely got the summary spot-on:
If you see it, jump on it. So flavorful and good on everything.
Let me know if you make this! It's my first recipe on this blog, and I'll be so proud. What other Italian recipes do you want to see?
---
---
This page includes some affiliate links. These recommendations for carefully chosen companies and products let me earn a commission if you decide to buy anything through them – at no additional cost to you! For more info, please see my Privacy Policy. Thank you for your support!