Let me be clear: These are not "the best" restaurants in Italy. They're not the food critics' favorites, or on the Michelin guide (except for one). This is the list of restaurant that I've been sharing with friends for years, when they email me on their way to Italy.
And they're the places that I hope beyond hope survive this pandemic.
Clearly COVID-19 is making this a disastrous time for a lot of businesses around the world. But I can't imagine any type of business that's taken a harder hit from this pandemic than family restaurants in Italy. So I wanted to share a list that I've been keeping secret for a while: all of my favorite restaurants in Italy.
These are my personal favorites. And I really doubt you'd find these restaurants in a magazine article, because they're really just so random. This isn't a "Top 10 in Every City" kind of list. For starters, right now I only have one restaurant in Rome on this list (and one French bakery). That's not because it's the only place I've eaten good food in that spectacular food city – it's because it's the only restaurant in Rome that's really special to me.
Almost all of these Italian restaurants are independent and often family-run businesses.
Many are fixtures in their communities, and they support local farmers and artisan producers of everything from cheeses and pasta, to truffles and nuts, to pastries and liquors. This is the good stuff.
In fact, that's one of the things I most love about Italian food culture and restaurant culture – how so much of it is community-based and relies on hyper-local recipes, traditions and producers.
Some of these are pretty far off the beaten path for tourists in Italy.
Is anyone likely to visit the town of Barbasso as a tourist? Probably not. Or Cogne? If you're from France or Northern Italy, maybe. Otherwise, not so much. But if you ever find yourself in one of these little towns, now you know where to have lunch.
I decided to order this list from North to South, because in my mind that makes sense. (I did name my blog after a map, after all.)
If you know where you're going, feel free to jump to that region or town:
---
Cogne, Valle d'Aosta:
Classic dishes from the Italian Alps, with an ambiance I would describe as Santa Claus in the Alps. Lots of melted cheese and fewer vegetarian options than most places in Italy.
Pella, a town on Lago D'Orta (Lake Orta), in Piemonte (Piedmont):
An elegant seafood-heavy restaurant right on the lake.
I went here for a meal with the in-laws – both my husband's family and mine. Emanuele and I couldn't keep up with the interpreting while constantly stuffing our mouths with food, so the conversation didn't go very far. But we all still sampled each other's meals, and proved that "mmmmmm!" is understood across cultures.
Any restaurant can have one or two great items, and others that are just good, but I ended up trying half a dozen dishes here and they were all worth going back for.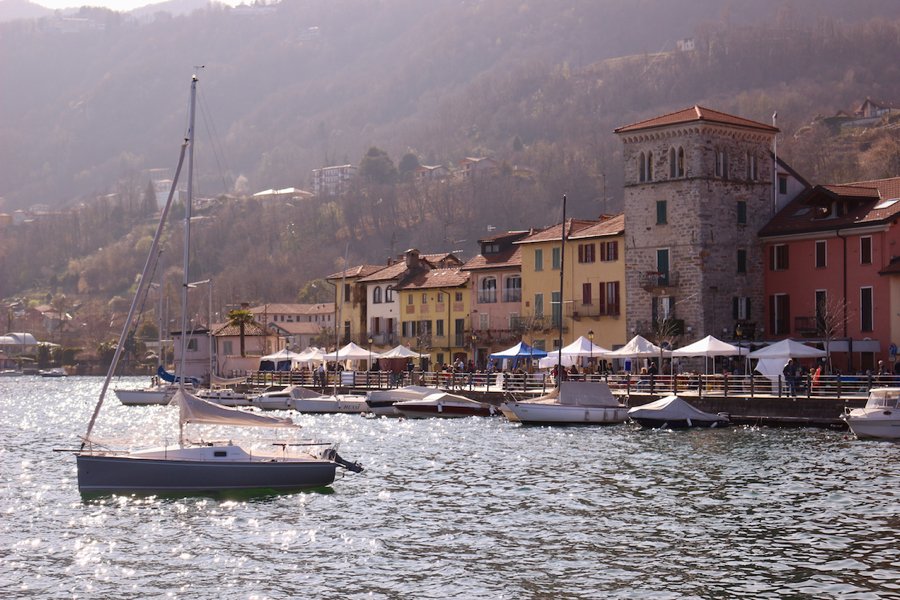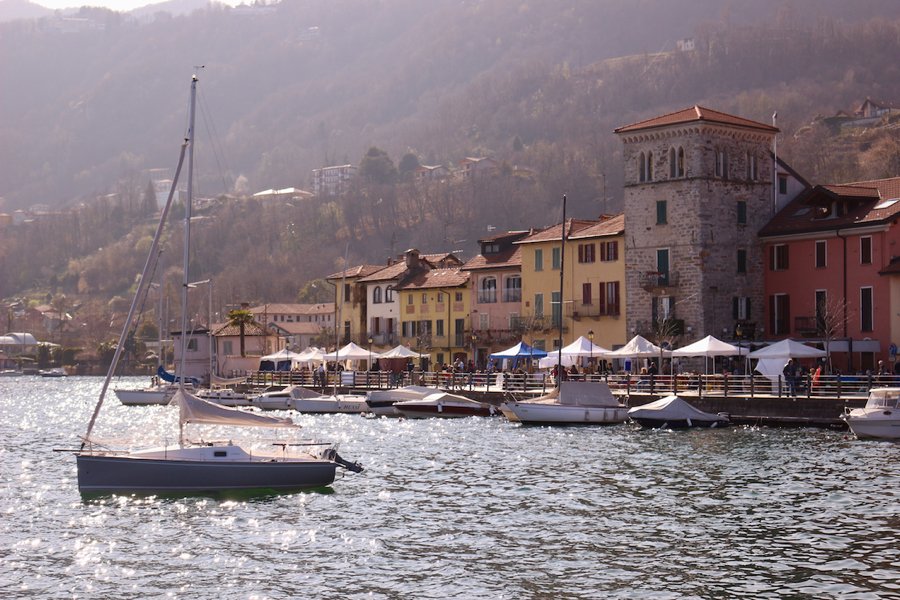 Restaurants in Lombardia (Lombardy)
Barbasso (near the town of Mantova/Mantua):
Truffle pasta, pumpkin ravioli, tortelli in brodo (tiny, handmade, stuffed pasta rings in broth). These traditional specialties from the province of Mantua (Mantova) are some of my absolute favorite Italian comfort foods. And this simple yet elegant small-town family restaurant does them all wonderfully.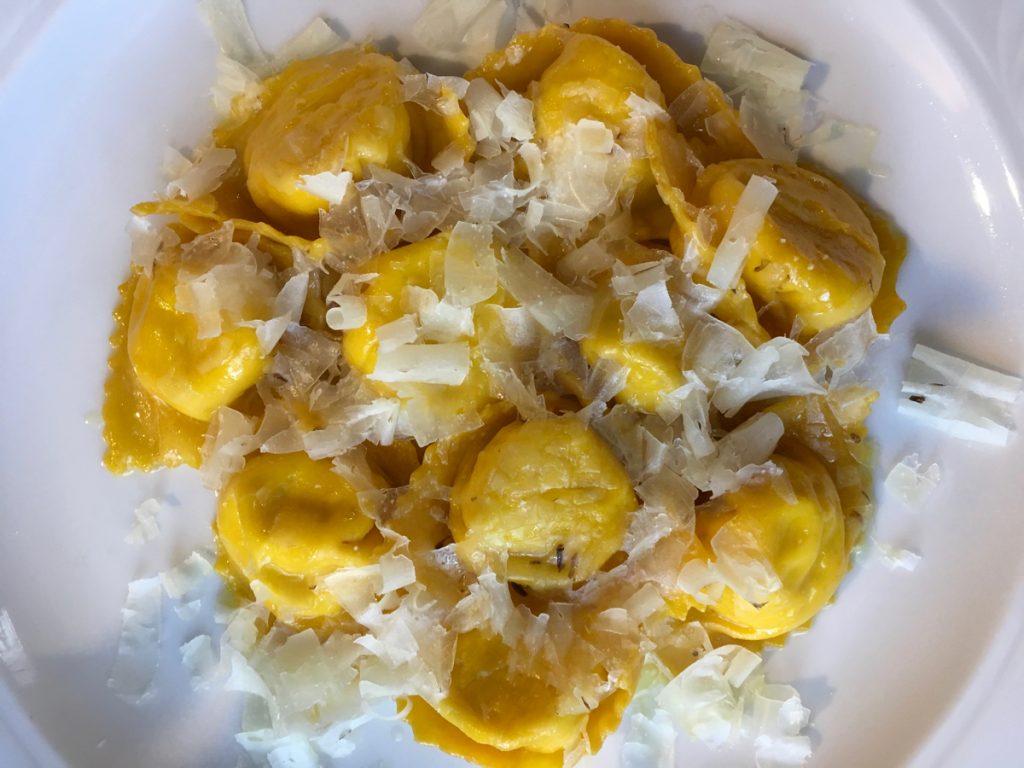 Milano:
Napolitano-style pizza (the original style) from a pizzeria whose primary location is actually in Napoli. That's one way you know they're serious. Pizza from Napoli has a thin crust, but it's soft, not crunchy like an American thin crust. It's a whole different thing, and I miss it so much.
At Pizzium, they do really creative yet authentically Italian toppings – like raw sausage and truffle oil, or mortadella and an entire ball of mozzarella. They have several locations around Milan – and normally I'm not a fan of chains, but Pizzium definitely doesn't feel like one. And I've never found a pizza here I didn't like.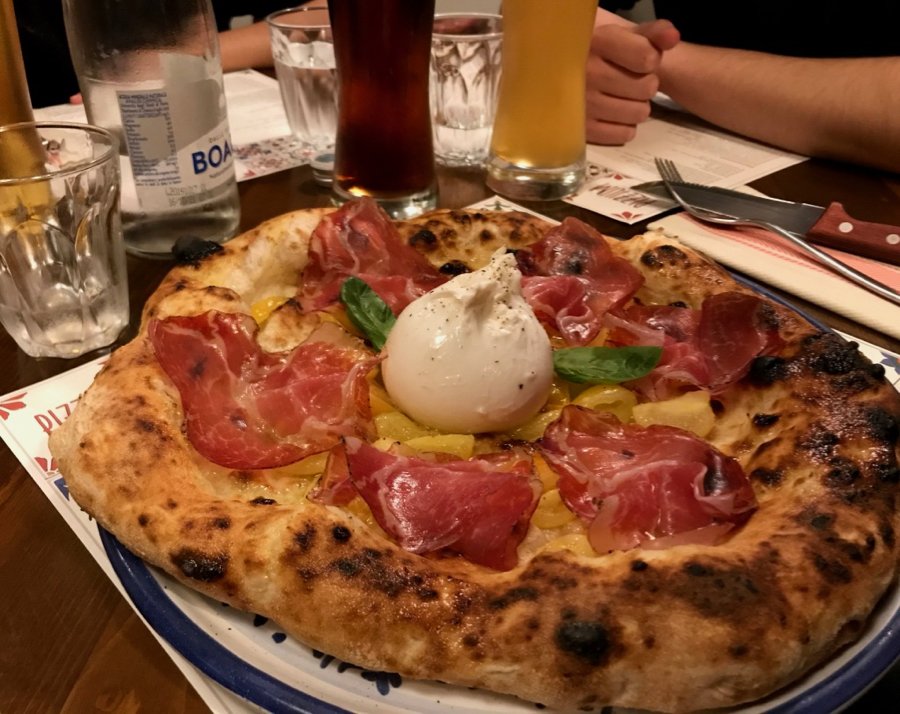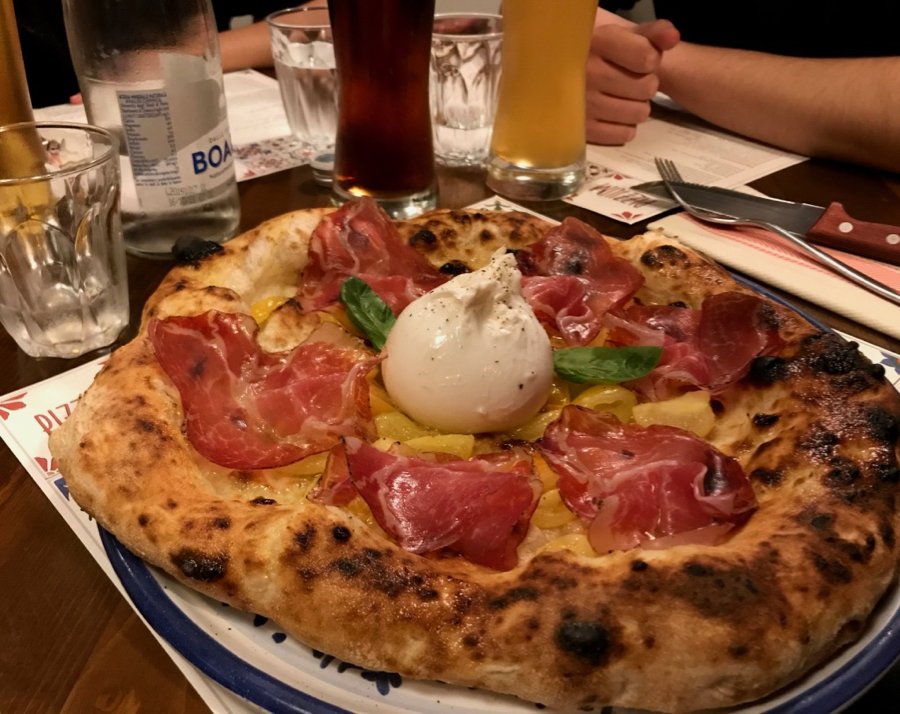 My favorite easy-going spot for pizza alta, or tall pizza – not the classic Napolitano soft, thin crust, but more like a focaccia with toppings.
Even though it's by-the-slice, this is not street food. You sit down and order one slice with the toppings you want and they put in the oven for you.
But it's still very casual, which is unusual in Italy. In a county where almost every restaurant uses crisp white table clothes, they have paper place mats with the menu printed on them, and football games on TV in the basement. It feels like a step back in time – not to ancient Rome or anything, but to the 1980s. My husband has been going here since he was a kid, and the decorations haven't changed since at least then. Even some of the staff is the same.
Probably my favorite restaurant in Milan, this place has a special place in my heart. We had our wedding rehearsal dinner here (even though we never rehearsed the actual ceremony part, but we sure did eat well).
But that's not the entire reason I love this spot.
It's so cozy and homey and all the food is just wonderful. If you're looking for meat, they definitely do it right here. They even have a few special tables with grills built in the middle so you can cook a steak with a sprig of rosemary right in front of you.
But they do everything right here. So it's also easy to go vegetarian without feeling like you're missing out (which is another thing I love about eating in Italy).
A small, fancy-feeling restaurant where you'll find dishes with modern, creative flare. It feels more like an upscale Italian restaurant you'd find in New York or San Francisco than a cozy-feeling traditional Italian family restaurant. But it definitely is Italian, and it is a family-run place, so if you're looking for something that feels a little more special, this is a great bet. (And while it's rather expensive by Italian standards, it's still a steal compared to a similar place in any city in the US.)
You can't find a more central place for dinner in Milan, and there actually aren't a lot of restaurants in the very center that aren't tourist traps. This place has all kinds of classic dishes in a lovely stone-walled dining room. They get busy fast, so definitely book ahead. Even weeks ahead.
A good spot for aperitivo and cocktails – and Milan has a lot of good spots for those.
They have several locations around Milan, but this is really only on the list because one of them is where we had our wedding reception aperitivo! (And I actually just realized while writing this post that their slogan is "bread, love and more," so I feel like it was an appropriate choice.
This is the only non-Italian restaurant on this list. And one of two that isn't even a restaurant. It's an easy-to-miss window with zero seating on Chinatown's main walking street. They serve the best possible kind of fast food.
I lived in China for a year, and I can testify that these are authentic Chinese dumplings ­– except probably with better quality meat stuffing, because they get their meat from the local butcher next-door. (They also have a veggie option, which is really good, and a few other dishes. But the pork dumplings are the thing my mouth is watering for.)
Sandwiches! Pick one from their really, really long menu, organized by type of meat (including meat-free). Don't bother making up your own combination – they know what they're doing. This place is literally a hole in the wall, and is packed with well-dressed office people at lunch time.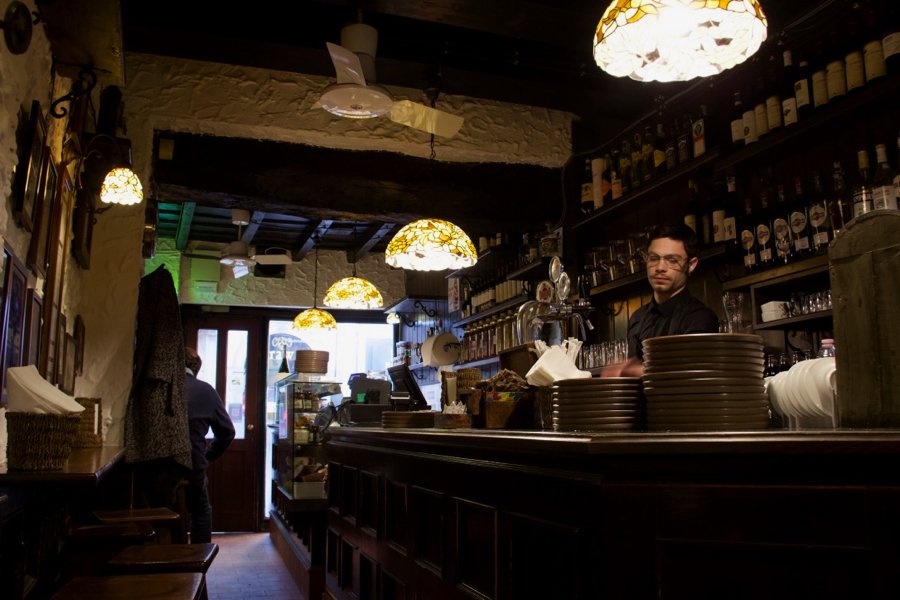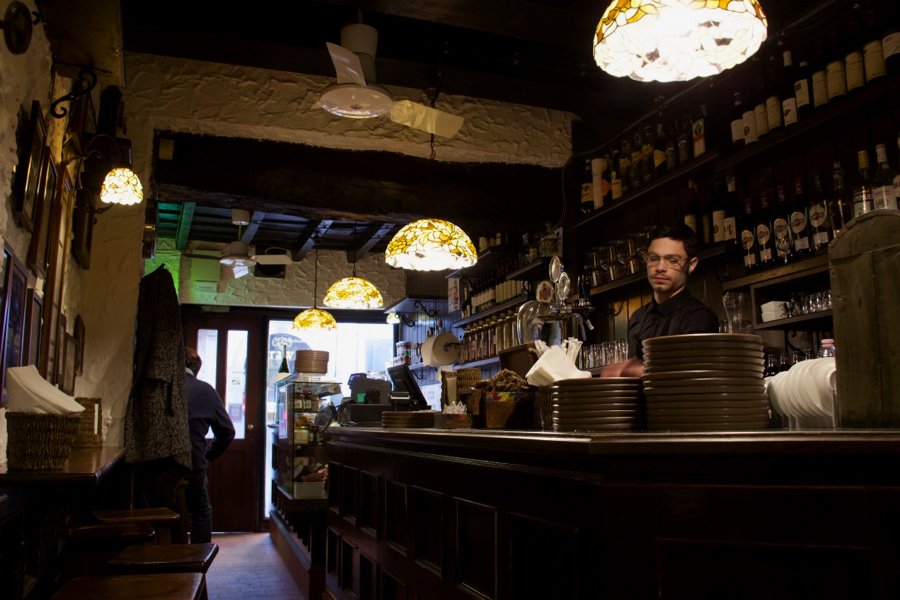 A tiny, friendly microbrewery in Chinatown! With outdoor seating in the summer! Milan is not a beer city (or a particularly friendly city) so you don't find many of these. It's down the street from Da Giuliano and La Ravioleria di Sarpi, and the neighborhood is packed with other great restaurants.
Besides being just around the corner from my old apartment, I'm confident this place has the best brioche in Milan. (What is called a brioche in northern Italy is a cornetto in central Italy and below. Both are basically a croissant, but often filled with delicious things.)
Get the ricotta cheese filled one. Do it for me. I'm feeling emotional just thinking about them. (Plus, ricotta isn't an option you'll see everywhere. It's more common in Sicily, but rare in Milan.)
Fun fact: This place used to be a porn theater in the 80s! These days, they do dinner and live music too, but I really only care about the pastries.
The second best brioche in Milan (although I may be biased) and being in Chinatown, it's much more centrally located than my old neighborhood favorite. The brioche are gigantic and the place is tiny, fancy and cute, with only about two tables. Okay, they're not second. It's a tie.
Restaurants in Cinque Terre, in Liguria
Riomaggiore:
Remember when I said these restaurants were just my favorites, but not on the Michelin guide or anything? This one actually is on the Michelin. It's a little upscale, right on the water, and totally worth it. It's also a good idea to break out your nice outfit for an evening here.
Like most restaurants in Liguria, they do lots of seafood. If you're not a huge seafood lover, but you have an open mind, this is the right place to try something new. Everything is delicious.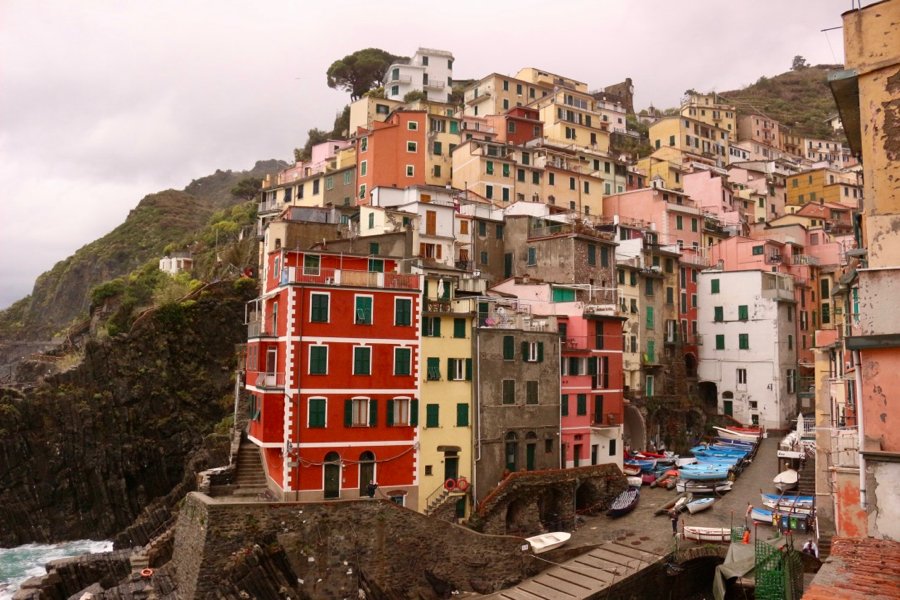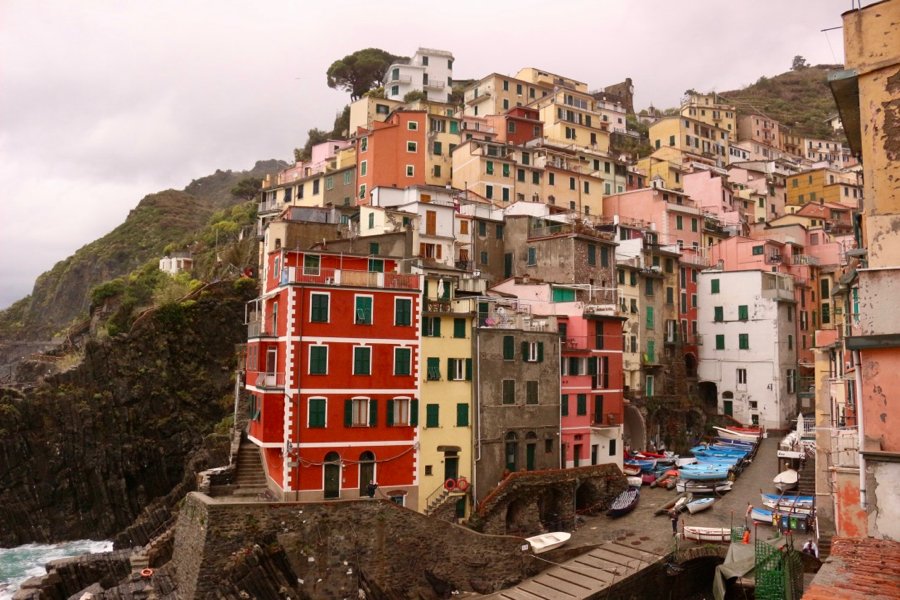 Corniglia
Small, laid-back, cozy and wonderful, just like the town of Corniglia itself, which is the only of the Cinque Terre towns that's up on the cliffs, not down on the water. It's kind of the opposite of Dau Cila in style, but the food is just as good.
Try to call ahead. The last time I was in the area they were closed the entire week (with no notice online or anywhere else that I could find).
Restaurants in Emilia Romagna
Bologna:
A decadent coffee shop in the center of Bologna. They have fancy little cups that look like they're for the Queen of England, and lots of little delicacies like freshly grated chocolate on top of your espresso.
It's controversial, but I'm going to go ahead and say Bologna might be the best food city in all of Italy.
This restaurant is a perfectly good example of how the restaurants of Bologna will amaze: You can eat so much food that's so delicious and high quality, accompany it with so many bottles of wine, and yes of course dessert, and yet pay shockingly less than you would in other cities.
PS: I'm not vegetarian, but I'm not a big meat eater, and Bologna definitely has a meat-heavy food culture. So if you're like me, just take my advice: Try everything. Here, of all places, it's worth it.
PPS: I have a long list of restaurants in Bologna that locals have recommended to me, but that I just haven't had a chance to try. When I do, I'll probably need to update this list.
Restaurants in Toscana (Tuscany)
Barberino Di Mugello (30 minutes from Florence)
This place is essentially a truck stop, but classy. They specialize in bistecca alla Fiorentina, or Florentine steak. It's an absurdly thick-cut steak (like maybe four inches tall) from Tuscany's renowned Chianina cows – a particularly large breed. I'm not much of a steak eater, but this is worth trying at least once.
My advice: Come hungry, order the smallest size available, and still plan to share. And whatever you do, don't ask for it well done – you'll just offend the server. (And sure, you could do it anyway. But you're here to try the local food, right? And the local way to cook a steak is rare. If you want a well-done steak, you might as well wait until you get home.)
Firenze (Florence):
Amazing, home-style Tuscan food. In Tuscany, things that sound boring are actually delicious. Like bean soup, white beans with olive oil, and other simple dishes.
It's also the kind of place in Florence to try bistecca alla Fiorentina, if you didn't have it at the truck stop above.
This was my first favorite Florentine restaurant. And while Buca Lapi has more of a wow-factor, this place is dependable for delicious pasta dishes and a cozy, at-home feel.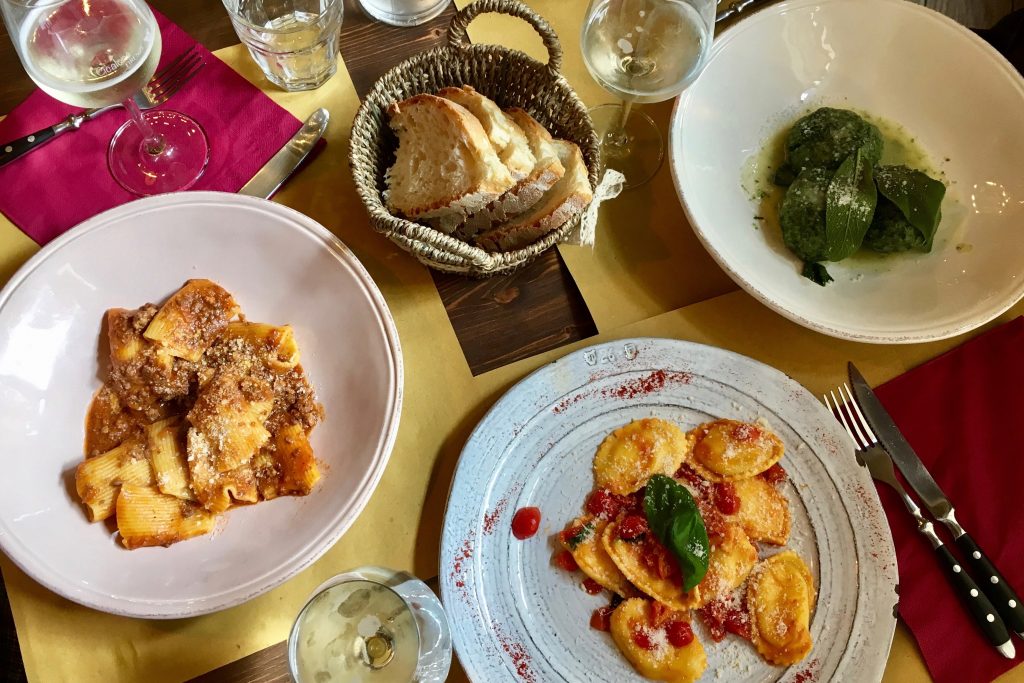 Italy really doesn't have a strong street food culture, at least not in the way many Asian countries do. (Many places that offer take-away are purely geared toward tourists.) But Florence have a lot of seriously good sandwich options.
It's worth waiting in line for these panini – probably. Sometimes the lines are absurdly long. There are three store fronts of this sandwich shop in the same block, and if you're there in the busy season, the multiple lines will block traffic on the entire block. Work your way through the crowd to figure out which one is least long.
And apparently they just opened in Milan in early 2020! Probably not the best timing, but hopefully they'll still be around next time I'm back in the city.
This place is unique on this list because it's actually a chain, but it's only in Italy. They have great sandwiches, and a fun, kitschy vintage vibe.
(The first one is in Florence, but I've only been to the Bologna location. You can try it in Milan and other Italian cities now, too.)
Restaurants in Lazio
Roma (Rome):
This little place is close to my heart. It's family-run, has an excellent wine selection, a classy and cozy ambiance, and fresh and homemade everything. (Say hello to Gerri for me – the smiling gentleman who owns the place with his wife.)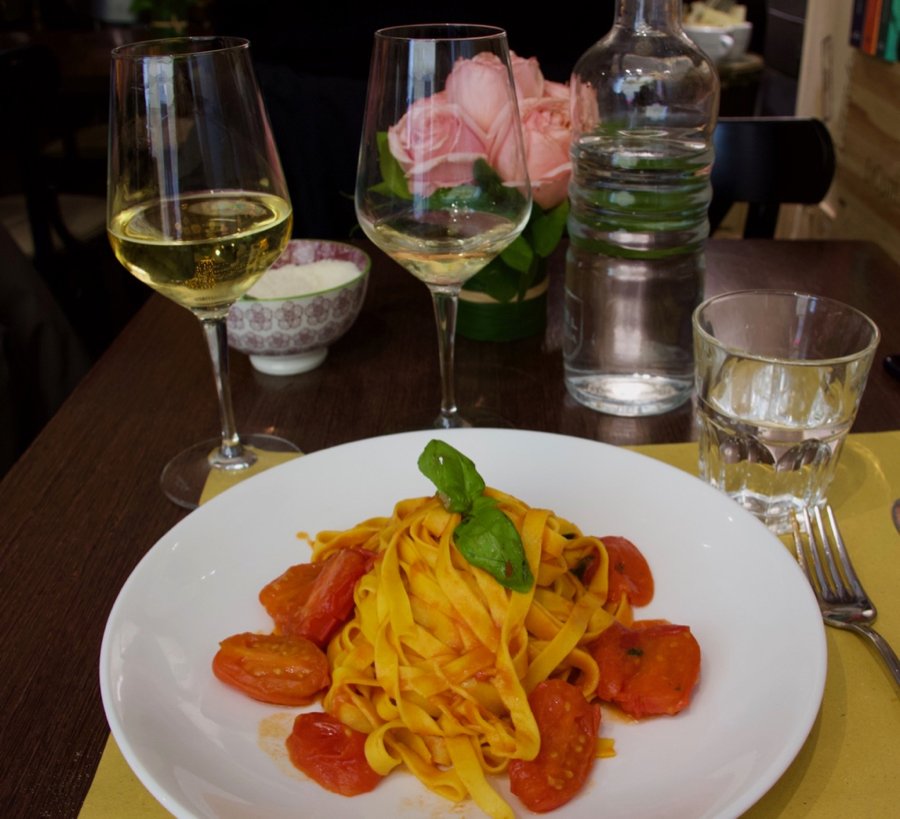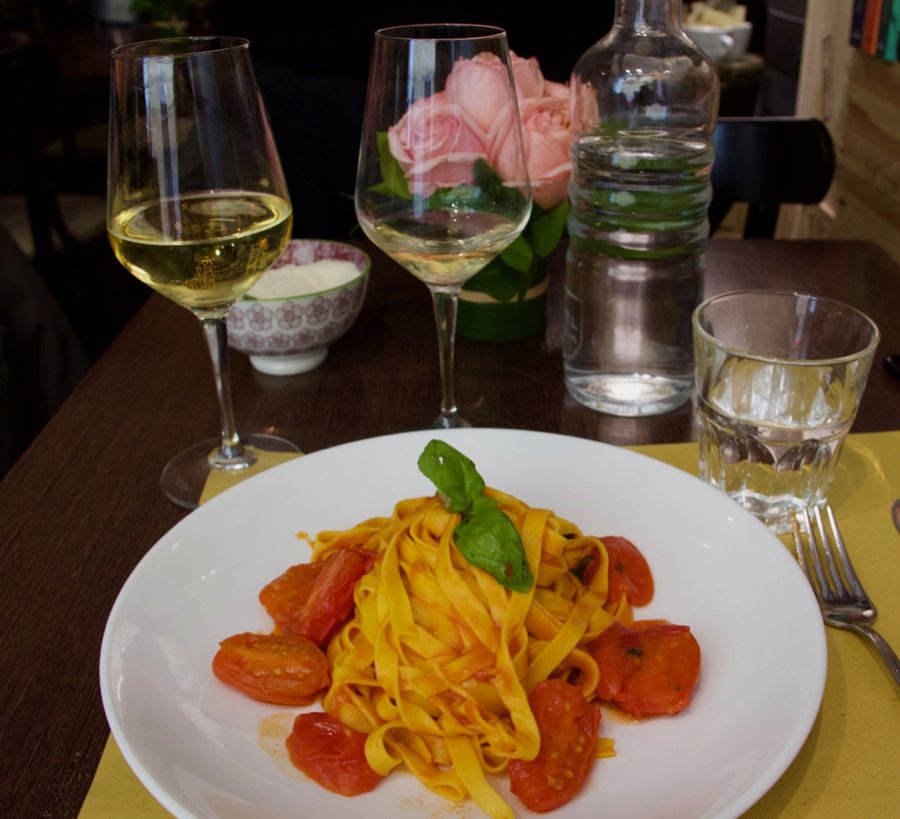 I go here every time I pass through Rome, usually for lunch and usually by myself. Still, I always call ahead and ask them to save me a spot because, despite being right in the middle of Rome's touristic center, it's also very popular with locals and business people. And the Italian lunch hour is very precise: 1 pm to 2 pm. If you want to go anywhere in that time slot, you'd better have a reservation.
But they do have what's called orario continuo, or a "continuous schedule," meaning they don't close between lunch and dinner. (Often that's a sign of restaurant that's catering to tourists and not likely to be very good. This place is the exception that proves the rule.)
The best pain au chocolat I've had outside of France, hands down. (Even a good competitor for the best I've had anywhere.) It's kind of funny that my favorite place for breakfast in Rome is not even Italian, but that's what I love about international cities. (They serve lunch and dinner, too, but I haven't been.)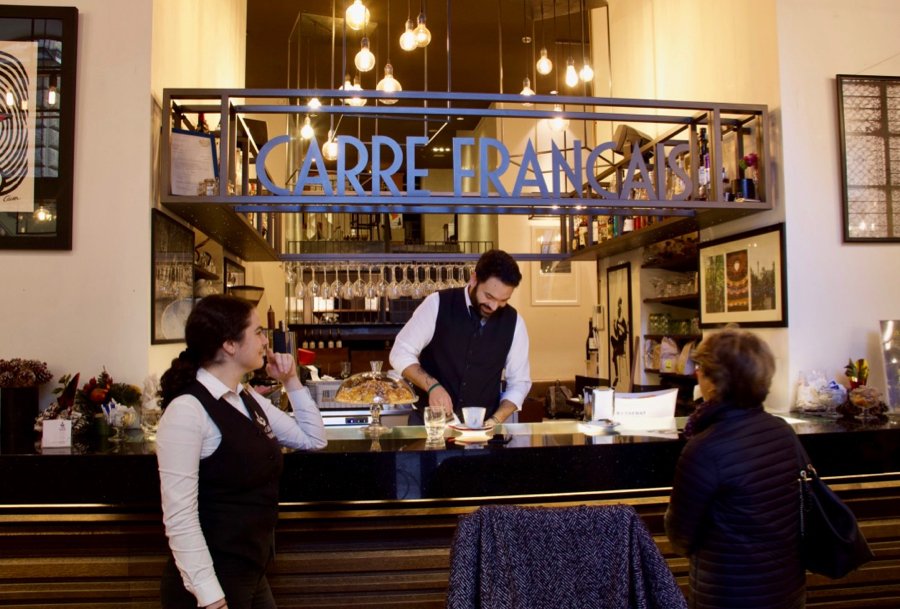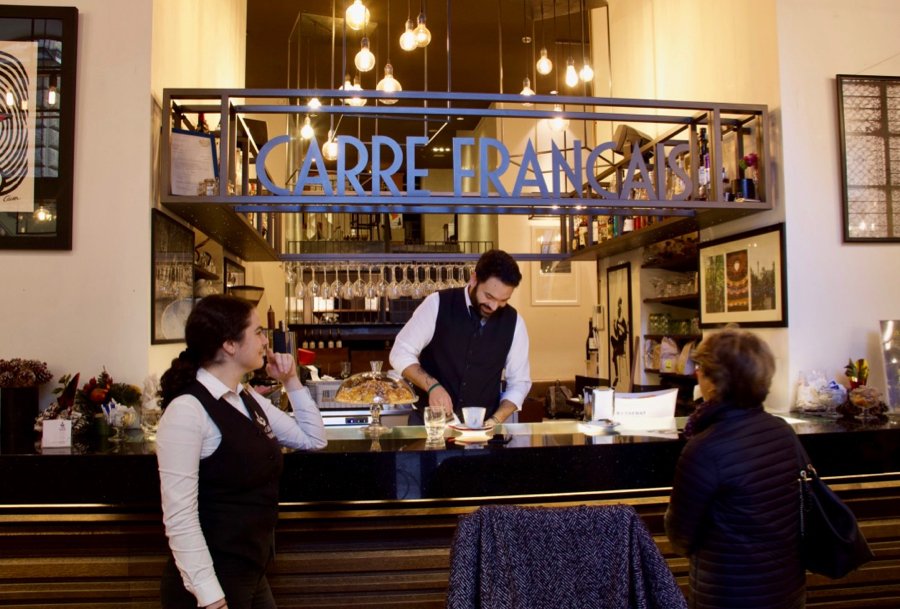 From what I've seen, this is a gathering place for the French community in Rome, and is full of friendly multilingual expats. I got a mild case of whiplash switching between chatting in French with the bartender and in Italian with the waitress (all before coffee). But if you've studied both or either, it makes for such a fun place to play with languages!
Frosinone
Great seafood and great wine on the main street of a little town on a hill, far from the tourist crowds. This is small place is great for either aperitivi or a whole dinner. And you'll notice how far from Milan you are by the prices. For an aperitivo with biodynamic wine, freshly fried calamari and a few other high quality seafood snacks, we paid 7.50 euro per person. (You do want to be feeling like seafood if you come here, because there aren't many other options.)
"In wine, truth" is the opposite of Osteria Santa Lucia. If you're not feeling like seafood, this place is local and rustic and serves delicious, hearty dishes including wild game, local cheeses and salami and, of course, some strong wines.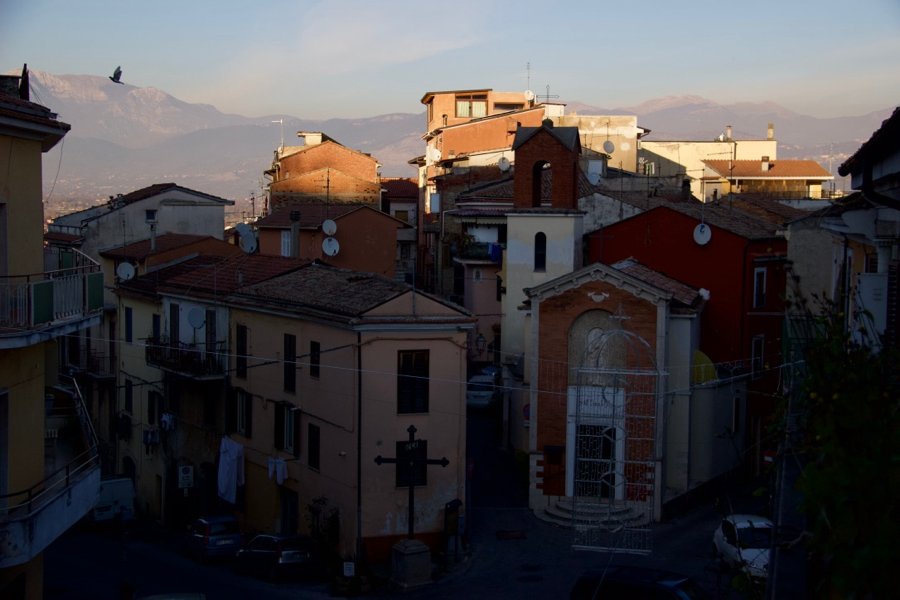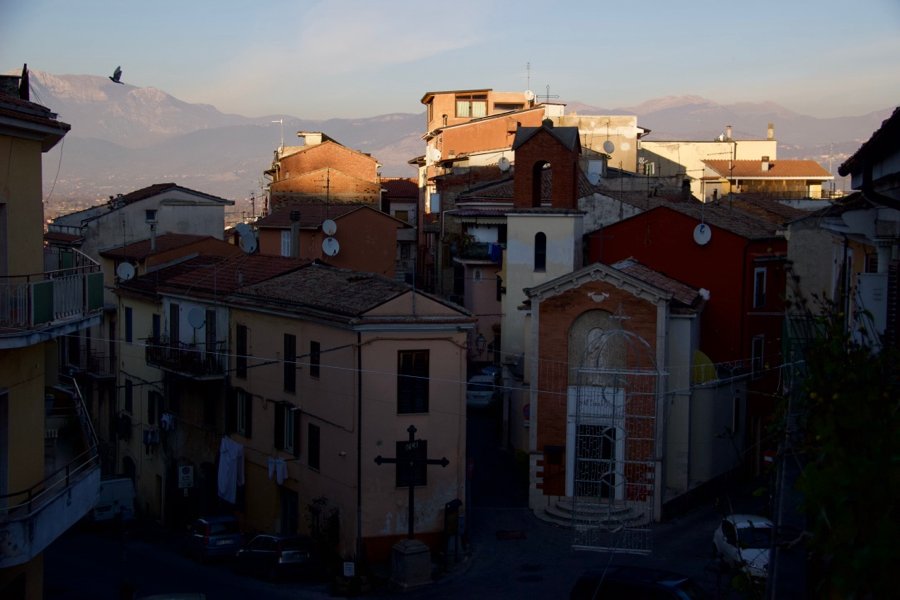 Restaurants in Campania
Napoli (Naples):
Napoli has a lot of famous, big-name pizzerie, where the walls are covered with decades of photos of actors and football who have come in. I've tried several of them, but I actually liked this little place better.
What can I say, it's where I had my first true pizza Napolitana, and it did not disappoint. Plus, being an osteria (not solely a pizzeria), they have a full menu beyond pizza.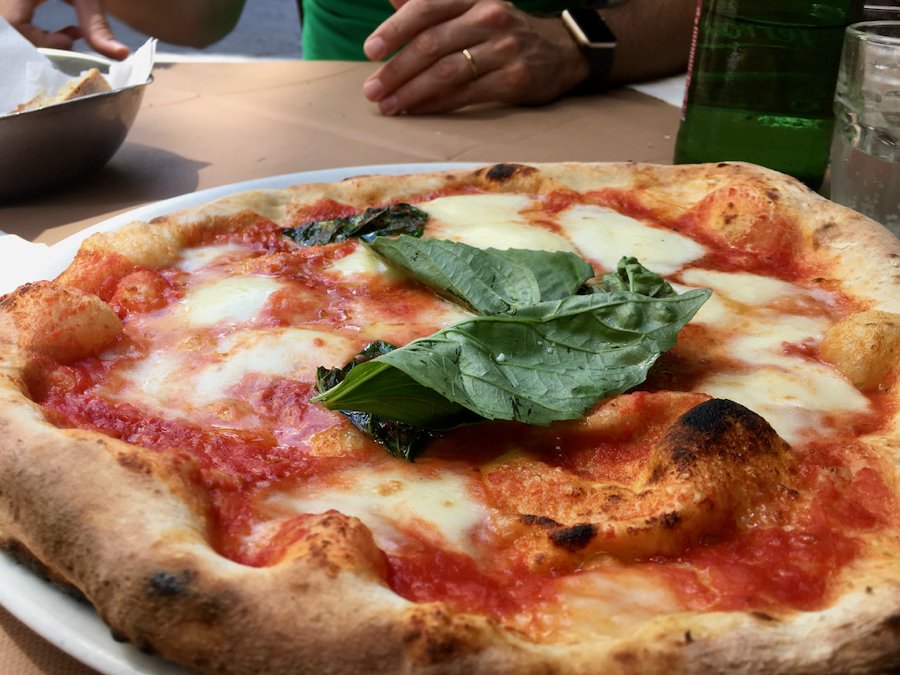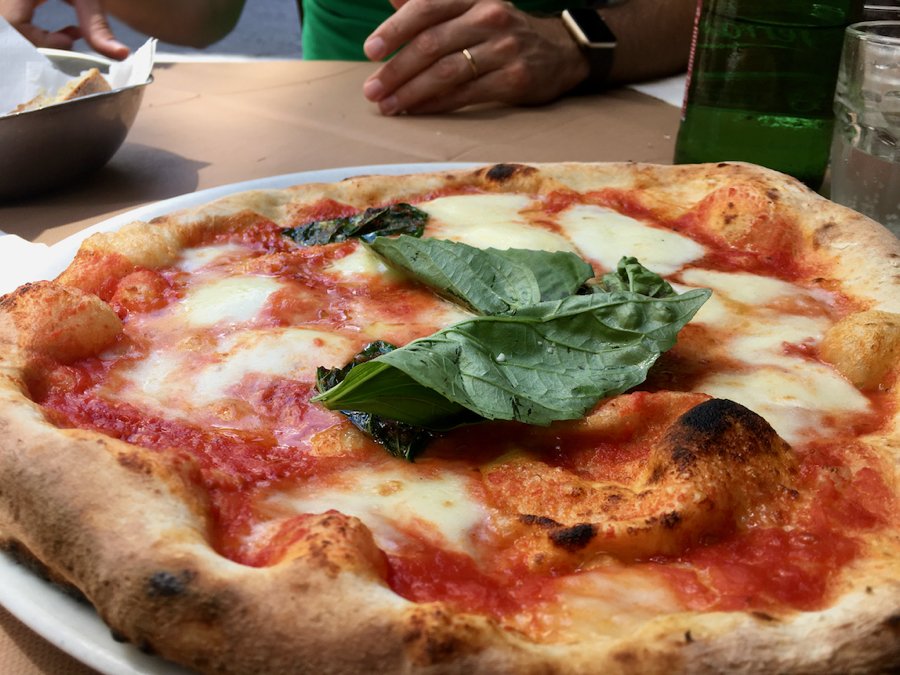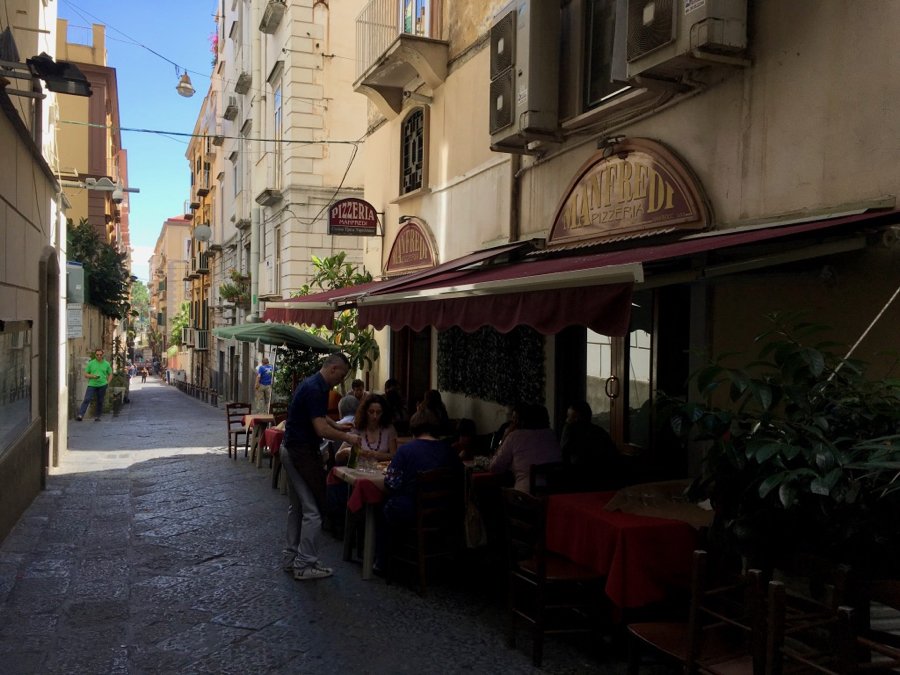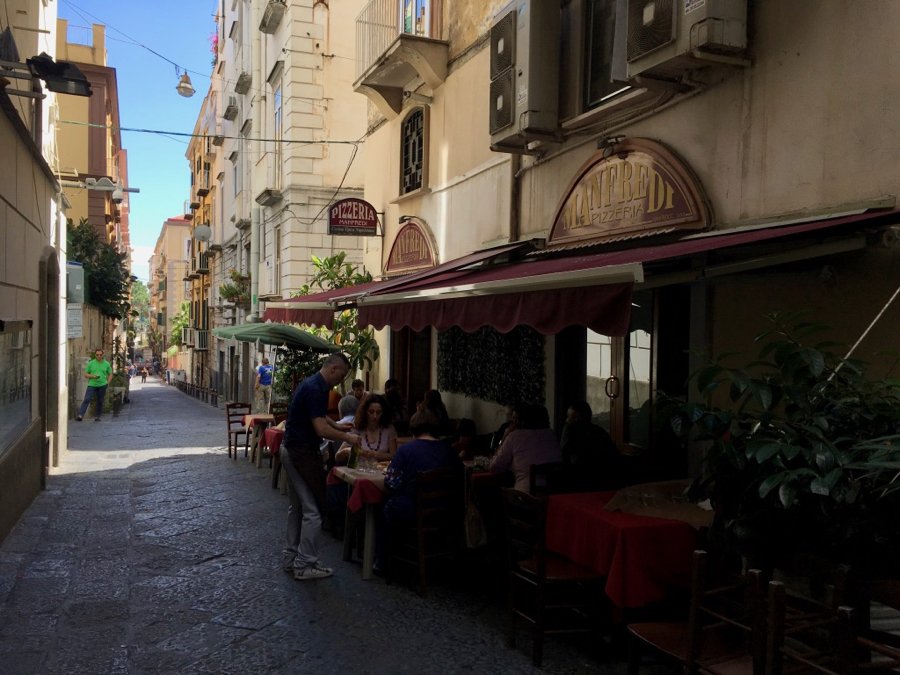 Ischia
On the beautiful island of Ischia, a neighbor of Capri, is the small, intimate, beach-front restaurant La Pazziella. Run by a local couple from Naples, Emilia and Francesco, this place serves Italian dishes that are both definitely traditional and definitely have a little bit of a gourmet twist.
You can even have an at-home preview:
We had such a good time there, and Emilia was so friendly that when her husband finished cooking (and we were last people left in the restaurant), he came out and gave us his recipe for one of the dishes we'd just enjoyed: Pasta with Mussels and White Beans.
Restaurants in Sicilia (Sicily):
Avola:
A standing-room-only sandwich shop where you take your order to the park across the street and sit on a bench. They serve local beer and local wine, which in Italy you can drink in a public park without a hiding them brown paper bag. Absolute heaven.
Bonus: I don't understand how it can be both so good and so affordable (a question I asked about a lot of Sicilian restaurants). Emanuele and I shared three sandwiches, three beers, and one glass of Nero d'Avola (a local red wine with knock-your-socks-off strength and flavor) and paid 14.50 euro for our dinner in the park.
Siracusa:
Just wonderful ice cream and Sicilian granita, with a name that means something like "crazy desire." What I wouldn't do for a scoop of pistachio right now.
Another wonderful gelateria. This place actually has a menu of ice cream sandwiches and other concoctions that they build with whatever flavors you want. The only thing that's disappointing is that they serve almost everything on throw-away plastic.
They have multiple locations in Siracusa (and slightly lower prices at the one that's not on the tourist track right in front of the cathedral).
The only pizzeria in Italy where I've ever had a stuffed-crust pizza (not that it doesn't exist elsewhere, but it's not that common). And it was everything I wanted it to be.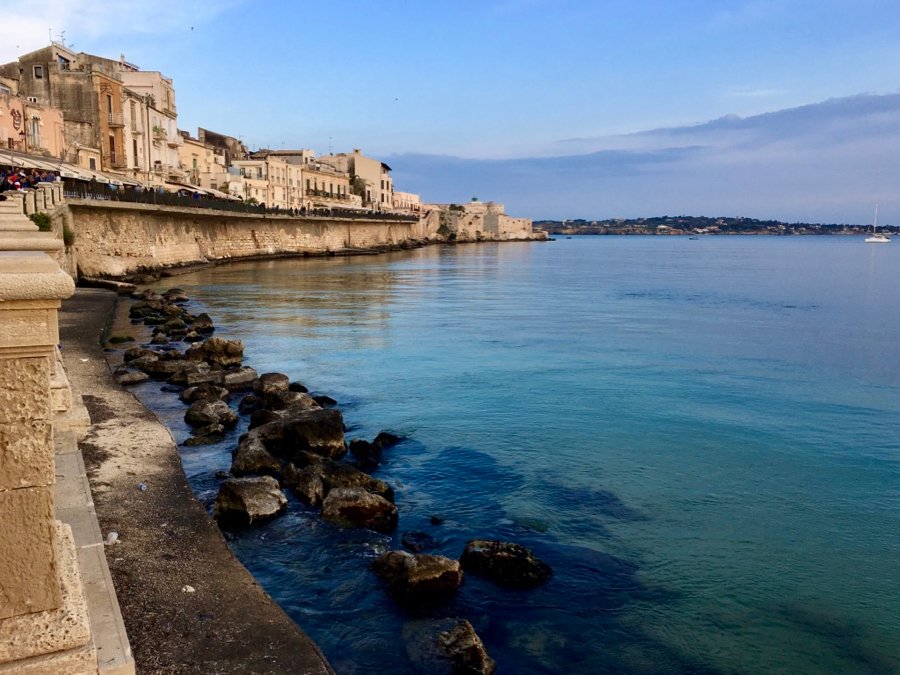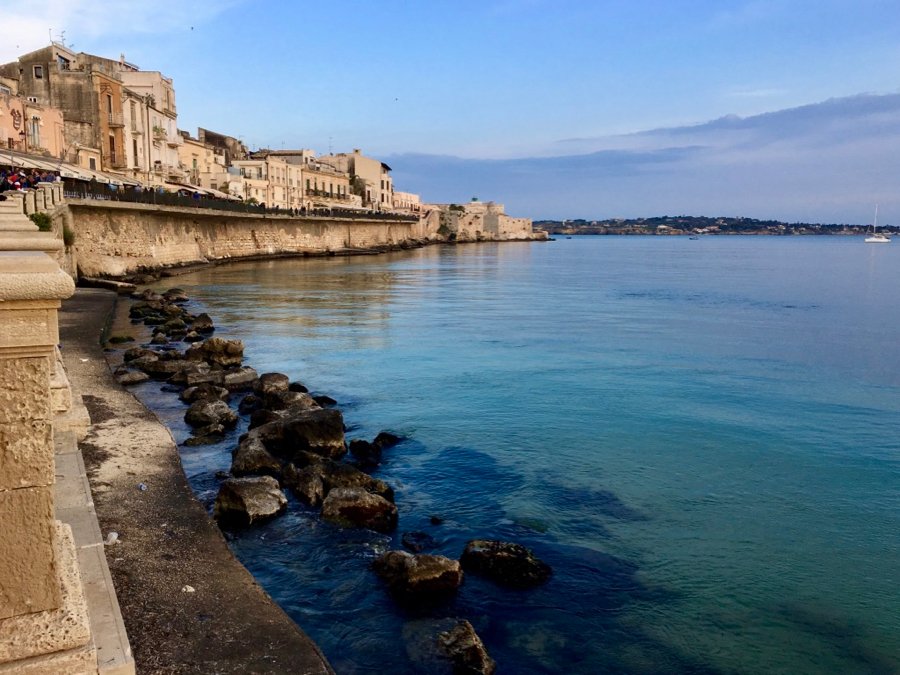 That's all – for now.
This list is a work in progress. So bookmark it, and check back later because I'll certainly add to it!
And like I said in the beginning, these aren't all the best restaurants in these Italian cities and towns – they're not even all of the places where I've eaten well. They're just the ones that have stuck with me, that for one reason or another I really loved and love sending friends to.
For more on eating in Italy, check out these other top posts:
And for more about Italian food culture, these are a couple of my favorite books:
Heat, by Bill Buford, is the story of an American magazine editor who moves to Italy to learn the secrets of Italian food. It's hilarious and full of Italian culture and history. Highly recommended (On Bookshop here.)
On the nutritional side, a lot of how Italians eat reminds me of the way Michael Pollan talks about food. These are two of my favorite books of his that go into how we eat (while he's probably better known for books like The Omnivore's Dilemma, about our food system).
In Defense of Food: If The Omnivore's Dilemma is Pollan's all-around look at the food industry, this is his deep-dive into the nutritional side. (On Bookshop here.)
And Food Rules is a bullet-point version of In Defense of Food – most of the chapters are less than a page. It's a simple yet brilliant set of ideas for how to eat more healthily. (On Bookshop here.)
---
Both the Amazon and Bookshop links are affiliate links, which means if you buy anything through them, I will likely make a commission – but at no extra cost to you! (Amazon and Bookshop just give me a small cut of the sale.) So if you want to buy a book, thank you in advance for your support! For more info, here's my detailed privacy policy.