This post contains affiliate links; see my privacy policy for details.
If you're on my email list, you might remember me gushing about the new solid skincare brand SBTRCT a few months ago. Well, after thoroughly testing 5 of their 6 products since then, that little brand is the one I'm reviewing here today.
(Know what you're looking for? You can jump down to my overview of the SBTRCT skincare products, my detailed, individual product reviews, or my TL;DR bottom-line conclusion.)
SBTRCT is a British start-up that launched in 2020. They make a full routine's worth of high-quality, solid skincare products in beautifully designed, refillable, bamboo packaging. (With no plastic anywhere to be found, of course.)
(Note: As of writing, this review is mostly for my UK readers, as SBTRCT currently only ships to the UK.
For those of you in North America, I've listed the best ways to order SBTRCT at the end of this review. Otherwise, the most similar solid skincare brand I've found closer to home is Dew Mighty. Both are excellent, so for now I'd recommend Dew Mighty if you're on this side of the pond – to save on both shipping costs and emissions.)
You can save 20% when ordering directly from SBTRCT and save 10% on Dew Mighty with the code TILTEDMAP . (Same discount code for both companies.)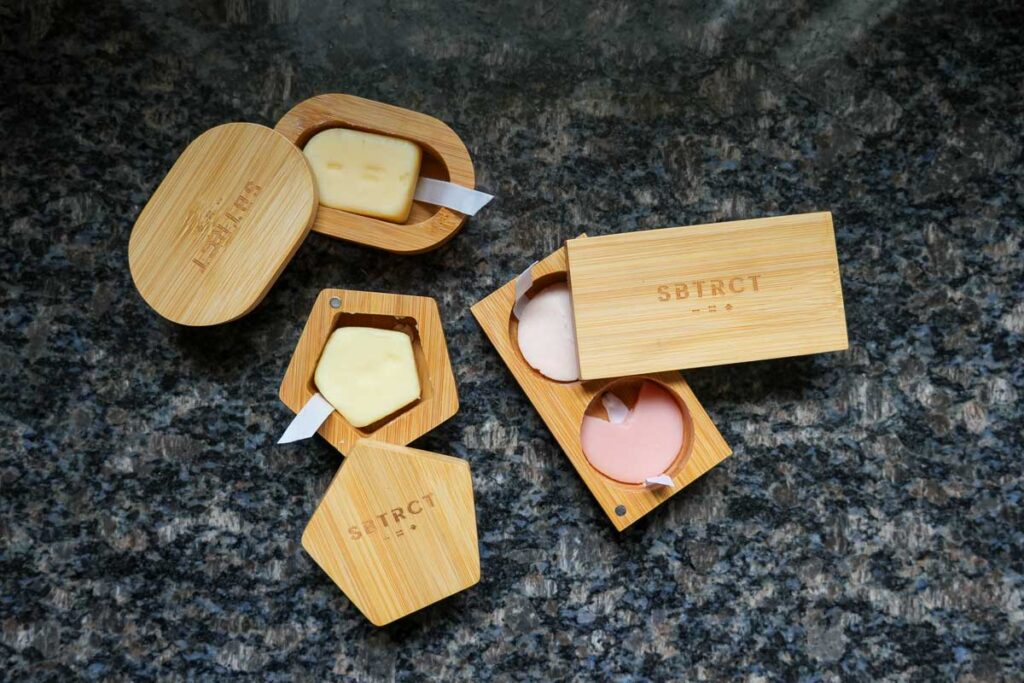 Why solid skincare?
Solid products are probably the biggest and most significant change on the horizon in the future of sustainable skincare. They might even be the next major development in skincare in general. And very few companies are making them right now.
Solid skincare products don't require plastic packaging. Just like shampoo bars, they take the important parts of a formula, and deliver them in a solid form instead of liquid, gel or cream.
I've tested dozens of shampoo bars, and reviewed several. (These are my favorites.) But the solid skincare industry doesn't offer nearly as many choices yet.
SBTRCT and Dew Mighty are the best I've found so far, by a wide margin. They both also use vegan and sustainably sourced ingredients. (Although that's definitely not a guarantee, just because a brand makes solid skincare.)
Solid products are easy to use and offer all the same skincare benefits as traditional products, but without the wasteful packaging. They're also perfect for travel – no liquids to spill or leak, and you can fit much more product in a smaller package.
What's special about SBTRCT?
SBTRCT (pronounced Subtract) is all about the principle of less is more. Their mission is to clean up the beauty industry, starting by being free of three major problem ingredients: Plastic, water, and palm oil. (Normal skincare formulas are 70 to 80% water, which just means extra weight to ship around and useless volume to package.)
The brand makes six products so far. This is their full lineup:
The full-sized SBTRCT products are priced from £22 to £32 (currently $27 to $39 in USD). The reusable storage systems (which aren't entirely necessary, especially for the cleansers) are £10 each.
I always say it's worth it to pay a bit more for packaging that won't damage ecosystems, but these are actually reasonably priced for quality skincare, considering how long the products last. (They actually cost less than most brands with comparable sustainability credentials.)
Measurable Transparency
SBTRCT is a certified B Corp, which means they're required to consider environmental and social impact, along with the company's profits. That's already a good indicator of a sustainable company.
But they take it a step further by working with Provenance, a third-party that independently verifies their environmental claims.
That means each SBTRCT product page has a section called "Explore Sustainability Claims," where you can learn what each certification or term means. For example, Leaping Bunny certified, the Vegan Trademark, fully compostable packaging, and reducing carbon emissions are all there. Each definition is clearly explained, and the validity has been checked by someone who's not on the company's payroll.
SBTRCT is the first skincare or beauty company I've found that uses this system, which means they're really taking a proactive approach to prevent greenwashing and help people understand jargon-y terms better.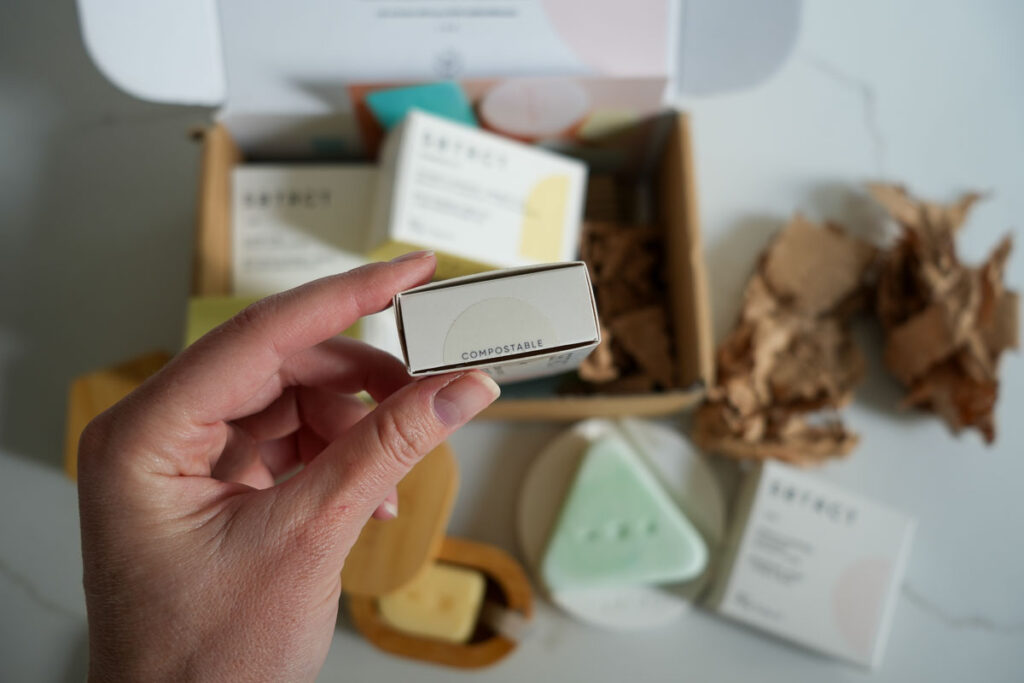 "Clean" & Vegan Ingredients
While their ingredients are "clean" and vegan, those two adjectives don't normally mean very much when I rate how truly sustainable a skincare company is. That's because almost every "clean, vegan" skincare company still uses plastic packaging. Not very clean, in my book.
(We all know by now that disposable plastics wash up on every seashore in the world, killing countless wild animals. But the carbon we emit in exchange for the convenience of plastic is part of the conversation that often gets forgotten. The carbon footprint of the plastics industry nearly matches that of SBTRCT's home country, the UK.)
I chatted with Ben Grace, SBTRCT's founder and CEO, about all of these topics over a couple of Zoom calls. He's a skincare industry veteran, so he knows the products inside and out. And after years of building plastic-packaged brands, he just knew there was a better way.
In our latest chat, Ben was frustrated by the brands that start out aiming to be "plastic-free," but eventually end up letting plastics sneak into their packaging.
"We'll never do that," Ben said. "Even if it means we won't always be here."
(Plastic-free options are a lot more expensive to source, and often have to be custom designed – like SBTRCT's bamboo containers. That makes it hard for plastic-free skincare brands to compete in a market where not everyone understands the importance of zero-waste packaging.)
After testing their products on my face for the past two months (plus my husband's and mom's faces), I would be truly disappointed if the company went away. But I suspect it'll be the opposite.
I think SBTRCT will soon be known as one of the best sustainable skincare brands.
In a decade, when plastic-free skincare is the norm in every drugstore, I think business schools will be teaching the case study of how this eco-focused small company combined the best formulas, beautiful refillable packaging, and excellent branding to build a model for the industry.
(If a decade seems like too bold of bet, watch this space! Even if you don't see the change happening, it already is. I'm hopeful that we'll see more mainstream change sooner than you might expect.)
So with that in mind, read on for my full reviews of SBTRCT's plastic-free, solid skincare routine.
---
The Discovery Set Review: Cleansing Bar & Solid Face Moisturizer
Ben told me this set is SBTRCT's best seller, and it's the perfect intro their solid skincare world. Of course, I thought I wanted to start with something sexier first (like their Vitamin C and retinol balms), but after testing everything, I've realized he was right.
A cleanser and moisturizer are the basics of any skincare routine, and the Discovery Set does both of them so well that you don't even need to be shopping specifically for plastic-free products to appreciate them. (Details on the formulas and my tests of them below.)
Unique Bamboo Packaging
SBTRCT's specially designed refillable travel containers are made of bamboo – one of the most sustainable solid materials for solid packaging. (Thanks to how quickly bamboo grows without the need for pesticides or fertilizers.)
With the mini Discovery Sets (SBTRCT makes a cleanser/ moisturizer set, and a double-cleanse set), I was worried that putting a wet bar of soap into a bamboo box would create a soap scummy mess. But amazingly, that hasn't happened at all.
It must be because these formulas just aren't soap, and don't leave any scum anywhere. But after nearly finishing my minis, the box still looks neat and clean. (And they've lasted longer than expected – at least 4 weeks with use once a day.)
The set would also make a perfect gift for anyone who appreciates eco-friendly products or just beautiful, modern design. (I update my sustainable gift guide annually, and I'll be adding this and other new products soon!)
And while they're great options for travel for most people, if you pack as light as I do, you might still find them a tiny bit bulky.
That's why I'm still sticking with Dew Mighty for my plastic-free travel toiletry kit, although I'll definitely keep ordering SBTRCT to use at home.
---
SBTRCT makes three solid face cleansers, and this is the most basic – although I hate to call it that. (More about the other two cleansing bars below.)
Gentle Foaming Cleanser is a light pink disk that works just like a bar of soap, lathering up easily when you rub it between wet hands. But the similarities end there. This bar quickly produces a really rich feeling, milky cleanser, which cuts through grease and grime on my face, but leaves my skin feeling really soft and hydrated.
And while normal soap has a pH between 9.5 and 12, the Gentle Foaming Cleanser is around 6 – closer to the natural acidity of our skin. (A high pH can make skin dry, sensitive and even cause premature wrinkling. And if you have oily skin, products with high pH can cause skin to overreact and produce even more oil. )
It's actually hard for me to come up with anything critical to say about this bar, which is pretty unusual for my reviews. It's a "basic" product, but it's a basic done perfectly.
It's not too heavy, and it rinses clean really easily. And while it doesn't lather very intensely, it definitely gets the job done.
This gentle cleanser is perfectly adequate for removing light makeup, too. (I usually just wear blush, a bit of spot concealer, and non-waterproof mascara. Links are to the plastic-free brands I use and recommend. If you wear more than that, check out SBTRCT's Makeup Melt cleanser.)
Alternatives:
In a separate review, I tested several other plastic-free face washes, in liquid, oil, bar, and powder forms. SBTRCT's is probably the best balance of gentle, non-drying, easy to lather and rinse, and still very effective at getting my face clean. The most similar feeling alternative I've tried is the Rose Bay facial soap bar from Earth Harbor.
---
This balm is definitely the best solid face moisturizer I've found.
The formula contains hydrating squalane, glycerine, rosehip oil and shea butter, for quite a unique texture. But despite the butters and oils, it's not heavy at all. And after about two months of use, it hasn't caused any breakouts on my sensitive skin.
Face Balm vs Moisturizer?
Compared with a normal, water-based moisturizer, this face balm feels almost waxy when I first start applying it to my face. I know that sounds terrible, but I swear it was just the first impression.
And it's probably because I wasn't used to such a rich balm – again, solid skincare means no extra water to dilute the formulas. That's a good thing for efficiency, sustainability and getting what you pay for (SBTRCT's solid products look small but last a long time).
It just takes a tiny bit of patience to let it soften into your skin and gently rub it in, but the face balm doesn't feel like a huge change from other moisturizers. (Not like the retinol balm, below.) It's quite easy to get used to, once you get a feel for the amount of pressure you need to get the right amount of product.
And as I start massaging the moisturizer into my skin, it spreads very easily, and just leaves my skin feeling soft and protected, with a very matte finish. It feels like it completely disappears on my skin – definitely no waxy or shiny effect. It just seems to do what it should and not call attention to itself.
When to Use the Facial Balm
While it's meant for use both day and night, I've only been using it at night. (Although not with the solid retinol serum, for reasons I describe in that review, below.)
During the day, I find that the Vitamin C Booster serum is plenty of moisture for my rather dry skin. At that rate, using it every other night, even the small travel-size balm lasted me more than a month.
Sizes & Scent Options
Both the Gentle Foaming Cleanser and the Moisturising Facial Balm are also available in full sizes, without the bamboo travel case.
To store the full-sized bars, you can opt for SBTRCT's diatomite soap dishes, or just use your own soap dishes. The important thing is to keep them somewhere where they'll stay dry.
They're also both available in fragrance-free versions. If you don't have a sensitivity to fragrance (but you just don't like strong scents) I will say that the scented versions are very subtle. None of SBTRCT's products have an overwhelming level of fragrance. (Unlike, for example, some of the Earth Harbor skincare products I've reviewed, which are quite noticeably smelly.)
---
This is a bit of a sleeper product – one I wasn't all that interested in, but it's turned out to be one of my favorites from SBTRCT. (I wasn't surprised when I saw that it's won some beauty industry awards.)
But calling it an exfoliator doesn't really feel like the right name. Exfoliation makes me think of harsh, scratchy physical scrubs, or chemical resurfacing peels. The Clarifying Facial Exfoliator is a combination of both physical and chemical methods, but with both toned down to an extremely gentle level.
This bar uses white willow bark, which is a natural and gentler alternative to salicylic acid, to clear pores and gently remove dead skin cells. The barely-noticeable physical exfoliation comes from rice powder.
(You probably know to avoid any exfoliators with microbeads, which are made of plastic and therefore a terrible thing to wash down the drain. Well, this is probably the most sustainable alternative I've found – it upcycles a side product of rice production that would otherwise be wasted.)
The combination makes this easily the gentlest exfoliator I've ever tried. (If you do want an intense scrub, this is definitely not it. But after using this cleanser regularly for a couple of months, I'm personally finding I don't need one anymore. I don't notice a build-up of dullness.)
SBTRCT says to only use it twice a week, which is surprising because it really feels like it would be safe to use more often, but I've stuck to their advice.
Alternatives:
If you are looking for a slightly more intense exfoliator, I'd recommend this exfoliating bar from HiBAR. I reviewed it in detail here.
---
This is the only SBTRCT product that I've haven't personally tested. That's just because I don't wear enough makeup to need it. I talked to Ben about it and he says it's designed as a hybrid between a cleanser and a moisturizer. He created for removing heavier makeup – including foundation and waterproof mascara. It would also be a great cleanser for very dry skin.
The formula is based on gentle, rich moisturizers like squalane, shea butter and glycerin. And one thing about it is different from most cleansers: You apply Makeup Melt to dry skin, only adding a bit of water after you've massaged it in.
It can be used on its own, or as part of a double-cleanse, followed by the Gentle Foaming Cleanser. (SBTRCT sells a full-sized double-cleanse bundle, which saves a bit of money, and a travel / tester set, as well.)
The reviews I've read of Makeup Melt are really nothing but positive, and after trying everything else SBTRCT has made, I have no reason to doubt them.
---
This solid antioxidant serum pulls double duty as a Vitamin C serum that can also easily replace a daytime moisturizer, with hydrating rosehip oil and sea buckthorn oil. It's one of my favorite SBTRCT products, and one of the easiest ways to get started with solid skincare.
(I just top it with my mineral facial sunscreen during the day, another a refillable favorite. The two products combine really well, creating sort of a rich barrier on my skin that's a great base for makeup. Very matte, but very hydrated.)
That works because this little Vitamin C bar feels very moisturizing – almost as much as the Moisturising Facial Balm, but softer and a bit oilier in consistency.
At first, I thought it was almost too much hydration/ oiliness, but then I realized I was doing two things wrong:
Not washing my face before applying the Vitamin C Booster in the morning, and
using too much
I often just splash off my face in the morning, rub it dry with a towel, and use my Dew Mighty Bloom serum, then sunscreen. That routine works perfectly well, but when I tried doing the same with the SBTRCT serum, I found my face feeling greasy by mid-morning.
But when I tried actually washing my face in the morning with the Gentle Foaming Cleanser, and following with SBTRCT's vitamin C booster and sunscreen, the greasiness went away. I think it's just such an intensely hydrating formula that it needs clean skin to fully absorb.
Tips for Using Vitamin C Booster
Even though the Gentle Foaming Cleanser is fairly moisturizing itself, it really does the trick to prep my skin for the Vitamin C. And the combination makes my skin look better than anything else when I catch myself in the mirror. Soft, smooth and bright, not shiny or greasy.
(I also found that the charcoal-based face wash bar from Earth Harbor, which I've been using for years, gave pretty much the same effect.)
I was also rubbing the serum bar directly onto my face – and probably getting too much.
(In their tutorial videos, SBTRCT recommends rubbing the product on your fingers and then on your face, as a sort of portion control. I still prefer my method, but I've learned to just use a few swipes of product, which spread very easily when I rub them in, instead of swiping the serum all over my face.)
When I talked to Ben about this, he reminded me of the brand's ethos – subtracting what's not needed, both in terms of plastic packaging and excess products. The arithmetic symbols stamped on their bars ("- = +" for "less is more") apply to how much product you need to use, as well.
Alternative:
Of the entire SBTRCT skincare line, Vitamin C Booster is the product with the most similar alternative available. That's the Bloom Jelly Serum Bar from Dew Mighty, which I've been using for more than a year.
The consistency is very different – the Dew Mighty bar feels much lighter on my skin, but is still often hydrating enough to replace a moisturizer. And since it's made in California, it's a great choice if you're based in North America and don't want to order from across the ocean. (It's also a one-woman company!)
You can also use my code, TILTEDMAP, for 10% off at Dew Mighty. (Same as my SBTRCT discount code, just not as much.)
---
This solid night serum is without a doubt the most unique product SBTRCT makes, but I think it's also the hardest to love. (SBTRCT calls it the first solid retinoid in the world, and I haven't found anything even remotely similar to contest that claim. And from a sustainability standpoint, that makes it a clear winner.)
The Night Balm is a solid retinol serum that combines 2% granactive retinoid and hydrating squalane. (Granactive retinoid is less harsh on the skin than retinol, but still should only be used at night, as it increases sensitivity to sunlight.)
Retinoids are a powerful ingredient for fighting wrinkles, acne and general skin dullness. And after using it for a couple of months, I notice how my skin looks smoother and more glowing in the mornings after I've used it. (I've used others before, but was excited to try this one for the nearly naked packaging.)
But…
I called this product "hard to love" because it has the steepest learning curve of the products in the SBTRCT skincare regimen.
While the Vitamin C serum is super smooth and easy to apply (or over-apply, as I described above) the Night Balm has a much less melty, less pliable consistency. It's harder, with a tiny bit of grittiness, and just takes more time and patience to apply.
I asked Ben about this, and he said it's because Night Balm has a lower oil content than the Vitamin C serum (which contains rosehip and sea buckthorn oils). He said they're thinking of reformulating it to smooth out application.
But for now, if you're looking for a sustainable, plastic-free retinoid serum, not only is it the only one on the market, but I still think it's a really good product. It just takes more patience to apply it.
So I wouldn't recommend Rejuvenating Night Balm being first or only SBTRCT product you try, or judging the rest of the line by this one formula. Being trickier to use definitely makes it an outlier.
Tips for Using Rejuvenating Night Balm
I've learned some useful tricks after using this product for a couple of months, and chatting with its creator about it.
Don't forget the warm up.
Take your time to warm one side of the serum bar by slowly rubbing it against my fingers, and then rub the product from my fingers onto my face.
(Again, that's what SBTRCT recommends, but Ben said my method of taking the bar straight to my face was fine for the softer Vitamin C bar – as long as I was careful not to get too much. For the Night Balm, I find it's much better to rub it on your fingers first.)
A little goes a long way.
Especially when you're patient with warming it up, so the balm can spread across your skin better. It also helps to remember that it's meant to be a targeted treatment – only apply it to areas where you want help with wrinkles or acne. You don't need it on every corner of your face.
Don't use it every day.
At least not at first. As with any retinoid, you have to give your skin time to adjust to the Rejuvenating Night Balm, or you'll risk causing a bunch of break-outs.
Be sure to use a moisturizer on top.
Once you get the retinol balm where you want it, you'll definitely want a moisturizer on top. After all, retinoids are notoriously drying. While this one does contain hydrating squalane, it's not meant to be a moisturizer and won't replace one. (Unlike the Vitamin C Booster serum.)
After the first few uses, I thought the dryness was just because I wasn't getting enough moisturizer on top of the Night Balm.
SBTRCT's solid face moisturizer works for this, but it's not my favorite for the job. I find it hard to apply over the sort of chalky feeling solid retinol, so I don't think I was getting it everywhere – leading to more dryness. (Although I do love it for nights without the retinoid, and for daytime under sunscreen.)
After testing several other night creams for the job, the one I've had the best luck with is actually a "neck cream" from Earth Harbor. It works well because it has a thick, rich consistency, is very moisturizing, but still smooth and easy to spread on top of the retinol.
[Related: I've used a few of their products for years, and I'm testing several others for an in-depth Earth Harbor review – coming soon!]
---
Bottom Line on SBTRCT
SBTRCT is one of the best solid skincare brands I've found, and a solid skincare routine is one of the best ways to reduce the plastic in your daily routine. So I'm quite excited about this new brand and, after lots of testing, have been extremely impressed by their products.
If you're based in the UK – the only place SBTRCT currently ships – they're absolutely worth a try!
Which products to try first?
I always say that when you're trying to remove plastics from your routine, start by replacing either the products you don't quite love, or the ones you'll run out of soonest. Beyond that advice, the SBTRCT products I'd recommend trying first are their Gentle Foaming Cleanser and Moisturising Facial Balm (to start with a basic set that works well together).
Or if you want to go for the big guns from the start, my favorite two products, which I think are also the easiest to love, are SBTRCT's Vitamin C Booster and their Clarifying Facial Exfoliator.
For those of you in North America, it makes sense to try California-based Dew Mighty first. (Both in terms of shipping fees, and the carbon emissions of shipping an individual package across the Atlantic. Those emissions get a lot better when a brand has a local warehouse and can move products around the world in bulk.)
If you're still interested, here are the best US and international shipping options I've found for ordering SBTRCT:
Dew Mighty is a similar, very small, very high-quality solid skincare brand that's beyond dedicated to sustainability. I've reviewed some of their products here, and I'll be sharing a full review soon.
Don't forget, you can use my SBTRCT discount code, TILTEDMAP, for 20% off any order when you order directly from them. (It's also good for 10% off at Dew Mighty.)
Do you have any questions about SBTRCT products (or alternatives) that I didn't answer above? Leave them in the comments below, and I'll do my best to help!
---
Before you go…
Check out some of my other top sustainable product reviews:
Shampoo bar reviews:
More plastic-free beauty & personal care products:
Sustainable swaps for the home:
---