Zero-waste face wash options have come a long way. These facial cleansers in bar, oil, and powder forms have top-quality skincare ingredients, and plastic-free packaging! (And of course, all are carefully tested and vetted by yours truly.) The brands that met my standards for this review: Dew Mighty, Activist Skincare, Earth Harbor, Ethique, Youth To The People and HiBAR face washes.
Yet again, I feel the need to preface this review by clarifying that I have ACTUALLY USED all of these products, and that when I say "zero-waste," NO, I DO NOT JUST MEAN "RECYCLABLE."
I'm saying this because, if you throw "best zero-waste face wash," or anything similar into a search engine, you'll get a lot of lists of products that, 1.) show no evidence that the writer has any real-world experience with the products, and 2.) invariably contain a bunch of plastic-packaged face washes, with the excuse that the packaging is recyclable.
AND IT DRIVES ME CRAZY, as you can probably tell by all the capital letters.
The zero-waste face wash brands in this review:
Again, I have personally used all of the products in this review. If you have any questions, feel free to ask in the comments!
---
What Counts as "Zero-Waste" / Why I Chose These Brands
Yes, the term "zero-waste" is in itself is a bit of an exaggeration. There will always be some waste in even the most circular, efficient packaging.
But ZERO-WASTE does NOT just mean that you can recycle the packaging.
It means the packaging doesn't need to be recycled, because it either doesn't exist or you can reuse it for its original purpose multiple times.
(And no, I don't mean reusable like, "reuse this face wash jar to store safety pins." How many jars of safety pins does one person need?)
(Read more: Why we can't depend on recycling – especially for plastic.)
Zero-waste packaging that's refillable means the company that made the product designed glass or metal packaging to be refilled with the same product. (That's for the plastic-free face cleansers in oil and powder form in this review.) And refills come in paper or cardboard.
In the case of the excellent face wash bars in this review, the packaging is just 100% paper.
That's a pretty high standard, but zero-waste face wash has come a long way recently.
In just the past year or two, I've noticed face soap bars (or the snazzier-sounding, "solid face washes," as they're often called) being reinvented with high-quality skincare ingredients.
Different takes on an old-fashioned bar of soap are some of the easiest (and cheapest) eco-friendly swaps we can make. (This applies to everything from dish detergent, to shampoo, to body wash and face wash bars – and I've tested them all.)
Along with being affordable, face wash bars also have less packaging than just about anything in your medicine cabinet. After all, their solid state means these bars don't have to come in a plastic or glass bottles, like most face washes do.
But face wash bars aren't the only plastic-free game in town anymore. For this review, I've also tested four oil-based facial cleansers, one face wash powder, and one classic liquid face wash in glass packaging.
They're all in packaging that's either refillable, or simply a paper box.
And they're all different takes on a concentrated formula. Instead of being watered down from the factory, they contain just the ingredients you want, and you add the water in your shower instead of shipping it across the country.
All of these brands are also cruelty-free and vegan.
---
Dew Mighty Review – Refillable Powder Cleanser
Company Stats: Made in California. 100% refillable packaging. Carbon-neutral shipping, and all company emissions are carbon-offset. Vegan & cruelty-free. Ships to most countries around the world.
Dew Mighty is a brand new and very small company on the zero-waste skincare scene. And they're the only company that holds a candle to Activist Skincare, with their plastic-free and infinitely refillable packaging.
(And they might even be better than Activist in some ways, as Dew Mighty's refills are totally plastic-free. I reviewed Activist in-depth in another post.)
So far, Dew Mighty only makes two products: A powdered cleanser and a solid serum, both with refillable and completely plastic-free packaging.
I like that they're starting with a small line-up, because they're clearly focused on getting the sustainability details right.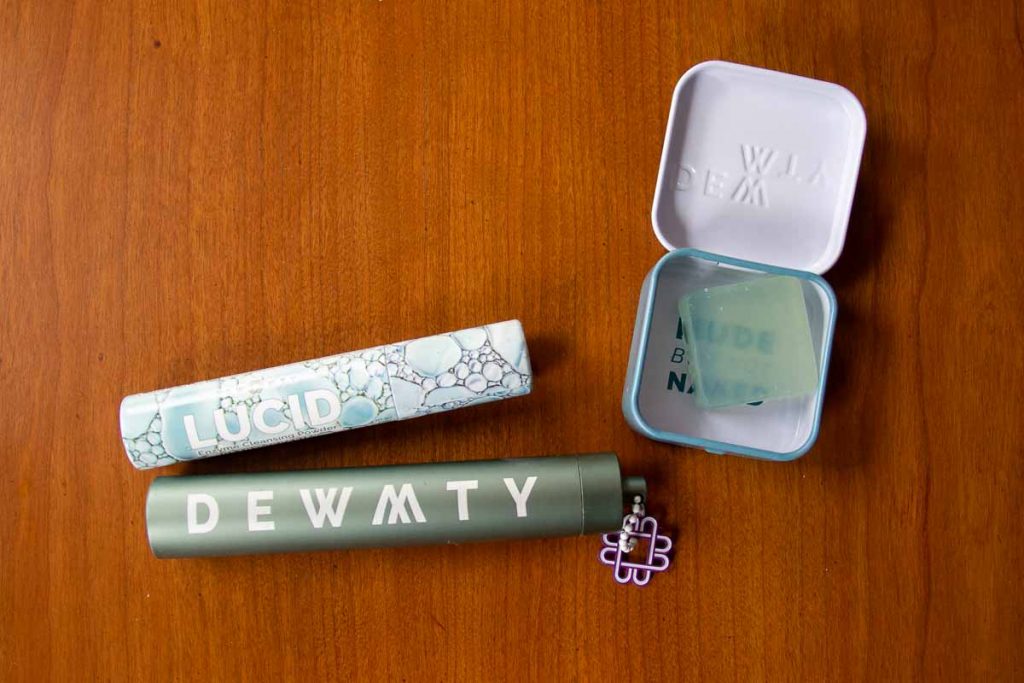 For example: Dew Mighty's cardboard packaging has a sheen to it – which would normally indicate paper or cardboard that's plastic-coated, and thus not recyclable or compostable.
But Dew Mighty worked with a local supplier on the West Coast to develop a vegetable-based coating that's plastic-free.
That means their paper refill packaging can be easily recycled or composted.
That kind of attention to detail really shows a company is out to do things better.
I also love that Dew Mighty offers a sample bundle, so you can try mini versions of both products, and see if they work for you before committing to the containers. You'll save 10% on that and other bundles with the code TILTEDMAP.
Whew, the name is a mouthful, but the product is pretty interesting. "Lucid" is the first powdered face cleanser I've tried. I expected sort of a rough, exfoliating cleanser, but it was quite the opposite.
With just a few drops of water, a pea-sized amount of Dew Mighty's powder transforms into a very smooth cleanser with a clay-like texture. There's no grit to it at all, and it feels very gentle on my sensitive skin.
This face wash is full of great skincare ingredients, including antioxidants, mineral-rich clays, rice powder, and spirulina.
And niacinamide is the fourth ingredient in the Lucid cleanser. That's quite a high concentration of one of my favorite skincare ingredients that I use daily to prevent breakouts. (It's truly the ingredient that changed my skin, and finally stopped me from breaking out at age 30.)
The same product also doubles as a face mask if you want a deeper treatment. Just use more, and leave it on for up to 20 minutes.
Using a Powder Face Cleanser:
Dew Mighty says on their website that their powder cleanser "lathers lightly," but I would say that it doesn't really lather at all. There's no foam going on here, but that's okay.
At first, that lack of lather made me think I needed to use more to really see the product working, but it actually doesn't take much at all. It looks like there's nothing on my skin as I rub it in, but I can feel the smooth, clay-based cleanser doing its job.
It also rinses off very easily and cleanly, and my skin feels soft after using it.
Zero-waste Packaging & Travel
The Dew Mighty cleanser's permanent, refillable container is an aluminum alloy tube. (At first, I thought the stainless steel logo charm attached to the lid was just kind of wasteful, but it's actually useful for adding some grip to open the tube with wet hands. And the whole thing is 100% recyclable, in case you stop using it.)
And I love this cleanser for travel! It's lightweight, and there's no liquid or oil to leak, and no bars to let dry before packing.
One thing to consider is that I wouldn't use the Lucid Powder Cleanser in the shower. You definitely don't want to get water in the tube of powder. (What I've been doing instead is just applying the cleanser outside the shower and then hopping in.)
I'm focusing on plastic-free cleansers in this post. But since Dew Mighty only makes two products, I thought I'd mention their plastic-free "solid serum" bar, too.
A solid serum is a bit strange to get used to: Your first little lump of "Bloom" serum comes in a plated steel box not much bigger than a postage stamp.
(The metal packaging is 100% recyclable, in case you stop using it, and refills come in paperboard with vegetable-based ink.)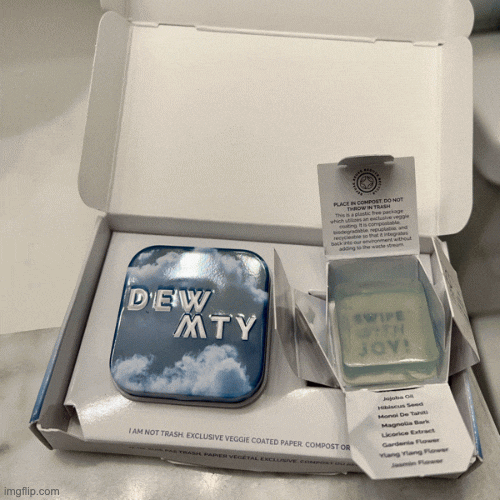 Using a Solid Serum:
I must confess, I misunderstood how this product works at first. I thought I needed to warm the solid serum bar in my hands to release the product, but that's not the case.
The application has nothing to do with heat. Instead, it's a unique technology that lets you apply the serum bar with friction. (Dew Mighty is actually patenting it.)
And that means this bar won't melt in hot climates, and it won't be difficult to use in cold weather, either. (I'm currently using my Bloom bar while traveling in Southern Italy in June – staying in hotels without AC – and having no problems, so I can confirm that it doesn't melt!)
I like to glide the bar directly over my face in a few swipes, and then rub it in with my fingers to spread it around. The texture feels like a light oil, but with no greasiness at all.
The Bloom serum rubs in easily, and has an immediate, noticeable brightening effect.
Plus, I've been using this serum bar without moisturizer on top (which I normally never skip), and it's doing the job. My skin still feels soft and not dry at all because, unlike most serums, the formula is full of moisturizers – pure, vegan squalane from olives, and organic jojoba oil.
This solid serum also contains licorice extract, which is brightening, soothing, and reduces redness and dark spots, and Vitamin C, which is a powerful antioxidant.
Vitamin C and Breakouts
Two other Vitamins C serums have made me break out in the past, so I'm taking it slow with this. But after two weeks using the Bloom serum bar every other day, I'm not seeing any issues, so I'm hopeful with this one!
UPDATE (July 2022): Two months in, I've moved up to using the serum daily now, and still no Vitamin C break-outs! Plus my skin is just looking bright and smooth and glowy, and I'm loving the little serum bar for travel. (I've been on the road for 5 weeks – with all the changes in diet, water and sleep that come with so much travel – and I'm still not breaking out. I think I'm in love.)
With the discount code TILTEDMAP, you'll save 10% on the Dew Mighty sample bundle (to try both products), or on the powder cleanser, or solid serum individually.
---
Activist Skincare – Refillable, Zero-Waste Face Washes
Company Stats: Made in California with refillable packaging! Carbon-neutral shipping around the globe. 5% of revenue donated to environmental nonprofits (and you can choose which one to support with your order). Vegan & cruelty-free.
Save 50% on the trial kit of all products with the code TILTEDMAP50.
I wrote an entire review of Activist Skincare's entire refillable skincare line, so I won't dwell too long here.
But Activist is such a uniquely sustainable company that they definitely deserve a mention here.
Why? Their liquid- and oil-based products are all entirely refillable.
They make three different oil-based face washes that all come in glass jars or bottles, with refills in plastic packets. Yes, plastic – but those packets contain less plastic than just the lid of a normal glass jar package.
To me, that is pretty close to zero-waste face wash and, most importantly, it's a huge step in the right direction.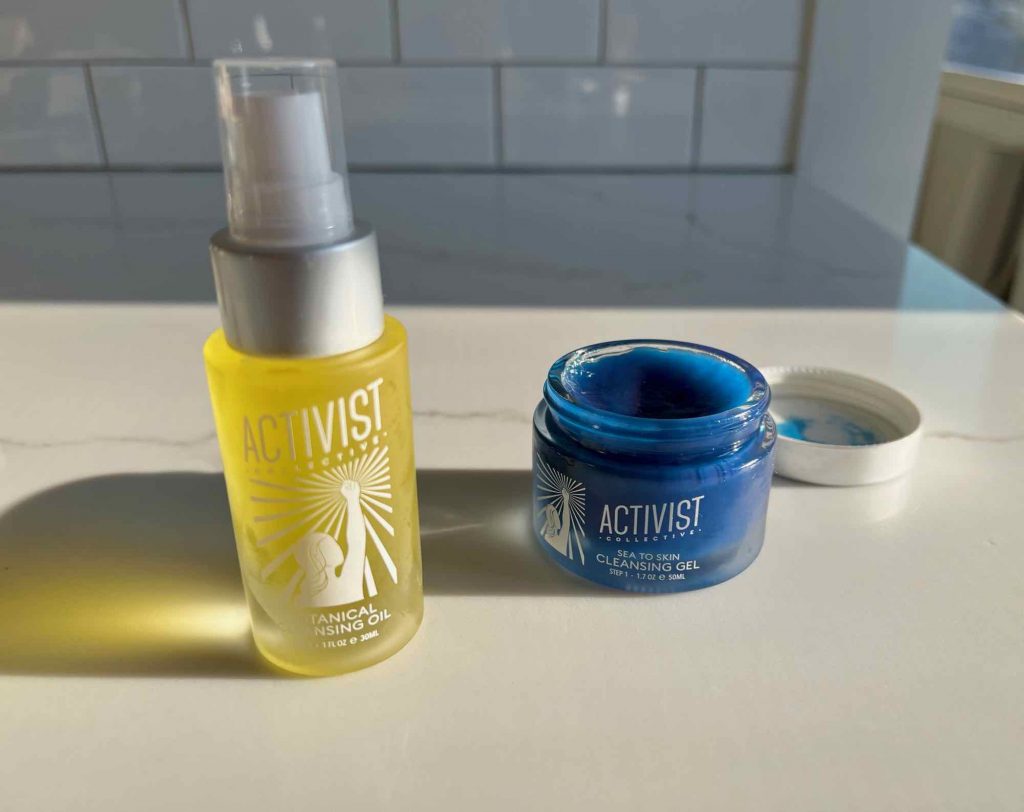 Because we need options, and I know that powders and bars aren't going to work for everyone every day. (I use and love a mix of all these products. Mixing it up a bit seems to be helpful to keep my skin from breaking out.)
My favorite of the Activist face washes is the Botanical Cleansing Oil, which is a great plastic-free face wash for acne-prone skin. They also make an excellent cleanser for all skin types (which I love for its beautiful blue color and lovely scent), and a super-hydrating cleanser formula for dry skin.
Since Activist also makes a refillable toner, serums, and a moisturizing face oil, they sell a trial kit of all of their products, so you can test them all to see which works for you. You can save 50% on the trial kit with the code TILTEDMAP50.
---
Earth Harbor – Zero-Waste Face Wash Bars & Oil Cleanser
Earth Harbor is a natural skincare brand that uses mostly organic, Fair Trade, and plant-based ingredients – and goes hard on their mystical-nautical-mermaid theme.
Don't get me wrong, it's not just fluff. Earth Harbor checks a ton of sustainability boxes. But at first glance, I didn't take them seriously because their product names and descriptions are kind of ethereal hard to decipher.
But after using a lot of Earth Harbor's products I'm quite impressed.
One of my favorite products is their Coconut Charcoal Purifying Facial Soap. It's for oily or combination skin, which makes it a great zero-waste soap for acne, but it's still very gentle and not drying.
(Earth Harbor also makes a Rose Bay Balancing Facial Soap bar, which is for all skin types. The packaging for both bars is just a recyclable paperboard box.)
I used the Coconut Charcoal bar for about six months – until it was literally worn down to a toothpick size – and I love it.
Obviously, it's extremely long-lasting. (Remember I said six months – that's just one bar, and my husband used it too. For most of that time, I was alternating with oil-based face washes from Activist Skincare, but the Earth Harbor still got used twice a day.)
Plus, the Coconut Charcoal Bar is definitely the most travel-friendly face wash bar I've found. While lots of bars get squishy in the shower, or even soften a bit from humidity just sitting on a bathroom shelf, this one is an indestructible little brick. (Which makes it easy to pack without making a mess.)
You might think that toughness would mean the Earth Harbor bars wouldn't lather well, but that's not the case. I find that the Coconut Charcoal bar lathers quite easily.
Of course, it's key to keep any toiletry bars well-drained. But when I'm not traveling, my Earth Harbor bar lives in my shower, right next to my shampoo, conditioner, and other face and body bars – which are also well-drained, but have a much softer feel.
Earth Harbor's Oil Cleanser
In addition to the two face wash bars, Earth Harbor also makes an oil-based cleanser called Sunshine Dew Antioxidant Cleansing Oil.
It comes in a glass bottle, with a plastic dropper, so I wouldn't even mention it in this review of *strictly* plastic-free face wash options – except that Earth Harbor is planning to launch plastic-free refills later this year! That's big news, and I'll update this review here when it happens.
Sunshine Dew feels quite similar to Activist Skincare's Botanical Cleansing Oil, but it's a slightly thinner consistency, and maybe even a little bit easier to rinse off.
The scent is a light, fresh lemony and fruity scent.
With the code MERMAID15, you can save 15% on your first order from Earth Harbor.
---
HiBAR – Face Wash Bars Review
Company Stats: Made in Minnesota. Vegan & cruelty-free, and plastic-free.
Shop directly from HiBAR. Or order through EarthHero, one of the most sustainable online retailers, and save 10% with the discount code TILTEDMAP10. (They ship to the US, Canada & Puerto Rico.)
HiBAR has been one of my favorite start-ups doing plastic-free personal care, pretty much since I started writing about the topic. They started with several formulas of shampoo and conditioner bars for different hair types, and now they're taking on plastic-free face wash in the same way.
They make three different face wash bars that all contain multiple amino acids.
In skincare, amino acids protect the skin's moisture barrier, and have antioxidant effects. They work better as a team (multiple types of amino acids, vs. just one at a time) and the HiBAR face washes all contain 12 of them.
(I learned that from the "ingredient dictionary" from Paula's Choice. Unfortunately they don't do any plastic-free packaging, but they're great at explaining the science of skincare.)
They call this exfoliating bar "gentle," which I never believe when talking about face scrubs, but I can attest that this one actually hits the mark. It leaves my skin feeling really smooth – but not red and angry like more aggressive scrubs do.
The Renew bar is the only physical exfoliation product I've tried that I can actually rub into my face with the same level of aggression as I use with any other (non-scrub) facial cleansers. (Not that you would have to, but it is that gentle.)
I still don't use it every day, but it's great refresher for a couple of times a week.
(I call this bar a "physical" exfoliator to differentiate from chemical exfoliation, like this acid peel, which I have yet to find a plastic-free replacement for, yet alone a better price. Even though they have "acid" in the name, dermatologists say chemical exfoliation is generally gentler than physical scrubs.)
The smell is just sort of a subtle, nothing-y clean scent, which is clearly what they were going for. (All of HiBAR's facial cleanser bars are unscented and fragrance-free, which makes them less likely to cause reactions on sensitive skin.)
I also wouldn't recommend traveling with this face wash bar, or even storing it in the shower. It has such a soft consistency that after a week in my shower it was pretty beat up.
UPDATE: These face wash bars were just released this spring, and HiBAR has already tweaked their original formulas to make them harder and more durable. I'll be trying the new versions soon, and I'll add an update here when I do.
Don't forget the Soap Dish!
That damage is despite being carefully stored on a well-drained soap dish and out of the flow of water. I put them on that lovely wooden soap dish for the photo, but I actually prefer these plastic soap dishes.
Yes, they're plastic, but they're not single-use plastics. I like them because they do a great job of keeping bars dry and making them last. They're easy to travel with, and I've had the same ones for years.
I really love HiBAR's Cleanse bar. It's just such a good basic face wash, and feels every bit like a high quality face wash in a bottle, but it proves that we just don't need plastic anymore.
If you're not sure which of the many options to try from this review, the HiBAR Cleanse bar is a great starting place.
It's neutral, gentle, unscented (like all of the HiBAR face wash bars), and not overly drying nor too heavy on the moisturizer.
My only complaint is that, while Cleanse isn't as soft as the other two HiBAR face wash bars, it's still too soft to travel with. (I'm traveling with it right now, and after the first day that I had it packed in my suitcase, I took it out and found it broken into three pieces. That's a test my Earth Harbor bar has easily survived many times.)
This face wash bar feels rich and creamy going on. It's really nothing at all like a normal bar of soap (and quite different from all the other fancy face soap bars I've tried).
If you're looking for an intensely moisturizing face wash bar, this is definitely the one to start with.
The Hydrate HiBAR reminds me of washing your face with cold cream – when you see women in old movies slathering on a thick cream to remove their makeup.
(I say "in the movies" because I've never washed my face with cold cream. I'm 31, not 91. But that's what this HiBAR reminds me of.)
Despite all that thickness and richness, the Hydrate bar rinses off very easily. My skin feels really soft after using it, although I do still use a moisturizer.
---
Ethique – Face Wash Bars Review
Company Stats: Made in New Zealand. Certified B-Corp. Completely vegan, cruelty-free, carbon-neutral, plastic-free, and palm oil-free. 2% of revenue donated to charity. Ships to Australia, NZ, Canada & US directly from Ethique in New Zealand, or from their Amazon storefront.
Ethique is a longtime superstar of genuinely eco-friendly products. They make a huge range of plastic-free items, from face wash, to hair and skin care, to pet shampoo.
But since Ethique products are made on the other side of the world from where I (and most of you) live, I prefer the more local companies above.
Still, here's my take on Ethique:
First, what I don't like:
I've road-tested the natural deodorant, several shampoo and conditioner bars, and the solid face wash bars from Ethique. The first two absolutely didn't work for me.
(The deodorant left me stinky, even after letting my body adjust to it for weeks. The shampoo and conditioner bars were hard to transfer to my hair and just didn't feel like they did much for me. (These are the deodorant, and the shampoo and conditioner bars that I do use and love.))
… And what I do like about Ethique
But personally, after lots of testing, I think face wash is what Ethique does best.
And I love that Ethique sells sample packs and minis of their face wash bars and other solid toiletries, so you can try several options before committing. (Similar to Activist Skincare's trial kit, the minis are also great as plastic-free travel toiletries.)
Ethique Deep Green Bar (for normal to oily skin/ acne)
After using up the sample size of their Deep Green bar, I was really impressed!
Deep Green is quite comparable to my favorite Earth Harbor Coconut Charcoal bar, above. I think both are excellent plastic-free face washes for acne prone skin. (Although the Earth Harbor bar seems to last longer, as I mentioned above. It's indestructible.)
Ethique Bliss Bar (cleanser for dry skin)
Ethique's Bliss Bar on the other hand, which is more moisturizing, did make me break out… for a month.
They call it a "solid face cleanser for balanced to dry skin," and I would definitely err on the side of dry skin for this one. If acne is absolutely not a concern for you, then the Bliss Bar might be worth a try. It seems like a good neutral face wash bar for dry skin. It's gentle, lathers easily, and has a slightly cookie-like smell.
For comparison, the Bliss Bar reminds me a toned-down version of HiBAR's Hydrate Face Wash Bar. (Although the Hydrate bar hasn't given me any acne issues, despite it feeling more intensely moisturizing.)
Finally, the famous Gingersnap face scrub bar: To me, this exfoliator feels like sandpaper. It's truly just too harsh for me to use anywhere near my face, no matter how gently I try to rub.
The alternative to Gingersnap – which I'm surprised I actually really like – is HiBAR's Renew Face Wash Bar. As I described above, this is the only plastic-free, exfoliating face wash I've found that actually feels gentle enough not to damage my skin.
Ethique products are available straight from the source, or on the Ethique Amazon storefront. (I haven't found other online shops available in N. America that carry Ethique.)
---
Company Stats: Made in California, but unlike the other brands in this review, YTTP isn't independent (it's now owned by L'Oréal). Carbon-neutral shipping. All company emissions are carbon-offset. Vegan & cruelty-free. Ships to most countries via Sephora.
The "superfood cleanser" from Youth To The People is my favorite back-up for the powder, bars and oil cleansers above. Because while I love those, I get that they can be a little complicated. Maybe they're not what everyone's looking for, or what you want to use every day. So if you want a normal normal-feeling face wash that's not zero-waste but at least less-waste, this is it.
This cleanser is a great way to dip your toe into plastic-free skincare. (And it's well-loved by beauty editors who aren't even looking for sustainable products.)
The vegan formula comes in an 8-ounce refillable glass bottle, and you can order a 16-ounce refill size without the plastic pump. The refill is still in glass, which is very heavy to ship, but at least it's less plastic for the pump, and the larger volume means less glass per ounce. (You can also start with a 2-ounce trial size.)
I love the bright, fresh smell (like a green smoothie), and how it lathers up, rinses off easily, and keeps breakouts away, yet doesn't dry out my sensitive skin.
(I just wish the refills came in light-weight packets, like my Activist Skincare refills do.)
But at the end of the day, this is one of those options that I think can be a great starting point if you're not ready for something kind of strange and non-traditional, or if you want to alternating between a normal-feeling liquid wash (that still skips the plastic bottle) and one of the powders, oils or bars in this review.
---
Bonus: The Earthling Co. Face Wash Bars – coming soon!
Finally, I think The Earthling Co. might be the all-around best company making plastic-free products in the US right now. Their product range is huge; I've tried almost everything in it and haven't been disappointed. (Except that their deodorant didn't work for me.) That's not something I can say about… honestly any other brands.
A few examples: Their shampoo and conditioner bars are my absolute favorites (reviewed here vs. HiBAR's shampoo.) And they make an excellent dish soap that I use every day.
Earthling Co. used to also make face wash bars, which I found very gentle, long-lasting and effective, but they're now reformulating them.
I'll update this review here when there's a new version available.
---
More plastic-free product reviews:
---
This page includes some affiliate links. These recommendations for carefully chosen companies and products let me earn a commission if you decide to buy anything through them – at no additional cost to you! For more info, please see my Privacy Policy. Thank you for your support!