My thoroughly tested less-waste travel routine: Plastic-free toiletries that are mostly gender-neutral and feel like a treat to use – not a sustainability obligation. I actually prefer these eco-friendly items to the traditional versions!
I'm calling this my "travel" beauty routine because it's travel-friendly, but really it's what I use everywhere because I love the simplicity. And I call it "less-waste" instead of the buzzword-y "zero-waste" because zero feels impossible. (And it probably is.) There's no reason to strive for perfection; let's just work on better, instead.
This list has been a long time coming: For almost every item on it, I've tested multiple sustainable options and these are the ones that came out on top.
And I've spent a long time looking for sustainable beauty products and toiletries that are just easy. I want them to do what they claim, not cost a fortune, not be overpackaged, and simplify my life – so if you have suggestions beyond what's on this list, let me know!
Plus, finding high-quality products that work lets us stop buying stuff that doesn't. In addition to the expense, every extra beauty product is another bottle to dispose of. This routine has allowed me to stop that seemingly endless cycle.
Why Do I Keep Writing About Going Plastic-Free?
I know, I've been talking about plastic and plastic-free brands a lot this year. First I tested and reviewed a bunch of shampoo bars. Then I went into ridiculous detail on zero-ish-waste cleaning products. Then I interviewed a Danish woman about her start-up that makes reusable versions of things even I never thought could be reusable until I tried them.
The reason is that, as much as I wish it did, plastic recycling doesn't work.
Plastic wasn't designed to be recycled. And you know those little triangular recycling symbols with the numbers? They were actually invented by oil company marketers, not by recyclers. Essentially, it's just greenwashing to make us believe there's an environmentally responsible (and economically feasible) way to recycle plastics, when there actually isn't.
So recycling is a band-aid solution at best. The only solution is to stop depending on recycling plastic. Give a listen to this episode of Planet Money (one of my favorite podcasts). It explains the whole thing.
That's why everything on this list is either plastic-free and refillable, or designed to use minimal and/or recyclable packaging. (Some offer recycling or up-cycling programs that the companies sponsor, which is a more long-term solution: When companies pay to recycle the waste they create, the economics of recycling are no longer a burden for cities and towns.)
Discount Codes!
These are sprinkled throughout the article, but to make things simple, I'll put them all together here:
This referral link for 100 Senses will get you $15 off a $50 non-subscription order. (eg. two Ultimate Body Bars, their only product I use.)
Plastic-Free Hand Sanitizer
I've tried a lot of refillable, plastic-free toiletries from byHumankind, a New York start-up that's completely carbon-neutral. They make several products that I like a lot.
Their small bottles of hand sanitizer come in three-packs with optional plastic pumps – meaning if you already have the pumps at home, you can refuse them and save the plastic. Once you have enough travel-size bottles, you just order the larger (8-ounce) refill bottles.
It's all packaged in highly-recyclable aluminum, instead of plastic.
Plus, their formula contains hyaluronic acid, which is an ingredient used in skin care for hydration (below, you'll find a face serum I use with hyaluronic acid). So it doesn't dry out your skin like other hand sanitizers. It feels smooth and silky, not sticky and chemical-y.
Best Shampoo & Conditioner Bars
For a shampoo and conditioner bars with different formulas for different hair types, I love HiBAR. It's a small Minnesota company that makes three formulas – Maintain, Volumize, and Moisturize – and everything is 100% plastic-free.
I've used their Maintain and Moisturize shampoo bars, which both smell just the right amount like key lime pie. They lather and rinse really easily, and leave my shiny and totally indistinguishable from when I use really good bottled shampoo.
I'd say the Maintain bar is a little easier to travel with, because it stays harder, while the Moisturize is a slightly softer formula that might come apart more easily while stored in a washcloth in your suitcase (which is how HiBAR recommends storing their bars for travel).
I only tried the Moisturize conditioner bar, and it is by far the best conditioner bar I've used. It rubs onto my hair much more easily than any other brand, and actually makes my hair feel conditioned and soft.
(I wrote a more in-depth review of several plastic-free shampoo and conditioner bars, and HiBAR was my favorite, along with the whole-body bar below.)
You can order directly from HiBAR or from Amazon. (And as long as you use HiBAR's official Amazon store, it'll still be shipped by HiBAR – meaning packaging is still 100% plastic-free.)
There are lots of zero-waste shops online, but Colorado-based Earth Hero has the best sustainability credentials of any I've found: They're a B-Corp that's certified carbon-neutral, and a member of 1% For The Planet. (Those are excellent certifications that I always look for in sustainable companies!)
Plus, you can use the discount code tiltedmap10 for 10% off an order of any amount from Earth Hero.
They carry lots of plastic-free toiletries and other sustainable products, from yoga pants to speakers. (And they have the best prices of the three options for HiBAR, even before the discount.)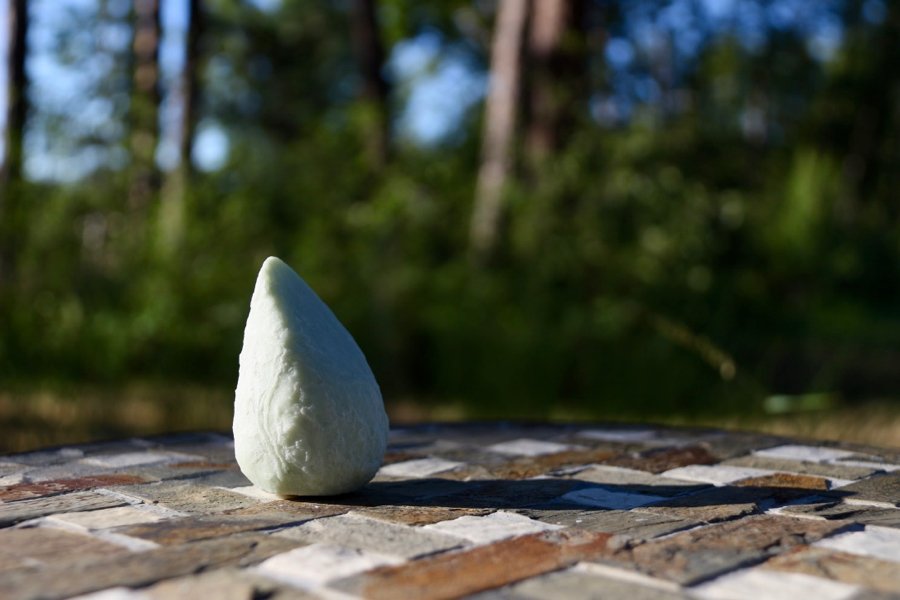 All-in-one Shampoo, Conditioner, Body & Face Wash Bar
When I travel, I use the Ultimate Body Bar, from California-based 100 Senses, as the company intended – for everything. For me, it works wonderfully to replace not only shampoo and conditioner, but also body wash. It lathers easily (more so than any other bar, besides HiBAR) and works great for shaving my legs. Plus, I don't need conditioner when I use it.
I even use it for my face wash when I'm on the road (or in a hurry at home), which is saying a lot because I have sensitive skin that often doesn't react well to new face washes.
I'm on my third bar of the Wild Lavender scent, which smells luxurious and light. It's not sweet, and not too herbal either – I'd call it a modern scent. They also offer Green Tea (the most subtle and gender-neutral option) and Citrus Neroli, which is fruity and bold and reminds me of this luxe perfume, which I will eventually treat myself to. I love them all! (And there's unscented, too.)
You can use this referral link for $15 off a non-subscription order of $50 or more!
Sustainability
Both 100 Senses and HiBAR are cruelty-free (not tested on animals) and ship in minimal, plastic-free packaging. HiBAR is completely plastic-free (even down to the paper packaging tape they use), and so is the Ultimate Body Bar (although other products by 100 Senses do come in plastic bottles). 100 Senses is vegan; some HiBAR formulas contain honey.
Plastic-Free Hair Ties
These basic hair ties from Terra Ties have become my absolute favorite! They're made of organic cotton and natural rubber, which makes them biodegradable.
But most importantly – they don't cut off the blood flow when I keep them on my wrist!! After years of putting new hair ties around my fattest lotion bottles to stretch them out, these have been such a welcome discovery. They're just a tiiiny bit bigger, instead of being designed for a child's wrist, as all the others apparently are.
I'd use them even if they weren't the more sustainable option. (Since most hair ties are made of plastic – synthetic, petroleum-based rubber – so every time you lose one, it's another piece of plastic pollution.)
Less-Waste Face Wash Options
When I'm not using the Ultimate Body Bar on my face, I use the Pore Normalizing Cleanser from Paula's Choice (but I usually don't take it along when I'm traveling).
It's formulated for acne, but it has a low .5% salicylic acid content, yet somehow that's enough. (Higher concentrations of salicylic acid have never solved my acne problems anyway, and this isn't my main solution for acne – that's below.)
Unfortunately, face wash is one of the few toiletries for which I haven't yet found a plastic-free replacement I'm happy with. But at least Paula's Choice makes this 100% recyclable (and pays to guarantee you can recycle it, no matter where you live – more on that below).
The product is gentle, unscented, and lathers and rinses easily. I used to use a couple of different face washes from Clinique, but this is just as effective, costs far less and eliminates the need for multiple products.
Why Paula's Choice for Sustainability?
Paula's Choice is cruelty-free, and all of their shipping materials are recyclable and minimal – brown paper cushioning instead of plastic, and most products don't come with extra packaging like outer boxes (just the bottle with nothing else).
But they do use plastic bottles and, of course, my goal is to not buy products with any single-use plastic packaging.
But when I can't find a plastic-free solution that does what I need, the next best option is to go with a company that takes responsibility for its plastic packaging.
And this one does. All Paula's Choice packaging is recyclable through a mail-in recycling program that Paula's Choice sponsors through a company called TerraCycle.
You just make a TerraCycle account (at the link above), print out a free shipping label, and drop your saved-up empties in the mailbox!
This is great because even in the best curbside recycling programs, not all plastic is recyclable. And even what is recyclable doesn't always get recycled if the bottles aren't clean, or aren't sorted correctly.
Next, to continue eliminating any plastic, I'm going to test some face wash bars like this one, and this "superfood cleanser" from Youth to the People. It's gotten rave reviews in the beauty blogger world, and comes in an 8 oz. refillable glass bottle – then you can order the 16 oz. refill size without the plastic pump!
If you have other recommendations for plastic-free or refillable face wash brands, please share them in the comments!
A Plastic-Free Mouth!
Just like deodorant tubes, toothpaste tubes usually can't be recycled, except through this TerraCycle program. But most people don't know about that (myself included, until a week before publishing this) so most of them go to landfills.
And those indestructible little floss containers are too small to be sorted by recycling machines, so they can't be recycled either. And why build such a solid package anyway, if it'll only be used for a couple of months?? Plus, normal floss is itself made of plastic! (As you can see, this is a point of frustration for me.)
Luckily I've found completely plastic-free options that I actually prefer from byHumankind and Bite (and others I didn't like so much).
Bite and byHumankind both make refillable, plastic-free floss options. I tried both, and I prefer byHumankind's floss because it's smoother. (Both are waxed, but Bite's doesn't feel waxed – it's more thick and rough. It's just a matter of preference, but for me byHumankind was the strong favorite.)
Bite's is unflavored, while byHumankind's floss comes in peppermint, lemongrass, cardamom or unflavored. It does contain silk, so it's not vegan (while Bite's is vegan).
How does it compare to normal floss?
The first time I used both brands, the floss broke between my teeth. They're both biodegradable, so it makes sense that they won't be quite as strong as normal floss, which is made out of plastic (nylon, to be precise) and therefore designed to be indestructible. But after a couple of uses, I got used to byHumankind's silk-based floss and haven't had any more problems.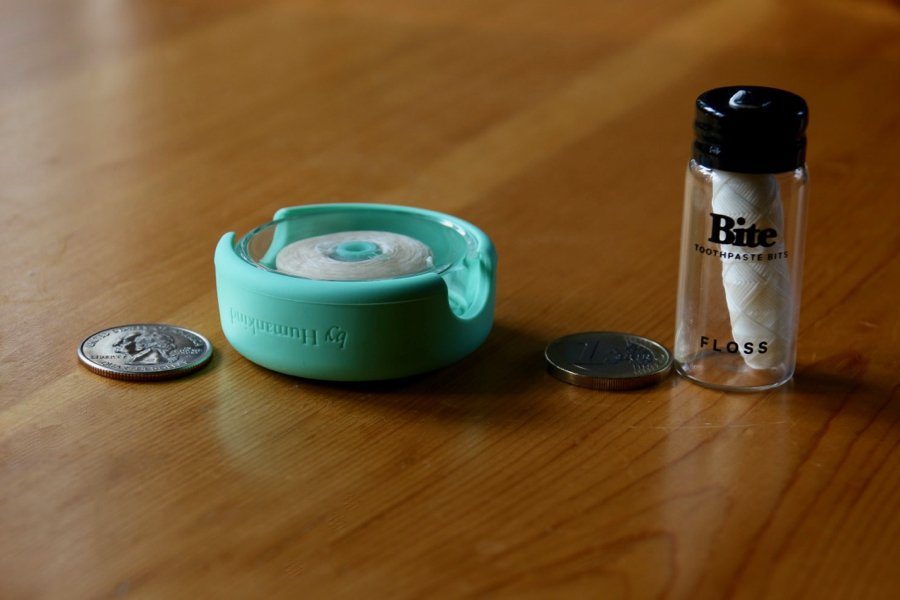 Toothpaste: Bite (even for sensitive teeth!)
I was skeptical about trying any kind of eco toothpaste, even if just to write a review and then quit, because I have such sensitive teeth. How sensitive? I can't bite into ice cream without tears coming to my eyes, and I've had two oral surgeries attempting to fix it. So let's just say my mouth is a good litmus test for whether something will cause sensitivity.
Most sustainable options don't have fluoride, which helps with sensitivity, but I decided to try Bite when they added nHap – a fluoride alternative – to two of their formulas.
And it works! Bite toothpaste has become one of my absolute favorite plastic-free toiletry finds.
I've been using the tablets twice a day for a month, and my sensitivity has not gotten any worse. (For comparison, when I've used any normal toothpaste for even a day or two, I've noticed a painful difference.)
What do toothpaste tablets feel like?
Because of the texture and taste, I now actually prefer Bite to toothpaste in a tube (and I'd been married to one high-fluoride brand for years). Bite foams just enough, and the flavor is minty but not overpowering. When I go back to regular toothpaste, I now find the taste cloyingly minty and artificial. (They also make a mint-charcoal version and a kid-friendly berry flavor.)
I've tried several other brands and I'll publish a review of all of them soon and link to it here, but Bite is so far my favorite.
I even brought my jar of Bite to my dentist for a professional opinion. She read through the ingredients and said, "This stuff is cool!"
She said all the ingredients in Bite were great for your teeth. Apparently nHap was invented by NASA and is used more commonly in Japan. It controls bacteria in your mouth, strengthens enamel and prevents sensitivity (as I can attest). Bite bits also contain xylitol, which prevents tooth decay and fights bacteria.
Don't forget to use the code tiltedmap10 for 10% off at Bite!
Why Bite for sustainability?
The entire company is 100% plastic-free. Your first order of toothpaste or mouthwash comes in a refillable glass jar and (deeply discounted) subscription refills arrive in compostable paper packaging.
Plus, no animal testing, no artificial flavors, sulfates, parabens or other fillers.
Bamboo Toothbrushes: Bite (and more options)
Bamboo is considered a sustainable material – mostly when used in place of plastics or hardwoods (but not necessarily as a fabric, which requires a lot of chemical processing to create). Bamboo grows quickly without pesticides, artificial fertilizers, or much water. It's also a powerful carbon sink, absorbing more CO2 from the air than almost any other plant.
Instead of a disposable plastic toothbrush, you can add a 100% plant-based bamboo toothbrush to your Bite order, or choose from several options from Earth Hero (including some alternatives made of recycled plastic).
On either site, save 10% with the code tiltedmap10.
Bite Mouthwash Review
Bite makes mint mouthwash tablets that come in a refillable glass jar to use at home, and a tiny tin for travel. (Just like for their toothpaste, refills come in compostable paper packets.)
You pop one tablet in your mouth, chew it up (don't swallow), then take a sip of water to swish.
I was really surprised by how well this worked! The mouthwash tablets dissolve really easily, and taste fresh and bright and minty. (It's a much more intense flavor than Bite's toothpaste.) It also has most of the same ingredients as the toothpaste (the ingredients my dentist was so happy about).
And don't forget the discount code tiltedmap10 for 10% off at Bite.
byHumankind Mouthwash Review
I like the simplicity of Bite – no glass required. But if you prefer to dissolve a mouthwash tablet in water first, or are looking for something with zero stinging, then byHumankind is the way to go. Their mouthwash comes with a cute, travel-friendly container that stores tablets in the lid and gives you a glass to dissolve them in. (Although I'm sure you could use Bite the same way.)
byHumankind's mouthwash also comes in lots of unusual flavors – lemon-mint, peppermint, ginger and cinnamon. I tried the peppermint and liked it – it's a much lighter flavor than Bite's. It feels delicate and freshens your breath, but it doesn't have nHap or xylitol, which are good for your teeth.
Reusable "Cotton" Swabs, Cotton Rounds & Tissues
I wrote an entire post about the Danish start-up LastObject, and interviewed their founder. (Suffice it to say, I'm a fan!)
They started out by inventing the original reusable cotton swab, LastSwab, and have since moved on to reusable cotton pads (LastRound) and tissue packs (LastTissue).
I use and like them all – see my full review for details!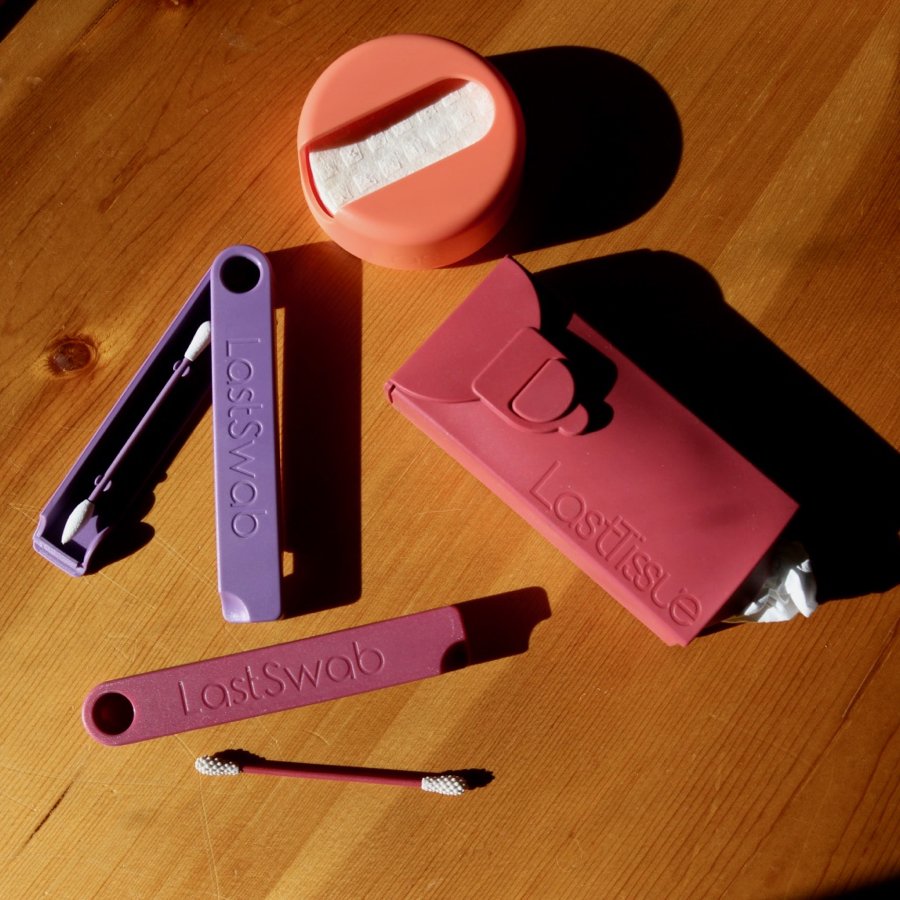 They also just launched a new product on IndieGogo: LastMask x Spray, a washable face mask with a refillable hand sanitizer spray.
Use the discount code tiltedmap10 for 10% off any order from LastObject!
Plus, each product sold in November helps keep two pounds of plastic out of the ocean, through LastObject's partnership with Plastic Bank.
Another option to replace cotton rounds are these bamboo rounds, sold by TruEarth (a company I love and reviewed in this post about plastic-free cleaning).
I haven't tried the bamboo rounds (I'm sticking with my cotton and wood LastRounds) but I do like two things about them: They're colorful, which would be helpful to not lose them and as a reminder not to toss them in the trash! And there are more in a set (14, versus 7 LastRounds) so you don't have to do laundry as often.
(But LastRound is a brand-new product, and LastObject does offer refill packs of LastTissues, sold without the case. So I assume they'll eventually do the same for LastRound.)
Plastic-Free Lip Balm
The Canadian company Habitat Botanicals makes a chapstick I really like that comes in a cardboard tube – no plastic! It's smooth and coconut-y.
(I also tried their shampoo and conditioner bars, as I wrote about in another review, and they weren't my favorites. But their lip balm is one I'll keep using.)
Also, Earth Hero and Package Free Shop both have several options for lip balm, most of which are plastic-free and packaged in cardboard tubes. They also have lots of other products – zero-waste, plastic-free, alternative, organic, vegan… you name it.
If you order from the Package Free Shop via this refer-a-friend link, there'll be a pop-up with a code for $10 off a $40 order!
From Earth Hero, use the code tiltedmap10 for 10% off an order of any amount.
Refillable Deodorant
Deodorant packaging often isn't recyclable in curbside recycling programs, and the fact that it's always such heavy, solid plastic has bugged me for years!
That's why I was excited to find that byHumankind makes a vegan, aluminum-free deodorant in a refillable tube. Your first order comes in a hard plastic deodorant stick, similar to a disposable one, but then you order refills that come in cardboard tubes that you insert into the plastic container.
It's brilliant! This deodorant is one of my favorite discoveries of this entire plastic-free routine.
I like the Lavender Citrus scent, which is not too strong, and very natural smelling. I'm going to try the Coconut next – but I've been saying that since this summer and I still haven't run out of my first order! The subscription price makes each refill about $10, which isn't even bad for a high-quality, natural deodorant, plus it lasts a really long time.
While it does leave a bit of white residue when I first apply it, it seems to absorb into my skin instead of transferring to my clothes.
A word to the wise – the lime green case is really, really green. That should be pretty obvious from their website, but for some reason I didn't believe it could be quite as intense as it looked. Well, it is, but I'm committed to looking at it forever. And next to their green floss container (a different green) on my turquoise bathroom counter, it's a little much.
Other Deodorant Options (Plastic-Free and… Not-So-Much)
I love byHumankind deodorant – also because, with the case, it'll hold up better to the abuses of travel and gym bags.
Another new option I'm planning to try is PAPR deodorant, which is vegan and totally plastic-free in a cardboard tube.
byHumankind vs Myro Deodorant
Another refillable deodorant that you've probably heard of (if you get targeted ads for sustainable toiletries all over social media, like I do) is Myro.
At first glance it looks like a similar product to byHumankind's deodorant, and I was going to order it to compare – until I realized Myro is not plastic-free!
Yes, it's a refillable tube system, but Myro's refill cartridges are still made of plastic. They say "50% less plastic than traditional deodorants," but what's the point when you could go for zero? (Or "at least 90% less plastic," as byHumankind says of their design, which uses compostable cardboard refills.)
Plus, only byHumankind is carbon-neutral (the entire company – from offices to shipping and everything in between).
Acne Treatment, Serums & Moisturizer
Products from The Ordinary have significantly simplified my skin care routine, made it easier to take on the road, and actually stopped my acne for the first time since I was a teenager. Seriously. I hardly break out anymore at all, I no longer have a medicine cabinet full of half-used spot treatments in plastic tubes, and I don't even spend much money on skin care!
I probably shouldn't say acne "cure," but this has truly been a magic bullet for me. I've dealt with acne well into adulthood (nothing severe, but constant and noticeable), and nothing I'd tried before fixed the problem.
Well, for me, this actually fixed the problem. The large bottle costs around $10 and lasts me three months. (Either size is small enough for carry-on packing, so I never order the small.)
Order niacinamide here from Sephora, or try The Ordinary's "Balance Set" from Ulta, which is designed for acne and includes a couple of products on this list, and saves some money compared to ordering them all separately. (Ulta doesn't carry the larger, more packaging-saving sizes for most of these products. That's why I link to Sephora, which carries both.)
For something even stronger, Paula's Choice makes a more potent 20% niacinamide serum, as well as their own 10% version. They're packaged in plastic, but at least they're guaranteed to be recyclable through their mail-in recycling program. (I haven't used these serums, but I've come to expect good things from Paula's Choice.)
Other Serums from The Ordinary
I also use The Ordinary's Hyaluronic Acid 2% + B5 serum for hydration, their "Buffet" anti-aging peptide serum and, for exfoliation, their AHA 30% + BHA 2% Peeling Solution. All are really well reviewed by experts for having high-quality ingredients. (But I don't take those along when I travel.)
Be warned, their website is complicated, but also refreshingly minimal and non-gimmicky. Figuring out the differences between products can be tricky because they mostly describe their ingredients in scientific terms, not marketing fluff.
And they have a huge range of highly affordable gems that make it worth the effort. For me, it's worth it simply because finding what works has allowed me to get off the beauty industry treadmill of always looking for a product that will actually do what it claims. (And accumulating more and more half-empty plastic bottles with each attempt.)
I love this smooth, non-greasy moisturizer for morning and night. And it's so inexpensive that when I travel I use it on my hands and body, too. So it's now the only lotion I travel with – easy!
(For this one, you can order the larger size from either Ulta or Sephora.)
Travel Tip: Even for travel, just order the larger size – it's 100 mL, so you can still pack it in your carry-on. You pay less per ounce and use less packaging per ounce. (Since one tube with 100 mL takes much less plastic than three tubes of 30 mL each… or 3.3333 tubes.)
First, most products from The Ordinary are packaged in glass bottles, not plastic. This is a step up because glass is infinitely recyclable, whereas plastic can only be remolded a certain number of times and is usually downcycled.
So if you live in a place with a glass recycling program, you can recycle the bottles the same way you recycle any other glass bottles (but not the plastic and rubber droppers).
More Recycling Options
Second, DECIEM (the parent company of The Ordinary) also has a recycling program through TerraCycle (just like Paula's Choice). But DECIEM's is one of the few programs that lets you turn in any brand of beauty product packaging for recycling.
By allowing you to drop off empties from any beauty brand, they foot the bill even for plastic waste that other companies created.
It's just unfortunate that the program is drop-off only, and it's only available in a few of DECIEM's US stores – in San Francisco, Chicago and New York – and in some locations in the UK and Canada. (Unlike Paula's Choice, Weleda and other brands, who pay the shipping costs for customers to mail their recyclables directly to TerraCycle. I'm hoping DECIEM upgrades their program soon, and I'll update this here if they do.)
In the meantime, if you don't live in SF, Chicago or NYC, you can send plastic packaging from any beauty brand to Garnier's mail-in recycling program. (And send any brand of oral care packaging to the Colgate recycling program.)
(I'll have more info about these programs in another post all about TerraCycle soon.)
Sunscreen
I haven't yet found a plastic-free sunscreen that I can use daily on my face without breaking out (or looking like a ghost). So I use this mineral sunscreen from Paula's Choice – because at least I can recycle it and support a company that pays for its own plastic use.
It's gentle and non-irritating, and has two formulas for oily or dry skin.
Even though it's a mineral sunscreen, it doesn't leave a white cast. (That being said, I do have very fair skin that my Italian in-laws like to make fun of, but I truly can't detect any visibly cast from this formula.) When I first put it on, it seems white, but as I rub it in, the color disappears and it looks natural, not shiny.
For something a little more sporty, my friends at the blog Outdoor Goyo tested a whole list of reef-safe, mineral sunscreens. "Reef-safe" generally means the formulas don't contain oxybenzone or octinoxate, which damage coral reefs.
Shopping Tip: Paula's Choice also has a useful beauty "ingredient dictionary." It cuts through the marketing jargon about what an ingredient actually does, how well it's been tested, and whether it's safe and worth trying.
Over the past couple years, I've slowly stopped buying anything disposable for my period. Admittedly, both these products sound a little weird and like they might not work at all, but I give you my word that, at least for me, they do.
For me, it took a few periods of practice before I figured out how to position a menstrual cup comfortably. But now I'm convinced that my cramps are less intense using a cup than they were with tampons.
The Lena Cup works for me, but every brand has a different size, shape and firmness. This quiz is helpful to figure out which brand will fit you best.
Earth Hero sells a few other brands of menstrual cups, and of course, you get 10% off your order with the discount code tiltedmap10.
Or if you try Lena Cup, you can use the discount code LENALOVE for $5 off. It works whether you order directly from Lena Cup, or through Amazon.
Thinx – period underwear review
I was proud of myself for adapting to a menstrual cup instead of tampons, but honestly, these underwear are a way easier change and have become my go-to period product.
Thinx makes tons of styles of underwear that absorb your flow. I know, it sounds weird and unlikely to be effective, but I've been truly impressed with them. They don't leak, they don't smell, and they don't feel anything like a pad! And they're very stealthy (they actually look and feel like normal undies).
I started out using Thinx only on light days, or in place of pantyliners, but I've gradually started using them throughout my period.
(There is also such a thing as washable pads and pantyliners, like these, that you attach around the gusset of normal underwear with snaps. But for me, Thinx just feel like a more elegant, simple solution.)
Travel Tip: When I'm traveling, I rinse my Thinx out in the sink, let them dry overnight if possible, and store them all in a laundry bag that I can throw in the wash whenever I get to a machine. (I always wash delicates in laundry bags anyway, as it keeps them in better shape longer. And they're great for keeping dirty laundry separate in your suitcase!)
These bags from Dropps are a good size for delicates, and they ship carbon-neutral. And this bag is designed to filter microplastics, which break off of synthetic materials, ending up in waterways. (More info about both brands in this review.)
I've tried three styles of Thinx: The signature hiphugger, the organic cotton bikini, and the Sport style. The cotton bikini is my favorite, as they're more low cut. (Closer to the shape of a standard pair of bikini underwear, whereas the hiphugger is a bit more full-coverage and high-rise). The sport is a really smooth, slick material on the outside, while the organic cotton feels like normal, soft cotton underwear.
Whichever kind you try, Thinx lets you test them for 60 days and if you're not convinced you can get a refund, no questions asked. Order through my Thinx ambassador page, to get $10 off!
Laundry
If you're planning to stay in Airbnbs or otherwise do your own laundry while traveling, laundry strips from the Canadian start-up TruEarth are a must. (And they're what I use at home, too.)
TruEarth is the most eco-friendly laundry detergent I've found so far. They ship you enough detergent for 32 loads in a package only slightly thicker than a normal envelope.
Gift Idea: Through December 3, TruEarth is offering 10-packs (of 32 strips in each pack) for 30% off. Great for sharing as little zero-waste gifts!
If you want more details, you'll find them in my post about all the plastic-free laundry and cleaning products I tested!
Next Step: Shaving with a Safety Razor
A safety razor (the one item on this list that I haven't yet tried) is the next big zero-waste change I'm planning – for when I finish my stash of Venus blades.
Even though you can recycle any razors or cartridges through this Terracycle program, switching to a plastic-free option is ideal.
And safety razors are inherently plastic-free. The only thing you have to replace is the stainless steel blade, which is entirely and easily recyclable. (As long as you either take them to a sharps collection point, or use some kind of "blade bank" so that the people working at recycling facilities don't get sliced.)
Safety Razor Brands
This is the razor I'm eyeing from Oui The People, because it's supposed to be ideal for sensitive skin, and has a high-quality design that's made in Germany. And also because it's gorgeous (I'd go for the rose gold).
Well Kept also makes a good-looking option that's made in Canada and comes in pink, white or black.
Or here's another, more budget-friendly safety razor from the zero-waste brand Albatross Designs. They also have a free blade take-back program for any brand of blades, which they up-cycle into metal cutlery and other items.
Both Well Kept and Albatross are available from Earth Hero. (Use the code tiltedmap10 for 10% off an Earth Hero order of any amount!)
Any of these would make a great fancy gift that should last a lifetime for someone who's trying to quit plastic! And any one will save money in the long-run. (When you think about plastic cartridges, like mine from Venus, costing several dollars each, while replacement blades for these safety razors are less a dollar.)
And of course, they're all unisex – any safety razor works for any gender for the face, legs, or wherever.
One thing to remember for travel: You can't pack safety razors in your carry-on. So… maybe I should actually gift myself one now, and keep my Venus stash exclusively for travel.
Questions? Ideas for other sustainable brands to check out? Drop them in the comments below, get in touch on Instagram, or email me!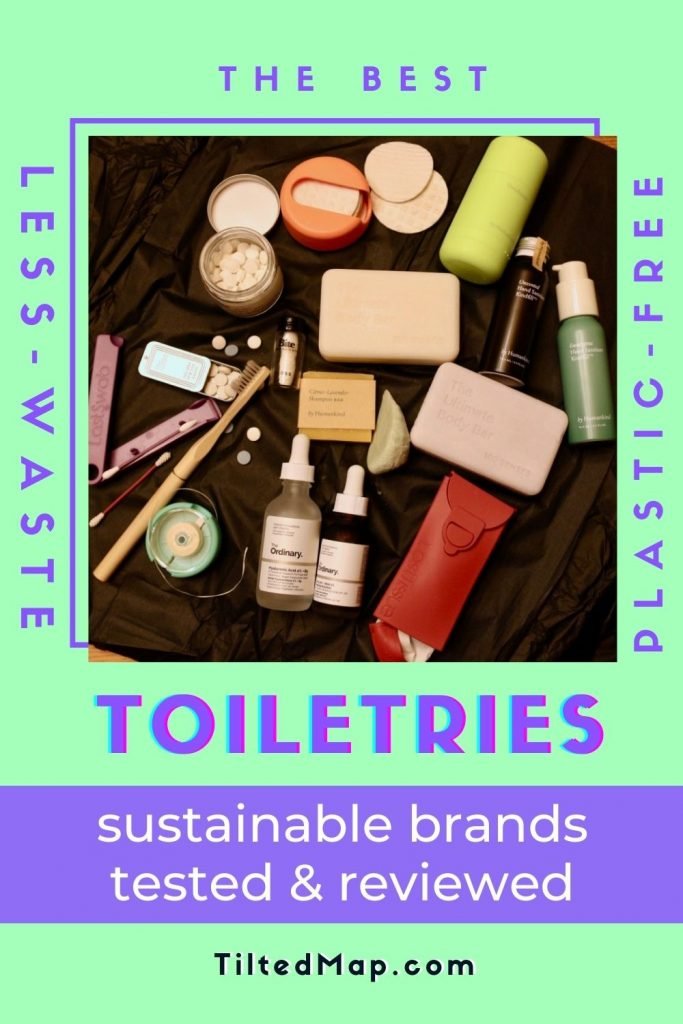 Looking for more? Check out my other sustainable product reviews:
---
This page includes some affiliate links. These recommendations for carefully chosen companies and products let me earn a commission if you decide to buy anything through them – at no additional cost to you! For more info, please see my Privacy Policy. Thank you for your support!