My thoroughly-tested, less-waste travel routine: After lots of trial and error (which I've covered in other product reviews) this list is the best of the best. Plastic-free toiletries that are mostly gender-neutral and feel like a treat to use – not a sustainability obligation!
I'm calling this my "travel" routine because it's travel-friendly, but really it's what I use everywhere.
And everyone's talking about "zero-waste" products, I call it "less-waste" because zero feels impossible (and it probably is). There's no reason to stress ourselves out striving for perfection; we can make a difference by just doing better instead.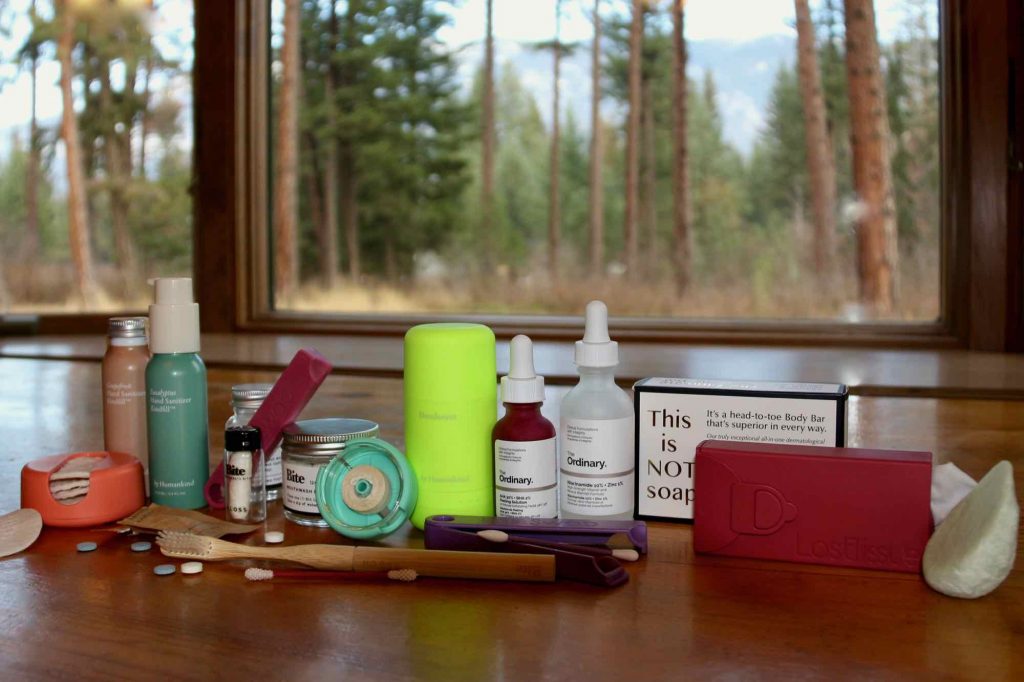 Why do I keep writing about going plastic-free?
If you follow this blog, you may have noticed that I've written about plastic-free brands a lot lately. The first reason might be that, in an out-of-control year, this feels like a decision I can dominate.
The second reason: Plastic recycling doesn't work.
Plastic wasn't designed to be recycled. And you know those little triangular recycling symbols with the numbers? They were actually invented by oil company marketers, not by recyclers. Essentially, it's just greenwashing to make us believe there's an environmentally responsible (and economically feasible) way to recycle plastics, when there actually isn't.
So recycling is a band-aid solution at best. The only real solution is to stop depending on recycling plastic by buying less of it. (Give a listen to this episode of Planet Money – one of my favorite podcasts! It explains the whole thing.)
That's why everything on this list is either plastic-free and refillable, or designed to use minimal and/or recyclable packaging. (Some brands offer recycling or up-cycling programs that the companies sponsor, which is a step up: When companies pay to recycle the waste they create, the economics of recycling are no longer a burden for cities and towns.)
---
Discount Codes!
These discount codes are sprinkled throughout this list, but to keep things simple, they're all right here:
---
Plastic-Free Hand Sanitizer
Let's start with an easy category that everyone needs: byHumankind, a New York start-up that's completely carbon-neutral, makes lot of high-quality, plastic-free, refillable toiletries. I've tried almost everything they make, and I think their hand sanitizer is one of their best products.
The small bottles come in three-packs with optional plastic pumps – meaning that if you already have pumps at home, you can order without and save the plastic. Once you have enough travel-size bottles, just order the larger (8-ounce) refill bottles.
It's all packaged in highly-recyclable aluminum bottles, instead of plastic, and their formula contains hyaluronic acid – an ingredient used in skin care for hydration (below, you'll find a face serum I use with hyaluronic acid). So it doesn't dry out your skin like other hand sanitizers. I think it feels smooth and silky, not sticky or chemical-y.
In my opinion, both the Grapefruit and Eucalyptus scents are pleasant and not too strong, but when you're using hand sanitizer constantly throughout the day, their unscented option is great: It truly doesn't smell like anything. No alcohol fumes; no industrial cleanser after-smell. Just clean.
---
Best Shampoo & Conditioner Bars
This is a tough category. After a lot of shampoo bar testing, I've settled on two favorite brands: HiBAR and The Earthling Co.
[Check out my detailed review comparing Earthling and HiBAR, or the short version is below.]
For a long time, I used and recommended HiBAR. It's a small Minnesota company that makes four formulas – Maintain, Volumize, Moisturize, and a new Soothe formula for sensitive scalps.
I've used the first three, and HiBAR's Maintain bar is my favorite – a great neutral, basic shampoo. And I think it's a little easier to travel with, because it stays harder, while the Moisturize is a slightly softer formula that might come apart more easily while stored in a washcloth in your suitcase (which is how HiBAR recommends storing their bars for travel, and I agree).
All HiBARs smell just the right amount like key lime pie (except their fragrance-free bar). They lather and rinse really easily, and leave my hair shiny and totally indistinguishable from when I use really good bottled shampoo.
I still think HiBAR is a great option – especially if you're looking for a formula specific to your hair type. But now I've been using Earthling Co.'s bars, and they're the only brand I've found that might be even better.
Earthling Co. makes a creamy, moisturizing formula for both shampoo and conditioner bars, and they both lather better than any other bar I've tried.
My plan is to stick with Earthing's conditioner bar, and alternate between their shampoo bar and HiBAR's Maintain shampoo.
Save 15% on any Earthling Co. order with the discount code TILTEDMAP15 .
Save 10% on HiBAR (or any other products) from Earth Hero with the discount code tiltedmap10 .
---
All-in-One Hair + Body + Face Bar
When I travel (or when I'm in a hurry at home), I use the Ultimate Body Bar, from California-based 100 Senses, as the company intended – for everything.
For me, it works wonderfully to replace not only shampoo, but also body wash and even face wash! I have sensitive skin that breaks out if I use the wrong face wash, but this doesn't give me any problems. It also lathers easily and richly, and works great for shaving my legs.
They bill it as a conditioner-replacement, too – and I do often use it without conditioner. It works well enough, but if your hair really needs moisture, the Ultimate Body Bar alone might not be quite enough. (In that case, I'd recommend pairing it with an Earthling Co. conditioner bar.)
Ultimate Body Bar Scents
I've been through several bars of the Citrus Neroli scent (which is fruity and bold and reminds me of this luxe perfume, which I plan to eventually treat myself to), and several bars of Wild Lavender, which smells luxurious and light. It's not sweet, and not too herbal either – I'd call it a modern scent. They also offer Green Tea – the most subtle and, in my opinion, gender-neutral scent. I love them all! (And there's an unscented bar, too.)
You can use this referral link for $15 off a non-subscription order of $50 or more from 100 Senses!
---
Plastic-Free Hair Ties
Most hair ties are made of synthetic, petroleum-based rubber – so every time you lose one, it's another piece of plastic pollution. But these hair ties from Terra Ties are made of organic cotton and natural rubber, which makes them biodegradable.
And they've become my absolute favorite because they don't cut off the blood flow when I keep them on my wrist!! They're just a tiiiny bit larger (instead of being designed for a child's wrist, as others apparently are) and also a little thicker.
After years of putting new hair ties around my fattest lotion bottles to stretch them out, these have been such a welcome discovery. (Am I the only one who does that?)
I'd still use them even if they weren't the more sustainable option.
As with most products I've comparison-shopped, Earth Hero has the best price on Terra Ties, and you can use the discount code tiltedmap10 to save another 10%!
---
Less-Waste Face Wash Options
This was the hardest category for me to get started with, because… it's my face.
I've had such trouble with persistent (moderate… but still annoying) acne and dry skin that I was reluctant to mess with changing my face wash.
But I've come up with three options:
Surprisingly great face wash bars,
a refillable glass bottle and,
a recyclable plastic bottle from a company that actually makes sure its packaging can be recycled.
… And one philosophy: We don't have to be perfect.
Even if you use a plastic-free option in the morning and your go-to face wash in a plastic bottle in the evening, that's great progress! It's 50% less plastic, so start with that and feel good about it.
1. The Face Wash Bar
Even thought they're the most sustainable option, I was really reluctant to try face wash bars – I guess I assumed they were either heavy, home-made formulas that would clog up my pores, or regular soap that would dry out my skin.
But Ethique sent me a sample of their Deep Green bar (a "solid face cleanser for normal to oily skin") and after a couple weeks of use, I'm really impressed! It lathers well, smells subtly orange-y, is not drying, and isn't making me break out.
Ethique is a longtime sustainability superstar: They're completely carbon-neutral, plastic-free, and palm oil-free. And while they're not an affiliate of mine, they sent me a few samples to review. Deep Green is the first of their face wash line I've tried, and it's changing my attitude toward the "need" for a liquid face wash.
My favorite thing about the brand is that they sell sample packs, so that you can try a few of their products if you're not sure which one will work for you, and minis – great for travel or for testing an individual product. Most of their products are also available on their Amazon storefront.
2. The Refillable Glass Bottle
If you want something liquid, this "superfood cleanser" from Youth to the People is on my list. I haven't tried it yet, but it's very well-reviewed by oodles of beauty bloggers.
It comes in an 8-ounce refillable glass bottle – then you can order a 16-ounce refill size without the plastic pump. (I just wish the refills came in light-weight milk cartons, like my Cleancult products, instead of more heavy glass to ship. Not perfect, but progress.)
3. The Truly Recyclable Option
Finally, if bars and refillables just don't do it for you, Paula's Choice does better than most companies when it comes plastic packaging + recycling. When I'm not traveling, their Pore Normalizing Cleanser is part of my routine.
It's formulated for acne, but it has a low .5% salicylic acid content – yet somehow that's enough. (Higher concentrations of salicylic acid have never solved my acne problems anyway, and this isn't my main solution for acne – that's the niacinamide serum described below.)
---
Plastic-Free Dental Care! (Less-waste Floss, Toothpaste, Mouthwash & Toothbrushes)
Just like deodorant tubes, toothpaste tubes usually can't be recycled, except through this TerraCycle program. But most people don't know about that (myself included, until last week) and it's not exactly convenient to mail your recyclables around the country. So most of them go to landfills.
And those indestructible little floss containers are too small to be sorted by recycling machines, so they can't be recycled either. And why build such a solid package anyway, if it'll only be used for a couple of months?? Plus, normal floss is itself made of plastic!
Luckily I've found completely plastic-free options that I actually prefer to the drugstore brands:
Refillable Floss
Bite and byHumankind both make refillable, plastic-free floss options. I tried both, and I prefer byHumankind's floss because it's smoother. (Both are waxed, but Bite's doesn't feel waxed – it's more thick and rough. It's just a matter of preference, but for me byHumankind was the strong favorite.)
Bite's is unflavored, while byHumankind's floss comes in peppermint, lemongrass, cardamom or unflavored. It does contain silk, so it's not vegan (while Bite's is vegan).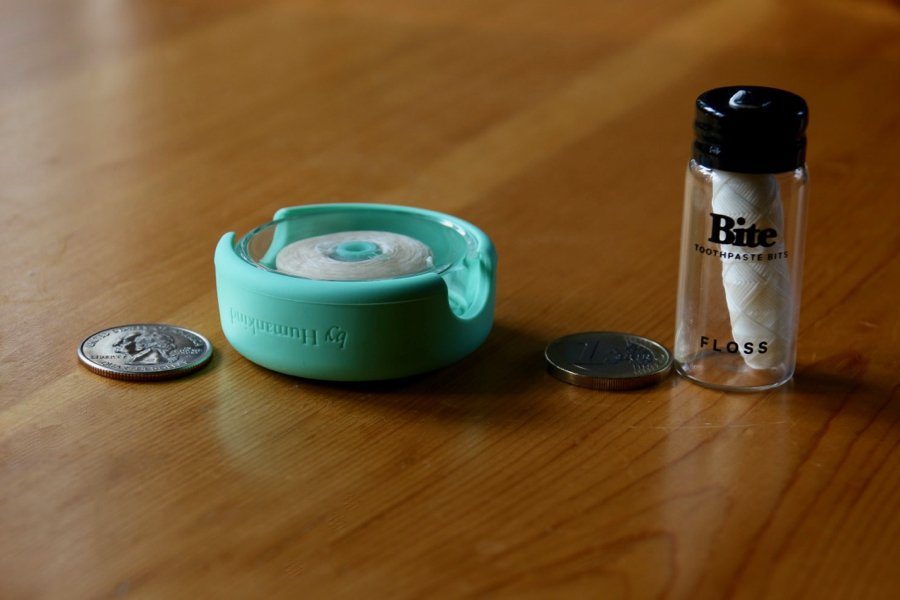 Toothpaste Tablets (even for sensitive teeth!)
I was skeptical about trying any kind of eco toothpaste, even if just to write a review and then quit, because I have such sensitive teeth. How sensitive? I can't bite into ice cream without tears coming to my eyes, and I've had two oral surgeries attempting to fix it. So let's just say my mouth is a good litmus test for whether something will cause sensitivity.
Most sustainable options don't have fluoride, which helps with sensitivity, but I decided to try Bite when they added nHap – a fluoride alternative – to their formula.
And it works! Bite has become one of my absolute favorite plastic-free toiletry finds. It foams just enough, and the flavor is minty but not overpowering.
I've been using the tablets twice a day for months, and my sensitivity has not gotten any worse. (For comparison, when I've used any normal toothpaste for even a day or two, I've noticed a painful difference.)
Because of the texture and taste, I now actually prefer Bite to toothpaste in a tube – it's not just a compromise I'm making to buy a more sustainable product.
I was so impressed that I got curious and started trying lots more brands. Bite has remained my favorite, but here's my full review of Bite and other options!
Don't forget to use the code tiltedmap10 for 10% off at Bite!
Mouthwash Tablets
Bite makes fresh-tasting mint mouthwash tablets that I think are the best on the market. They have all the same good-for-your-teeth ingredients as Bite's toothpaste, and come in a refillable glass jar to use at home, with a matchbook-sized tin for travel. (Just like for their toothpaste, refills come in compostable paper packets.)
You pop one tablet in your mouth, chew it up (don't swallow), and take a sip of water to swish. I was skeptical before trying them, but they work really well, and are perfect for packing light. I'll never go back to liquid mouthwash!
And don't forget the discount code tiltedmap10 for 10% off at Bite.
If you want something very gentle with no stinging, byHumankind's mouthwash is a good alternative. It comes in a travel-friendly container that stores tablets in the lid and serves as a glass to dissolve them in. And there are interesting flavors – lemon-mint, peppermint, ginger and cinnamon. I tried peppermint and found the flavor much lighter than Bite's (a good kid-friendly option).
More details about zero-waste mouthwash options in this review.
---
Plastic-Free Lip Balm
The Earthling Co. makes a chapstick I really like that comes in a cardboard tube – no plastic! It's almost identical to Burt's Bees' classic peppermint balm, but with fewer ingredients (nothing but organic beeswax, organic coconut oil and peppermint essential oil).
You can save 15% at The Earthling Co. with the code TILTEDMAP15 .
Earth Hero and Package Free Shop also have several options for lip balm, most of which are plastic-free and packaged in cardboard tubes. They also carry lots of other products – zero-waste, plastic-free, alternative, organic, vegan… you name it.
If you order from the Package Free Shop via this refer-a-friend link, there'll be a pop-up with a code for $10 off a $40 order!
From Earth Hero, use the code tiltedmap10 for 10% off an order of any amount.
---
Plastic-Free Deodorant (Two Ways):
Deodorant packaging often isn't recyclable in curbside recycling programs, and the fact that it's always such heavy, solid plastic drives me crazy.
Luckily, there are two ways to do deodorant without single-use plastics: A sturdy, refillable plastic tube, or a compostable cardboard one.
1. The Best Refillable Option
The best refillable deodorant I've found is from byHumankind. (In another post, I explain why this brand is more sustainable than other refillable options on the market.)
How does it work? Your first order comes in a hard plastic deodorant stick, similar to a disposable one, then your refills come in cardboard tubes that you insert into the plastic container. The subscription price makes each refill about $10, which isn't bad for a high-quality, natural deodorant. Plus it lasts a really long time.
2. Maybe Even Better: Deodorant in Cardboard Packaging
byHumankind's deodorant was one of my favorite discoveries of this entire plastic-free routine – until I found PAPR deodorant.
Both options are vegan and aluminum-free. But PAPR deodorant is completely plastic-free: It comes in a cardboard tube with no plastic whatsoever, reusable or otherwise.
Both are great products from really responsible companies, but after months of use, I prefer PAPR to byHumankind.
(For details, see my full review on the differences between the two brands.)
In short: I've found that PAPR deodorant leaves no white residue and it comes in really natural, fresh scents that I actually like (not just tolerate, like most drugstore deodorants).
Plus, you can't beat the simplicity of compostable paper packaging for long-term travel: If you run out of deodorant, you don't have to keep lugging around your refillable container – or feel bad about dumping more plastic waste, especially when traveling in developing countries that very often aren't equipped to handle it.
You can save 15% on PAPR deodorants with the discount code MAP15 .
---
Sunscreen
I haven't yet found a plastic-free sunscreen that I can use daily on my face without breaking out (or looking like a ghost). So I use this mineral sunscreen from Paula's Choice – because at least I can recycle it and support a company that pays for its own plastic use.
It's gentle and non-irritating, and has two formulas for oily or dry skin.
For something a little more sporty, my friends at the blog Outdoor Goyo tested a whole list of reef-safe, mineral sunscreens. "Reef-safe" generally means the formulas don't contain oxybenzone or octinoxate, which damage coral reefs.
---
Period Care Sans Disposables
Over the past couple years, I've slowly stopped buying anything disposable for my period. Admittedly, both these products sound a little weird and like they might not work at all, but I give you my word that, at least for me, they do.
It took me a few periods of practice before I figured out how to position a menstrual cup comfortably, but now I'm convinced that my cramps are less intense using a cup than they were with tampons.
The Lena Cup works for me, but every brand has a different size, shape and firmness. This quiz is helpful to figure out which brand will fit you best.
Earth Hero sells a few other brands of menstrual cups, and of course, you get 10% off your order with the discount code tiltedmap10.
If you try Lena Cup, you can use the discount code LENALOVE for $5 off. It works whether you order directly from Lena Cup, or on Amazon.
Even Easier: Thinx period underwear
Thinx makes lots of styles of underwear that absorb your flow. I know, it sounds weird and unlikely to be effective, but I've been truly impressed with them. They don't leak, they don't smell, and they don't feel anything like a pad! And they're very stealthy (they actually look and feel like normal undies).
You can read more about how they work, how to take care of them, and differences between the styles in my full Thinx review.
I was proud of myself for adapting to a menstrual cup instead of tampons, but honestly, period underwear are a way easier change and have become my go-to period product.
There is also such a thing as washable pads and pantyliners, like these, that you attach around the gusset of normal underwear with snaps. But for me, Thinx just feel like a more elegant, simple solution.
Whichever kind you try, Thinx lets you test them for 60 days and if you're not convinced you can get a refund, no questions asked.
Order through my Thinx ambassador page for $10 off your Thinx order, whether it's your first order or not!
---
Travel-Friendly Laundry
Finally, if you're planning to stay in Airbnbs or otherwise do your own laundry while traveling, laundry strips from the Canadian start-up TruEarth are a must. (They're what I use at home, as well as on the road.)
TruEarth is the most eco-friendly laundry detergent I've found so far. They ship you enough detergent for 32 loads in a package only slightly thicker than a normal envelope!
If you want more details, you'll find them in my post about all the plastic-free laundry and cleaning products I tested!
---
Questions? Ideas for other sustainable brands to check out? Drop them in the comments below, get in touch on Instagram, or email me!
Looking for more? Check out my other sustainable product reviews:
---
This page includes some affiliate links. These recommendations for carefully chosen companies and products let me earn a commission if you decide to buy anything through them – at no additional cost to you! For more info, please see my Privacy Policy. Thank you for your support!