In this post you'll find lots of landscape photos from longterm van travel in New Zealand, and my personal experience of New Zealand culture and lifestyle, tips for choosing whether to rent or buy a van, and the reality of living in one.
---
After two months wandering around New Zealand in a van, I think I've forgotten how to work on a schedule, how to be in a hurry, and how to deal with normal travel that refuses to go according to plan. New Zealand as a travel destination is smooth sailing, perfectly organized, "easy as," as the Kiwis say.
Every single town in New Zealand, no matter how small, empty and seemingly inconsequential, has an information office with free, professional maps and people whose only job is to answer travelers' questions. They give out maps of towns that have only one street. I've been to cities in China with as many people as this entire country, where no one can tell me if a map of the place even exists.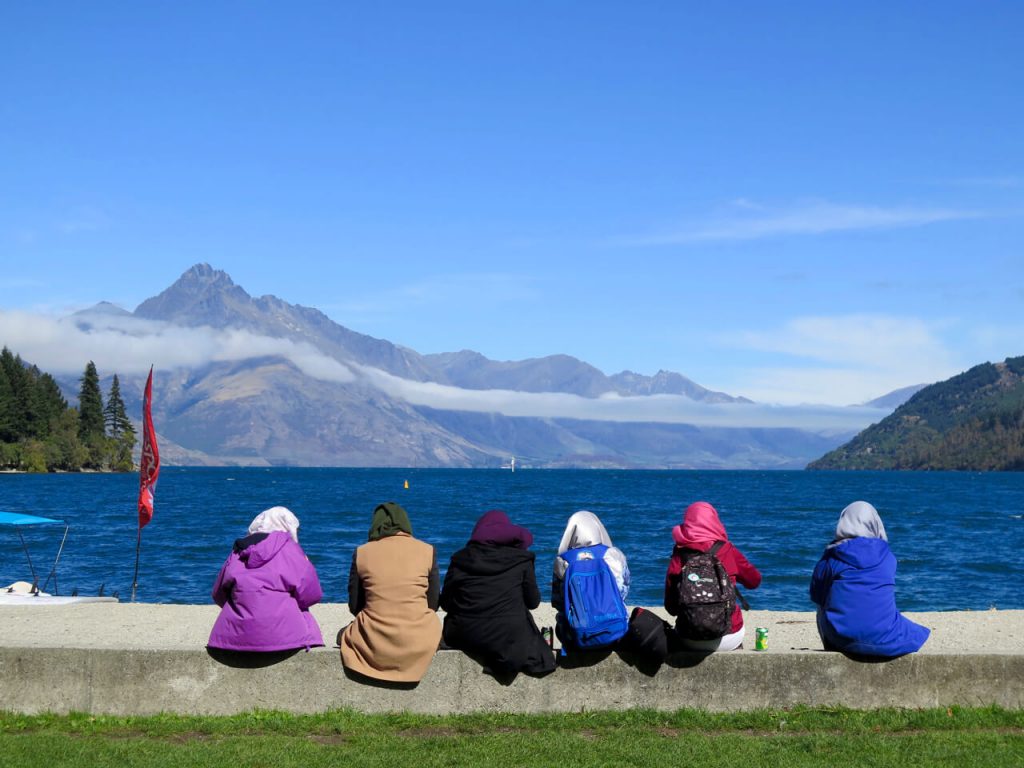 It's not just the abundance of maps that makes it difficult to get lost here; it's also that there are just not many roads. When we got off the ferry from the North Island to the South, for example, we had to choose to either go down the west coast (as we did) or go down the east coast. That was it. Our route planning was basically done. But if you do get lost, don't worry. New Zealand is somewhere in the top 10 safest places on earth. I don't think I ever even saw anyone smoking.
In some ways, New Zealand is the most boring country I've ever visited.
But boring is the whole point. It's not a bad thing, but it is something you have to be okay with.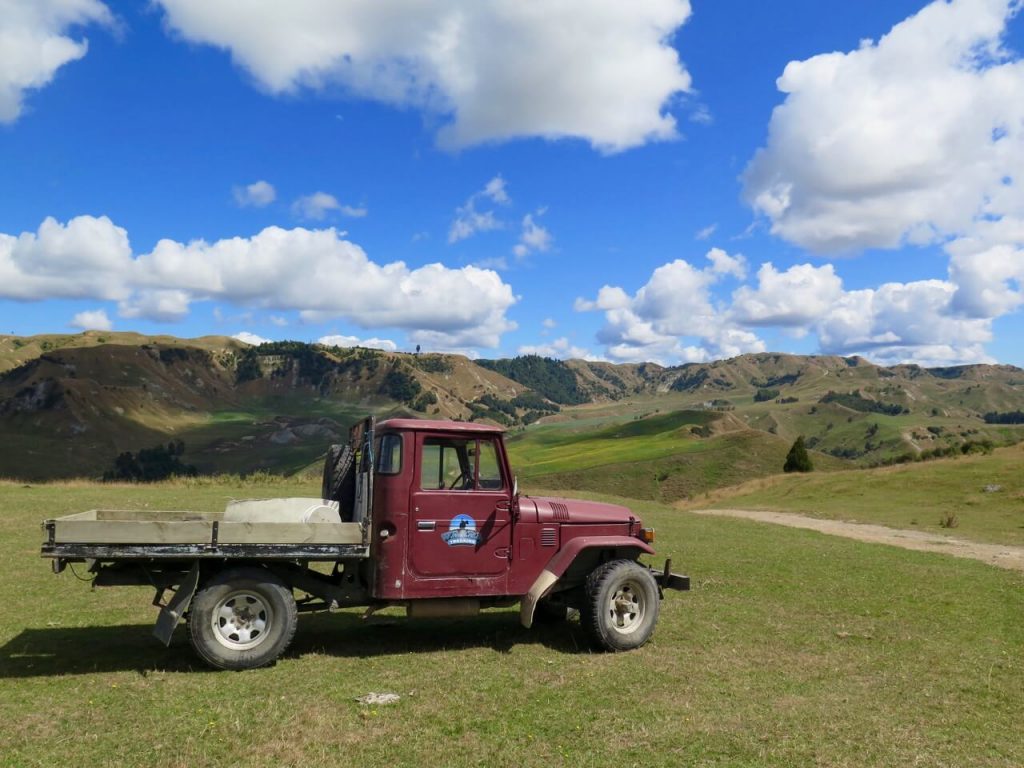 There's no nightlife here, very few towns with any interesting architecture, and not many cultural sites to see. (The traditional culture of the indigenous Maori is generally not very well preserved, especially not in visible or accessible ways, compared with, say, Southeast Asia, which is full of ancient Hindu and Buddhist temples).
Sure, the cities have bars and clubs, like all cities. Wellington is a vibrant, active, fun little capital, with great museums and a lovely coastal setting. Dunedin and Auckland are both nice looking with some interesting buildings, and they would probably be pleasant places to live, but for an international traveler, if you want great cities, go to Europe. Or anywhere else. The cities aren't the reason to come here. They're not impressive enough to travel all the way to the bottom of the world for, and the small towns are almost all boring and ugly, with few exceptions.
(Two towns to put on your list, though: I really enjoyed the North Island's tiny Raglan and the South's slightly less tiny Oamaru.)
The boringness paradox is that New Zealand is more densely populated with gorgeous scenery, pricey thrill-seeker activities (like bungee jumping in the tourist adventure capital, Queenstown, and riding jet boats up raging rivers), and all form of outdoor adventures than any other place I've been – mayyybe any other place in the world.
The landscapes change completely within an hour's drive of anywhere. No matter where you start the day, whether in the Southern Alps, rolling green hills of ranch land, jungles, highland plains, or on the coast, it's easy to be somewhere completely different by dinner time. This place is road trip paradise.
Where Have All the People Gone?
After the landscapes, the most striking thing about New Zealand is how few people are in it. (Followed by how many of them are baby-faced Germans. A Kiwi woman running a campground swore to me there were more Germans in New Zealand than in Germany. There are also heaps of French and increasingly lots of giant groups of Chinese people.)
It's easy to find pristine coastlines, unmarked by a single house, even within an hour's drive of a major city. We mostly stayed in tiny towns with nothing to see, or campgrounds in the middle of nowhere, often with no cell service and almost always with no WiFi – which is consistently hard to find and expensive, especially for an otherwise developed country with a really developed tourism industry.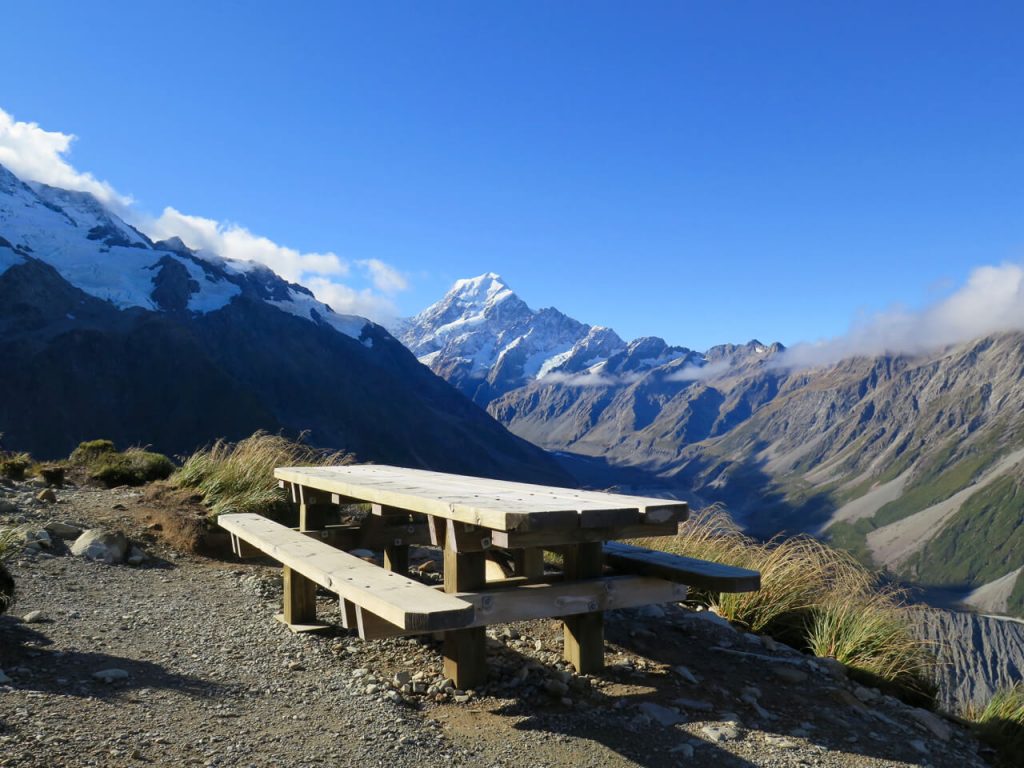 But I have immensely appreciated the nothingness, emptiness, smallness, and quietness of New Zealand. It's peaceful here.
In order to enjoy all this nothingness, we knew from the start we would need a home on wheels. And so we faced the first big decision of van life:
Owning vs. Renting a Van in New Zealand
Renting is for dorks and families, especially if you get insurance and then don't have any emergencies. Insurance is dorky. The cool kids – those grimy, penny-pinching backpackers that the locals like to blame for their tourism problems (too many people and too few bathrooms) – those cats don't rent. They buy. You can buy a van of dubious quality for 2 to 4 thousand New Zealand dollars, and insurance isn't even required here. At first this seemed like it may have been the way to go, because I was imagining buying some classic-cool VW van from the 70's, like this: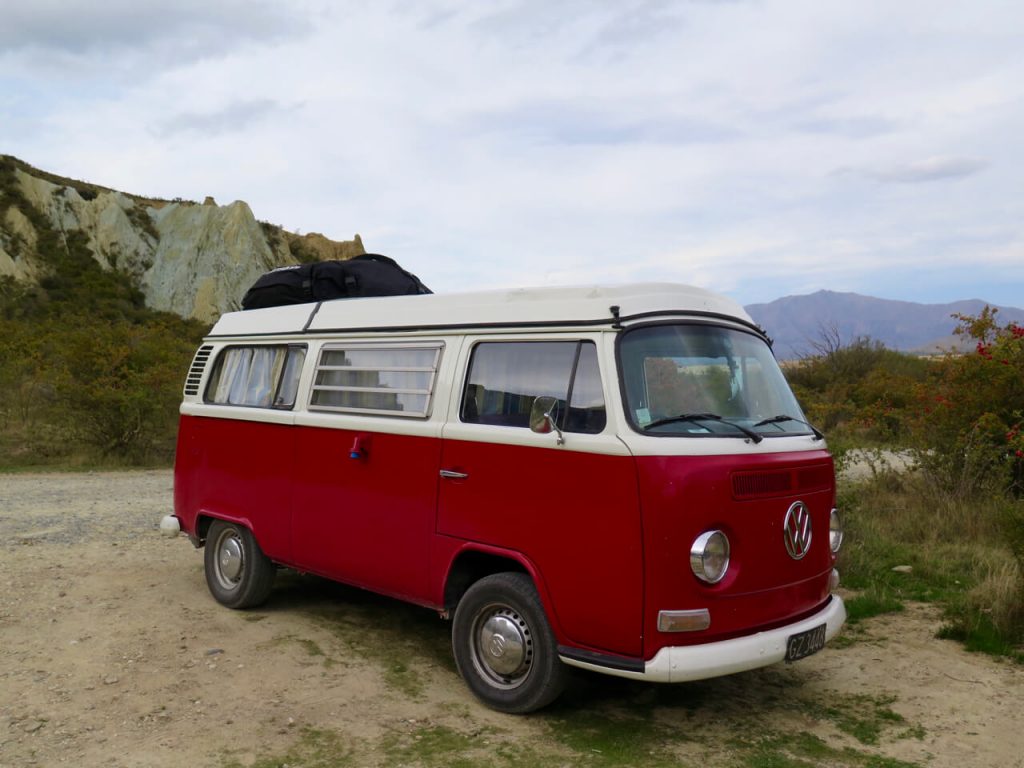 This was the only one we saw that looked anywhere near this cool. It turns out most foreign-traveler-owned vans look more like this: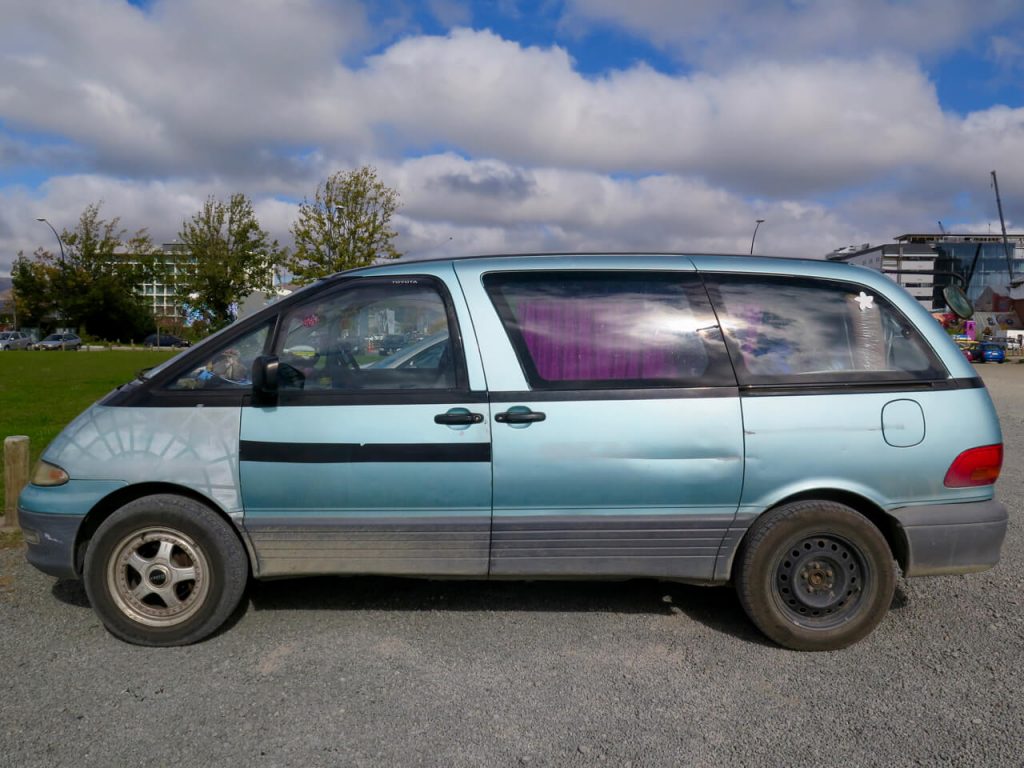 But I'm just happy we didn't end up with one like this: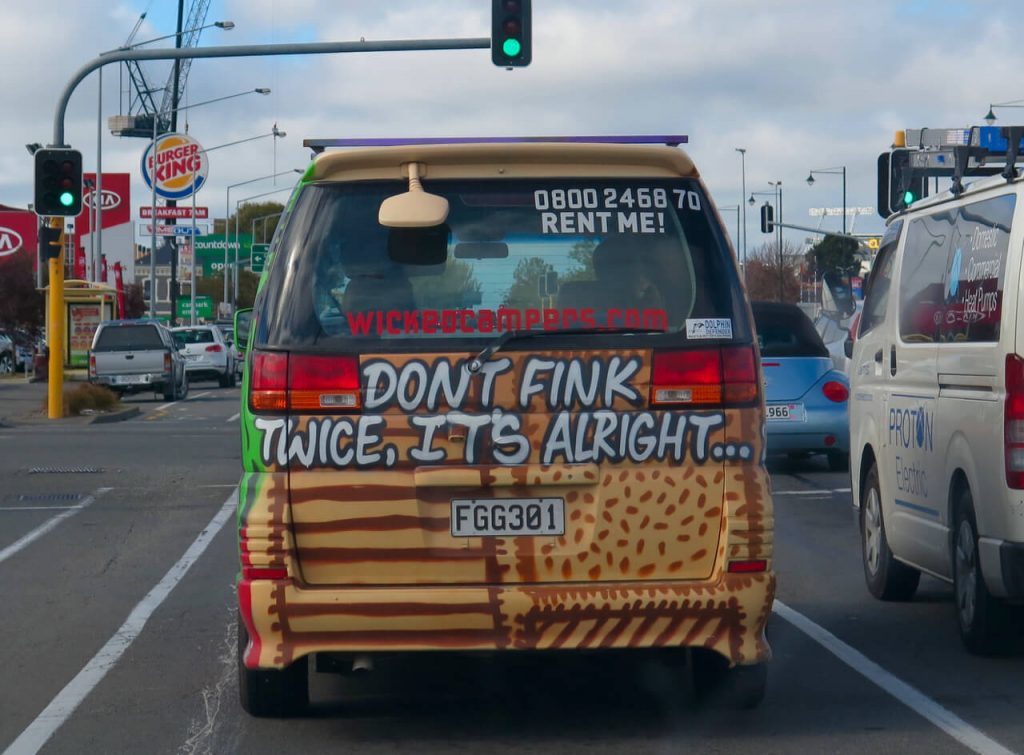 There are dozens of camper van rental outfits down here, but Wicked is one of the most recognizable because of their spray-painted slogans that never make much sense, but usually manage to be frat-boy crass. (I figured this one was safe because I don't get it.) In some towns, people are trying to ban the vans from their campgrounds. Trouble in paradise.
The Verdict: Renting Like Dorks
We rented a shiny silver Toyota Estima minivan with a collapsable full-size bed, tiny refrigerator, and full set of cooking gear. We loved not having to worry about damage (to the car) if we were to drive off a cliff – which is not uncommon around here, where the idea is the drive on the left, which tourists forget to do when staring out windows at all this beautiful scenery. It's not particularly endearing to the locals.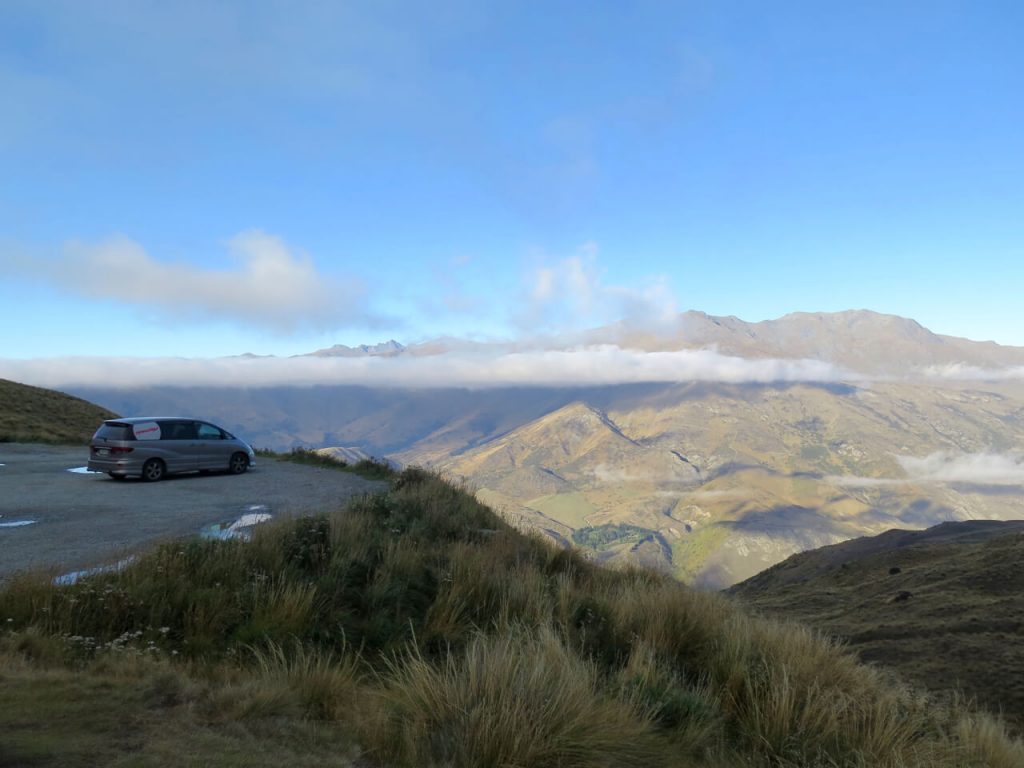 Van life in our dependable, insured home has been a mix of glorious freedom and constant, tiny struggles.
One day we were road tripping through beautiful, wide-open, empty countryside, stopping wherever we wanted – to hike through a jungle to a waterfall, take a stroll on an empty beach, or pick up some fresh milk or a bag of apples from a roadside farm stand, not a care in the world.
The next day we were trapped in our vehicle, fully aware of its itty-bittyness, waiting out a 24-hour downpour. It was like living in a cloud, with the rain not so much falling as existing in place of the air. I felt damp down to my lungs, whether inside or outside of our cloudy home.
Battling Nature from a Van
On the west coast of the South Island, if it wasn't raining we were dodging sandflies, the bloodsucking devils that curse one of the most beautiful areas of this country. They're silent and sneaky and they put mosquitoes to shame, looking like innocent fruit flies, but biting and leaving a wound that alternates for days between itching and aching. Basically the only thing that makes mosquitoes peskier is when they carry malaria. I'm convinced sandflies are allowed to prosper in the region solely to keep the tourists from staying too long (ditto on the lack of WiFi). Never have I hated a creature more.
The outdoors are the whole point of New Zealand. But sometimes the outdoors turn against you. If you can't go outside here, you have to be okay with sitting in a car reading a book (which sometimes I am).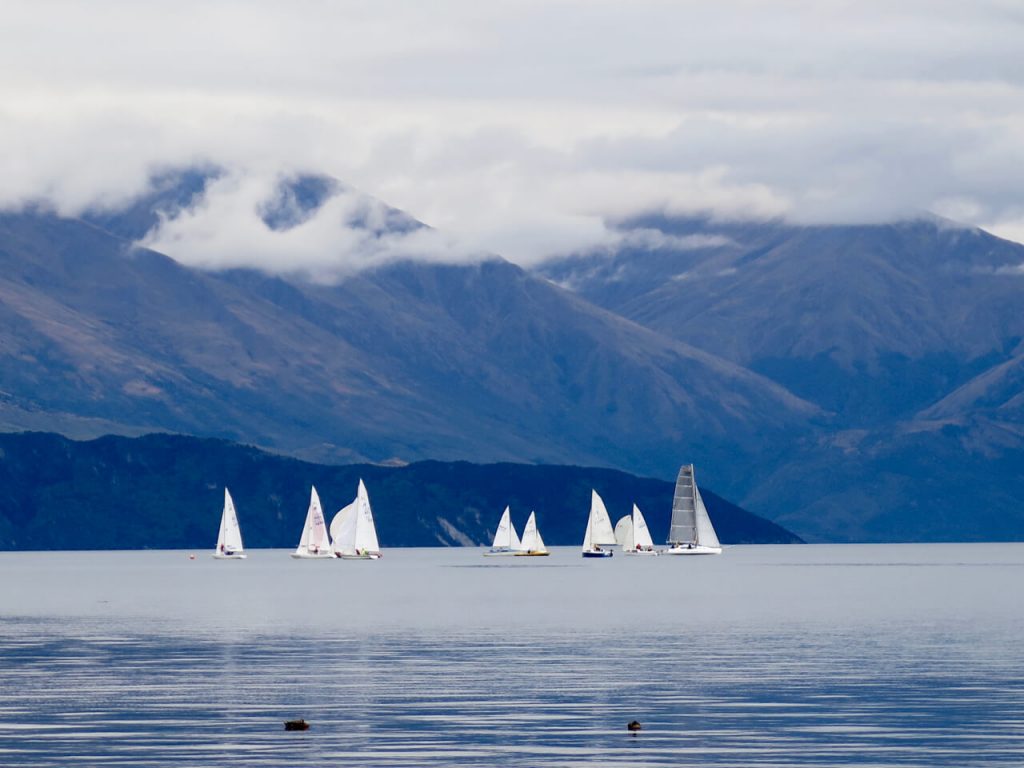 But for all my complaining, rain and sandflies are pretty much the worst things that can happen to you in New Zealand.
In Australia everything can kill you, but in New Zealand, nothing will even try. There are no natural predators here – by which I mean real predators, like scary ones – and the only introduced predators are possums, stoats (which are basically ferrets), and rats. The most common wild animals in New Zealand, according to my super-scientific window seat assessment, are the following:
A variety of funky birds (including penguins, those glorified vertical ducks)

Sea lions and seals (adorable, furry, overstuffed sea sausages)
Possums (fuzzy little terrors that were imported to be hunted for their fur and are now eating the forests that haven't yet been plowed for sheep pasture)
Evil sandflies
Saying Goodbye to Van Life
At the end of these two months, I've realized van life is basically playing fort for grown-ups. It's a little silly, and sometimes we wonder what exactly we're doing here, living in a car. Space is tight. Our organizational system is held together from the ceiling by string. Socks and headlamps, and occasionally clean laundry, dangle from every handle and mirror. Every movement requires yogic contortions, and two months is a lot of nights of putting on shoes and a coat to go pee in the middle of the night.
Now that April is almost over, it's mid-autumn and getting cold down here, which means time to head north, back into summer.
But I'm going to miss our cozy home. I'm going to miss waking up in the morning and stepping outside. I'm going to miss cooking our meals in the sunshine – and not miss cooking in the van during a rainstorm and smelling like onions for the rest of the day.
We've been though a lot together, this girl (and boy) and her van: 6,250 kilometers, 12 tanks of gas, two liters of olive oil, and at least 10 pounds of fettuccine.
Such is life on the road with an Italian (although I'm told I pulled more than my weight in the pasta department). And at the end of and our quiet, lazy and cramped mini-van adventure, we're ready for the most miniature apartment Paris or New York could throw at us.