This post contains affiliate links; see my privacy policy for details.
Imagine you want to take a trip through the Italian countryside. You could always rent a car and drive through Tuscany – but you're aiming for something a bit more adventurous, a bit less expected. So instead, you start looking into an e-bike tour in Italy's Marche region.
And instead of planning it yourself, and relying on hours of research and your best guess to try to avoid tourist traps, you ask your very outdoorsy Italian friend, Marco, to set you up.
Marco, a smiling, energetic 40-something with a dark beard, recently moved back to his hometown in Italy's under-the-radar Marche region. (A gem of Central Italy, Marche is just over the Apennine Mountains from Tuscany and Umbria.)
And Marco and his wife, Silvia, happen to have a garage full of shiny new Italian mountain bikes (and e-bikes, thankfully), ready to lend to their friends.
All you have to do is show up. Book your ticket to Italy, and then a train to the 1,000-year-old mountain town of Fabriano, and Marco and Silvia will take care of the rest.
I didn't know that's what I was signing up for when I said yes to this trip with very small tour company, Basecamp523, but that's exactly what it felt like.
It felt like we had local friends who planned the perfect trip they would want to take, stringing together a list of stops we never would have found on our own. (Many of which no other tourists seemed to know about, since we didn't see a single one for the entire week!)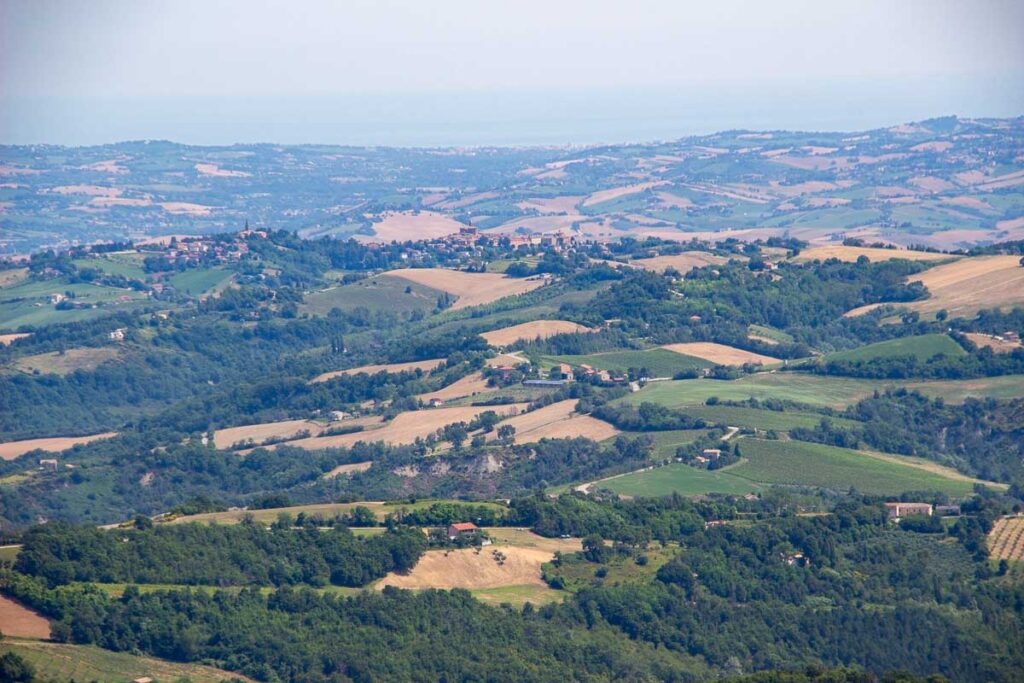 What exactly is this Italian bike trip?
Marco calls the trip "Ruralmente," which means "rurally" in English. It's a one-week, supported and guided bike trip covering about 90 miles (145 kilometers), from the central mountains to the East coast of Italy, with lots of gastronomic and artisanal stops along the way. (Think: wine, olive oil and honey tastings, visits to medieval towns, and a workshop in the ancient local art of paper making. A classic European cycling holiday, with just the right twists.)
Those 90 miles break down to anywhere from 8 to 28 miles a day (13 to 45 km). And if that sounds like a lot to you, don't stop reading yet! A couple of things made this particular Italian bike trip a lot less intimidating:
"Supported" means you don't have to carry your luggage on your bike – a car shuttles everyone's bags from one hotel to the next every day, while you ride.
"Bike trip" means either on a mountain bike, if you want to peddle your heart out, or an electric bike! The e-bike option is fantastic if you still want to work your legs, but would like to have a backup plan, too… since you're on vacation, after all. Basecamp will provide either one – brand new and perfectly maintained. (No need to ship your bike across an ocean.)
The Italians called the standard mountain bikes "muscular" bikes, which I found adorable. And I was more than happy to turn them down in favor of e-bike ease.
Pssst…
If you're already intrigued by this whole "bike trip in Italy" idea, be sure to get on my email list with the form below – there might be an opportunity for you to join me on this trip next year!
Prefer to go solo? No problem! You can save 10% on any Basecamp523 trip with my referral code: MAP10RURAL . (Including their self-guided bike tours in Italy.)
And check back soon for our video of the entire trip! It'll be on the Tilted Map YouTube channel, and I'll add it right here.
What's the catch? (Affordability)
It's also worth mentioning that this trip was almost shockingly affordable compared with any of the other best bike tours in Italy. (And especially compared with multi-day e-bike tours in Italy, which often cost even more.)
There are a couple of reason for the relatively lower price tag. One is that the Marche region is much more under the radar than very similar regions like Tuscany (a very popular bike trip destination, for rolling hills and wine tasting). Marche has the nickname "the poor man's Tuscany," which is a bit insulting, but definitely gets the idea across.
The second reason is that, while the accommodations, food and equipment were all excellent, Marco didn't design this to be a "luxury" bike tour, as many trips are. He designed it to be adventurous, with a focus on local hospitality, which is both better and (in this region, at least) less expensive. Win win, in my book!
Now, here's my full log of our trip:
Day 1: Biking 17 miles from Fabriano into the mountains
It was just the end of the first day when I realized this bike trip in Italy wasn't going to feel like most group trips I'd been on. We'd pedaled 17 miles, or 28 km – an "easy start" sort of day, designed to warm up our legs. (And I was already overwhelmed with gratitude that Emanuele, my Milanese husband and videographer, had insisted we go for the e-bikes.)
We'd started the morning in the medieval town of Fabriano, which has been famous for at least eight centuries for its artisan paper makers. And we were ending the day with an Aperol Spritz, served pool-side at a small resort in the mountains.
Artisan Paper Making in Fabriano
As every Italian told me before this trip, you can't visit Fabriano without visiting its famous paper making museum. Well, Marco and Silvia had a different idea – they wanted us to do something more unique.
So before we got set up with our e-bikes on Day 1, we spent an hour with Sandro Tiberi, a master paper maker. Sandro regaled us with the history of Fabriano's paper industry, and his own story working in that industry for decades, before he started his own workshop. That's where we created our own sheets of paper the old-fashioned way – except made of out of recycled cotton and bamboo fabric.
Fun Fact: That's one reason why natural fabrics that are 100% one fiber (as opposed to cotton-poly blends, for example) make for more eco-friendly clothing choices. Those blended fabrics can't be recycled or upcycled into paper or anything else. Check out my guide to sustainable clothing brands for more info!
The reason they sent us here, instead of the museum? As Marco put it:
"This is the kind of thing that makes a town stay alive, especially in inland Italy, where towns are disappearing."

Marco – Basecamp523 founder & Guide
Our first big stop once we started pedaling showed us exactly that. We visited the abandoned town of San Cristoforo, which Marco said lost its last inhabitants about six years ago.
That depopulation is happening in so many small towns in rural Italy, and it's the reason why it feels so significant to support the small businesses in these places.
It's a matter of life or death for communities, and for their traditions.
Because we've all seen the click-bait headlines about Italian towns selling villas for 1 euro, right? That's the last resort.
An earlier solution is supporting new enterprises, like Sandro's paper business, a creative and authentic way to show off centuries of tradition, and give artists and other locals a job that they don't have to move to Milan or Germany or the US for.
Mass tourism in Italy doesn't normally give a cent to rural communities, but this trip clearly does.
The Road Less Traveled (and harder to find)
We're no rookies to Italian travel planning – I lived in Milan for three years, and Emanuele did for 30 – and we get around a lot every time we go back for a visit. But still, at the end of the day, as I looked around, at the dramatic karst mountains jutting up behind the quiet pool, where the only other guests were one or two Italian couples on local get-aways, I kept thinking that I never would have picked this spot out on the map.
And I had no idea what to expect in this part of the Italian peninsula.
Tourism in this region of Italy – Le Marche – is overwhelmingly concentrated on the coastlines, and that's something Marco and Silvia say they're trying to balance out.
Marche isn't as famous outside of Italy as other coastal destinations – like Liguria (home of the Cinque Terre), Sicily, Sardinia, or the Amalfi Coast. Within Italy, though, it's a different story. Marche is still a major destination – known for its white pebbled beaches, turquoise waters of the Adriatic Sea, sunshine, and seafood.
But the interior of the Marche region is a different world from the beach towns. Just a few miles from the beach, stunning mountains jut up, with shocking white stone edges and thick forests.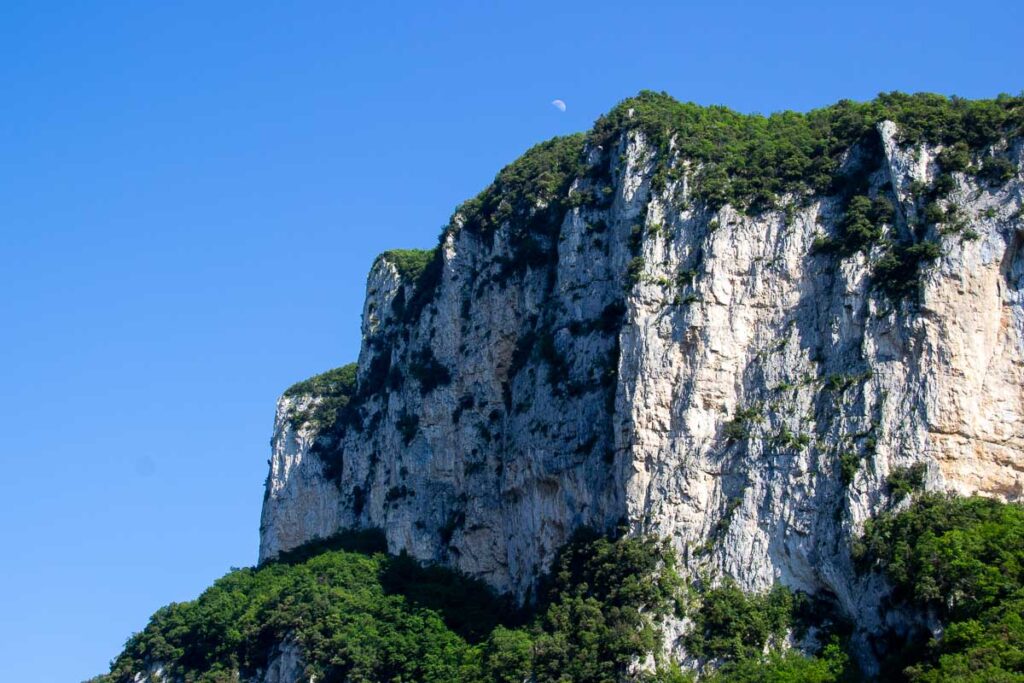 We rode our bikes past the line of tourists waiting to enter Le Grotte di Frasassi – the second largest cave in Europe. (We didn't stop – Marco deems it too touristy for this adventure.)
And after grimacing at the line as we glided by, we hardly saw another tourist for the rest of the week. Truly.
Instead of the famous caves, we stopped for lunch at a secret spot Marco knows on the Sentito River, where Silvia had stashed a cooler in the bushes with our homemade lunch. We changed into our swim suits behind a tree and took a very refreshing dip in the river before diving into our farro salads.
As we relaxed by the water, Marco pulled a small camping stove and silver moka coffee pot from his backpack. I don't think I've ever seen a group of Italians so excited to see someone making coffee.
After lunch, a short hike led us up to the kind of place I can't believe I've never heard of. (And as my legs slowly remembered how to walk uphill, I couldn't believe it was only Day 1, either.)
Il Santuario della Madonna di Frasassi (the Sanctuary of the Madonna of Frasassi) is a chapel and hermits' outpost, carved into the stone on the side of the mountain in the 800s. (That's not a typo, there's no 1 missing. While the most dramatic part of the sanctuary was finished in 1828, it's been used by religious hermits for a millennium.)
It was just sitting there, pale gray and shiny, cooled by the air from another cave behind the chapel.
And a few miles beyond, the mountains soften out into those gorgeous hillsides, just like what you see on postcards from Tuscany.
Compared to the American West, where landscapes go on for hundreds of miles, one of the best things about traveling in Italy is how little distance you need to cover to go from seaside, to dramatic mountains, to soft hills. The landscape is as efficient as it is beautiful.
Hotel, Pool Time & Local Dinner
After a few more easy kilometers, we checked into our hotel for the night – the Hotel Le Grotte. (This was the resort where we sipped Aperol Spritzs by the pool, as I mentioned above.)
In Italy's busiest tourist season, July and August, it'll be a busy place. But even in late June it was blissfully quiet. (Marco plans this trip when it's still cool enough to actually enjoy biking under the sun, and to avoid the crowds of the high season.)
Dinner was a fantastic spread at an agriturismo – an Italian farm stay, where you can sleep in what are usually rustic accommodations, and eat massive portions of truly local foods – made mostly with ingredients grown on the farm itself and nearby.
We went to bed happy and exhausted.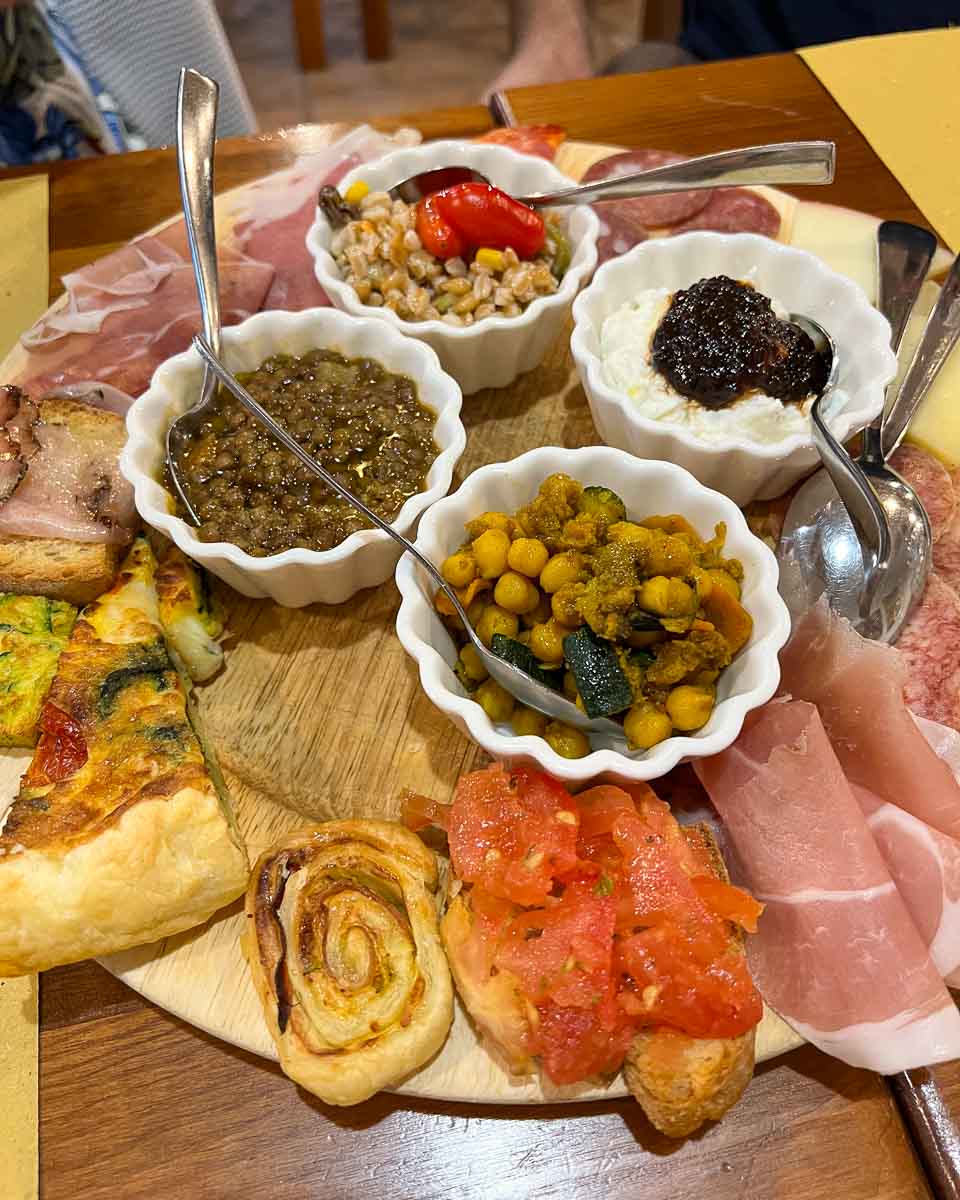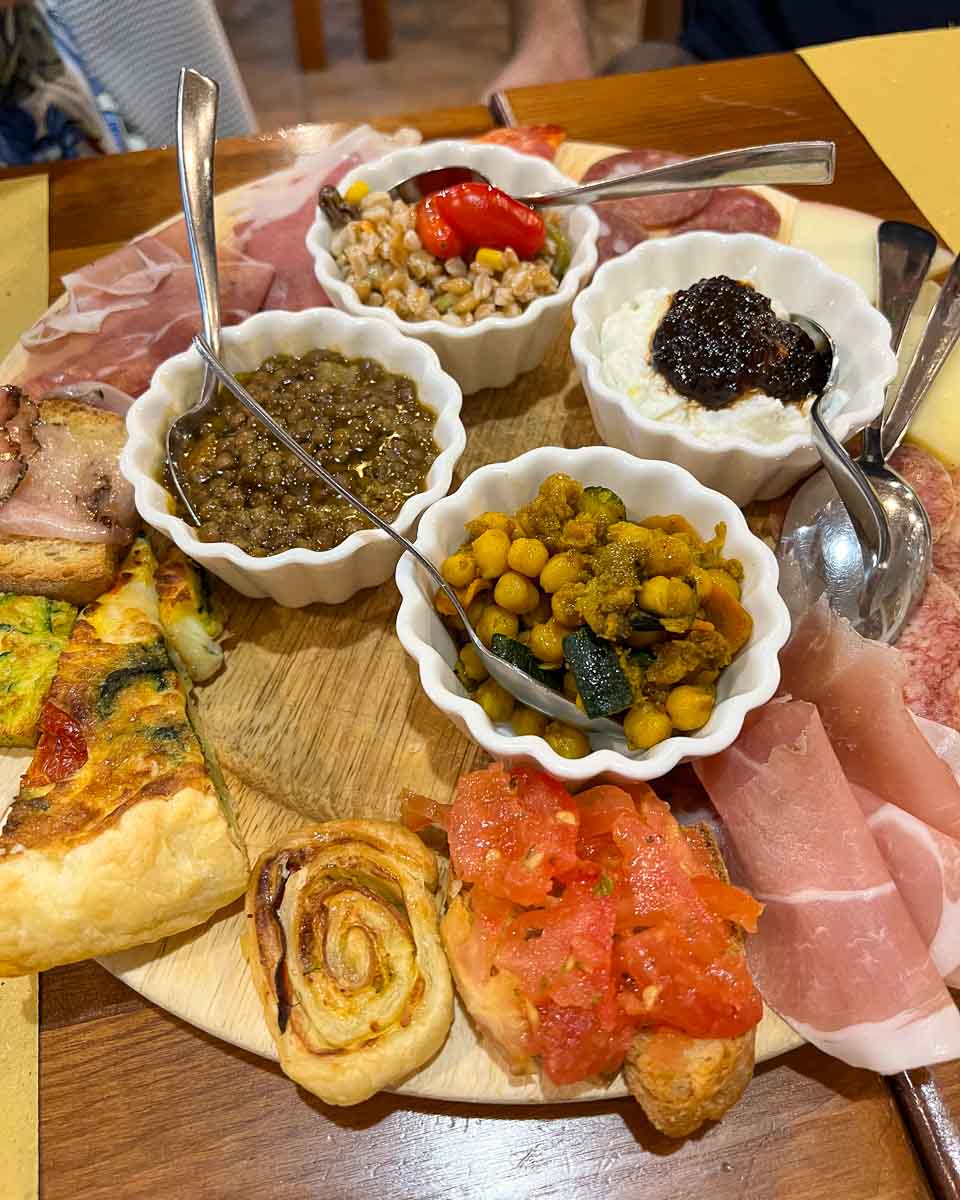 ---
Day 2: The longest, most beautiful bike ride through the Italian countryside
I made it to the end of Day 2 so exhausted I could hardly pick up my pen to write about the day. We covered 28 miles, or 45 km. And this was the day that I realized the profound, immense value of a good e-bike.
Why this trip made me an e-bike convert:
The e-bikes Marco set us up with were brand new, and let me tell you, they're worth their weight in gold. (This is the exact $3,000 model we used, which I fell a little bit in love with.)
Our electric bikes had four modes:
You can leave the electric part turned off, and just pedal like a regular bike. In that case, you'll have fewer gears than a normal mountain bike would, and it's a bit heavier, but it's an option.
Eco mode: This is the lowest level of support, the extra push from the motor is so subtle you hardly even feel it. The battery also lasts the longest with this mode.
Trail mode: Level two, you'll feel slightly more e-kick. It's not a motorcycle or anything; it just feels like every time you pedal, you get more than you expect.
Boost mode: For me, Boost is for when I'm pedaling up a long hill, and suddenly it goes from feeling like a nice, satisfying bit of effort (even in Trail mode), to just not fun anymore. Boost makes it fun again.
The higher levels burn through your e-bike's battery faster, so Marco cautioned us to use Boost sparingly. (But honestly, I boosted absolutely whenever I felt like it and always had more than half of my battery left at the end of the day.)
Body weight is a factor, too, so heavier people will burn through more battery. (But at 195 pounds, Emanuele also always finished the day with a comfortable amount of battery life.)
You still need to have a moderate level of fitness for this trip, that's for sure. Even on an e-bike, riding 30 miles a day is still a good workout!
But the e-bike makes it a lot less intimidating, even for first-time mountain bikers, like me!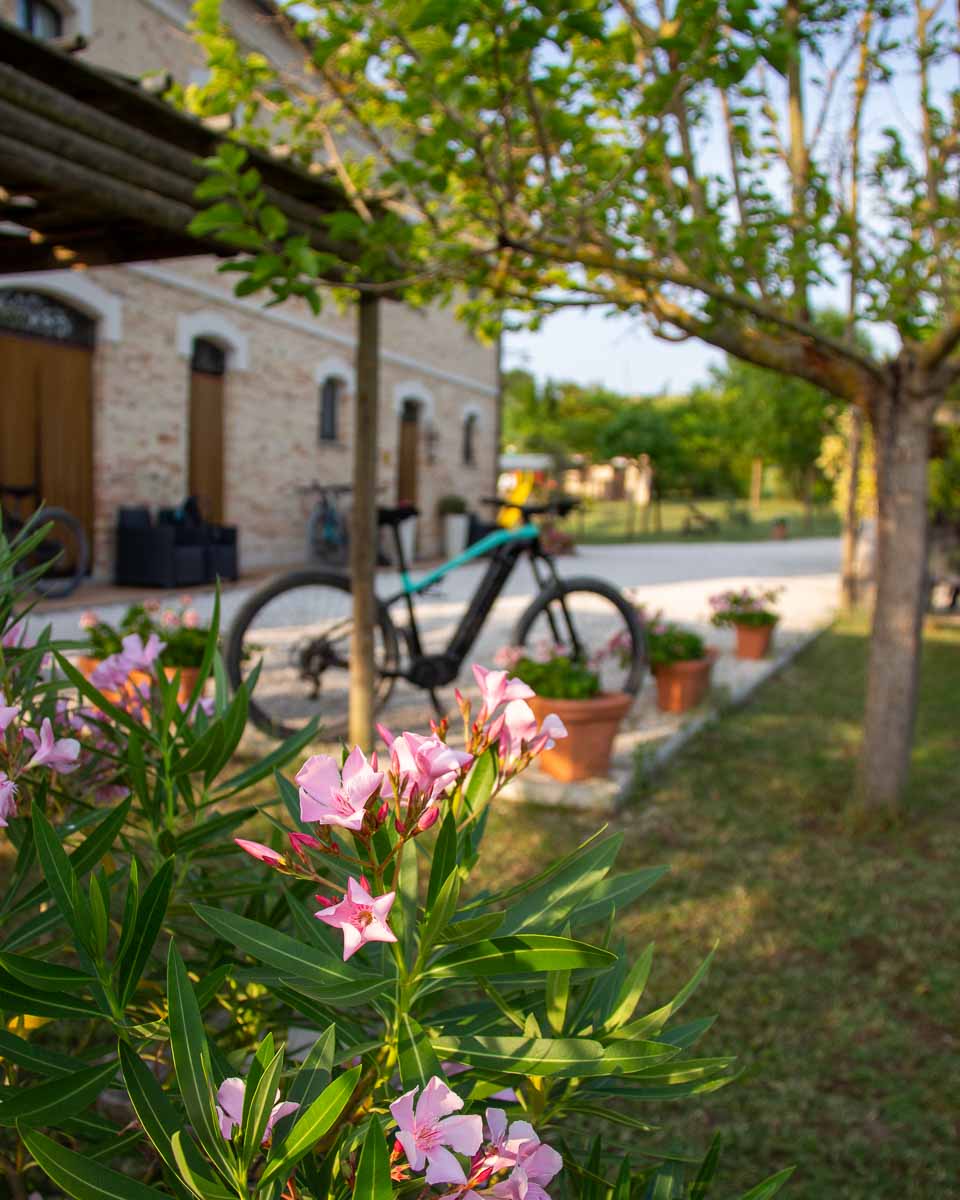 Farmhouse lunch & beekeeping lesson
Luckily, we broke up a long day of pedaling today with a fantastic, leisurely lunch prepared just for us by a farm family. (It's a working farm, not a restaurant, so it's not somewhere we would have been able to eat on our own. They cooked just for us.)
It was absolutely down-home cooking, and one of my favorite meals of the trip, with multiple (sometimes confusing) courses:
Pasta all'Amatriciana – a traditional, spicy kind of tomato sauce with Pecorino Romano cheese and guanciale (a type of cured pork)
A selection of grilled meats that were entirely fantastic. (And I'm a very selective meat eater, mostly for climate reasons (scroll to #5 on that article). So if I'm saying that, it means they're worth it!)
Lightly breaded, pan-fried vegetables that I wish I'd been able to get the recipe for. (I asked, but I got the idea it was a family secret.)
Fruit. (Which also makes an appearance in my wildly popular article about why Italians are relatively thin, despite eating all these decadent courses.)
Homemade tiramisù.
Oh, and beer and wine on the table – drink as much or little as you think you should, knowing you'll still have a few more miles to pedal later in the day.
After lunch, the actual beekeeping experience was a unique addition to the trip. We got all suited up in protective suits, and Andrea, the beekeeper, showed us his entire daily process to check on the bees. We each had a chance to pull a tray of live bees out of hive.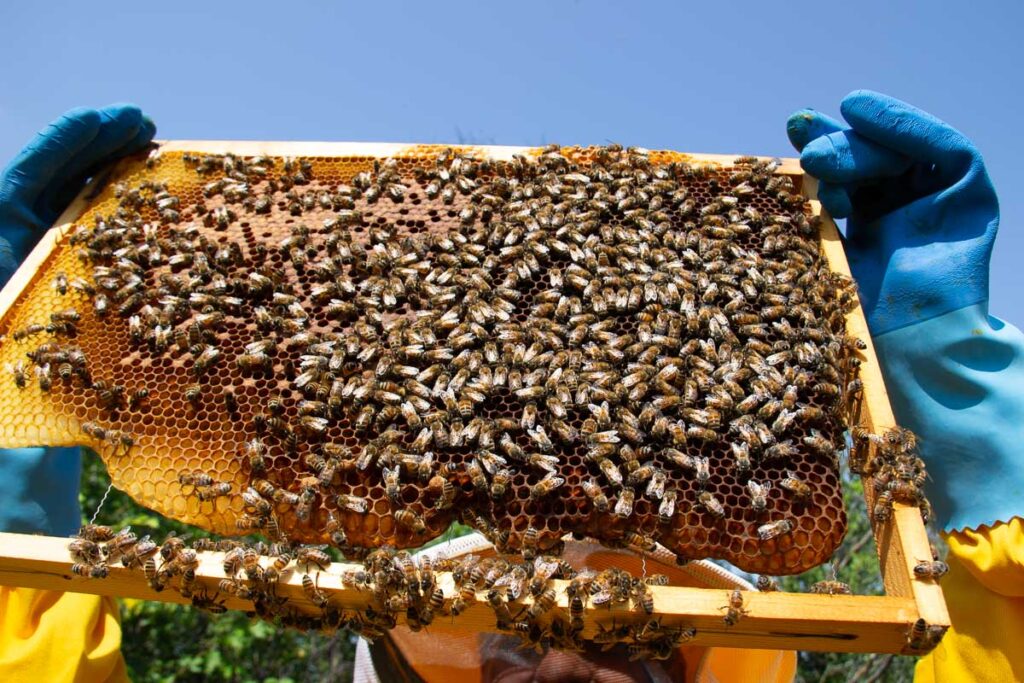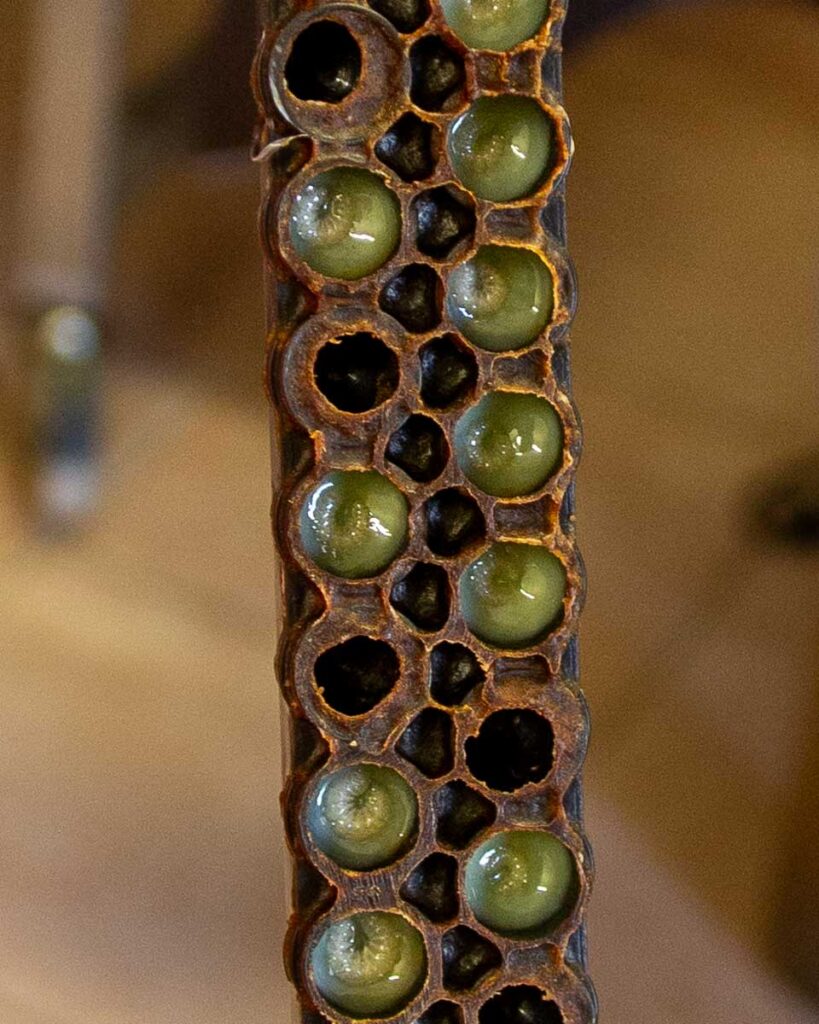 Bees and their royal jelly.
Back in the e-saddle
Then we got back on our bikes, to ride just a few more easy miles. It was one of my favorite rides of the entire trip, as we crossed farm fields bathed in absolutely gorgeous early evening light.
We decided it was a perfect spot for Emanuele to fly his drone, and capture some aerial shots on the way to our country hotel.
Everything was fine until…
He launched the drone and everything was going just fine… until suddenly it wasn't. It was following us along the white gravel road, when it failed to dodge some trees. I looked up to check where it was just as it happened… and saw our $1,000+ camera tumble down through the branches.
Somehow, I convinced Emanuele not to hurl himself down the steep hill from the road to rescue it. I went instead, slowly and carefully making the near vertical descent into the farmer's field, and then fighting my way through the bushes to pull it out.
As I climbed back up to the road, drone in one hand, clinging to handfuls of earth with the other, covered in scratches and brambles, I saw a middle-aged man riding by on his Vespa, with a helmet on his head and a calm expression on his face. He looked healthy, relaxed, and in no rush to get to where he was going.
It felt like such an idyllic moment of rural Italian life that I'd thought might not exist anymore. But there it was, picturesque like a movie, but right in front of me.
I brushed myself off, we inspected the drone – luckily, nothing was broken beyond repair – and we continued our relaxing, Golden Hour ride.
[Related: We've definitely had worse drone mess-ups! Read about this one on a plastic-free sailing trip in Greece, if you want a laugh… or a cry.]
One of my favorite agriturismi
That night, we stayed in one of my favorite properties of the trip – Piagge del Sole, a classic country farmhouse converted to a rural agriturismo. (Agriturismi is the plural of agriturismo in Italian.)
It's perched on a hill with gorgeous views all around, and a pool in the backyard. The perfect spot to relax after a long ride.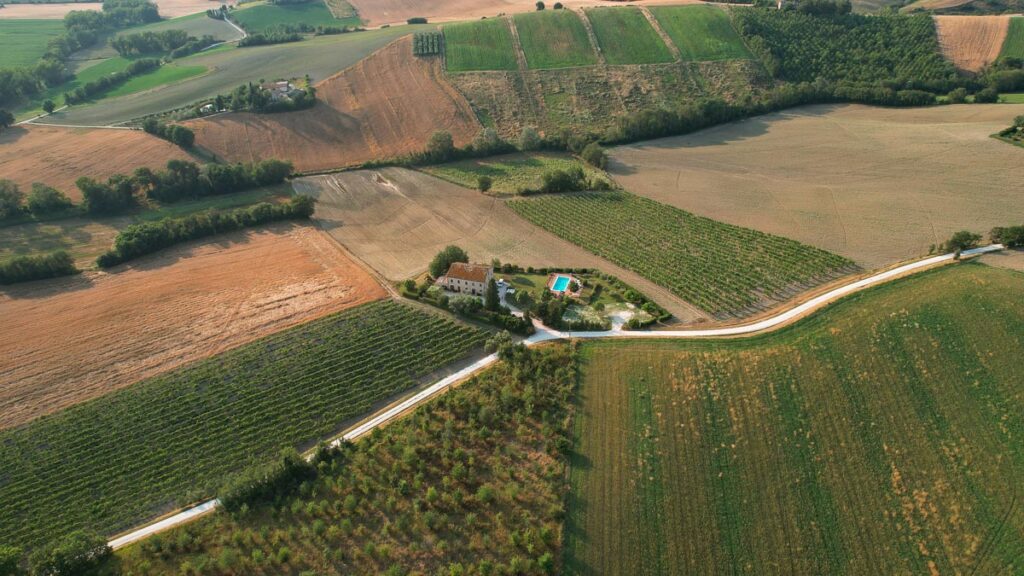 We also ate dinner here (gnocchi with duck and tomato sauce, a local speciality). I was a bit too relaxed for much food photography, but this was the view – quite literally from the patio where we ate: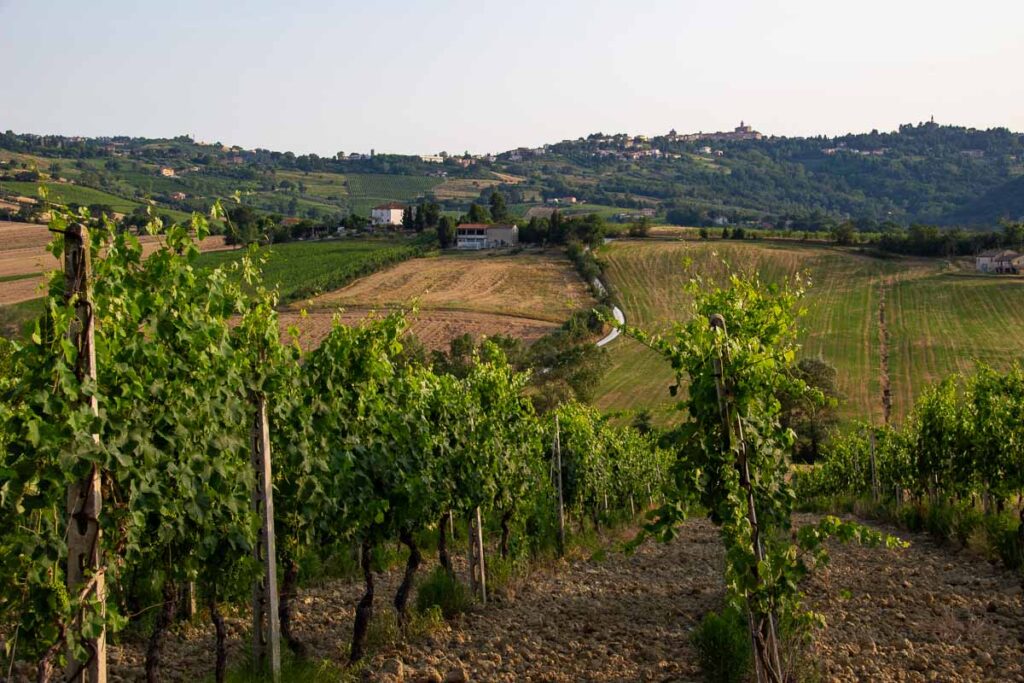 PIC – views from Piagge del Sole. Pool
---
Day 3: The foodie day – oil, wine and grandma's cooking
Ahh, Day Three gave us a much-needed rest for our legs, biking only 8 miles / 13 km. (Trust me, it'll feel like nothing after 45km!) And covering such little ground gave us lots time to soak up a few of the gastronomic gifts the area has to offer.
We started with a visit to a sustainable olive farmer named Giorgio.
You've probably done a wine tasting before, right? Well, how about an olive oil tasting?
Giorgio led us through an entire tasting lesson, explaining how to sample oils, how to recognize a good one, and which varieties to pair with different foods.
[Stay tuned! This was such a fascinating experience that I'll be writing a separate post on what I learned about how to taste olive oil.]
His business, called Colle Nobile, is a family farm, where you can easily see every tree from one view point. Giorgio purposefully keeps it small, because he wants to do something different – namely making sustainable farmed, "mono-cultivar" olive oils. That means every bottle contains oil from just one specific variety of olive tree, while most oils are a blend.
"It's the concept of wine, transported to olive oil."

Giorgio
And this particular kind of oil is hyper-local. Of the four varieties Giorgio grows, three of them are native to and grow only here, in the Marche region.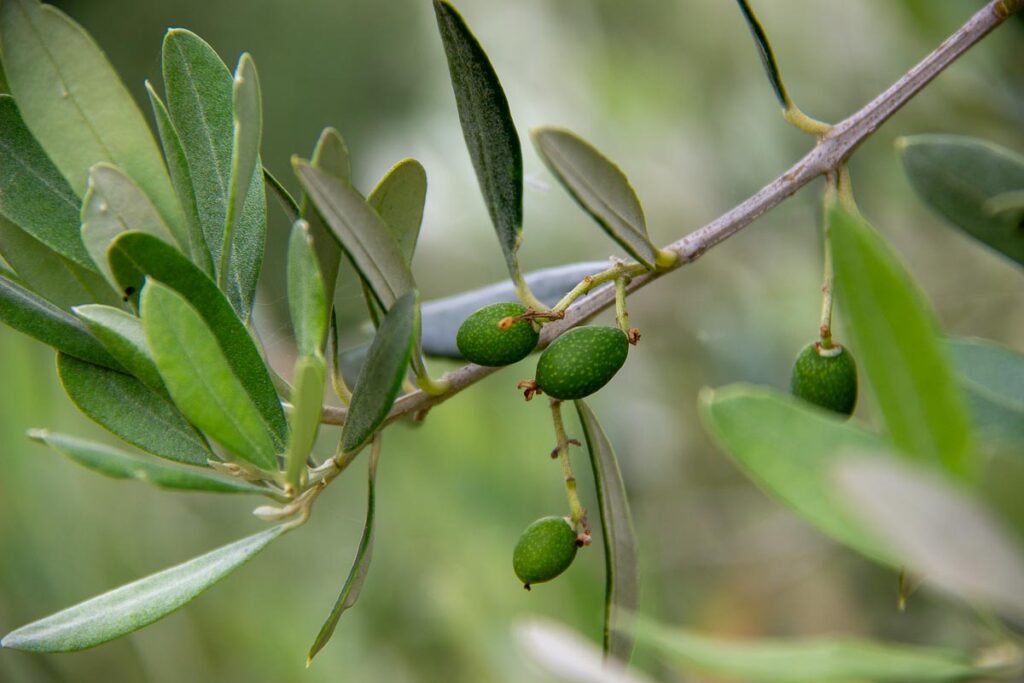 Although they practice organic farming techniques, Colle Nobile isn't yet certified organic. That's a familiar story I've seen played out with tons of small businesses around the world. Getting certified takes time and money, and when your business has just three employees, the paperwork probably won't be the first thing on your to-do list.
While we were busy learning about oil, Giorgio's mother, Elena, was preparing lunch. And let me tell you, it was another special one. Every dish was purposefully chosen to pair with the fresh oils and let their flavor shine. (This was another meal that isn't available to most tourists. The Nobile family doesn't run a restaurant, just a picnic table in the backyard of their family home.)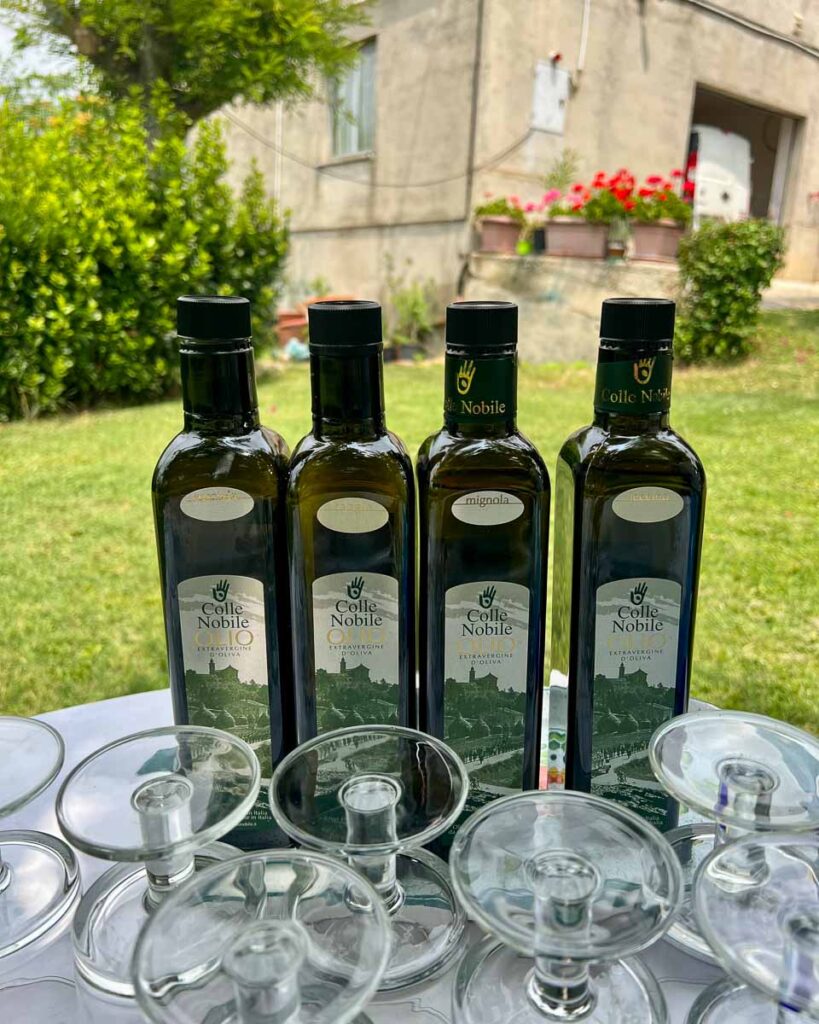 This meatless meal was purposefully designed to be light enough to highlight the flavor of the olive oils. (And the chocolates are made with oil from the olive groves behind us.)
From Olive Oil to Wine
After our olive oil afternoon, we checked into a very different kind of agriturismo. While most agriturismi I've stayed in have a slightly rustic, farmhouse vibe, Tenuta San Marcello goes for a more elegant take on the classic Italian farm stay. (Which made sense, after I learned that the couple that founded the place had lived in Milan for years. They brought some of the big city's dressed-up vibes.)
The property has another gorgeous pool, with an enviable view over the valley below. But we ended up spending so much time at the oil tasting that we didn't have time to take advantage of the pool before it was wine tasting time. (Just another reason to go back…)
3,000 Years of Wine Making
Before the tasting itself, one of the owners, Massimo, showed us around the property and explained that people have been producing wine in these hills for 3,000 years. The geology of the region, with limestone and layers of clay, makes it similar to Burgundy, one of France's most famous wine regions.
Massimo described wine making as "just the oldest way to preserve must," which is essentially grape juice.
"It's like what farmers do with milk, by making cheese. If we had tomatoes, we'd make tomato sauce. But we have grapes, so we make wine."

Massimo, Tenuta San Marcello vineyard & Winery
This particular winery has been around for 15 years, and has been biodynamic since the beginning. (That's a style of sustainable farming that's essentially a step beyond organic. Biodynamic farming allows even fewer inputs – chemicals, fertilizers, etc. – than organic farming, and follows traditional methods related to seasonality and moon cycles.)
No Chianti – pass the Verdicchio, please
Verdicchio is the local grape that put Marche on the map as a wine region, so naturally it's the specialty of this sustainable winery. (What Chianti is to Tuscany, Verdicchio is to Marche… except it's a white wine instead of a strong red.)
For some of their wine, Tenuta San Marcello uses the ancient amphorae technique. These giant containers are filled with grapes (skins and all), and buried underground, where the earth dissipates heat and keeps the wine cool. After "nine moons," or when the wine starts to touch the lid of the amphorae, the wine is ready.
We tasted their unique natural wines while eating a "light" dinner of farro salads, local cheeses, and local charcuterie.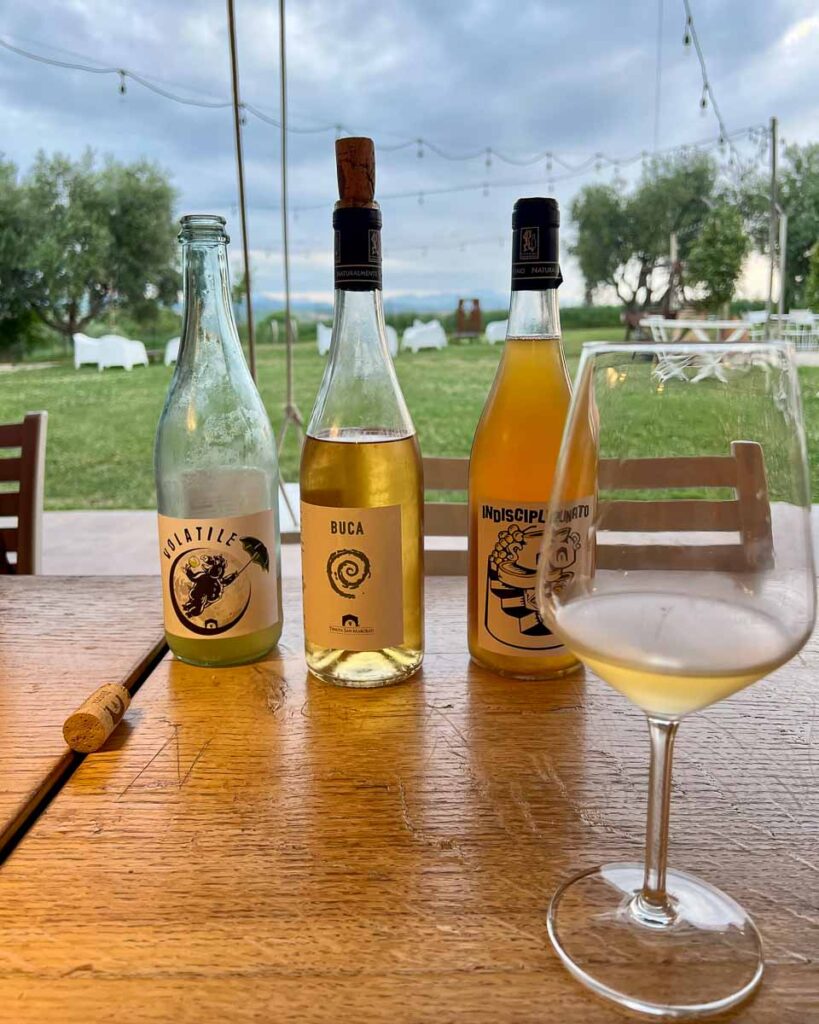 The natural wines had a totally different flavor from other verdicchio bottles. (Which we'd already been sampling since the beginning of this bike trip.) Personally, they reminded me of a very interesting cross between white wine and sour beer.
---
Day 4: 39 km ride to a medieval castle town
Day 4 was the reminder that we were actually on a bike trip, not just an oil and wine tasting trip. We covered a lot of ground today – 24 miles, or 39 km – cycling through some more absolutely beautiful country.
It made me kind of wish we could have split up the oil and wine tastings into two different days, but it all depends on where the best and most sustainability-focused producers happen to be.
And at the end of the day, I really didn't mind not doing a big visit today. It was also nice to just settle into the ride, enjoy the views, and just be alone with my thoughts.
We stopped for lunch – sack lunches prepared by the agriturismo where we stayed the night before – in a park in the medieval town of Polverigi, which is known for its live theatre scene. Next year, we might even be able to stay for a show, or a perhaps a tour of the town.
But this time, we hopped back on our bikes and pedaled up to the town of Offagna, which centers around a medieval castle. We checked into our hotel, Il Ristoro del Viandante, and had the late afternoon free to explore the town, before meeting back up for an aperitivo and then dinner in a local restaurant.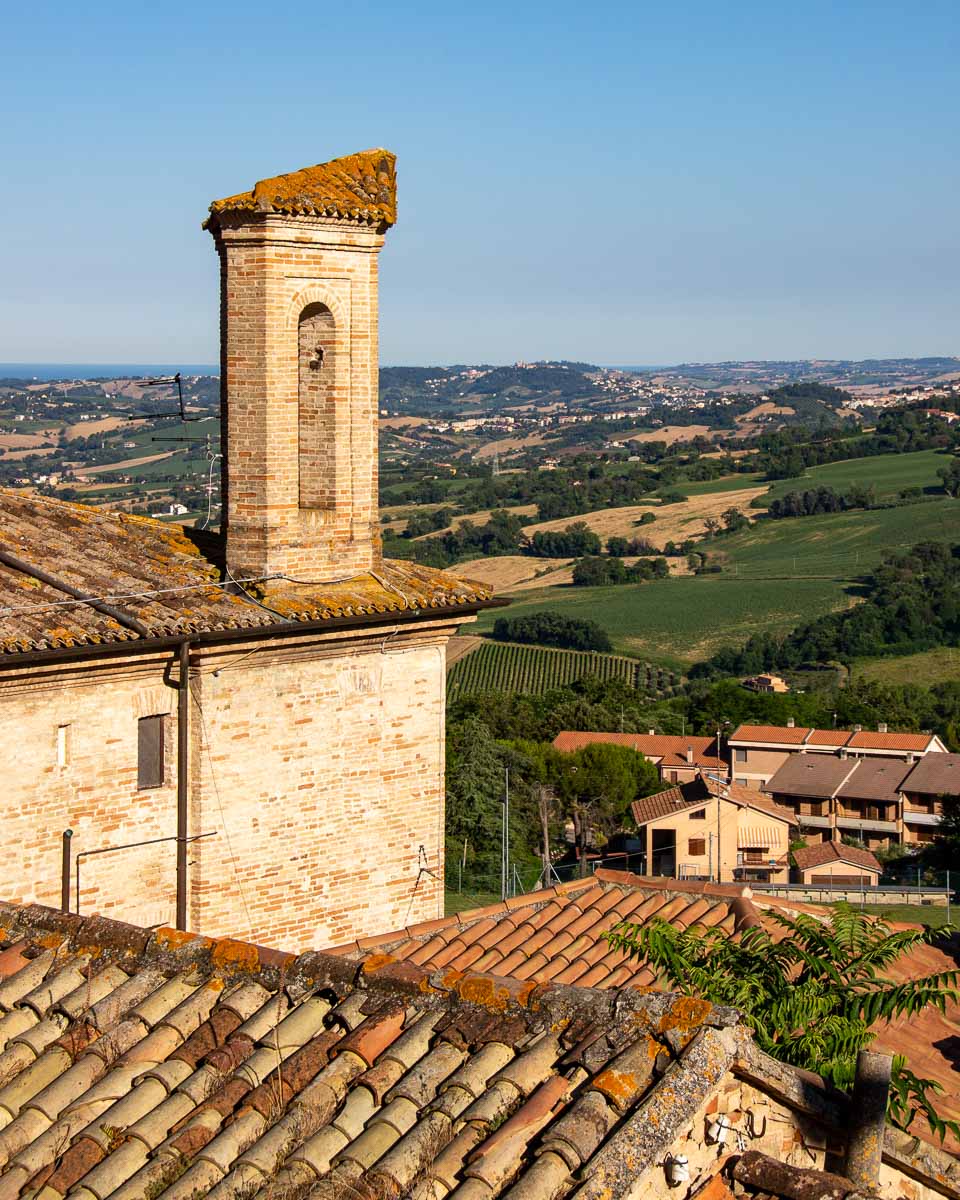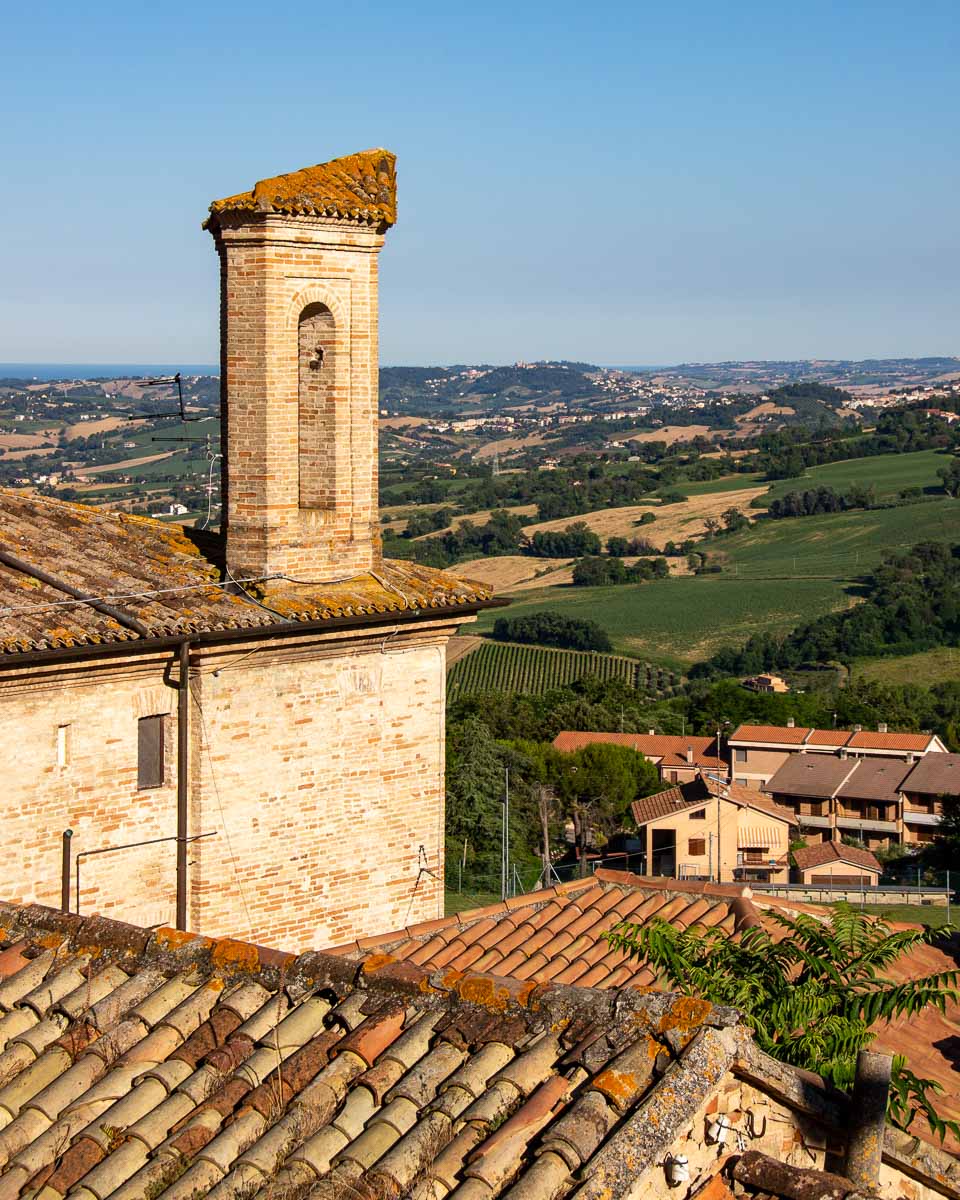 Gorgeous views from hilltop Offagna, and our dinner there: a "bis di primi," or two pasta first courses in one.
---
Day 5: A short bike ride down to the sea
The final day on our bikes was a short, satisfying ride from the high mountain castle of Offagna, to the classic Italian beach town of Sirolo, and the sharp blue waters of the Adriatic Sea. (We cycled about 13 miles, or 21 km.)
It was also the most poignant reminder of what a special experience we'd just had – an entire week without seeing another tourist!
As we rode down from the hills, getting closer to the coast, we finally bumped into several other small groups on bike trips. But before that, we'd been truly on our own, in places very few travelers ever go – especially in the shoulder season. (Any time besides July and August.)
Sirolo – the Pearl of the Adriatic
Then that all changed, as we arrived in Sirolo. It's still a small town, and is an excellent base for the endless outdoor adventures available nearby, but it's definitely on the tourism map, so it felt like a bit of a re-entry into civilization.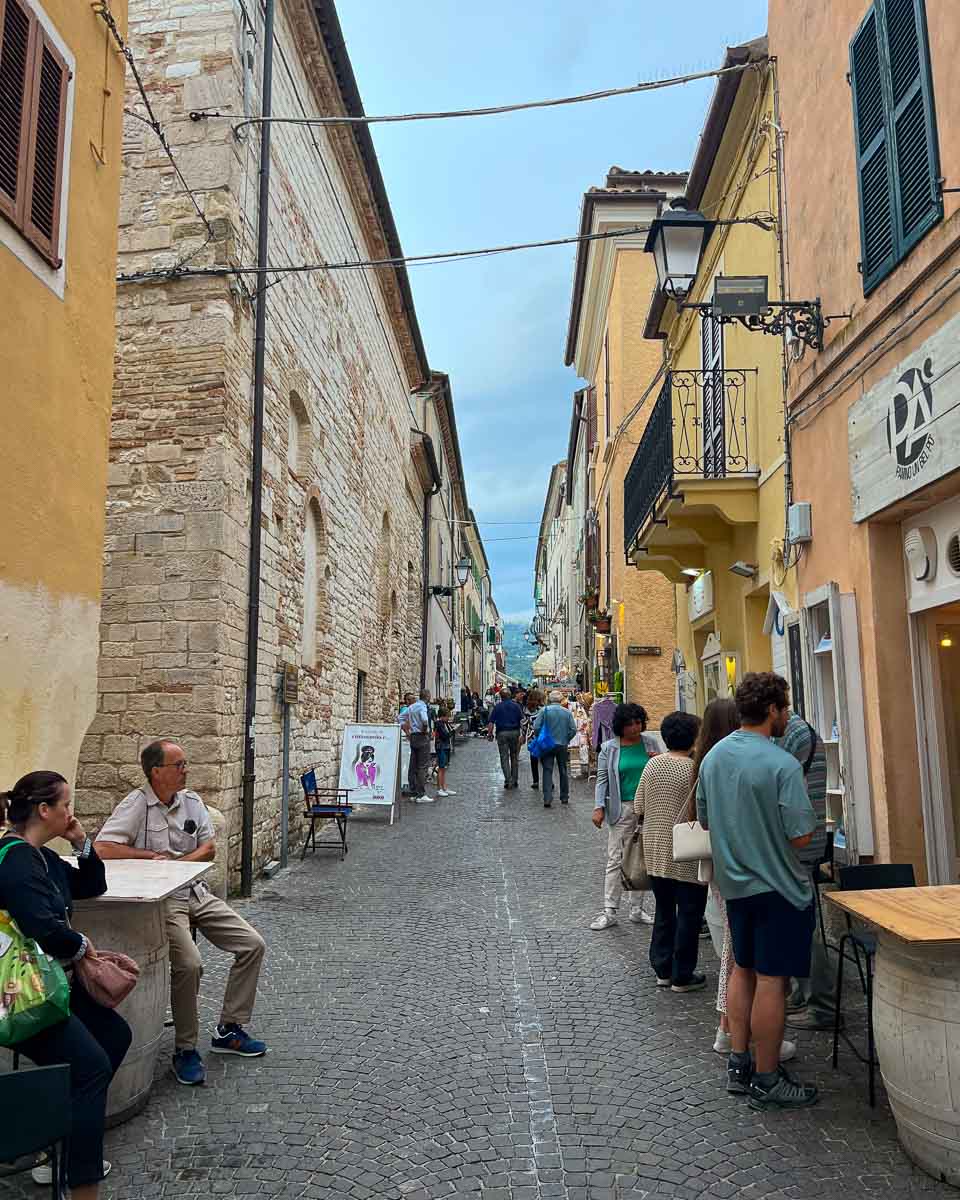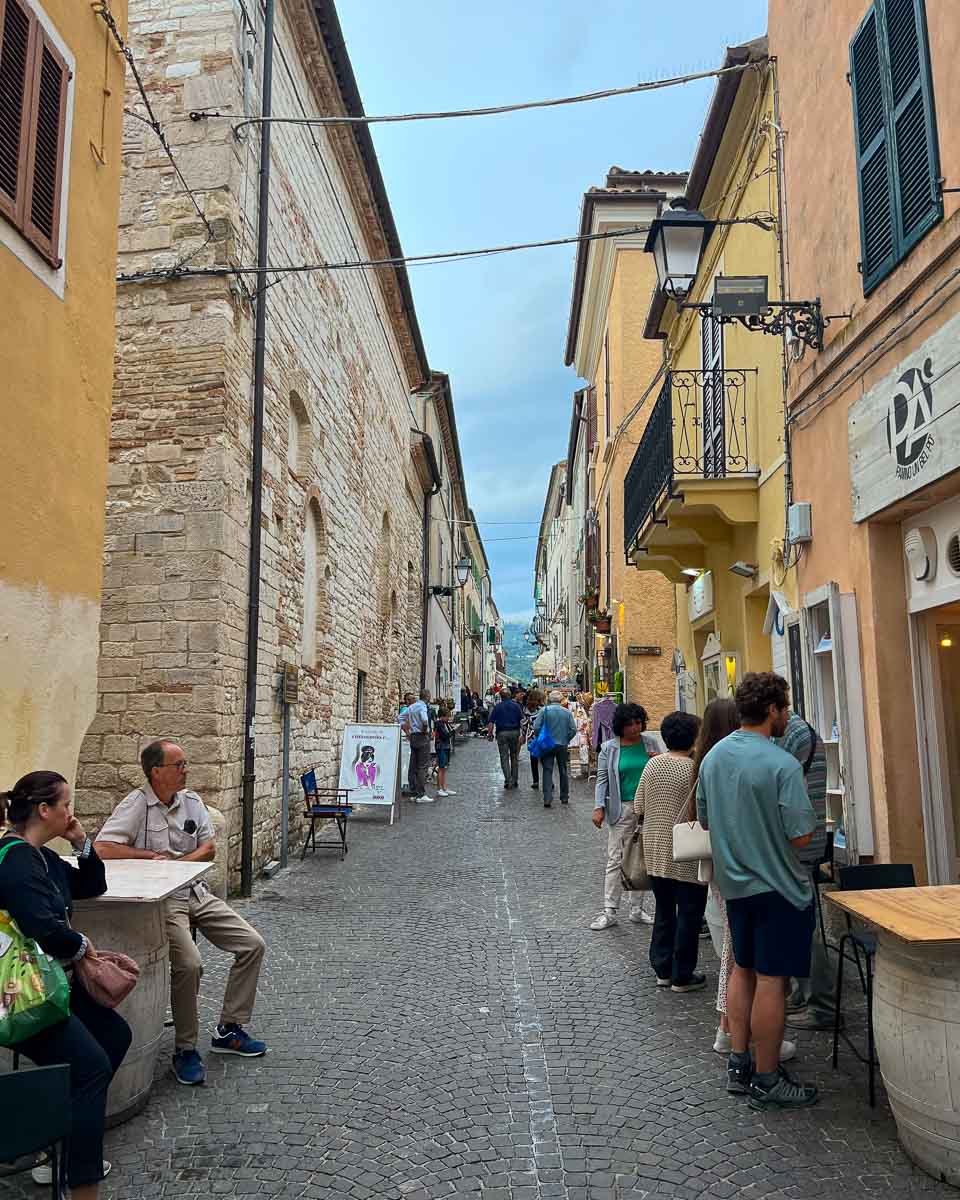 And about those adventure options: Sirolo is known as the jumping off point for Parco Naturale del Conero (Conero Natural Park – a regional conservation area), and lots of other nature areas that are perfect for kayaking, hiking, more bike riding, or just exploring beaches.
In Sirolo, we checked into a small hotel called Villa Ghirardelli. It had a beautiful garden area, but if I were to go back on my own, I think I'd opt for somewhere with a sea view – after pedaling all the way here, you might feel like you've earned it!
We were on our own for dinner, but we'd become such fast friends with our little tour group, that we couldn't skip one last dinner together. Marco made us a reservation at Ristorante della Rosa, a local gem that specializes in seafood. It was sort of a celebratory dinner, and definitely the most upscale restaurant we'd eaten at the entire trip.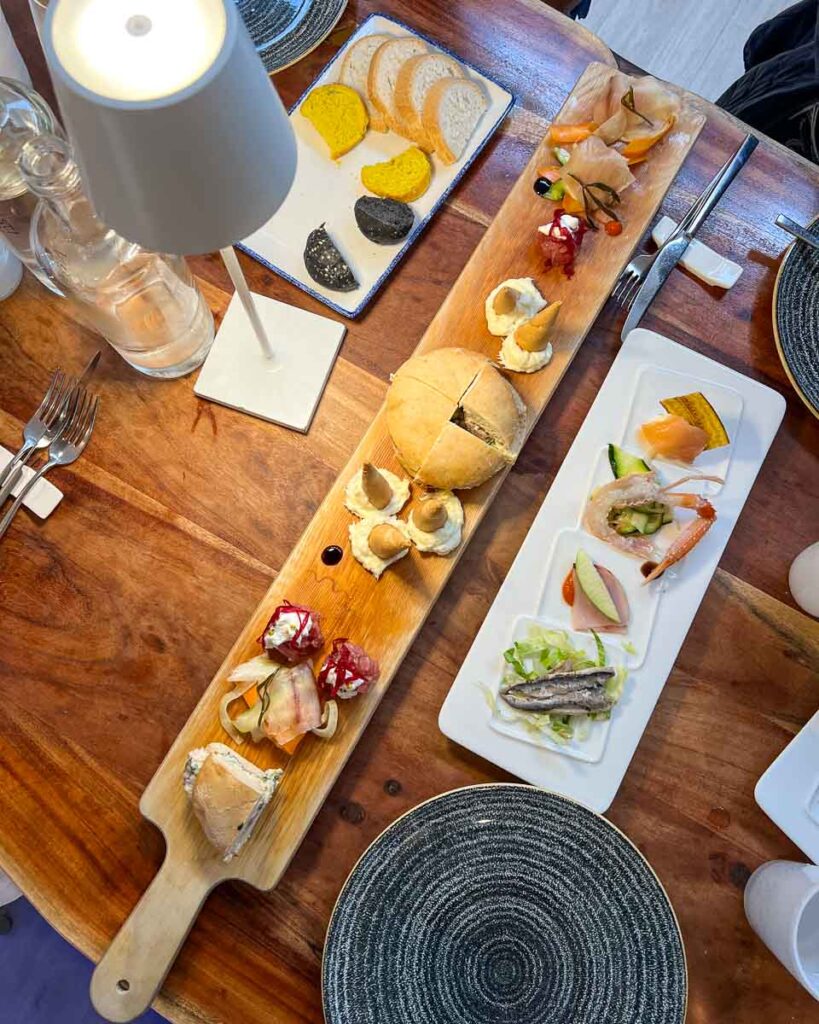 Of all the fantastic meals on this bike tour, this was definitely the furthest from traditional Italian homestyle cooking. (And I'll be adding this to my list of my favorite restaurants in Italy!)
---
Ciao for Now: The trip home & beyond
Next year, we'll have more time to spend adventuring around Sirolo and the surrounding area – and Marco's itinerary for this trip includes a Day 6 spent doing just that! But this time, we had a train to catch back up to Milan for an event with Emanuele's family.
So on Day 6, we headed up the coast just 20 km to Ancona. (A 30-minute drive, or 1-hour bus ride.)
While this trip was just a week out of my life, by the end, it felt like one of the most meaningful, and authentically Italian experiences I've ever had.
(And that's even after living in Italy for a few years.) I'd repeat it in a heartbeat, and would be happy to savor every view, every bite and even every muscle ache again.
---
Logistics – Getting to & from the Marche Region
Whether you want to keep exploring or head home, Ancona is the transportation hub that connects Marche to the world… or at least the rest of the region. From there, you could take a ferry across the Adriatic Sea to Croatia, Montenegro, Albania, or even Greece!
You can take advantage of Italy's excellent train system. It's just under two hours on the fast train from Ancona to Bologna, or about four hours to Milan, Rome, Bari or Venice. (Those are just the major options without changing trains.)
And Ancona does have a small airport, with mostly regional fights. (But to reduce the carbon footprint of your trip, I'd recommend taking a train to larger airport. Rome's Fiumicino airport (FCO) and Milan's three airports, especially Malpensa (MXP), are the biggest hubs in Italy.)
For booking train tickets, I recommend checking Omio (which lets you compare multiple train, bus, ferry and flight options in one search) and RailEurope (which also shows the difference in carbon emissions between trains and flights for each route). To read my take on the pros and cons of both platforms, see my guide to booking train tickets in Europe.
For ferry tickets, compare Omio and FerryHopper. (For what you need to know about booking ferry tickets, read this.)
And for flights, I recommend Kayak and Momondo, which I find give the best results, and let you sort flights by the lowest carbon emissions!
And stay tuned for my own, very realistic packing list for this trip! (I'd say it also has some good tips for any bike trip.)
In the meantime, check out my guide to packing light (carry-on only!) for any trip – including weeks at a time in Europe.
---
Come biking in Italy with me next year?
Did this story get you itching for an Italian bike trip? I hope so, because it was honestly one of my very favorite trips I've taken in the country – and I've seen a lot of Italy!
I was initially drawn to it because Marco and Basecamp523 share so much of my dedication to sustainable travel, getting off the beaten path, preventing over-tourism, and working exclusively with locally owned businesses. (Even the electric bikes Marco had us riding were all Italian brands!)
That was the baseline. But then the trip exceeded my expectations in so many ways that I've decided to take a group of Tilted Map readers with me for a repeat in 2024!
[Prefer to go solo, or make your own group? No problem! You can save 10% on any Basecamp523 trip with my referral code: MAP10RURAL .]
If there's even a chance you might be interested in the group trip, I recommend you get on my email list using the form below! I'll keep you updated on the trip plans! And I'll be sending out a survey about availability for dates, budget, and other preferences, so you'll want to be on the email list for that.
If you have any questions about this bike trip, or about Italy in general, leave a comment below and I'll get back to you!
---