This post contains affiliate links; see my privacy policy for details.
The best thing we can all do to make our clothing more sustainable is to buy less of it. The second-best thing we can do? Buy better.
And the way I see it, if we focus on better – on having high standards for the quality, sustainability, and beauty of the clothes we choose to buy – then less will come naturally.
So with that in mind, and in honor of Fashion Revolution Week 2023 – an awareness campaign focused on fast fashion brands to avoid – I wanted to share some of the best sustainable clothing brands, and why they're better, so you know what to look for.
This guide includes some sustainability superstars, like Patagonia and Everlane, and some smaller sustainable fashion names, newer brands focused on quality and natural fibers, like Unbound Merino, and upcyclers and independent designers from Kansas City to Prague.
What is Fashion Revolution Week?
Fashion Revolution Week was created by activists to mark the anniversary of the factory building collapse at Rana Plaza, in Bangladesh, in 2013.
The collapse killed 1,134 people. They were mostly young women sewing clothing for the world's biggest fashion brands. After the tragedy, many brands continued to deny having any of their clothes made at the factory, to avoid responsibility for the working conditions where their clothes are created.
That's why transparency is so important from clothing brands, and you'll see it from all of them on this list.
Right around that time, I got my start at telling people what to do (ahem, I mean… trying to make the world a more fair and equitable place) as a student activist for fair labor standards. Back in college, I helped badger my university's president into cutting a contract with Adidas over sweatshop labor practices right around the time Rana Plaza happened.
So I remember the tragedy clearly, and the issue of ethical clothing production is close to my heart.
And I have to say, I'm impressed by how many brands are now offering more ethical, sustainable clothing options than what was widely available a decade ago.
Help from a Sustainable Fashion Pro:
Clearly, the sustainability side of this list is entirely my wheelhouse, but I'm not exactly a fashion hound. So I decided to collaborate with a real-life boutique owner and sustainable fashion expert to come up with a list of brands we can both confidently recommend. Introducing… Cordova Pleasants!
Cordova is the owner and founder of Resolute Boutique, a sustainable clothing store in Juneau, Alaska, that I just fell in love with when I visited a few years back. She curates a unique selection of local and native Alaskan brands, as well as items from sustainable clothing brands from around the world.
(PS: She ships to the US and abroad from her website. A great way to support a woman-owned, sustainable, small business, which I do love to do.)
The brands on this list have some of the best sustainability records in the industry, and novel approaches to transparency, marketing, fair labor practices and choosing lower-impact materials.
What makes sustainable clothing?
In addition to fair wages and safe working conditions, sustainable clothing is about a lot of things: Better materials that require fewer toxic additives to produce, less waste, and higher quality – so that clothes don't become trash.
But I'm not going to go too far into any of those topics, just how bad the "fast fashion" industry has become, or how prevalent greenwashing is. If you want to know more about those topics, I added a video at the bottom of this article that I recommend watching.
Sustainable Denim Brands
Denim is notoriously one of the most resources-intensive, polluting fabrics to produce. It's mostly made of cotton, which requires more water and pesticides than nearly any other crop.
That's why jeans are an item that's really worth buying high quality and taking good care of, with a focus on fewer pairs that will last longer.
Buying second-hand denim is always the most sustainable option. When buying new jeans, 100% organic cotton denim is a worthwhile investment that protects the land, water, and workers who produce it.
What: Premium, low-impact denim
Who: Women's, men's and kids' styles
Where: New York City; made in a factory in Pakistan that's owned by the same family
How much: $$$
DL 1961 is a family-run, sustainable denim brand that reweaves much of its fabric from old jeans at its own factory. They optimize water, energy and dye use to create a low-impact, circular manufacturing process.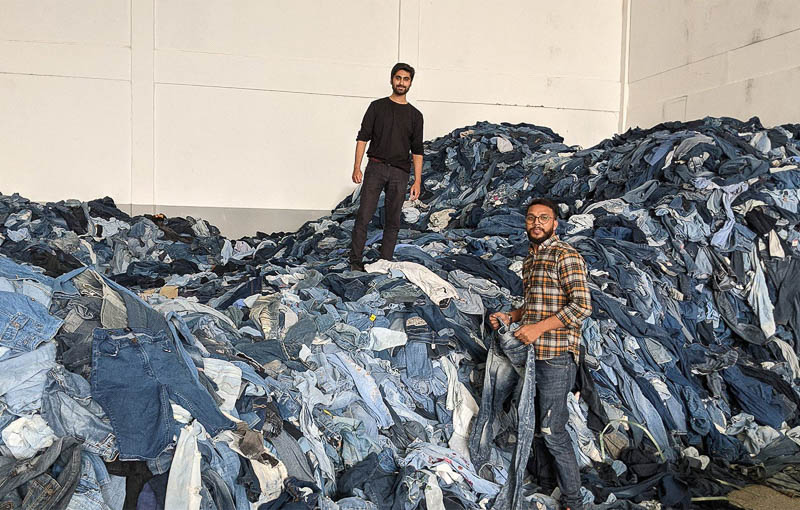 They're first on the list because they're a brand I discovered in Cordova's shop in Alaska!
Style Notes from Cordova:
"This is a fantastic brand for circular fashion! Plus, they've literally patented their two-way "Insta Sculpt" Technology to ensure the best fit. You'll also love their micro-fiber fabrics that help resist stains.
This denim line always keeps comfort and activeness in mind. You'll love their varieties of fits, rises, styles, and washes. Honestly, you could get by on a single pair of their jeans for days on end."
I agree! One stretchy, Instasculpt pair is usually the only denim I pack for weeks of travel. (Actually the only pants of any kind – I try to be a pretty light packer!)
---
What: Classic denim cuts
Who: Women's and men's styles
Where: Sweden HQ; made in living-wage factories around the world
How much: $$$
Nudie jeans is another sustainable denim brand that can actually back up their sustainability claims. Their style is very classic. These are jeans meant to be worn for life, not to fit a trend.
They have too many sustainability initiatives to list here, but I'll share a few. They use 100% organic denim, and recycled materials for other fabrics. They offer free repairs on any pair of Nudie Jeans for life. That's a company really standing behind its quality.
They're also expanding a living wage program at their factories, which means actually paying people enough to survive on. (Because even though the countries where most clothing is made – like India, Bangladesh, or Turkey – have a lower cost of living than in the West, the wages are often still far below the local poverty line.)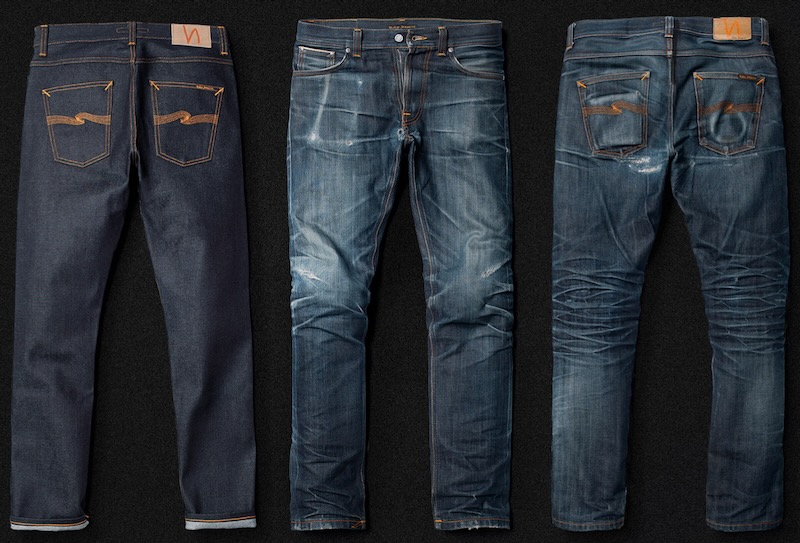 ---
What: Denim repair & reweaving
Who: Anyone
Where: New York City
How much: $ (less than buying new!)
For your jeans that aren't Nudie brand and need repairs, Denim Therapy is here to help. It isn't exactly a clothing brand though – this is a family tailoring business based in NYC. (I've been there and met them; they're a real family and very sweet and friendly!)
They specialize in all kinds of denim repair, including reweaving fabric that's been rubbed thin, for a price of $10 per inch.
I somehow found Denim Therapy in college and it's not an exaggeration to say I've been sending them my worn jeans to fix for a decade. Needless to say, they do a fantastic job.
If you try Denim Therapy, you can save 15% on your repair work with the discount code tiltedmap15.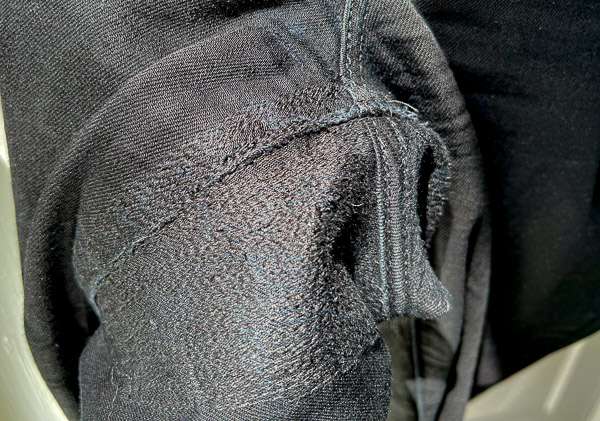 ---
What: Simple, modern high-quality basics
Who: Women's and men's styles – denim and much more
Where: San Francisco HQ; made in factories around with world with third-party oversight
How much: $$
Everlane is my go-to for anything simple. (Not basic, but simple. Clean lines. Modern styles. Nothing too trendy.)
They're also quite affordable for the quality, and refreshingly transparent. Everlane is the only company I've seen that shares a break-down of the costs involved in every piece.
(Of course, they're not cheap like fast fashion brands. It simply isn't possible to use decent materials and pay workers a livable wage when items are selling for a few dollars. But they're reasonable.)
Everlane is transitioning to 100% organic denim and organic cotton. (I've shopped here for years, and I've seen the gradual progress.) Their sweaters are made of recycled cashmere and organic cotton, and most synthetic fabrics are recycled. Even their leather is recycled!
They also have meaningful, measurable, and well-explained climate targets.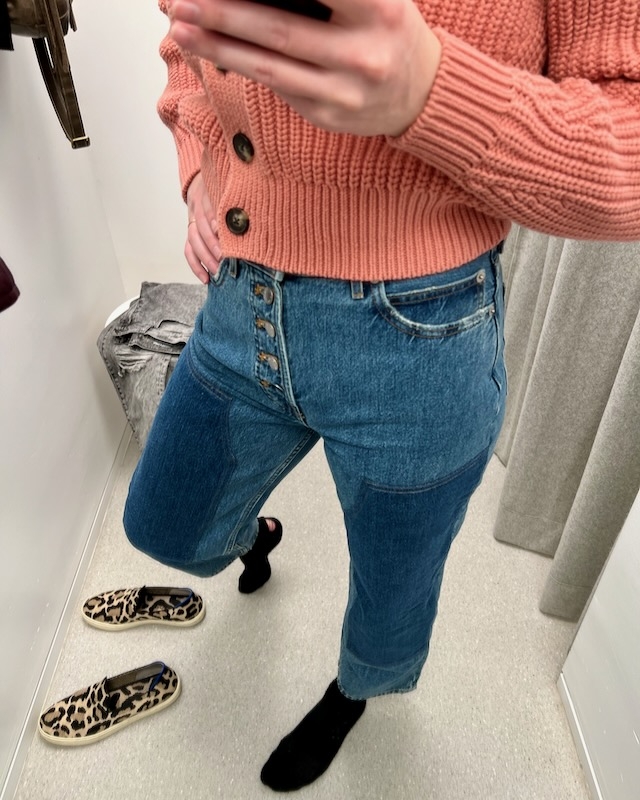 Me trying on Everlane's 100% organic cotton "painter jeans". (Also in that dressing room photo: the gray DL1961 I wore that day, and my Rothy's sneakers, which are below on this list! Possible next blog post? "How to Fix Holes in Your Socks.")
---
Thrifted, Vintage & Upcycled Clothing
There's no more sustainable clothing than the clothing that already exists in the world. Buying less, reusing what you have, taking care of things so they last longer — whether for you, or for a future owner — are the most meaningful ways to make your wardrobe more sustainable.
These brands are creatively giving new life to old clothes. They're mostly very small, local projects, but hopefully they'll give you an idea of what to look for in your own community!
What: High-end designer consignment
Who: Men's and women's styles
Where: Global with Paris HQ
How much: $$$$
These are a sustainable clothing option for two reasons — they're not new, and they're very high quality.
I try to make building my wardrobe more of a slow hunt, rather than a go out and buy what I find today kind of thing. So my high-quality basics come from a few brands I know — mostly Unbound Merino and Everlane. And then I spice them up with exciting finds.
Usually, I dig up the spice in local, up-scale consignment shops, or boutiques when I'm traveling. Vestiaire provides the same service, just casting a wider net. This is the place to go for heirloom quality, expert-authenticated, designer clothes that someone else doesn't want anymore.
---
What: Curated & upcycled thrift finds
Who: Women's styles
Where: Juneau, Alaska, USA
How much: $
Unus Wear is so small the brand doesn't have a website yet! Right now, their items are available online exclusively through the Resolute Boutique website.
From Cordova:
"This is a brand that is locally based here in Juneau! The owner, Serena Drazkowski, curates thrifted finds locally and from across the US, repairing and sometimes reimagining pieces. This is one of my best selling and most affordable brands and her collections are centered around themes like for cruise ships, heat of summer, and more.
You'll love Unus Wear for her quirky finds. A child of the Y2K era, you can expect top brands, flashy colors, all the hemlines, wild prints, yet also some classic pieces with a practical note. Since this brand primarily sources in Alaska, you can also expect great natural fibers and cozy pieces."
---
What: Upcycled & vintage
Who: Gender-neutral streetwear styles
Where: Hand-made in Prague, Czech Republic
How much: $$
On the other side of the world from Juneau, Nicolas Riabsameu, a Parisian in Prague is stitching old clothes into new, upcycled designs, as well as curating vintage finds.
All of his unique, one-of-a-kind designs are made from second-hand clothes, or deadstock fabrics. (Deadstock means smaller quantities of leftover fabrics, made for bigger brands, which would often end up in the landfill without creative designers finding a use for them.)
The Flava Supplier's style is streetwear, with inspiration from hip-hop, European soccer, and Japanese animation.
---
What: Upcycled & creative pieces with a Y2K style
Who: Women's styles
Where: Hand-made in Missouri, USA
How much: $$
Décalage is a new brand by Cydni Stanford, a young, independent designer based in Kansas City, Missouri, who I met at a travel conference last year. She started the brand in 2019, when she was just 18 years old! Her "why," in her own words:
"In addition to bringing BIPOC women to the forefront of fashion, Décalage is on a mission to educate consumers about the climate crisis and how we can help the planet and look good while doing so."
Her garments are one-of-a-kind items with a vintage, Y2K vibe – think, corsets, mini-skirts, and tube tops. Like The Flava Supplier (above), she creates them all by upcycling old clothing and diverting deadstock fabrics from the landfill.
Cydni also customizes old sneakers, boots and sandals to give them a new lease on life by adding paint, rhinestones, embroidery and more!
Cyndi wearing a dress from her Black Wallstreet collection, and an example of her customized sneakers – before and after! (All photos courtesy of Cydni Stanford.)
---
Clothing Brands using Natural Fibers
Unlike synthetics, natural fibers don't release polluting microplastics in the wash, and don't require petroleum as an ingredient. Of course, the best ones are organically farmed, which protects land, water, animals and workers.
What: Logo-free merino wool clothing in classic styles
Who: Men's and women's styles
Where: Toronto, Canada; manufactured in Italy, Romania, Portugal, China, Vietnam, and Toronto, in WRAP accredited factories
How much: $$$
About a year ago, I decided to try Unbound Merino for my travel wardrobe – it's famously odor-resistant, wrinkle-resistant, and classically stylish. (No logos, and unlike other merino brands, they styles don't make you feel like you're dressed for a hike.)
I tested the pieces on a few trips, and now I find myself ignoring my other clothes and reaching for Unbound at home, too.
I'm wearing one of their merino t-shirts right now, in fact – for about the third week straight. Yep, I've been wearing the same shirt for three weeks without washing it, and it still looks and smells clean. It's bizarre, but it's true.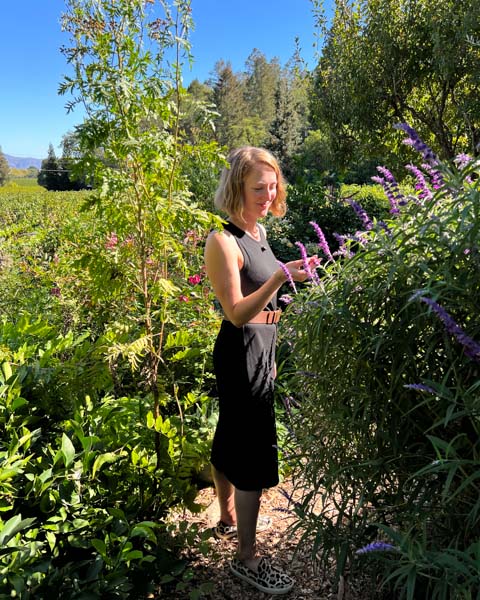 That's the beauty of merino wool. It's naturally breathable, and naturally resistant to both wrinkles and odor.
When farmed ethically, wool can be one of the most sustainable and long-lasting fabrics. (Unbound Merino is certified by the Responsible Wool Standard, which means their farms don't practice mulesing, among other things.)
If you want to try them out, you can use my discount code, TILTEDMAP, to save 10% on your first Unbound Merino order.
[Related: My full review of Unbound Merino, with 2023 updates for their design tweaks.)
---
What: Plant-based streetwear
Who: Gender-neutral styles, adult sizes
Where: Portland, Oregon, USA; made in North Carolina, Los Angeles, and Portugal
How much: $$$
Unless Collective makes 100% plastic-free, cotton clothing, and plant-based sneakers.
We all know cotton is a natural fiber, but what about the tags, trims, threads, and other little pieces of a cotton hoodie, for example? Usually, they're made of plastic. That's what Unless does differently – every element of their clothing is entirely plant-based.
They're a streetwear brand, and their graphic designs have a pretty Gen-Z aesthetic (see: the sweatshirt with a burning planet earth below). But some of their solid-color basics definitely have a wider appeal, and I love the sustainability concept behind this company!
They also have a takeback program to ensure their clothes can be recycled effectively.
---
What: Modern, unique and stylish
Who: Women's styles
Where: Basque Country, Spain (including production)
How much: $$
Ah, my Spanish love! I first found SKFK in a boutique in Madrid several years ago, back when they were still called Skunk Funk. I get why they changed the name.
While a lot of their styles are sort of funky – with unique patterns and colors – they're also very wearable and elegant. I have several organic cotton knit tops from SKFK that are part of my everyday wardrobe.
And they're one of the best, most sustainable clothing brands on this list: They have Science Based Climate Targets (meaning a real plan to reduce carbon emissions, with expert oversight). All of their stores, offices, and manufacturing are powered by renewable energy, and all of their clothes are Fair Trade certified and GOTS certified (Global Organic Textile Standard).
All of their clothes are made in Spain, and they don't currently ship to the US, but keep your eyes peeled for their boutiques if you're traveling in Europe!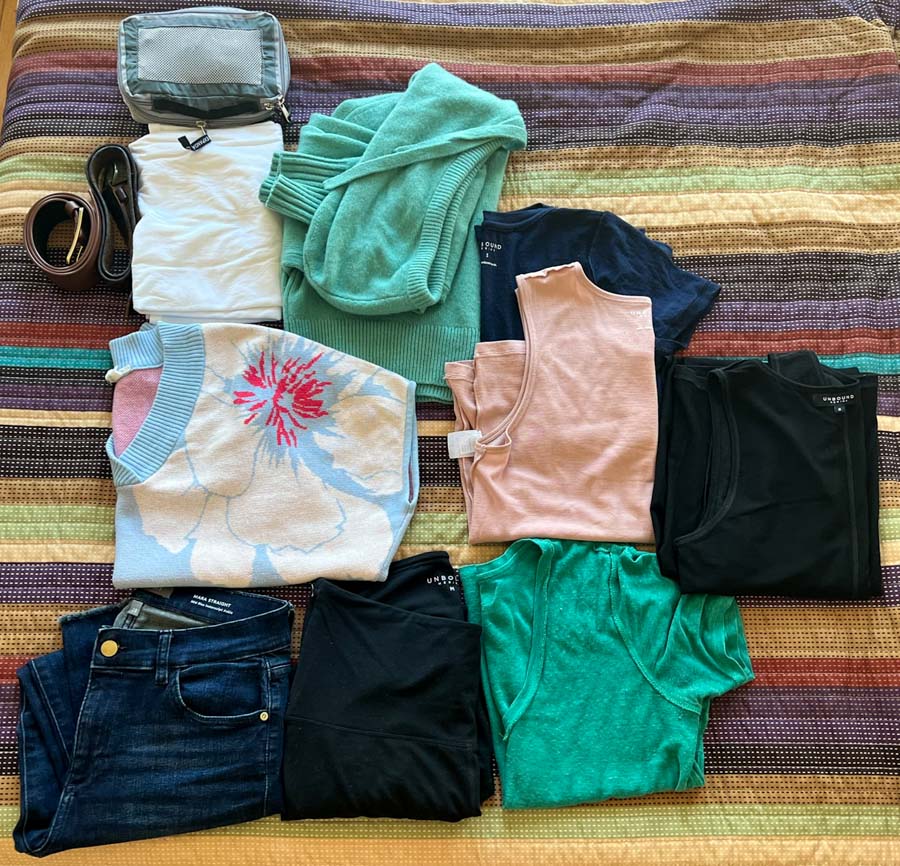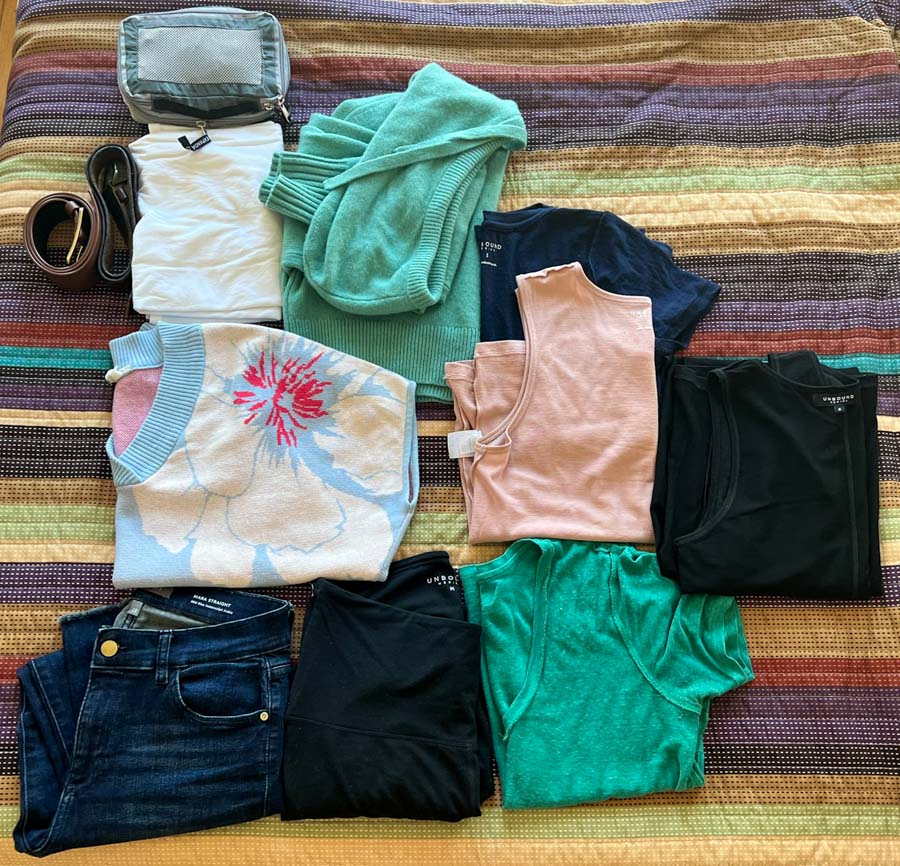 ---
What: Flowy, neutral colored organic cotton pieces
Who: Women's styles
Where: Long Beach, California HQ; made in Thailand
How much: $$$
Honest Cotton is a female-owned and operated company, with a focus on comfort. Their own description of their style inspiration is "coastal grandmother" alà Diane Keaton in Something's Gotta Give. (Natural, neutral, loose.)
Their 100% cotton clothing is machine washable, versatile, and "ethically made" – although I'm still waiting to hear from the brand on what exactly they mean by that. (I'll update this here if I hear back from them.) They use French seams – double seams that hide away the raw edges of fabric, making the garments more durable and higher quality.
From Cordova:
"I was immediately drawn to this brand because of their thick cottons and sustainability component. The owner/designer personally sells at fashion trade shows, so it was really fun to meet her and learn about her brand directly from the source! Pair these pieces with jeans, and layer with jewelry. This brand is a blank canvas for your wardrobe."
---
Clothing Made from Recycled Plastic
The most sustainable fabrics are made from natural fibers, but when we do use synthetic fabrics, making them from recycled materials greatly reduces the impact of production. These brands use post-consumer recycled plastics, which are rewoven into surprisingly breathable fabrics. They're reducing demand for virgin oil, and putting a waste stream to good use!
What: Practical, washable shoes & bags
Who: Men's and women's styles
Where: San Francisco HQ; made in a factory they own and operate in China
How much: $$$
I have three travel seasons, based on the shoes I pack: Flat Sorel ankle boots for winter. Birkenstocks for summer. And Rothy's sneakers for spring and fall.
They're my favorite comfortable, walkable, and very stylish shoes, and all Rothy's products are made from a fabric that's woven from recycled plastic. They're very well-made, and super low-maintenance. (Read: Entirely machine washable.)
I have the "camo cat" sneakers, one of Rothy's fun prints. It's great for travel, because I tend to pack really light, with mostly solid colors for a mix-and-match wardrobe (see Unbound Merino, above). So the print adds some flavor to what would other risk being a boring outfit!
They also make bags and purses that I've had my eye on for a while.
---
What: Athletic wear
Who: Women's and men's styles
Where: Los Angeles HQ; manufactured in China in a third-party certified factory
How much: $$
Wolven is a female-owned, sustainable small business making men's and women's yoga pants, swimsuits and athletic wear entirely out of recycled plastic bottles. That's very unique in the industry, and they have just about every sustainability and labor rights certification you could ask for.
Their unique designs and bright patterns are inspired by the founder's Pakistani and Indian heritage.
(All athletic wear is made from fabrics that are essentially plastic, most brands just use virgin plastic. So Wolven's clothes are still breathable and comfortable, while also avoiding the need to extract more resources from the ground.)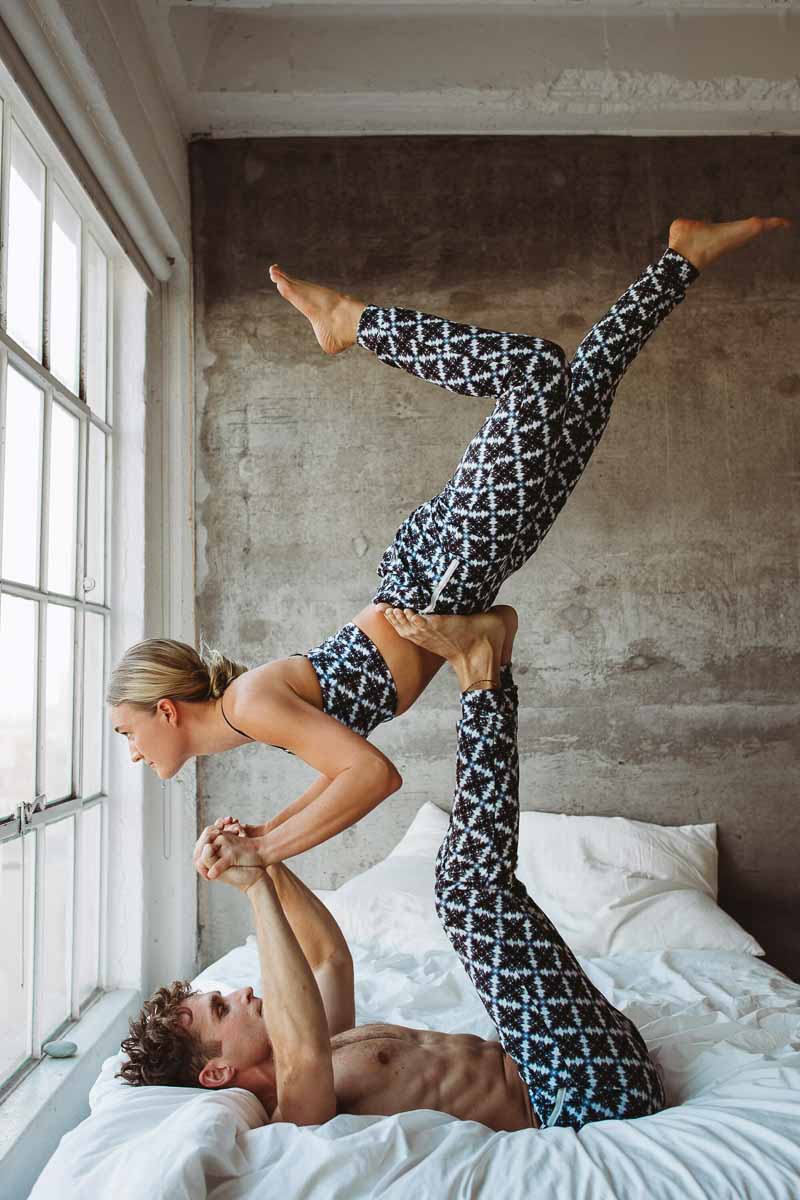 ---
What: Athletic wear
Who: Women's styles, lots of sizes
Where: Seattle, USA HQ; manufactured in a third-party certified factory in Vietnam (SA8000 – a certification for working conditions and wages)
How much: $$
Similar to Wolven, in that they make athletic wear out of recycled plastics, Girlfriend Collective is my other recommendation for eco-friendly yoga wear.
They skip Wolven's wild prints, but make a wide range of styles, colors, and sizes – XXS-6XL. They have a wider range of styles, too, with dresses, skorts, and unitards.
---
Clothing Brands with Ethical Manufacturing
The impetus for Fashion Revolution Week is the ending the "race to the bottom" style of capitalism that encourages cutting every corner, including the human ones. The result of this kind of business is that many clothes we buy are produced in sweatshops in developing countries, where people work in unsafe conditions, like the crumbling factory that led to the Rana Plaza collapse. These workers don't even make enough to live on locally.
That's why ethical labor practices, and paying living wages, must be a requirement for any sustainable clothing brand. This can be achieved anywhere, and all of the brands on this list are transparent about the factories that produce their clothes.
In this section, most brands use domestic production facilities in the US. While that doesn't guarantee perfect working conditions, it is a step in the right direction, vs producing in countries with less oversight and fewer protections for workers.
What: Quality leather goods, jewelry and clothing
Who: Women's styles
Where: Nashville, USA
How much: $$
Originally a leather shop with a mission, Nashville-based ABLE now also makes jewelry and clothing.
From Cordova:
"ABLE was created to help give women a meaningful place to work after leaving the sex industry. With manufacturing in Nashville, Mexico, Ethiopia and Brazil, ABLE works to make quality leather goods like bags and shoes.
You'll love ABLE for their simplistic designs. With minimalistic, versatile, and practical style, these pieces work effortlessly into your wardrobe. As they age and patina, they really become staple items. Most of their bags and shoes range from a beautiful blend of neutral colors like whiskey, cognac and bone, to seasonal washes like deep olive and berry shades."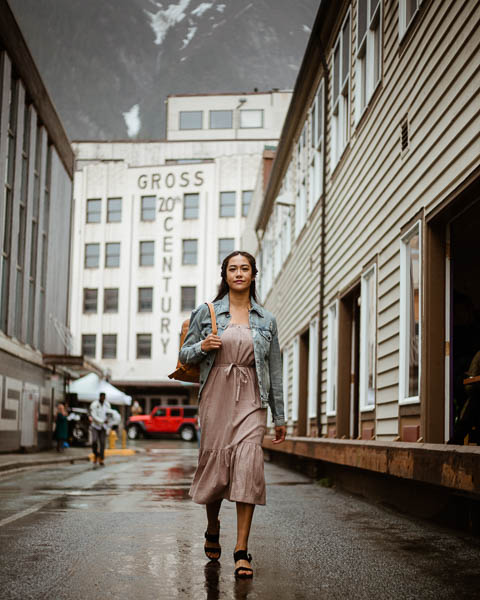 ---
What: Feminine styles in linen, cotton and Tencel
Who: Women's and girls' styles
Where: Los Angeles (including most production)
How much: $$
I love that Bella Dahl uses a lot of Tencel Lyocell – one of the most sustainable fabrics out there. Tencel (a brand name for the general fabric lyocell) is a versatile fabric that's made from wood pulp, but can feel similar to silk or cotton. It's naturally white, so it doesn't need to be bleached, and requires fewer chemicals than similar fabrics like modal or viscose.
Style Notes from Cordova:
"Made mostly in downtown Los Angeles, using natural fibers and fabrics, this brand focuses on capsule-like wardrobe essentials. You'll love Bella Dahl for their effortless, business casual style. This line KNOWS button-downs – they've literally built a business around them! Working in seasonal dresses and dip-dyed linens and silks, this brand is elegant live-in style.
With Tencel, these tops will carry you from the conference room to a night out. Once these staple shirts make it into your wardrobe, you'll find you can keep them there well into your 60's, 70's and beyond. Bella Dahl has somehow managed to create the perfect shirt styles with the utmost versatility!"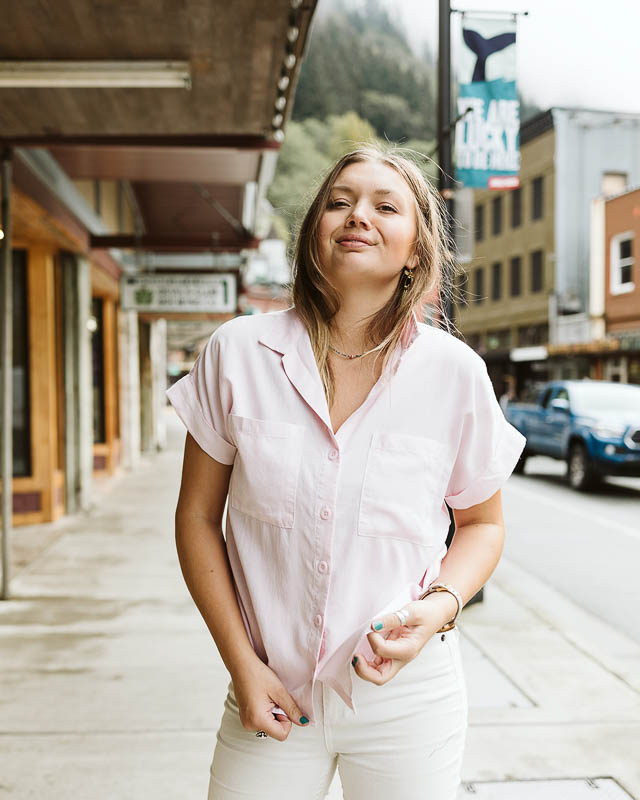 ---
What: Soft basics
Who: Mostly women's styles, but a few men's and kids' items, too
Where: Los Angeles (including production)
How much: $$$
As the name suggests, all LA Made clothes are manufactured in Los Angeles, in the same building as their offices. Along with being a good start at better working conditions, that means a lower carbon footprint from shipping finished products to US customers.
But there are some things that LA Made could improve. I'd like to see them using plastic-free packaging instead of just recycled plastic bags. And their vague promotion of an option to contribute to carbon offset programs (which I'm always skeptical of) at check-out with the phrase "saving Earth has never been easier" isn't my favorite.
Still, their shorter supply chains and US manufacturing make them certainly better than most clothing brands.
Style Notes from Cordova:
"This brand works to source all materials within a 10-mile radius of their family-owned, Los Angeles factory. Using biodegradable textiles, transparent pricing, and fair wages, LA Made seeks sustainability in all forms.
You'll love LA MADE for their timeless pieces. They tend to avoid the trends and move with their own rhythm. Ultra-soft pieces that help build your capsule wardrobe, you'll find thermals, dresses, tees and skirts that pair with just about everything! I haven't seen a lot of prints come from them; I generally see them put more effort toward texture and fit/shape in solid colors."
---
Sustainable Clothing Brands that Defy Definition
These sustainable clothing brands don't fit neatly into any of the categories above, but they're among the best in the business.
What: Menstrual underwear
Who: People who have periods or wear pantyliners
Where: Boise, Idaho, USA; ethically manufactured in Sri Lanka
How much: $$
Not many articles of clothing can help you use fewer single-use plastics, but Saalt can!
They make menstrual underwear, which absorb your period flow, and you just throw them in the laundry after wearing. They can replace pantyliners, pads and even tampons, depending on your needs.
Saalt is a certified B Corp, uses entirely plastic-free packaging, and have lots of other feathers in their sustainability cap. Here's what they shared when I asked about their factory:
"We manufacture in an incredible facility! 90% female workforce, all earning a living wage. The factory provides workforce education to their seamstresses, school supplies to their children, and have a platinum LEED certification."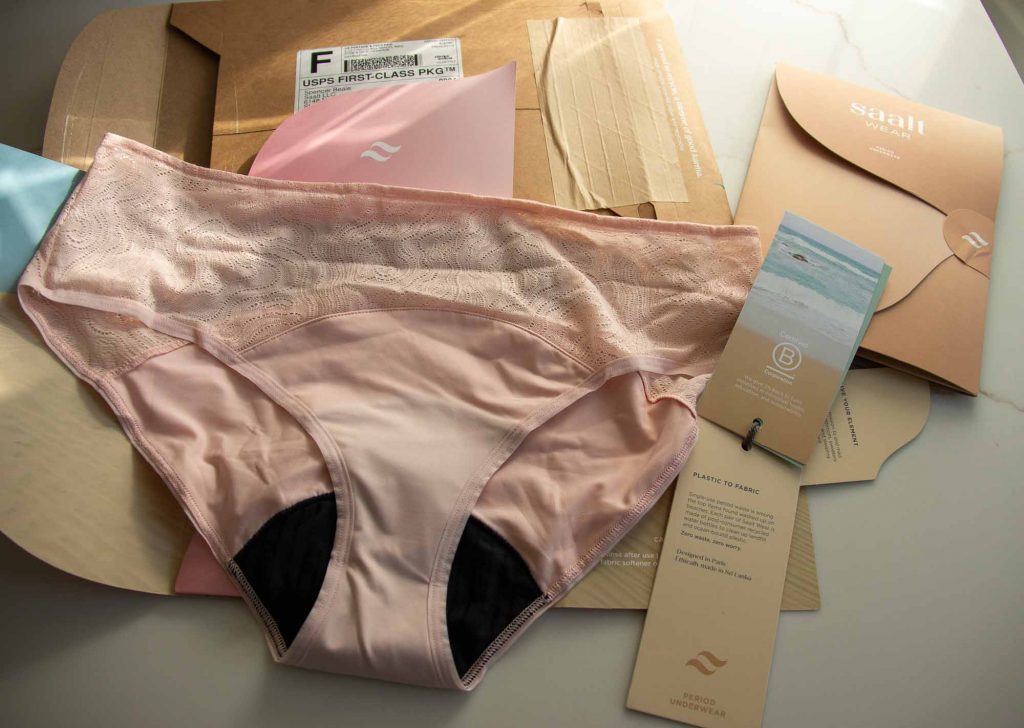 Brands Similar to Saalt:
After wearing them for years, Saalt is pretty much my favorite in this category, but I also really like Knix (lots of fun patterns, beautiful colors and smooth fabrics). And UK-based Wuka is a the most affordable brand I've found, while still using sustainable materials and ethical labor practices.
(I just don't recommend Thinx anymore. Personally, I've had bad experiences working with the company, and a recent class-action lawsuit over toxic "forever chemicals" in their underwear really nailed the coffin shut.)
[Related: Review & comparison of period underwear brands.]
---
What: Outdoor and casual wear
Who: Women's, men's and kids' styles
Where: Ventura, California, with Fair Trade certified manufacturing around the world
How much: $$$
Finally, no guide to sustainable clothing brands could be complete without mentioning Patagonia – perhaps the first, and likely the best sustainable clothing company.
For outdoor clothing built to last generations (and worth being repaired) Patagonia is the best there is.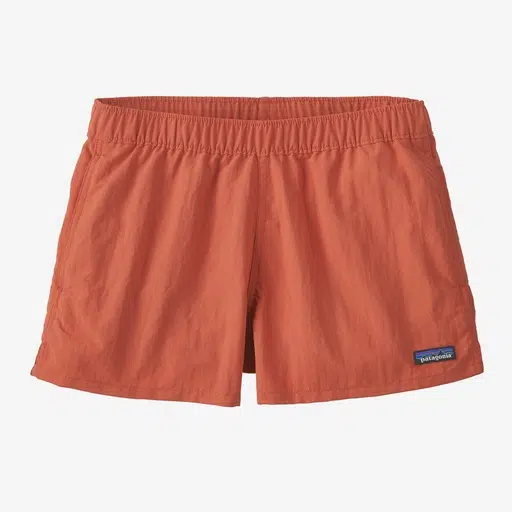 And it's safe to say they invented the modern sustainable clothing movement. Patagonia's founder wrote a book on how to use business for good (it's a good read, I recommend it!). He invented 1% For The Planet (the network of businesses that give 1% of their revenue to environmental non-profits). And he recently gave the entire company to charity. (All profits are now reinvested in "fighting the environmental crisis and defending nature.")
---
More on Sustainable Clothing, Greenwashing & Fast Fashion Brands to Avoid
The video below is from Justine Leconte – the only fashion influencer I watch on YouTube. She's an independent French designer who focuses on sustainability and ethics in fashion.
The video is 16 minutes, so grab a drink and settle in, because it's really worth the watch!
Thanks again to Cordova from Resolute Boutique for contributing to this guide to sustainable clothing brands!
Cordova and I met in 2019, during my first visit to Alaska, when I stumbled upon her shop. We've kept in touch ever since, thanks to Instagram. You can follow Cordova's shop on Instagram to see what's new in her boutique, and get a fun look at life in Juneau. And while you're at it, follow me for all things sustainability and sustainable travel!)
This list is a good start, but it's not the end of the conversation! What other sustainable clothing brands would you add to this list? Share them in the comments below.
Before you go:
Check out my map of sustainable small businesses and – even better – add the ones you know of in your area! And for whenever gift giving season comes around, check out my curated list of sustainable gift ideas, too.
---
This page includes some affiliate links. These recommendations for carefully chosen companies and products let me earn a commission if you decide to buy anything through them – at no additional cost to you! For more info, please see my Privacy Policy. Thank you for your support!