This post contains affiliate links; see my privacy policy for details.
Baja California's extreme terrain and famously unpredictable weather make a tricky destination to pack for. I recently spent almost three weeks in Baja California Sur, and it took me a fraction of that time to realize that most of what I had carefully packed was wrong.
Note: This is my packing list for an adventurous trip to Baja California – the items I actually packed, and what I wished I'd packed. You probably won't need many of these if you're just crashing at a resort in Los Cabos (except for #9, #14 and #15).
I split my time between a fantastic small-ship adventure cruise, and traveling around the peninsula on my own, hiking in the desert, kayaking, snorkeling and dipping my toes in both the Sea of Cortez and Pacific Ocean.
It was February, and both parts of the trip involved wind, water, sun, and major temperature fluctuations throughout the day, so that's what I'm going to help you pack for.
[Related: For any kind of trip, you can steal my full strategy on how to pack lighter. If you want to take it a step further – no wheelie bag! – here's my review of the best travel backpack.]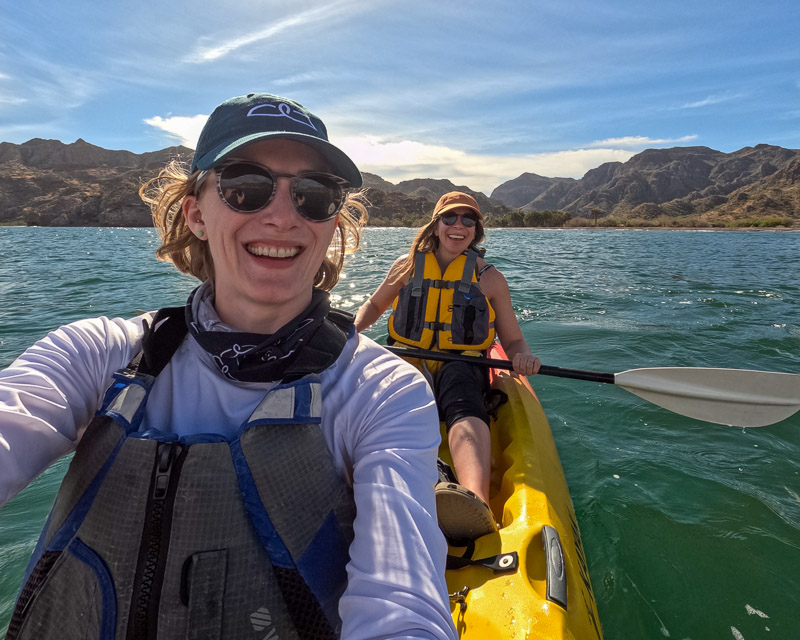 This packing list is relevant whether you're taking the Baja UnCruise I took, or exploring the peninsula on your own.
(If you are taking the cruise, UnCruise gives their own packing list for the trip, but I found it way too vague and long. They basically tell you take everything, which is almost as helpful as no packing list at all!)
Side note: For a hefty discount on an UnCruise trip, you can use my code, TILTED500, to save $500 per person! See my UnCruise review for more info.
So this list will help you with what to pack specifically for Baja California. (And that means I'm skipping the basics, like your medications, passport and pajamas.)
Key Baja packing points:
Layers are key, especially in the winter or shoulder season. Evenings are cool, especially on the water, and a good breeze can really drop the temperature even in the daytime.
Overall, Baja California has a very casual vibe. I can't speak to the resort scene, but when you get away from the very commercial Los Cabos region, even dressing up takes on a very toned-down feel. If you're undecided between packing more adventure wear or more formal wear, lean casual.
1. Light-weight Pants
Linen pants were the perfect packing choice for evenings in Baja – I just wasn't the one who packed them. That was my travel buddy and cruise roommate, Hollis. (Between the two of us, we had everything we needed, and lots of things we didn't.)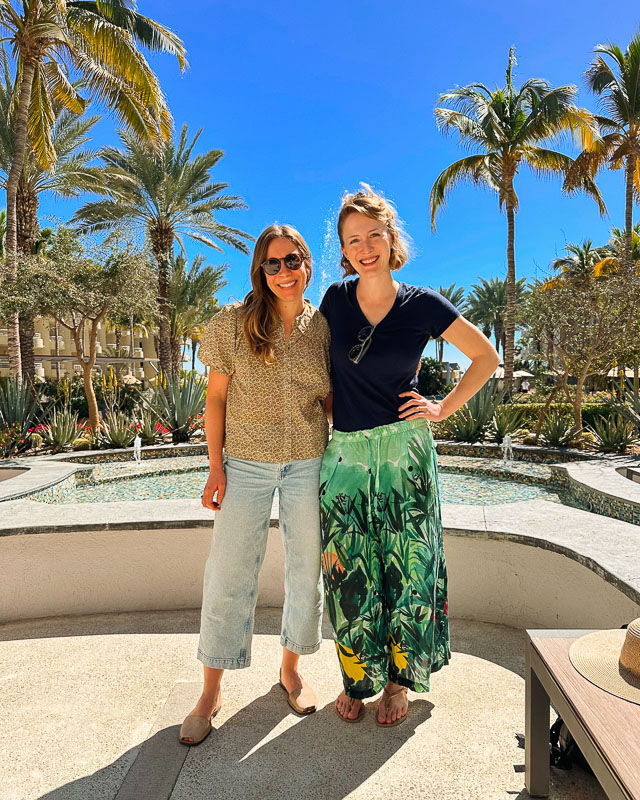 Anyway, besides being ideal casual evening wear, linen pants also worked well for light hiking. But most hikes I chose to go on during our UnCruise involved a bit of scrambling. And it's Baja California – there are cacti and thorny plants everywhere, so you'll definitely risk snagging them. Something to be aware of.
Everlane is one of my go-to brands for sustainably-made, high quality clothes, and their casual linen pants are very similar to what we wore. (They make a dressier cut of linen pants, too, and a men's style.)
REI is also a good place to look, especially for more sporty styles. Or these Fair Trade sewn Patagonia pants, made from super sustainable hemp and Tencel, would also be great.
2. Linen button-down shirt
A white, button-down linen shirt is one of those items that just feels so perfect for warm weather travel. It has that perfect casual-cool balance, while still looking more put-together than a t-shirt. It screams summer. And it gets even cooler looking as it gets wrinkled; like you've been on safari and haven't had time to iron.
Linen shirts are also pretty practical to pack for Baja! They don't add much warmth, but just enough to block some wind, and they save your skin from the sun.
3. Leggings
I wore my merino wool leggings for hikes and kayaking, and they were great. Lightweight hiking pants would also be a good option, but I liked that both linen pants and merino leggings are more multipurpose. (Perfect if you aim to pack light, like I do, yet don't want to be dressed like you're going on a hike all of the time.)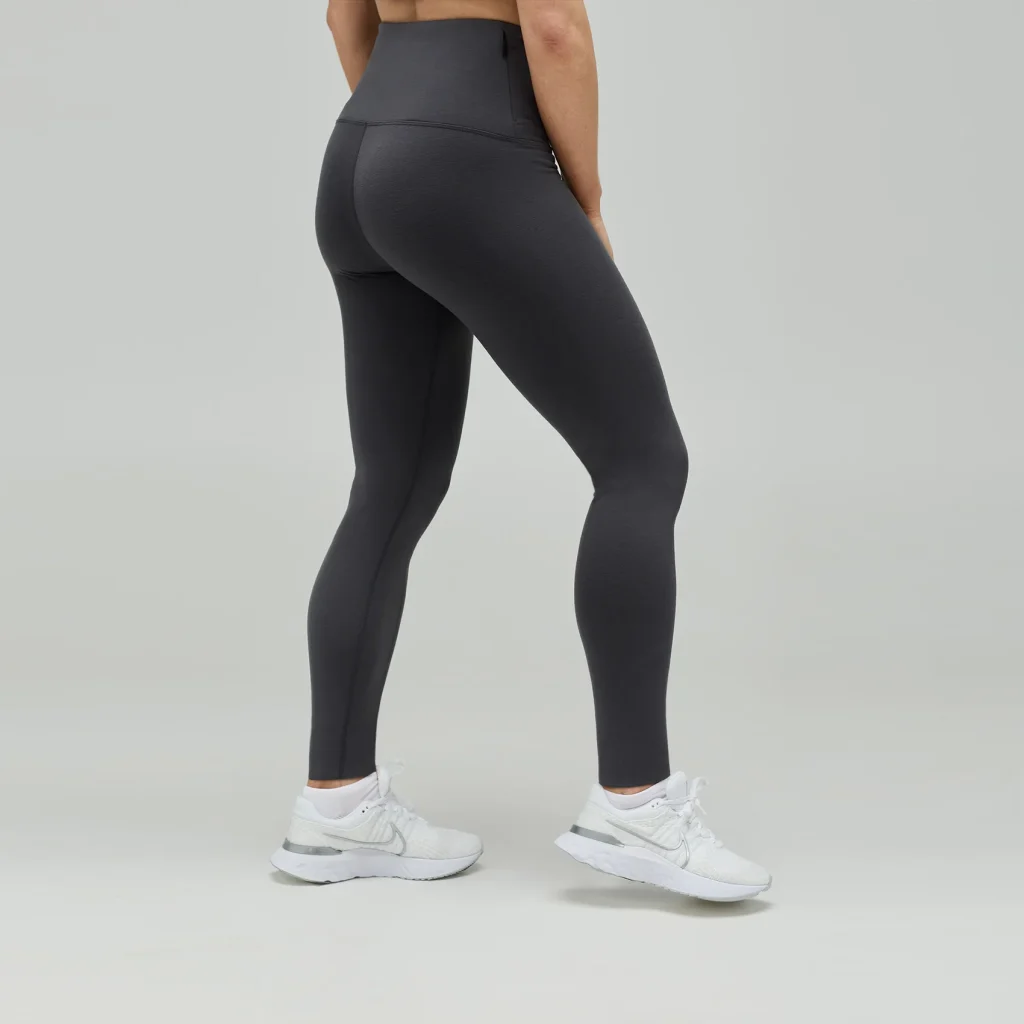 I've written a whole love letter to these particular leggings, but here's the gist: They're soft, comfortable, fast-drying, have a secret pocket, and it takes a ridiculous number of wears to get them to smell bad. Perfect for travel.
4. Buff
A buff, or multipurpose, breathable neck gaiter, was one of the most useful things I packed for Baja. I used mine almost every day to protect my neck and head from the sun when hiking or snorkeling, or to block a bit of wind during breezy skiff rides to and from shore. Temperatures did a lot of up and down in Baja, so it was nice to have another light layer to easily add or subtract a bit of warmth.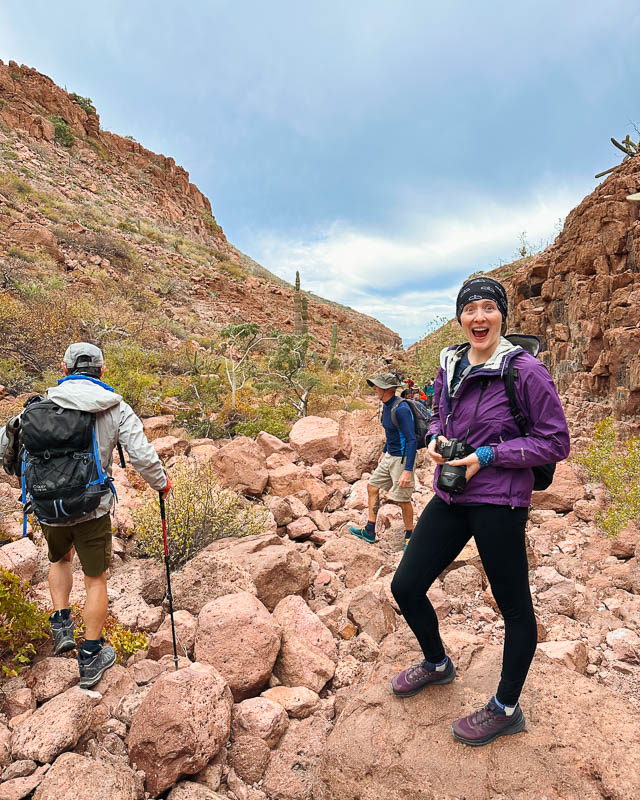 (UnCruise had their own buffs for sale on the ship during our trip. Fun fact: The company behind the original Buff brand name is a certified B Corp based in Barcelona.)
5. Warm sweater or sweatshirt
Even in early February, I never needed my trusty puffy jacket in Baja. (My lightweight one from Outdoor Research, probably this one, has come with me on every shoulder-season trip for years. This time, it never left my suitcase.)
But a sweater or sweatshirt is key for evenings in Baja. On the UnCruise trip (or any trip involving lots of snorkeling, scuba, etc.) you might want one for warming up when you get out of the water, too.
6. Rash Guard
Rash guards protect your skin from the sun, whether you're in the water, or out in the desert, which means you can use less sunscreen. All around, they're one of my top packing tips for any warm weather destination, and are a must for Baja.
I packed two from Carve Designs and wore them daily. My husband packed one from Patagonia (the absolute OG of sustainable clothing companies).
7. Sporty bikini tops (plural)
I think it's useful to have more than one (if you want to avoid having to put on wet swim suits) since you'll probably be getting in the water every day.
I've had one of these reversible swim tops from Carve Designs for at least five years now, and I still use it constantly. It's really cute, comfortable, and covers that delicate chest skin that already gets more sun that it needs. (Plus, it doubles as a crop, especially under a linen button down!)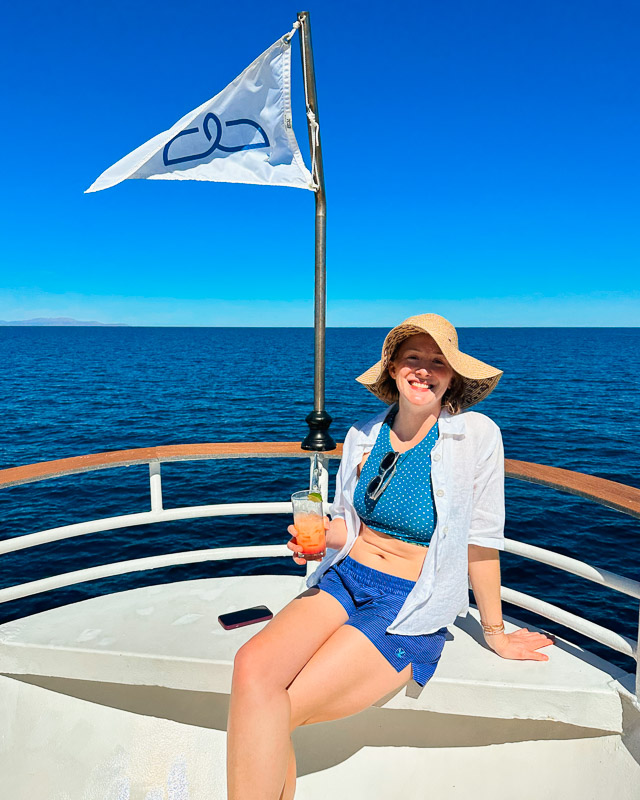 Next time I go to Baja, I'll pack a second top in the same style, because I ended up wearing it every day. (It felt way more comfortable for adventuring than my string bikini top, which pretty much stayed in my suitcase.)
Pro tip for UnCruise Baja: Wear a swim suit under everything. Often, I'd go on a hike, and then get back to the beach and have the option to return to the ship or stay on the beach – where the crew had magically made beers, beach towels, toys, and sunscreen appear. So why go back to the ship?
More Sustainable Brands for Swimwear and Rash Guards:
Wolven is another great option. They make yoga wear and swimwear in fun patterns, and it's all made of a fabric spun from recycled plastic bottles (same with my swim top from Carve). Wolven's tagline is "make sustainability sexy," and they have some of the best sustainability certifications of any clothing company I've found. [Related: They're also on my list of top sustainable small businesses.]
Waterlust (men's and women's) is another brand to check out for swimwear and sun protection with patterns inspired my marine life. They're a purpose-driven company that donates 10% of profits to ocean conservation and education projects. They also have a take-back program and use some recycled materials.
This is Waterlust's whale shark pattern (one of the animals you can see and swim with in Baja!)
8. Baggies/ Board Shorts
A pair of shorts you can wear in the water, like Patagonia's practically iconic Baggies, were a must for this trip. Easy, splash proof, you can wear them with your rash guard for sun protection while snorkeling, then straight on to a hike, or around town.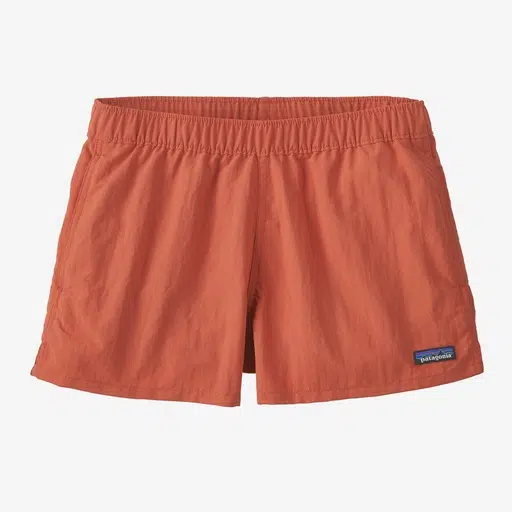 Denim shorts were another waste of space in my bag, as I wore these every day. (Hollis brought Patagonia baggies, I packed a similar style from Carve.)
9. Reef-safe Sunscreen
Reef-safe sunscreen doesn't contain the ingredients that are toxic to marine life and cause coral bleaching – and it was surprisingly hard to find in pharmacies in Baja, so I recommend adding sunscreen to your Baja packing list. (At least that was the case in La Paz.)
You want non-nano, mineral sunscreen, or what's sometimes called physical UV protection instead of chemical. (The main chemicals to avoid are oxybenzone and octinoxate. The safe ingredients are zinc oxide and titanium dioxide.)
The good news is that these formulas have improved, so you don't have to look like a '70s lifeguard with white paint on your nose.
I use this mineral face sunscreen every day. (It's in my plastic-free travel toiletry kit, and it's what I use at home, too.) For everything else, I like this kind from Think Sport.
Pro tip for UnCruise Baja: You don't have to pack sunscreen for an UnCruise trip – they provide it, along with other basics like bug spray, and Dramamine for motion sickness on the boat.
10. Dry bag (or basic day pack)
For camera gear on expeditions/ boat rides to shore, a dry bag is always a good idea.
Of course, I didn't pack one, and was fine with my light backpack – no problem, as long as you're careful to protect it from splashing. (I packed my REI 18 liter Flashpack, which I've been using as a travel day-pack for years. It's kind of a black hole, with hardly any organization, but it's lighter than anything else I've found, making it perfect as an extra, back-up bag. For a little more organization and color, I'd go for this bag. For more color, organization and more space, I'd start here.)
Otherwise, a light, waterproof backpack would be ideal for Baja. This one from Osprey is the same idea as the ones above – lightweight, packable, day-pack size – but also waterproof.
11. Mini Dry Bag for Tech
Instead of a waterproof backpack, you could put your camera equipment in a small, packable dry bag inside your daypack.
Or, a great replacement hack at least for your phone is a small Stasher bag! Stasher bags are made of silicone and were designed as re-usable replacements for disposable plastic bags. I use them for all the time for travel, storage and food (you can freeze them, microwave them, boil them… they're pretty cool.)
Hollis brought the "snack" size Stasher to pack her shampoo bars on this trip, and it served double duty.
12. The Right Shoes
I clearly demonstrated the wrong shoes to pack for Baja on our first hike… But what are the right ones?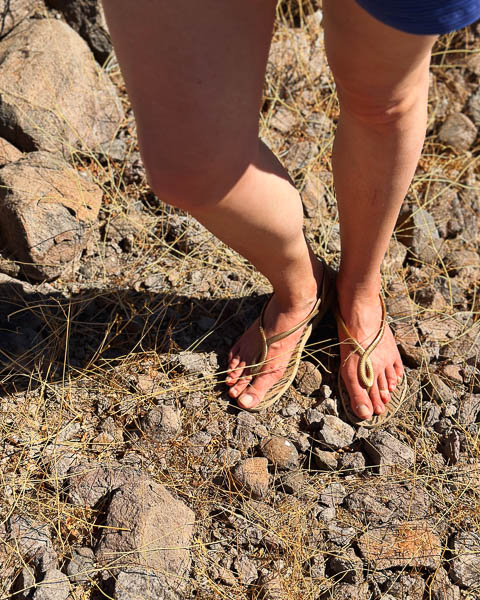 Light hiking shoes or running shoes are great for longer treks through the desert – they're probably my strongest recommendation on this packing list. (I use these Salomon "Speedcross" trail runners all the time, but for this trip, I packed an even lighter style and they were perfect.)
And sturdy, waterproof sandals, like these Tevas, are the one kind of shoe I wish I'd packed. Others on the trip were happy wearing their Chacos for hikes and boat rides, but I left mine at home because I don't like getting the straps all caked with sand. (Maybe I'm weird about that? But I actually like to be able to adjust them.)
Hollis brought Crocs, and they were useful as water shoes for wet landings when taking boats to shore.
We both thought we had all our bases covered with the shoes we packed for Baja: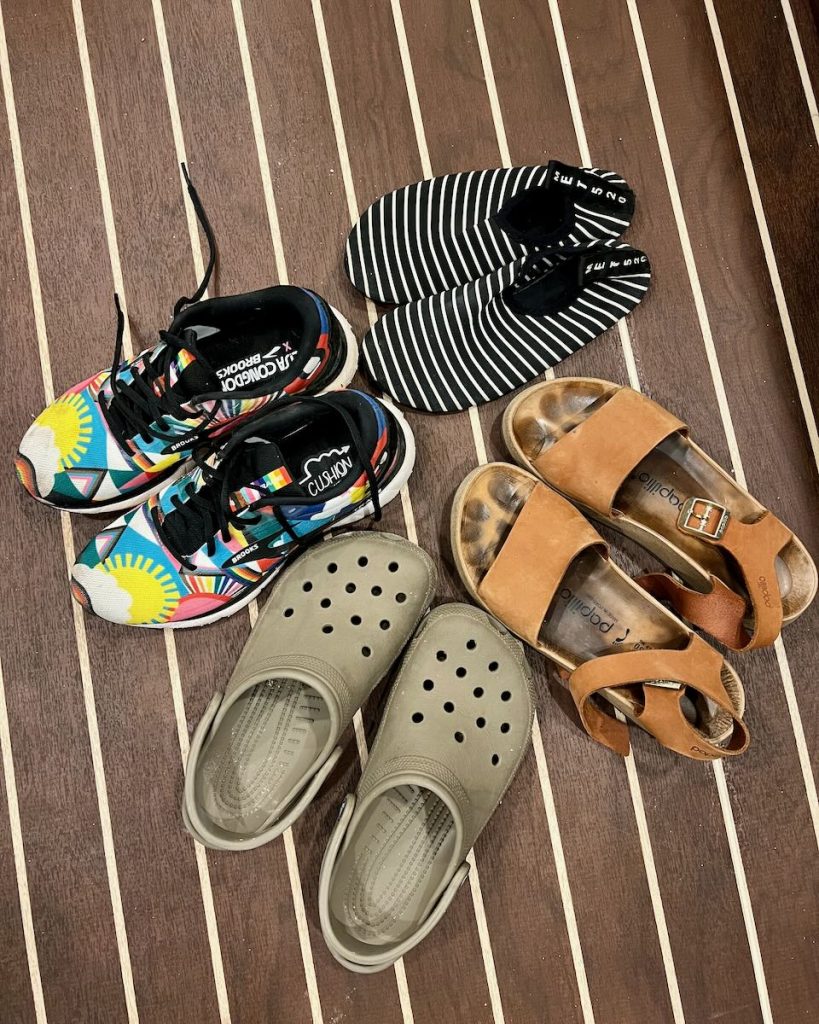 Baja shoe collections, hers and mine: We both probably could have eliminated a couple of pairs (water shoes, Crocs, and flip-flops) in favor of Teva sandals or Chacos.
13. Medium purse for onboard (for UnCruise)
This is highly optional, but on our UnCruise, I wished I had something smaller and cuter than my daypack, for happy hour and other times on the ship when I wanted to carry around my cellphone and/or camera, water bottle, and maybe a sweater in case I went up on the top deck and found an evening breeze.
(Plus, hydration is key in the desert! With all the sun, wind, sand, salt and free drinks, it's easy to get behind. I carried my water bottle everywhere.)
14. Purifying water bottle (for everything but UnCruise)
This is one thing you don't need for the UnCruise Baja trip (they provide each guest a reusable metal water bottle and unlimited filtered water — no plastic bottles at all! The only reason to bring your own might be if you want an insulated bottle.)
But for the rest of Mexico, my favorite packing hack is this impressive water bottle, which has a built-in UV-C sanitizer in the cap. It kills 99% of bacteria in 20 seconds, so you never have to buy a plastic bottle of water again!
[ Related: Here's the system I used to avoid buying plastic water bottles in El Salvador – with both a UV and filter travel water bottle. ]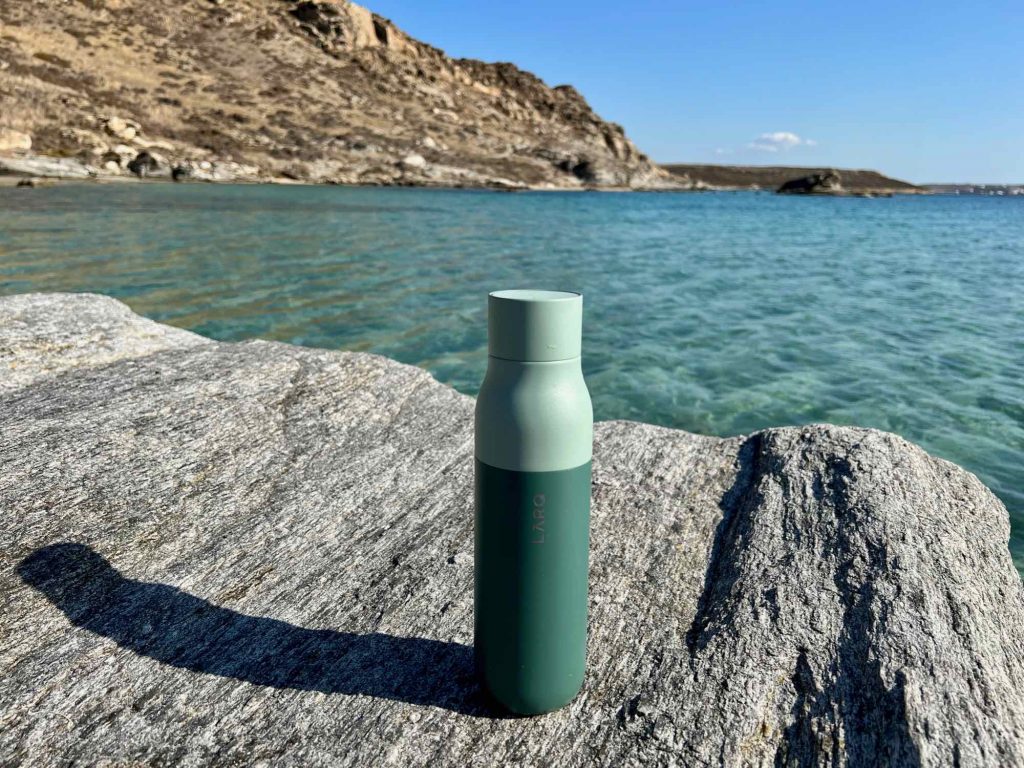 Even better: LARQ now makes a filter bottle cap, which means you can combine the UV sanitizing cap with a filter system (much like my Grayl filtering bottle). It's a little clunky, because you'd have to switch back and forth between the caps to use both, but it's definitely better than packing both a LARQ and a Grayl bottle (as I've done), and it should improve the taste of your water more than the UV alone. (And removes even more types of contaminants.)
15. GoPro
You definitely don't need a GoPro for every trip, but Baja is the perfect destination to use one. With all the time you'll spend in and out of and under water, it lets you capture everything. Even if you plan to stay dry, you don't have to worry about it getting splashed on boat rides, and it's super easy to carry on desert hikes.
(Sometimes I'll pack my DSLR, especially if I know I'll be shooting landscapes or far-away subjects. For city trips where I'm mostly doing architecture, food and museums, I often just use my phone. But this was the perfect trip for a GoPro.)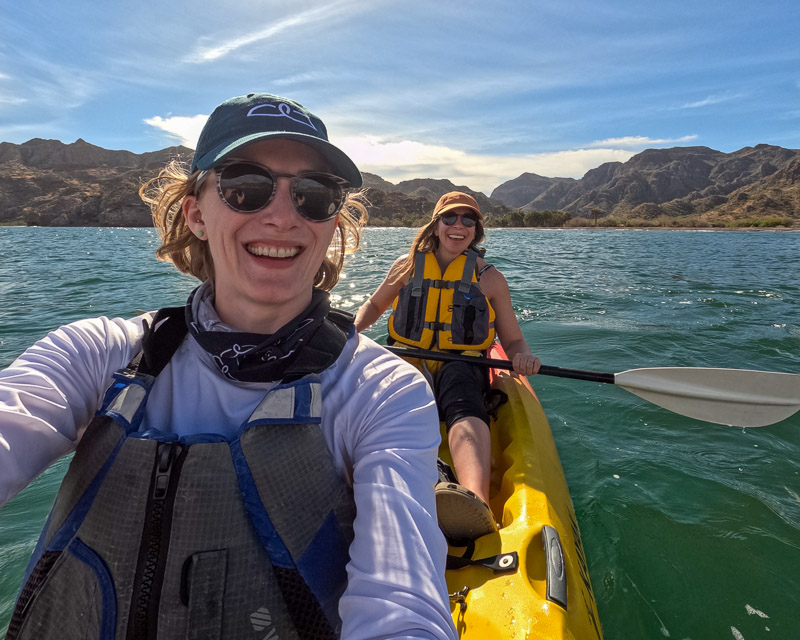 16. Sunhat or baseball cap
A sunhat is an absolutely necessary item in Baja, but I can't I recommend the big, floppy one I packed. It might be great if all I'd done on this trip was flop on a lounge chair, but adventuring in Baja involves wind, and almost every time I tried to wear it, I had to keep one hand on my head.
I ended up wearing a baseball cap that UnCruise gave me (they're for sale on the ship) pretty much every day.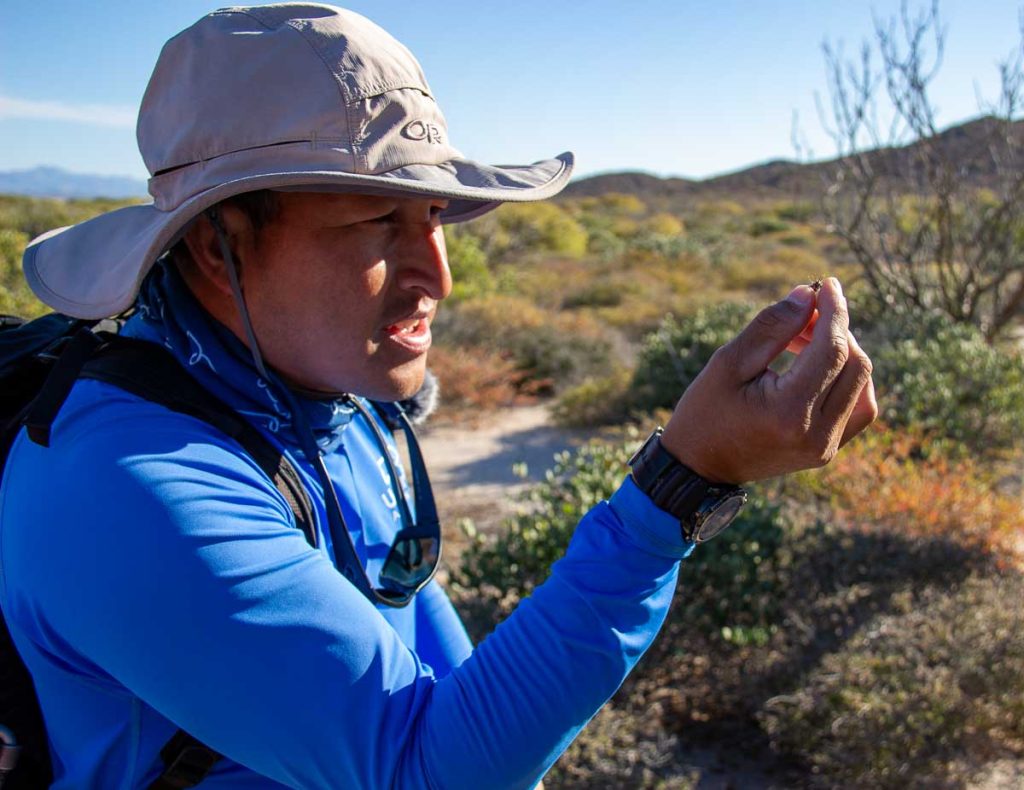 17. Wind breaker or rain jacket
Finally, the item I almost didn't pack for Baja: A light-weight wind or rain jacket is definitely a good choice – especially in the winter or shoulder seasons. (Bonus points if it has armpit zips, for extra temperature control on a desert hike.)
The Gulf of California has a reputation for wind, so I was glad I packed mine. (There was one day on the ship where the wind and waves kept most passengers in bed. And one town in the area – La Ventana – is a famous destination for kite surfing.)
I packed my North Face wind breaker (the purple one in the photos above). I've gotten a few years of use out of it, but the quality is not the best, and the liner is now peeling so badly that it leaves white flakes all over me every time I use it. When I upgrade, I'll go for a higher-quality brand, like this classic Patagonia rain jacket.
---
I hope you found this packing list for Baja California useful, whether you're going on an UnCruise or exploring the peninsula on your own!
Before You Go:
For more help with trip planning, check out my Travel Resources List. It has all the companies I use and recommend (and why) for everything from booking your flight and hotels to buying travel insurance.
Be sure to check out my top tips on how to pack lighter before your next trip! (I bet you haven't heard most of them before…)
Don't forget: If you're considering an UnCruise trip, you can use my code, TILTED500, to save $500 per person! See my UnCruise Baja trip review for more info.
Any questions? Did I forget anything? Let me know in the comments – I'm always trying to become a better and more efficient packer. What else would you pack for Baja?
---
This page includes some affiliate links. These recommendations for carefully chosen companies and products let me earn a commission if you decide to buy anything through them – at no additional cost to you! For more info, please see my Privacy Policy. Thank you for your support!