This post contains affiliate links; see my privacy policy for details.
The island of Paros is small, rocky, and just slightly under-the-radar, as Greek islands go. And it's just starting to develop a reputation as a plastic-free travel destination.
My husband and I arrived on a blustery day in October, picked up our delightfully toy-sized rental car, and headed for our first hotel, which I'd chosen from the list of Clean Blue Paros members. (Businesses that have signed on to the island's plan to get rid of single-use plastics.)
The innkeeper showed us a spigot in the hallway dispensing free filtered tap water, and a refillable glass bottle in the mini-fridge. So far so good on the plastics front.
Then I opened the bathroom door to find those ubiquitous little plastic bottles of shampoo.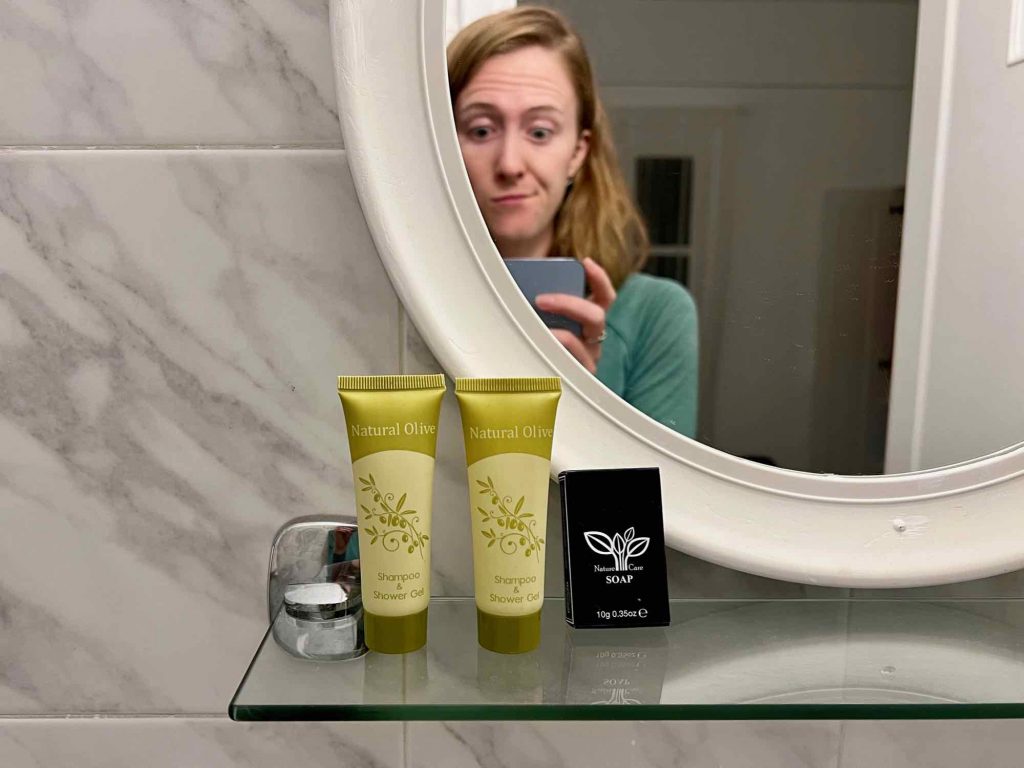 Have you been to Paros? If so, please help Clean Blue Paros by filling out this survey. If not, check out my travel guide to Paros for everything you need to plan a trip!
As the sun set, we headed out for dinner at a random restaurant on the beach in Aliki, a fishing village on Paros' southern coast that's retained a local feel on an increasingly touristic island.
It was a good casual spot to wash away the travel day, starting out with bread and olive oil, draft beers and water. But the waiter cautioned against tap water. Too tired to argue, I agreed to bottled.
No complaints about the hearty, whole-wheat Greek bread (which became a staple of my diet on Paros). But the olive oil arrived in a handful of single-serve plastic bottles, like perfume samples at a department store.
Almost everyone I'd talked to about Paros before I arrived described it as a party island. A place where travelers – both Greek and international – go to soak up the summer sun and drink beers on the beach from plastic cups.
And they looked at me like I was from another planet when I said I was going at the end of autumn to experience an island that was becoming plastic-free. I had some version of this conversation so many times, I started to wonder if I was missing something.
And after my first night and first plastic-rich meal, my confidence wasn't exactly restored.
Who would choose this place to turn into a plastic-free island?
Getting to Know Clean Blue Paros
The first thing to know about Paros as a "plastic-free island" is that it's a work in progress. Being plastic-free is totally voluntary.
It all started with a British social enterprise called Common Seas. In 2018 they were looking for an island where they could foster a pilot program that would experiment with fighting plastic pollution in the Mediterranean and reducing dependence on single-use plastics.
That's where it gets interesting, because the second thing to know about Paros is that it chose itself to be the guinea pig for this plastic-free project, and it didn't volunteer just for the tourists.
When Common Seas was shopping for an island for the Clean Blue Alliance, they wanted a place with year-around residents. (Not just a destination to promote as a plastic-free island to travelers, but a place to teach school kids about the process.) And they needed a local government that actually wanted to work with a foreign organization.
So Clean Blue Paros is actually a multifaceted, community-based sustainability program that just happens to have one aspect that feels like it's for tourists – those Clean Blue Paros businesses, which are almost all hotels and restaurants.
That's because, on a Greek island that looks as much like a postcard as Paros does, almost everything is tourist-facing. (Paros has about 13,000 residents who live on the island year-around. In 2019, they had 820,000 visitors.)
The project lead for Clean Blue Paros, Zana Kontomanoli, explained before I even got to the island that that's a big part of why it's working:
"We live here. It's not some colonialist project – the team working for Paros is based on Paros. And the community can see that we're doing what we said we would do."

Zana Kontomanoli
That's great for Paros.
But if it's not about tourism, does it even matter to choose Paros over any other destination, if you're looking for a more sustainable Greek island to visit?
The easy answer is yes, because Paros actually has a legal landfill and municipal recycling collection, which plenty of Greek islands don't. (Those were some of the other reasons Paros got on the short list for Common Seas.)
That alone makes Paros a more sustainable destination than the islands where your garbage will just go into an open pit (and definitely won't be recycled).
For the less easy answer, I had to actually visit Paros to understand what, if anything, made the island uniquely sustainable. I had my doubts at the start of this trip, but several things changed my mind.
First, here's what I can tell you from years of experience, which I often ignore when I get excited to plan trips: It's easy to think I can always find super sustainable, plastic-free hotels on my own! It'll just take a little research, right?
Sure, you can try, as I do constantly. And I'm always confident, right up until I dig in and remember how hard it is to find these needles in plastic haystacks.
With an infinity of different certifications, local sustainability groups, and vague promises, you almost never know what you're looking at, or whether you can trust it, when you're trying to travel sustainably. When you don't see anything but a webpage making big claims, it can be easy to dismiss what looks like possible greenwashing.
I definitely wondered if that was all I was looking at when I first arrived on Paros.
But after getting to know the island and the people running Clean Blue Paros, I realized that what they're building is about so much more than just the shampoo bottles in one hotel.
What Else Clean Blue Paros Does:
Glamming Up Paros' Tap Water
This summer, Clean Blue Paros rebranded the island's seven water refill stations, just to remind people that buying bottled isn't the only alternative to tap water on Paros – even though the tap water on Paros is already drinkable, thanks to work the local government has done in the past decade. It's tested regularly and perfectly safe.)
But old habits die hard, and lots of people still buy bottled water on Paros out of habit or for the taste. So the refill stations improve the taste by filtering the tap water, and sanitizing it with UV-C lights. They sell it for 5¢ a liter – one tenth the price of bottled water. (Here's a map of the water stations.)
I even brought along my water bottle with a built-in UV sanitizer, and it definitely made water straight from tap taste better.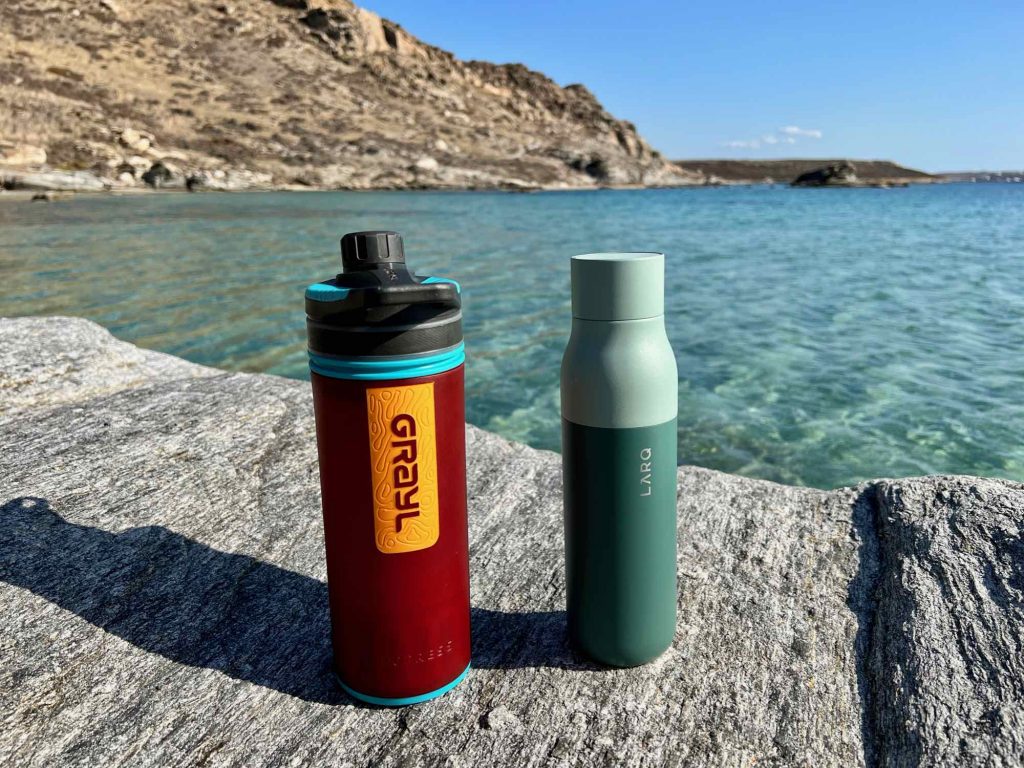 Beach Clean-ups With a Science Twist
When I was on Paros, the team invited me along for a Marine Litter Audit. That's a fancy way of saying we cleaned up a section of beach (100 meters long by 10 meters from the shoreline) then counted and categorized Every. Piece. Of. Trash.
Then they sent off the results to participate in an ongoing European Union study of what kind of garbage is in the oceans. They do this process four times a year around the island, but honestly, just once was enough for me.
When you spend even just half a day bent over, picking cigarette buts and broken water bottle lids out of the sand, you realize both how disgusting and how pernicious the problem is. And it becomes impossible not to notice it everywhere you go.
From doing these audits, they've learned that 75% of the litter on Paros' beaches is plastic, and 25% is cigarette butts. We picked up (and yes, counted) about 1,200 cigarette butts from our little strip of beach in one morning.
If you're traveling to Paros and the timing is right, you're welcome to get in touch with Zana from Clean Blue Paros and participate in their next beach audit! They're always looking for good help.
Bigger pieces of trash can wash up from anywhere. Fishing nets are common on Piperi Beach, the one I helped clean. So are glow sticks, either from raves on Mykonos or from the fishing industry. (They're used to attract fish, and not disposed of very carefully.)
But the cigarette butts are usually from the local habit of using the beach as an ashtray. So they're working on education campaigns, and putting up "voting ash trays" on local beaches – a creative way to gamify not littering.
Better Recycling & Trashier-Looking Trash
Last but not least, Clean Blue Paros is figuring out what works and what doesn't with Paros' waste management system. Don't skim over this part – there's fascinating psychology in this!
This department is handled by Antoine, a French engineer who's the newest member of the Clean Blue Paros team.
Antoine told me they learned (from lots of community focus groups) that one of the main reasons people weren't recycling on Paros was that the truck that picked up recyclables looked the same as the one that picked up trash for the landfill. People saw that and assumed it was the same truck taking things to the same place, and they thought recycling was a farce.
So one of Antoine's projects is working with the local government to paint the recycling truck blue, and do the pick-ups in daylight, instead of at 4 am.
Make it visible, and people will start to believe in it.
They also rebranded the trash dumpsters with ugly pictures of Paros' landfills, just to remind people where everything that goes into them goes.
Make it visible, and people will remember to care.
And they installed creative recycling bins for PET plastic bottles:
These are the kind of local, incremental fixes that sound like nothing.
Working with local governments to elicit small behavioral changes is not glamorous. And most tourists will never see the difference. But often, that's how things change.
The part travelers do see, if they're looking, is that Clean Blue Paros gives us a practical starting point to find hotels and restaurants that are at least taking some action toward going plastic-free.
Kleri Downward, another Clean Blue Paros team member, said that so far, they're more focused on engaging businesses than individuals.
"Businesses are on the front lines," she said. "They play a big role in the shift to re-use culture."
So Kleri helps local businesses research sustainable alternatives for their plastic products, and secures discounts from suppliers to encourage the switch.
To become Clean Blue Paros members, businesses go through an audit with the team to look for areas of improvement, and agree not to use four plastic items: Straws, coffee cups, water bottles, and shopping bags.
They chose to target those four items for two reasons: First, there were lots of alternatives available for them, so it was a fair ask. (Plastic straws can be replaced with wheat straws, paper straws, washable straws, or no straws. You can drink coffee and water from reusable cups and bottles (like these beauties designed for Clean Blue Paros). And reusable cloth grocery bags are beyond basic at this point.)
And second, because Europe has banned all of them as of this year.
But just because the law has changed, not everyone is going easily. Plenty of businesses have stocked up on plastic, and are just planning to ignore the law for as long as they can.
This is a common roadblock Clean Blue Paros faces. Local businesses have their orders on autopilot, from vendors they've been working with for years. And on a small island, those vendors might just be their cousins. If the vendors don't stop stocking plastic, their customers aren't going to go out of their way to order from someone who's decided to follow the law. That's a lot of inertia against change.
So no, it's not 100%. Businesses don't have to be perfect to join Clean Blue Paros, they just have to do those four things.
And that means the shampoo bottles in my first Clean Blue Paros hotel room weren't even breaking the rules.
When I learned that, I couldn't decide if I was more disappointed that plastic shampoo bottles weren't against the rules, or that a business that would bother to join Clean Blue Paros wouldn't also stop using them. Wouldn't that just be common sense? Apparently not. From everything I heard from the team on Paros, it takes a lot of coaxing to initiate these changes.
But joining brings local businesses under the wing of Clean Blue Paros, which means Zana and Kleri will keep coming back to check on them, and encourage them to do more and do better.
So far, about 100 businesses on the island have joined:
A Tale of Two Clean Blue Paros Hotels
Some of the Clean Blue Paros members I visited felt like such obvious partners for the program, they almost weren't even worth mentioning.
Like Okreblue, the yoga retreat that I spent a couple of nights at, located down a long, dark, dusty road in a protected nature area on the coast, away from any of the island's main towns.
The retreat offered daily yoga classes, stark, spartan rooms, and two vegetarian meals a day. (An Indian-Greek blend – and damn good, I must say.)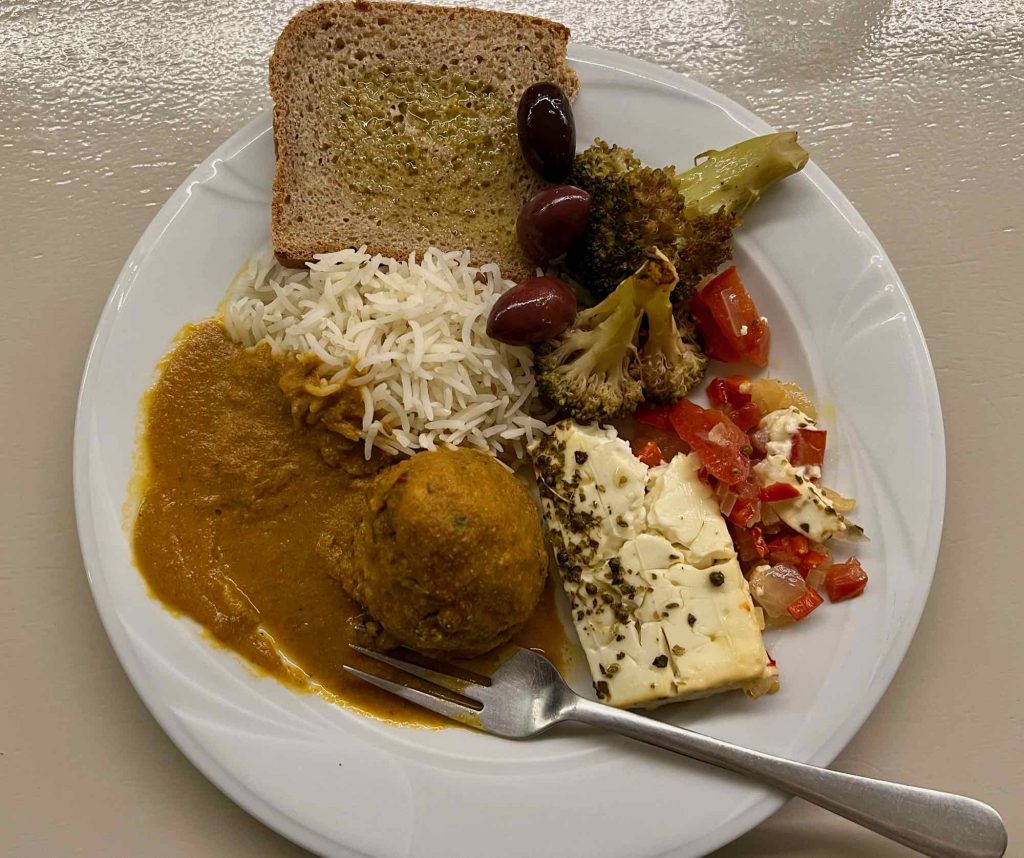 Of course a place like this would be involved in whatever local eco group pops up. I'd be concerned if they weren't on board.
Then I got a taste of the opposite end of the spectrum when I went to meet the general manager of one of the most expensive hotels on the island, Parilio, a member of design hotels.
(That's not my description of it, that's the hotel's full name on Booking. For those not in the know, Design Hotels is a group of about 200 luxurious properties around the world. My guide, the hotel manager Dimitris Alexakis, explained this, clearly unimpressed by my ignorance.)
Dimitris showed me Parilio's Sun Suite, a two-room cabana with an understated, elegant design vibe, and a private pool in its courtyard. He said the nightly rate in the high season is "one point seven." (Meaning €1,700, in a phrase that made me think of a Congressional spending bill more than a hotel room.) But the plastic water bottles in each room are included.
But for next year, Dimitris is looking into a few sustainable upgrades at Parilio:
First, he wants to install filtered water dispensers in common areas (to replace those plastic bottles in rooms). And he's aiming to start composting kitchen scraps, switch the hotel's airport shuttles to electric mini vans, and recycle gray water to water gardens or flush toilets.
Then he told me something that caught me off guard:
"They gave me the vision to do all that. They'll help me implement all those things I didn't think twice about before."

Dimitris Alexakis, Parilio hotel
To hear the general manager of an elite luxury hotel basically say we knew we could do better, but we just hadn't bothered until we had a few meetings with a local environmental group, well, it came as a bit of a shock.
And it shows how much of a difference a nudge can make.
From the traveler's perspective, even if Clean Blue Paros weren't doing anything else on the island, they're persuading local hotel managers to do better.
And going after Paros' elite, luxury tourism businesses isn't an accident. As Zana told me:
"We don't want to just get the largest number of businesses in the smallest amount of time. We wanted the ones with the most influence."

Zana, Clean Blue Paros
Because it has a collateral effect, too. During my 10 days on the island, I tried to support as many Clean Blue Paros businesses as I could. (My favorites will be in my Paros travel guide soon.) I saved the Clean Blue Paros map on my phone, and I was always zooming in to see which businesses were around me.
But what I kept noticing, when I was sitting at a café table, sipping a cocktail through a wheat straw, or munching a Greek salad under an awning, was that often the tables at the cafés next door also had refillable glass bottles of filtered tap water.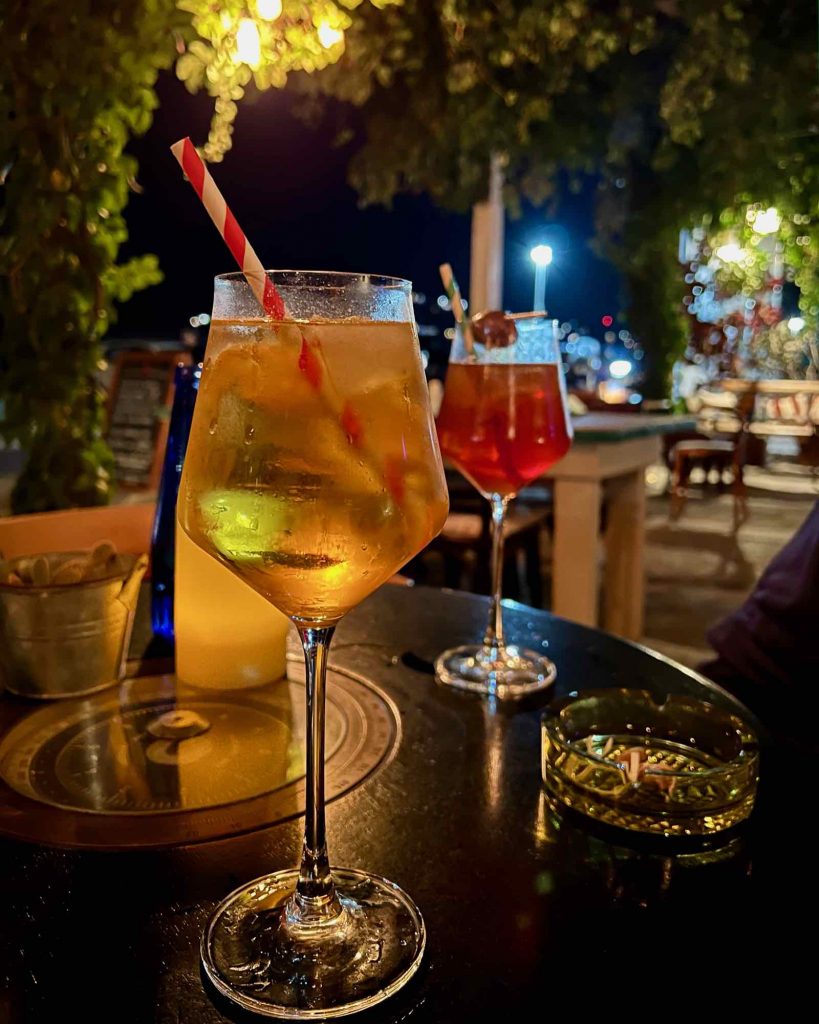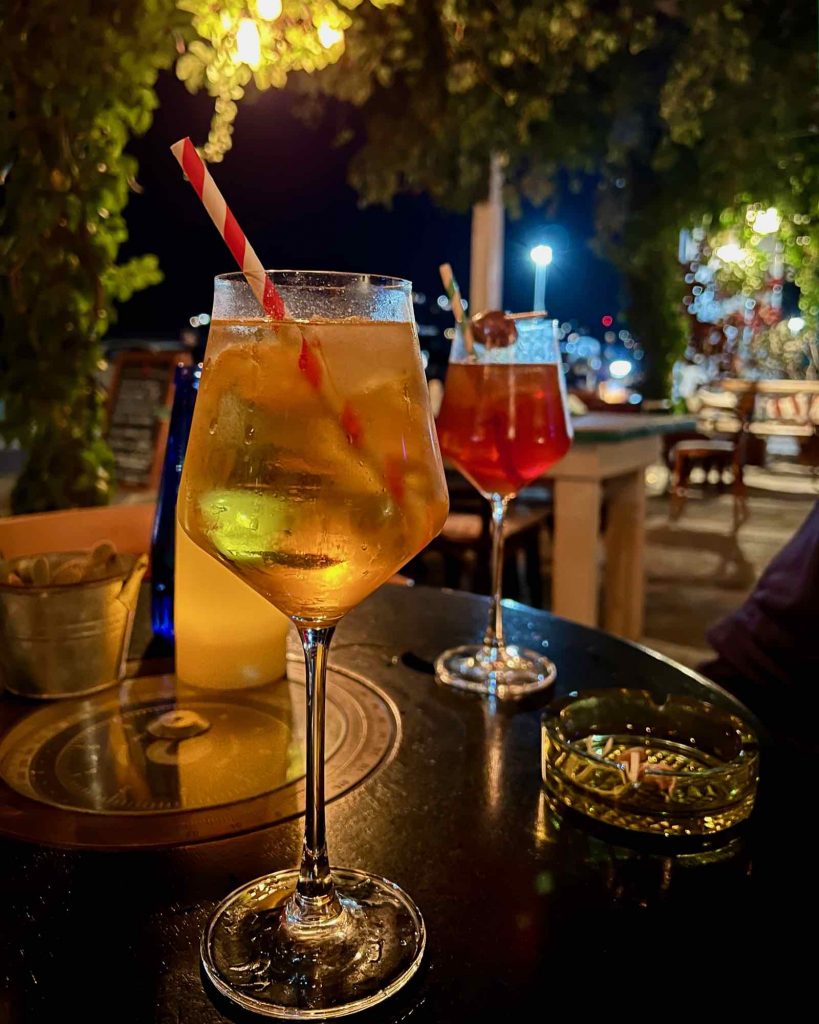 I'd open my phone and zoom in to check the map, but nope. Those next door restaurants weren't members, but they had still gotten rid of their plastic bottles.
Maybe they'd just seen what their neighbors were doing and didn't want to look bad, or had heard of Clean Blue Paros but didn't want to deal with the paperwork to join. Or maybe they just see the change happening and aren't dragging their feet.
Hey, whatever works, I am just fine with.
Paros & the Future of Sustainable Travel
The yoga retreat and the five-star hotel are the perfect example of something I've written about before: The ridiculous extremes of sustainable travel, and sustainable hotels in particular, that make it feel like the only sustainable options are either spartan eco-retreats, or way high-end luxury.
(And the high-end one in this case isn't even doing any extreme sustainability. They're planning to implement the basics next year. That does make them leaders on Paros, but certainly not innovators who are out on the edge of sustainable travel, taking risks.)
But traveling to Paros made it clear that those are just the extremes that get written about, because they make more memorable stories. (In my guide to visiting Paros, there will be lots of mid-range options that are also Clean Blue Paros members.)
And at every point of the price spectrum, the challenge for Zana and her team seems to be the same: "We have to hold their hands," she told me.
Most businesses won't do more than what's expected or asked. Remember, I had thought that any business that understood the need to stop using plastic straws would connect the dots and also stop using plastic shampoo bottles. But it turns out that's not at all the case.
And changing a law doesn't automatically change everyone's behavior. So really, Clean Blue Paros is doing the hard work – all the nudges, coaxing, discounts, research and support – to actually make things happen on the ground.
Personally, I'm always frustrated by what I see as an infatuation with negativity in the sustainability field. People who spend every day working toward big, slow changes can get sucked into believing nothing is happening until they see massive, government-leg overhauls of how we do things.
But the small, local changes create the momentum and pressure, unglamorous as they are, to carry those changes through the political process.
That's why Clean Blue Paros feels like a cross between big picture, top-down change and the grass-roots, bottom-up momentum that takes years to build.
I think whenever you have a small-scale, really targeted sustainability program like this, there will always be people (locals, and foreign bloggers like me) who show up, notice the proverbial plastic shampoo bottles, and write them off.
But it's a start. And it's one that other islands haven't bothered with yet.
As Zana told me, "We have managed to do things that haven't happened on other islands in Greece."
And that right there is my more complicated answer to whether Paros is a more sustainable destination than any other Greek island. It's what I came here to find out.
Paros vs Neighboring Islands
And as soon as I left, on a short ferry ride from Paros to Naxos, I realized what a big difference there was between islands. I was only on Naxos for two days, but at every chance I got, I asked locals whether the tap water was potable – and they were absolutely adamant that it wasn't.
[Related: Speaking of ferries, see my guide to ferry travel in Greece for tips on how, when and where to buy tickets, and other useful advice!]
On Naxos, I had no idea where to get a refill of filtered water for my bottle.
I didn't see any recycling collection.
All those things that seemed so small, so normal, when I was on Paros learning about them, took on new value when I was on a different island and couldn't find them. (And I was actually trying.)
That's why choosing to visit Paros instead of another Greek island simply because their local government decided to invest in this project, and choosing to eat and stay with Clean Blue Paros member businesses when you're there, can actually funnel your travel budget toward community-based sustainability. And that's actually a really unique power to have.
What's Next for Paros?
Clean Blue Paros is nearing the end of their three-year contract with the island's government, and in May the program will be renewed for another three years.
And Common Seas is planning to expand their program in Greece, using what they've learned on Paros as a rough blueprint, and adapting it to the needs of other islands.
"And it doesn't have to be just islands," Zana told me. "Any coastal community could support this."
I can't wait to see where they go next.
Have you been to Paros? If so, please help the Clean Blue Paros team by filling out this survey! If not, start planning your trip with my Paros travel guide.
---
Travel Resources for Your Trip:
For all of my go-to travel booking resources, see this page. Here are a few highlights:
Booking.com – where I book most of my hotels. They have a useful filter for finding more sustainable properties.
EcoHotels.com – with several properties on Paros, and lots around Greece and around the world, this platform is growing quickly.
Kayak.com – Pretty much where I do all my flight research and a good place to start for rental cars, too. And they make it easy to see the emissions from different flights and airlines. (I showed how in this Instagram post, and this post about my flight emissions from 2022.)
Insure My Trip and Travel Insurance Master have more options – including for travelers coming to the US from abroad. (Definitely don't come here without insurance. Our medical system will bankrupt you.) I didn't buy travel insurance for years, but a recent encounter with a bread truck in France is finally making me learn my lesson.)
Related Travel Guides:
This post is all about my favorite alternatives to AirBnb. (Sustainable, community-based, cheap or luxury, I've found great options for everyone here!)
My guide to ferry travel in Greece has everything you'll need to know about how, when and where to buy tickets, and other useful advice!
---
This page includes some affiliate links. These recommendations for carefully chosen companies and products let me earn a commission if you decide to buy anything through them – at no additional cost to you! For more info, please see my Privacy Policy. Thank you for your support!