To call this a Porto layover itinerary is probably too grand. An itinerary is generally something you plan ahead of time and do on purpose. This is more a list of things that I ended up seeing, eating, drinking and learning – thanks to the fantastically helpful local people who I pestered for information.
As many great trips begin, I didn't really plan to take this one.
It started as a detour. An idea that came to me while I was sitting in my apartment in Chicago one evening, drinking limoncello.
It was November, and I was behind schedule booking my return flight from Milan. (Where I was going to spend a month traveling around Italy after missing it for the previous seven months.) All I wanted was a one-way flight that didn't cost $2000, but it turns out that's not an easy feat for trans-Atlantic travel close to New Year's when booking only 6 weeks out. (And even for that amount, I would have had to take the train to Rome or Paris to avoid a layover.)
When I was 20, I would have happily booked the cheapest flight available, even if it had three layovers (or more. Don't worry, I've learned my lesson.) I've slept on more airport floors than a person probably should, but I was young, cheap, and addicted to being on-the-go.
But now 1.) I'm less cheap, and 2.) I know that extra landings and take-offs burn much more fuel than just adding extra distance, so now I cut out as many layovers as I can. But, there isn't currently a direct flight between Milan and Chicago, so this one couldn't very practically be avoided.
My solution was to stay in Italy another week (not complaining) and accept a layover. Then I discovered that a Portuguese airline (TAP) would let me extend that layover for up to 5 nights in Portugal.
Problem solved! I thought, and took a sip of my limoncello.
And I'll Couchsurf!! I thought. (You can read about how that went, too.)
Sweet Portugal Anticipation
This is the kind of giddy euphoria that makes me love the early stages of planning a trip – before I've looked at a map and realized how far apart places actually are, or searched for any of the practical stuff that costs money.
It reminds me of how teenage-me used to feel, buying Lonely Planets and reading them cover-to-cover, devouring bus route maps and reviews of hostels in Guatemala as if they were inherently interesting.
This is exactly where I was for Porto: Googling where the place even was when I'd already bought my ticket there. There's something undeniably exciting about that, isn't there?
This euphoria is also what reminds me that after all these years of traveling, either I've still got it or it's still got me.
Portuguese Specialty: Making Layovers Fun
The extended layover has been an airline trend for several years. (At the end of this post, I've added some logistical advice on booking one.)
The exact kind of layover I did is also part of the reason for increasing tourism in Portugal. These deals are often offered by smaller airlines from less touristy countries. They want to bring some tourism money to the local economy, instead of just seeing tourists pass through their airports without dropping any cash. Iceland is famous for this. And Portugal has been doing the same.
From a sustainability perspective, it's great. If you live in a city that doesn't give you a direct route to wherever you're going, you'll end up having a layover anyway. This way at least you can make that layover useful.
And for me, the other joy is that these layovers always send me to a random location that I know nothing about. (The last layover trip I did was one night in Istanbul, five years ago, on crutches.) I love being surprised by the chance to go somewhere that I didn't choose. (In fact, I think that's even why I ended up moving to China.)
Two Days in Porto
It was actually closer to one day and an evening. But for the record, Porto was gorgeous and small enough that I could get a good feel for the place in just a short layover visit.
Although I originally wanted to get back to my Couchsurfing roots on this trip, I ended up staying in a beautiful guesthouse that cost about $50 a night (in the low-season, at least). It was a newly restored 500+ year-old house in the city's historic center (a neighborhood called Ribeira), and it had the softest sheets I've ever slept in.
[Related: Check out these creative alternatives to AirBnb and Couchsurfing, including some great new options for finding everything from homestays with locals, to unique luxury rentals.}
A Local Perspective on a Changing City
Staying in a 7-room guesthouse gave me a bit of of my favorite thing about Couchsurfing – a local whose brain I could pick. I chatted with the owner a lot about how much Porto has changed in recent years. She told me how local development efforts over the past 15 years or so have transformed the central Ribeira district from a poor and dilapidated neighborhood, into a destination for tourists and a desirable place for locals to live.
Although the cost of living has also shot up in that time. Now she said rent for a two-bedroom in the central neighborhoods can easily be €700, which is more than Portugal's minimum monthly salary, and close to a whole (monthly) paycheck for most professional jobs, as well. (Portugal currently has the lowest minimum wage in Western Europe.)
Meanwhile the number of tourists has multiplied, especially with the growth of low-cost airlines (and stopovers) in the past decade.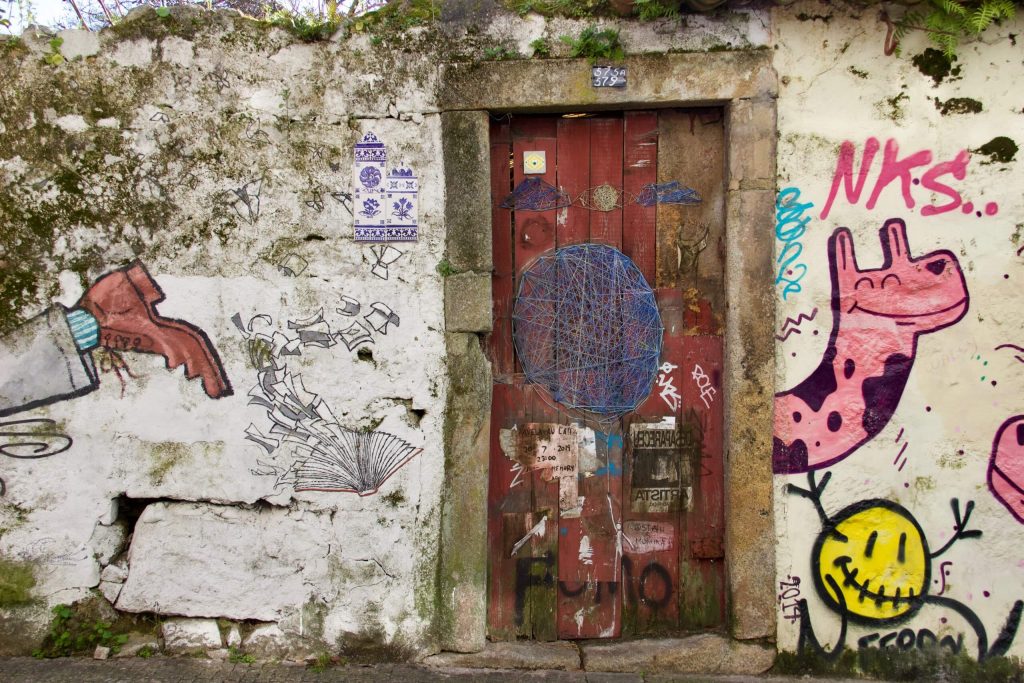 Walking around the city, everything she told me about it made sense. The recent and persistent poverty is palpable. Entire blocks are filled with abandoned buildings, but there are also many being rebuilt. And even in the low-season, Ribeira has a decent number of tourists. (But it doesn't take many – the city center is so small that a few non-locals stick out.)
Port Wine
I think one of the first things tourists learn in Porto is that port wine is not actually from Porto. It's shipped abroad from Porto, but it's made in wineries across the river, in a rival town called Vila Nova de Gaia.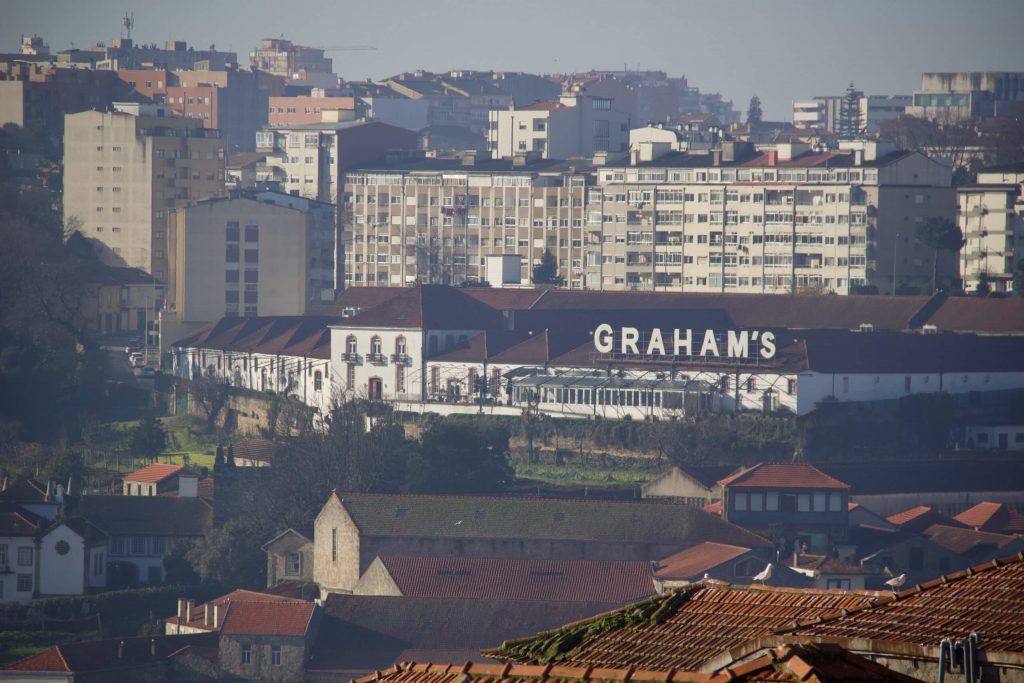 Tastings at Graham's Port Lodge
Since I travel by the philosophy that things that are harder to get to are usually better, I went to the furthest-away winery, located up a big dangerous hill. Graham's Port Lodge – the last in a long string of port wine dispensaries that line the river bank of Gaia.
The view was worth the hike, but only because I didn't end up getting run over while walking along the steep, narrow, winding road flanked by high stone walls.
Port Wine Tasting Notes (Beginner Level)
As for the port wines at this inconvenient place, here are my first, honest and unvarnished thoughts:
Dry White Port: Weird, didn't know white port was a thing! Smells like red port, then just like strong alcohol and a bit of acetone. Like a dry-white flavor with an out-of-place sweetness. Not a huge fan. (€10 a bottle)
10-Year-Aged Reserve Ruby Port: Tastes grapey. And so sweet it kind of makes my mouth pucker. Good, but honestly I think I prefer the bottle of ruby port I have at home from Trader Joe's. It's still real port from Portugal! Go ahead, roll your eyes. (It has to be Portuguese to be called port. Otherwise it's just generic fortified wine. This was €16 a bottle ­– their flagship wine they call "Six Grapes.")
20-Year-Aged Tawny Port: Now we're talking. Tastes like maple syrup. There's a reason this costs €44 a bottle.
I learned some more things by grilling the bartender: Tawnies are aged in oak barrels, while rubies are not. So they taste more like the sweet, fortified wine they are, while tawnies have a cognac-y vibe.
I can't tell you if my top-of-the-hill ports were any better or worse than what they served at the dozen other wineries I walked past, because I could only handle one 3-glass tasting and still hope to make it back to the other side of the river.
For the next step up, you could book a full tour of Graham's with wine tastings and chocolate pairings. (Or, what I'd probably do, a similar tour without the pairings, and then head for dinner after. You can check availability for that one below.)
…And Port Food
Porto's flagship local food is the francesinha (and it's earned its own section, below).
Other famous dishes from the city are cachorrinhos (tiny hotdogs), bifanas (pork cutlet sandwiches), and sandes do pernil (a different pork sandwich). So maybe Porto isn't the best city if you're looking to eat a local vegetable – and I'm not a big meat eater, but I didn't have any trouble finding restaurants I'd go back to.
Porto Restaurant Recommendations:
After my port wine tasting, I took the bus back across the river and stumbled across a newly opened spot called Mescla (here). It was so cozy looking, I couldn't resist. The whole menu was delicious (I tried a few small plates, so I had a pretty good sampling) and full of surprises, cocktails included.
But don't just take my word for it. The couple next to me was Tuscan – probably one of the pickiest food peoples in the world – and they raved about everything, too. (2023 Update: This is now marked as permanently closed on Google… but my favorite below is still with us!)
Café Guarany (here) is a classy, old-school café and restaurant with servers in tuxedos and live Portuguese fado music on weekend evenings. It was also a good quiet, spacious place to pull up a table and sit down for break. Plus, I think the best pastel de nata I tried was here. (Don't ask how many of these egg-custard-in-a-flakey-shell pastries I ate in two days.)
Cantinho do Avillez (here) is a little restaurant (recommended by the host at my guesthouse) from a Michelin-star-winning Portuguese chef. The €12.50 lunch menu was full of delicious local flavors (but no hotdogs). Everything was fresh and unique and surprisingly not too fancy. Overall, a perfect lunch stop.
Tasting the Famous "Francesinha"
Having eaten a total of one of these "sandwiches," I am no more an expert on Porto's francesinha than on Gaia's port wine… But I think the sandwiches are a bit overrated.
A friendly and stylish local woman on the plane told me I had to try one, and that I had to have it with a draft beer. Since I'm a sucker for traditional foods (and things that go well with beer) that was all I had to know. But I didn't actually look into what was in it before ordering.
This is what I discovered: A francesinha is a pile of beef topped with split-open sausages (maybe just hotdogs?) and a thick slice of pork between two slices of white bread, topped with mystery cheese, smothered in what I'm told is beer sauce, and served on a bed of French fries. If it's really a sandwich, you can't recognize it as such on your plate.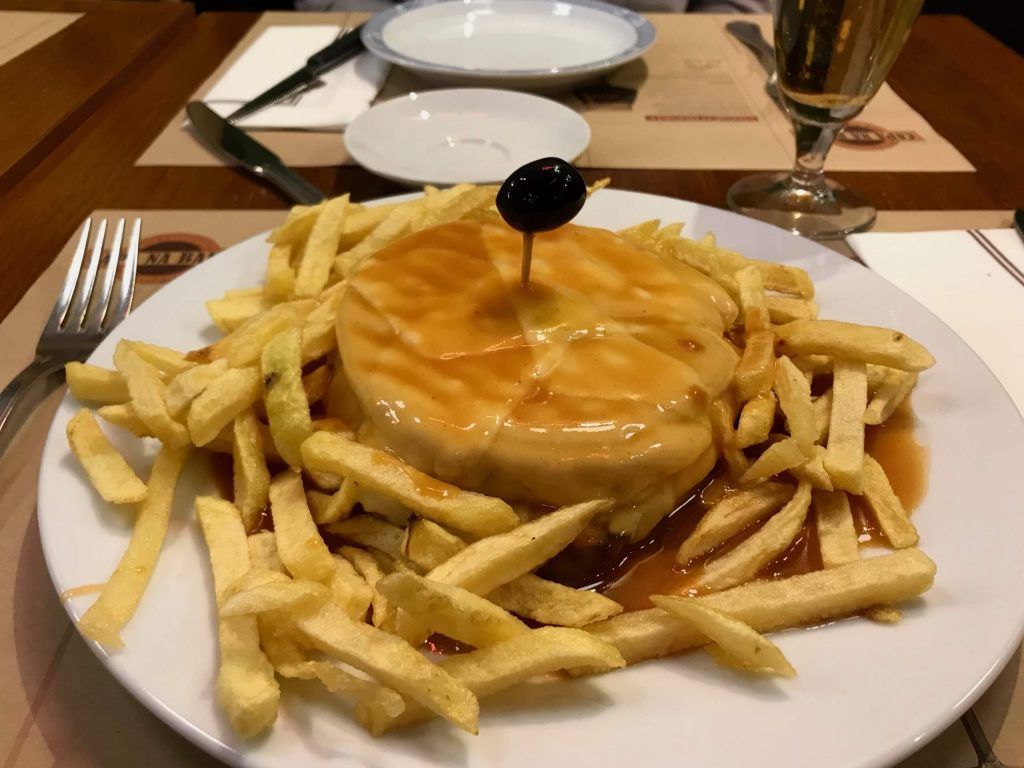 No one told me this was traditional Portuguese drunk food, but it's a fair assumption. (I made that up, but it's probably true.)
My airplane friend told me to go to Café Santiago, but also warned me it was always packed with tourists with a line out the door. Instead I went to a diner-type place called Capa Na Baixa (here) that was also recommended by locals. All I can say is it didn't make me want to eat a second francesinha. (Half of mine went to the starving college students I shared this meal with.)
In the end, this was a quick layover trip in Porto – but also so much more.
It was a taste of a city I knew nothing about. (And I know only slightly more now.)
After two days there, I have a long list of what I want to do next time. Like taking the local bus out of town to the beaches of Foz and Matosinhos to dip my toes in the Atlantic.
Or heading the other direction, to up the Douro River valley to go kayaking, and visit the towns and vineyards where the grapes are grown to make port wine. (And I've since heard from other travelers that the Duoro River Valley even makes a great day-trip from Porto, with several types of tours available to handle to logistics.)
Or I'd happily go back just to drink more port, and try more of those pork sandwiches.
And I learned a few things, met some new friends, drank some fantastic wine and explored a beautiful city. It was a lovely way to spend a couple of days in Portugal – and much better than just passing through the airport.
---
Layover Planning Logistics for Portugal and Beyond:
Sometimes you have to play around a bit with the options the airline gives you to find what makes sense. Case in point: I actually booked this trip on TAP airlines as a "multi-city" ticket, instead of a "stopover" ticket. Why? Because there's a direct flight from Lisbon to Chicago, but there isn't one from Porto to Chicago. So when I tried to book from Milan to Chicago with a "stopover" in Porto, it offered me a direct flight to Porto, then two more flights to get home (Porto to Lisbon to Chicago), which entirely defeats the purpose! A layover bonus doesn't count as a less-wasteful trip if you add an extra flight to do it. But I was able to book a multi-city ticket for the same price as a stopover, with a more direct route (flying from Milan to Porto, then two days later from Lisbon to Chicago).
Domestic flights in Portugal make absolutely no sense: The trains work wonderfully and nothing is very far away, anyway. To connect Porto and Lisbon, I took a 3-hour train ride on the morning of my trans-Atlantic flights. I paid €26 for a first-class train ticket, which made it a very comfortable trip. Here's the official site for booking Portuguese trains. (But instead, I usually use Omio for train tickets in Europe (and beyond), because it simplifies a lot of things – pay in your own currency, no translation issues, and real customer service if you need it.) If you book at least 8 days in advance, tickets cost less than half the price.
Lots of other airlines offer these stopover or layover deals – including Finnair, Ethiopian, Emirates, Icelandair, and Air Canada. Some articles (like this one, which also lists more stopover airlines) claim that "stopover" is the term for an extended layover spent outside the airport. But I think it's also just British for a layover. Let me know if you have the answer to this. (UK people?)
Next: Head to my Travel Booking Resources for all the best companies that I've vetted and use myself – for travel insurance, flights, hotels, tours, luggage storage, and more.
---
This page includes some affiliate links. These recommendations for carefully chosen companies and products let me earn a commission if you decide to buy anything through them – at no additional cost to you! For more info, please see my Privacy Policy. Thank you for your support!
---